Embrace Autumn With IKEA's New July Collection
The summer yet to fully start but Swedish furniture giant IKEA is already looking forward to Autumn. The new collection will be in store in July and embraces the warmth of summer and transforms that into earthy, natural home decor items, perfect for fall.
In autumn your home should become a cozy haven. IKEA has thought of that with new rugs, pillows and throws from traditional inspired designs. These cozy items are combined with Italian modernist design in the form of modular cabinets, sleek bed frames and minimal accessories.
Create a warm inviting space with a modern twist with these designs in sun-faded colours of Marrakech and clean elevated details of Milan.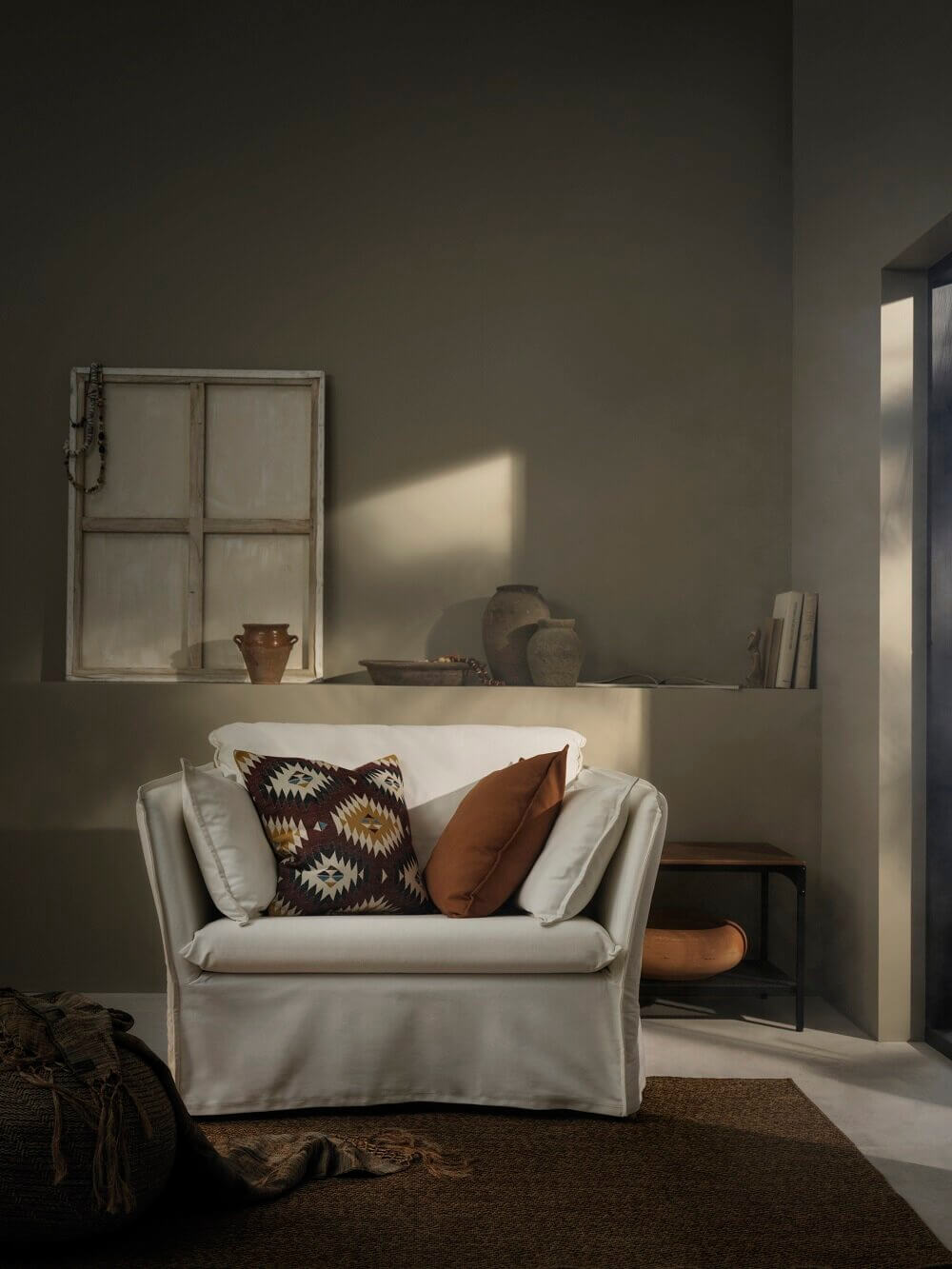 IKEA BACKSÄLEN is a comfortable loveseat made of 100% cotton of sustainable sources. A Katorp cover of 80% cotton and 20% linen can also be used for the loveseat.
The IKEA PEDERSBORG rug is a cozy fixture for your home. Made of natural and brown-dyed wool.
Warm colors combined with a pink color pop in the BRUNSTARR cushion cover
Storing artwork in a pretty way with the MÅLA cardboard town template set & artwork storage
A warm home office with brown walls, LANGFJALL chair and ALEX desk
A bright color pop to your autumn home with the HILLEGÄRD throw. The throw is part of IKEA's long term partnership with entrepreneur Rangsutra. Each HILLEGÄRD throw is handwoven by skilled artisans in India.
The artisans are mostly women and a majority of them are shareholders in the company, which empowers and supports long-term livelihood, especially for those from rural areas.
I love the look of this blue bedroom, where the IDANAS bedframe is put in the center of the room. A cozy reading nook with STRANDMON wing chair with a lovely print sits in one corner.
Take a look here for warm color inspiration. Perfect for turning your home into a warm and cozy space.
The most imporant part of your home office is the chair. The FLINTAN chair is stylish and comfortable. See also:
A blue TUFJORD beframe combined with IVAR cabinets and SYMFONISK speaker/lamp
Do you like the new products from IKEA? I always get so much inspirtion from their images and I can't wait for the new IKEA Catalog