A Modern London Home with Custom Built Oak Furniture
On one of Soho's most iconic streets stands a beautiful house that has recently been redesigned by architect Pablo Uribe. The 150 square meters (1615sq. feet) house is divided over three floors and features two roof terraces.
Pablo Uribe created light open-plan spaces with high-quality materials, custom-built furniture, and a light color palette. The result is warm, open spaces that make the most of all the available space by using stylish built-in wardrobes and furniture pieces.
The mixture of materials in the home is wonderful. Steel and concrete are paired with oak wood and white textiles. And a raw brick wall in the staircase is paired with warm wooden stairs. This combination of raw and warm turns this space into a wonderful home.
The open-plan kitchen and living room sits in the middle of the three floors. The open-plan space is centered around the stone-topped kitchen island with open storage and bar seating.
A fixed corner sofa has been placed under the window on one side of the room. Custom-built cabinets with room for a television provide plenty of storage. The sofa, cabinets, and kitchen are all made of the same oak wood for a harmonious look.
The sofa cushions are made in subtle green and blue tones for a light color touch.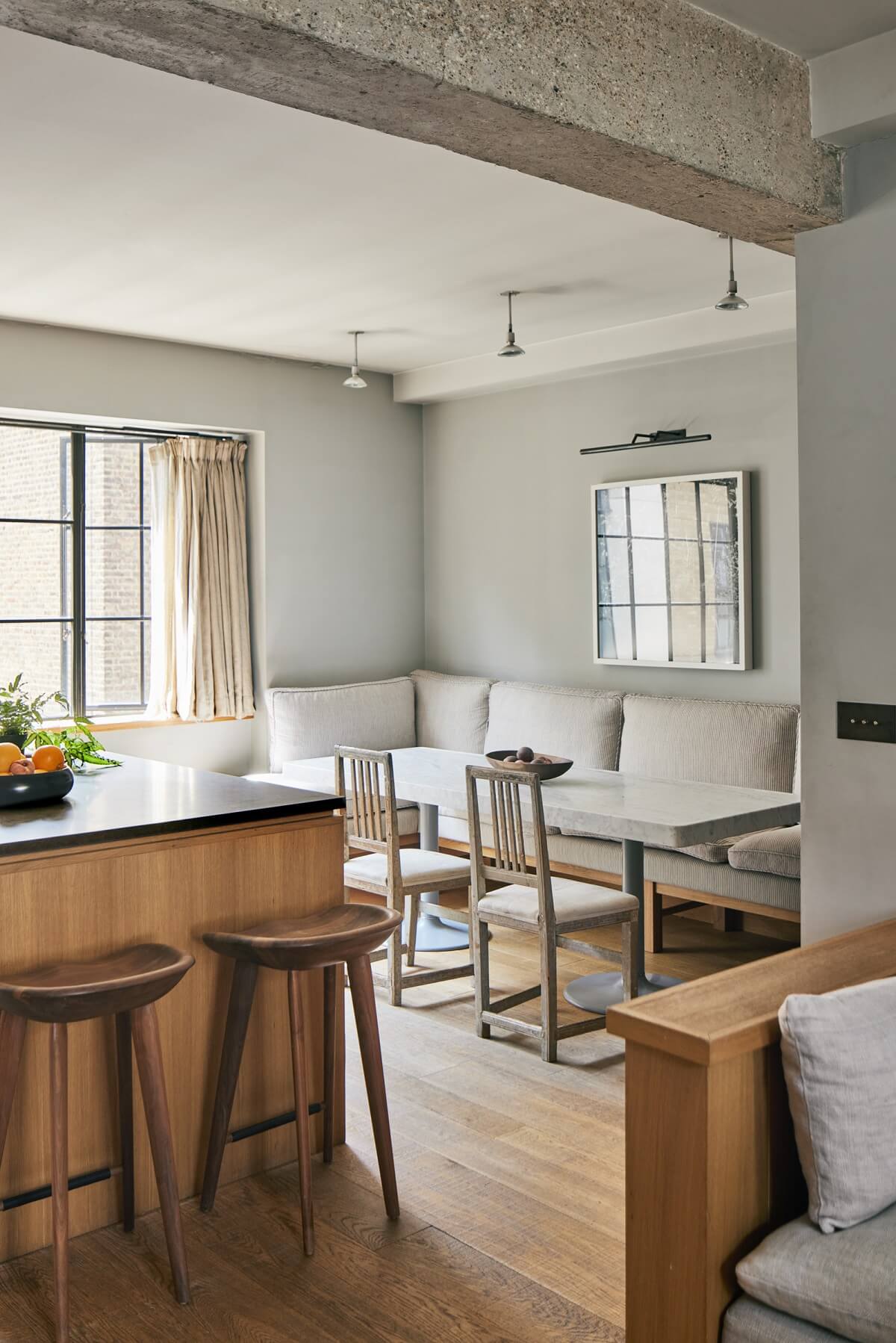 The kitchen space features a dining table with a large bench that provides plenty of seating space. This room is great for entertaining; the open plan floor plan and many seating areas can house all your friends or family.
Like the seating area, the kitchen has a subtle color accent with the light blue-green subway tiles.
The lowest floor of the house features a spacious utility room with marble mosaic floors and oak joinery.
The lower floor is home to another sitting room/home office that can also be used as a guest bedroom.
The oak bed is fixed to the room and be used as a daybed or for sleeping.
The house as two bathrooms, both with subway tiles and marble floortiles. One has a shower and the other has a freestanding bath.
The top floor is home to the master suite with a sleeping area, a seating area, and a balcony.
Oak wardrobes flank the room and the sofa and lead to Crittal French door opening up to a balcony.
These storage stairs lead to a second outdoor space: a spacious roof terrace overlooking the city of London.
The view from the house is magnificent.
This Pablo Uribe-designed house in London is now for sale at The Modern House.