Pearl Lowe's Vintage Boho English Beach House is For Sale
British style icon Pearl Lowe is selling her vintage bohemian beach house in England. The beach house lies on Morlais Ridge, a charming unmade road bordering Rye Harbour Nature Reserve in east Sussex.
The house is located online minutes from Winchelsea Beach, and in recent years, Pearl Lowe has carefully brought it back to life in a 'faded glamour' aesthetic. The beach house features white-painted rooms that have been made cozy with an eclectic collection of furniture, art, and textiles.
The property consists of a 165 sq meter (1775 sq ft) main house with four bedrooms and an open plan living space, but also a 50 sq meter (539 sq ft) cabin in the garden, now used as a two-bedroom guest house.
The Shell House was built in the 1940s by an Allied soldier for his artist wife. Returning from the Second World War, he chose the wooded beachside plot as the setting for a testament of love.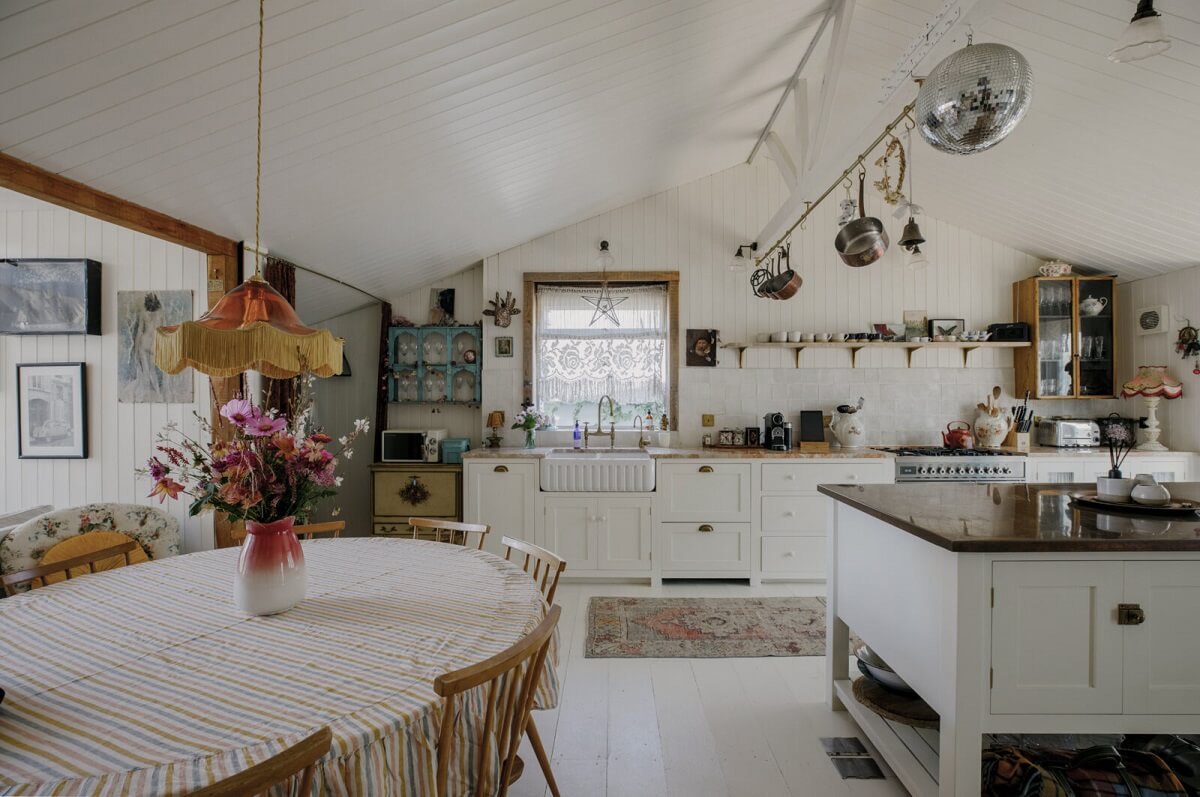 This open-plan kitchen, breakfast, and sitting room are the main living spaces. It's a grand room with natural light pouring in from many directions, including a rooflight within the vaulted pitched ceiling.
The kitchen is made from light-painted deVOL Shaker cabinets that are paired with brass fittings and a ceramic butler sink. Central in the room stands a kitchen island (that used to be yellow) with a copper worktop.
Read and see more photos of Pearl Lowe's deVOL kitchen
The boot room/utility room is used as the main entrance. The cabinets are from deVOL and on the floor lie Victorian tiles.
The ground floor has several seating areas, including this room with vaulted ceilings and double doors leading to the garden.
On the first floor are two bedrooms with pitched ceilings and wooden beams.
The ground floor bathroom featured a blue freestanding bath and blue floor tiles.
The ground floor bedroom opens up to the garden and has timber clad walls, making it extra charming.
In the garden stands the two bedroom timber cabin which is used as a guest house.
The guest house has an open-plan kitchen and reception with a wood-burning stove. The two bedrooms can be reached through the living room.
The house features a large garden with borders of mature trees and shrubs around lawns and long-grass meadow sections which creates a private haven.
attached to the main house is a large wooden deck with sun loungers and a dining table.
Pearl Lowe's beach house is now for sale for a price of £1,995,00 at Inigo.