A Scandinavian Loft with Brick Wall and Arched Window
An old industrial building dating back to the early 20th century lies a lovely small loft apartment with industrial elements. The building was constructed in 1912 as a factory, and later it was used as a school until it was converted into homes in the late 20th century.
The loft apartment has a floorplan of 45 square meters that has clearly been divided into a kitchen space, a lounge area, and a bedroom area. The great focal point in the home is the exposed brick wall with the large arched window.
The brick window is not the only industrial element of the loft. On the ceiling, you will also find beams and pipes that help create an industrial vibe to the home. The styling is from JosefssonLjung, and it is typically Scandinavian with light tones and natural color accents.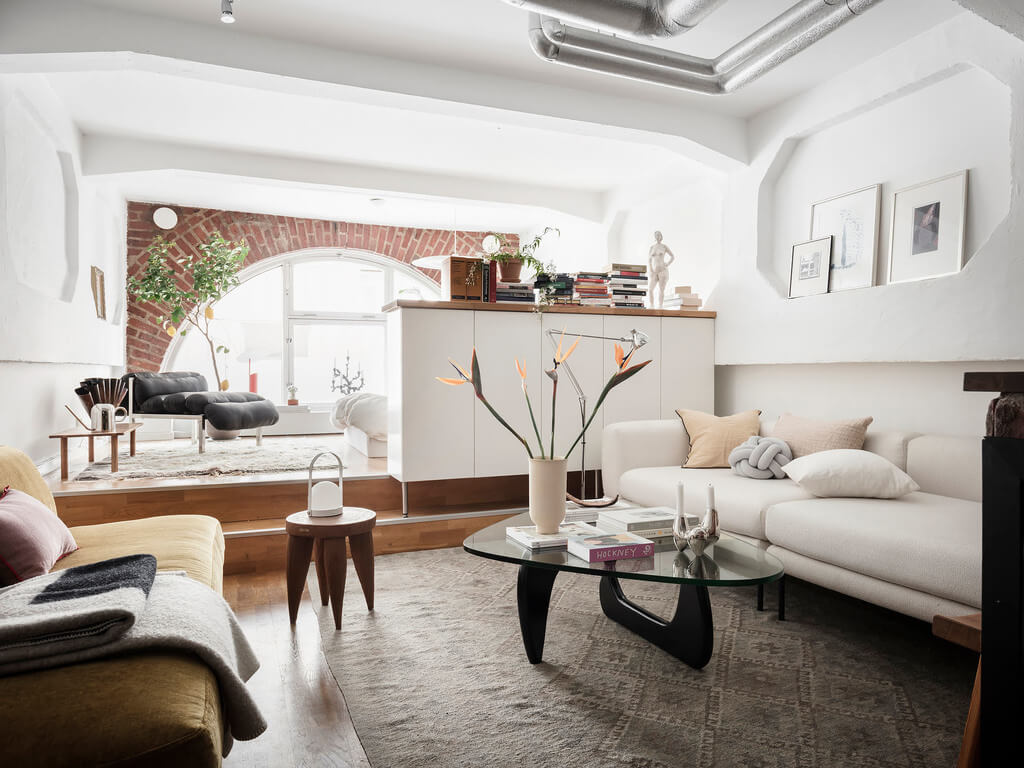 The seating area is located in the center of the loft, with two sofas facing each other. One in a calm white tone, but the other ochre yellow sofa adds warmth and color to the space.
This image shows wonderfully what a great ambiance you can create with the use of colorful lighting. A yellow, purple, and blue lamp turn the loft into a cozy space.
The niches on the walls are perfect for displaying art. The cabinets next to the couch cleverly hide the bed so it doesn't feel like you're living in your bedroom.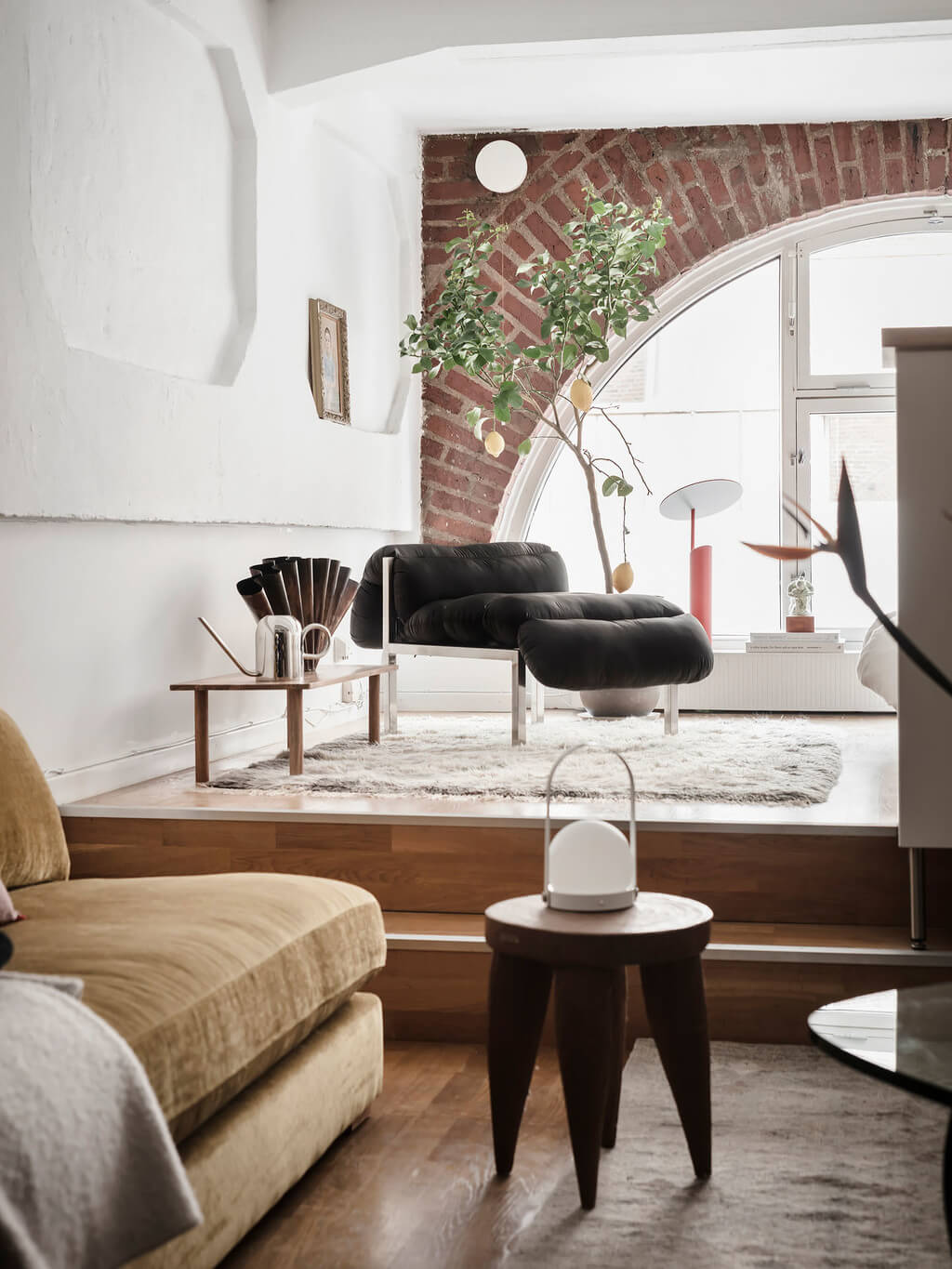 The loft is one big open space, but it is divided into several zones to create cozier spaces. The bedroom area is two steps higher that the living area, it's a subtle but effective way of creating a different area without losing the natural flow of the apartment.
The raised area is now home to the bedroom. The fabulous exposed brick wall and arched window add a wonderful architectural feature to the room. And with such architecture, you don't need much in terms of decorating.
The room is kept simple with white walls, white bedding, and a lounge chair to read or relax in front of the window.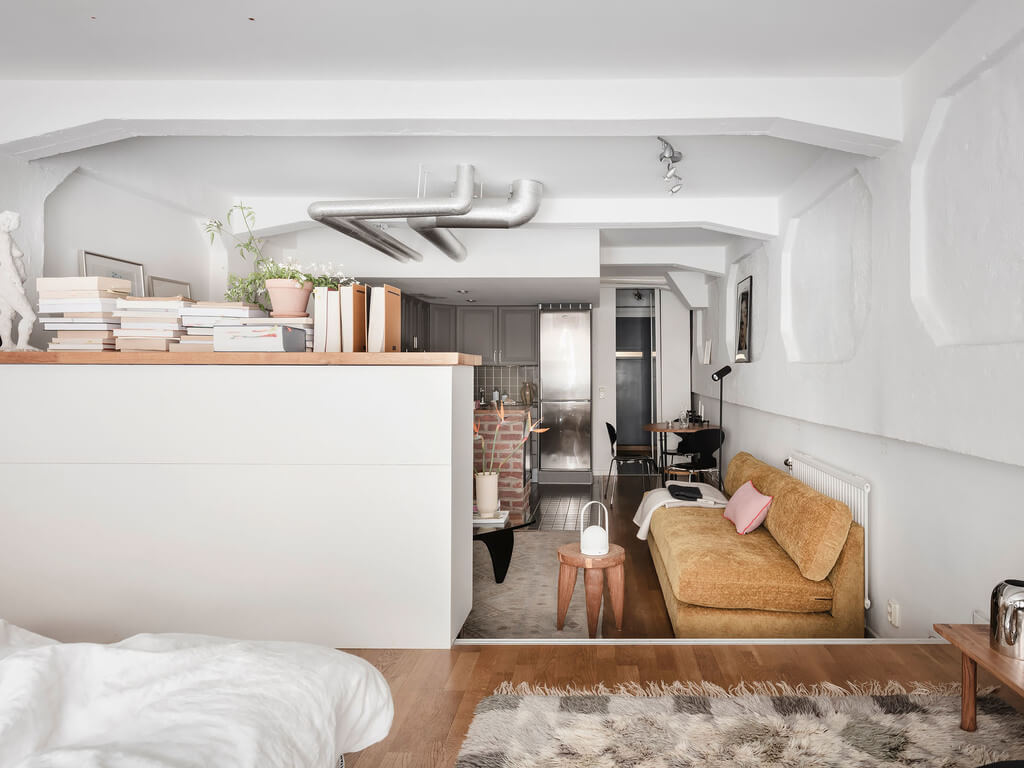 The brickwork returns in the kitchen, creating a divider between the living and kitchen areas.
photography by Entrance Mäkleri