Farrow & Ball Launch an All-New Dead Flat Paint Finish 
Farrow & Ball released a new paint finish called Dead Flat, the most revolutionary finish to date. Farrow & Ball's newest cutting-edge innovation presents the most matte finish to date, adaptable for various surfaces, including walls, woodwork, and metal. This exceptional option for saturating spaces with color provides a seamless, unbroken hue from ceiling to baseboard, encompassing even radiators in its rich visual appeal.
And it's not just the color that makes this paint finish so special. Farrow and Ball's Dead Flat finish is also washable, making it perfect for high-traffic rooms that can get messy.
Every Farrow & Ball paint color is now available in the Dead Flat finish. From neutral white tones to deep inky blues. No matter your decor style or color preference, this new Farrow & Ball is ready to get used in your home.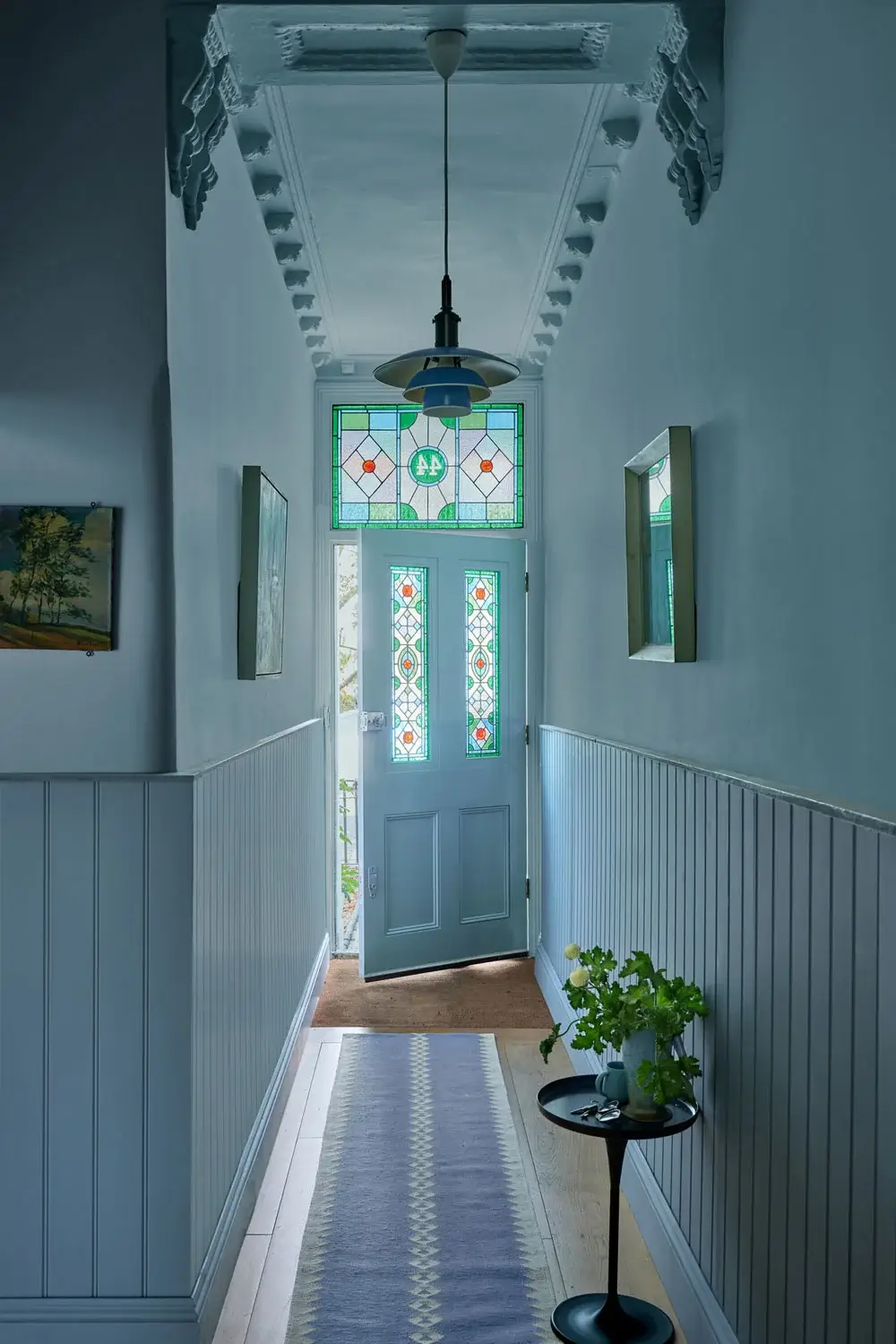 The hallway is painted in Selvedge with the Dead Flat finish. Selvedge is one of the eleven new colors by Farrow and Ball that were added to the collection this year.
The Story of Dead Flat by Farrow and Ball
Over the last five years, the technical experts at Farrow and Ball in Dorset have refined the new Dead Flat formulation. The remarkable achievement of crafting an exceptionally matte and resilient product is due to a groundbreaking component, which is meticulously combined with a carefully curated selection of premium paint ingredients.
This innovative fusion results in the distinctive Farrow & Ball appearance through redefined chemistry. With its scuff-resistant, washable, and easily cleaned features, Dead Flat® ensures the enduring beauty of your spaces.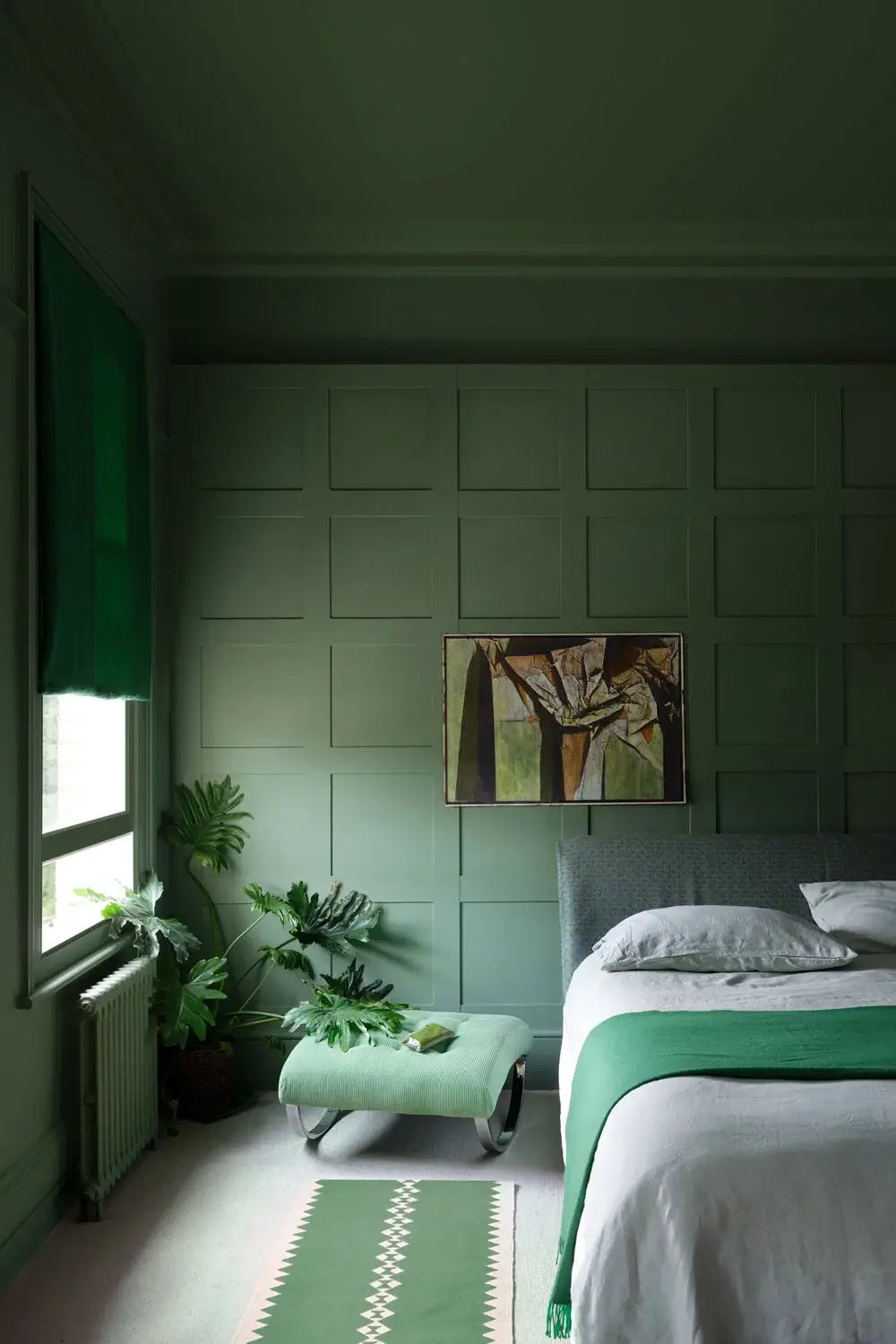 The bedroom is painted in the natural Calke Green paint color with the Dead Flat finish.
"Dead Flat® is a unique combination of truly fantastic features: it's matt, durable, and multi-surface. The super matt quality has the incredible effect of making our colors look even richer, especially the darker shades. We're thrilled to launch this exciting new finish, and I can't wait to see it transform our customers' homes all over the world." Charlotte Cosby, Creative Director at Farrow & Ball.
The living room is painted in the warm "Red Earth" paint color.
"Whether you want color saturation in a space or just to create a seamless matt flow of finish through your home, Dead Flat delivers all with its beautiful 2% sheen & eminent practicality. You can create the illusion of more space in a bedroom through painted wardrobes to match the walls or hide utilitarian radiators in your chosen Dead Flat color. It's a decorator's dream." Patrick O'Donnell, a color expert and Brand Ambassador at Farrow and Ball
A hallway in the moody Hague Blue paint color with Dead Flat finish.
The Technical Details of Farrow and Ball's Dead Flat Finish
With a mere 2% sheen, Dead Flat® significantly reduces light reflection, allowing the eye to perceive color from every angle. This not only enhances the richness of the color but also conceals imperfections. As a multi-surface paint, Dead Flat® enables a consistent application of color across walls, ceilings, woodwork, less frequently used furniture, and radiators using just one finish.
A nursery painted in Setting Plaster with the Dead Flat finish.
Both practical and visually appealing, Dead Flat® is washable and easy to clean, boasting a Class 1 scrub rating (the highest possible). Its durability makes it perfect for high-traffic areas like hallways and playrooms, and it is even toy safe*. As with all Farrow & Ball finishes, Dead Flat® is water-based and emits minimal odor, containing only trace levels of VOCs.
A living room painted in "Oval Room Blue" in the Dead Flat finish.
About Farrow and Ball
Established in Dorset, England, since 1946, Farrow & Ball remains steadfast in its commitment to crafting richly pigmented paints and handmade wallpapers using only the finest-quality ingredients.
This dedication results in a distinctive palette of paint colors that exhibit an exceptional response to light and artisanal wallpapers with a tangible finish, achieved through the application of paint on paper. Collectively, these elements transform various types of homes, both interior and exterior, across the globe.
From the iconic chalky matte appearance of Estate Emulsion to the long-lasting quality of washable Modern Emulsion, each high-performance finish is meticulously formulated with a precise balance of pigments and a low-VOC water base. This combination creates an unparalleled depth of color and an exquisite finish.
For more Farrow and Ball color inspiration, you can take a look here at The Nordroom.