Jewel-Toned Hues in a Vibrant Eclectic Mews House
On a quiet cobbled road in the heart of Marylebone in London stands a wonderful two-bedroom apartment with jewel-like colors and eclectic furnishings. The 842 square feet apartment is a gem for every colorful design lover.
Every room in the house has its own color palette from a deep blue shade in the living room to a warm red shade in the bedroom. And the love for color doesn't end with painting the walls and ceilings. More color is added with the furnishings, decor, colorful artwork, and tiles.
The furnishings are eclectic, modern and antique pieces are effortlessly combined and Moroccan touches have been added with beautiful woodwork and tiles. If you love color, then you need to tour this London home.
The apartment is located on the first floor of a mews block and the open-plan living room is located at the front of the house, overlooking the quiet mews street.
Three sash windows let in the light in the sitting room and give you a great view of the mews street. The current owner completely renovated the apartment, incorporating original cast-iron radiators, hand-aged oak floors, and a rich array of colors.
The owner opted for a contrasting color palette in the living room. Most walls and the ceiling are painted in "Rivington Blue" by Abigail Ahern. A bright yellow color accent has been added with "Gamboge" by Paint and Paper Library.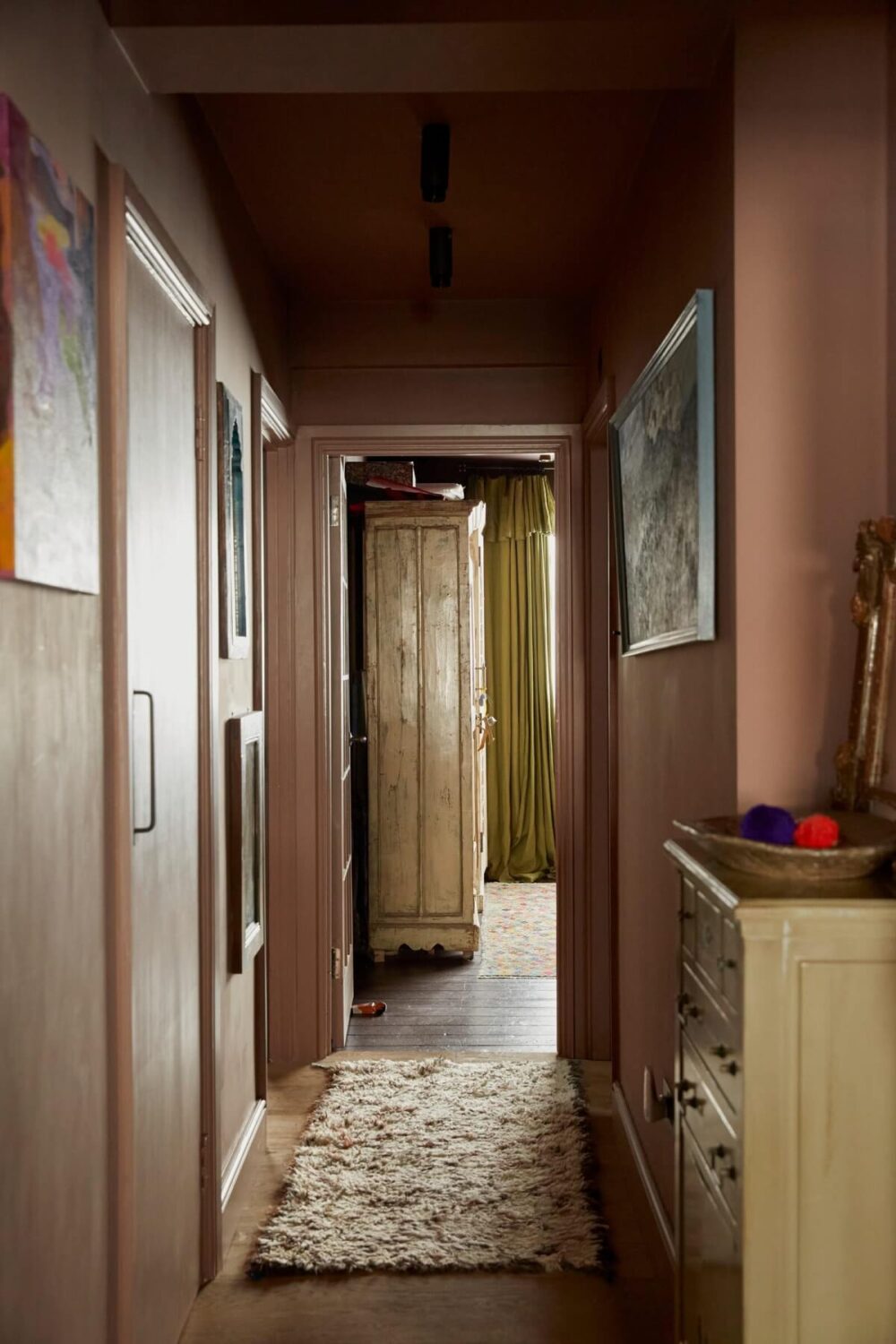 The apartment has a tiny but very colorful galley kitchen. The walls and ceiling are painted in "Red Ochre" by Edward Bulmer.
The kitchen also features hand-painted Moroccan tiles by Jaggery Tiles. For the cabinets, the owner choose a chalky blue color that can also be seen in the tilework.
The master bedroom is colorful with painted wooden floorboards, green and red walls, and colorful decor.
The deep red shade in the bedroom is called "Mulberry Red" by Abigail Ahern. The bedroom has a bohemian style with different wooden wardrobes, color, and layered textiles.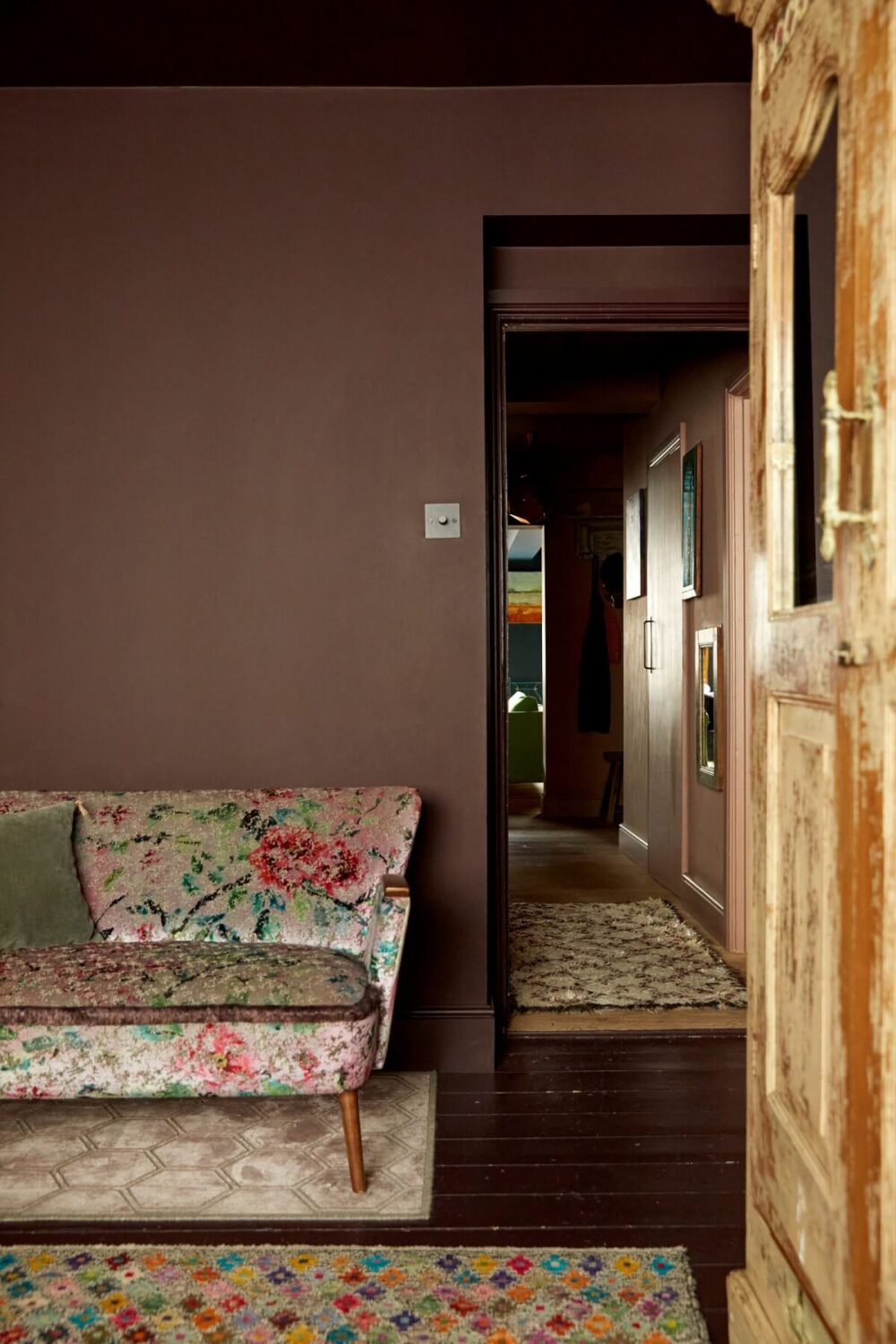 The second bedroom is painted in a warm brown shade and also combines textiles and colors.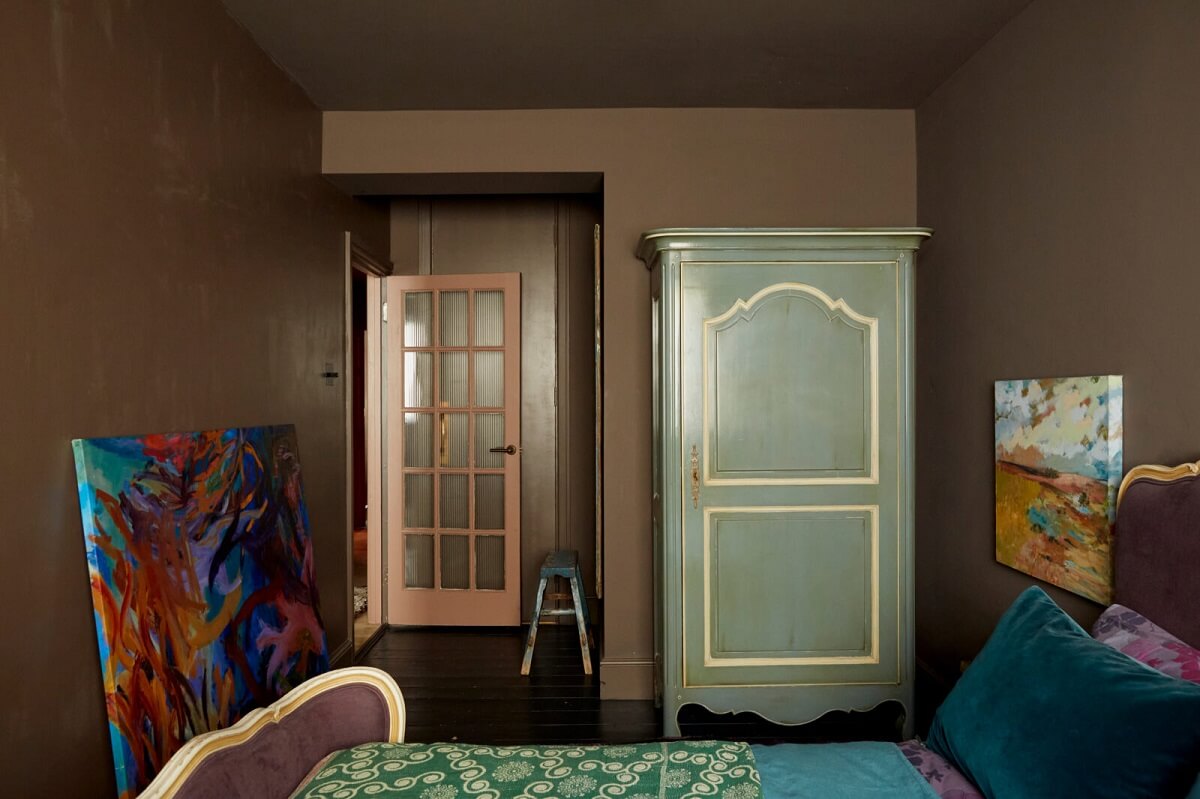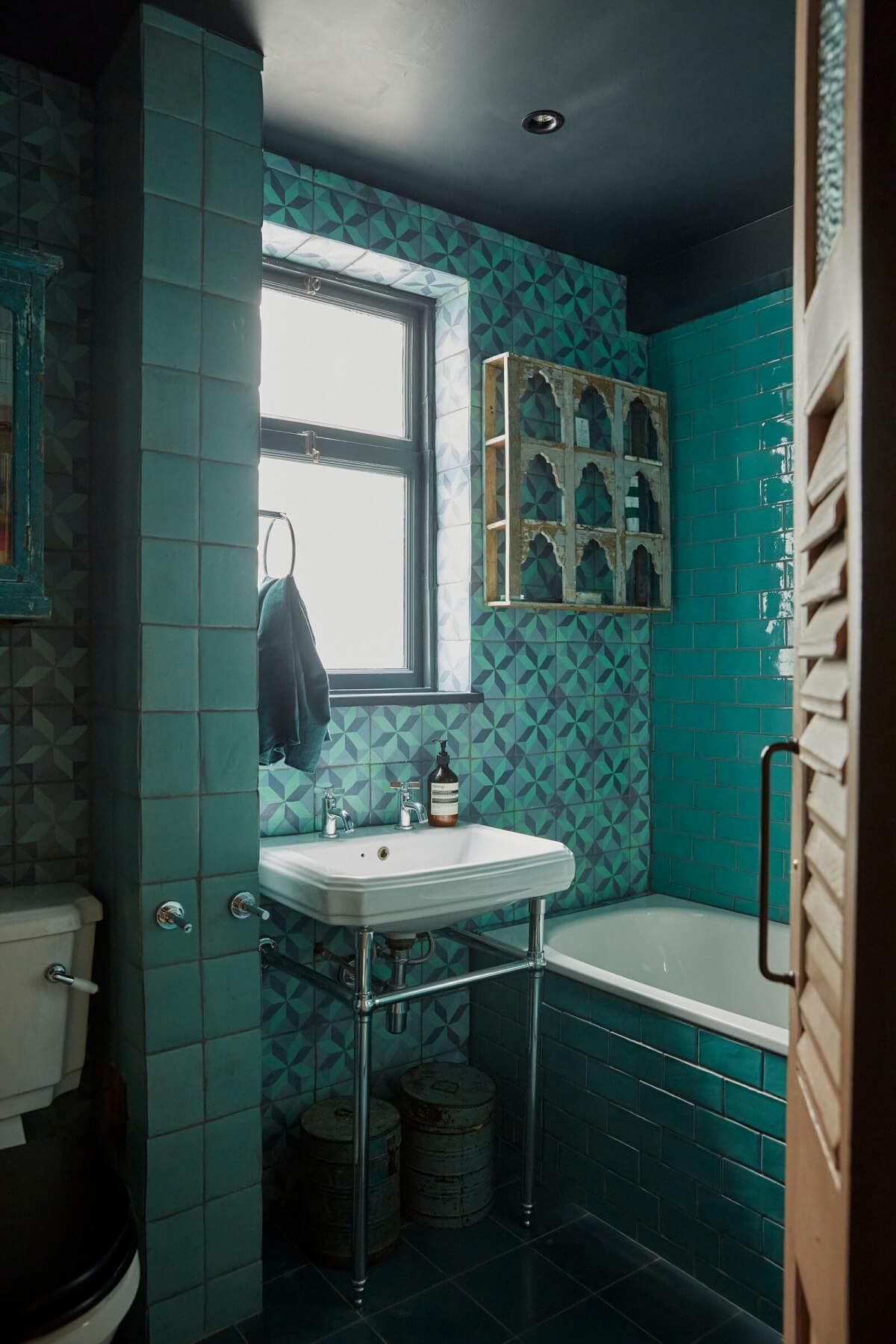 The Moroccan vibe is also visible in the bathroom. The room features a mixture of blue Jaggery tiles and a dark blue ceiling.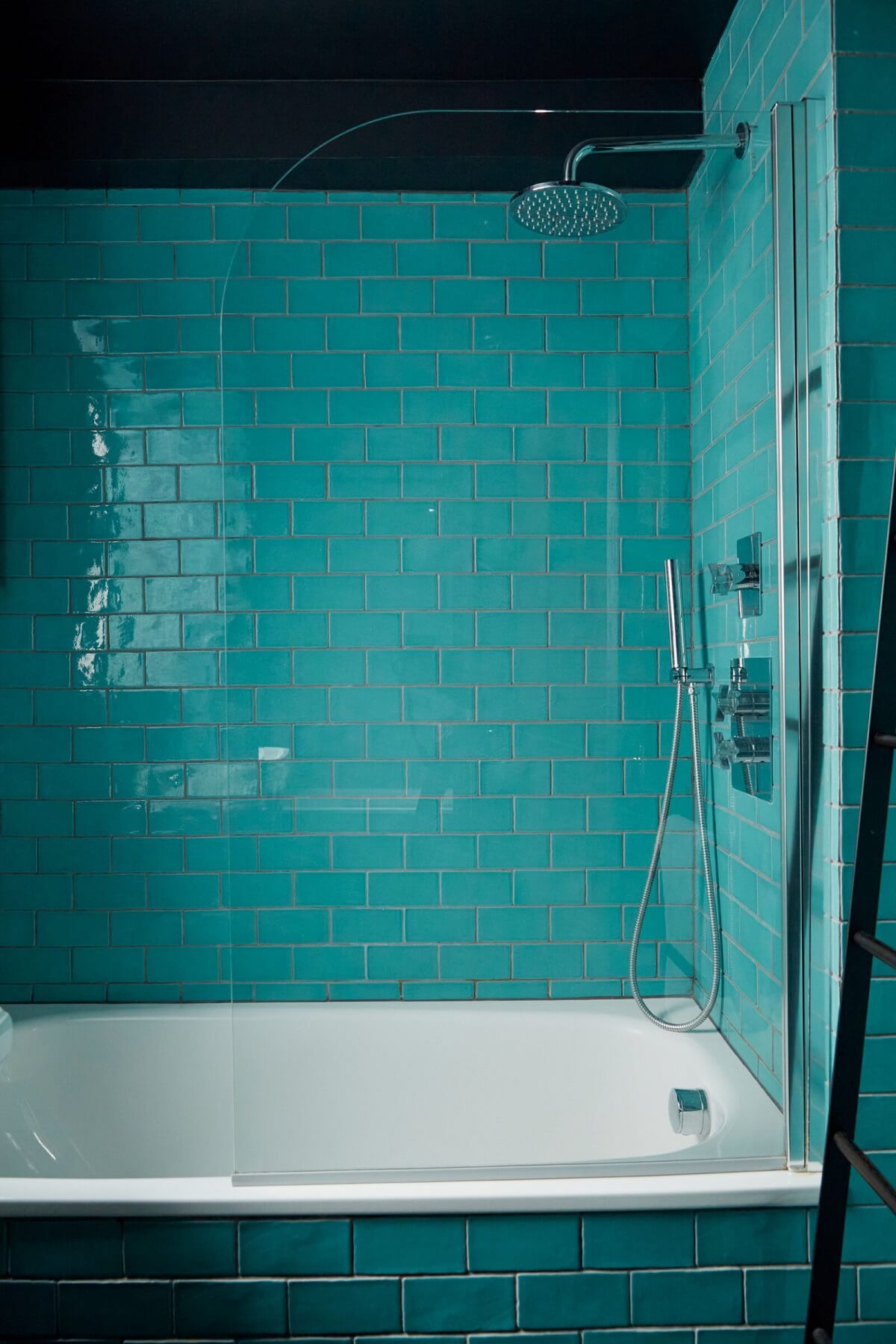 This bohemian, colorful home of Weymouth Mews in London is currently for sale at Inigo.