A Small Attic Apartment with Plenty of Storage
We're heading to Scandinavian to tour a charming small attic apartment with beautiful natural light and plenty of storage space.
The apartment is located in Stockholm and in 2019 it was completely renovated in a modern home using luxurious materials and a light color palette.
The apartment is only 48 square meter big (516 square feet) but it feels light and airy thanks to huge windows in the living room, an open-plan floorplan, and a big roof terrace that extends the living space in the summer months.
They also added plenty of storage space in every room of this small house. When you live in a small space and you want it to feel spacious it's important to keep it neat and tidy.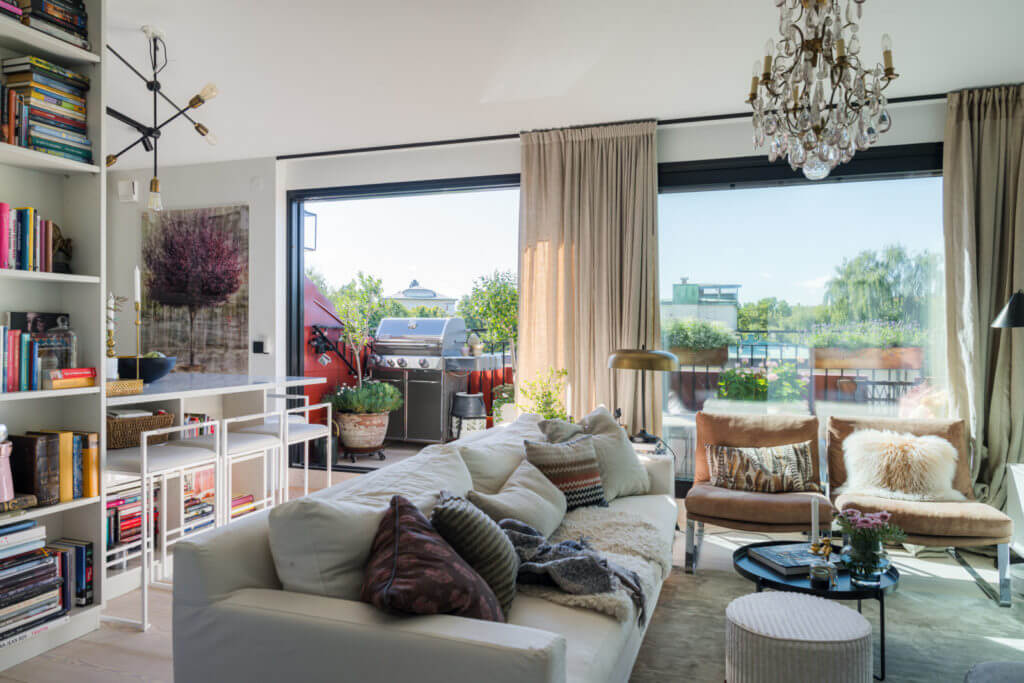 The open-plan living room and the kitchen have a comfortable seating area defined by a gray rug. The large floor-to-ceiling windows and sliding doors give the appearance of more space.
Sunlight streams into the living room creating a bright and warm home.
The sliding doors open up the space to include a large roof terrace. A big increase in living space in the warmer months. The entire wall under the television has low cabinets to provide plenty of storage.
The white kitchen has a breakfast bar that can seat 4-6 people. If you live small, this is a great way to add workspace in the kitchen ánd dining space without having to clutter up the room with a dining table.
The stylish white kitchen has Carrara marble worktops. A soft pink runner adds a warm color touch to the space.
Next to the living room is the bedroom with sloped ceilings and two skylights to add natural light.
There is a wardrobe space on two sides of this bedroom. On the left of the bed are built-in wardrobes and they also fitted custom-made wardrobes against the wall of the living room. So much storage for such a small space.
The bathroom is tiles in Carrara marble and has a shower with handy niche in the tilework.
Under the sloped ceilings, they added cabinets that also hide the washer and dryer.
The curved bathroom vanity is from Qvesarum.
photography by Specialisten Fastighetsmäkleri