A Swedish Maisonette with a Blue Kitchen and Wallpaper
This home in Sweden has undergone a full transformation. From the original 54 square meters, the home has been extended with an extra floor to double the floorplan to 117 square meters.
An architect was hired to turn this small apartment into a comfortable maisonette. The attic floor that lies above the original apartment has been transformed into a perfect space for two generous bedrooms and a large bathroom with a sauna.
And don't think these attic rooms are dark or awkward. Huge sky windows have been added to the top floor to flood these attic rooms with natural light and both rooms have been decorated with wallpaper for extra charm.
But we start the tour on the lower floor, the original apartment, that now houses a living room and kitchen in a social floorplan.
The living roomis a serene and welcoming space with a large white rug and furniture in different textures to create a warm look.
The walls in the living room are pianted in "Portland Stone Light" by Little Greene.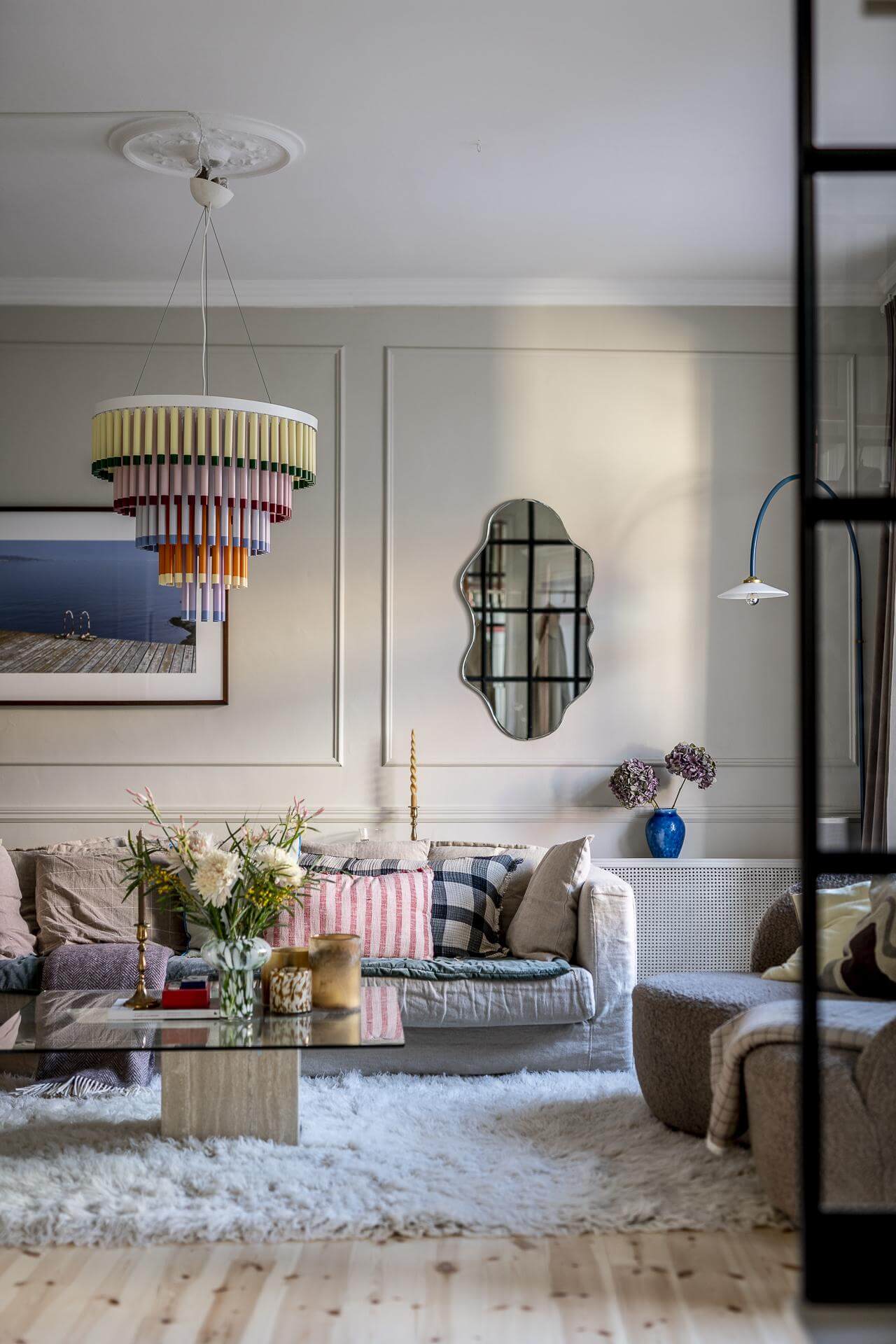 The room is decorated with subtle color accents in the cushions, art, and decor. But central in the room hangs a fabulous colorful pendant called "Cocktail" by Hanna Anonen.
A spacious balcony can be reached via the living room. Between the kitchen and the living room lies a generous hallway, a steel and glass wall creates a nice division between the living room and hallway which you want but it also lets through light.
Orginally, this room houses two small bedrooms and a bistro kitchen. Now, the room has been opened up to create a large kitchen and dining room.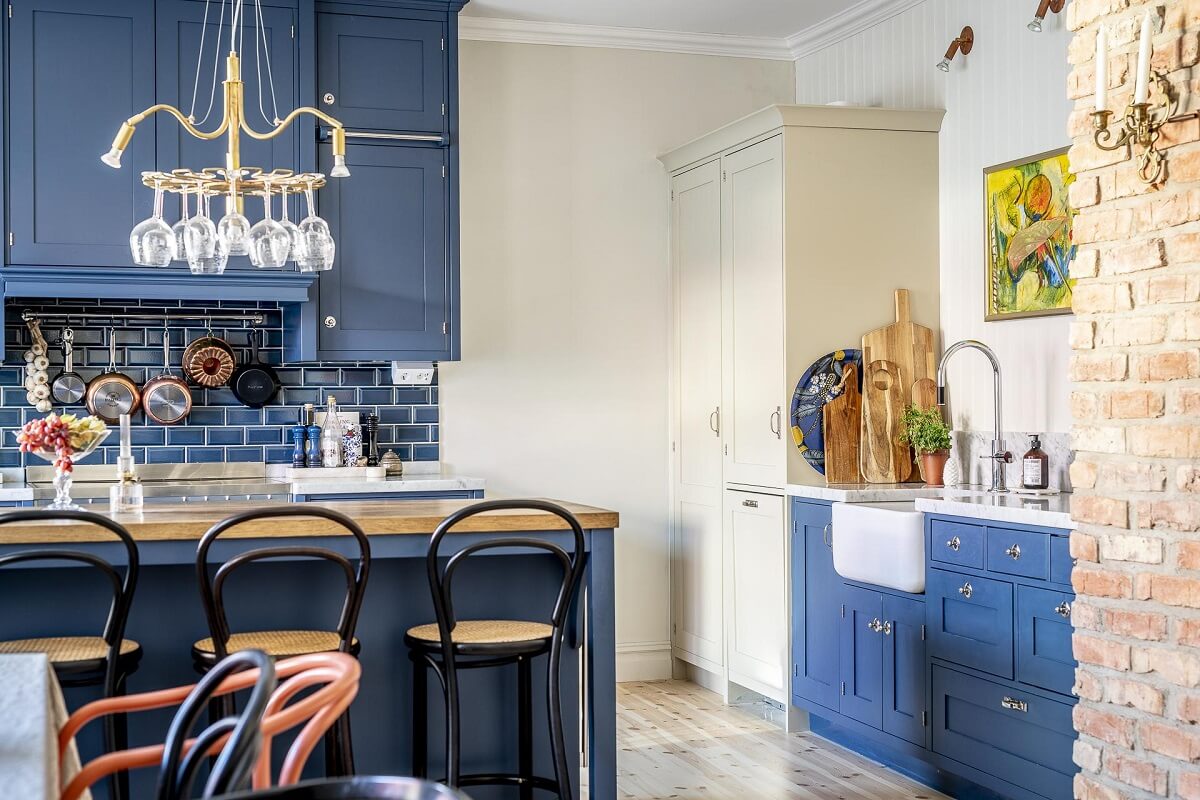 The kitchen is from Kitchen & Beyond and combined blue kitchen cabinets with Carrara marble worktops.
The kitchen island is made from solid oak and a brick wall shows the history of the apartment. The kitchen, just like the rest of the apartment, has new pine floorboards.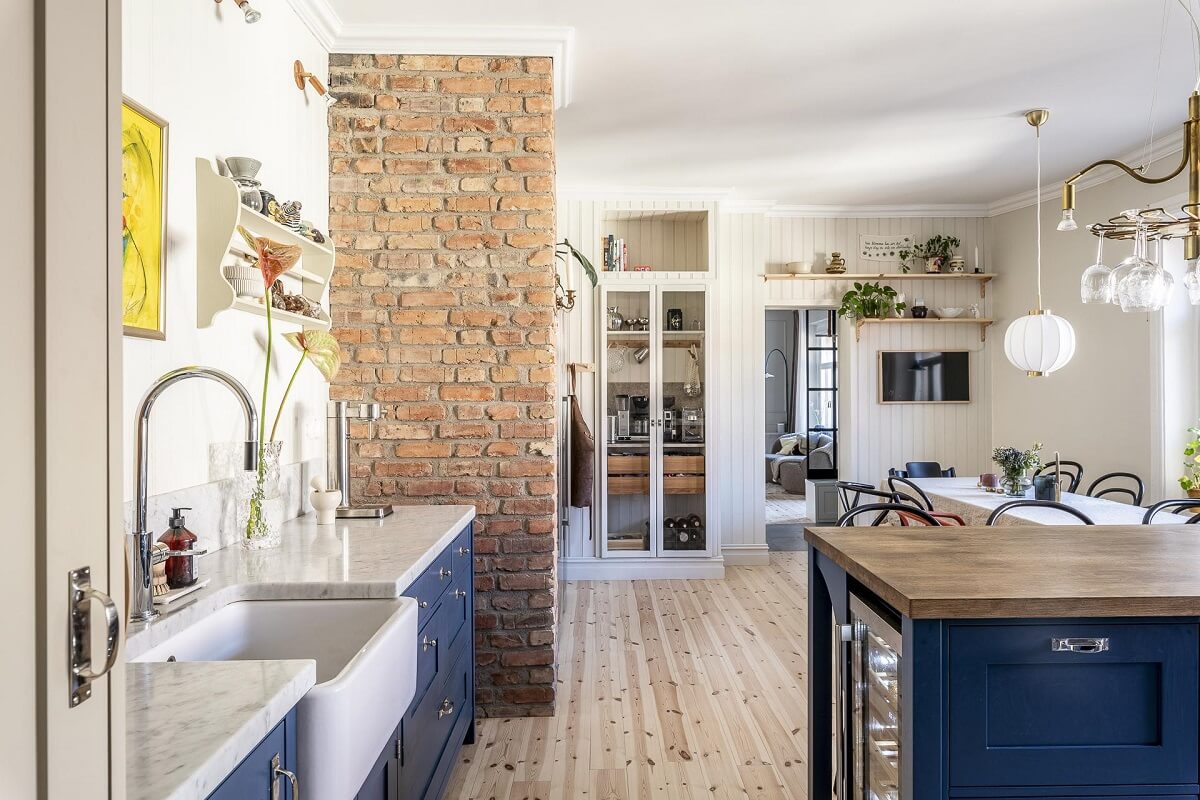 In the corner sits a coffee cabinet with boxes from Himlekök and a stone slab in limestone. The walls in the kitchen are painted in "Portland Stone Pale" by Little Greene.
The stone staircase already existed in the apartment complex but it has now been incorporated into this apartment.
The master bedroom is a wonderful light room with built in wardrobes by Himlekök and large windows.
When you open the windows they turn into French balconies, overlooking the courtyard and the rest of Gothenburg.
The pink wallpaper is the Bellegarde wallpaper by Manuel Canovas.
This is a bathroom that will make you relax. The room has a freestanding bath, a shower, and a sauna room.
On the walls are ceramic tiles from Peronda and on the floor lies a granite ceramic tile from Marazzi in a wood look.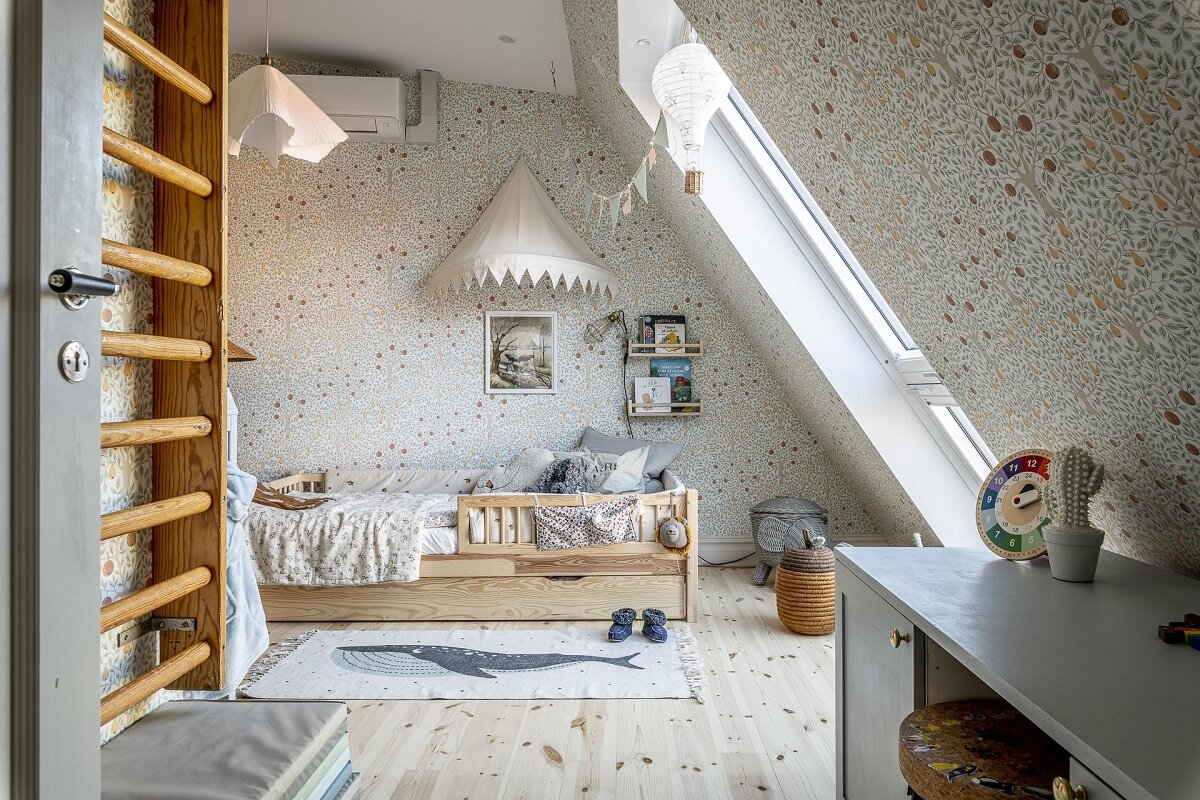 The second bedroom is now a wonderful children's room with the same large window as the master bedroom.
On the walls is the Apelviken wallpaper from Midbec.
This wonderful home is now for sale at Alvhem – styling by HEYMAN SCIARRATI and photography by Henrik Linden