A Unique Home in a Former Furniture Workshop
Old warehouses or factories that have been converted into homes are always a joy to see. The blend of that industrial history and modern day living always create a unique home look.
Today, I want to share an amazing home in London. The two bedroom maisonette home is located in a former furniture workshop in the Bethnal green area of London.
The home is designed by Practice Architecture and perfectly blends old with new. Raw brick walls and exposed wooden ceilings are combined with contemporary materials and design.
The open plan living space has raw brick walls and reclaimed pine floorbaords.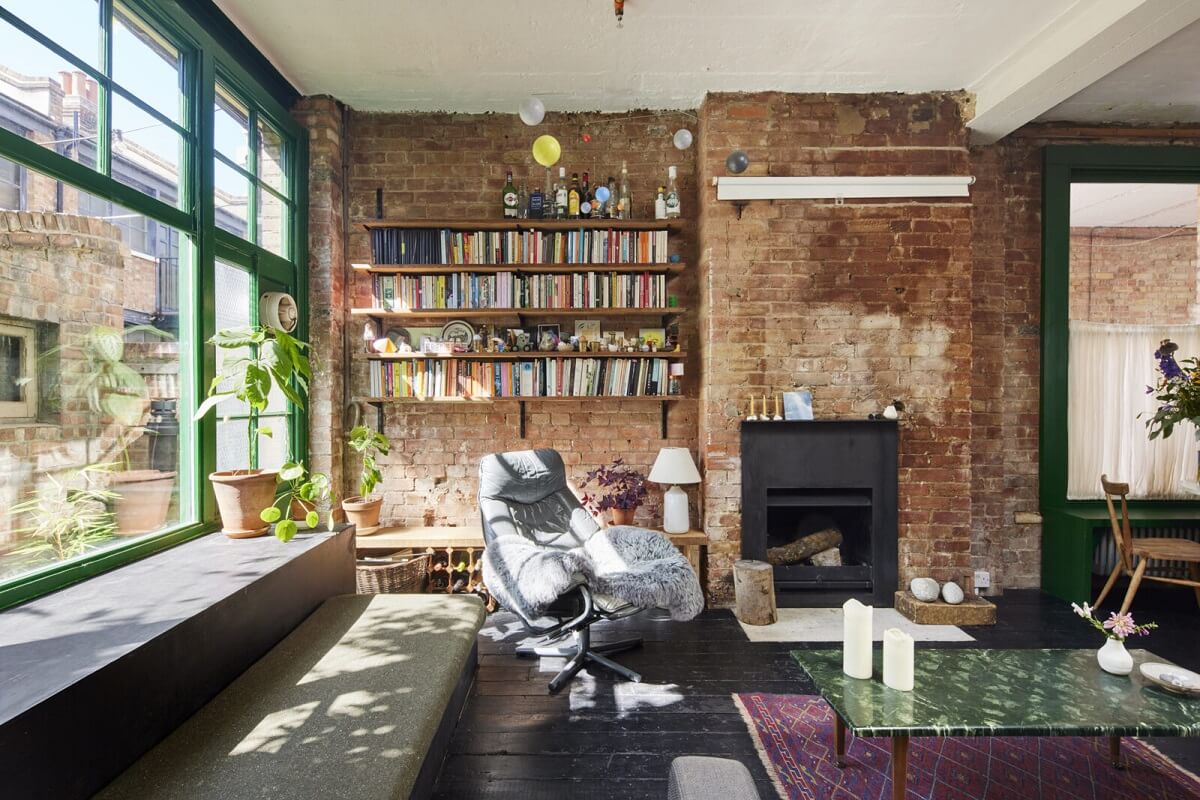 A built in window seat has been added to the sitting area. Bookshelves line the wall on both sides and a fireplace adds warmth in the colder months.
The living space is pretty bright with windows at the front and the back and a skylight above the sofa. And there is even a side window which is rare for such a terrace house.
Open cabinets are painted in a vibrant yellow which houses plates and bowls for the kitchen.
In the center of the living space stands the kitchen which is made of a steel frame, ply cabinetry, and a poured concrete worktop.
At the front of the house the created an office with cork wall. The cabinets and wooden glass partition are pianted in Deep Brunswick Green.
The two bedrooms and bathroom are located on the lower ground floor. The bathroom sits in the center of thi s floor with the two bedroom flanking it on either side.
The bedroom at the back of the house has a small green terrace.
The small terrace is lit from above by a new cast-iron pavement light constructed by Hargreaves Foundry.
The sculptural red bath is made in collaboration with Henry Stringer. Built in storage is created on either side of the bath.
At the back of the house is a second bedroom with a window overlooking the small courtyard garden and the lightwell is created by the built in bench we saw in the living room.
At the back of the house is a small green courtyard garden with dining space. These green facade reminds me of another great home in London, though they used mint green instead.
photography by The Modern House