Warm Muted Colors in a Stockholm Apartment
On a leafy street in Stockholm's Södermalm district lies this charming one-bedroom apartment that has been decorated in warm, muted color tones. The 64-square-meter apartment has recently been renovated, adding new elements while also restoring period details.
The apartment has windows in two directions, meaning natural light floods the home all through the day. Every room in the house features the original wooden floorboards, which tie the rooms together in a natural way.
The bedroom is decorated with floral wallpaper, and the other rooms have been painted in shades that complement this natural display. In combination with the wooden floor, Eggshell, beige, and light gray walls create a warm and inviting atmosphere.
The living room is painted in a light creamy yellow color, giving the room a warm tone. The art used in the gallery wall stays on theme as they all feature natural color tones.
The room isn't very big but it has plenty of room for a generous sitting area and a large dining table.
The interior of the kitchen consists of bright, mirrored cabinet doors that hide crockery and utensils. Details in the wood give a homely feeling, such as white-glazed spruce plank floors and oak worktops.
Attached to the kitchen is a small south-facing balcony that overlooks the courtyard.
The bedroom is my favorite room in the house. It is decorated with William Morris 'Pimpernel' wallpaper, and the door and moldings have been painted in a light brown shade that was taken from the wallpaper.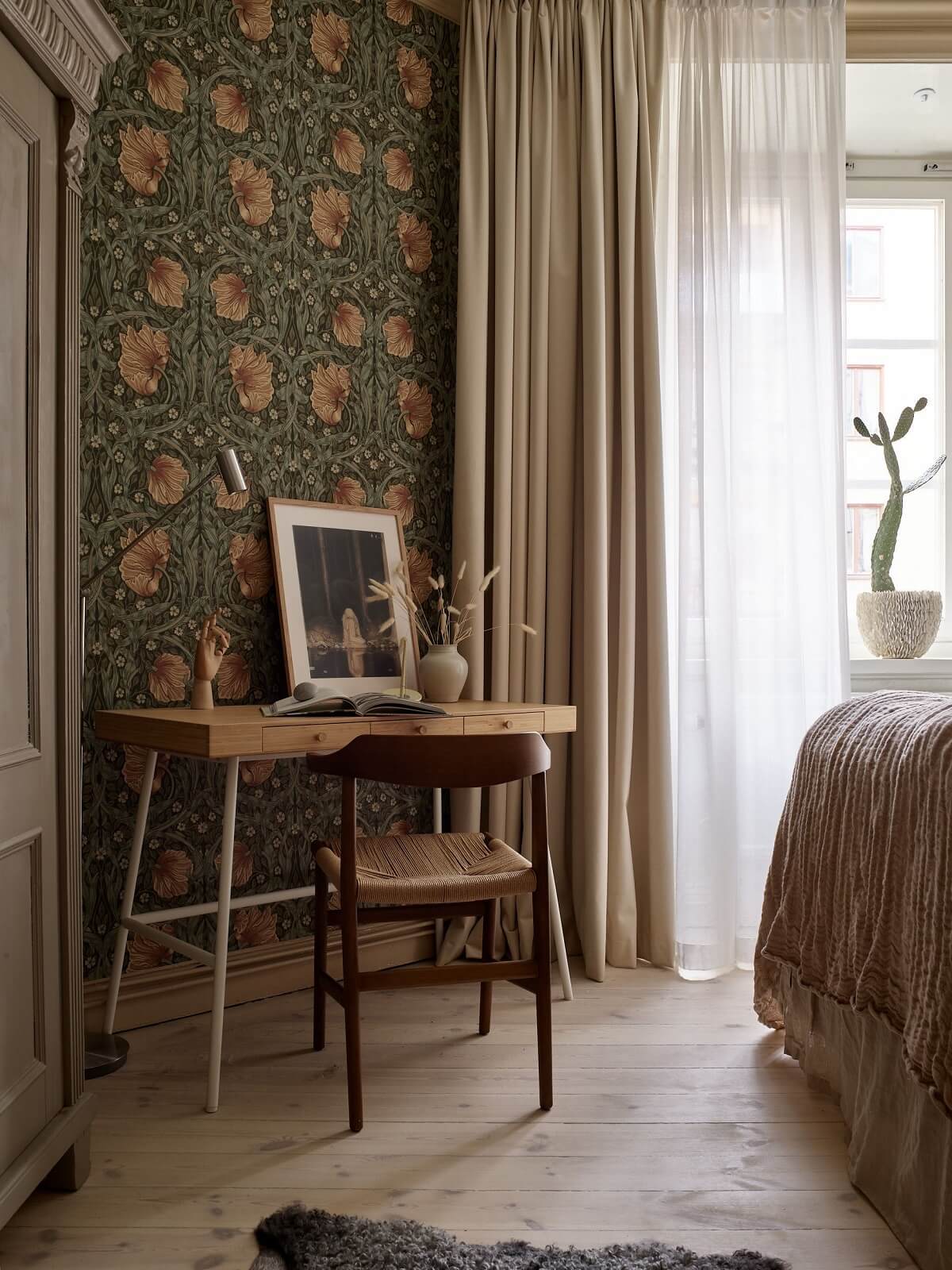 In the room is a small bedroom home office created with the IKEA LILLÅSEN bamboo desk.
The bedroom is fitted with custom made wardrobes that provide plenty of storage.
Styling by Copparstad and photography by Boukari for Historiska Hem