A New IKEA Collection Inspired by Dutch Master Painters
Oh happy days! Last week I already showed you a big preview of the IKEA Catalog 2021 and today I have another new IKEA collection for you. The collection is inspired by Dutch Master Painters and perfectly fits the darker autumn months that are to come.
The collection is designed in a traditional style with natural warm & earthy color tones like rusty red and dark green. Tulips add even more Dutch influences and you'll see these flowers in a lovely new rug, cushion and bedding.
The color combination of tulip was also an inspiration throughout the collection. In this new collection there's a beig focus on storage with to new 'furniture families' for sleep and storage in a traditional way that can be used across the home. There's also a new sleep/storage solution for the kids, that can be used throughout their lives, from baby to teen. There are also some new decor pieces like vases, baskets and lamps.
I really love this collection in a traditional style, I crave towards more moody color hues so this is absolutely perfect, especially for the upcoming fall/winter months. And as a Dutch person I absolutely love the connection with the Dutch masters. Take a look at the new collection below and you can buy these new items at your local IKEA in october 2020.
ÅLANDSROT cushion
The floral pattern on ÅLANDSROT cushion is a design that has been plucked from a treasure trove of textiles, tucked away in The Musée de l'Impression sur Étoffes (The Museum of Printed Textiles) in Mulhouse, France. The pattern on ÅLANDSROT cushion with its beautiful red tulips set against a dark blue background is from 1889.
KRINGGÅ set of four vases
SOLKLINT lamps
HAUGA series
HAUGA series comes in a traditional style and combines open and closed storage in, for example, a bedroom, living room, kitchen or hallway. There are chests of drawers, cabinets, a sideboard, TV bench, wardrobes and upholstered bed frames. They're designed with attention to details and alignment between the units, to make them look neat when put together.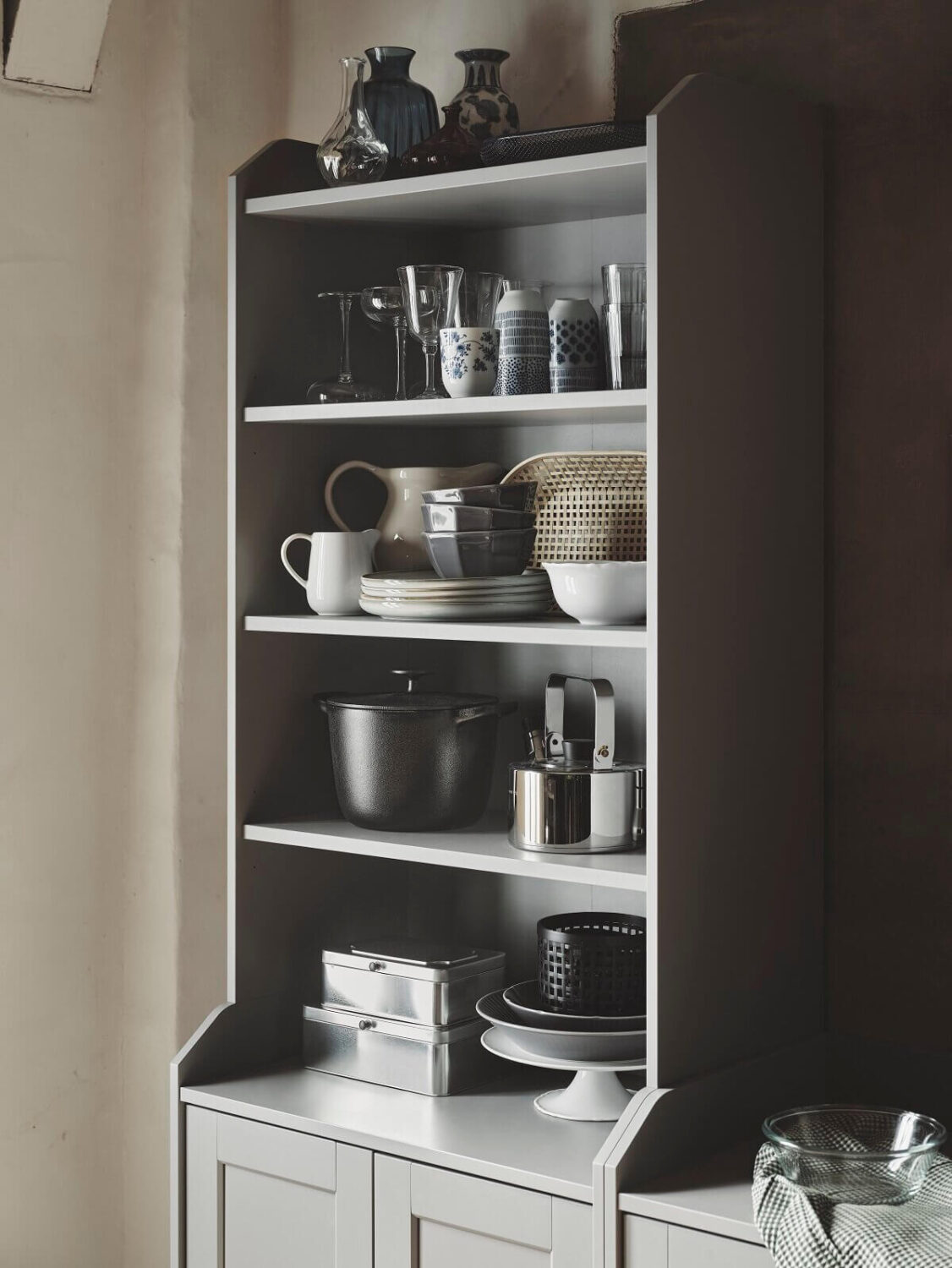 IDANÄS series
DANDERYD dining table
The new traditional DANDERYD dining table can create a homely feeling, while being sturdy and long-lasting for everyday use. It's been produced with a modern technique where the table legs use metal tubes that have been formed into a traditional shape without wasting any material. With a white oak veneer top, the table is discreet enough to find its place in many different homes.
TRUBBTÅG quilt cover
UPPLAGA dinnerware
The soft ruffled edge makes UPPLAGA dinnerware series stand out. Now there's a mug, serving plate and side plate joining the series. The pieces are made of porcelain and have a rural, rustic design.
"I love the moments when you meet with friends and family around the dinner table – cook together, set the table, help each other and share stories about the day or life. I would be very happy if UPPLAGA, with its traditional, timeless design and different features, can encourage more moments like these."
– Ebba Strandmark, designer
BACKIG mug
LUSTIGKURRE baskets
With the new natural fibre LUSTIGKURRE series of baskets, IKEA continues to explore the potential of natural fibres by introducing a new material – nipa palm stalk fibre. The long, soft fibre isn't only new to IKEA, they're the first global retailer to include it in their range.
KRISTINELUND mirror
FYXNÄS lamps
The lamp shade uses a double layered knitted textile that gives the light some character, especially with a suitable deco bulb.
TILLTALANDE cushion cover
Camels and palm trees are a common sight in Jordan. They become an attractive pattern on TILLTALANDE cushion cover that has been hand-embroidered in collaboration with Jordan River Foundation. The social entrepreneur provides long-term livelihood for female artisans, Jordanians as well as Syrian refugees. Each cushion is unique, telling the story of great handicraft skills, modern design and of life-changing new opportunities. When choosing TILLTALANDE you not only gain a beautiful addition to your home – you contribute to a better everyday life for more people
SMÅSTAD system
SMÅSTAD has been developed with the child's need and perspective as the starting point, giving the child possibilities to play and interact with the storage and develop own skills thanks to clever age-specific accessories and functionalities. For example, new pull-out units make storage easier and more accessible, also for small children.
The system has been especially developed for children with rounded corners and soft closing hinges. The solutions that include a loft bed, changing table/desk, wardrobes, drawers and shelves can grow with the child thanks to the many possibilities to mix and match the different fronts. Add a different personality through a variety of handles and hooks in the range.
photography by IKEA