A Renovated Sustainable Home in Sweden
In a small town in Sweden stands a renovated villa dating from 1979 that is now a sustainable home. The modern and energy-efficient home has a stylish interior using natural materials and a self-sufficient basement floor.
The house was renovated from the ground up in 2015, and the aim was to create a functional "no bullshit" home. Everything that was deemed unnecessary was stripped away to create clear lines.
Throughout the home, they used plywood to add life and warmth, which adds a nice contrast to the concrete used in the home. The warm wood, few materials, and monochrome color scheme create a calm and stylish home.
The ground floor has a semi-open floor plan with the kitchen placed in the center of the home.
The living room features a perfect blend of materials, creating a warm space with a large rug, wooden wall and ceiling.
Opposite the seating area stands a large dining table in front of a large picture window.
The drawers and doors in colored MDF are specially ordered for this home.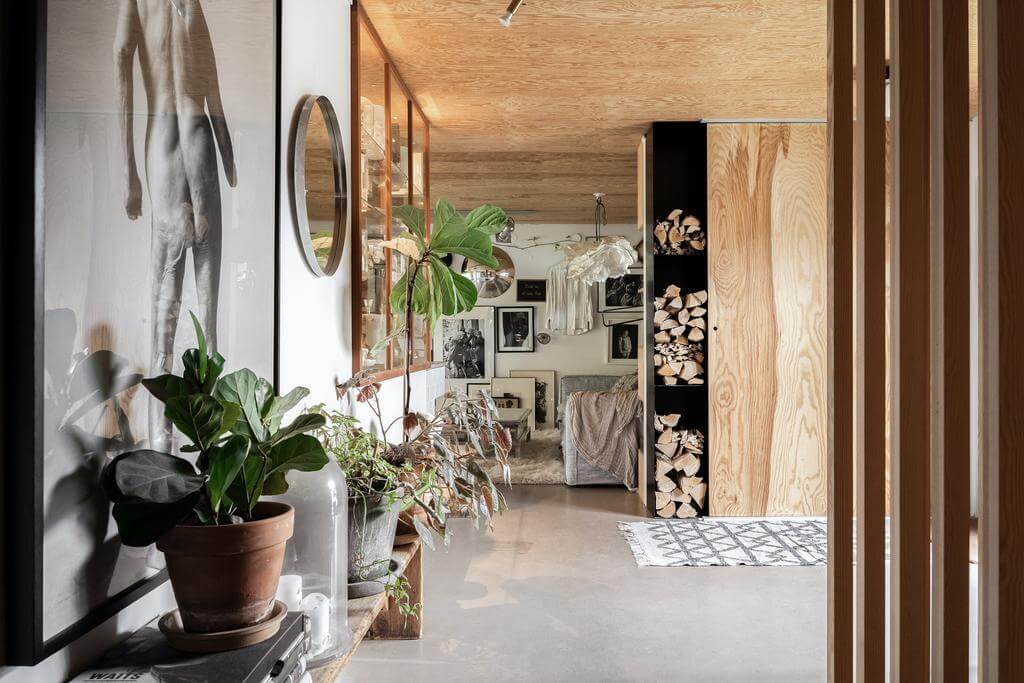 The built-in display cabinet acts as a divider, contrasting with the kitchen's cast concrete worktop.
The master bedroom is also located on the ground floor. One wall is completely used for an open wardrobe system, and the wooden ceiling adds warmth to the room. Sliding doors give access to the outdoor terrace.
The basement floor has its own entrance and address so that it can be used as a rental apartment. The basement floor has its own kitchen, bathroom, and living room.
Next to the kitchen and the living space, the basement level has three bedrooms. This bedroom is now used as a home office with a built-in corner desk.
The entire basement floor has a cool vibe with concrete floor, gray walls, and a black-painted wooden ceiling.
This wonderfully renovated home using concrete and wood is now for sale at Svensk Fastighetsförmedling.