A Warm Family Home in Connecticut
The designers at Becca Interiors have redesigned a country house in Connecticut for a family who exchanged the city for country life. The house hadn't been updated for many years so the team at Becca Interiors brought new life into this lovely home.
The main focus in this redesign was the kitchen, for many the heart of the home. The family rooms were brightend up and a wonderful kids room & play room were added for the young family.
This wonderful family home is packed with character, the rooms are cozy and warm. And the furnishings and decor of collected, customized, and antique pieces are timeless and stylish.
The sitting room is painted in a moody dark blue for a cozy and comfortable feeling.
The new kitchen is the star of the home. The customized 13' kitchen island has round corners giving it a softer look. Above the cooker is a custom stucco hood.
The wooden beams add character to the kitchen.
The home has a slightly odd layout but the bay window in the kitchen is used perfectly by adding a window bench.
The family room is bright with floor-to-ceiling windows that overlook the Wee Burn Country Club. A comfortable corner sofa provides plenty of seating space for the whole family, while the stone fireplace adds warmth and character to the room.
The master bedroom is decorated in warm neutrals, the layered textiles add an even more cozy vibe.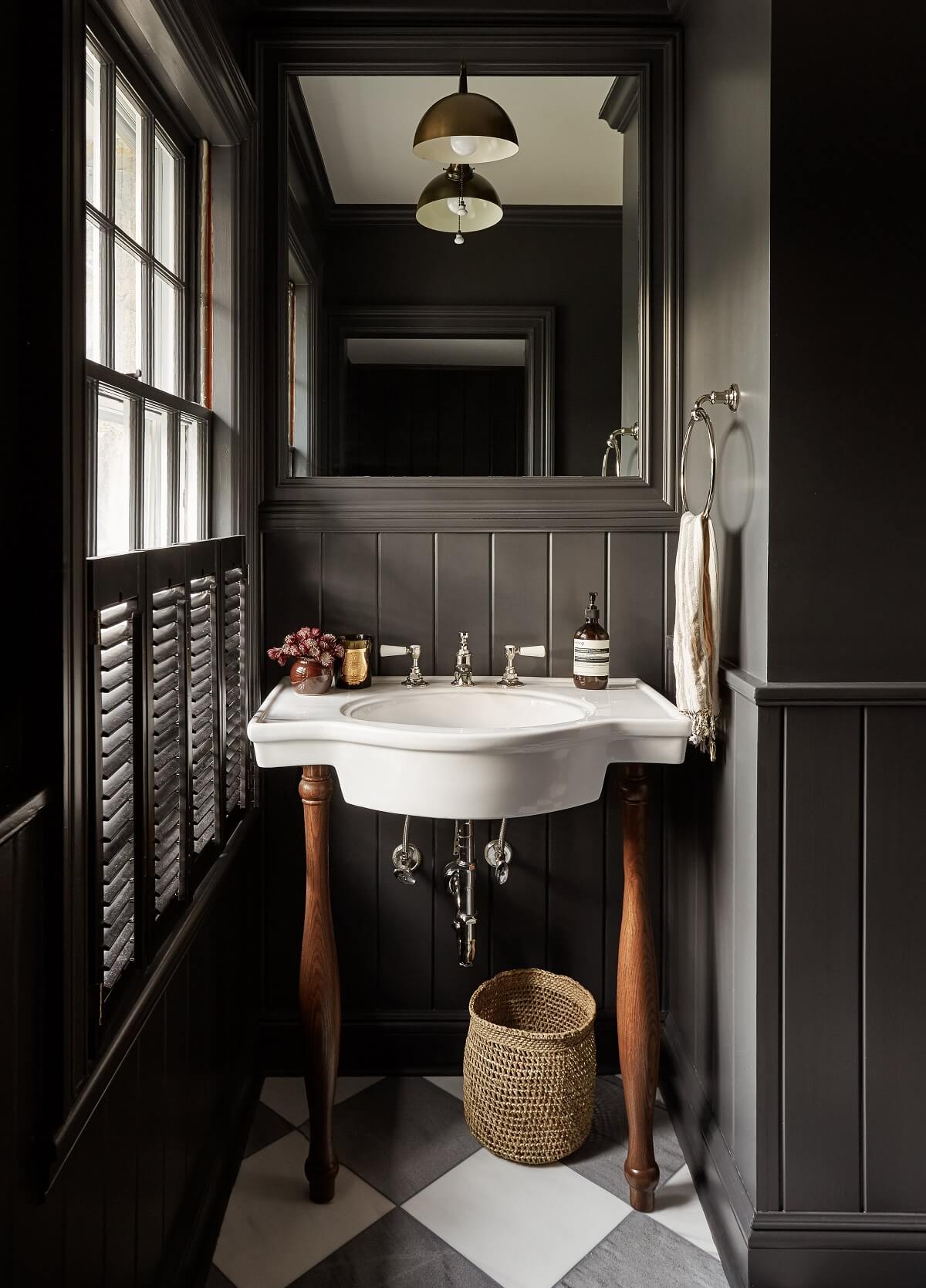 The powder room is a moody beauty, with the walls and shutters painted in a dark gray hue complimented by a checkerboard floor.
A custom made bunk bed was designed for the young residents of this country house. Brass posts were custom created to outfit a bunk bed system that sleeps three. Despite the awkward slanted ceilngs they provided plenty of storage room including under the window seat.
The second powder room is decorated in natural materials and organic textures. The round marble sink is a beautiful statement piece in this small room.
A vibrant play room for the children painted in a bright green tone.
photography by Rikki Snyder