Campbell-Rey x Nordic Knots Gustavian-Inspired Rug Collection
London-based design duo Campbell-Rey has designed a beautiful rug collection for Nordic Knots. The collection mixes influences from the colorful Art-Deco style and the floral motifs of the Gustavian style – a Swedish take on French neoclassicism dating back to the 1780s.
The collaboration is centered around a fascination with the overlap between the natural world and garden motifs. Campbell-Rey drew inspiration from Werner's Nomenclature, resulting in rugs featuring an array of colors, such as deep amber, wisteria lilac, chartreuse, raspberry pink, and four different shades of green. It was first published in 1814, and the taxonomy of colors in the natural world has inspired artists and designers for more than 200 years.
Gustavian style, the Swedish take on French neoclassicism dating back to the 1780s, also plays its part in the collection's aesthetic with motifs like the wreath and the folding ribbon, along with ideas taken from the history of garden design.
The Campbell-Rey x Nordic Knots Rug Collection
The collection was (mainly) photographed at the 17th-century Van Der Nootska Palace in Stockholm, a building rich in history and tradition. When the Swedish jeweler and art collector Jean Jahnsson bought the palace at the beginning of the 20th century, it became home to a remarkable collection of Swedish art, furniture, porcelain, silverware, and a library of over 100,000 volumes of mostly Swedish literature.
All rugs in the Limited Edition Campbell-Rey x Nordic Knots rug collection are crafted by hand.
Folding Ribbon
Folding Ribbon is a modern interpretation of the ribbons and swags that appear in late 18th-century furniture of the Gustavian style. In raspberry pink and amber, this 3D trompe l'oeil pattern looks strikingly modern despite its roots in a 250-year-old aesthetic.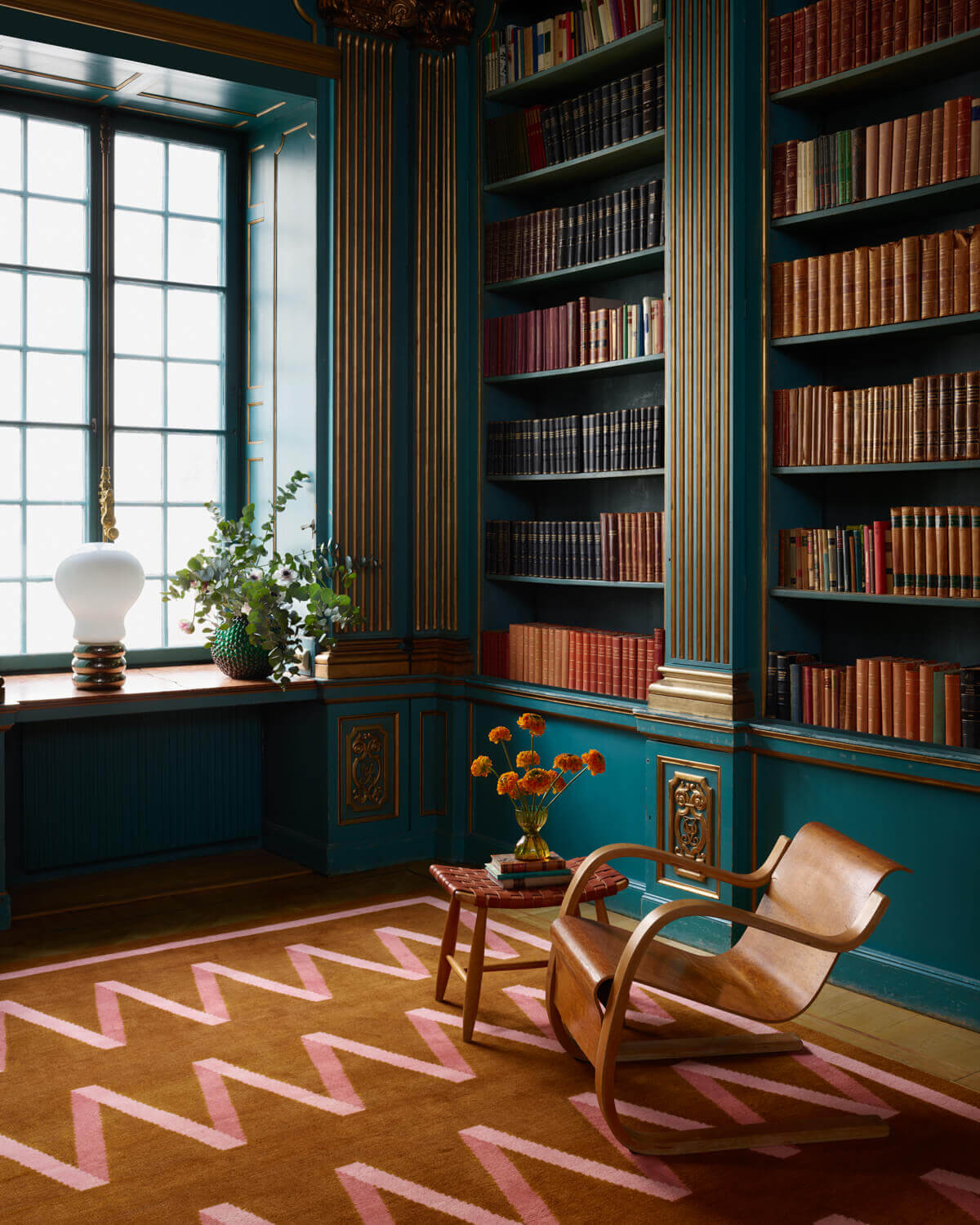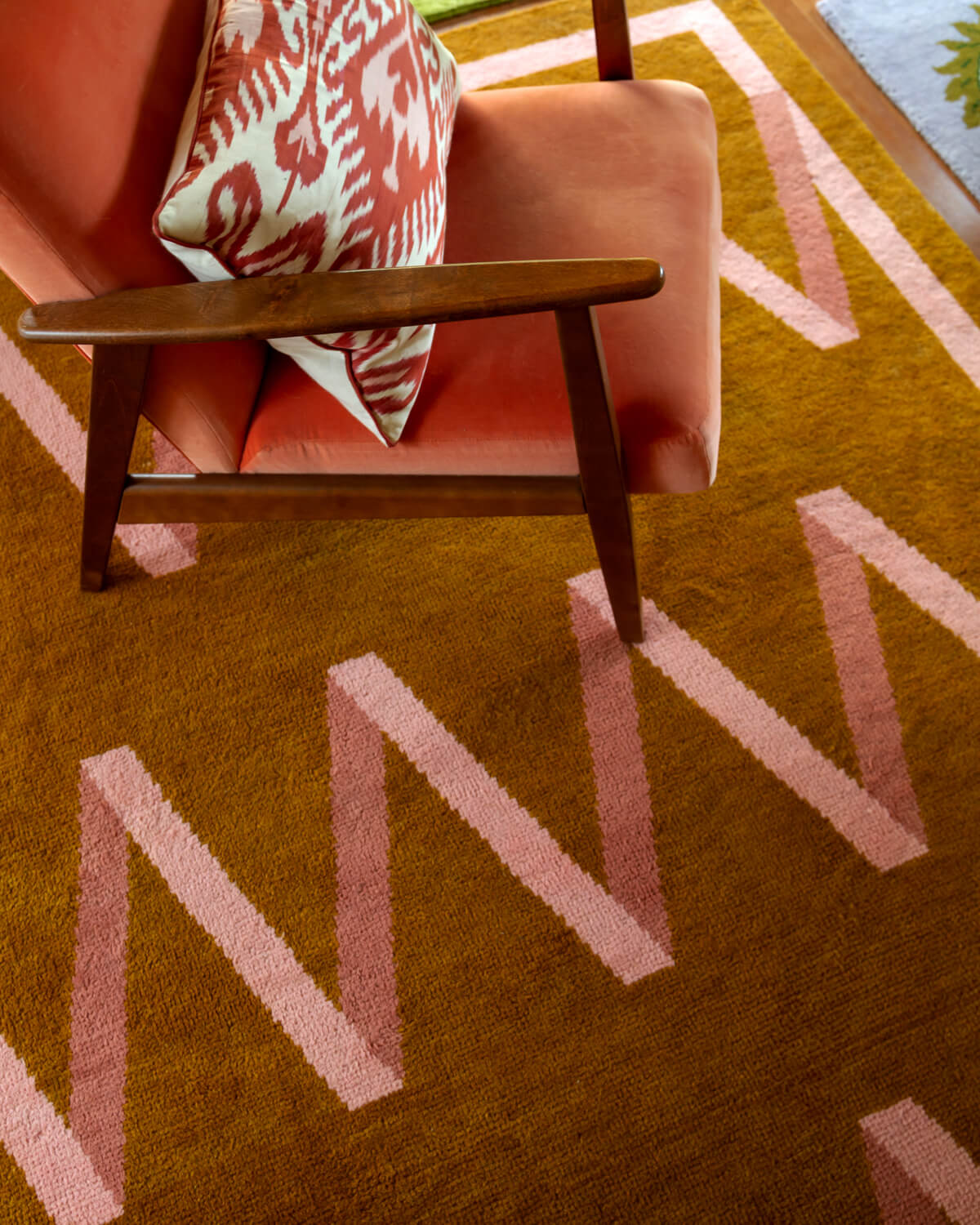 Garden Maze
Garden Maze has lush tones of green reminiscent of hedgerows that characterize the Garden Maze rug, an homage to the formal gardens of Russell Page. The deepening shades of green create a play on perspective and recall the geometric shadows of a hedge maze.
Climbing Vine
Climbing Vine is a similarly contemporary update to a classic motif, a line of scrolling chartreuse foliage, sharp and graphic in its outline, that winds around the edge of a calm lilac rug.
Climbing Vine ISSIMO
Designed by Campbell-Rey for ISSIMO at Hotel Il Pellicano. This rug was created to capture the spirit of the Italian dolce vita that's synonymous with this iconic hotel. Inspired by the rich terracotta hues of the hotel's buildings and the lush greens of the undulant rosemary bushes in its surrounding gardens.
You can shop the Campbell-Rey rug collection on the Nordic Knots website.