A Colorful Family Home in a Former School Building
In Southern Sweden, a 19th-century school building has been renovated into a wonderful family home filled with color.
It's a family home where old and new come together. The former school building was built in 1876 and you can still see some of that historic character in the house. The house has an old-fashioned stove, rustic wall panels and floor plinths, and ornate window sections.
These historic elements are combined with eclectic furnishings and decor. From leopard-print wallpaper to antique furniture, and pink & orange bathroom tiles. You will like this family home if you love unique, eclectic, and colorful interiors.
The owners of this house aren't afraid to mix and match prints and colors. A mint green tv cabinet combined with leopard-print wallpaper and a colorful sofa. It's a bold choice for a sitting room but one that works really well.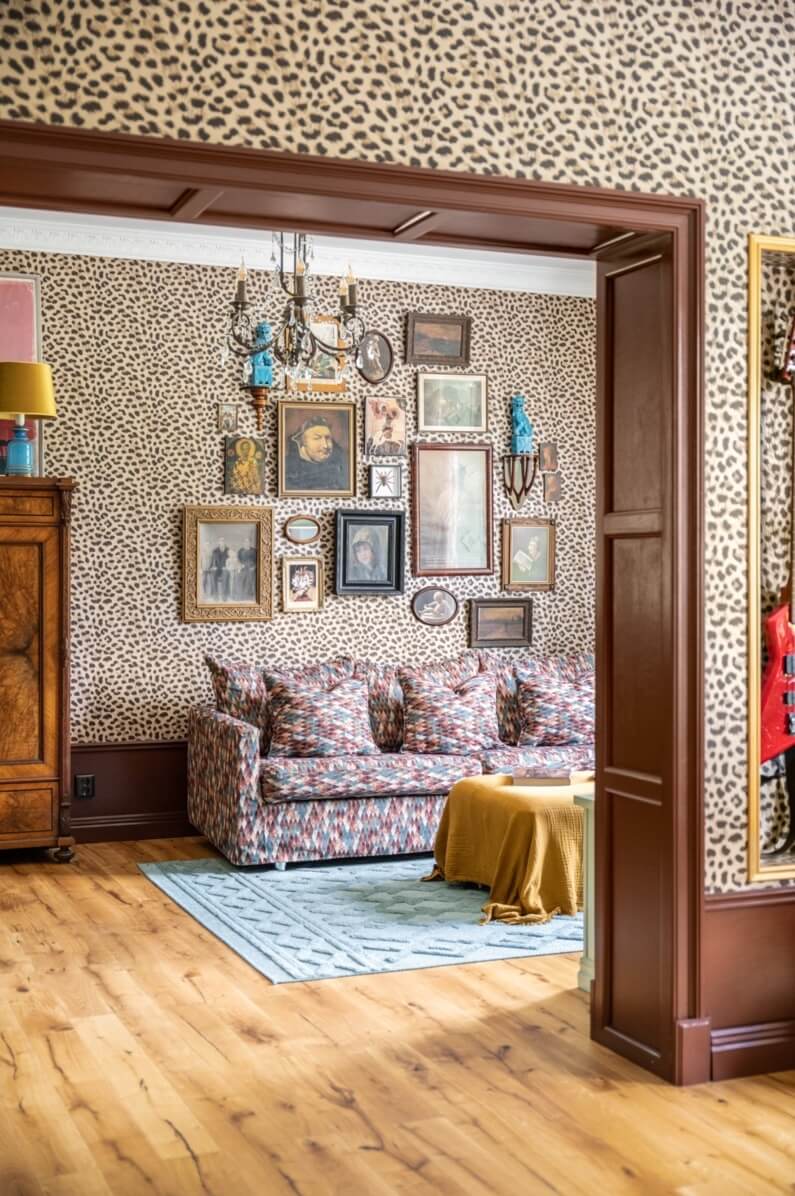 The living space is divided into two areas, with oak wooden floors that run through the entire space. The terracotta wood panels add a warm tone to the living room.
The large country kitchen is the heart of the home. With warm yellow walls it's a very welcoming space.
This home has two bathrooms. The first one has black walls that is combined with a Moroccan sink immersed in an antique chest of drawers with Carrara marble top.
A nice color pop is added in the shower withthese orange tiles. The leopard print from the living room returns in the shower curtain.
The first floor has three big attic spaces/bedrooms, including this tv room/playroom. All first floor rooms have mint green walls.
The first floor also has a large and cheerful bathroom with pink tiles and leaf wallpaper.
This beautiful colorful family home in Sweden is for sale at Våningen & Villan.