A Green and Pink London Townhouse with A Modern Extension
A renovated Victorian house in Stoke Newington, London, blends historic architecture with a contemporary kitchen extension. You often see Victorian homes with modern extensions, and this one perfectly pairs the two architectural styles.
One design feature that helps blend the two is the continuous and complimenting color palette of green and pink tones. The soft green shades from the living room walls in the old part of the house, return in the kitchen cabinets in the new addition.
The extension at the back of the house also creates a beautiful indoor-outdoor living space. the floor to ceiling doors open up to extend the living space to the garden in the warmer months.
In the Victorian part of the house, you find a calm double living room. The bay window has bespoke shutters and the walls are painted in a natural sage green shade.
Originally, these were two rooms but the walls between the two spaces have been removed to create on big living space. The original floorboards are painted in a dramatic black hue.
The internal window gives a glimpse of the extension with the modern kitchen.
The walls in the hallway are painted in a warm dusty pink shade.
The modern extension has wide-form porcelain tiles with a fine terrazzo finish and exposed larch beams that frame an expansive skylight above. 
The steel beam which has been painted in a vibrant burnt orange shade divides the kitchen from the dining and living area.
The modern kitchen has sage green cabinets and a terrazzo backsplash. The extension has two skylights which are fitted in the gently sloping ceiling of the addition.
The first floor has two bedrooms, one is now used as an office and features a skylight and a window overlooking the garden.
The second room on the first floor is now the master bedroom. The room has a calm vibe thanks to the walls and ply-fronted wardrobes that are painted in 'Cold Brew' by Coat.
The master bedroom has an en suite bathroom with white subway tiles.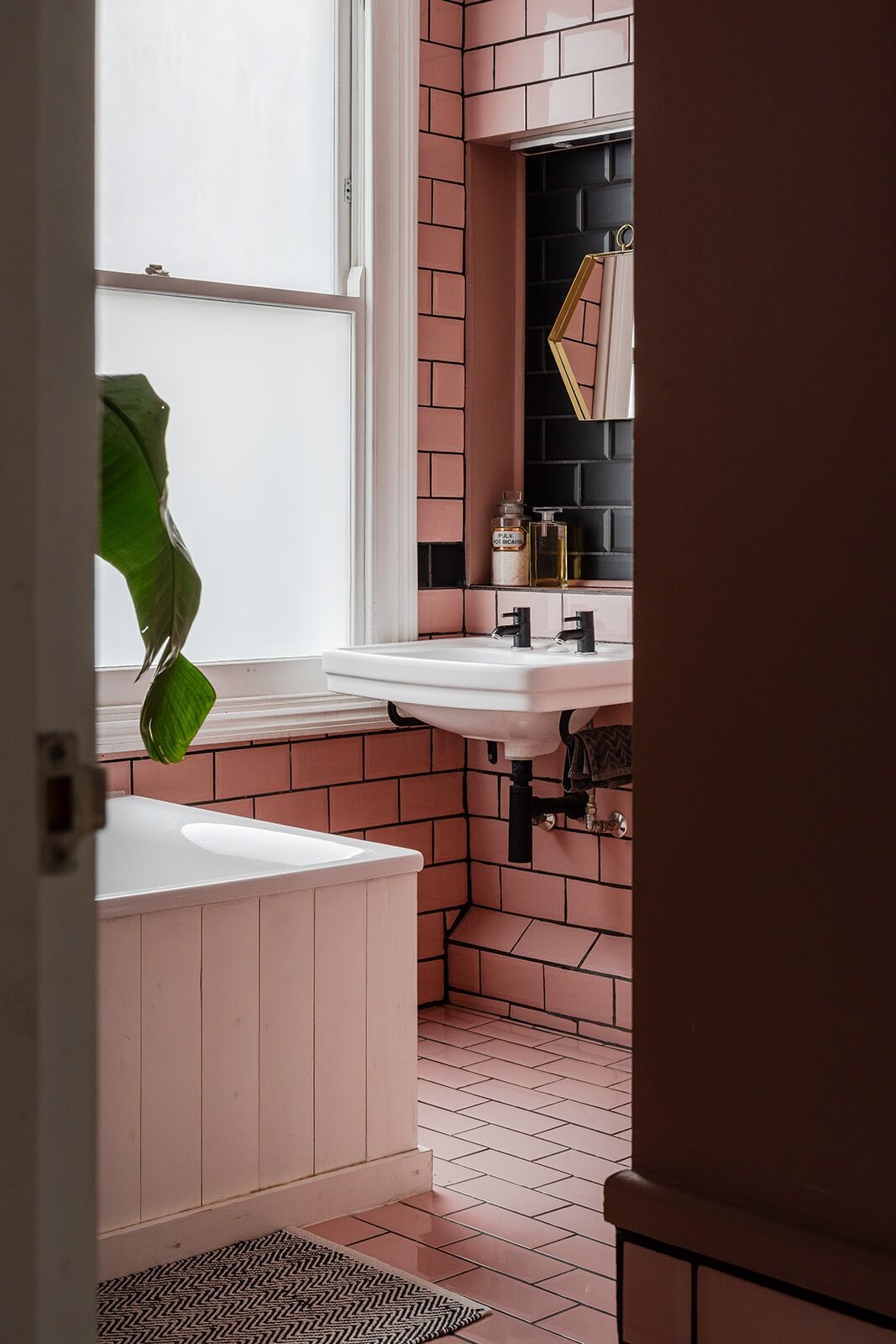 The first floor is also home to the family bathroom with pink tiles and matt black fixtures and fittings.
The top floor is home to two more double bedrooms. Both rooms are painted in a lovely green shade.
Porcelain tiles extend out from the inside onto the terrace, creating a strong sense of continuation between indoors and out.
This Victorian home on Winston Road is now for sale at The Modern House