Home Decor Trends 2021: A Comfortable Home
We're 4 months into the new year and we can now see where we're going in terms of interior design in 2021. I've already shared with you the color trends for 2021 but what about the rest of our homes?
In this post I've rounded up the interior design trends of 2021 that I've been seeing in my work as interior blogger. There's a big focus on comfort (both in decor but also in color tones), a hunker for the familiar with modern 'granny style' and vintage decor and also sustainable design and a connection to nature will keep on becoming more and more important.
A comfortable home
Comfort is the most important 'interior design trend' at the moment, it is probably what we're all longing for. We've been spending more time at home than ever before, not just for relaxing but we've also started working at home.
And I predict we'll keep on working from home in the future (because yes, we now know for sure that that meeting really could have been an e-mail or at least a Zoom call)
Less design more comfort
Very nice that design sofa, but maybe not the most relaxing thing to spend an evening on binge-watching you favourite show on Netfix. It's an item that we'll see more in this interior trends blog post but I see a trend toward less perfectly designed spaces and a bigger focus on comfort (and a bigger mix in terms of home decor, but more on that later).
Big comfy sofa's in comfortable fabrics (velvet is still a big design trend) are something that we'll see a lot in the future and this new seating is often in bright colors like pink, mustard yellow and green. (photos: Joybird, Andrea Papini, Kate Spiers, Maker and Son)
Warm Colors
Comfort is not just about furniture but also about color. As you might have read in my Color Trends 2021 post, this year is all about comforting color tones (with the occasional bright color pop).
The color trends will make you want to stay at home because you'll be surrounded by warm earthy tones, soft pinks and natural blue tones.
Granny Style (but in a nice way)
I acutally think granny style has a slight negative tone about it but that is not at all what I want you to feel when you see this. In 2021 we're longing for that comforting, familiar feeling of your grandparents house (which is probably influenced by the Corona pandemic).
But obviously this granny style does get a little fresh update to make it ready for 21st-centuy living. It's a trend I've been seeing a lot in the homes that I come across during my work, think floral patterns, antique decor and soft cheerful color hues.
(photos: Eve Campestrini, Architectural Digest, Anthropologie)
Floral patterns
I love floral patterns, always have and probably always will. In the many Scandinavian homes that I post I often come across floral wallpaper by William Morris. Which is mainly in natural color hues, that brings a nice design element to a wall without it being very in your face. But I also see floral patterns that's a little more out there in bright color hues
Antique Decor & Vintage Finds
Antique and vintage home decor has multiple advantages: it's sustainable, it's (sometimes) a lot cheaper then anything new ánd you'll have a unique design piece in your home. I always think Scandinavians know how to incorporate vintage pieces into their home very well.
The vintage pieces are combined with more minimalistic Scandinavian design and many natural materials for a calm, natural look (photo: Petra Bindel)
Pastel Colors
Pastel colors are comforting, it's adding color to your home without it being overwhelming. The soft pastel colors bring a romantic vibe to your house that you simply don't want to leave
Mix it up
This pretty much ties all the home decor trends I've already mentioned together. We no longer want the 'perfectly designed home'. We want a home that's personal, cozy and warm and that often means you combine all the items you've collected over the years.
Does that always perfectly match? No probably not, but a home with items with a story, a nice memorie or simply because you think it's pretty will feel more like a home to you than the perfectly designed home.
Japandi design
Contrasting to the Granny Chic style you have Japandi. Japandi is the combination of Scandinavian and Japanese design aesthetic. Japan and Scandinavia have a lot in common when it comes to design. Both styles are focussed on simplicity, using natural materals and high functionality.
Japandi design has clean lines, light rooms (in terms of natural lighting but also in color tones) and no unnessecary home decor to clutter up a space. A home designed in a Japandi style isn't empty or soul-less.
The design pieces are carefully selected to create a home that's functional, natural and comforting. Where high quality materials are being used and sustainability is an important factor in the design of a home. (photos: Nordiska Kok, Anthologie, Pinterest)
A natural look at home
We've all been feeling a stronger connection to nature in the last year. And that's no surprise because nature feeds our lives. We want to be surrounded by greenery and also make sure that our world is here to enjoy for future generations. So we're not only seeing green colors and natural materials in home decor but also more focus on sustainability (also from large companies like IKEA).
Green Colors
Green home decor is everywhere right now and not without a reason. Green is a very soothing color, you'll add color to your home but in a very subtle way. (photos: Haris Kenjar, Rachel Reider Interiors, Anders Bergstedt)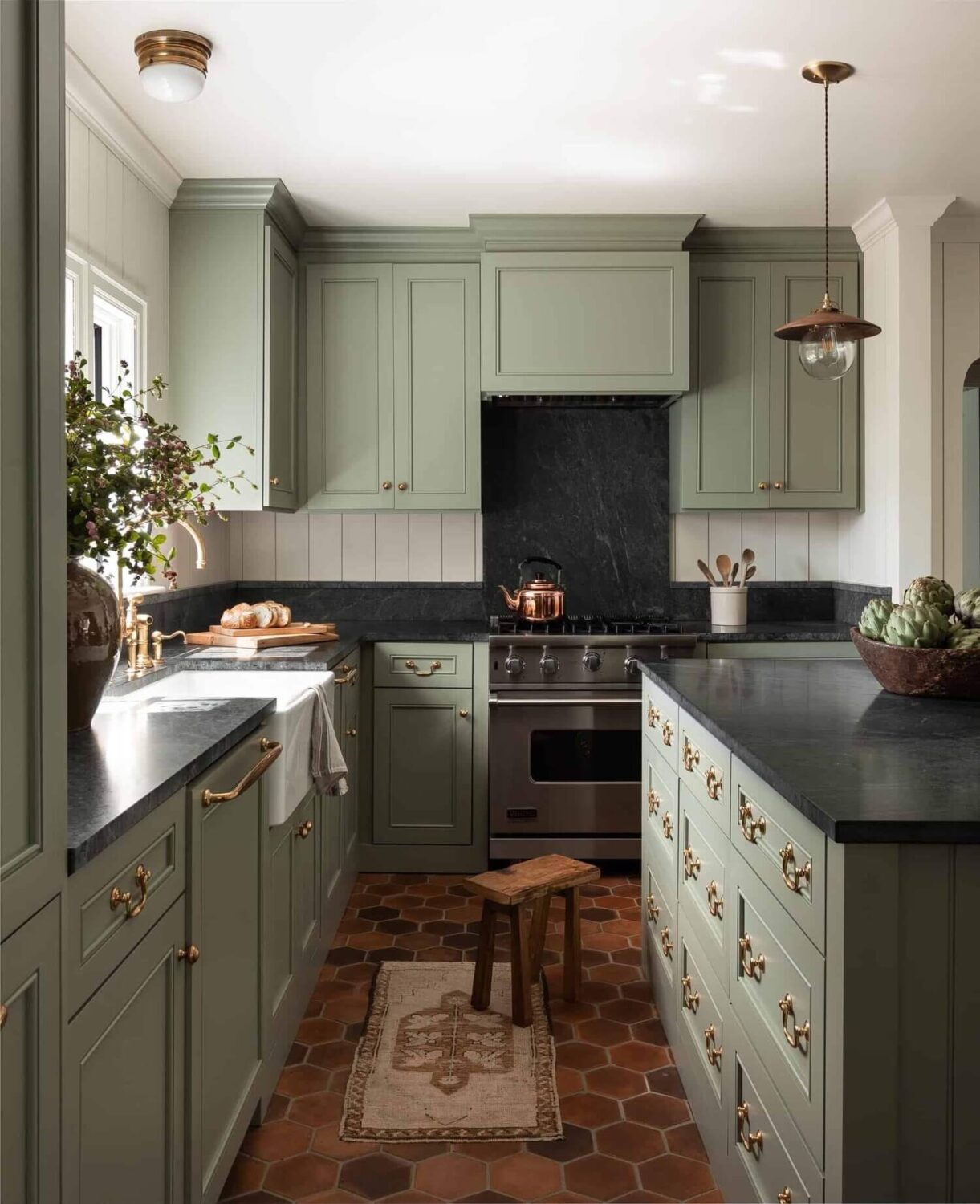 Plants
Decorating with plants is not a new trend of course but this year there's been a big move to the countryside during the Corona pandemic. Of course we're not all fortunate enough to live surrounded by nature but luckily you can still bring the ourdoors inside with plants.
Decorate your home with greenery, use window sills to grow herbs and add flower boxes to add a little nature to your home. (photos: Hilton Carter, Andrea Papini, Lena Ostling, IKEA)
Natural Materials
The longing to surround ourselves with nature doesn't end with decorating your home with plants. Also our furniture and home decor can add to that natural look with items made of natural materials such as wicker and rattan. (photos: Andrea Papini, Anna Malmberg)
A Sustainable Home
This one builds further on the natural materials section. Sustainabilty is becoming more and more important for people and also for interior brands. For example IKEA is using mainly organic cottons, they often make products using recycled materials (curtains made of recycled pet bottles, rugs made of waste fabrics) and design products that will help us live a more sustainable life. More sustainable home brands are The Citizenry, Parachute, Made Trade, Ten Thousand Villages
Terracotta Floors
Tiled floors can look cold in an interior but luckily you can choose terracotta floors. The earthy tones of terracotta tiles bring warmth to your home. If sustainability is high on your design agenda, you can look voor salvaged terracotta floors, it's not only good for the enviroment to chose reclaimend materials but is also adds more character to your space
(photos: Avenue Design Studio, deVOL – click here for the full kitchen tour, Douglas Friedman, Andrea Papini, Matthew Williams)
Open Kitchen Shelves
No more closed kitchen cabinets but show off your kitchenware from copper pots and pans to handmade crockery and colored glass. Mix it all up on your shelves to create the perfect shelfie (photos: Beth Kirby, Carole Poirot)
Wall Design
No more plain walls, we want more texture and warmth in our homes and that includes our walls. From plaster walls to large rugs on the wall to adding texture in different ways.It adds a lot of warmth and depth to your home.
Plaster walls
Step away from the plain painted walls, and move over to the plastered wall side! I love plaster walls, they give walls a natural, interesting look.
Textured Walls
Add depth and texture to your wall for a unique wall feature. There are many tutorials on the internet that can show you how to create such a wall. You can add the wooden slats in interesting geometric forms or go for a more traditional box paneling. For a sleek look you can add straight wooden slats (photos: Anita Yokota, Angela Rose, London Paiting Group, Vintage Revivals)
Large textured wall art serves as a headboard in this eclectic bedroom designed by Beata Heuman
Are there home decor trends that you have already implemented in your home? Personally I love the growing connection with nature, it's so important to be surrounded by greenery and to be more mindfull of the items you buy