An Idyllic Family Home in the Swedish Countryside
In 2010, Johanna Berglund and her husband bought an old farmhouse in the Swedish countryside. Over the years, they carefully renovated the house using harmonious tones and floral wallpapers in combination with modern and vintage furnishings.
At the renovated country house, Johanna lived and worked as an influencer in home, garden, and interior design. The grounds are home to a boutique store, a bed and breakfast, and a flower garden where people can pick their own bouquet of flowers.
And now, Johanna and her family are selling this idyllic Swedish country house to move a few kilometers away to start a new adventure. The 183 square meters family home has beautiful light rooms, and the garden is filled with flowers.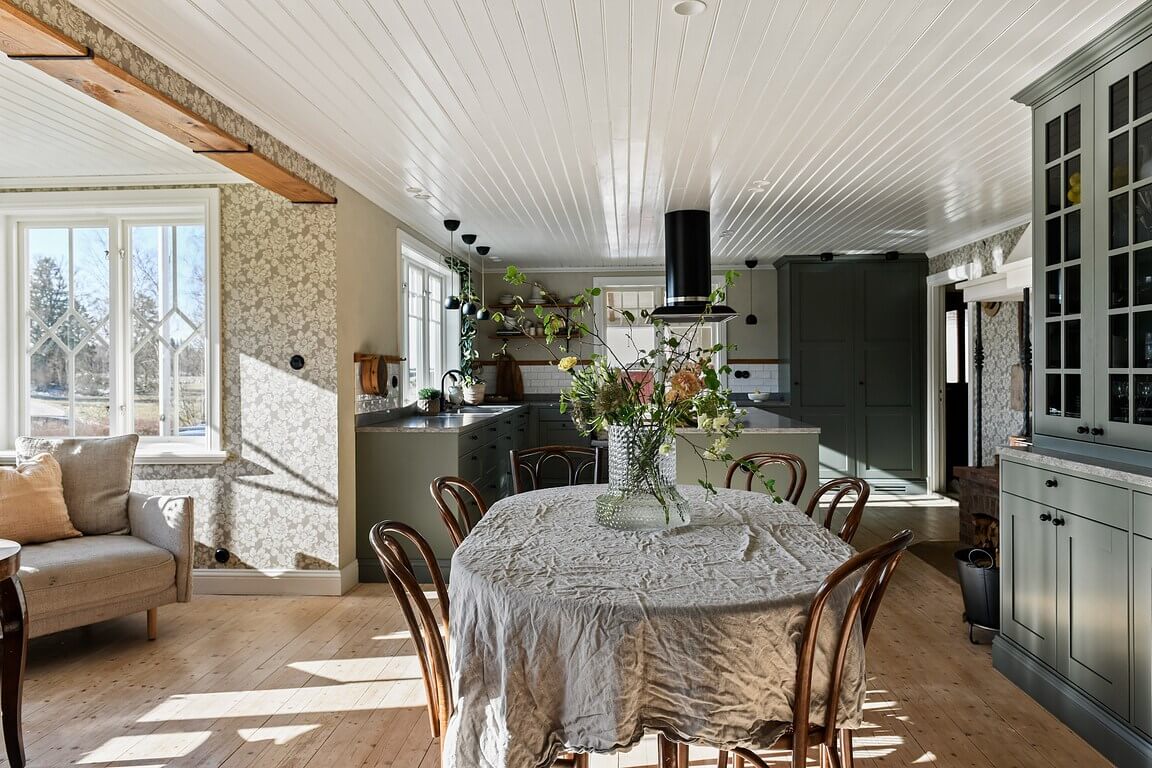 The kitchen is the heart of the home. This grand open plan space with a green kitchen, a dining table, and seating in the bay window is a wonderful place to spend time in.
The many windows in this room flood the room with natural light.
The cabinets in the Vedum kitchen are painted in a muted shade of green. The cabinets are topped with composite worktops that are durable and stylish.
The extended space in the kitchen creates a beautiful seating space.
The room is big enough for a generous dining space with vintage dining chairs.
Next to the kitchen is a small room which would be a perfect home office. The walls are decorated with the Nocturne wallpaper from Boråstapeter.
The living room is decorated in a muted color palette of green and gray shades. The walls are decorated with the Hazel wallpaper from Boråstapeter.
On the first floor is a second sitting room with a large balcony.
The master bedroom is decorated in a calm gray shade. The wall paneling is used as a headboard.
The walls are decorated with the Dancing Crane wallpaper.
At the front of the house is a veranda with an outdoor kitchen and a large outdoor dining space.
If you think this home looks familiar, then you're right. The Nordroom has featured this home on the blog before. You can see that home tour (with different pictures) here.
This idyllic country house is listed at Fastighetsbyrån