IKEA Winter Collection 2022: A Warm & Inviting Home
IKEA has released images of their Winter Collection 2022 and it might be their best collection yet. Winter is the season of coming together and spending time with your loved ones. And with the furniture and decor of the new IKEA Winter Collection you can create a warm and inviting home in the dark winter months.
You can bring the outdoors in with a wonderful collection of textiles with floral and botanical prints. Or you can play with color and add items to your home in bold colors such as a red dining set and a colorful new rug.
Whether your style is natural and moody or more bold and bright. With the new items of the IKEA Winter Collection you can create your dream home.
The IKEA Winter Collection 2022 is in stores and online in October.
Stay up to date: IKEA Catalog 2023 (And More IKEA News)
Style Expression: A Good Dose of Nostalgia
Honest and harmonious, this home look is all about creating a warm, decorative feeling that invites you in. Look to tactile textures, prints inspired by nature and an autumnal, earthy palette to create a mood that's heartwarming, wholesome, and makes you think of everything you love about the good ol' days.
In this living room: VISKAFORS sofa, TUVSÄV cushions, KNOPPÄNG frames, TRÅGSPINNARE curtains,
Cosiness Starts Here
Who hasn't dreamt of their own secret garden? Create your own sanctuary with new prints and patterns that are reminiscent of your grandma's beautiful backyard.
In this room: KÄRRDUNÖRT duvet cover, NÄSSELKLOCKA cushion cover, KRÅKRISMOTT duvet cover, STUTERI storage box, HOVSTA frame with poster.
A Very Warm Welcome
Welcome friends, family, and all your guests with open arms – and an entry hallway that's well organised and always looks good.
In this room: ALMARÖD mirror, HÖVOLM rack, SVINDINGE rug, STUTERI storage box
This Season's Must Haves For A Very Good Evening
At this time of the year, everyone is invited.
In this room: GARNERA servind stand, NACKANÄS chair, NACKANÄS table, BIRKELÅNGA tray, BIRKELÅNGA napkins, SILVERARV table cloth.
Stylish, Cosy, Comfortable
One living room, one sofa, many different needs. Warm lighting, stylish accessories, and the new ESSEBODA sofa create an atmosphere that's ready for movie night, quality time with loved ones, or simply curling up with a good book. The ESSEBODA footstool doubles as a sofa table, extra seat, or can even be added to turn the sofa into a chaise longue.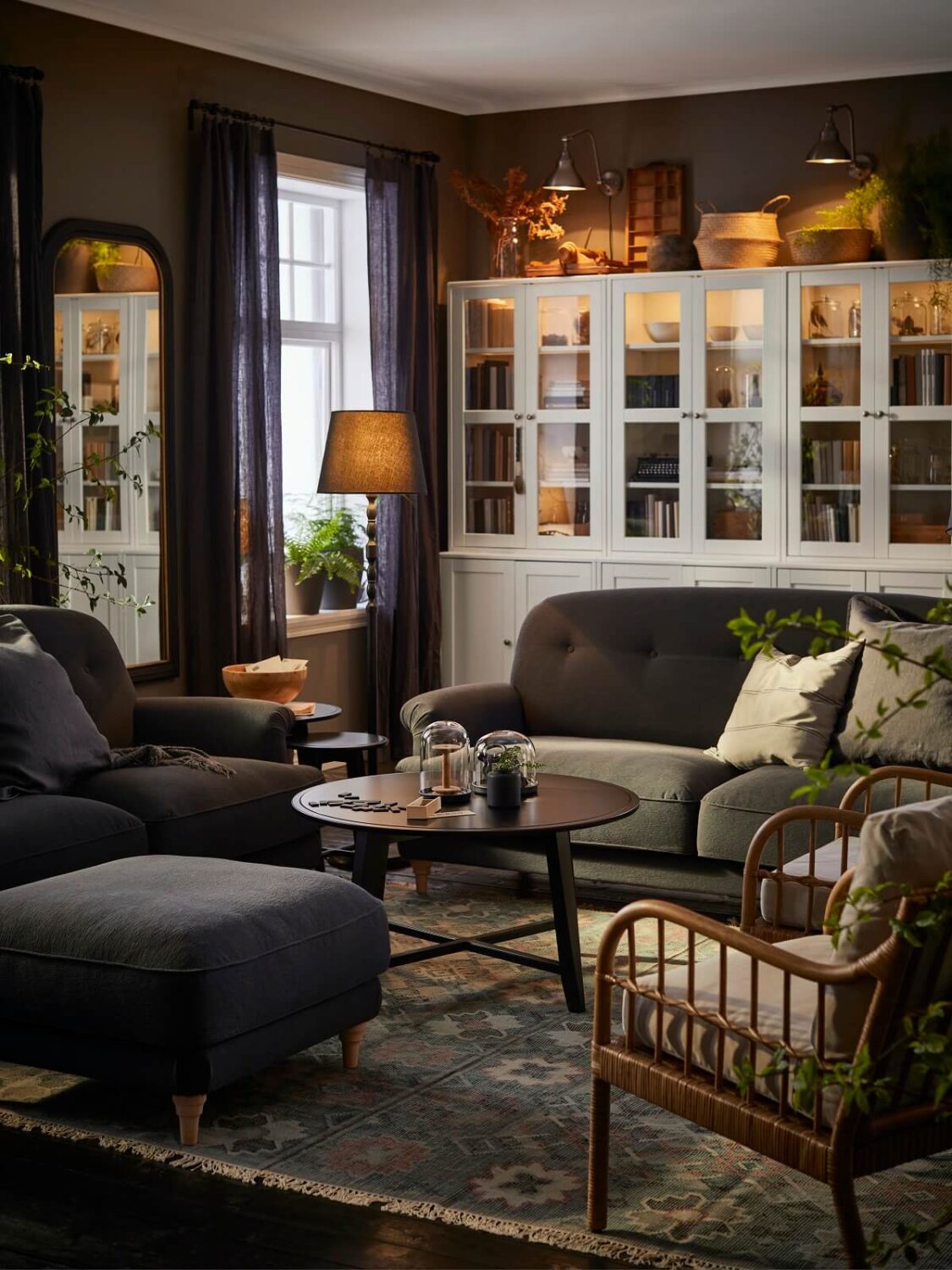 In this room: ESSEBODA sofa, ESSEBODA footstool, VISKAFORS sofa, BLIDVÄDER table lamp, PRAKTSPIREA LED decoration set, JORDTISTEL cushion cover.
The New Dining Room
The dining room is where friends and family come together: the heart of your home that's always cosy, always warm – and always ready for guests.
In this room: CYKELVÄG rug, HEMNES glass door cabinet with three drawers, PINNTORP chairs and table, EKVECKLARE cushion.
A Modern Take on Folklore
Recreate the look of a stylish, historic Scandinavian home. Printed instead of embroidered, block coloured instead of patchworksewn, pieces like the cheerful BRÖNDEN rug are modern – but destined to be treasured just as much as the traditional version. It's an easy way to get a fun, folksy look without an embroidery needle.
In this room: BRÖNDEN rug, SLÅNMOTT cushion, ULLTISTEL throw, HÖVISK lantern.
Textiles Dyed with the Help of Nature
This season is all about relaxing and going back to basics – and what better way to celebrate that life than with soft, cosy textiles dyed by nature?
In this room: BLOMNÄSA bed linen, KRÅKRISMOTT duvet cover, VALLASÅN bath towel, HÖgAFFEL wall hook.