Imrich Lodge: A Cozy Self-Built Log House in the Scottish Highlands
I am so excited to share this home tour with you. It's not a type of home that I often share on the blog, but this home is so wonderful and unique that you have to see it.
Located in the Scottish Highlands stands Imrich Lodge, the self-built log house of Nicky and her husband Grizz. Nicky shares her unique on instagram and I'm very happy to share this warm, rustic, ánd colorful home with you.
Nicky managed to create a home that highlights the unique log architecture of the house while at the same time creating a cheerful and vibrant home by decorating with strong colors and florals. But let's hear from Nicky herself about her house and decorating style.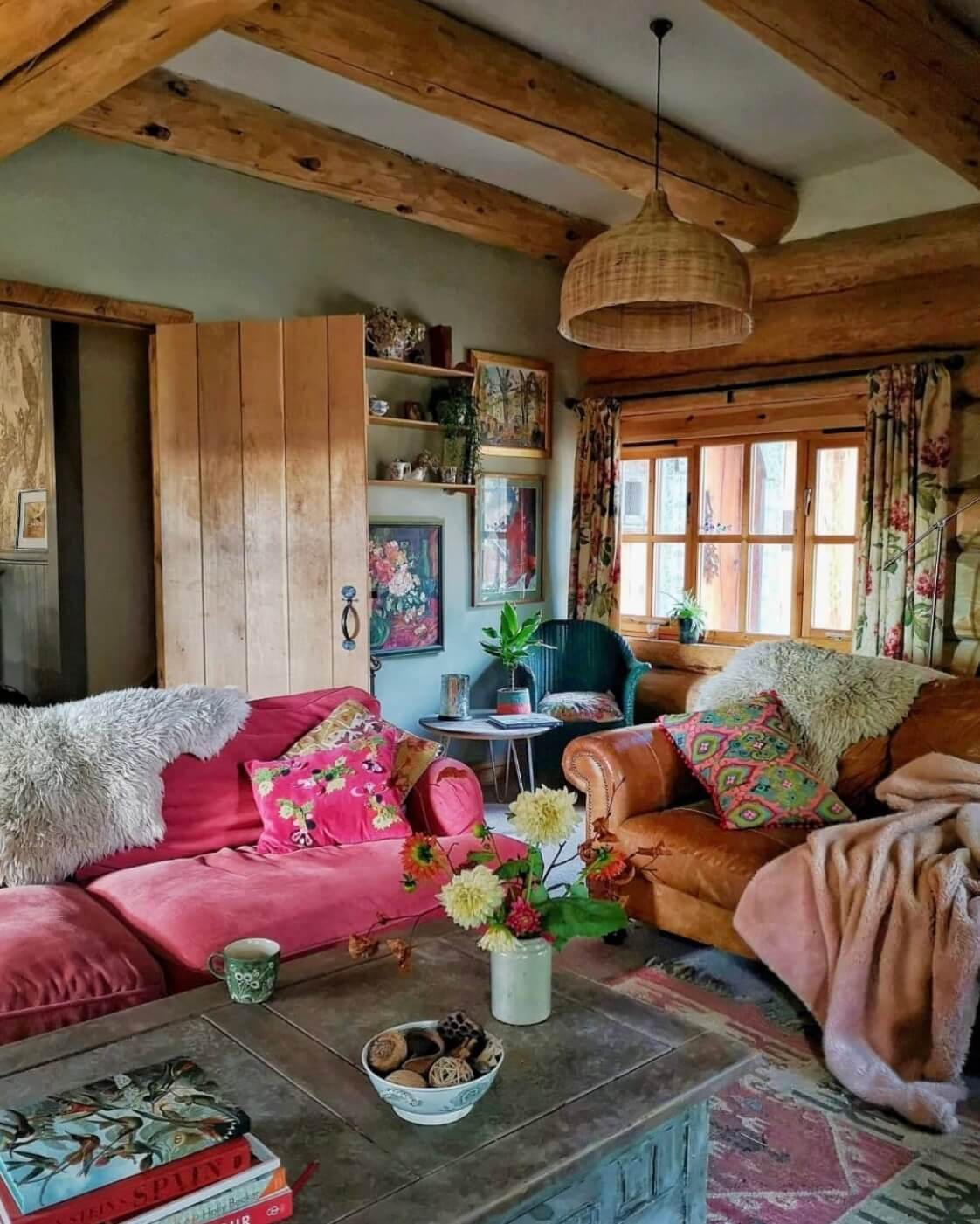 Nicky, tell us a little bit about yourself and your home
I'm Nicky and I live in a hand built log home with my husband Grizz. We have 6 kids between us who are all away now. After being given a book on log building by his Norwegian uncle, Grizz was keen to learn more so we took a trip to Norway to see the old log buildings, (some are still standing after 1000 years!) and then to America and Canada where he was taught his craft. After buying a plot of land he hand-selected and felled the trees and then built the house, using nothing much more than a chain saw and an axe.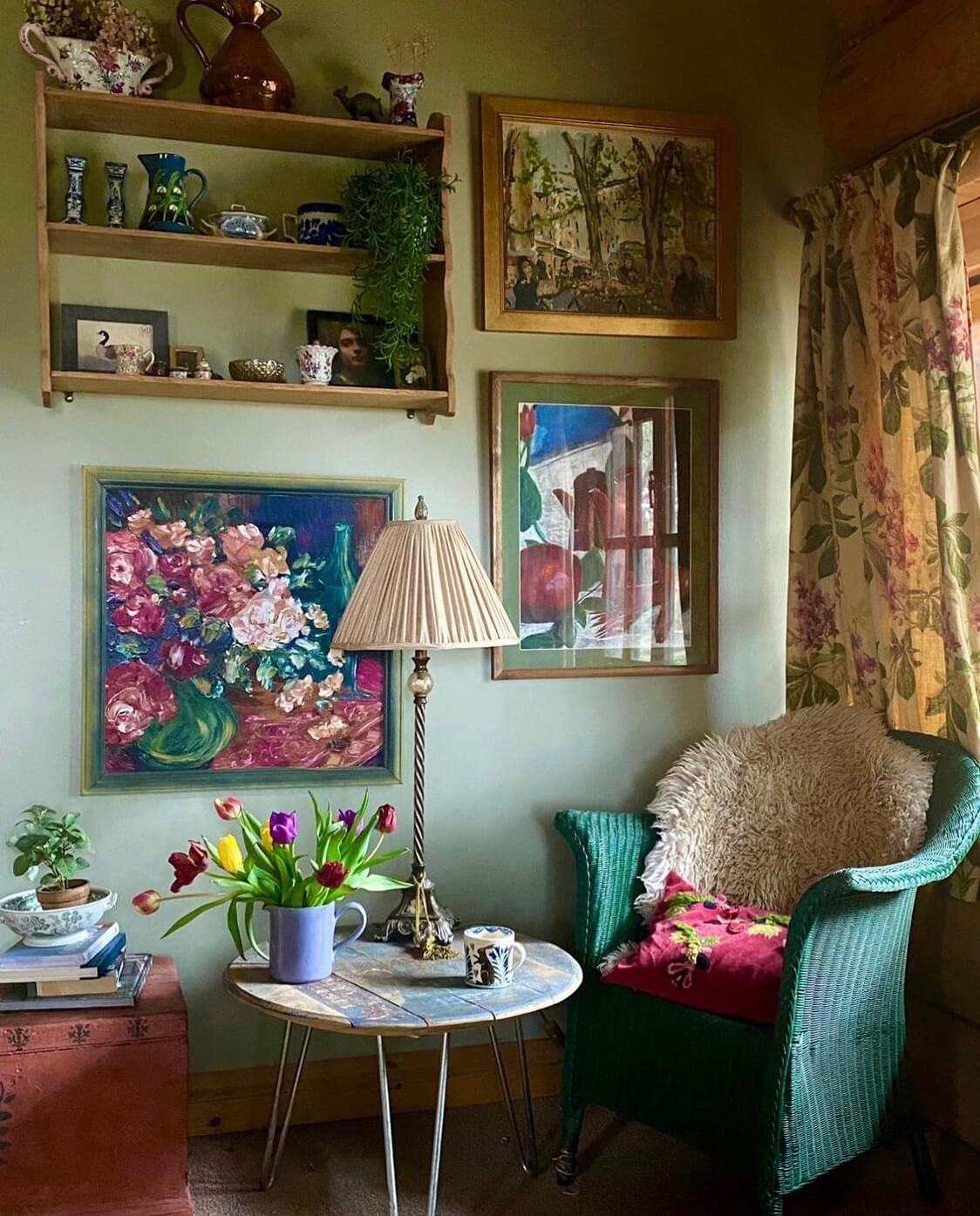 How would you describe your home style?
I would describe my home style as country rustic, a little boho, definitely relaxed and possibly a bit cluttered!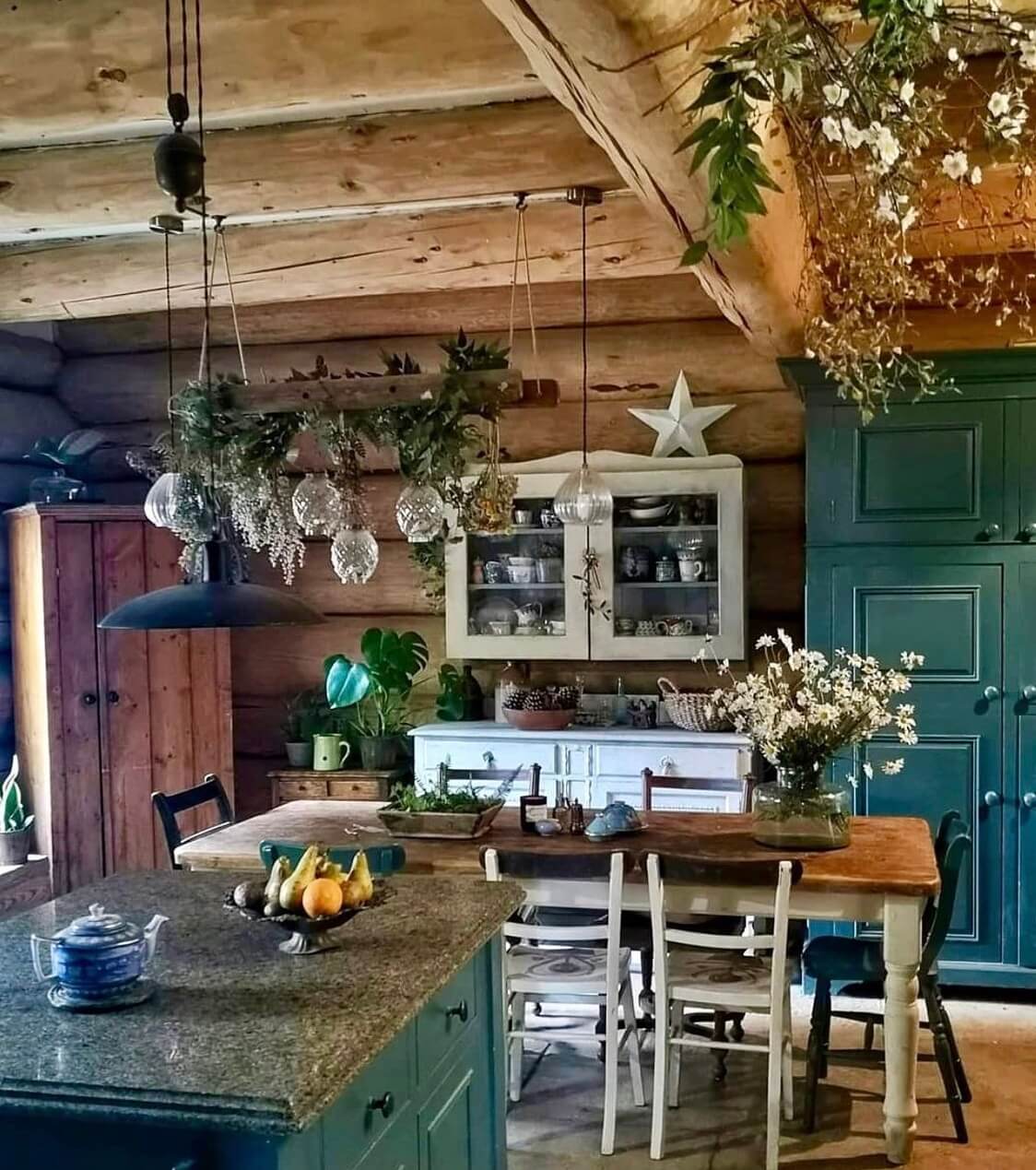 Where do you find inspiration for your home?
I love colour and florals, I'm definitely inspired by nature, and the seasons (love adding loads of layers on furniture when it starts getting chilly). Introducing colour was important to me as was not overdoing the 'loggy' look which is common in a lot of log homes. I think my favourite colour and one which goes so well with the wood, is of course green.
My sitting room walls are a pale blue green and with all my plants, there's green dotted everywhere! My kids have recently given me a large faux fiscus, which is very realistic and of course needs no looking after! I think there's definitely a place for faux plants and flowers. Top tip for faux flowers? make sure they're not only realistic but only display those in season – I have a small cupboard full of faux flowers which I rotate according to the time of year!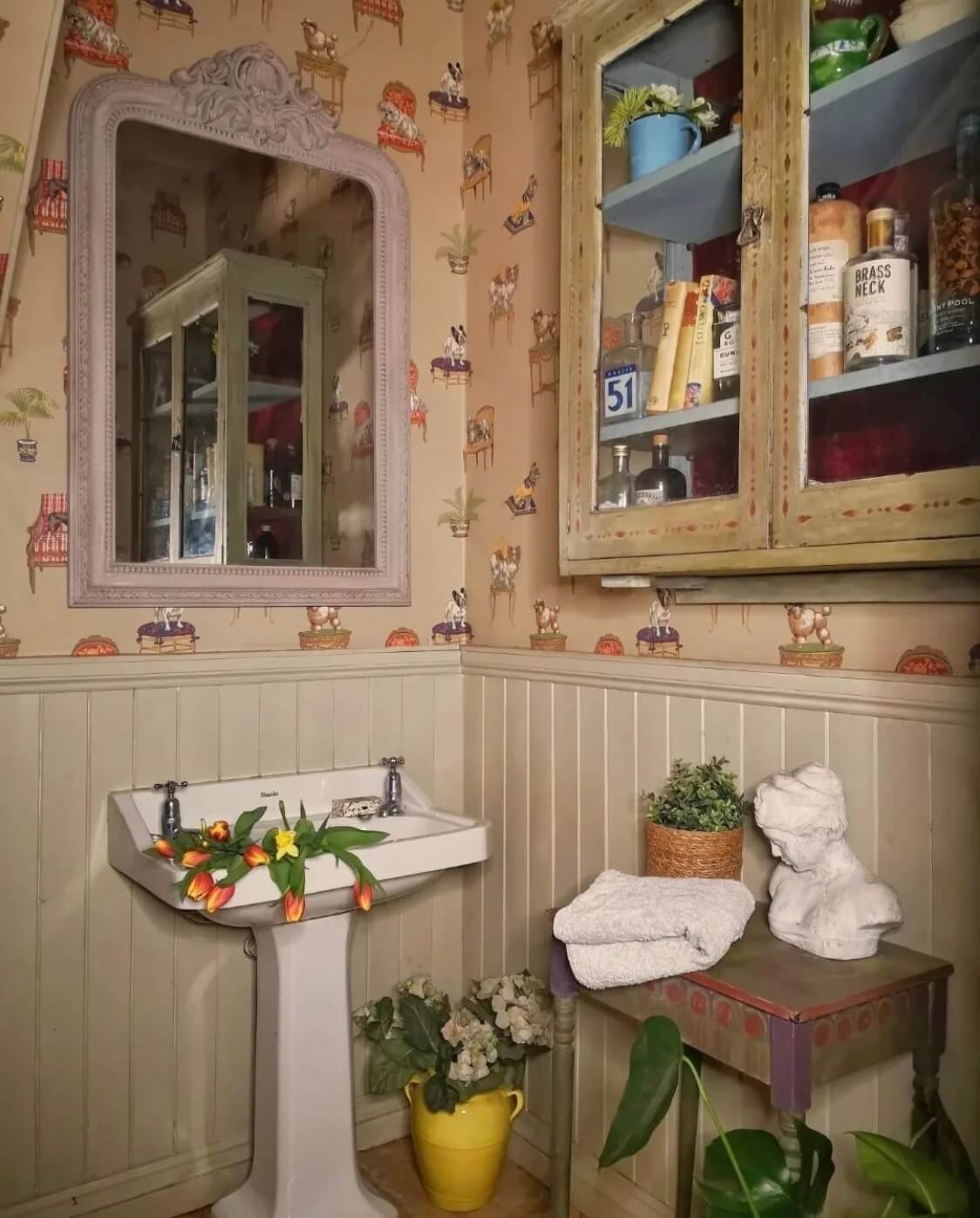 What are your 5 favourite interior instagrammers?
I've been asked so many times which are my favourite Instagram interior accounts and I can't answer that! I like so many different styles it would be impossible to pick. But definitely, because I love nature, I lean heavily towards all biophilic accounts.
Do you have any tips/advice for decorating a home?
Make a mood board, trawl through Instagram and Pinterest, get wallpaper samples, paint samples and take loads of notes.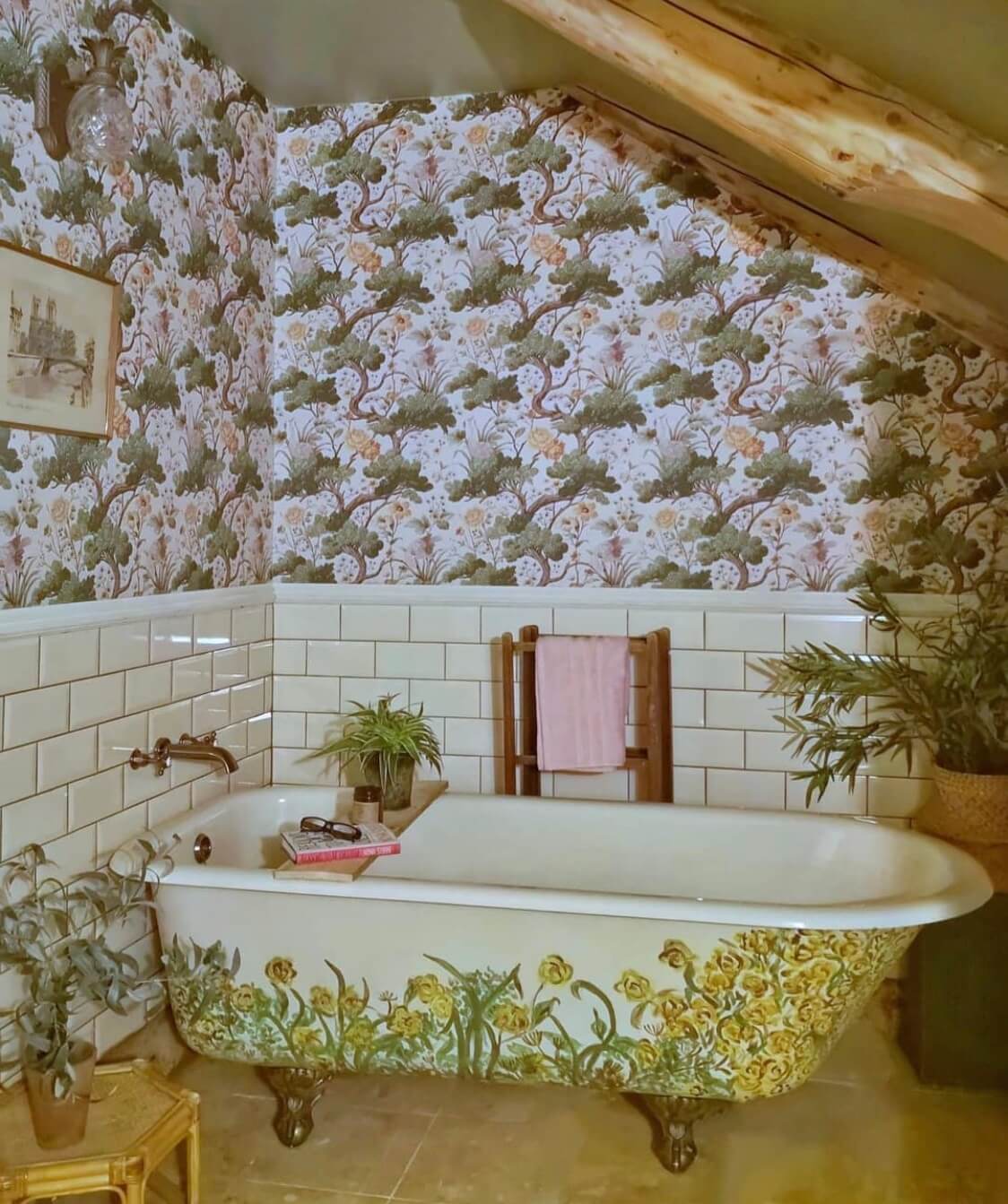 What is your favourite room in the house and why?
My favourite room is the sitting room – I love the giant stone fireplace. It's the room where we all spend a lot of time playing games when the kids come home at Christmas. It's a very noisy house then!
Do you have a dream interior design project?
We have 3 bedrooms (and 3 bathrooms) which we still have to complete – the 'end room' as we call it, is huge. I have so many plans for this room….I'm wanting a free standing copper bath in the bedroom, a sofa, and there will be a door leading to a balcony. I haven't decided on a colour scheme yet. The main feature in the room is a massive vertical log which actually looks as if it's a tree growing there. I need to be patient a bit longer but I just can't wait to start decorating!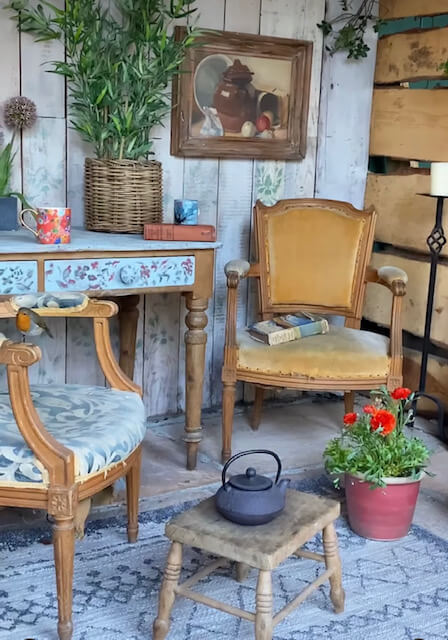 I can't imagine a time when we won't have major work to do in the house, but this year we're having a big push to get certain things off the tick list – we've just installed a log boiler and also wood pellet boiler (as back up) so we have no more heating oil to buy now. And shortly we'll be putting up solar panels in an attempt to greatly reduce electricity bills too.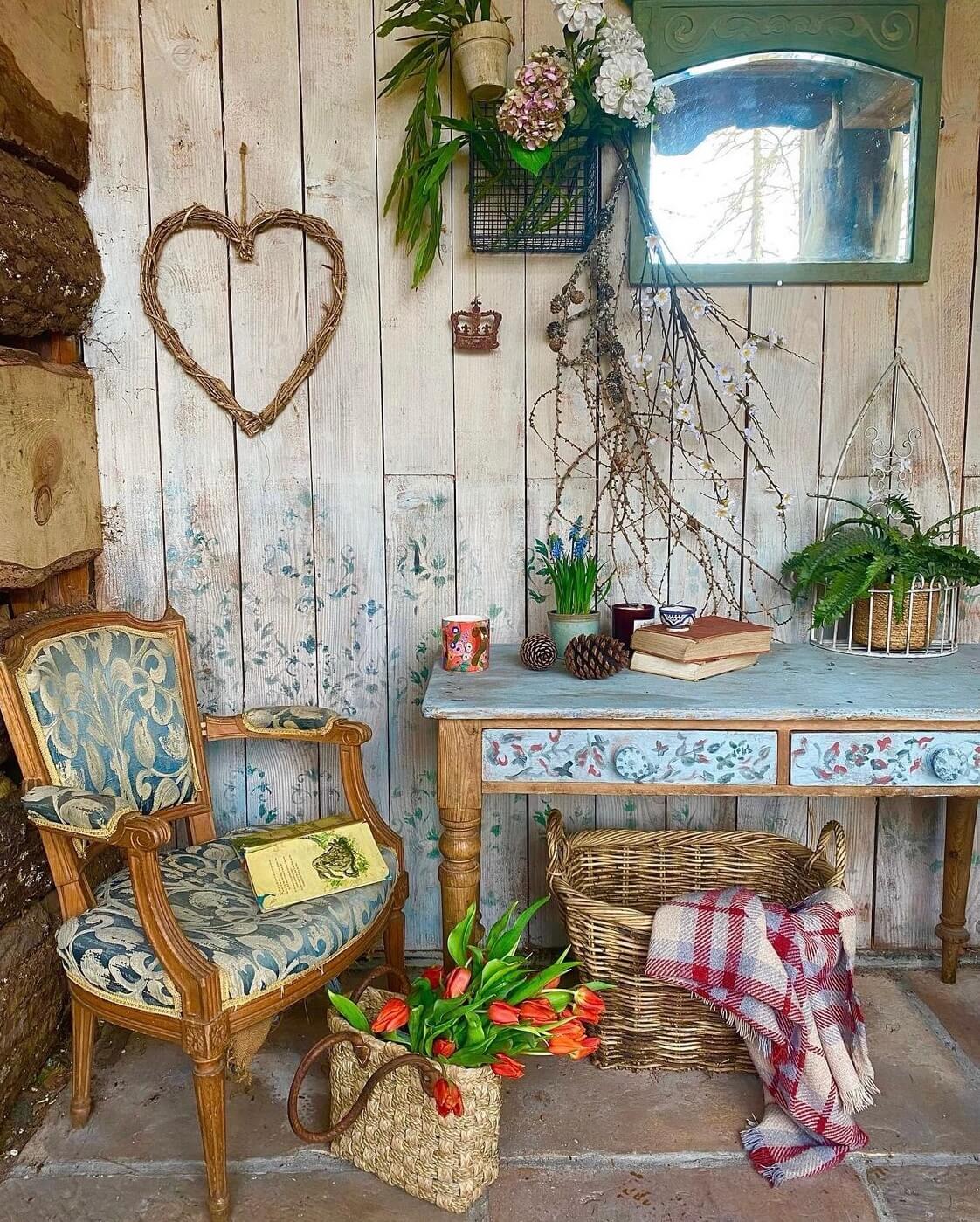 We're also growing a lot of vegetables and for the first time some soft fruits. A more sustainable life is what we're after.
When we've finished everything we've planned, we'll do some travelling and see lots of the family. But I'm sure it'll also be nice to come home, it always is.
Many thanks to Nicky for sharing this wonderful home with The Nordroom. And make sure to follow Nicky on instagram to see more of this unique log house in Scotland.