A London Home with Color Accents and a Secret Garden Shed
Located in the Muswell Hill Conservation Area, in the London area, Highgate lies this beautiful apartment with a large garden and a secret garden shed. The early 20th-century garden flat occupies the ground floor of a stunning early Edwardian building.
The 813 sq ft home has two bedrooms and two bathrooms as well as a private garden that stretches out nearly 100 ft behind the home, with a hidden door and steps behind a summer house providing access to the ancient woodland of Queen's Wood. 
The historic home still features original elements, such as a beautiful carved fireplace in the living room. The recently renovated home has wonderful color accents, from yellow doorframes to glossy green bathroom tiles.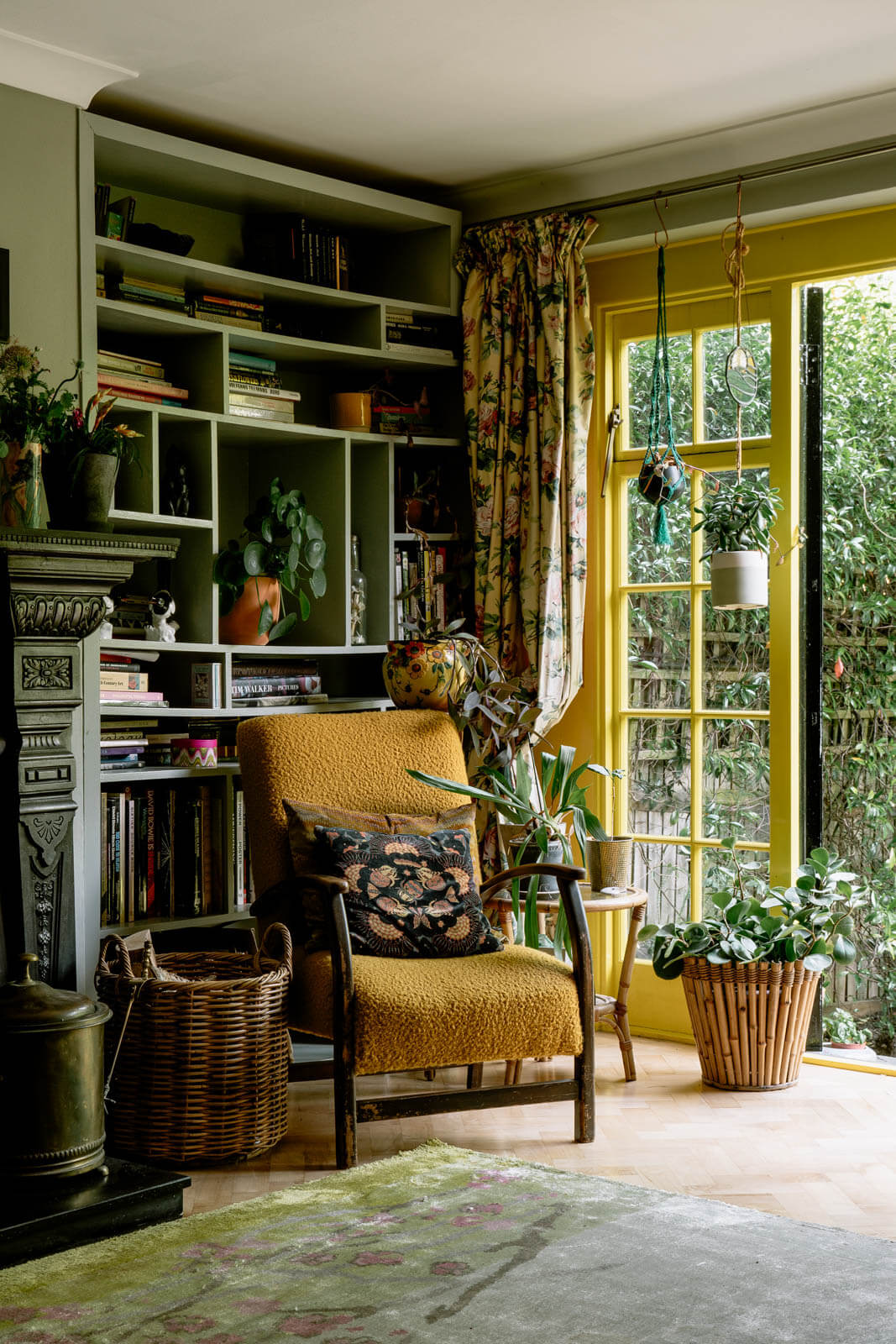 The living room is located at the back of the house overlooking the green garden. The room is painted in a lovely green shade that is a nice nod to the outdoors.
The ornately carved fireplace is flanked by custom bookshelves that provide space for books but can also be used as a display cabinet.
The wide French doors are painted in a bright yellow tone from Little Greene.
The hallway is lined with teal and white encaustic tiles from Ca' Pietra and a handcrafted pink-painted cupboard, fitted with Art Deco handles and a bench upholstered in a bold floral pattern by House of Hackney. 
The combined kitchen and dining room have reclaimed parquet flooring, Planet Marble granite countertops, and a white tile backsplash going all the way to the ceiling. The internal window looks over the living room.
The master bedroom has the same reclaimed wooden floor that you see in the rest of the apartment. The wardrobe doors are also made from reclaimed wood which, together with the flor, gives the room a warm look.
The walls in the bedroom are painted in a soft, pale pink by Paint and Paper Library.
The ensuite bathroom has bold patterned tiles by Mosaic Factory. The mirror tiles around the bath make the small room feel slightly larger.
The second bathroom also has an ensuite bathroom. Here, we see glossy green tiles combined with a banana leaf wallpaper on the ceiling and a marble sink that was brought back from a trip to Turkey.
Flora, such as rhododendron, grape vines, and roses by Sarah Raven, lovingly tended from seed sourced from Higgledy Garden, are planted in the landscaped garden.
At the back of the garden is a well-insulated shed that is now used as an office/reading room.
The shed has its own seating area.
A door opens straight to a cabana area and a set of steps providing access to Queen's Wood beyond. 
This two bedroom apartment with a large garden is now for sale at Inigo