New IKEA Collection July 2023: Bold Colors & Prints
Bright yellow, bright pink, and cobalt blue: IKEA celebrates the summer with extra color in the house. Striking prints and bold color combinations are central in the new IKEA products that will be released in July.
With these new products, you will discover what color can do for your interior, and you can express your personality with striking furniture and accessories. This summer collection has no shortage of outspoken designs, from a bright yellow table lamp to a rug with a tiger print.
Experiment with eccentric color combinations or immerse the room in one color tone. Embrace color in your home with these new IKEA products.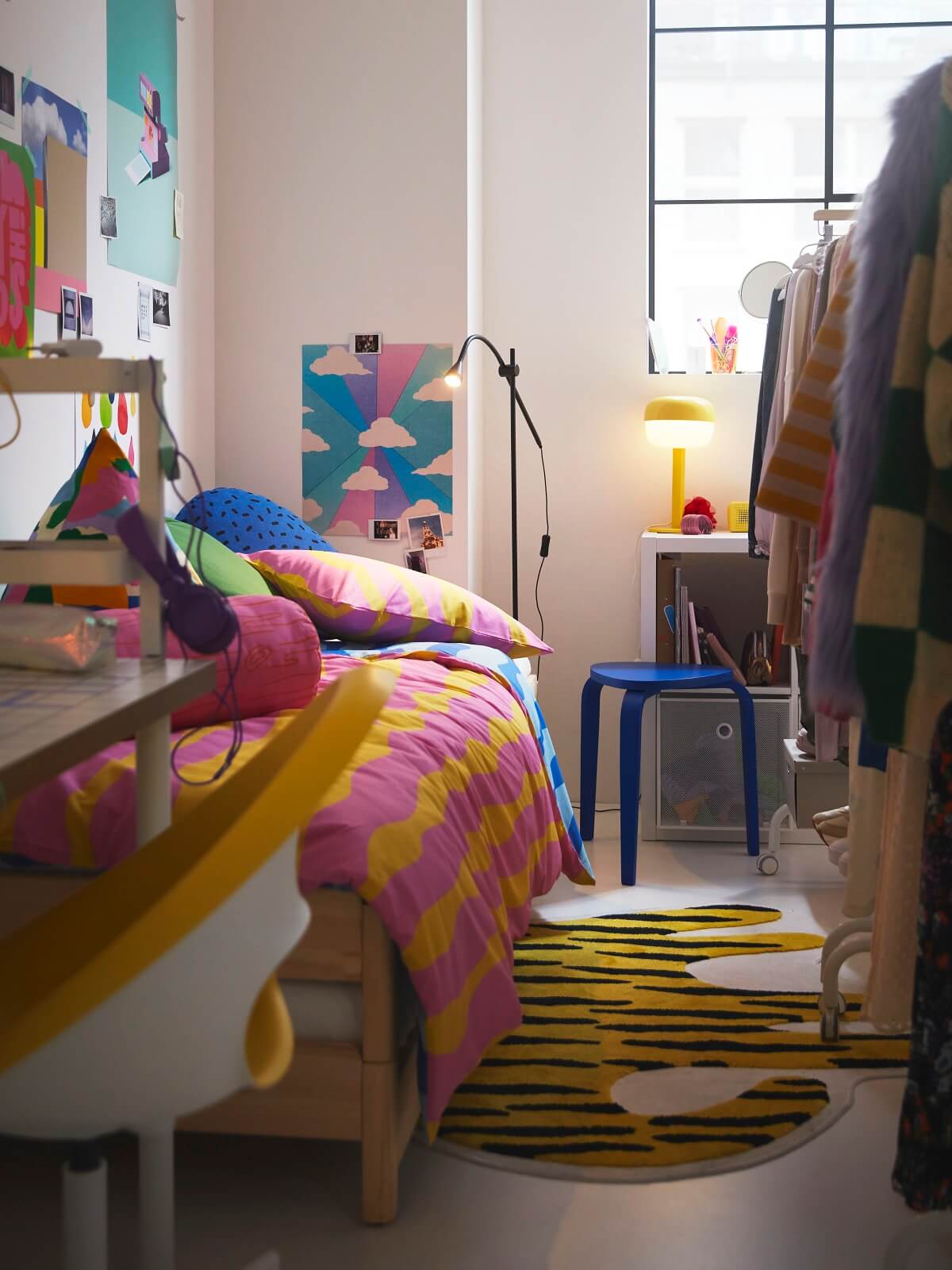 Style Expression: The Color Revolution
Bright, bold, and brave: welcome to a unique world of daring combinations that will make your home (and your personality) stand out.
Invite the season in with a fun mix of yellow, pink, green, and blue. Surprise yourself and your guests with whimsical shapes and quirky decorations. Organize your space with plenty of storage solutions – you decide what to show and what to hide.
Everything is possible, and nothing is too much.
Create a cozy atmosphere with the BLÅSVERK table lamp, available in yellow, blue, and beige. Its modern design and retro feel light up any room.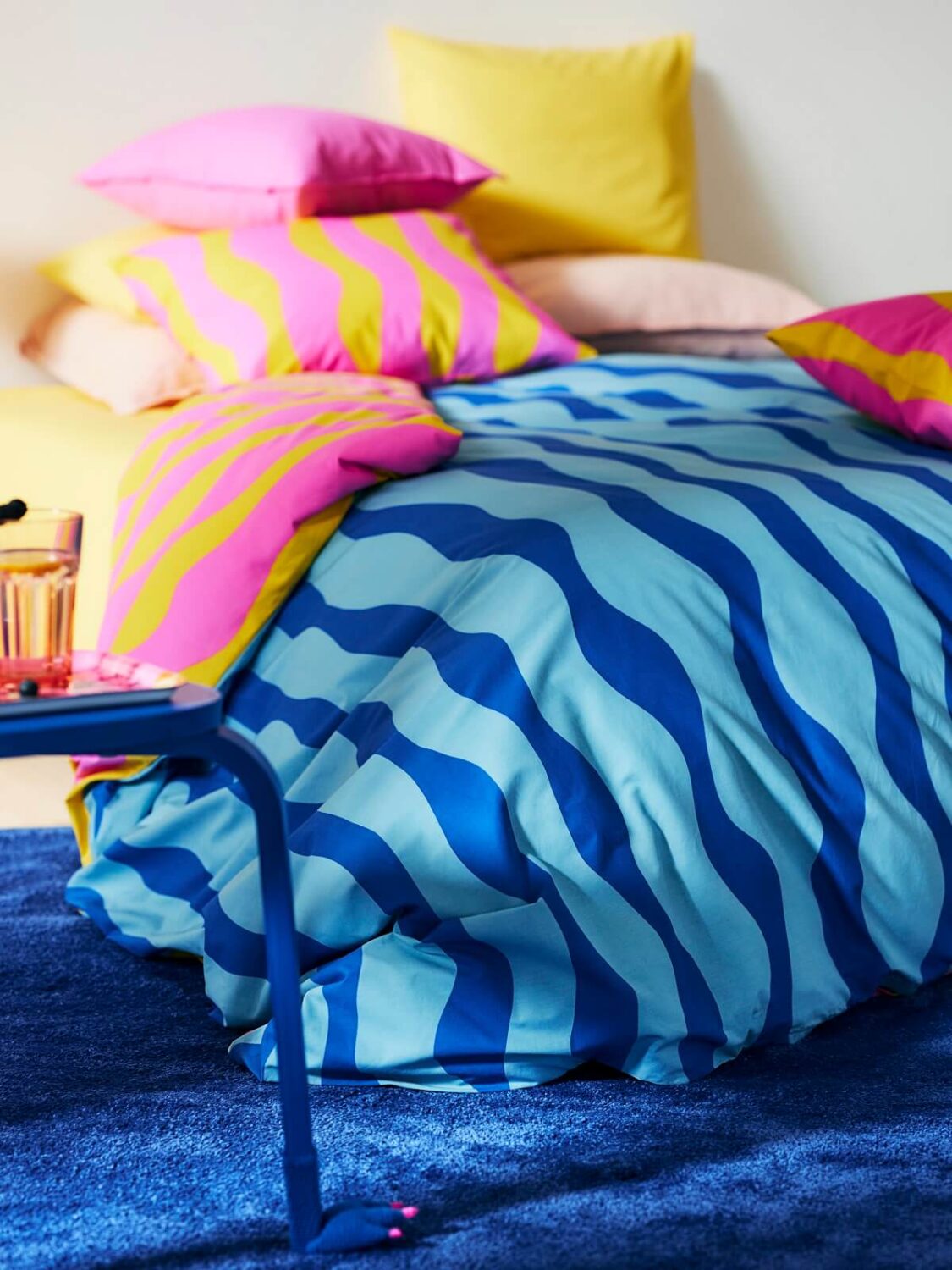 Calling all those who want to sprinkle joy around their home. Spruce up your space with fun colors and shapes. The SOMMARVICKER duvet cover and pillowcase set are up to the task.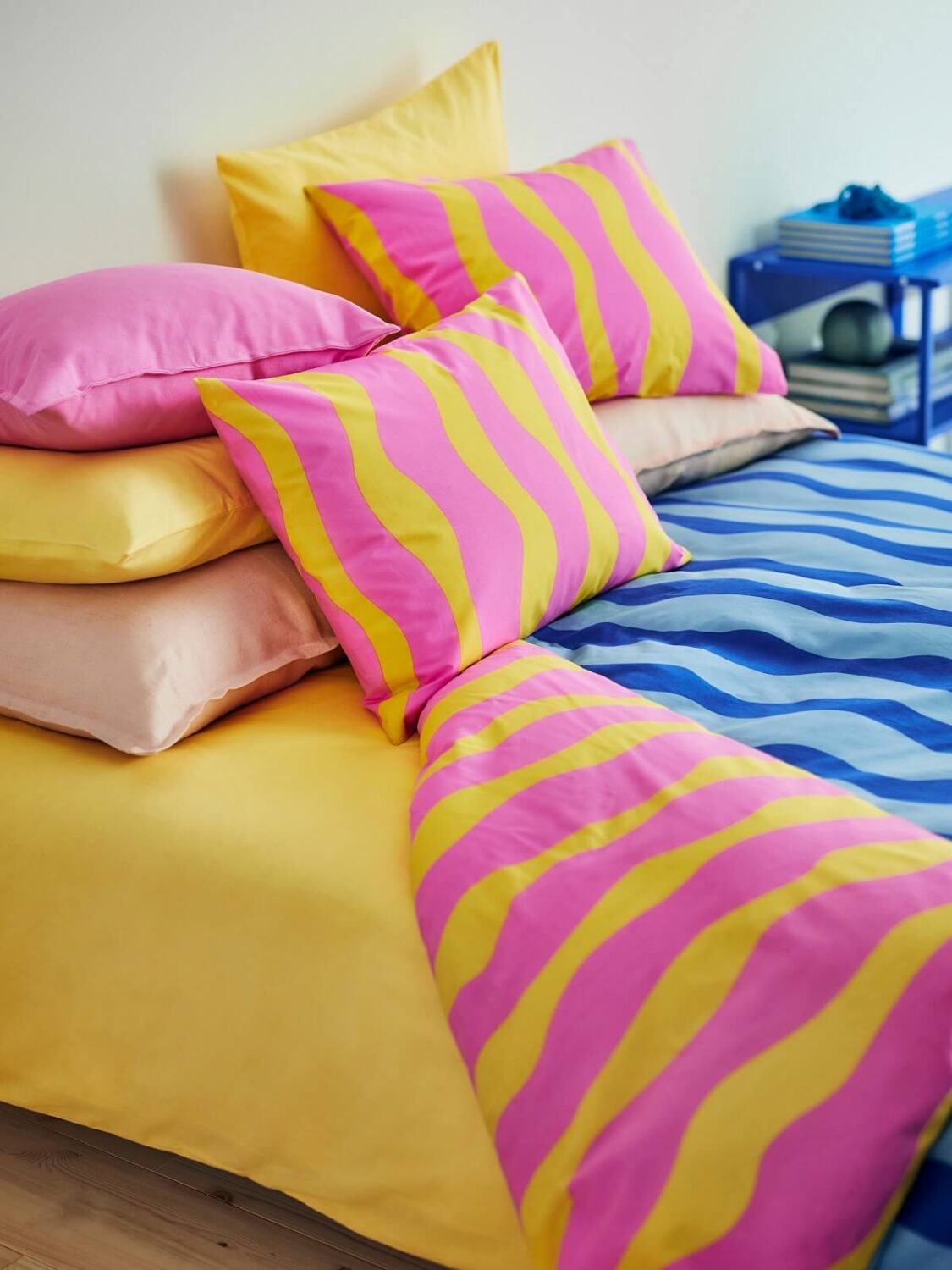 Storage is Boring. Says Who?
When everything is in the right place, you can finally relax, tune in, and enjoy the here and now.
Let the graphic, essential lines of the BAGGEBO shelving unit and the VATTENTRÅG boxes make a bold statement in your home. Less is more, especially if you can hide the more whenever and wherever you want.
A True "Living" Room
Remember the excitement of opening a new box of crayons? You can pick your favorite colors – or all of them – and start creating.
The world is your canvas, and so is your living room. Make it unique with an all-time favorite like the KLIPPAN sofa in an exciting new yellow dress. Fill the space with fun accessories like the IDROTTSHALL rug and the BILD posters to jazz things up.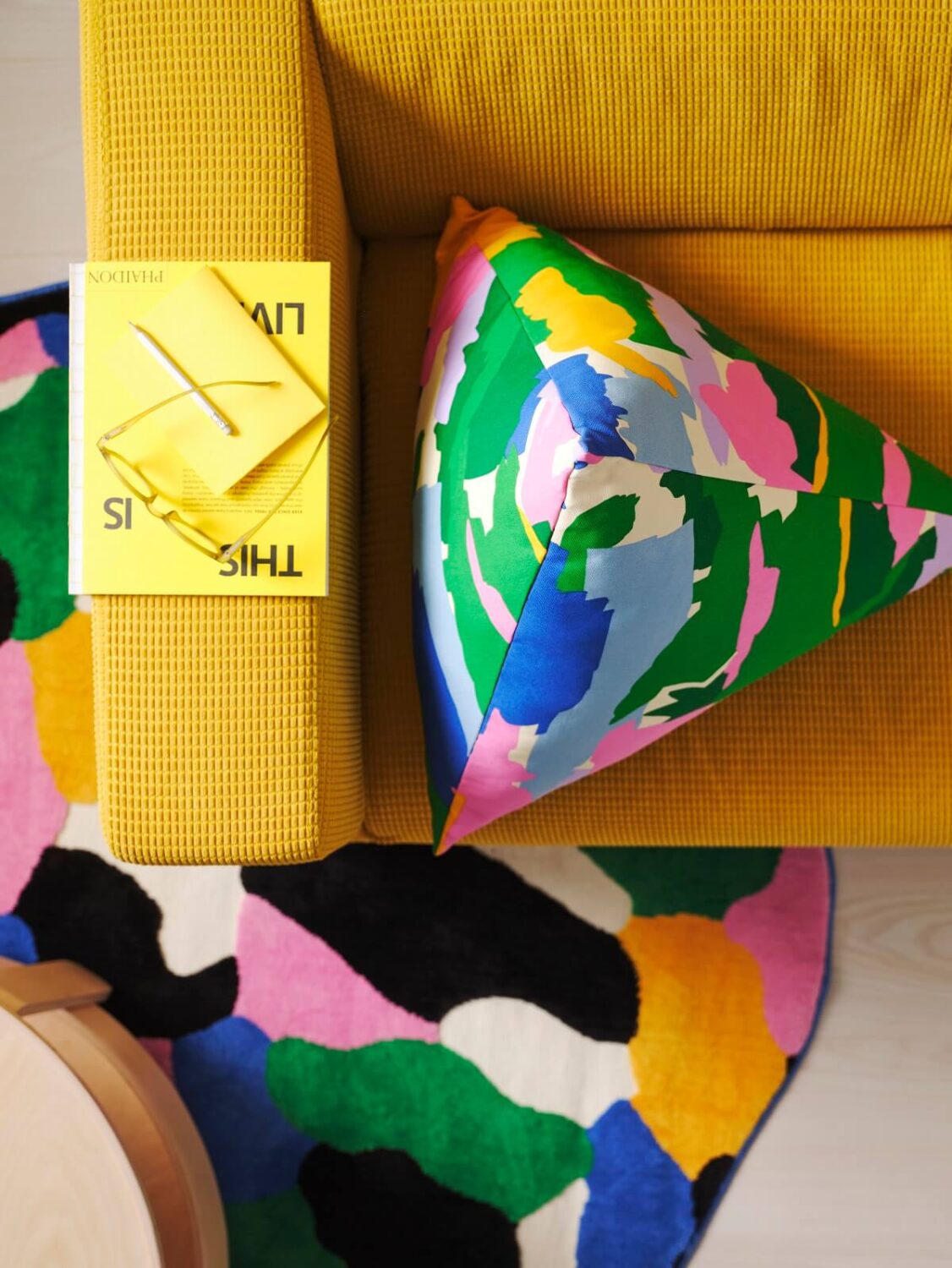 Soft and cozy, the rib knit FJÄLLTRIFT throw adds a pop of color to your room.
Style Expression: Where Dreams Come True
Open your eyes after a good night's sleep to find out you're still living in dreamland. Let the different shades of blue wash away all hesitation and dive deep into your private universe.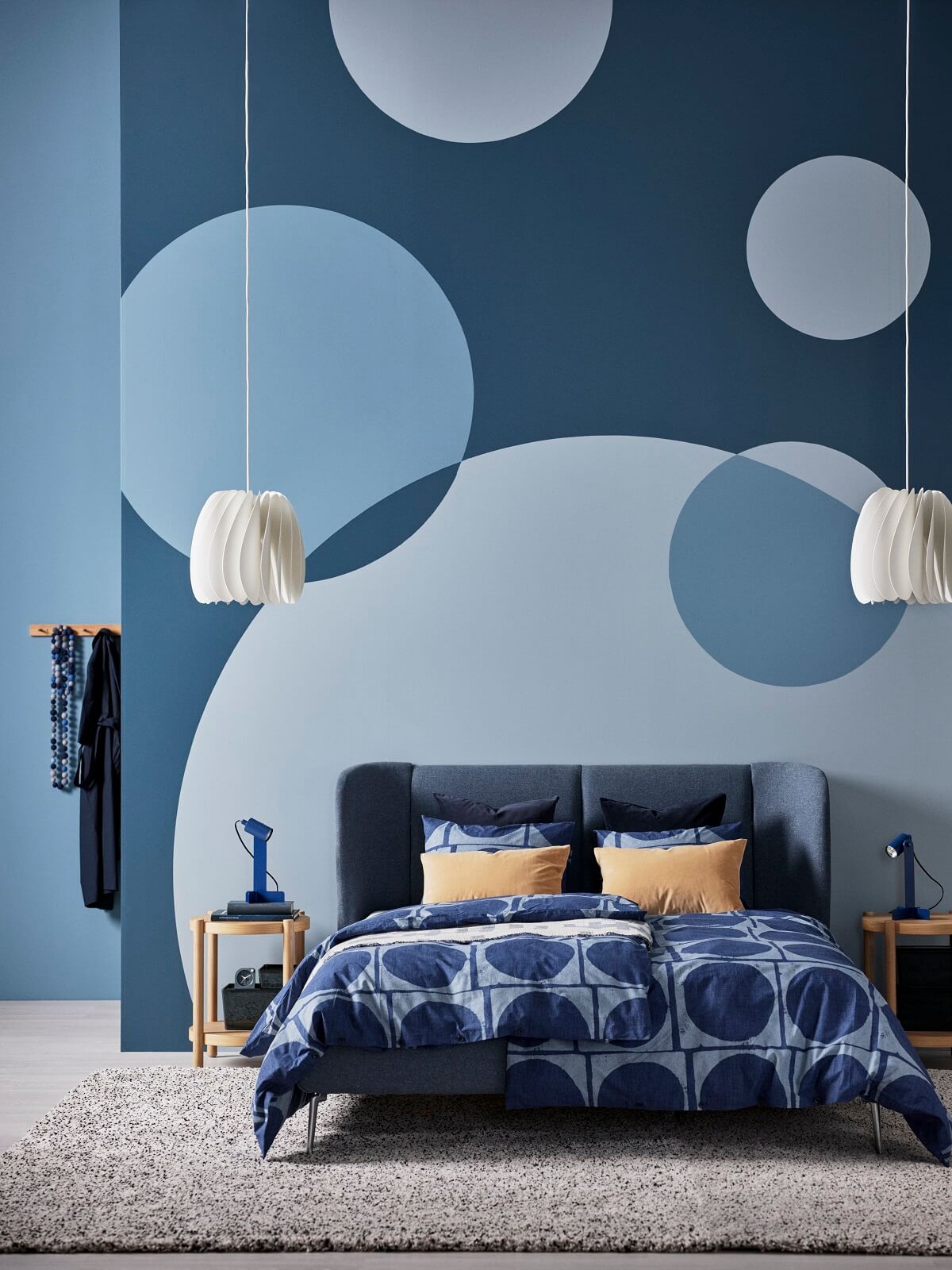 From ocean-inspired bed linen to airy curtains and earthy rugs, these designs invite nature into your home and help you feel in your element. All you have to do is relax, let go, and imagine.
The color blue is ideal for the bedroom: it radiates serenity and has a fresh character.
"Inspired by mechanical toys of times gone by, I decided that the FLOTTILJ desk lamp should combine great functionality with a strong identity. It shouldn't just sit quietly on a desk; it should add a playful and joyful twist to the room. The lamp head can be mounted on the right or left side, and you can direct the light where you like." Hanna-Kaarina Heikkilä, designer
The animalier pattern of the KAPHYACINT cushion cover adds a charming exotic touch to your bedroom.
Each MARISTOVA mirror is unique: its handwoven rattan frame is inspired by the Japandi style, a mix of Scandinavian and Japanese design. The three hooks on the back allow you to hang it the way that best suits your bedroom.
In You Prefer More Neutral Tones
These new colorful IKEA products will be available online and in stores in July. You can read this article to stay up to date with the latest IKEA collections.