Stay in Barbie's Malibu DreamHouse – Ken's Way!
Come on Barbie, let's go party! You can't escape the Barbie hype, and now, you can even stay in a real-life Barbie house in Malibu, thanks to Ken (and Airbnb).
While Barbie is away, Ken welcomes you into his Kendom. This bright pink Malibu villa has been transformed into a lifesize dollhouse with a disco, an infinity pool, and a western-inspired bedroom.
Barbie and Ken's house is located on the oceanfront in Malibu, California. And for one night, two lucky guests can stay in a real-life Barbieworld.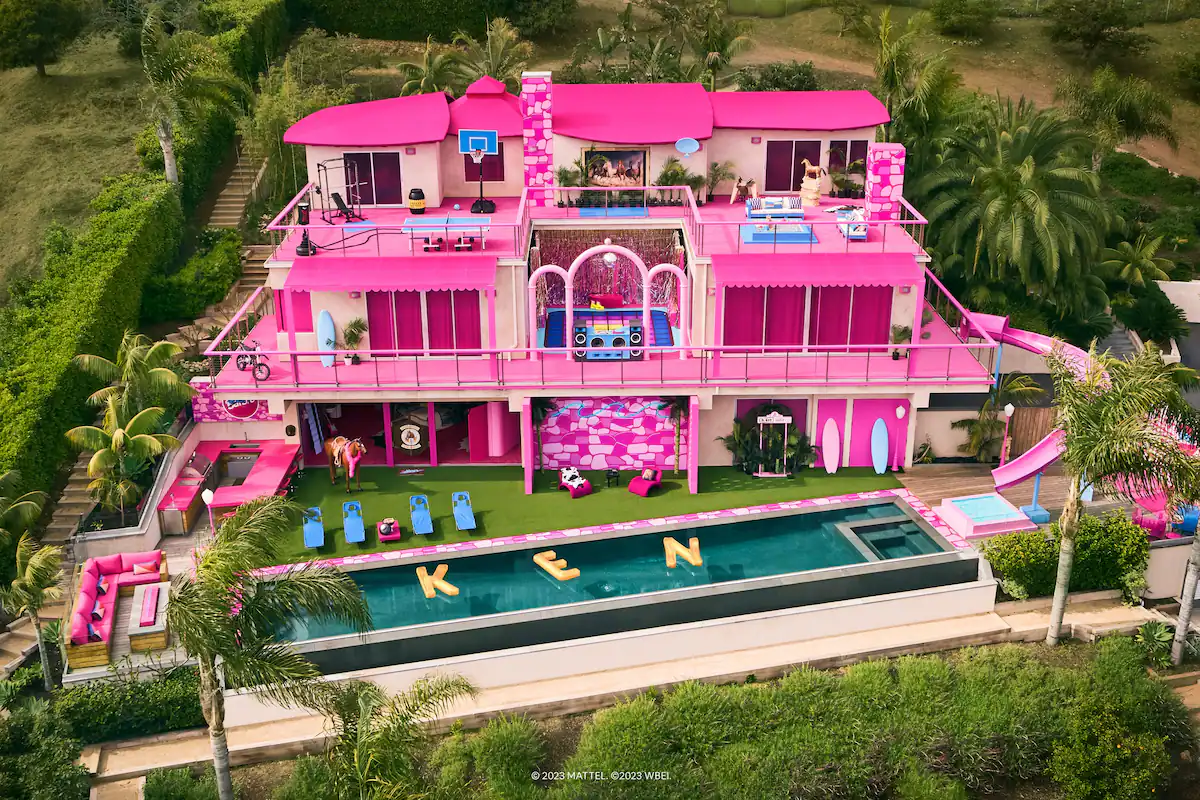 About Ken and Barbie's Malibu House
It's not the first time that this Malibu villa has been transformed into a Barbie house. In 2019, Airbnb also listed the house for Barbie's 60th anniversary. This time, the house has been spruced up with some "Kenergy" and now features a bold pink exterior and interior spaces.
Guests can experience Barbie Land in Ken style with many cowboy references, such as a pink bedroom decorated with cowhide rugs, cowboy hats, and a horse. And you can even borrow Ken's fringed cowboy shirts from the closet.
But as it's Barbie's house, you can also borrow Barbie's iconic high-heeled pink shoes.
Why is everyone obsessed with Barbie right now?
On July 21, Barbie's World is coming to our screens with a new movie featuring Margot Robbie as Barbie and Ryan Gosling as Ken. The movie, directed by Greta Gerwig, will be the best pink start of the summer season.
What is Barbiecore?
The Barbie trend isn't limited to a temporary Airbnb house or a movie; it also appears in our fashion and interior design. Barbiecore interiors are all about bold colors, a combination of patterns, and cozy textures.
This Malibu home is an extreme version of Barbiecore, but there are many ways that you can incorporate this fun design trend into your home.
See also: Barbiecore Interiors: The New Colorful & Fun Design Trend
How can I stay in the Barbie home in Malibu?
On Monday, July 17 at 10am PT, the reservation opens for two one-night stays on the Airbnb website. The stay in Barbie and Ken's Malibu house is available for up to two guests on July 21 and July 22, 2023.
In addition to opening up the Barbie house, Airbnb will make a one-time donation to Save the Children in honor of BARBIE hitting theaters on July 21 and to honor the empowerment of girls.
Save the Children provides learning resources and support to children, families, and communities in more than 100 countries to build girls' confidence and help them excel in school – so everyone has an equal opportunity to achieve success.