A London Home with Plaster Pink Walls and Brick Chimneys
Architect Felix von Bechtolsheim has redesigned the top floors of an Edwardian building on St. Quintin Gardens in London into a dynamic home with plaster pink walls and exposed brick features.
Felix installed a pitch roof on three sides of this 80 sq meter / 867 sq ft home creating spaces a sense of more volume with the new high ceilings. This volume also provided an opportunity for a mezzanine level that is now used as a cozy sitting room.
Every room in the house has gypsum plaster walls in a light pink shade that adds a softeness to the rooms which counters the raw brick elements from the original fireplaces. Every inch of this home is carefully designed showcasing a beautiful blend of materials.
The living spaces are south facing to make sure that these rooms are flooded with natural light during the day. The angular roof lines create volume in this kitchen/dining room and you can already see the mezzanine level floating above the space.
The kitchen cabinets are made of birch ply which are topped up with a marble worktop.
The dining area is a cozy space with a herringboen parquet floor and a fireplace. The chimney breast runs all the way to the mezzanine level and it's a characteristic reminder of the house's Edwardian history.
The mezzanine level houses a cozy sitting room with the same parquet floor as in the dining room.
The stepped stock brick has been exposed and shows the architectural history of the house and it also creates a unique feature wall in this room.
The hallway that leads to the master bedroom and bathroom includes plenty of storage. The cabinets are designed in the same style as the kitchen cupboards for a harmonious look.
The master bedroom has high ceilings and another brick chimney breast that adds character. In both bedrooms a deep wool carpet by Alternative Flooring run underfoot.
The bathroom sits under the mezzanine level and features a skylight to add natural light.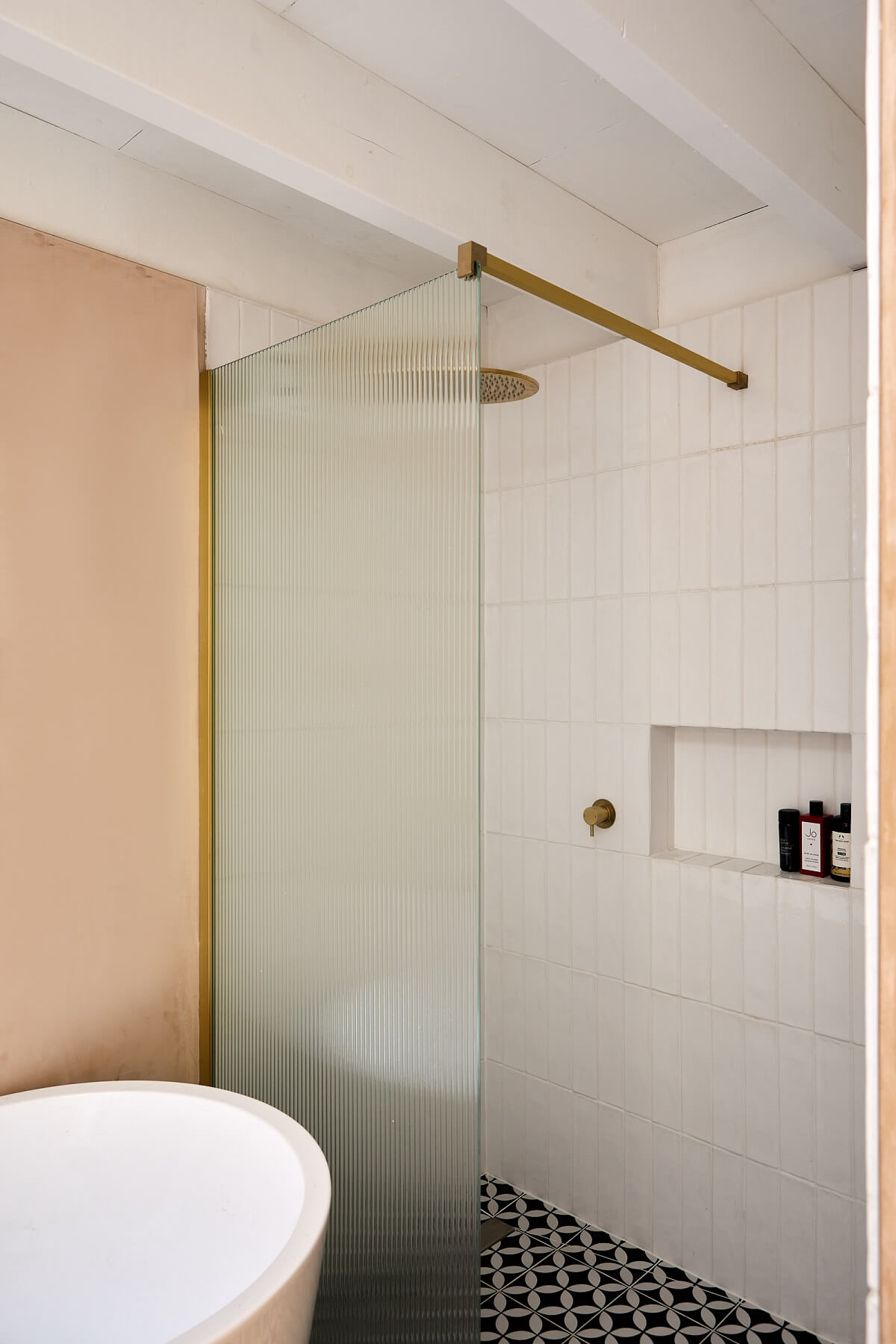 Despite the modest size, the bathroom includes a walk in shower with a frosted glass wall and a freestanding bath.
A few steps down from the main level sits a second bedroom with a balcony.
This architectural home in London is now for sale at The Modern House