Pantone Color of the Year 2023: Interior Design Inspiration
It's a big day when paint company Pantone announces their Color of the Year. The 2023 Pantone Color of the Year is a color that is already trending in the fashion and beauty world and it is expected that it will now make its way to interior design as well.
One thing has remained the same in the choices for the 2023 color trends. Just like in previous years, this year's trending colors are rooted in nature. But Pantone always chooses a color that has a little more edge than other paint companies.
Last year, Pantone chose Very Peri as their COTY, a daring and carefree blue shade that was certainly bolder than the other blue and green shades that were trending. And this year we see a similar interior color trend, the colors are warmer and in Pantone's case a lot bolder.
In this post, you will learn more about the Pantone Color of the Year 2023 and how you can use this color in your interior with inspiring images and complimentary color schemes.
What is the 2023 Pantone Color of the Year?
Viva Magenta! Pantone has chosen a powerful and vibrant red shade as the Color of the Year 2023. This magenta color is a shade rooted in nature, it is bold and fearless and adds a joyful and optimistic tone to your interior.
In this age of technology, we look to draw inspiration from nature and what is real. PANTONE 18-1750 Viva Magenta descends from the red family, and is inspired by the red of cochineal, one of the most precious dyes belonging to the natural dye family as well as one of the strongest and brightest the world has known.

Rooted in the primordial, PANTONE 18-1750 Viva Magenta reconnects us to original matter. Invoking the forces of nature, PANTONE 18-1750 Viva Magenta galvanizes our spirit, helping us to build our inner strength.

Leatrice Eiseman, Executive Director, Pantone Color Institute
What Does Viva Magenta Mean?
The story behind Viva Magenta is all about the balance between our digital and physical lives. In recent years, we have acquired a greater pull toward the natural world, and the Pantone Color of the Year 2023 is chosen to reflect our pull toward natural colors and the movement surrounding climate change, sustainability, and land protection.
Our love for nature is also reflected in our homes, not just with paint colors but also by adding plants, florals, and living walls to our interiors. And by paying more attention to our outdoor spaces.
Our current lifestyle trends are at the heart of the Color of the Year selection process. And Viva Magenta is the perfect rich shade for these times. The origins of Viva Magenta comes from the cochineal beetle. This insect produces carmine dye, one of the most precious, strongest, and brightest of the natural dye family.
This year's color merges richness, warmth, and strength of the natural world with the rich, open horizons of the digital world. The result is a red shade that celebrates life, Viva Magenta is a bold shade that also adds a fun touch to your home.
How Can I Use Viva Magenta In My Home?
Viva Magenta is a bold color but it can be incorporated in your interior in multiple ways. For a bold statement you can opt for a magenta feature wall or sofa. But it can also be added as a pop of color through curtains, rugs, pillows, or flowers. Viva Magenta certainly adds a warm and dramatic tone to any room of the house.
Viva Magenta Living Rooms
This houseboat in Amsterdam shows how bold you can decorate with a hot pink shade like Viva Magenta. The walls are painted in a bold pink shade which nicely contrast the exposed wooden beams. And in the decor the this bold pink shade returns, if you want to go bold than this house shows how to do so.
This living room designed by Double G shows a neutral base with white walls, shelves, and furniture that is spruced up with a bold pink rug.
If pink walls are a bridge too far for you, why not paint the ceiling? The ceiling is often forgotten, but you can add such a great colorful statement to any room by painted the ceiling as you can see in this moody home library with a hot pink ceiling.
Pink on pink in this Scandinavian maisonette home. The living room walls are painted in an earthy pink shade called Daydream by Jotun which is complimented with a hot pink sofa in a traditional style.
A bold pink shade creates a stunning feature wall in the living room.
Viva Magenta Kitchens
As the daughter of the De Gournay founder, it is not surprising that this London home is packed with colorful wallpapers. But that is not where the love for color ends as you can with this hot pink kichen. If you think that Pantone's Viva Magenta is just fo subtle color accents you can think again because this rich pink kitchen cabinets look amazing.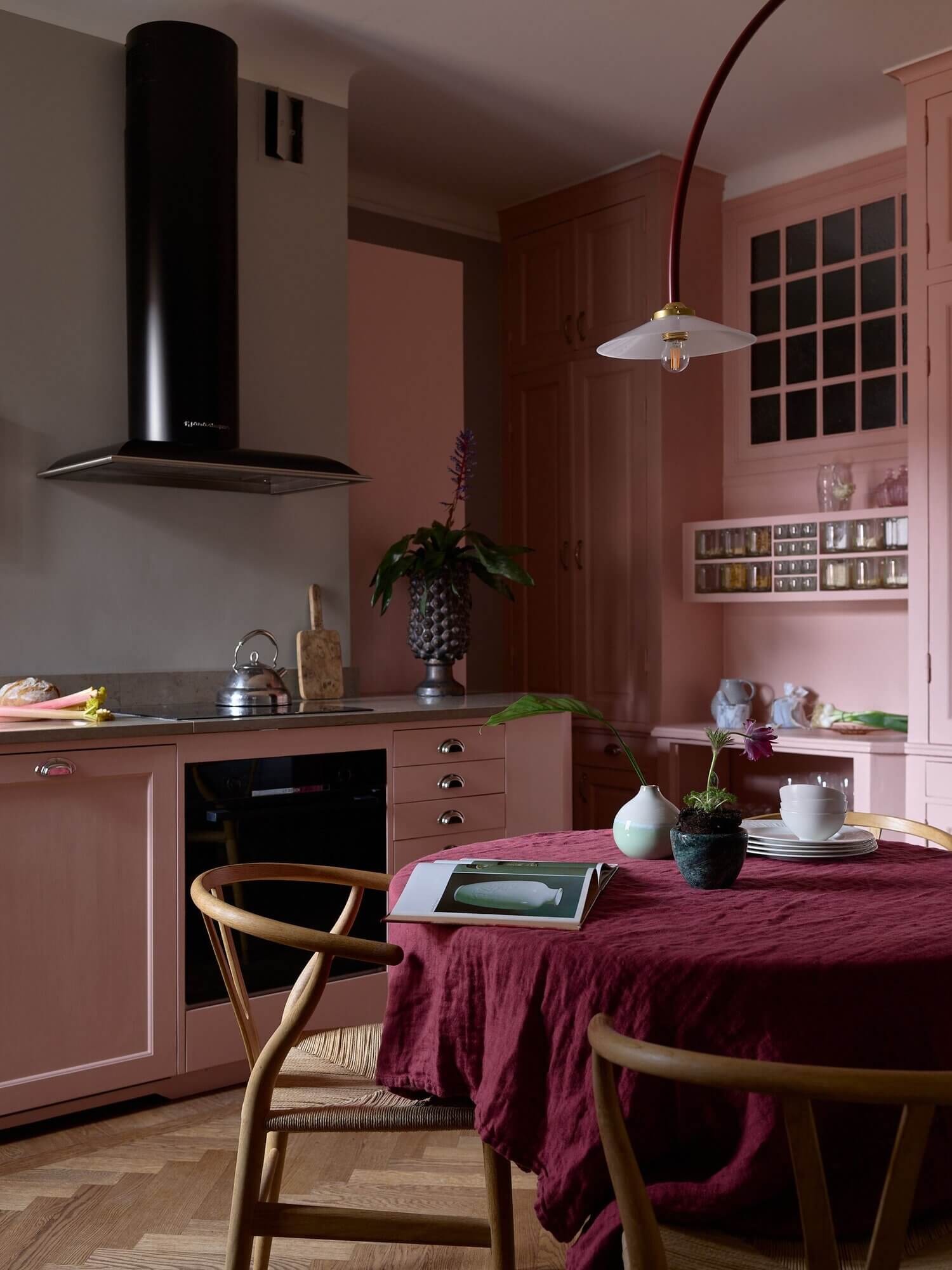 Another room where two pink shades have been combined. Soft pastel pink cabinets and walls are combined with a hot pink table cloth for a bold color accent in a colorful Nordic apartment.
This Amsterdam family home is packed with color and in the kitchen/dining area they placed a hot pink rug on the floor for warmth and depth.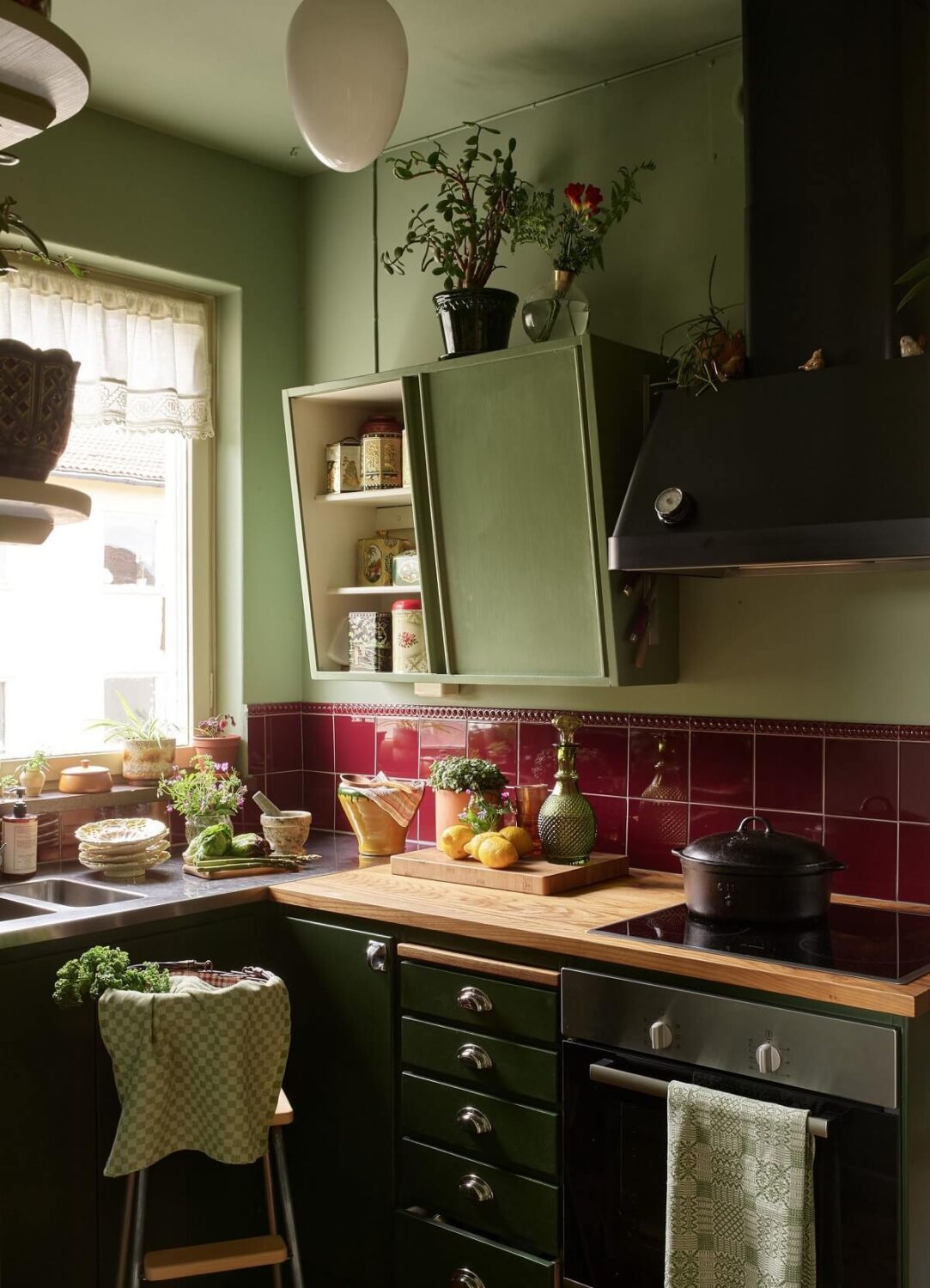 This kitchen in a midcentury home in Sweden combines green cabinets and walls with deep pink tiles. It shows that green and pink is a stunning color combination.
You can add bold color accents with textiles, decor, and art but why not make a statement with furniture. These built in cabinets in a Georgian home in London add a vibrant pink color touch to a blue and white kitchen.
Viva Magenta Bedrooms
To make a bold pink like Pantone's Viva Magenta truly pop it's a great idea to combine it with darker color tones. This moody gray bedroom shows exactly that, the walls and floor are painted in a dark shade but with a pink throw and rug you add joy to the room.
Again a room where two shades of pink are combined. This pink bedroom in a colorful Swedish family home combined a plaster pink shade with a bold pink/reddish rug.
We've already seen hot pink as an accent color in the bedroom but you can paint the walls as well as this attic bedroom shows.
Viva Magenta Color Palette
Pantone has also released a color palette with complimentary shades for Viva Magenta. This color palette mainly features light, neutral shades that will make the Pantone Color of the Year 2023 truly stand out.
Beside these neutral color tones we'v also seen other color combinations in the images above. For a natural look you can combine Viva Magenta with green and blue. If you want the 2023 color truly stand out you can combine it with dark gray. Or you can go for a full pink look, where dusty pink tones form the neutral base of your room with magenta color accents.
How do you feel about the Pantone Color of the Year 2023: Viva Magenta? I think it's a wonderful bold hue and I can't wait to see more of this shade in interior design.