A Modern Chapel Conversion with Bright Colors
It's always nice to find a home that's a bit different. And today I will share a chapel conversion with you. You might have seen my blog post about church conversions. Here you'll find some of the most beautiful churches that have been converted into homes, restaurants and hotels.
But today I will share a chapel that has been converted into a modern family home. The St. Jacobus Chapel is located in the Dutch town Dordrecht and was built in 1901.
In 2017 the current owners bought the chapel and tranformed it into a vibrant family home. They effortlessly combined the historic architecture with modern interior design.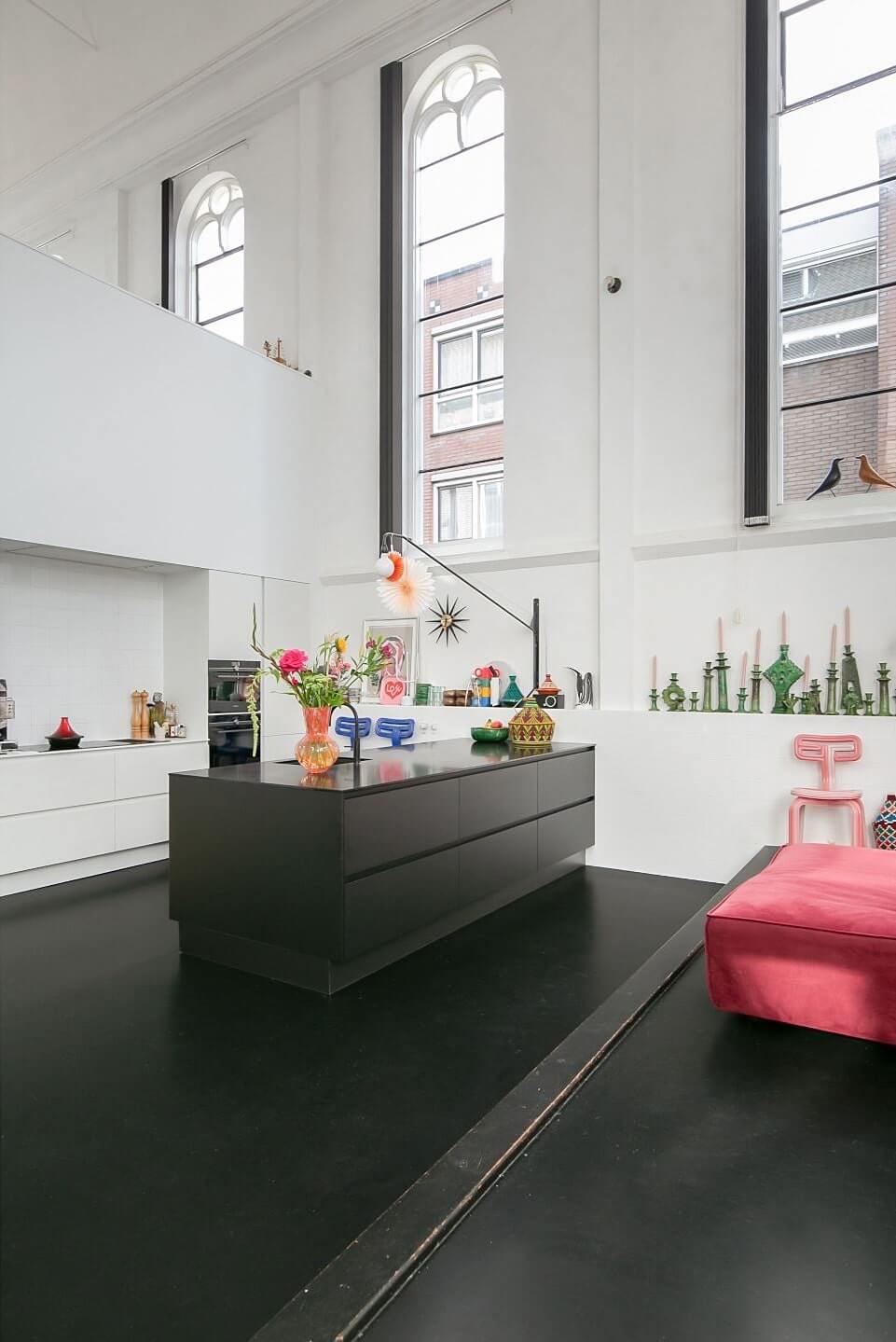 The high ceilings and arched windows add wondeful natural light to the chapel conversion.
The sleek, modern black and white kitchen sets the tone for the combination of modern design and historic architecture. And in the decor you can already see that the owners of this home love color.
A peek into the living area with the beautiful natural light that floods in through the ached windows.
On the right you see built-in shelves with a little children's play area.
The base of the home is monochrome with black flooring and white walls. But color has been added in the furnishings and decor. Including this amazing pink sofa.
An extra floor has been created through a wooden construction which you can see on the image above.
On the new floor level they created a second living room, workspace and play area.
The love of color continues in the bedrooms. The chapel conversion has four bedrooms and this children's room is a vibrant little spot with pink and purple color tones.
The master bedroom with a closet area behind the high headboard.
A children's room in a lovely shade of blue. With plenty of space for a desk, play area and sleeping area.
Isn't this a wonderful and fun family home? I always love it when chapels or churches are converted and this is a great example of combining historic architecture with modern design.
The chapel is currently for sale at ZOOMER Makelaardij