Moody Colors in a Unique Historic Apartment
Let's go back in time with this amazing historic apartment in Hastings, England. The current owners have restored and renovated the home. And they recovered many historic details.
The home is located on the High Street in Hastings and built in various time periods. The core of the building is believed to be 17th century. But the front rooms and facade are from the 19th century.
Inside the Medieval and Georgian elements of the house are combined splendedly. Resulting in a split-level home with interconnecting rooms.
In style with the architecture we see that the interior are also a blend of styles. We can see antique pieces but also very modern design. But the overall feel is definitely historic. Let's take a look!
A deep blue color always works so well in historic homes. They also painted the ceiling to get a real coccoon feel.
This sitting room is truly a mixture of styles. On one side we saw the historic look, but this side looks more modern.
The open plan kitchen and dining room is a warm space.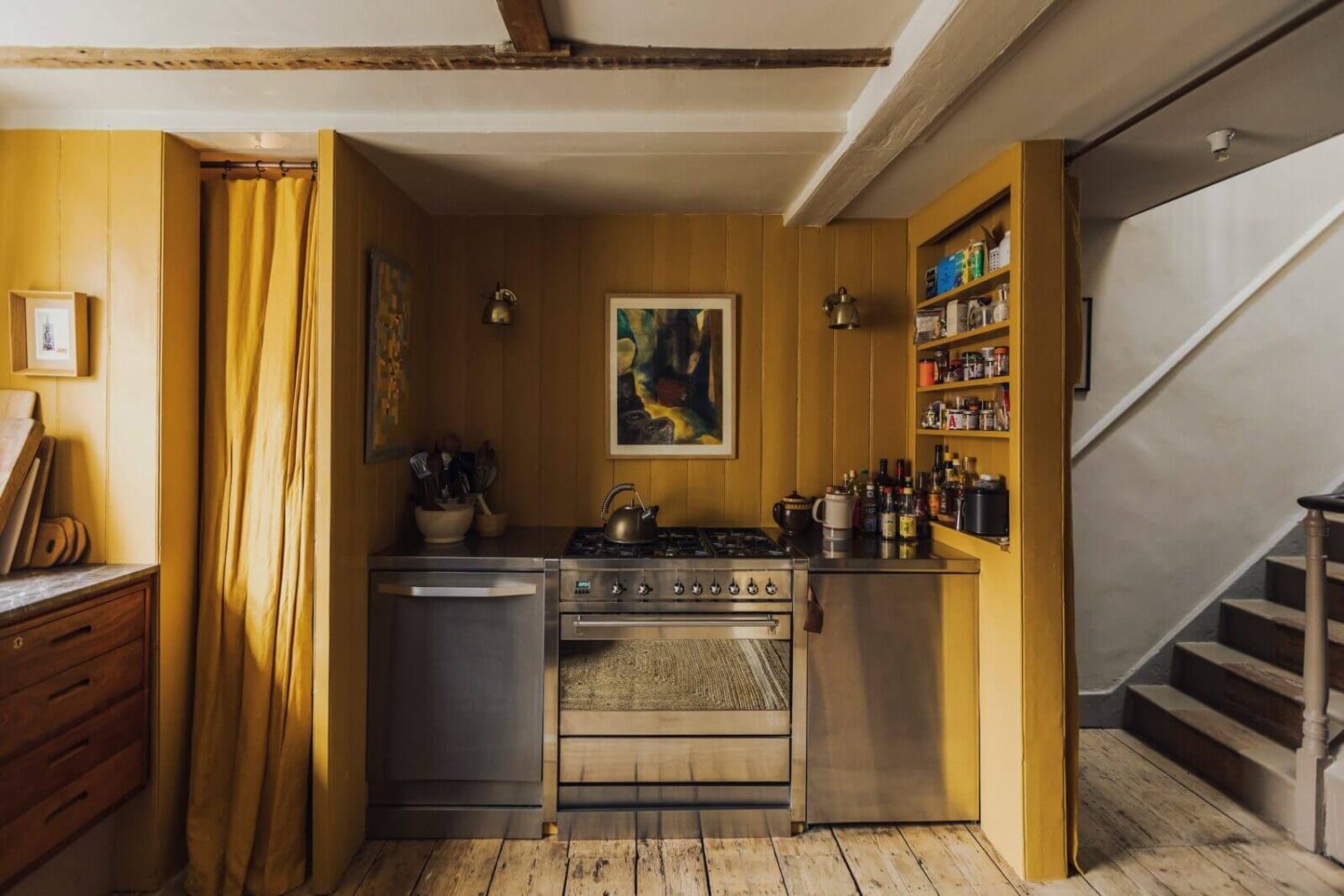 The warm yellow kitchen is fitted with reclaimed teak cabinetry.
The fireplace has been stripped back to brick and adds warmth to the room.
The cozy dining space is painted in a warm green hue. With plenty of pillows and artwork this is a truly cozy spot.
The home office of my dreams. A moody color on the walls and ceiling, an antique desk, books and a fireplace. So lovely!
The rustic bathroom has wooden wall panels and an exposed brick wall. From the round bathtub you have an amazing view.
Take a look at these historic homes:
Another home office with a desk placed in front of the window. And what a view you have from there!
This charming historic apartment in Hastings is now for sale through Inigo