A Shaker-Style Basement Kitchen in a Georgian Townhouse
In the Stepney area of East London stands a 300-year-old townhouse that houses a beautiful basement kitchen made of deVOL kitchen cabinets. The home was featured in deVOl's 'For The Love Of Kitchens' television series and now we can enjoy the pictures of this lovely kitchen.
The Georgian townhouse is owned by Paul and Michelle who run an Instagram page Considered Things where they share their home design journey. Their previous London home was also featured on The Nordroom, which you can see in this blog post.
Paul and Michelle bought the house during the lockdown and slowly they extensively renovated this historic house into a beautiful home with elegant rooms using carefully selected materials, colors, and designs.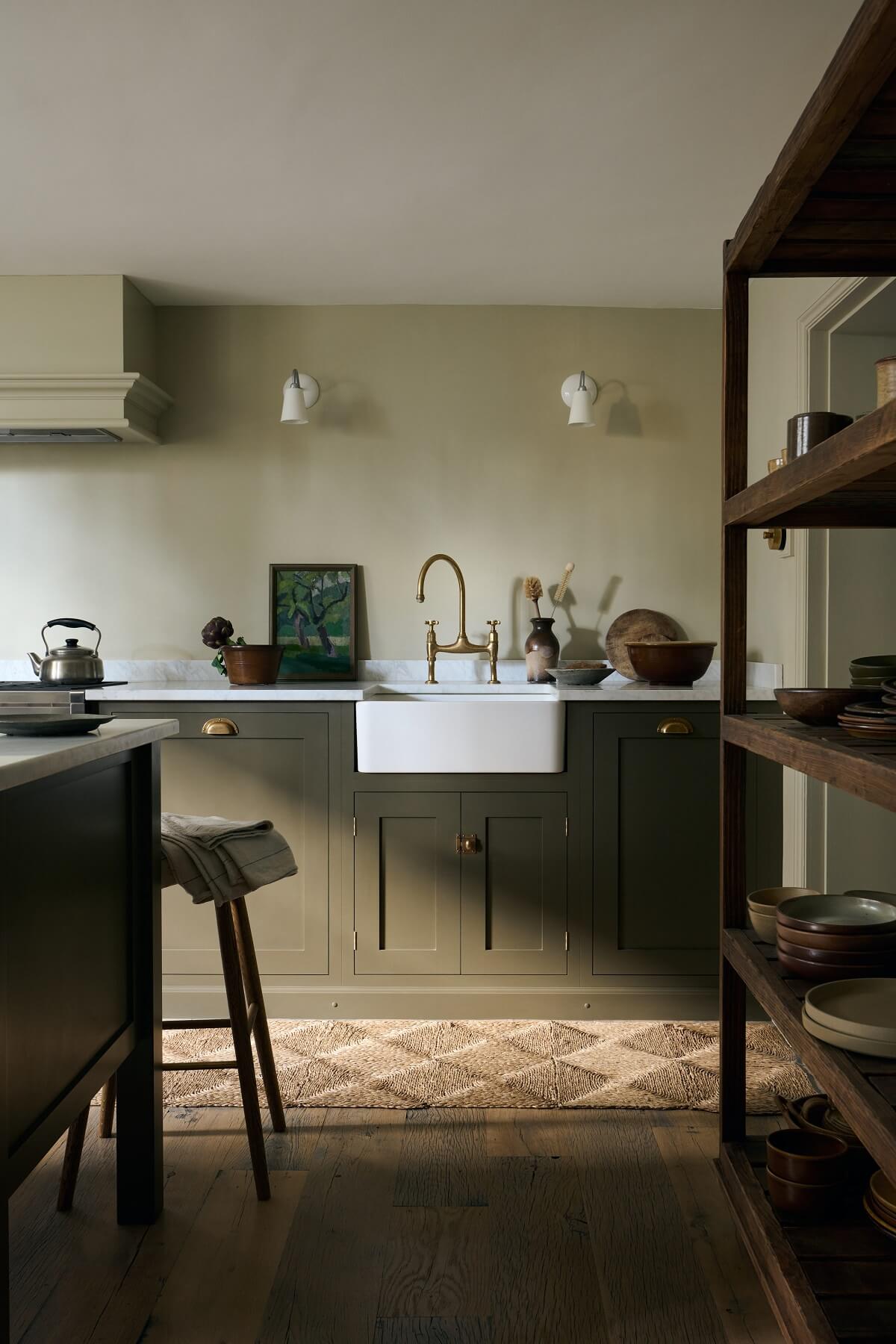 Historically, the kitchen has always been located in the basement. And to stay true to the history and layout of the house, the owners kept the kitchen in the original basement space.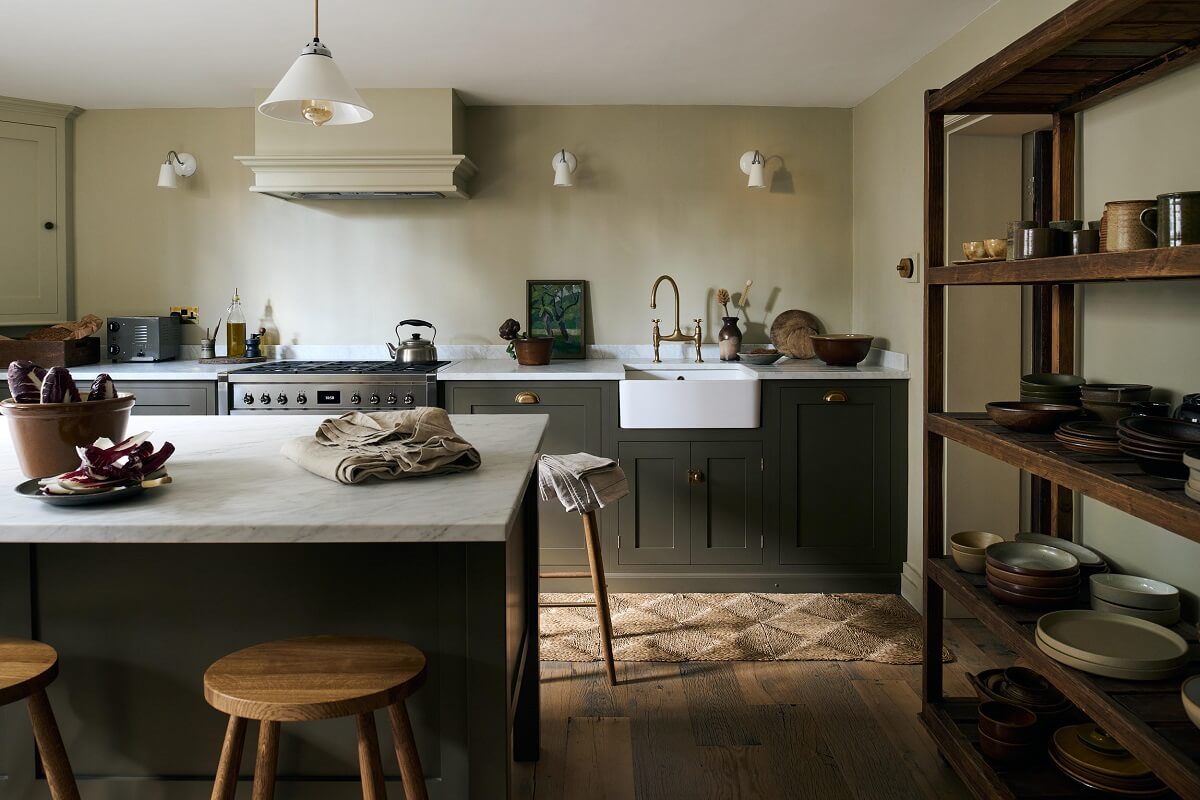 For the kitchen design, they choose the English kitchen company deVOL. Specifically, they choose their Shaker style cabinets which really suit a historic home perfectly.
The kitchen cabinets are painted in a bespoke color (Pantalon by Farrow & Ball) that hovers between green and brown, depending on the light. It's a muted natural color shade that reflects the design of the rest of the house. The Shaker cabinets are combined with a marble worktop.
The walls in the kitchen are painted in "Old White" by Farrow & Ball.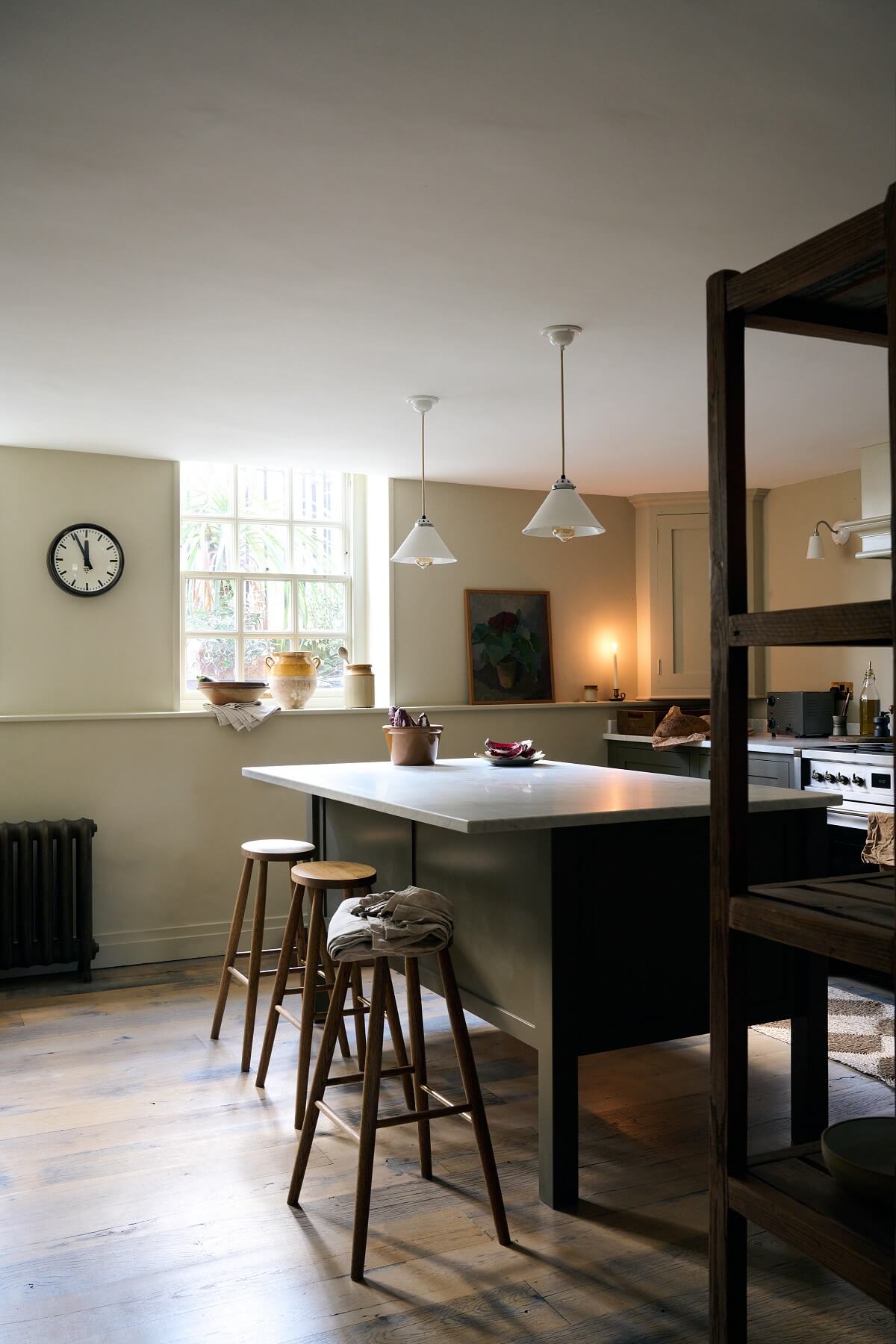 On the right, you can see a vintage baker's rack that stores the hand-thrown pottery collection of Paul and Michelle.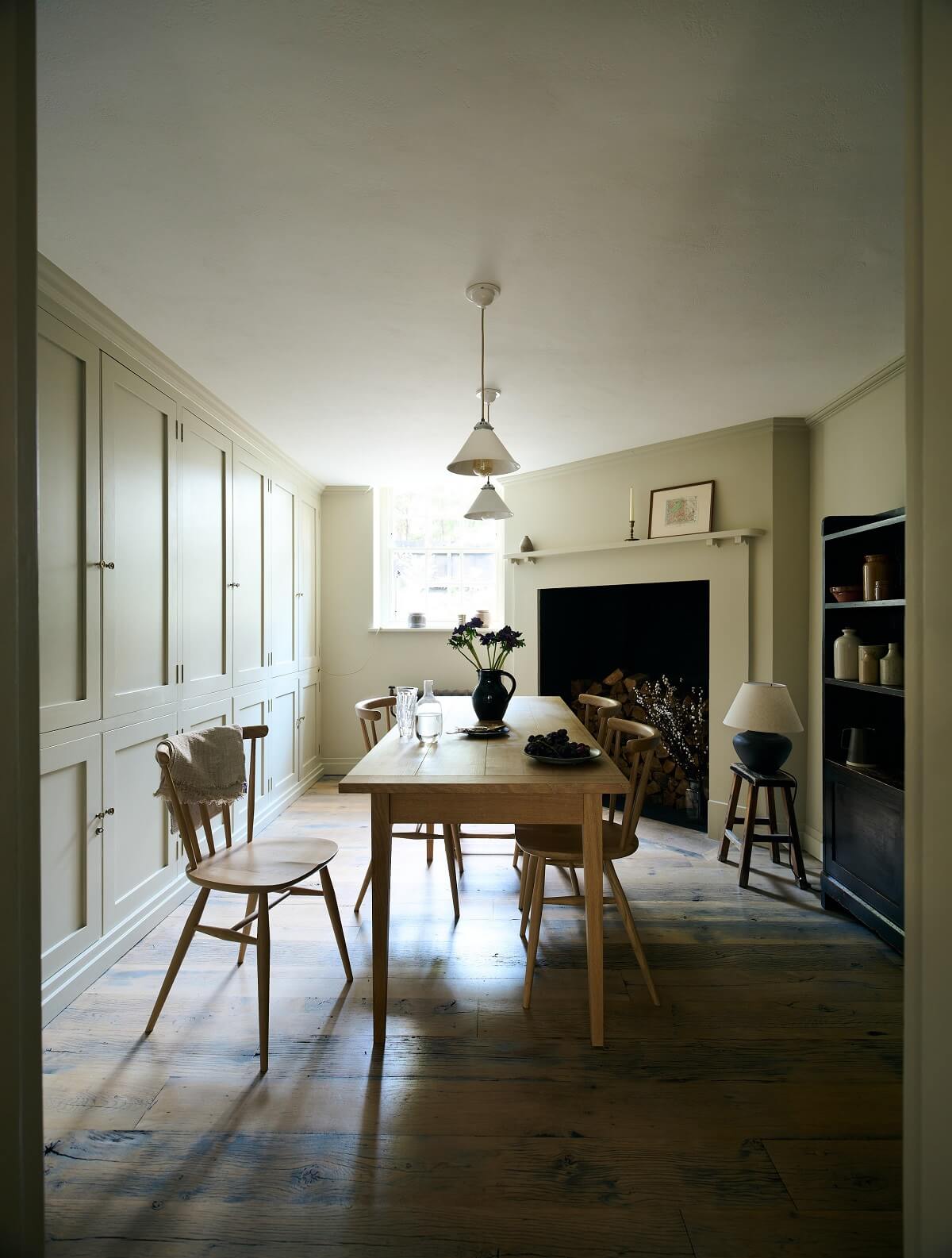 Next to the kitchen, they created a cozy dining room with views of the kitchen. The dining table is custom made by deVOL to fit the room perfectly.
The dining chairs are the "Heritage Chairs" by Ercol and the pendant lights are the Cobb pendants from Original BTC.
We often see historic houses that have been gutted and have an open-plan layout. It's very refreshing to see a historic home where the original layout is respected as we see in this Georgian home by Considered Things.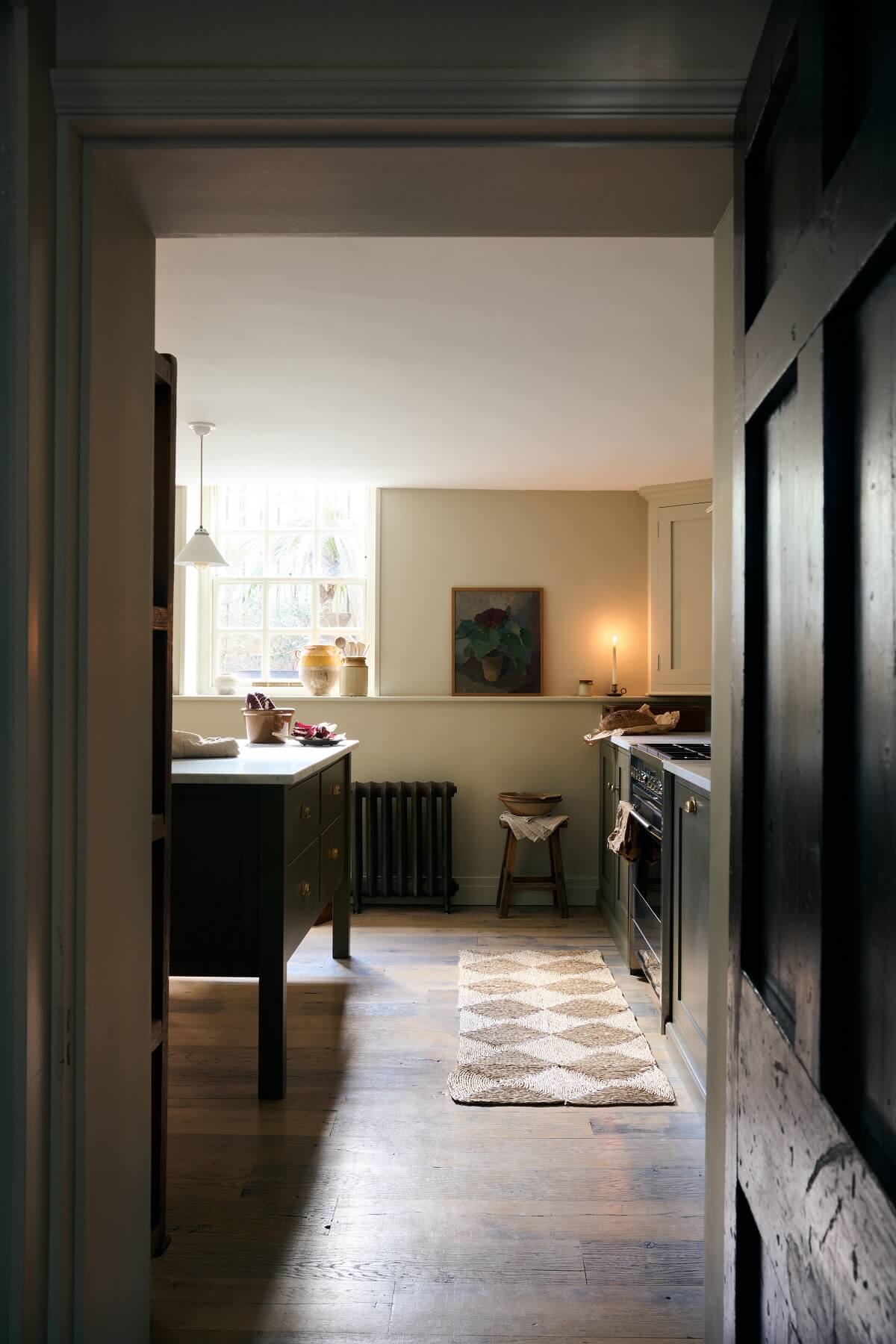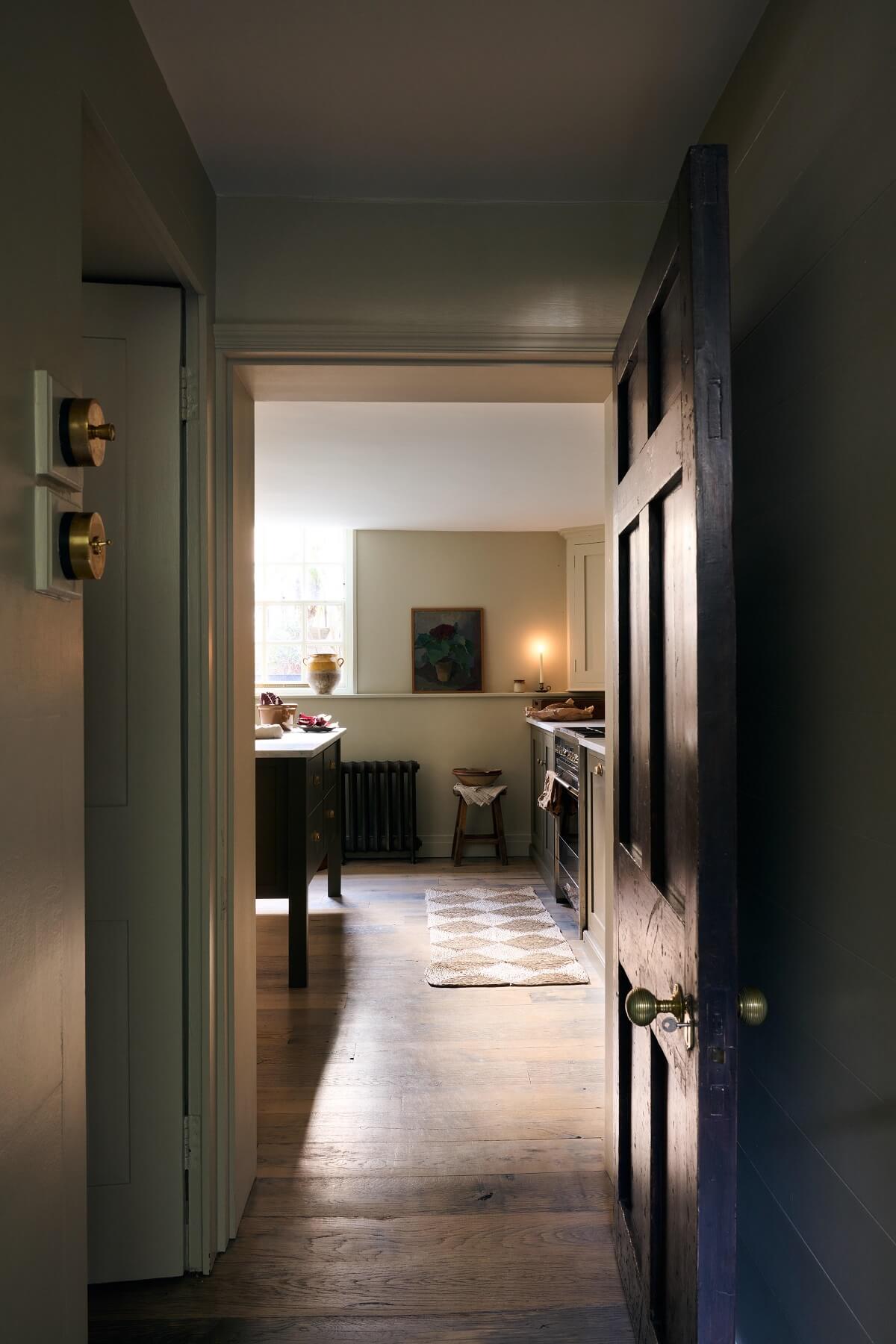 For more deVOL Kitchens you can take a look at this page. And to see more of this Georgian townhouse, you can follow Considered Things on Instagram.