Two-Tone Walls Ideas: Create A Color Blocking Accent Wall
Two-tone walls are a simple and affordable way to create an interesting accent wall. By combining two different colors on one wall you can create an interesting look in your home. From the living room to the bedroom and from large rooms to small spaces, two-toned walls are a great feature in interior design.
A two-tone wall is created by combining a lighter color with a darker color. It is used to make the ceilings feel higher or to accentuate a part of your home.
Whether your interior style is bold and colorful or if you prefer neutral color tones. You can create a half-painted wall with any color that will suit your interior style.
There are a couple of things to consider when you want to create a two-tone wall, and it's not just the colors you want to use. In this article, you will learn everything you need to know about a two-tone wall, from the color choices to an easy step-by-step plan on how to create the perfect two-tone wall in your interior.
See also: 57 Stylish Two-Tone Kitchen Cabinet Ideas
A Horizontal or a Vertical Two-Tone Wall
A two-tone wall can be painted in two ways: a horizontal and a vertical two-tone wall. What the best feature is for your home depends on what you want to accentuate in your home.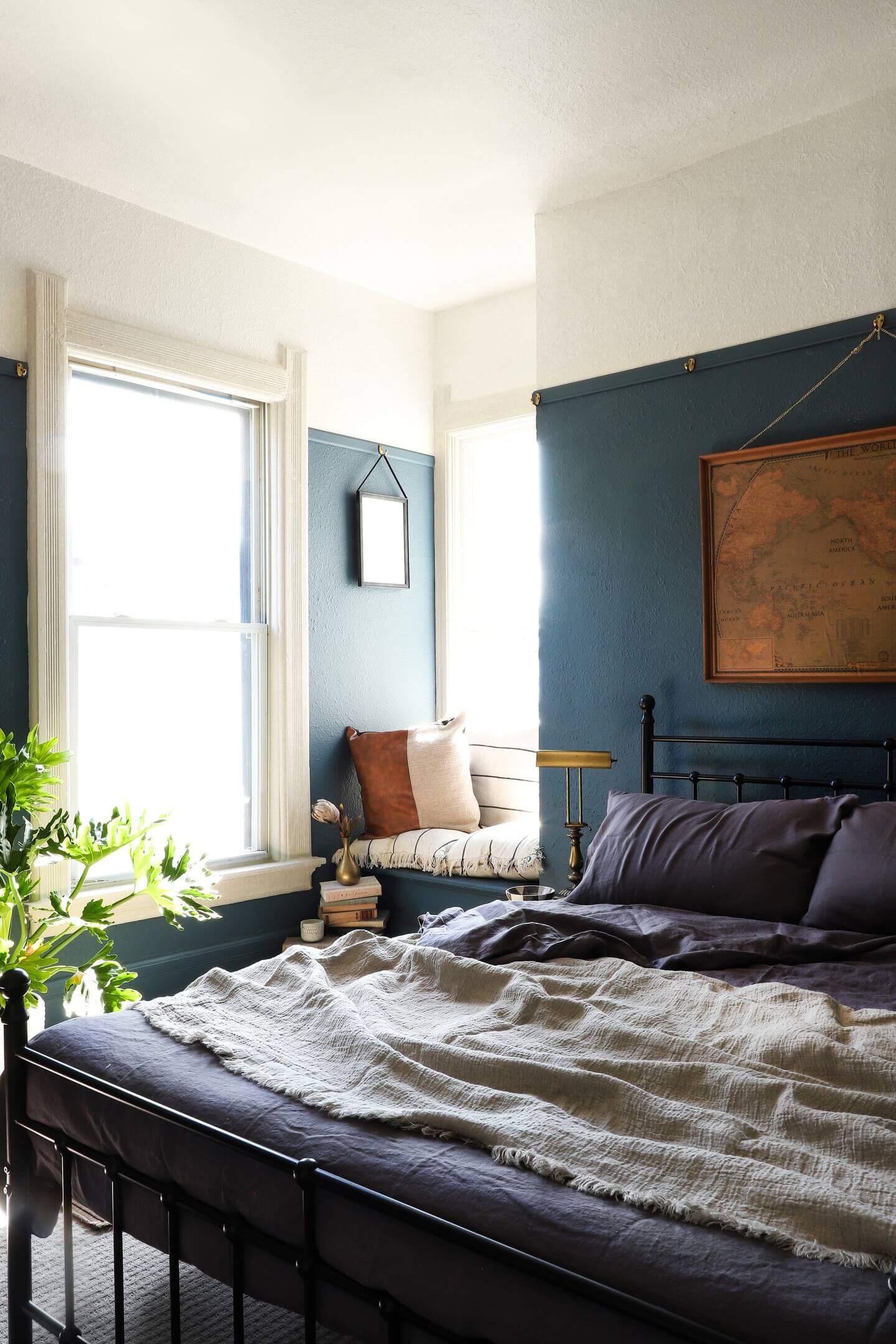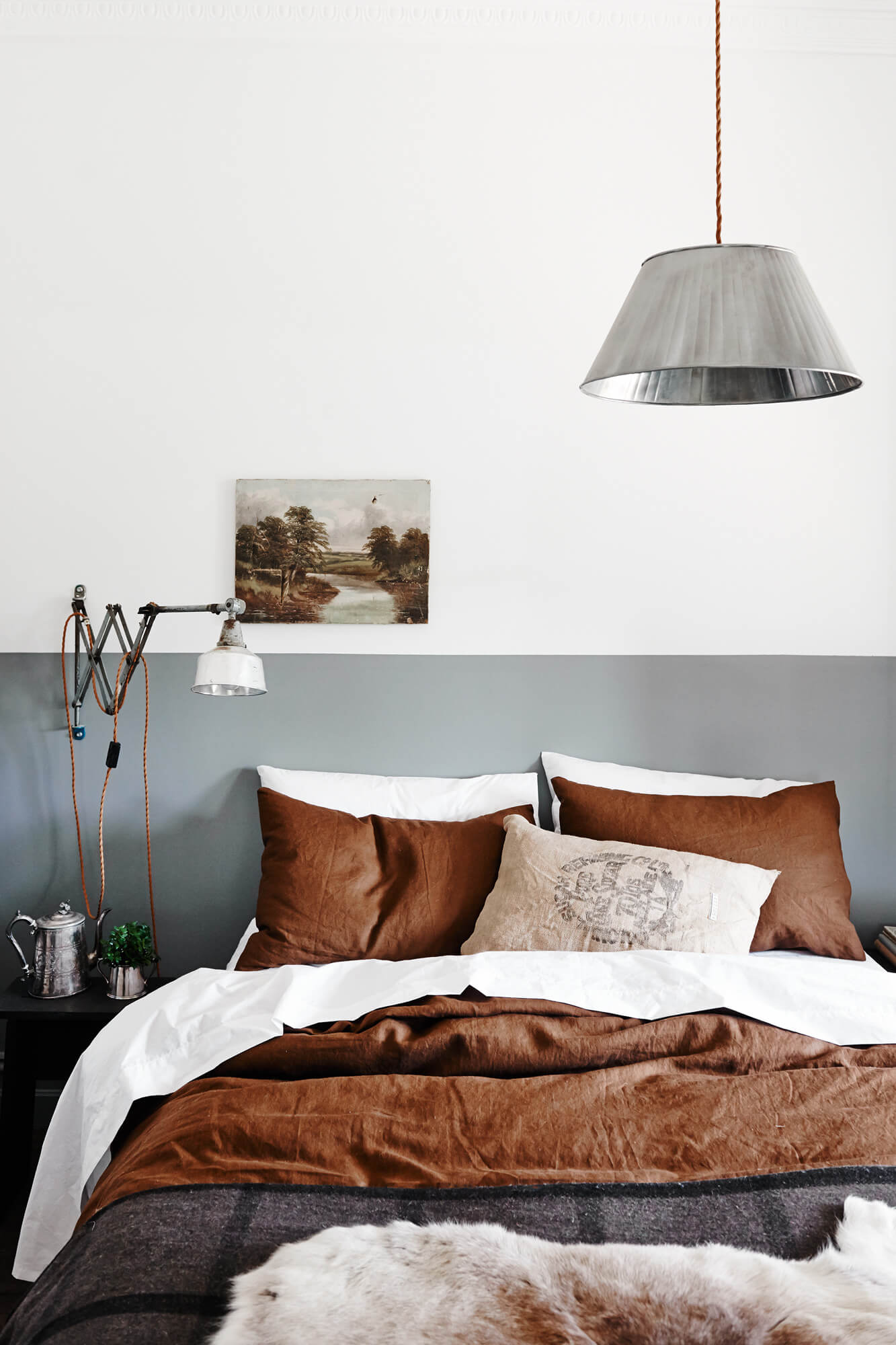 A Vertical Two-Tone Wall
With a vertical two-tone wall, you create a division with paint from the ceiling to the floor. This is a good idea if you have a multifunctional room and you want to accentuate a specific area. Another benefit of a vertical two-tone wall is that it makes your ceiling height look higher.
For example, when you have a long living room and you want to accentuate the dining room in this space, it might be a nice idea to add a vertical two-tone wall to create a cozy dining area. The two paint colors will create separated zones while still having a big open-plan space.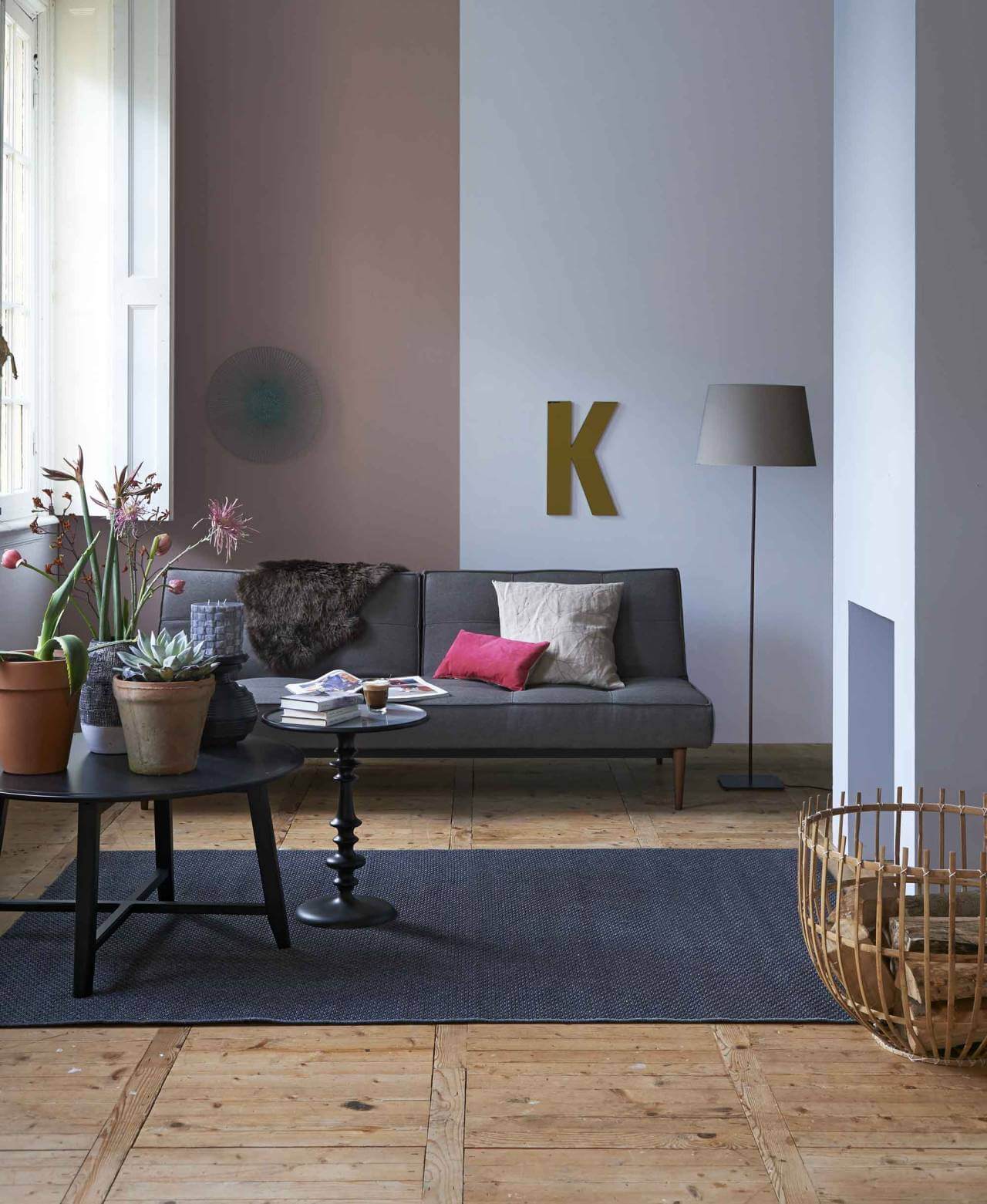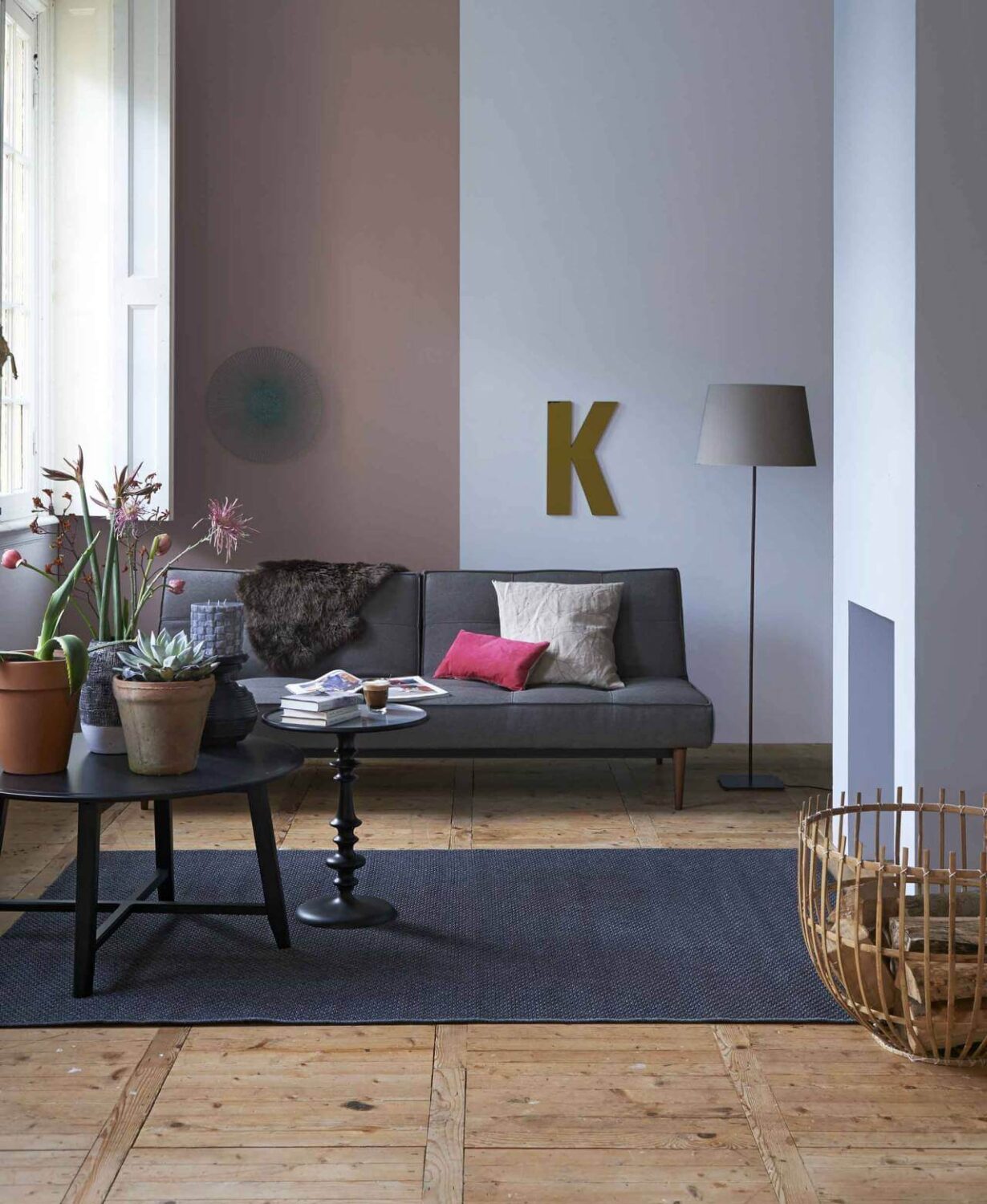 A Horizontal Two-Tone Wall
The most common two-tone wall idea is the horizontal two-tone wall, also known as a half-painted wall. By adding a horizontal two-tone wall you can create an optical illusion, not only will your room look longer but by adding a light color tone on the top half of the wall, your ceilings will also look higher.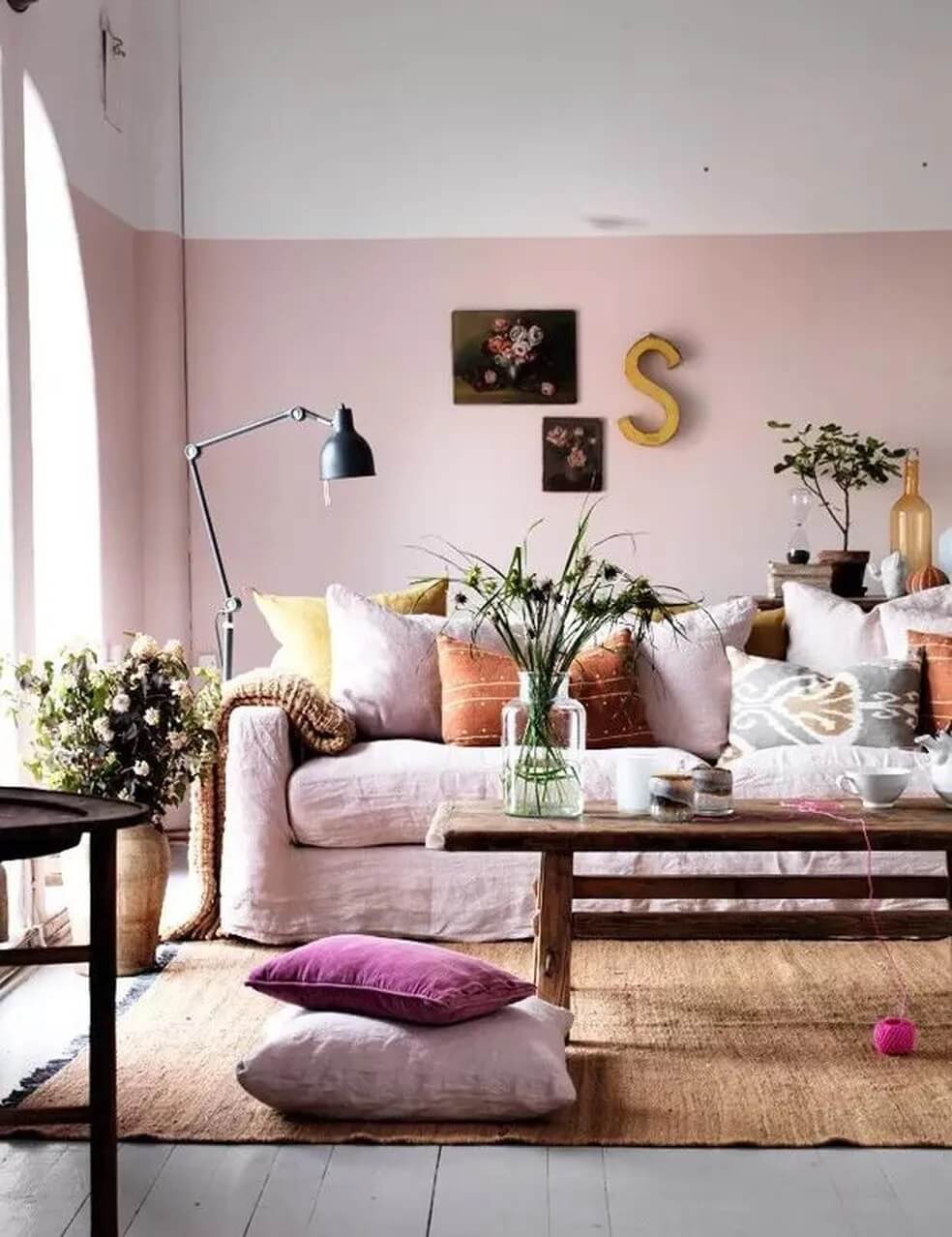 The Position of the Light and Dark Color in a Two-Tone Wall
You also have to decide which color you put on the bottom half of your wall and which color goes on top. Most people put a darker shade on the bottom half of the wall and a lighter shade on the top half of the wall. By adding the lighter color tone on the top part of the wall, you make your ceilings look higher and thus your room will feel larger.
But you can choose to paint the top half of the wall in a dark color. This will create a more cozy effect and when you have high ceilings in your home this is certainly a great option.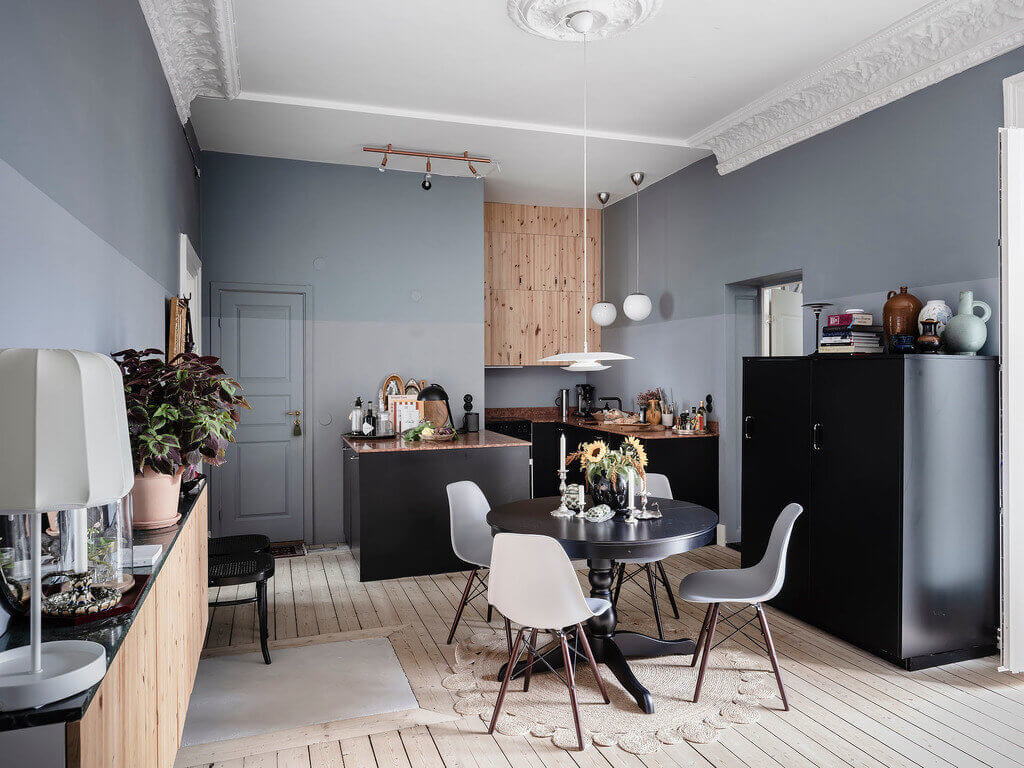 This Scandinavian apartment uses two shades of blue in the kitchen. The darker shade is put on the top and the lighter shade at the bottom. The two colors are not too far apart so it's a subtle but very nice paint accent.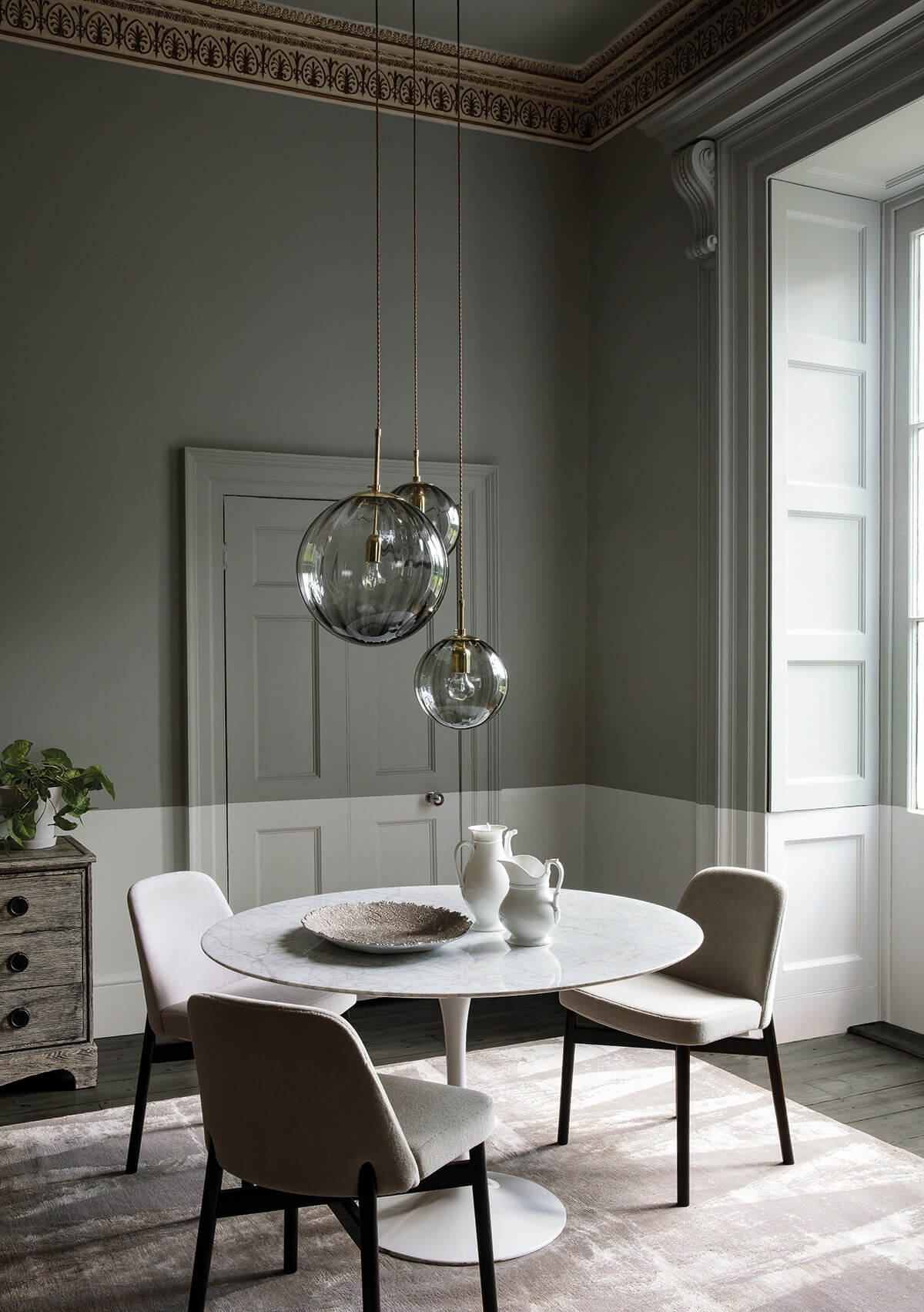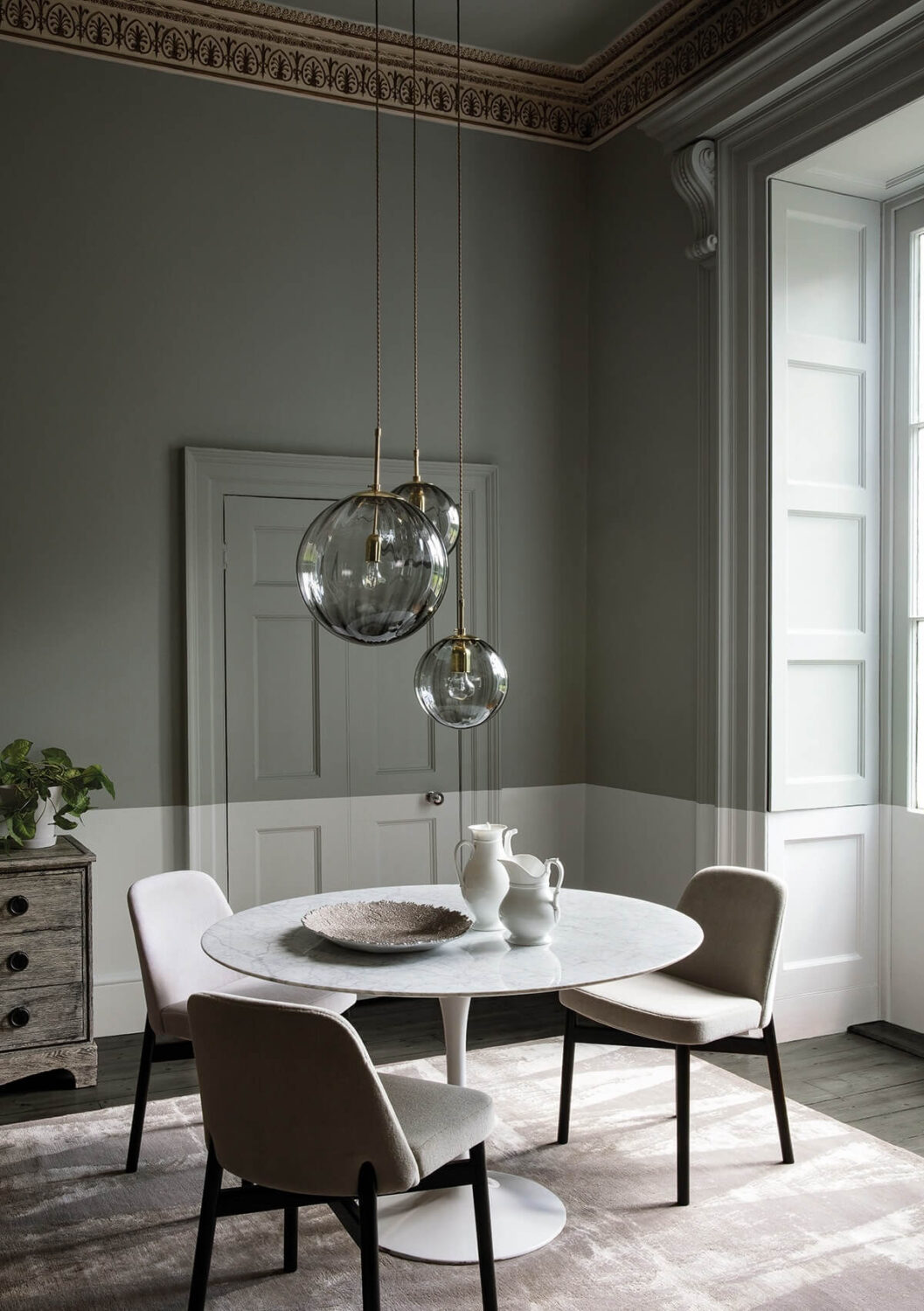 Another great example of a darker color above the lighter color is in this dining room. The historic home has high ceilings, and painting the top part in a darker color creates a more cozy room. The paint colors used in this dining room are Steel V and Steel II by Paint & Paper Library.
Where Do You Place the Dividing Line in Two Tone Walls?
You don't have to divide your wall 50/50 when you want to use two color tones. In general, the division is usually around 120cm/47 inches from the floor. But you can place the dividing line anywhere you want depending on what you want to use as the focal point. For example, you may want to line it up with your bed headboard or with a cabinet.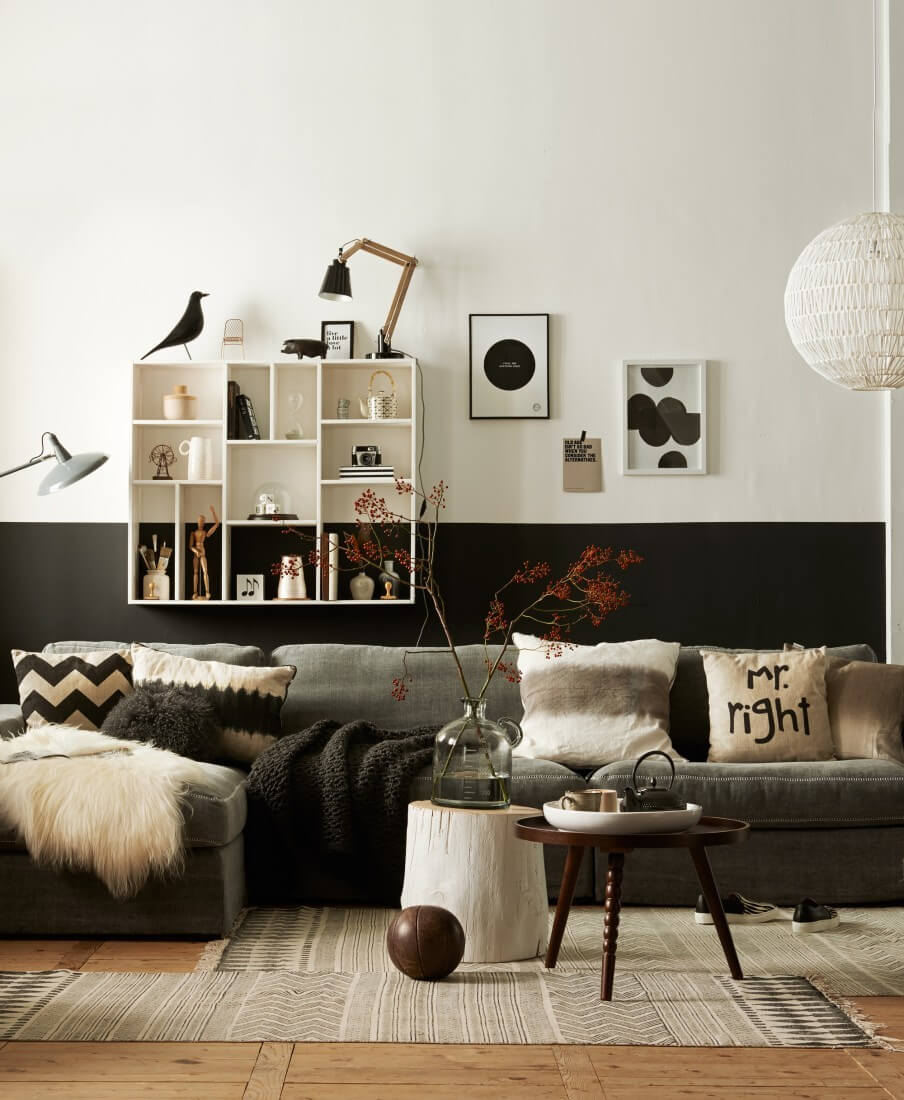 In this monochrome living room by VT Wonen, they aligned the painted wall with the cabinet. The dividing line is exactly aligned with one of the shelves.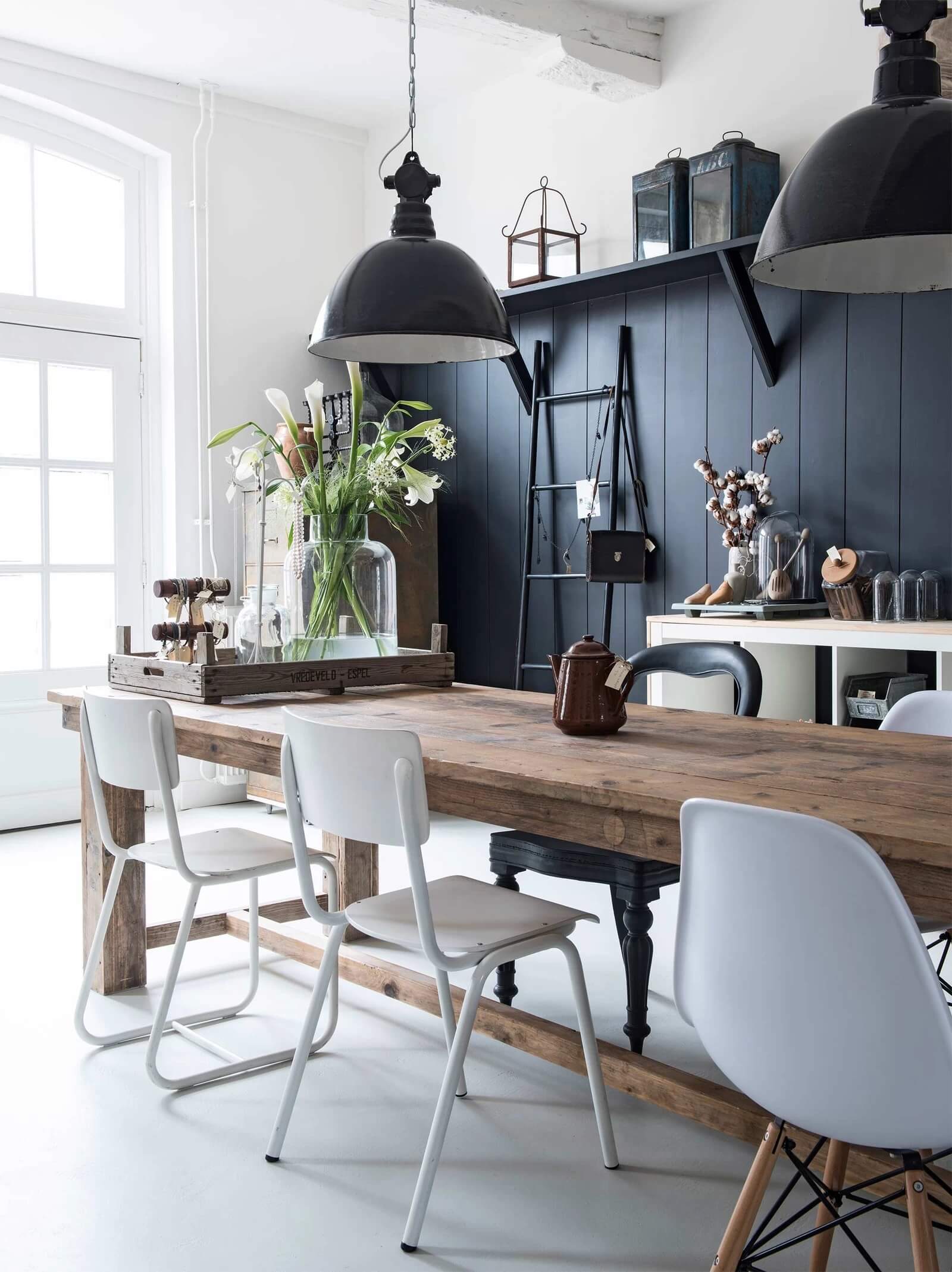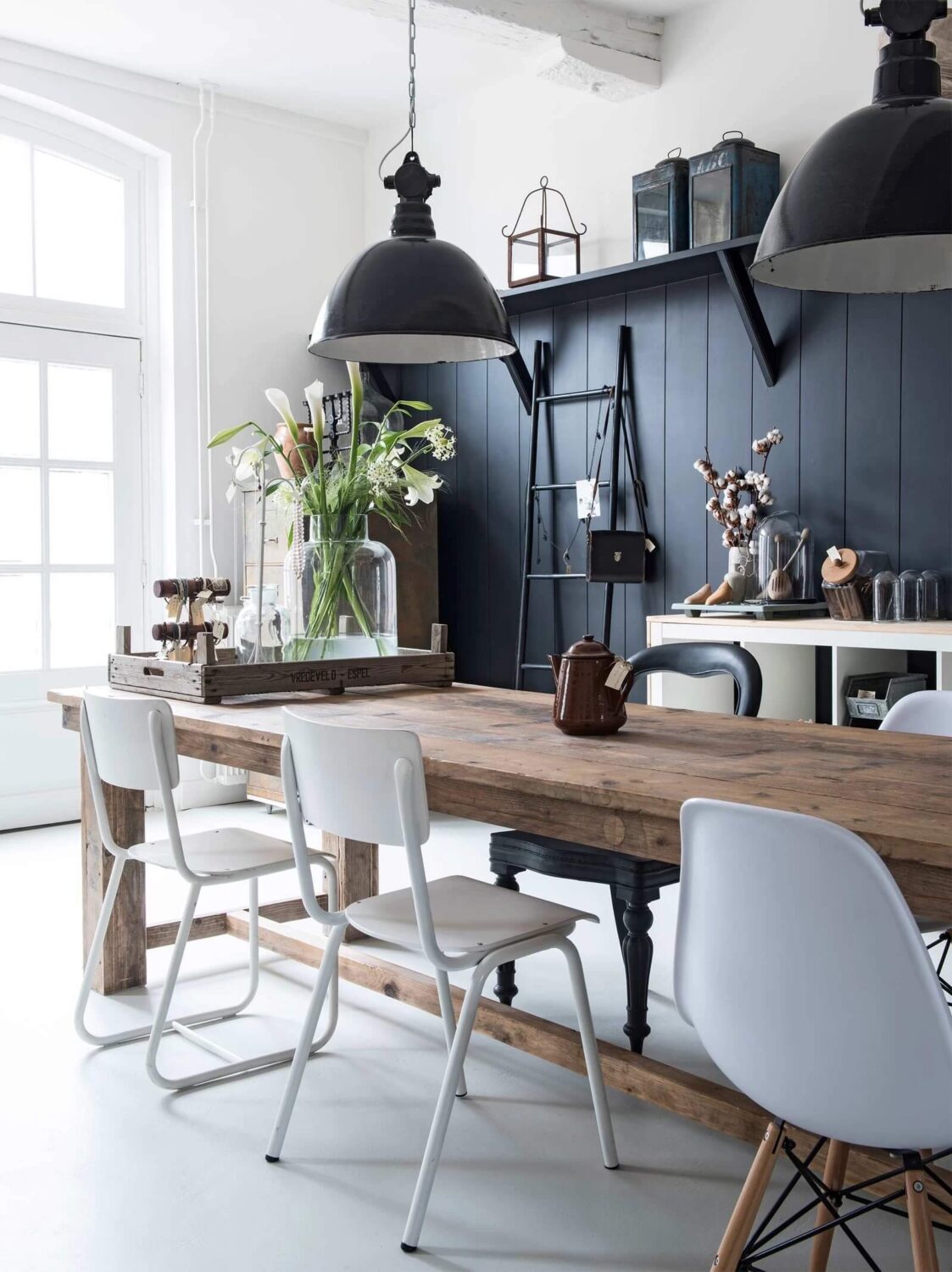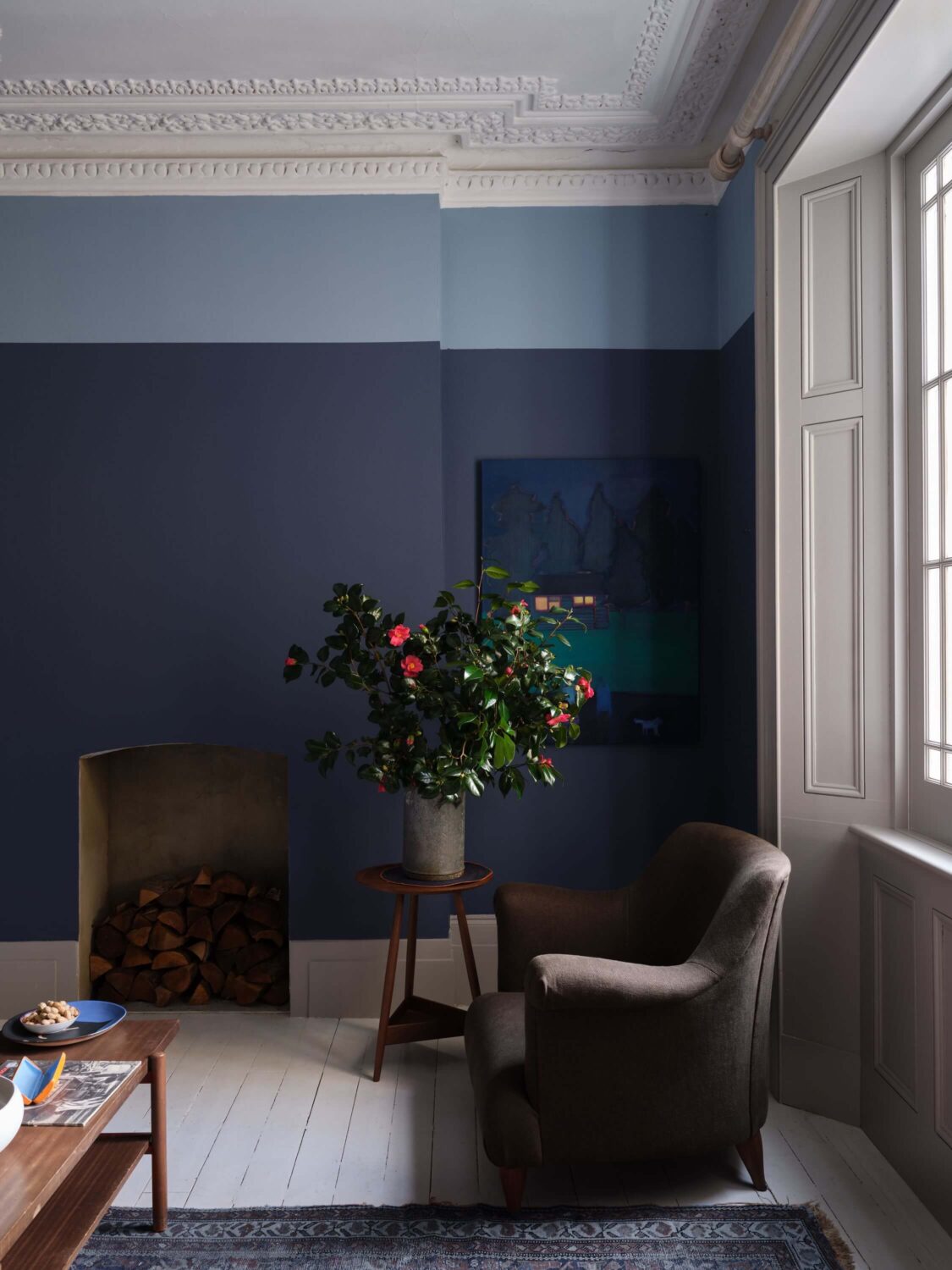 You don't have to follow the rules when creating a two-paint-colored wall. This living room created by Farrow and Ball has been turned into a cozy space as the majority of the wall is painted in the moody "Wine Dark" shade. Only at the very top did they add a second paint color, the mid-blue "Lulworth Blue".
In this Californian-style dining room designed by Urbanology Designs they opted for a 50/50 ratio.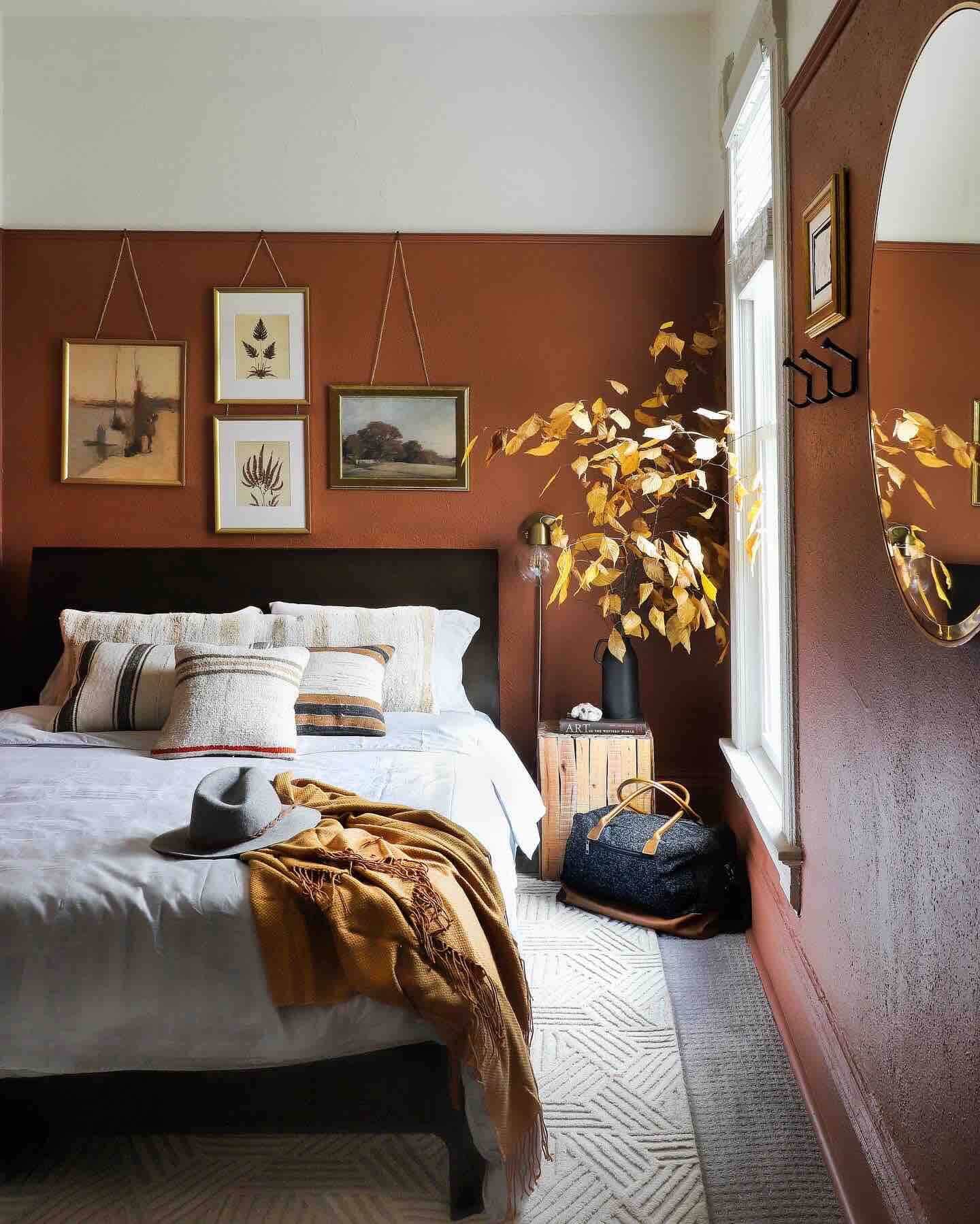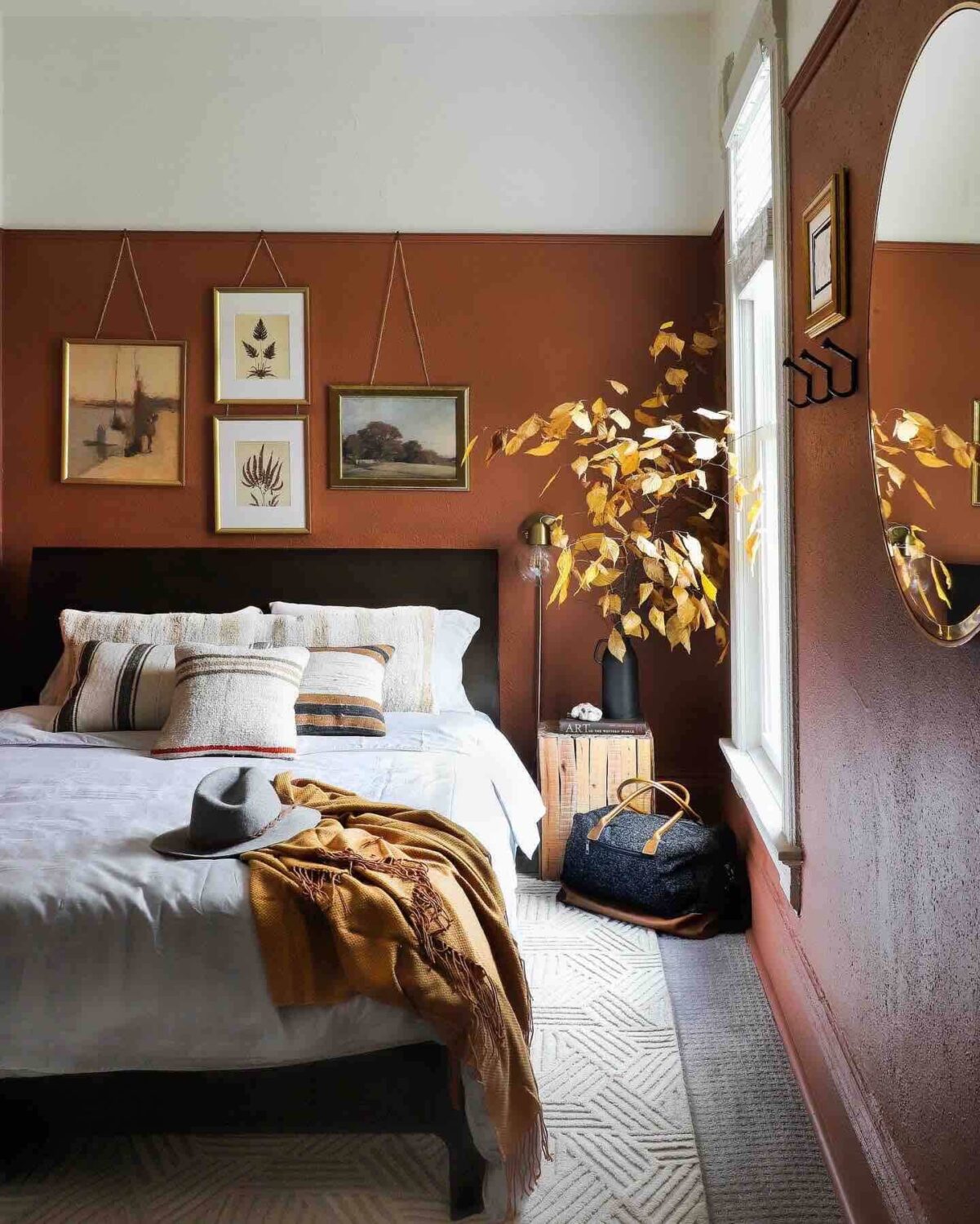 How To Choose Colors for your Two Tone Wall
Choosing the colors is perhaps the most important step in designing a two-tone wall. You can opt for several color combinations, depending on your interior style or your favorite color.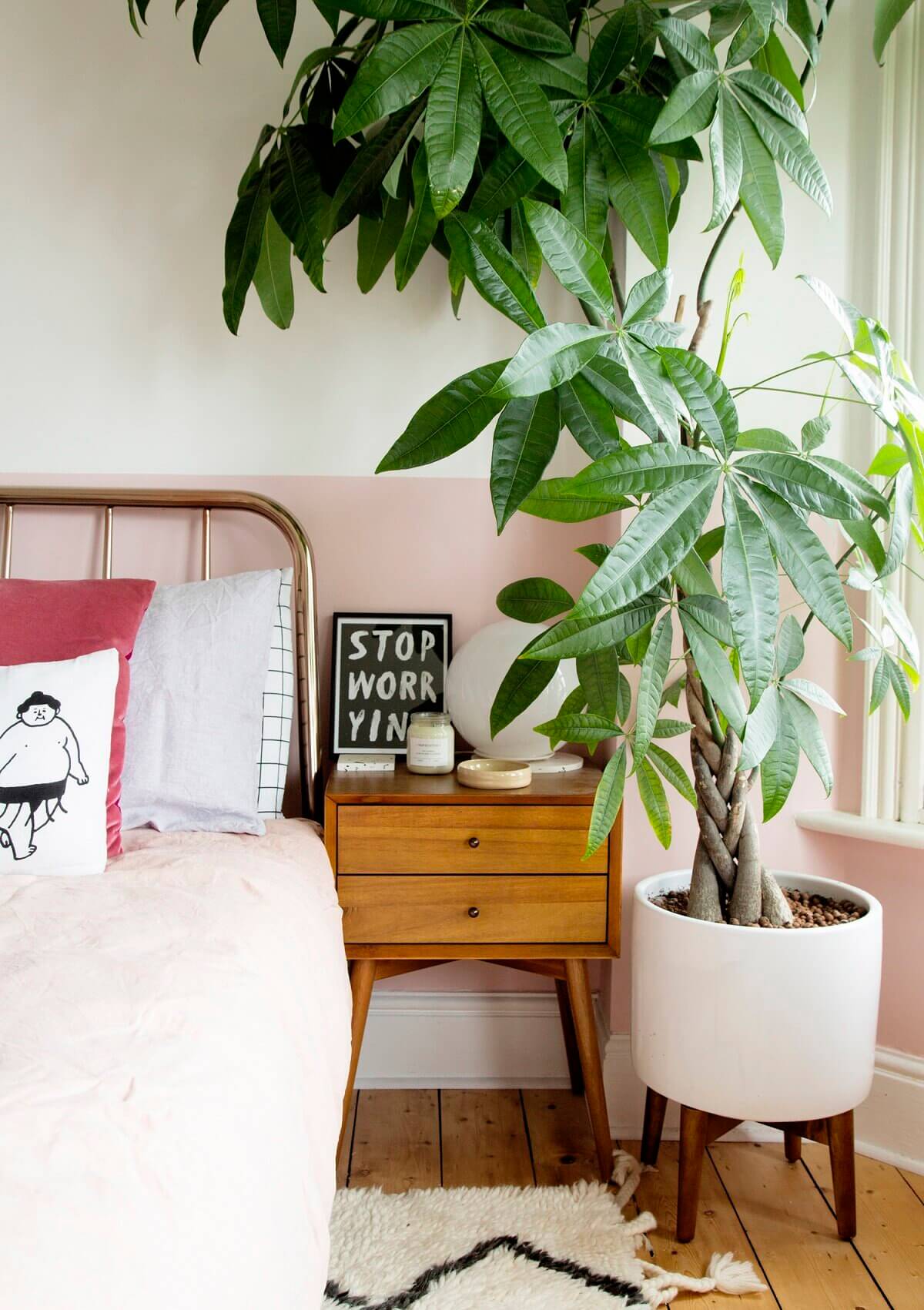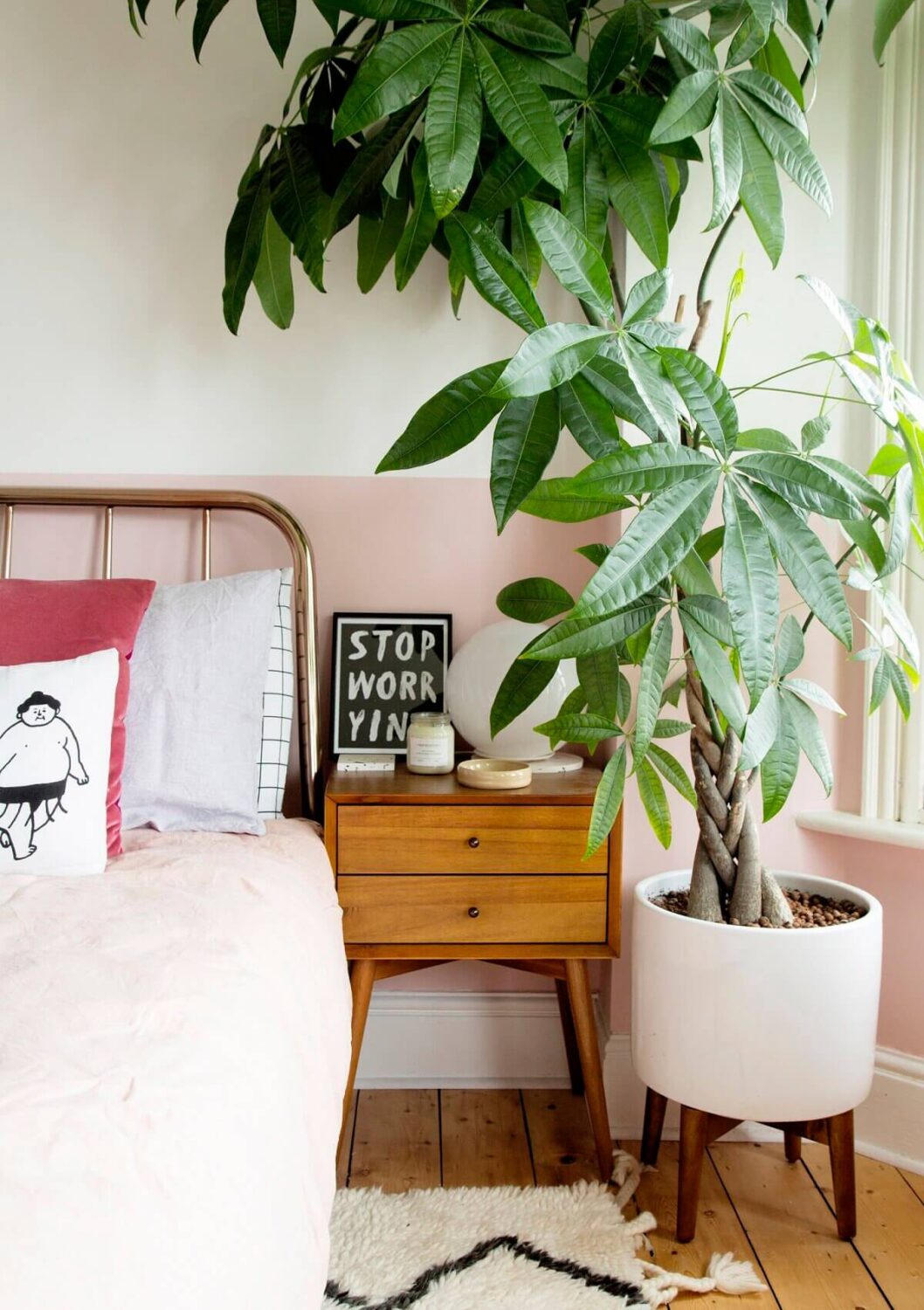 An Edwardian home in England features this lovely bedroom with a half-painted wall using white and a subtle light pink shade.
Neutral Colored Two-Tone Wall
When you use two neutral shades for your two-tone wall you can create a subtle but effective color effect on the wall. Popular neutral shades for a two-tone wall are common neutral shades like gray, beige, and black. But you can also think about a subtle light pink shade.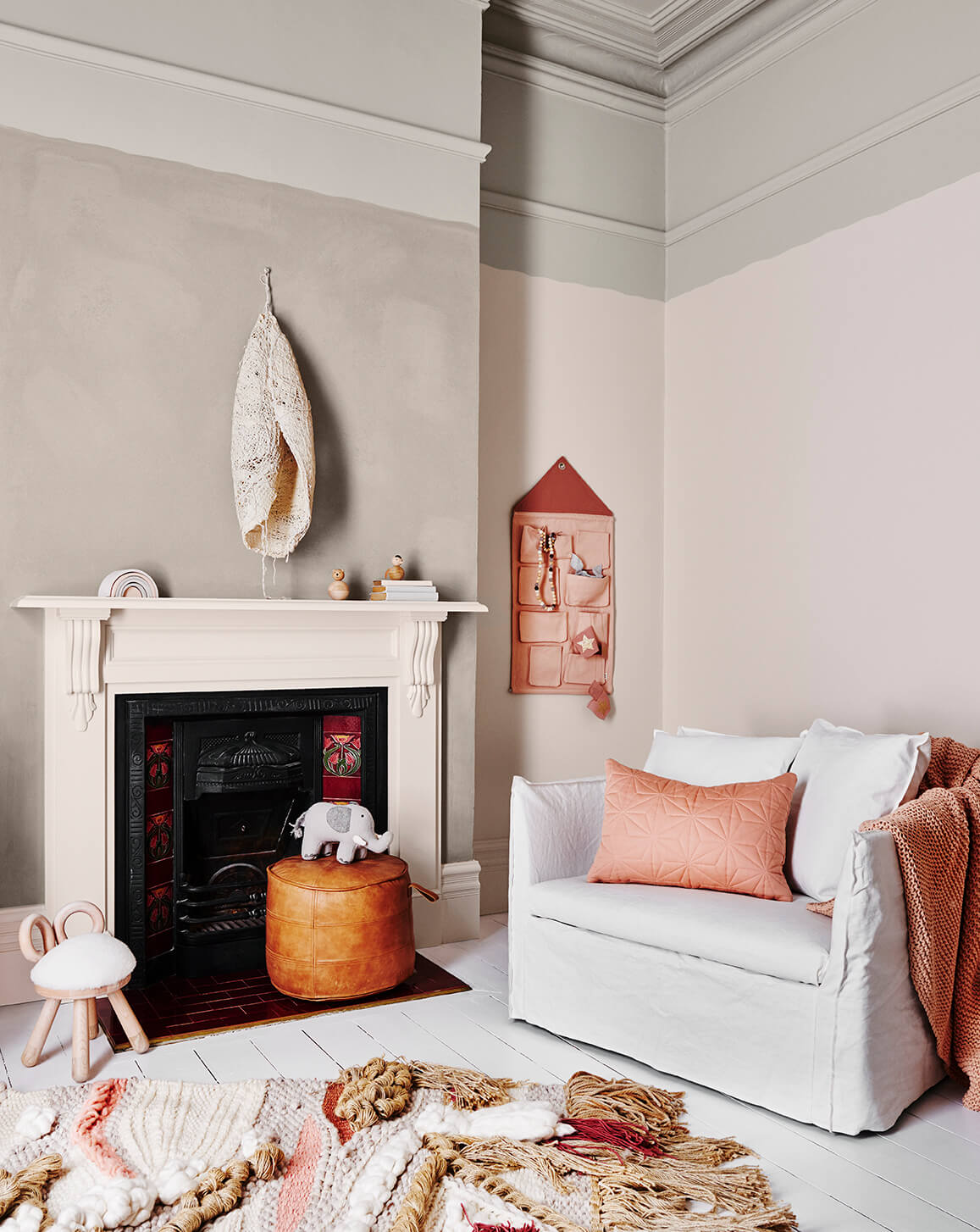 This kid's bedroom uses several shades by the paint company Dulux. The two neutral shades behind the armchair are the beige shade Parchment Paper on the bottom and the gray color Mt Albert at the top.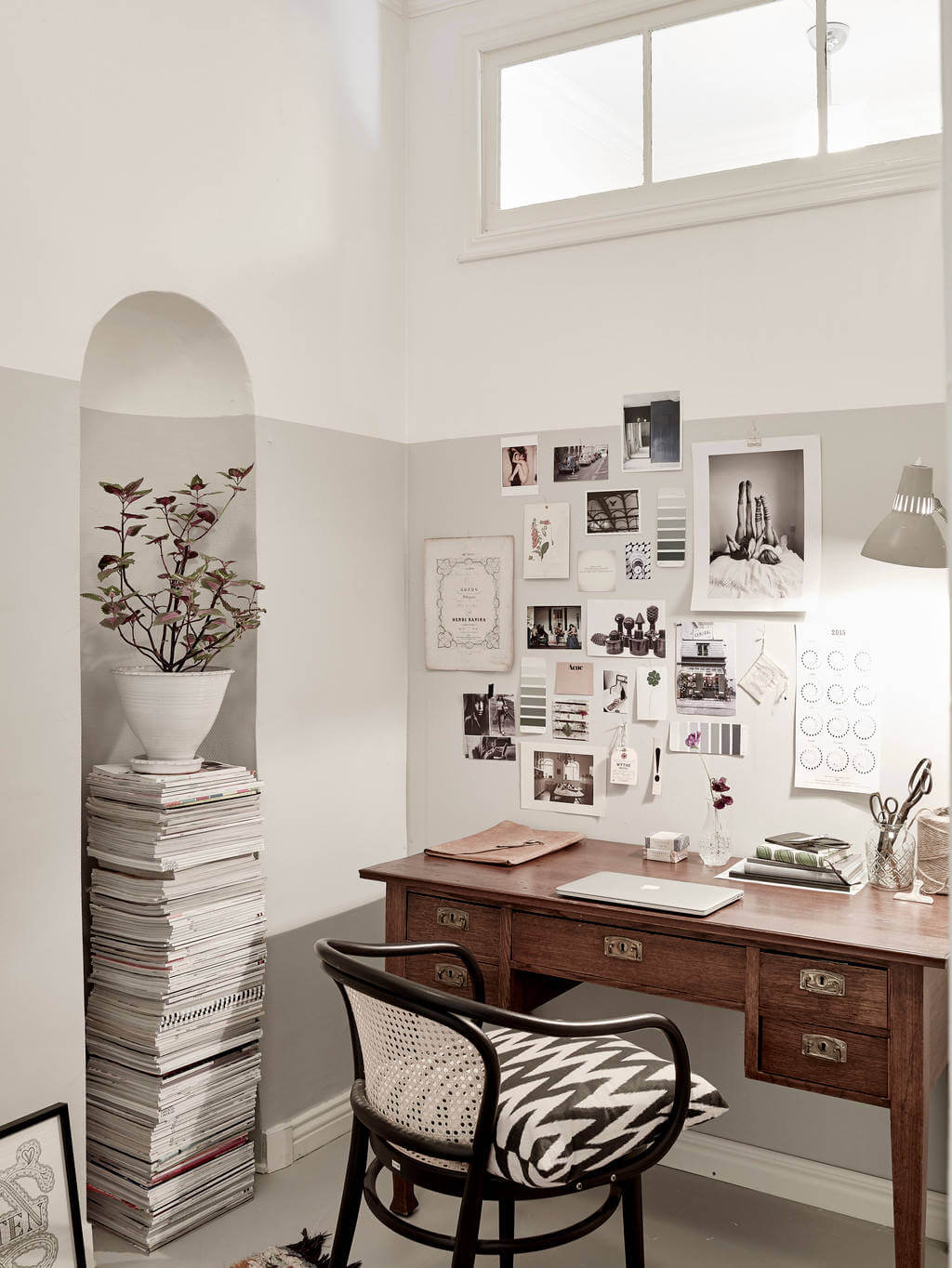 A small Scandinavian home office created a very subtle two tone wall by using a very light gray shade in combination with white.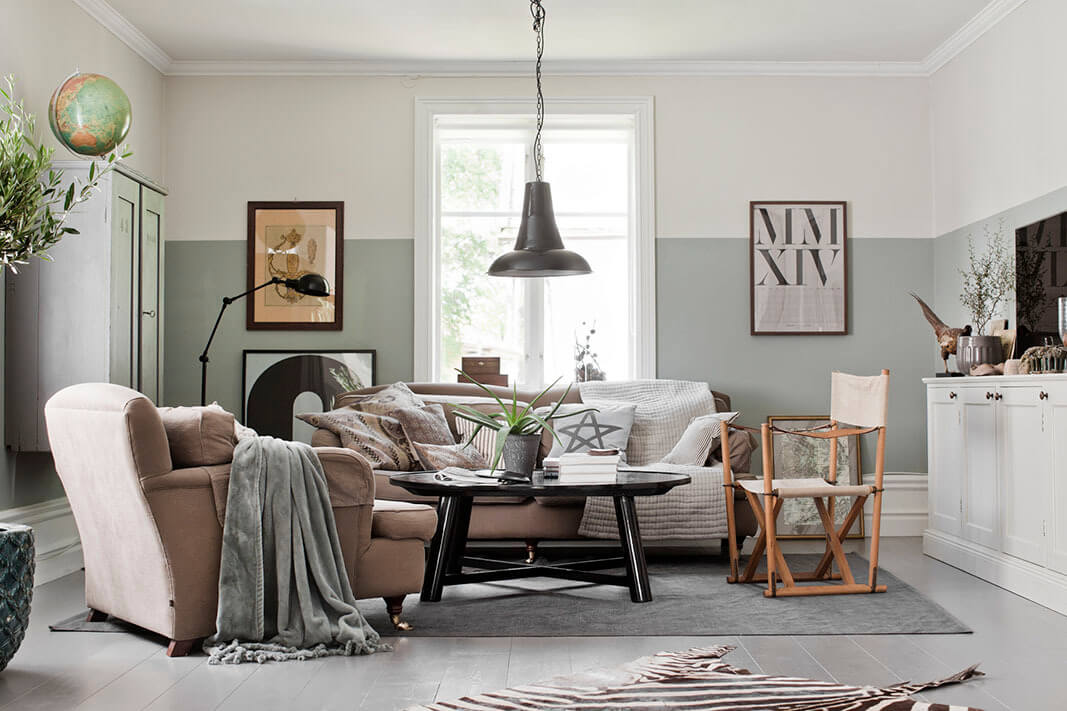 A Ton sur Ton Two-Tone Wall
Ton sur Ton means that you use two different shades of the same color in your interior. So a ton sur ton wall means that you use a light shade and a dark shade of one color f.e. you combine light blue with dark blue.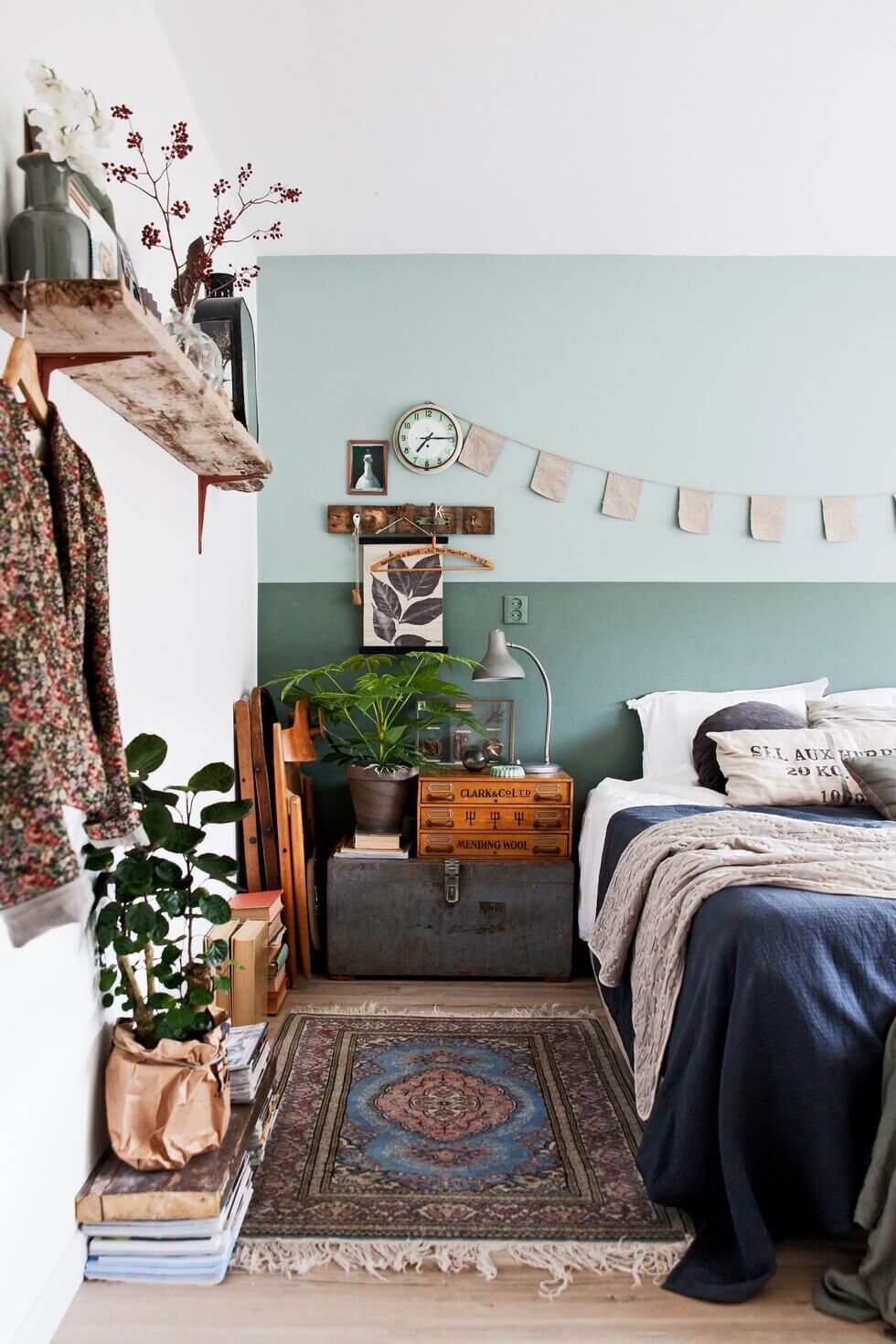 This beautiful bedroom uses two green shades for a ton sur ton accent wall.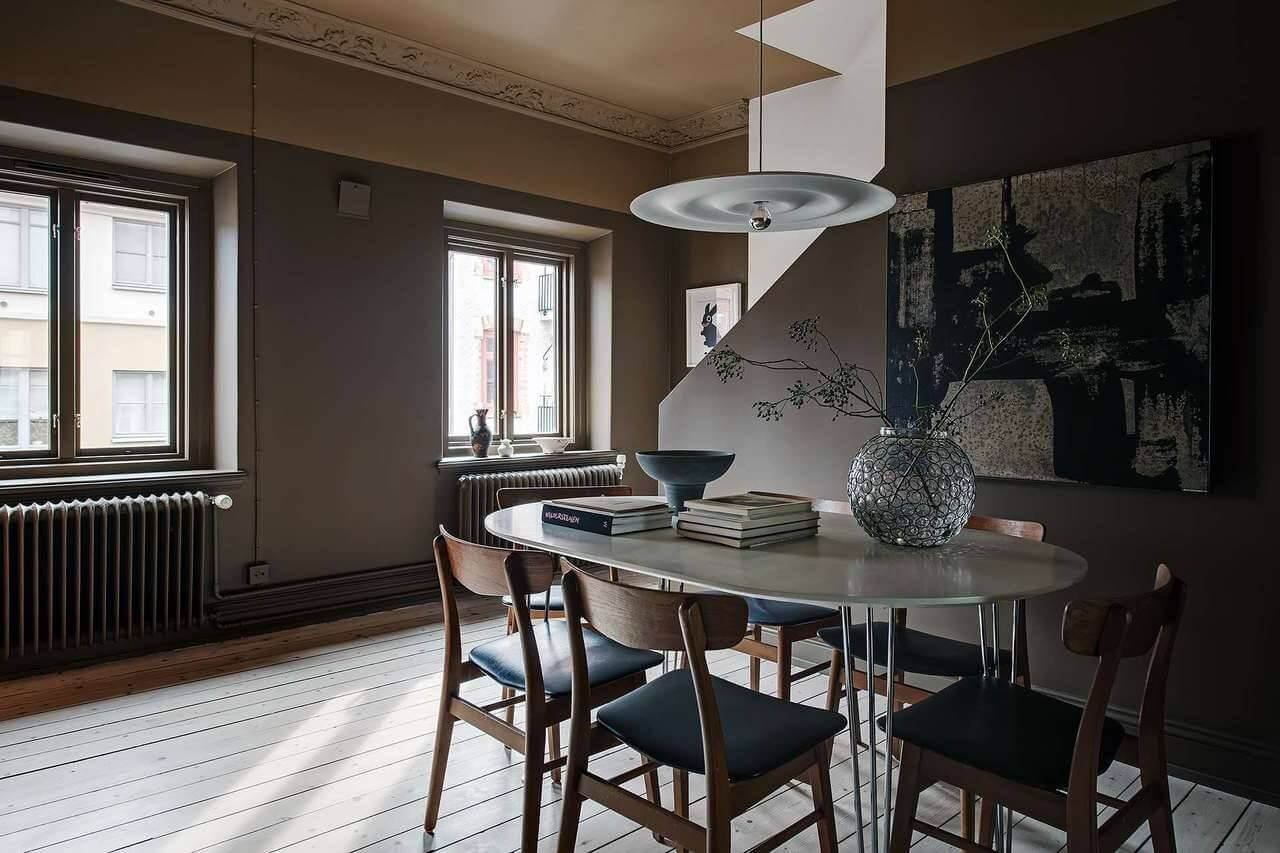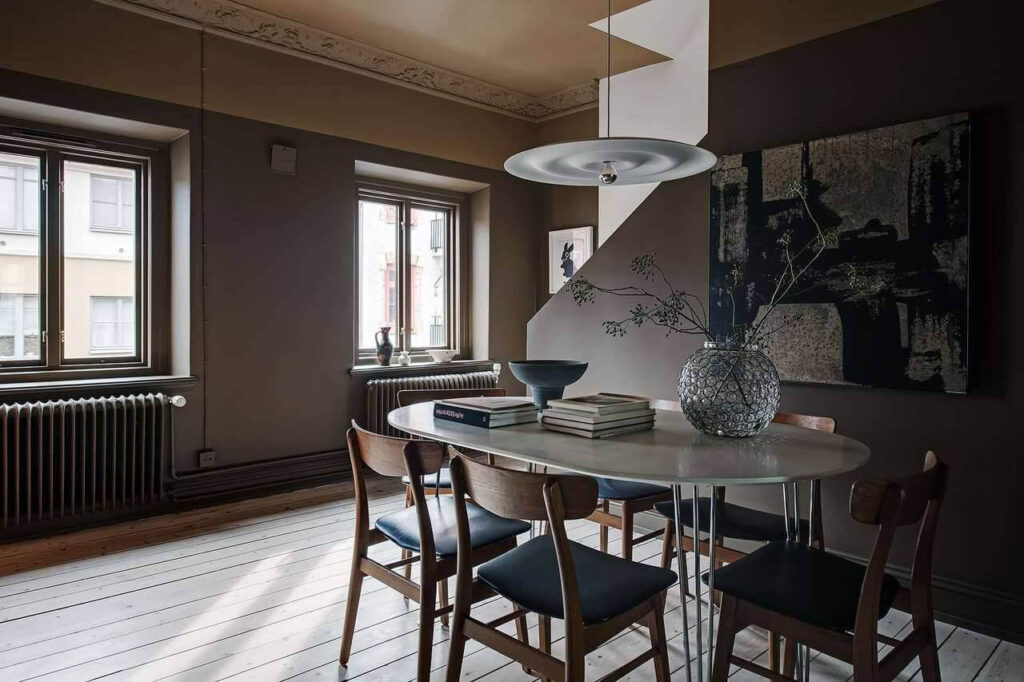 A bold pink ton sur ton wall created with two shades from Farrow & Ball. The dark pink/red bottom color is a new Farrow & Ball color called Bamboozle. The pink shade is called Templeton Pink.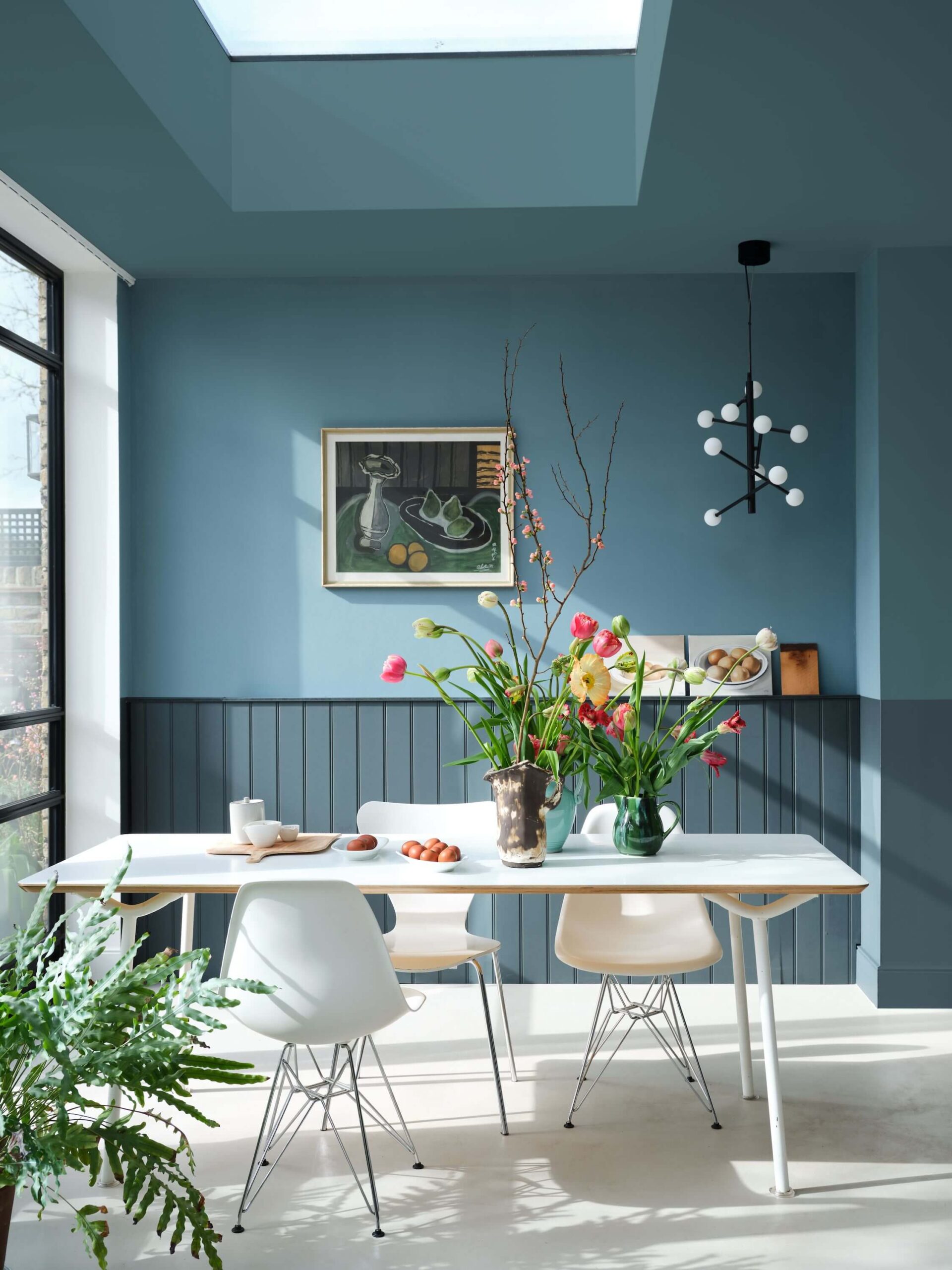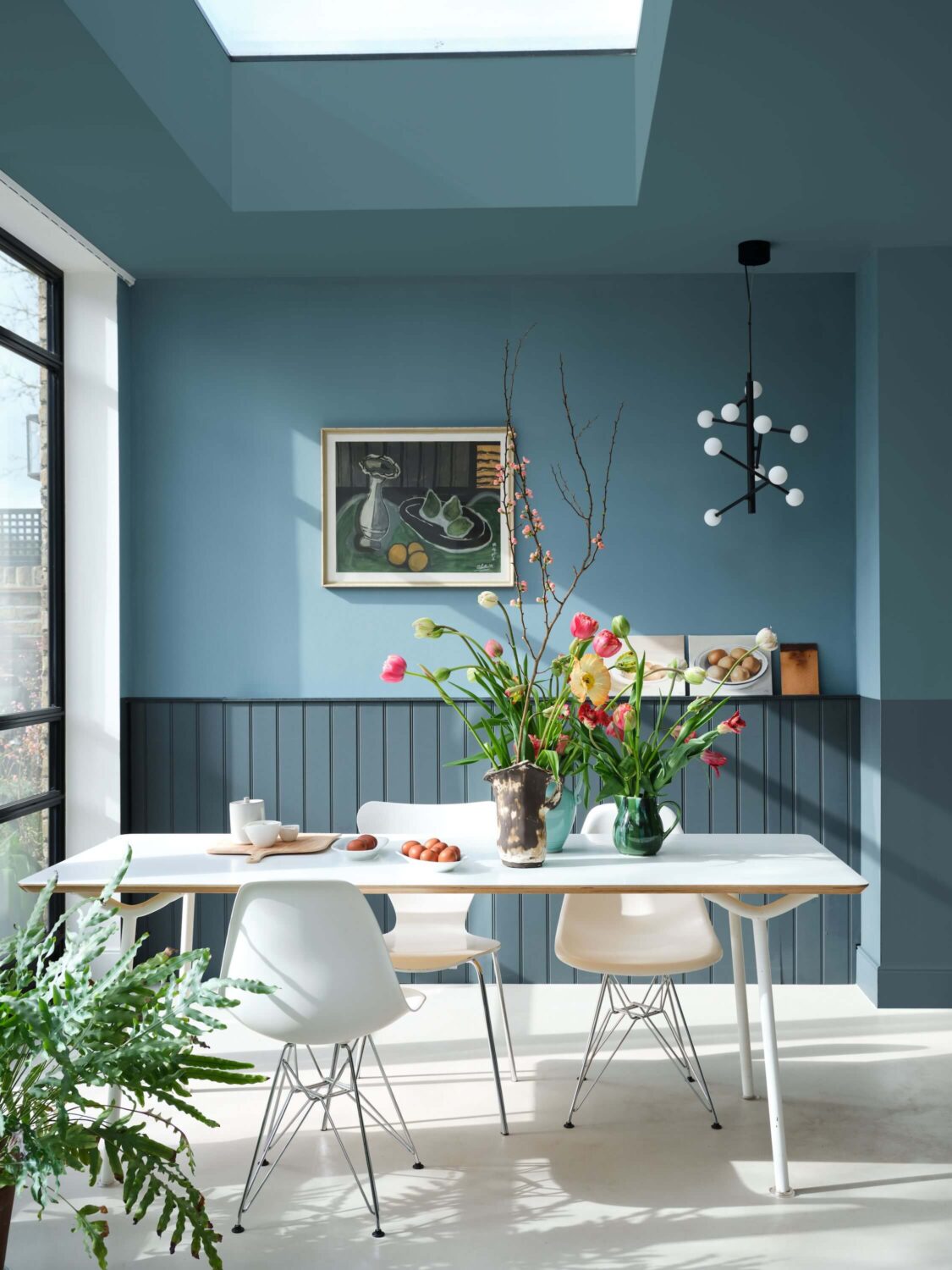 A blue dining room created with Selvedge and Hopper Head by Farrow and Ball.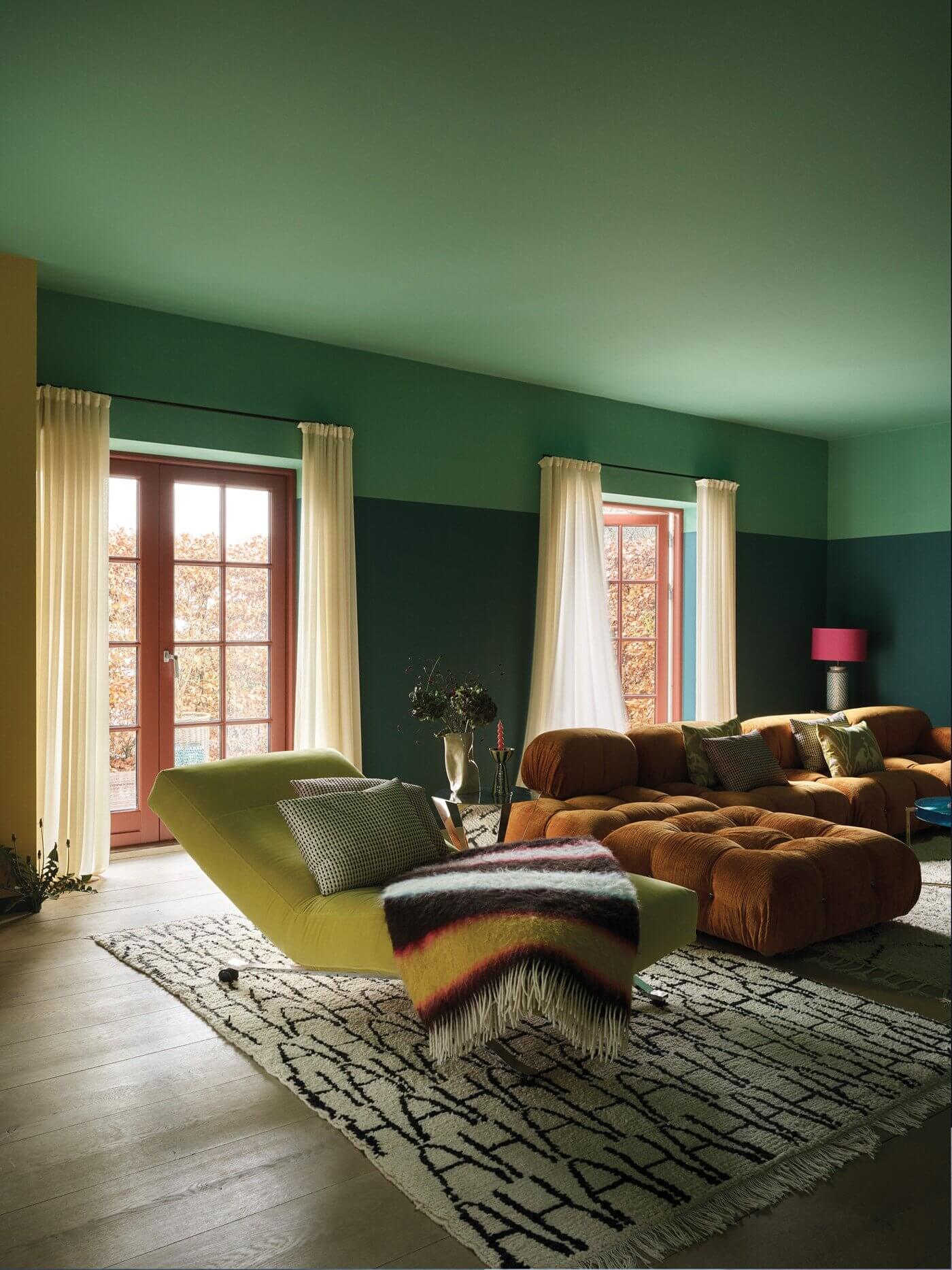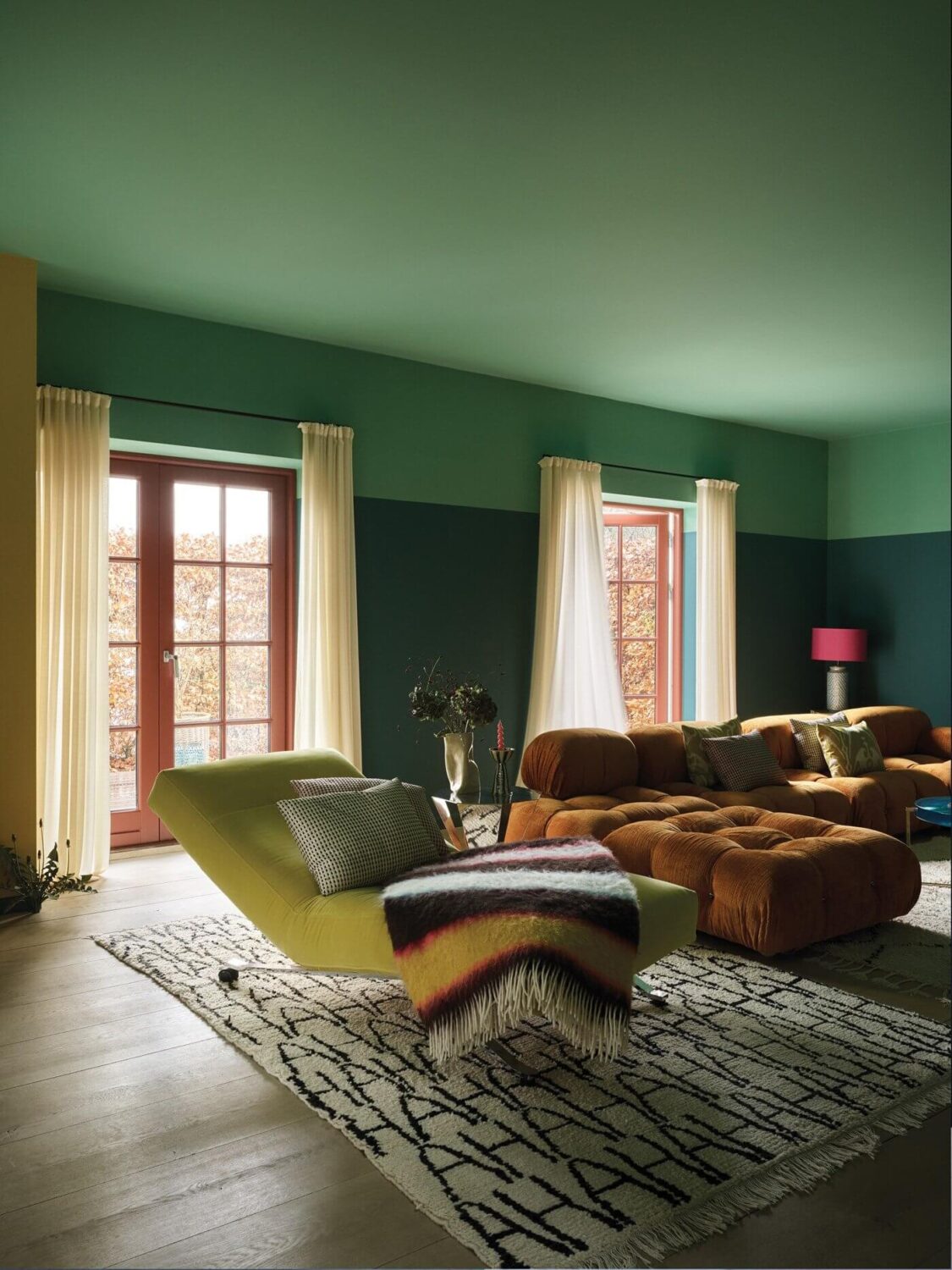 This green ton sur ton living room is painted in two green shades from "The Nordic Edit" line by Farrow and Balll. The ceiling is painted in "Arsenic" and the lower walls are painted in "Mere Green".
A Two Tone Wall with Bold Colors
If neutral color shades and ton sur ton are too safe for you, you can opt for a bolder color combination. You can combine a natural color with a bold color or – if you're very bold – you can choose two vibrant colors for a bold and colorful home.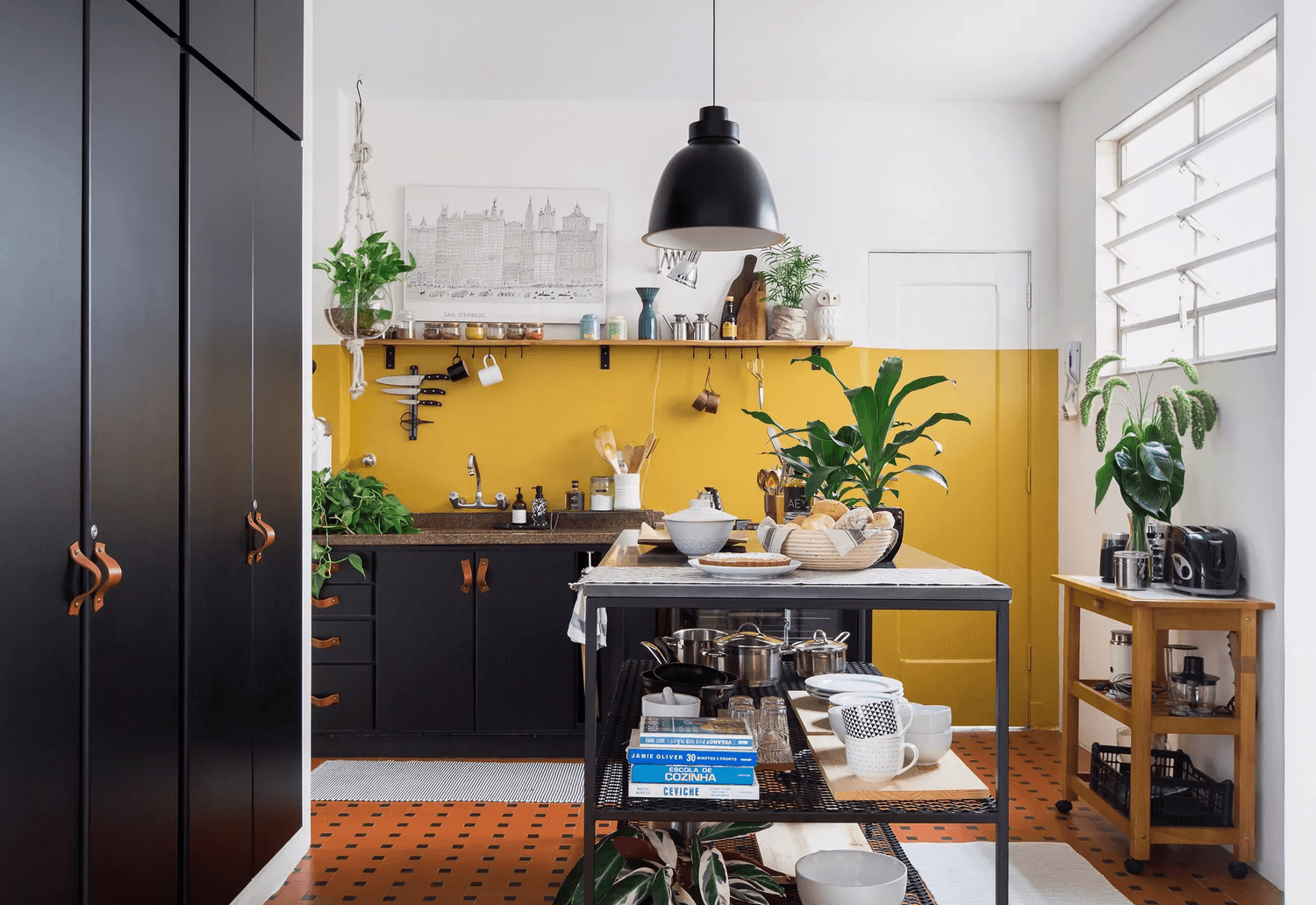 This kitchen uses a warm but bold yellow shade for its color-blocking wall. The shelf lines perfectly with the color division and even the door has been painted in a combination of white and yellow.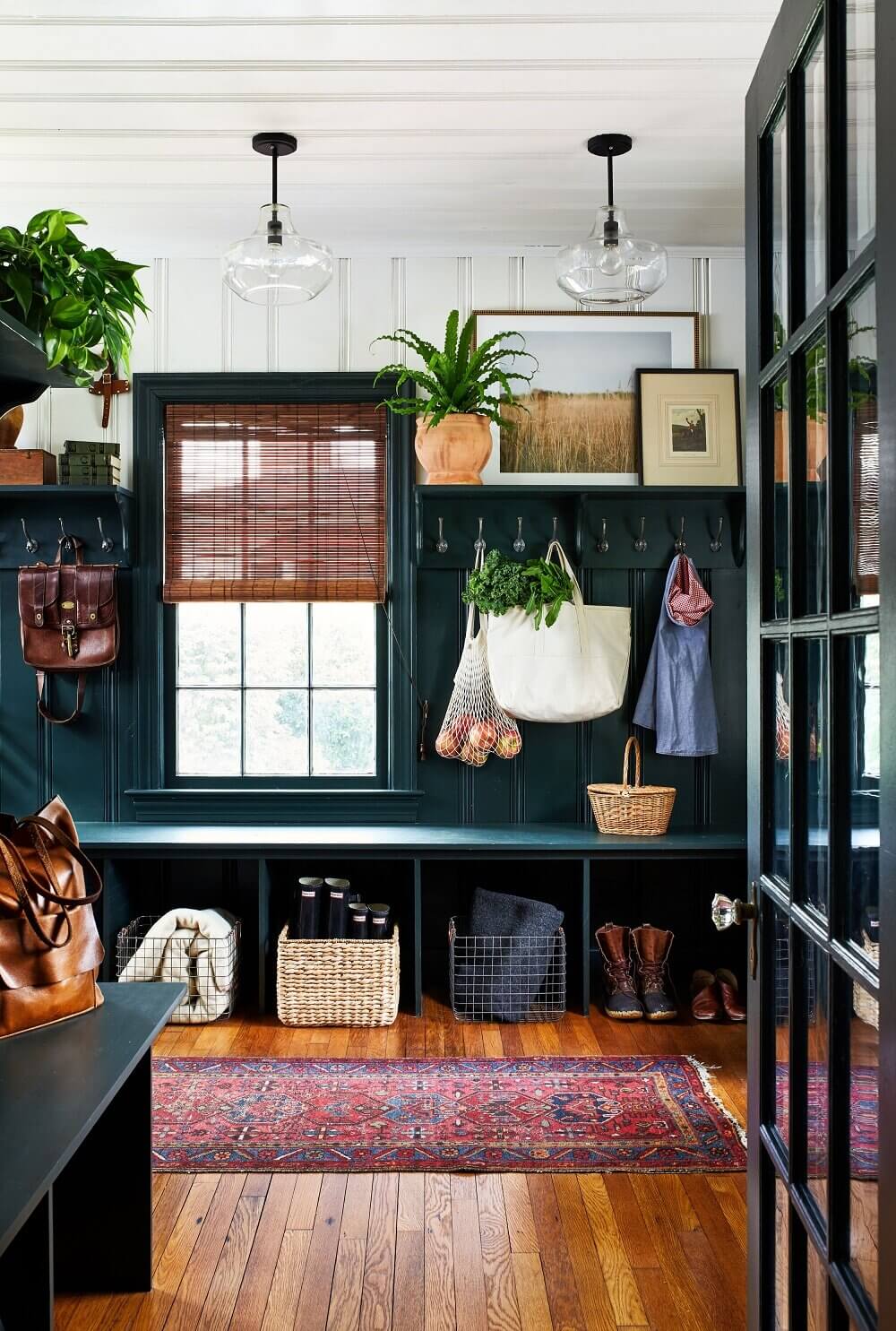 The mudroom in a colonial revival house uses a two-tone wall perfectly. The bottom part is painted in a dark blue/green shade. The dark-painted part is the functional area used for hanging coats and storing boots. The top white painted part is for decoration.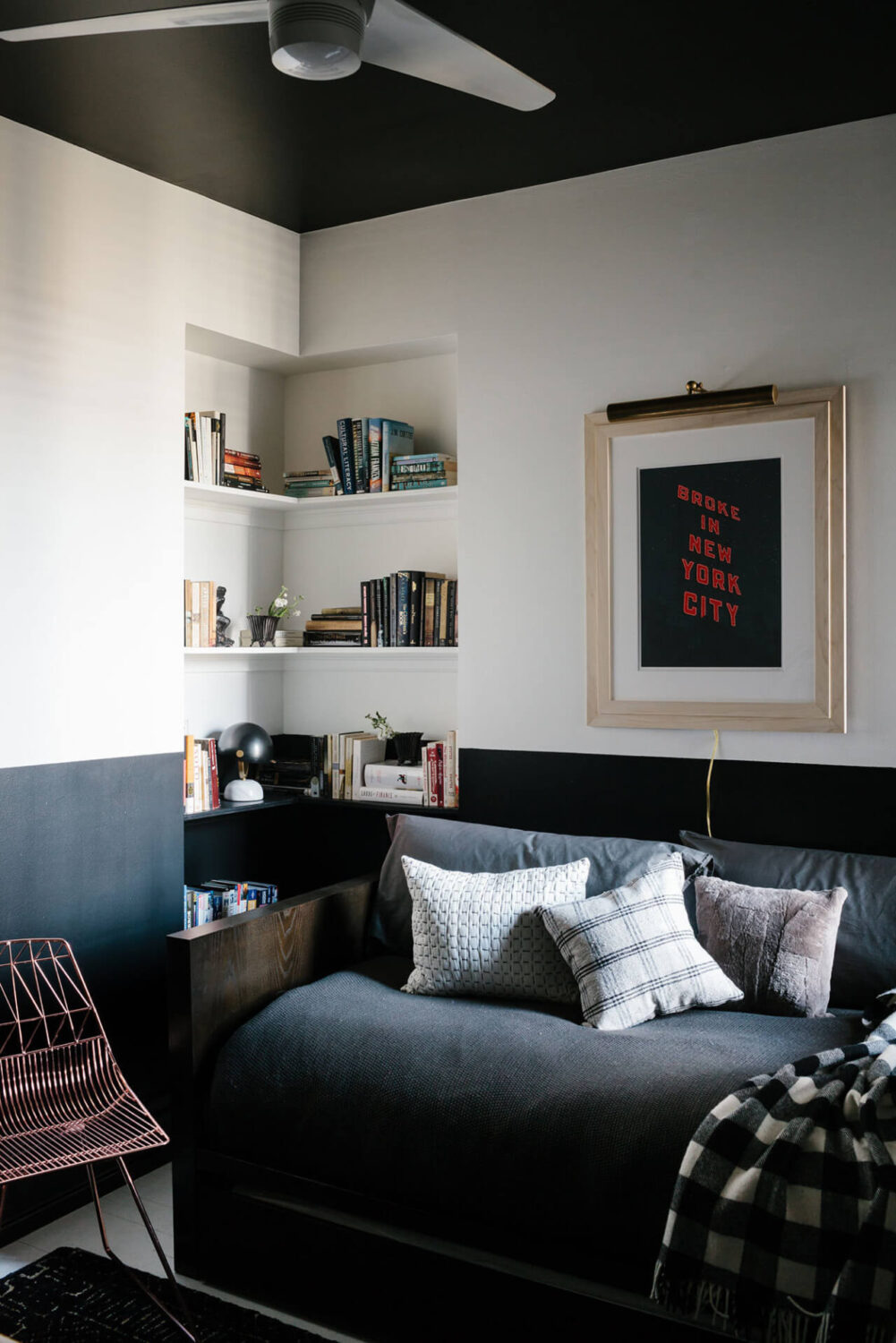 This sitting room not only uses paint on the walls to create a dramatic effect but the ceiling is also painted black which gives this room a dark but cozy vibe. It's just the right combination of light and dark colors.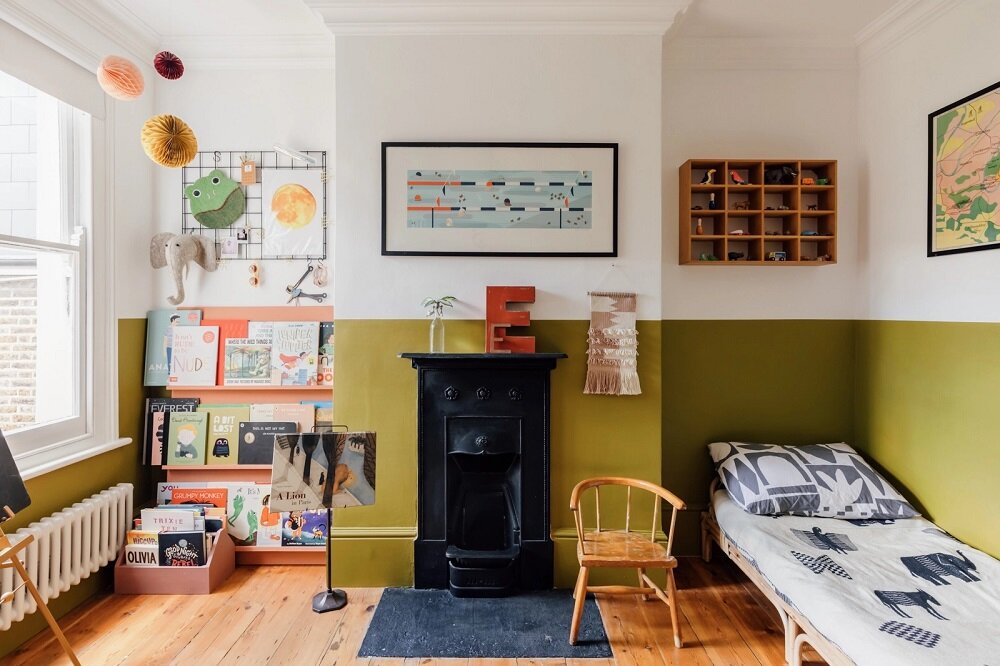 The kids bedroom in a colorful family home in London created a two-tone wall with a bold green shade.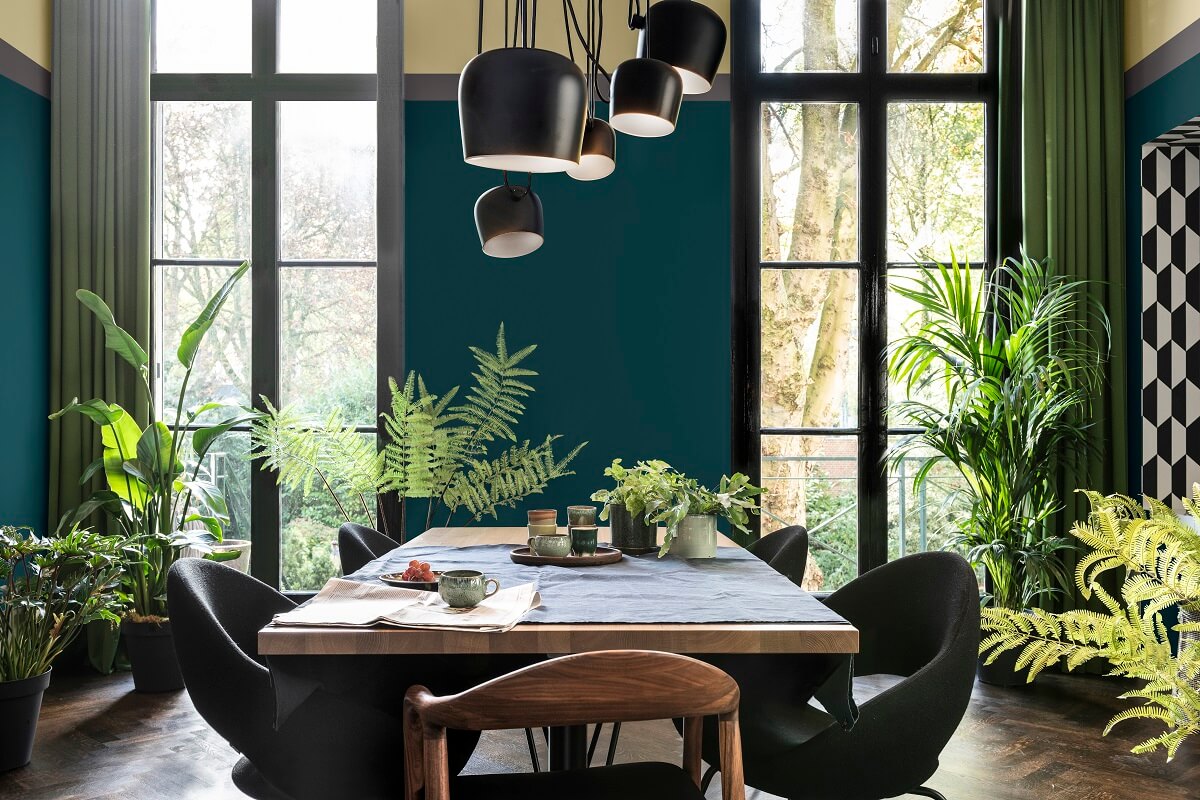 Paint company Dulux created a bold dining room where the walls are painted in a bold green/blue shade called "Blue Glaze" in combination with the Dulux color of the year 2023 Wild Wonder.
How To Paint a Two-Tone Wall: A Step-by-Step Plan
It's pretty easy to create a two-tone wall. These six easy steps will help you create the best painted wall.
Step 1: Measure your Wall
First, you have to decide where the two colors meet on your wall. Use a tape measure and a pencil to mark this meeting point at regular intervals on your wall.
Step 2: Add the Light Color to Your Wall
You can now apply the lighter color on your wall. Paint a little over the dividing line and then let the paint dry.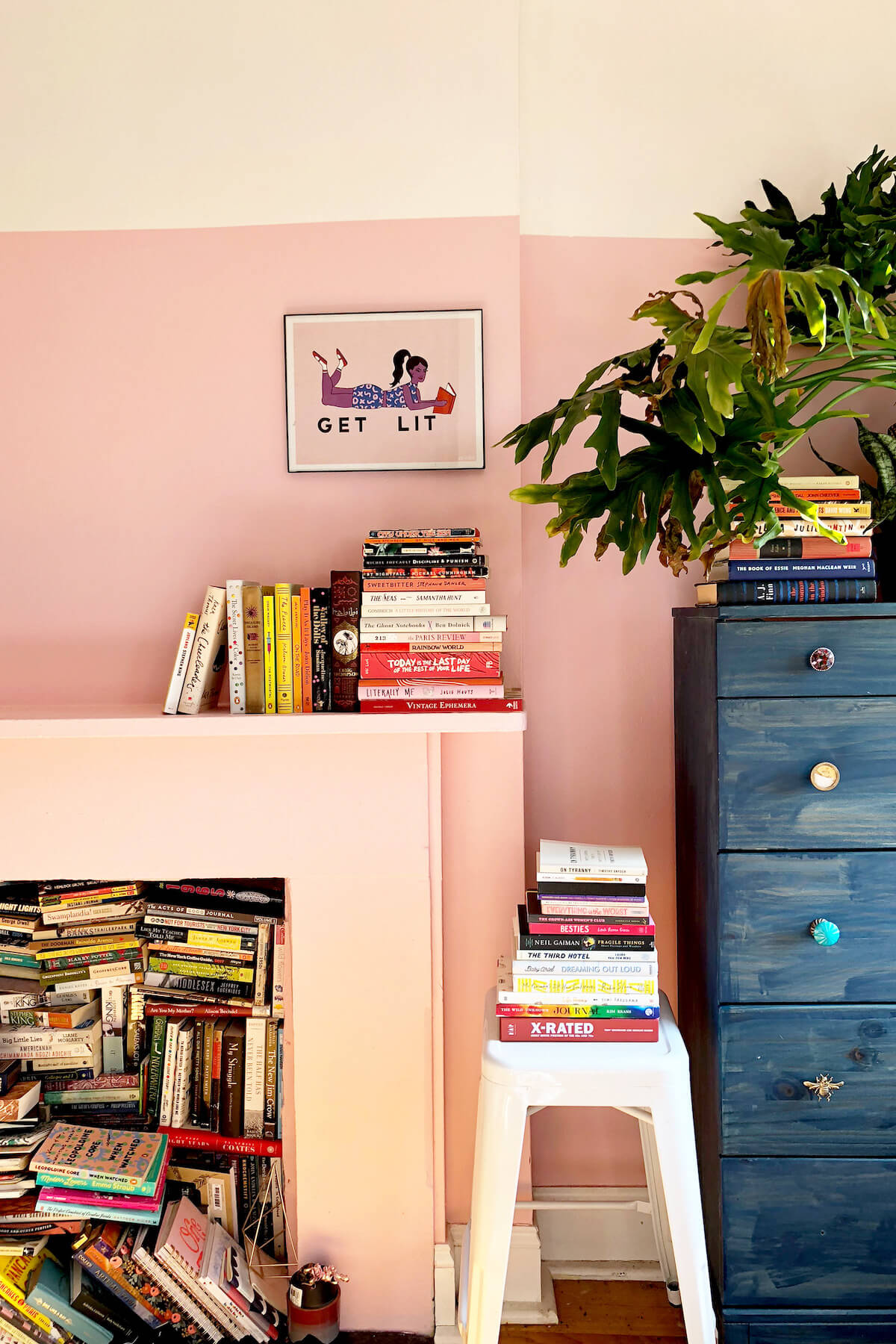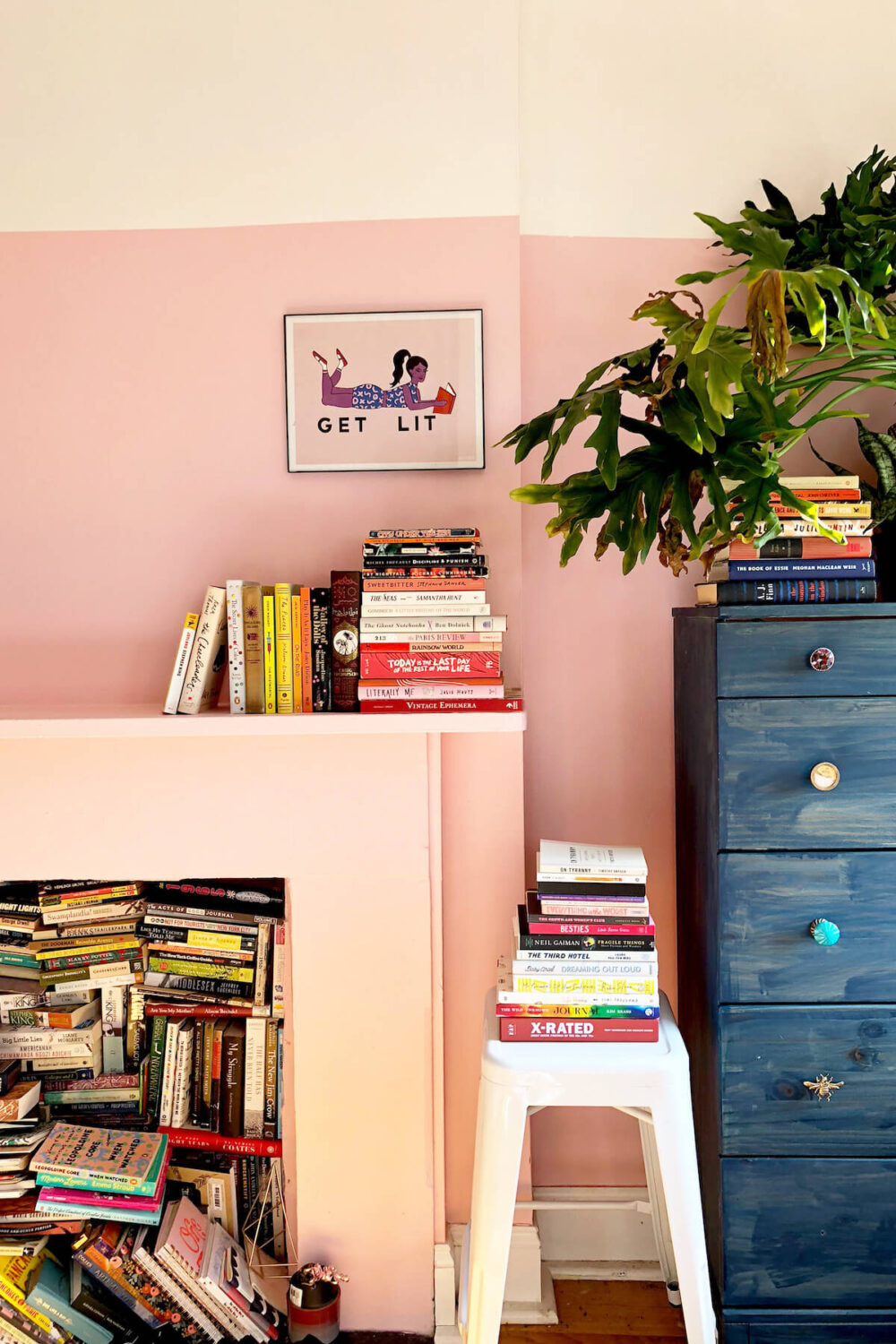 Step 3: Use Chalk to Mark the Dividing Line
The best way to make a straight line between the light and dark color tones is by covering a string with chalk. Place the rope against the wall and connect the previously marked points on your wall. Secure the rope at the ends with painter's tape. When the rope is secure, straight, and tight against the wall you can subtly move the rope so that it leaves a chalk mark on the wall.
Step 4: Tape the Wall
When the light paint color is completely dry, you can tape the wall. The chalk line that you made in step 3 will help you place the painter's tape straight on the wall.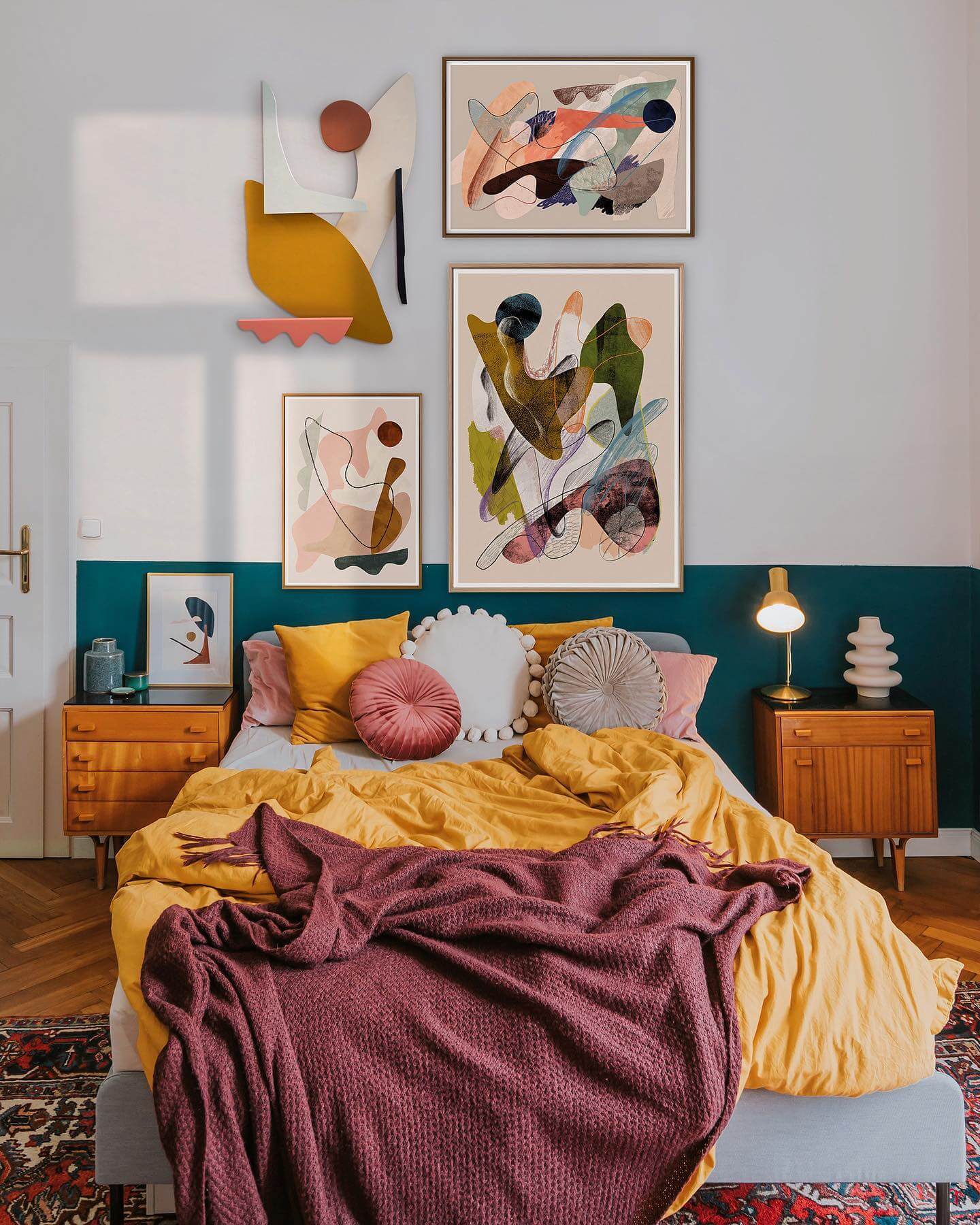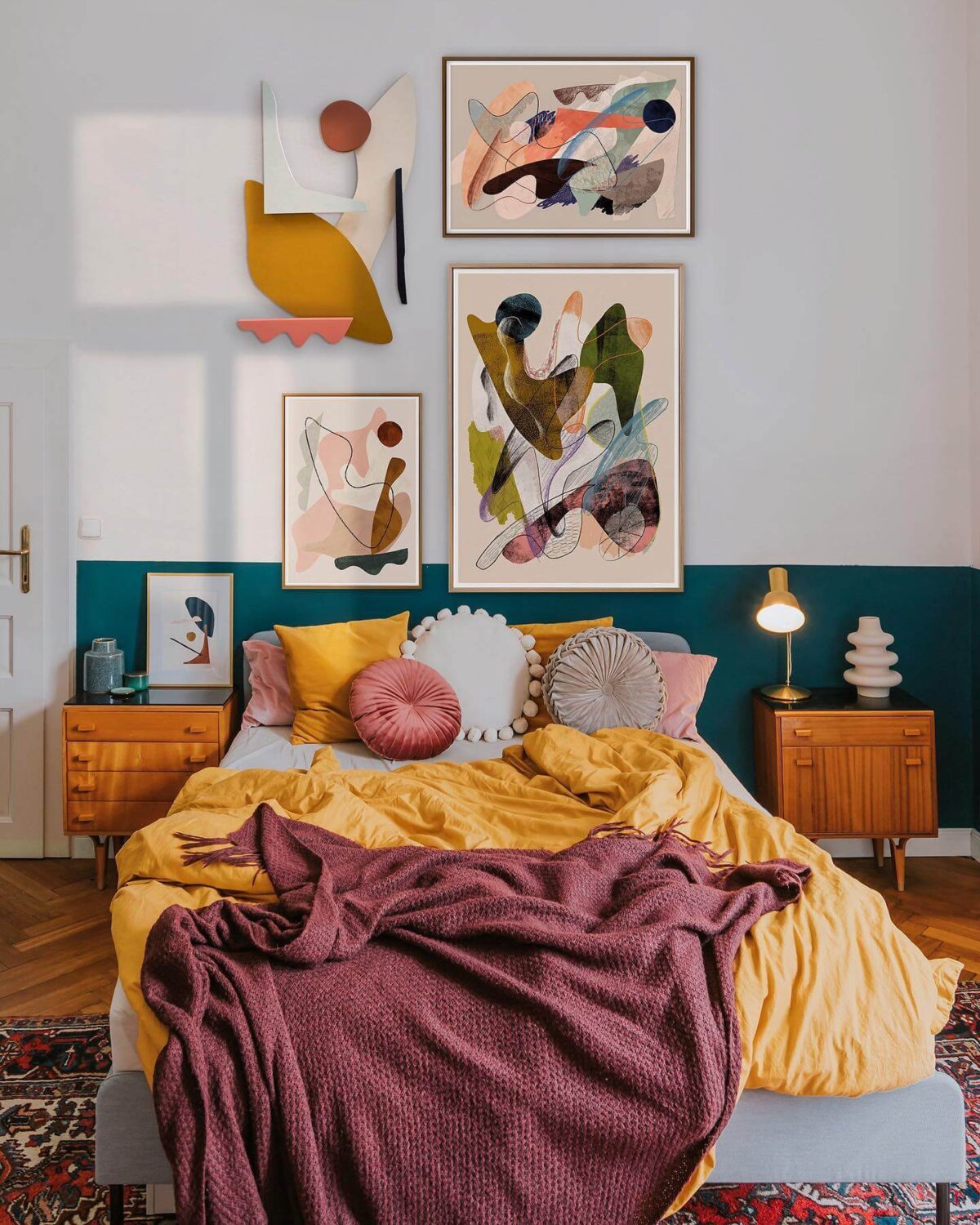 Step 5: Add the Dark Color to Your Wall
When you've put the painter's tape on your wall you can add the darker color tone on the other half of your wall. Be careful close to the tape, it's best to use a brush here instead of a paint roller so you don't accidentally paint over the light part.
Step 6: Remove the Tape
Lastly, remove the tape when the paint is still wet (very important) and you will be presented with your new two-tone wall.
I hope this article with two-tone painting ideas help you create a beautiful wall in your home. With the right color palette you can create a beautiful room design using a simple but effective paint idea.