Dulux Colour of the Year 2023: Wild Wonder
Dulux has chosen Wild Wonder as their Color of the Year 2023. Wild Wonder is a natural shade of yellow that connects your home with the outdoors and it will make you feel better.
Nature is at the heart of the story for the Dulux 2023 Color of the Year. The name Wild Wonder refers to the feeling of freedom in nature (Wild) and the natural magic that surrounds us (Wonder).
To help you find the right colors that go well with Wild Wonder, Dulux has also released four color palettes with complimenting colors. The colors in these palettes are easy to apply and reflect different trends.
The four trends included in these Dulux color palettes are: the nurturing role of nature on mental health, blossoming together and thinking as a collective, connecting the primal knowledge of nature and letting us get inspired by it, and joining in the flow of nature for a balanced life cycle.
See also: Color Trends 2023 – Rich & Warm Natural Hues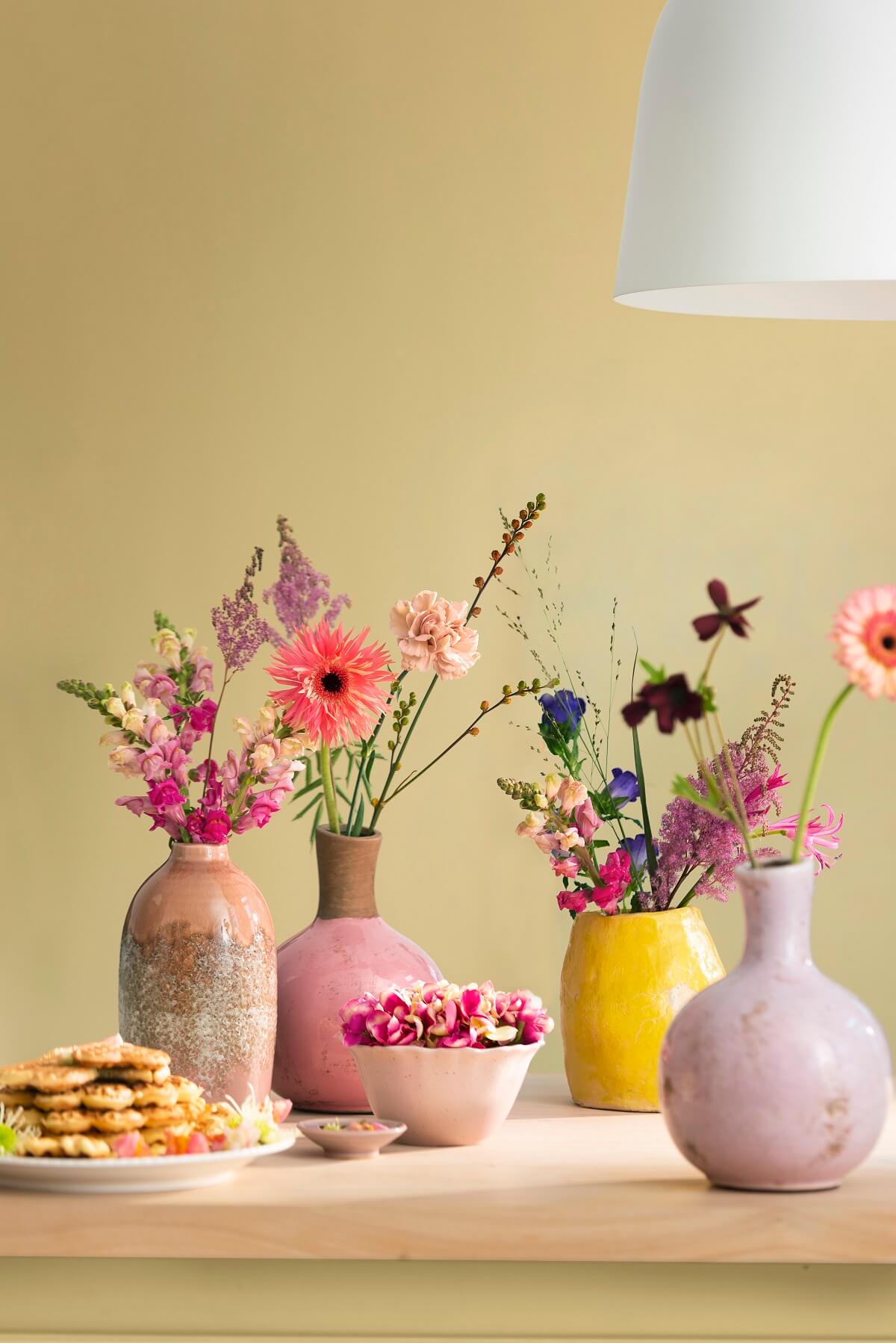 Wild Wonder is a calm yellow tone that can work as a neutral base for every room in the house.
The color palettes combine Wild Wonder with other paint shades to create the home style of your dreams. From earthy tones to vibrant shades. Wild Wonder can be combined with a variety of color tones.
Lush Color Palette
The Lush Color Palette consists of shades that are inspired by gardens and forests. It is well known that access to nature has a positive effect on our physical ánd mental health. And this lush color palette brings the outdoors in with beautiful green colors, browns, and soft lilac tones for a calm and cheerful feeling in your house.
What a great idea for a home office. The base of this built-in desk is painted in Wild Wonder, but they added a geometric black and white accent wall to make it stand out.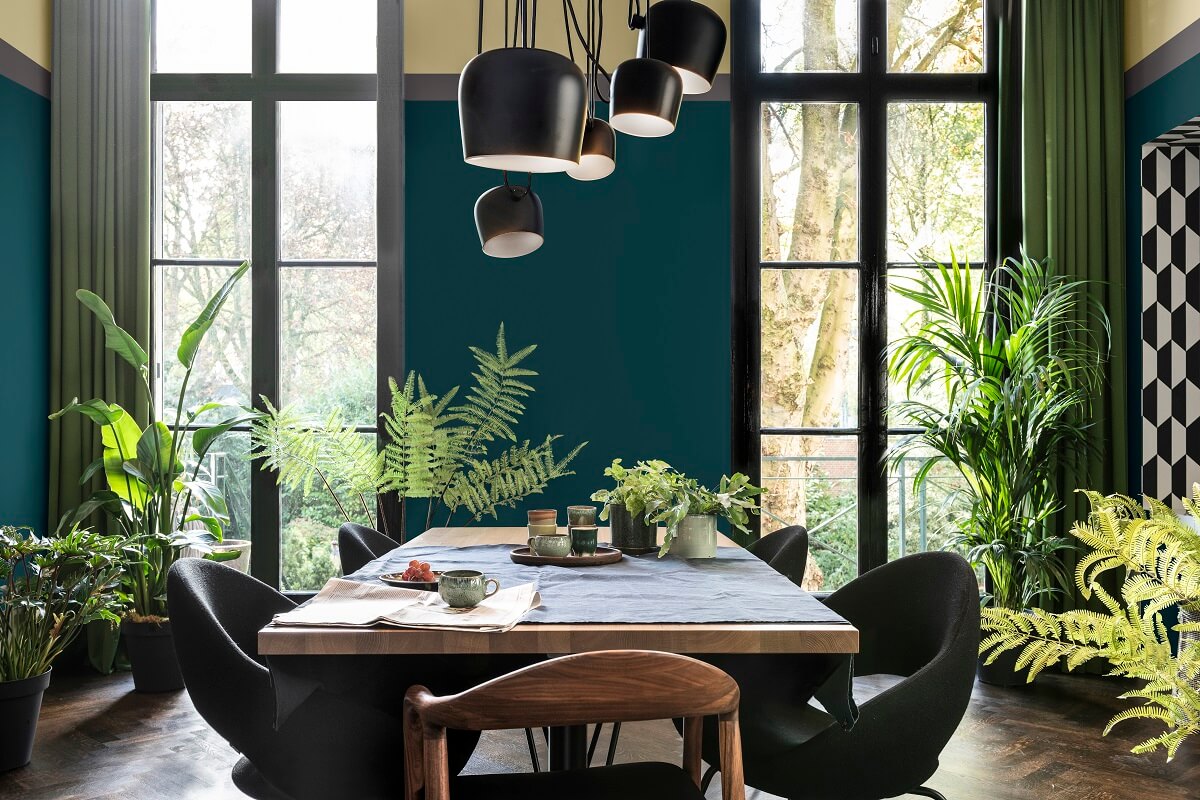 The Lush color palette consists of strong colors with a natural tone. You can create beautiful rich rooms with this color palette.
Buzz Color Palette
The colors of the Buzz Color Palette are inspired by the natural energy and biodiversity of meadows, prairies, and grasslands. The palette consists of cheerful shades like pink and orange that will brighten up every room. You can add the colors as a colorful accent in your room or you can combine them for a colorful design.
Create a vibrant bedroom look by combining colors from the Buzz color palette.
Raw Color Palette
The Raw Color Palette consists of rich natural tones. The colors reflect the richness and creative potential of the natural world. The straw, mushroom, ochre, and woody brown tones add depth, warmth, and character to your home.
You can create a complete natural home with Dulux' Wild Wonder. In this living room the walls are painted in this lovely yellow hue and it's combined with natural materials in the furnishings and exposed wooden beams,
The colors in the raw color palette and deep but not overwhelming. Instead it adds a wonderful warm tone to your home.
Flow Color Palette
The Flow Palette is inspired by the tides, waves, and natural rhythms of the earth, The tones of shell, gravel, and sand are warm neutrals that bring balance and tranquility to your home. These fresh and timeless colors add a calm natural tone to your house.
A simple but effective color accent by framing a neutral gray shade with the yellow Wild Wonder.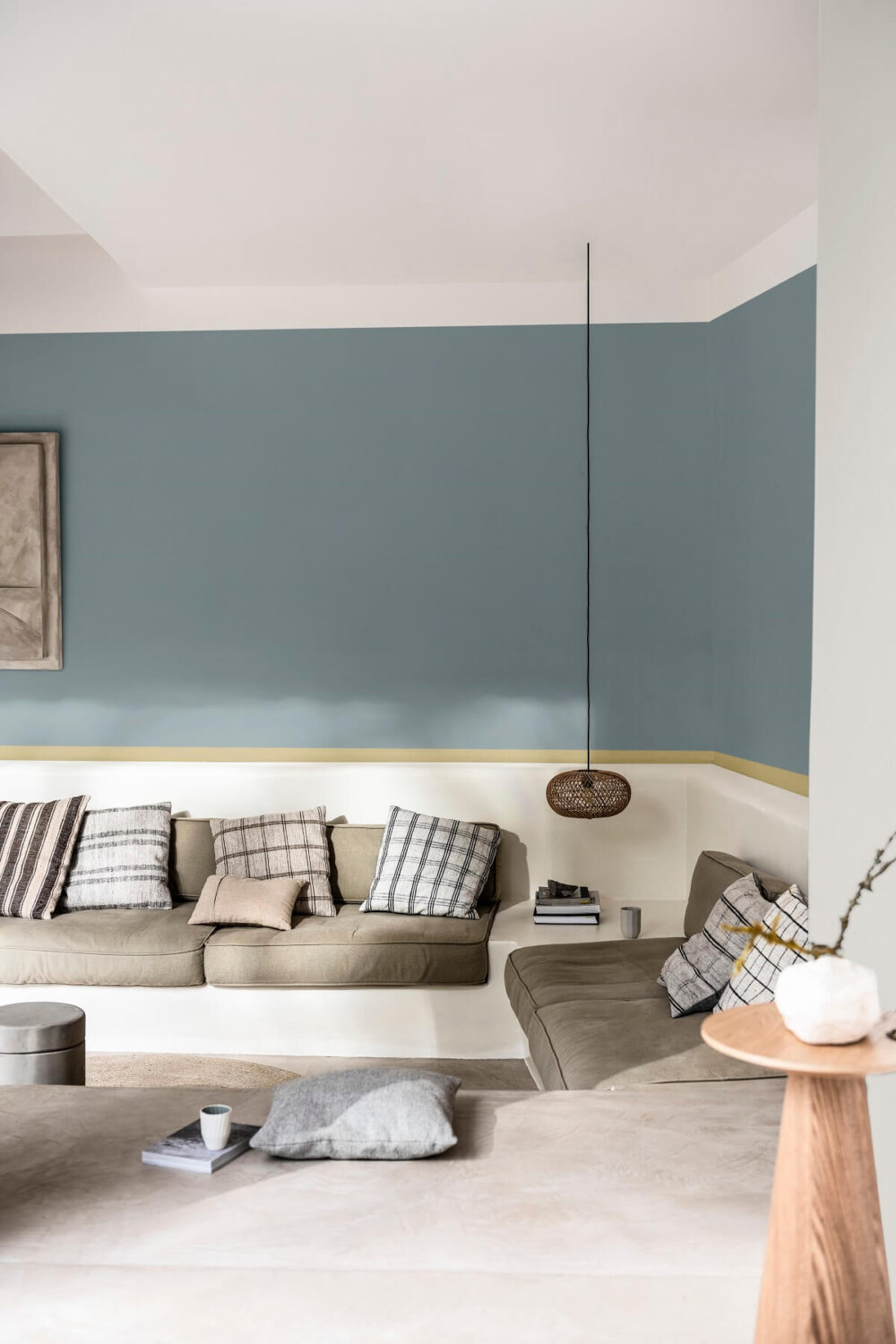 Not a statement wall, but a statement ceiling. Wild Wonder is a beautiful shade on every surface and by painting the ceiling it adds a warm tone to this white and wood kitchen.
What do you think about the Dulux Color of the Year 2023? After all the blue and greems I'm glad to see another trending color. This yellow shade is beautiful and warm, a perfect neutral base color for your room but also a lovely accent color. Very diverse.