57 Stylish Two-Tone Kitchen Cabinet Ideas
Whether you need inspiration for a complete kitchen remodel or want to spruce up your kitchen design, creating two-tone kitchen cabinets is a simple but effective way to turn your kitchen into a stylish design statement.
The two-toned look for your kitchen cabinets is a trend we see more often; it's also a design statement that is here to stay. And now, we not only see the combination of two colors for the cabinets in the kitchen but interior designers and design enthusiasts are also combining materials and colors to create a unique kitchen look.
The most common way to create a two-toned kitchen look is by adding a darker color on the bottom cabinets and a lighter tone on the upper cabinets. But you don't have to choose for the classic two-toned cabinets look. As we see more kitchens without upper cabinets, you can also consider mixing colors between the wall cabinets and the kitchen island.
In this post, you will find many inspiring and stylish two-tone kitchen cabinet ideas that will help you (re)design your colorful kitchen. From a modern kitchen with bold color combinations to rustic farmhouse kitchens that combine neutral white colors or gray tones with natural wood. No matter your interior style, you can create beautiful two-toned kitchens with the right paint colors that suit your home style.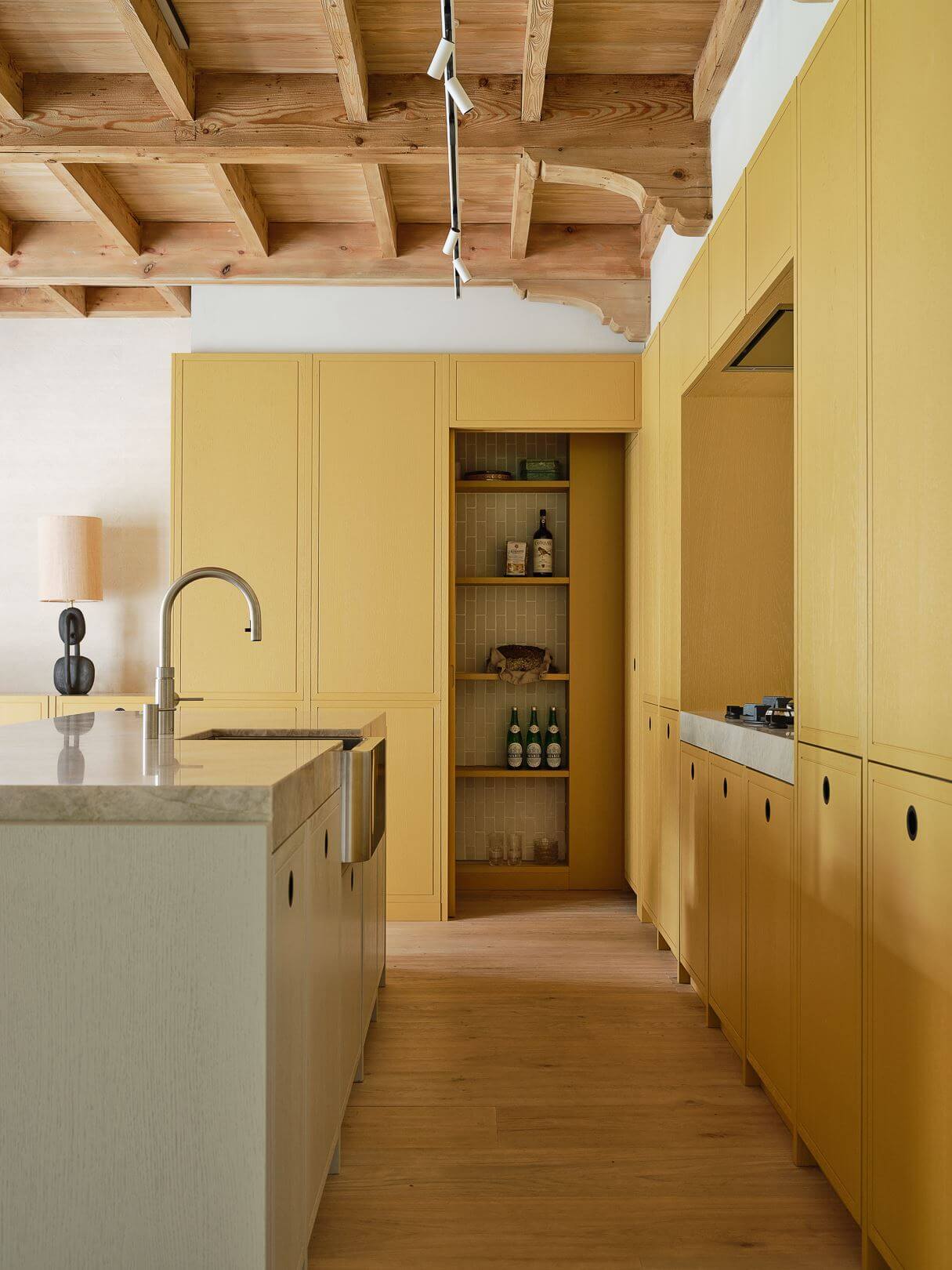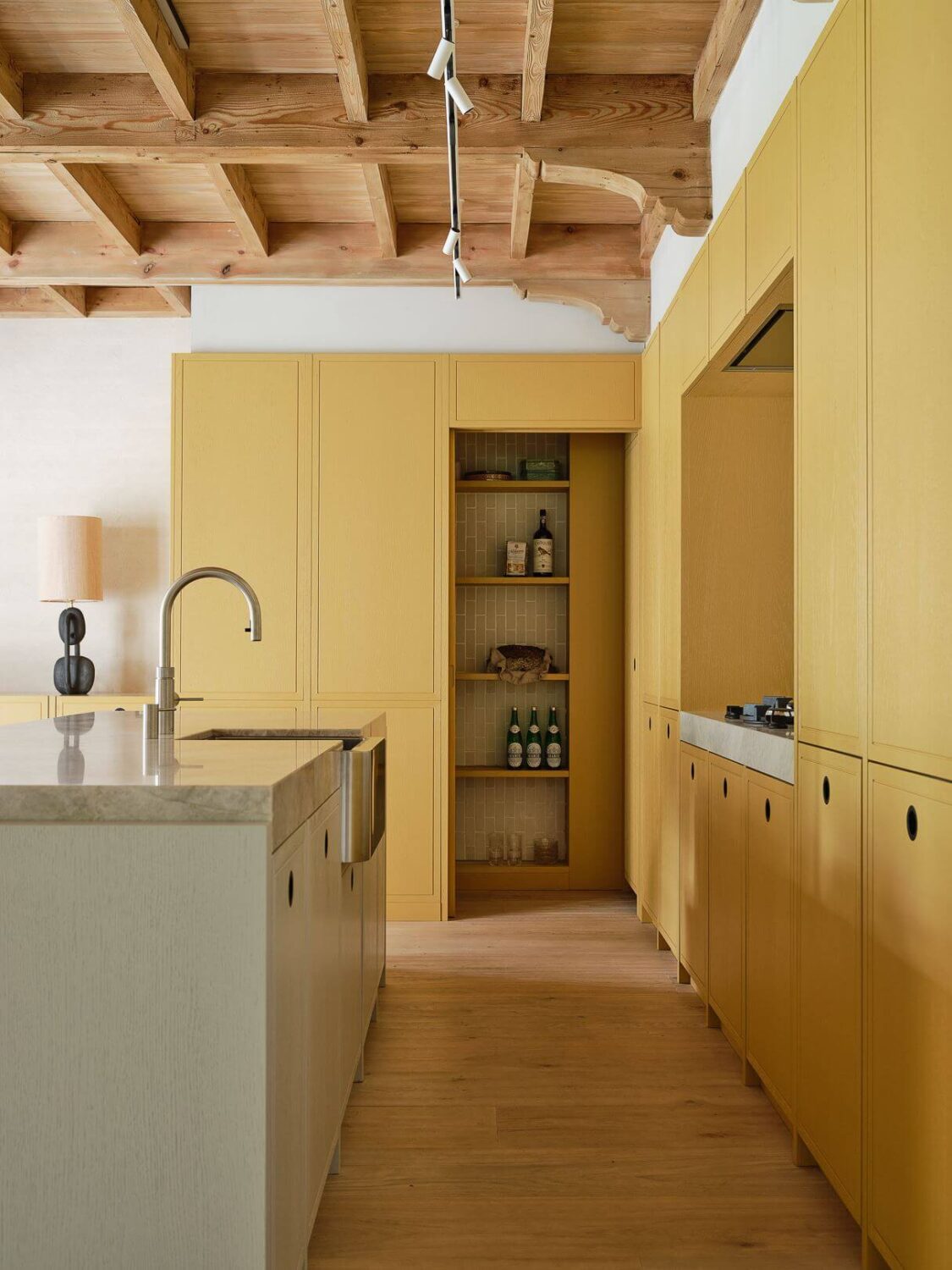 See also: Two-Tone Walls Ideas: Create A Color Blocking Accent Wall
Kitchen Cabinets That Combine Natural Wood with Color
There is no need to paint both cabinets for a two-tone cabinet look. It can also display the natural wood of the cabinets in combination with a painted cabinet. You can combine natural wooden cabinets with neutral shades like white, gray, or green for a calm and timeless look. But you can go bolder and combine natural wood with bright colors like yellow.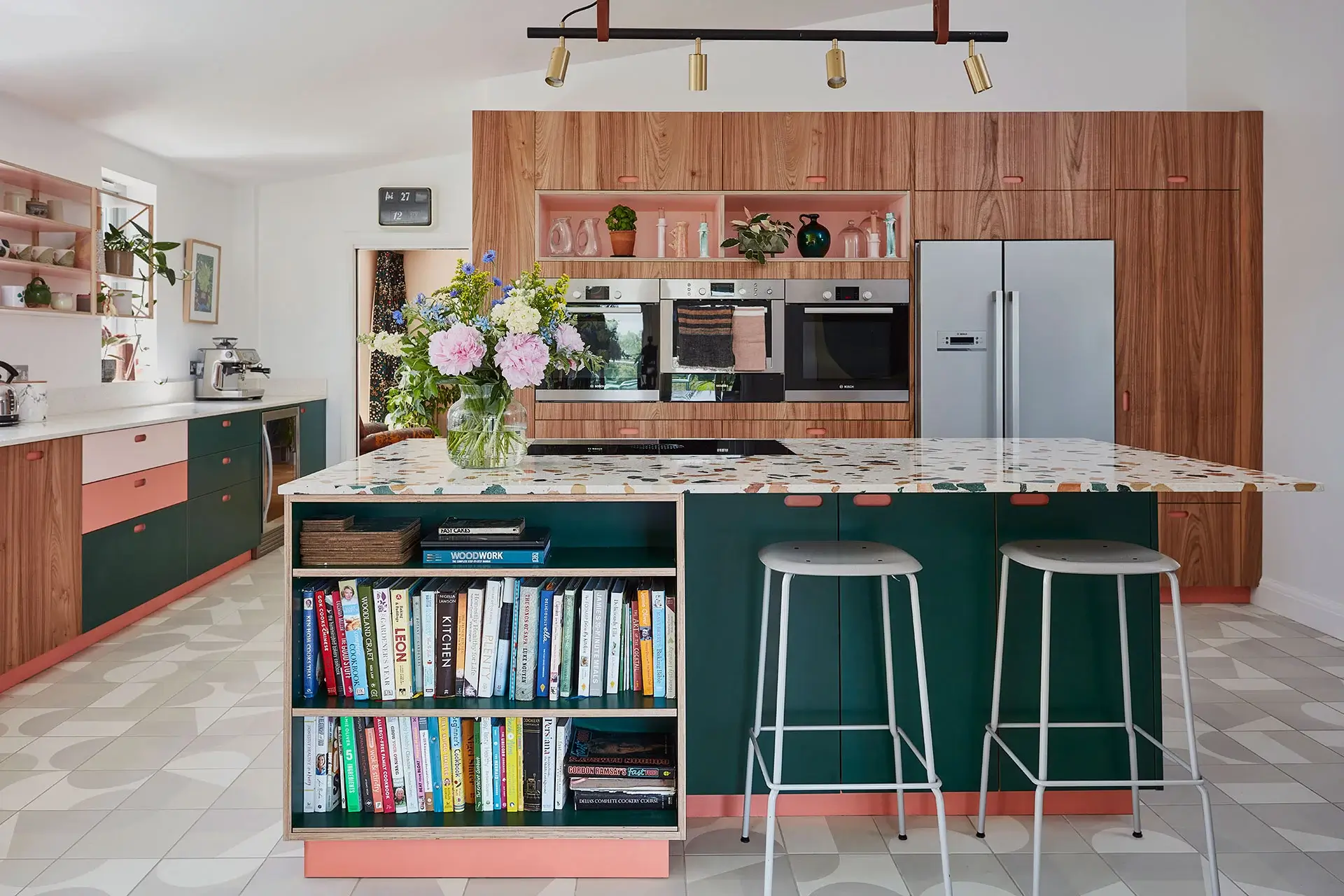 The colors of the terrazzo worktop were used as inspiration for the color of the kitchen cabinets. The natural wooden base cabinets are combined with dark blue and pink cabinets. The little open cabinets above the ovens also have a pink interior.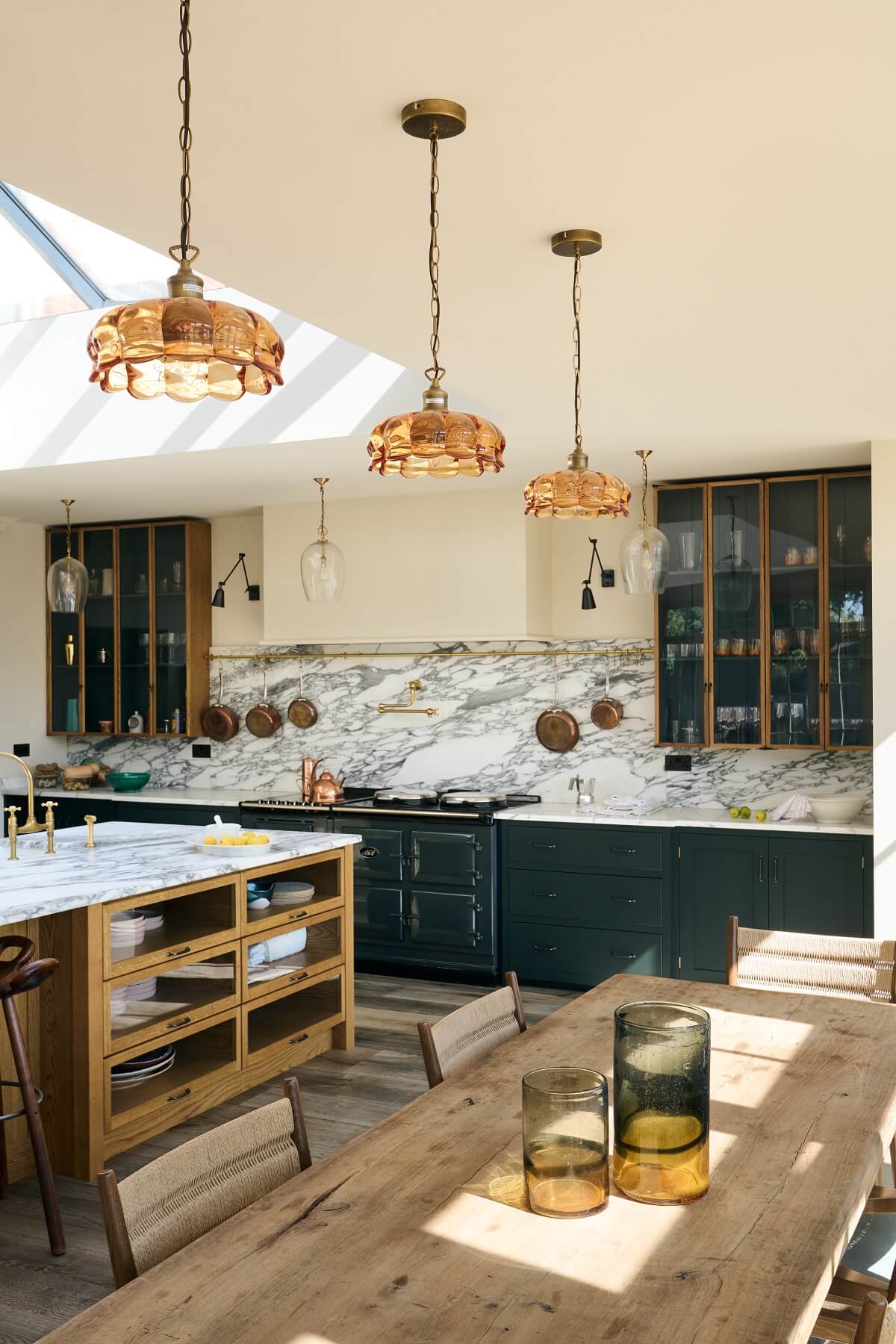 This countryside kitchen by deVOL combines cabinet colors and styles. Placed against the wall are dark green Shaker cabinets painted in deVOL's Bakehouse Green. The glass upper cabinets and the island from the Haberdasher range are kept in their natural oak wood grain which suits a country kitchen so well.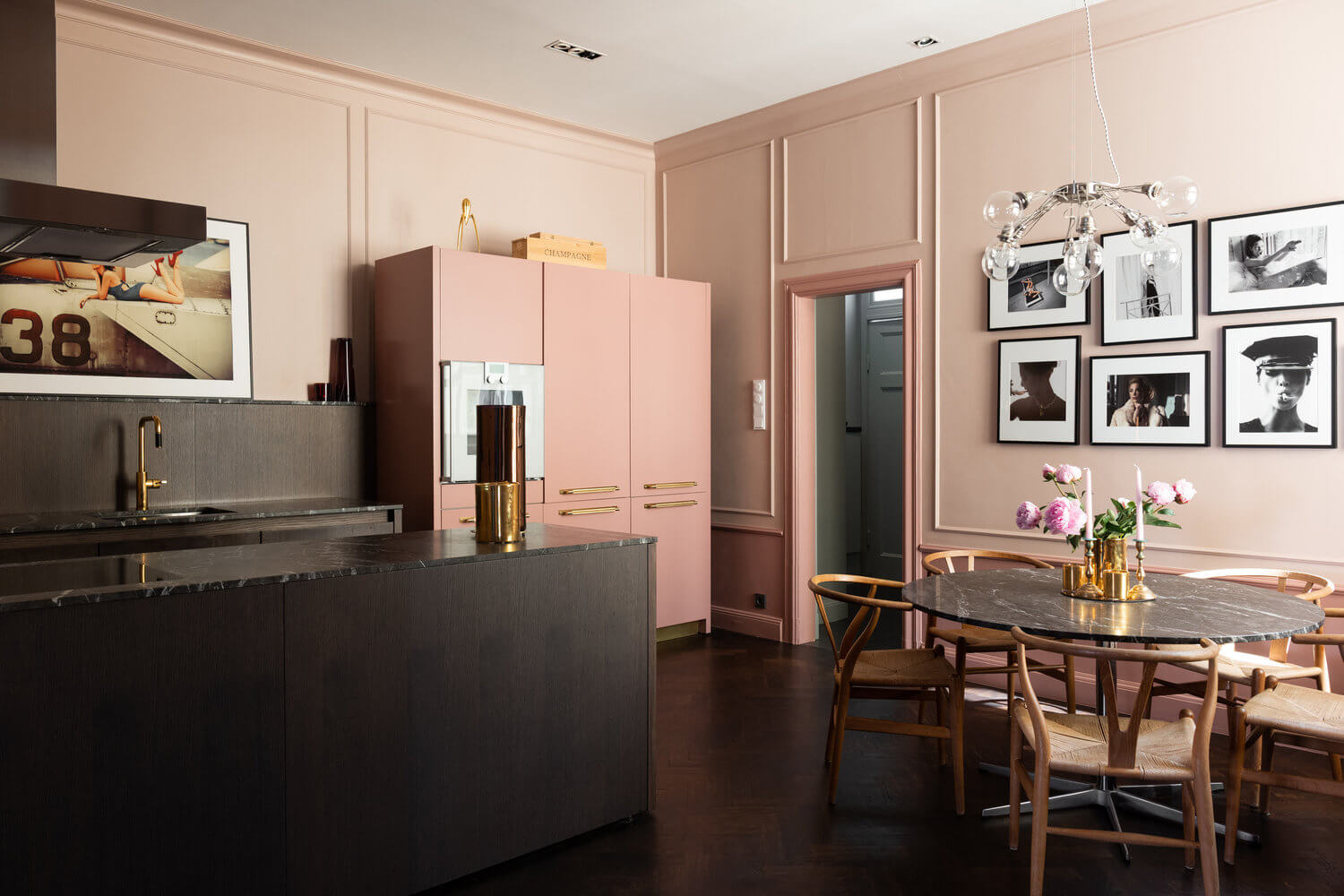 These dark – almost black – natural wooden kitchen cabinets in a blue and pink apartment are combined with dusty pink cabinets. The color of the pink cabinets continues in the walls for a harmonious look.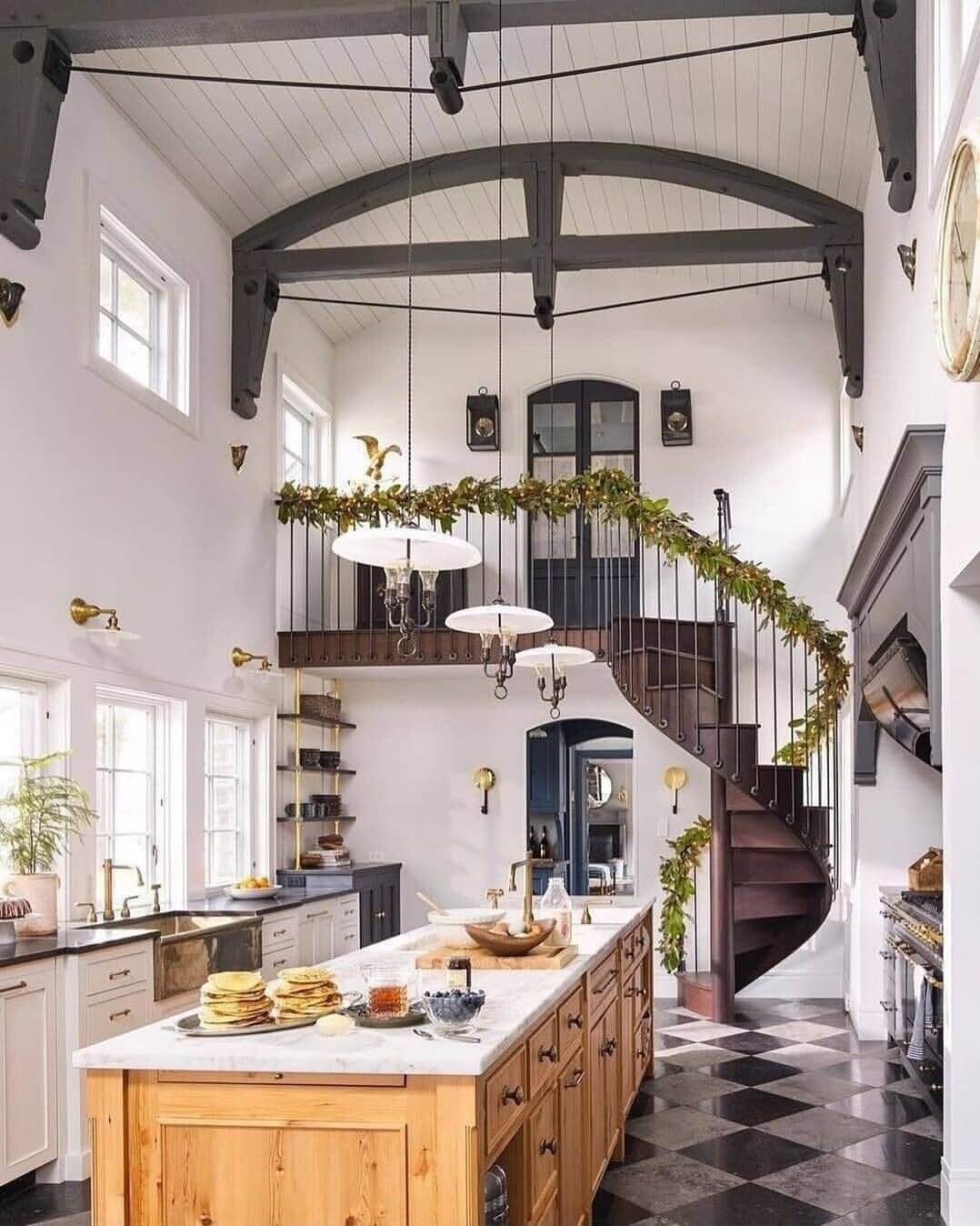 As the architecture of this farmhouse kitchen is already spectacular, the owners didn't need to be bold in the kitchen design. A rustic wooden kitchen island is combined with white cabinets, which are natural, timeless, and very stylish.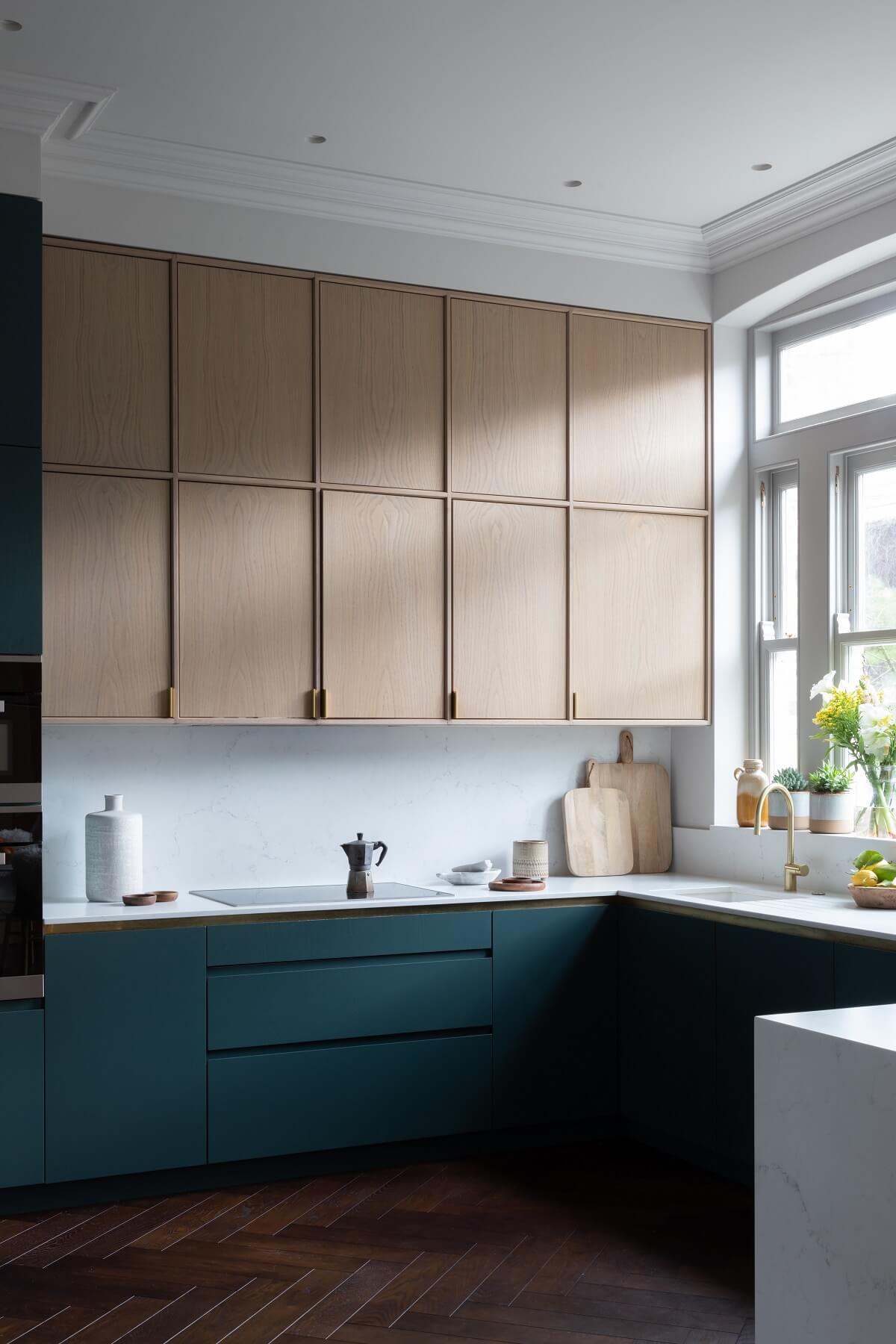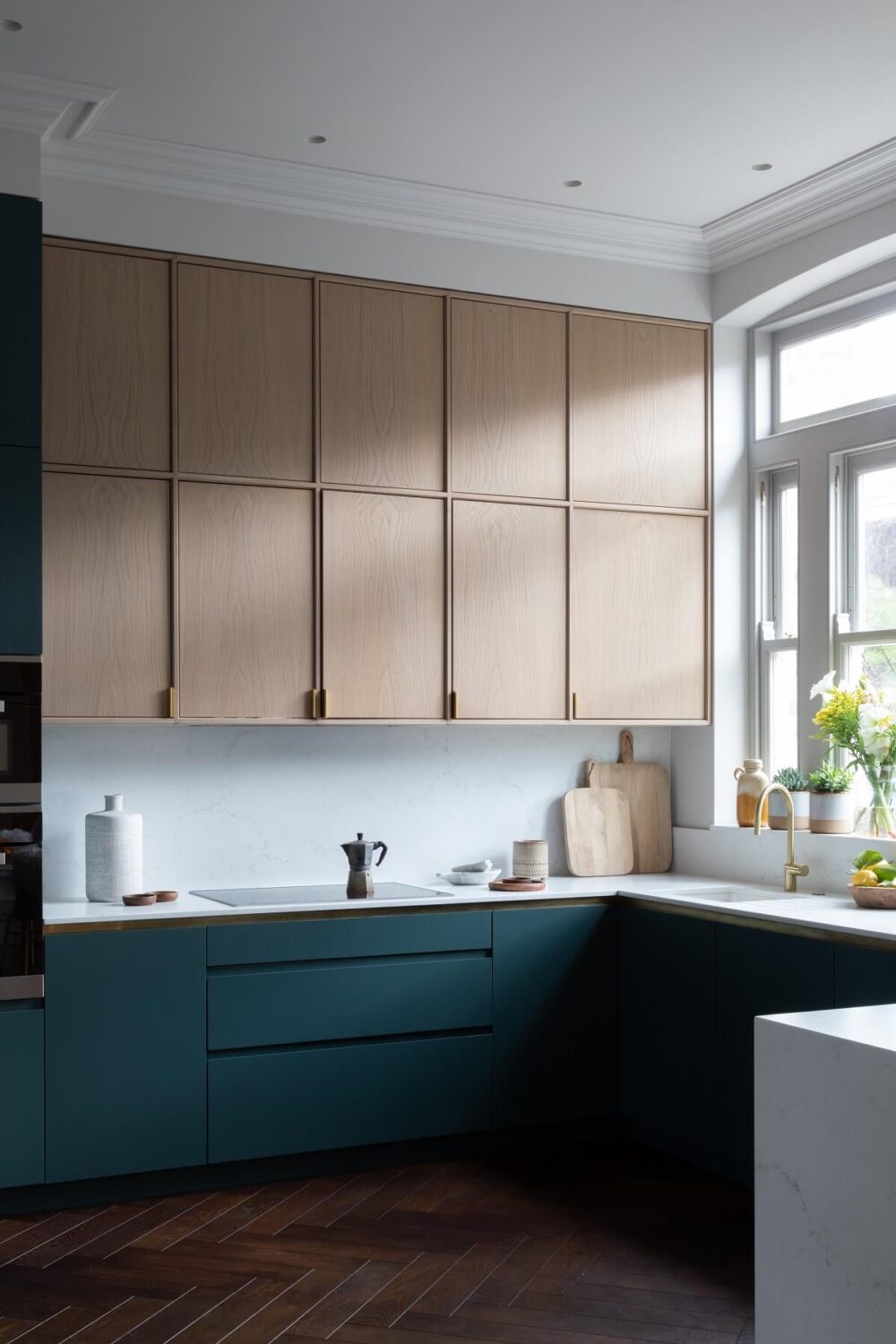 This entire Victorian home in London designed by Frank and Faber is decorated with bold color pops. In the kitchen, light natural wooden upper cabinets are combined with a deep blue shade on the lower cabinets.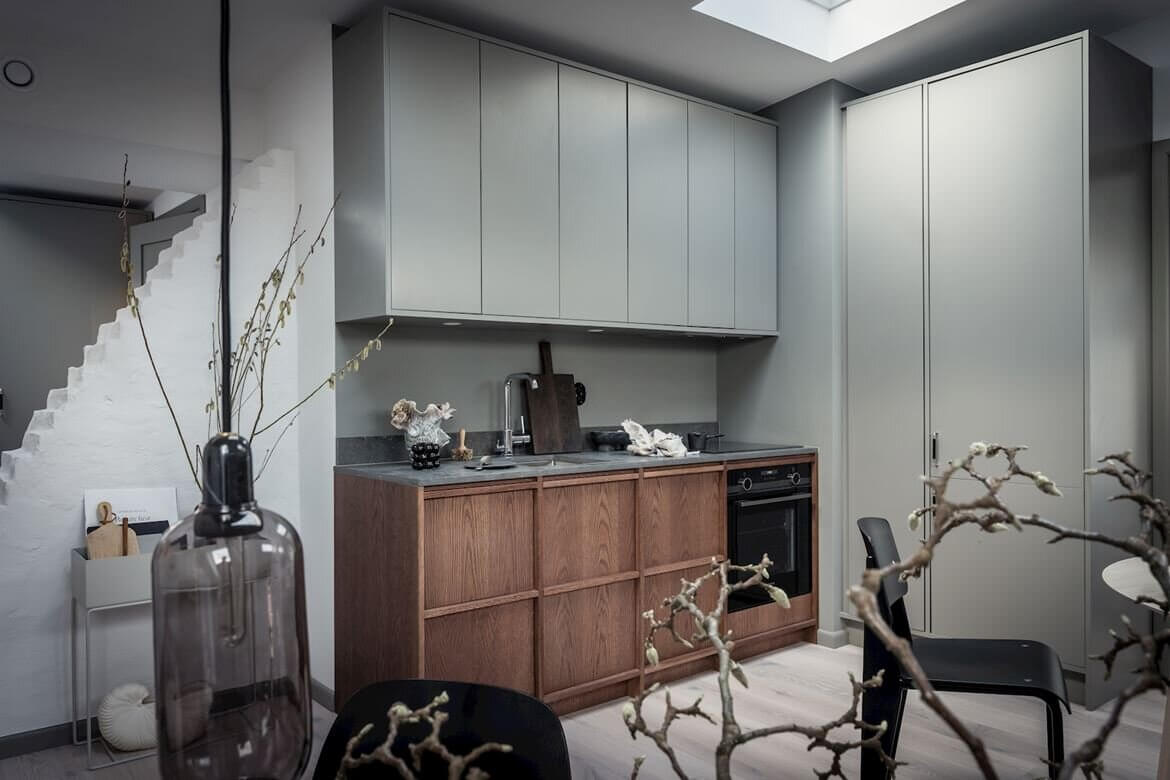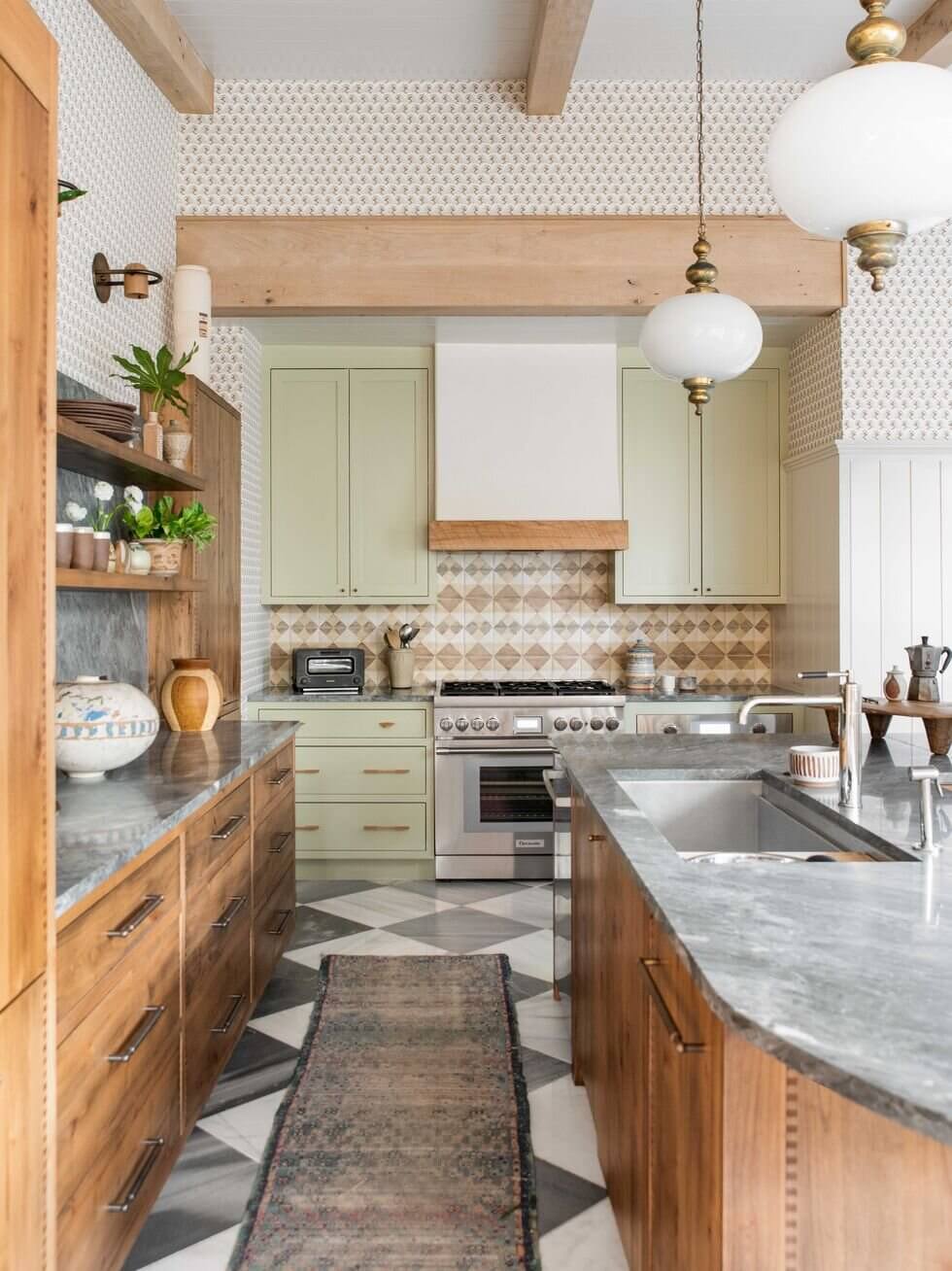 A combination of wooden and light green kitchen cabinets. The wooden cabinets add warmth to the room, while to green adds a fresh color accent.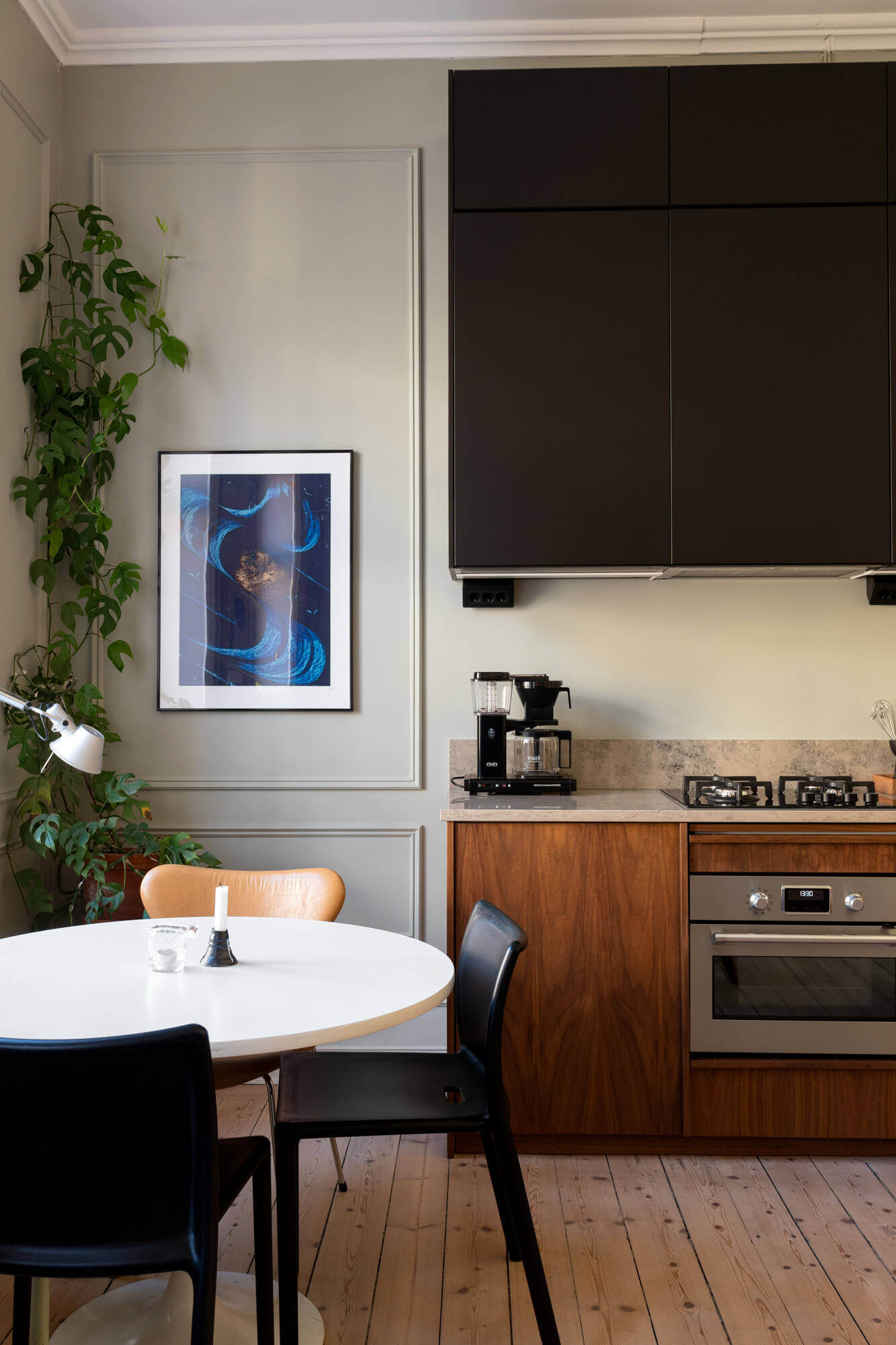 The walnut kitchen cabinets in this Scandi home are from Lucks by Robo, who makes bespoke fronts for IKEA cabinets. These walnut cabinets are combined with dark brown upper cabinetry.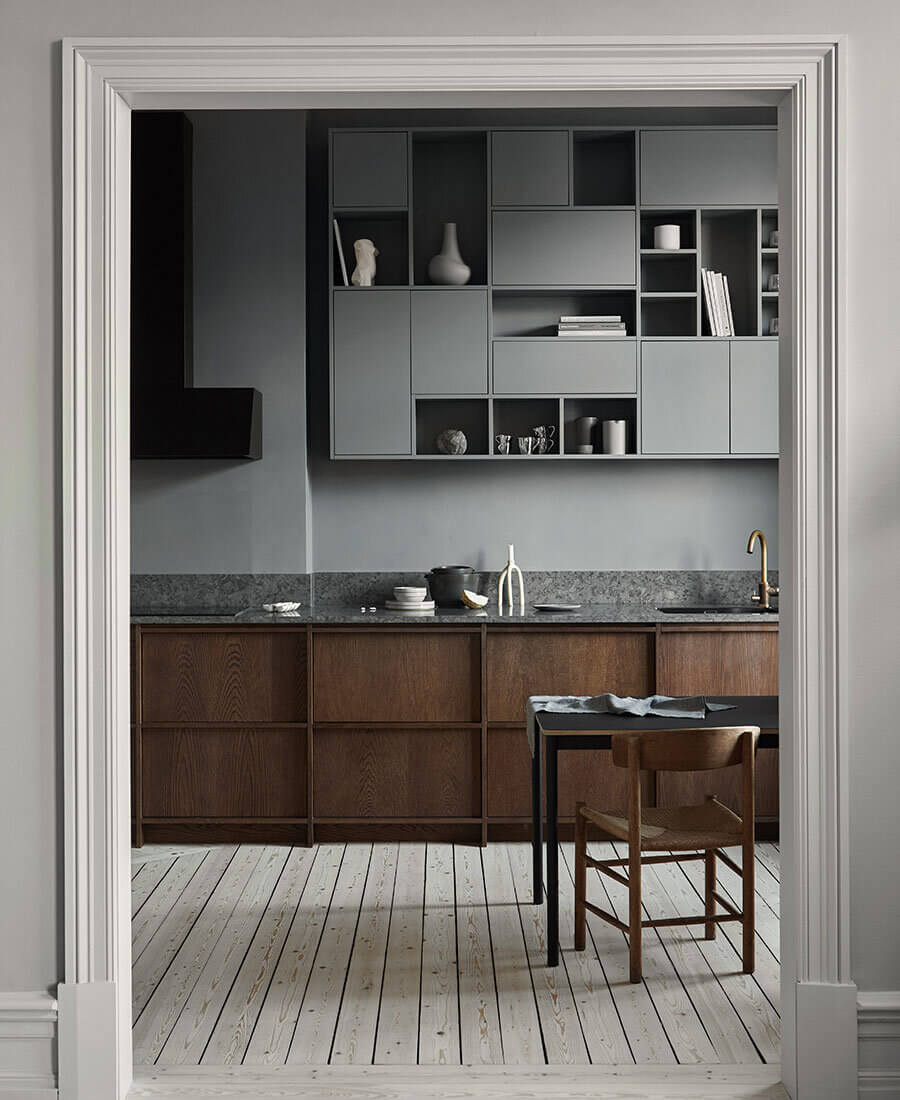 Opting for two colors and styles in kitchen cabinets can look busy, but this Nordiska Kok kitchen shows how you can implement that in a clean and stylish manner. The rustic dark oak cabinets are combined with bespoke top cabinets with an asymmetrical design. However, as the upper cabinets are painted in the same color as the wall, they blend in, and you create a calm but interesting kitchen design.
photo: Nordiska Kok

photo: Margriet de Jager
Natural wood, in combination with white cabinets, is a combo that can't go wrong. Mix it up by adding closed and open cabinets or keep it simple and let the architecture of the house make it stand out.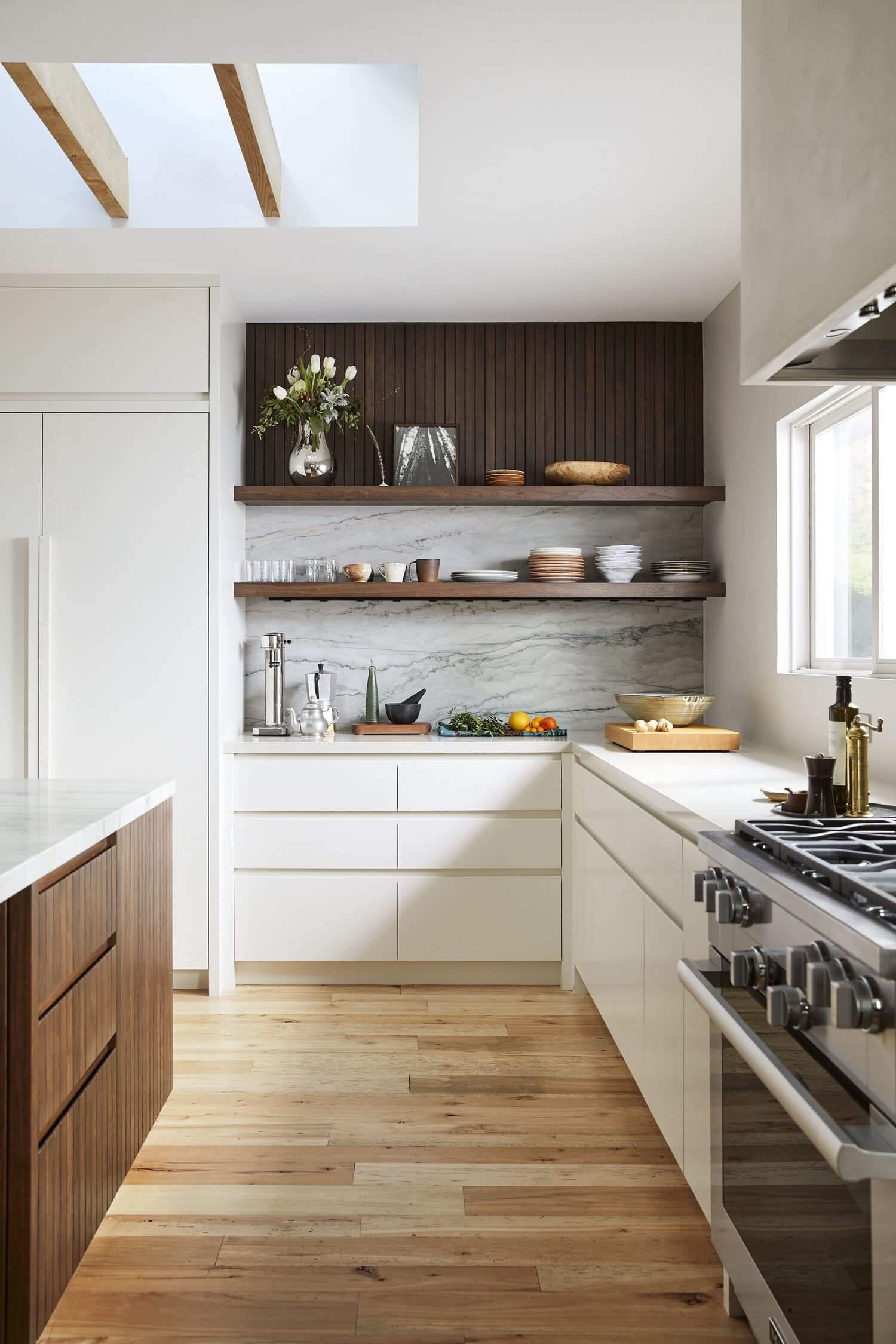 White Cabinets in Combination with Color
White kitchen cabinets are classic and timeless. But when you think an all-white kitchen is too boring, you can combine these white cabinets with a nice color pop.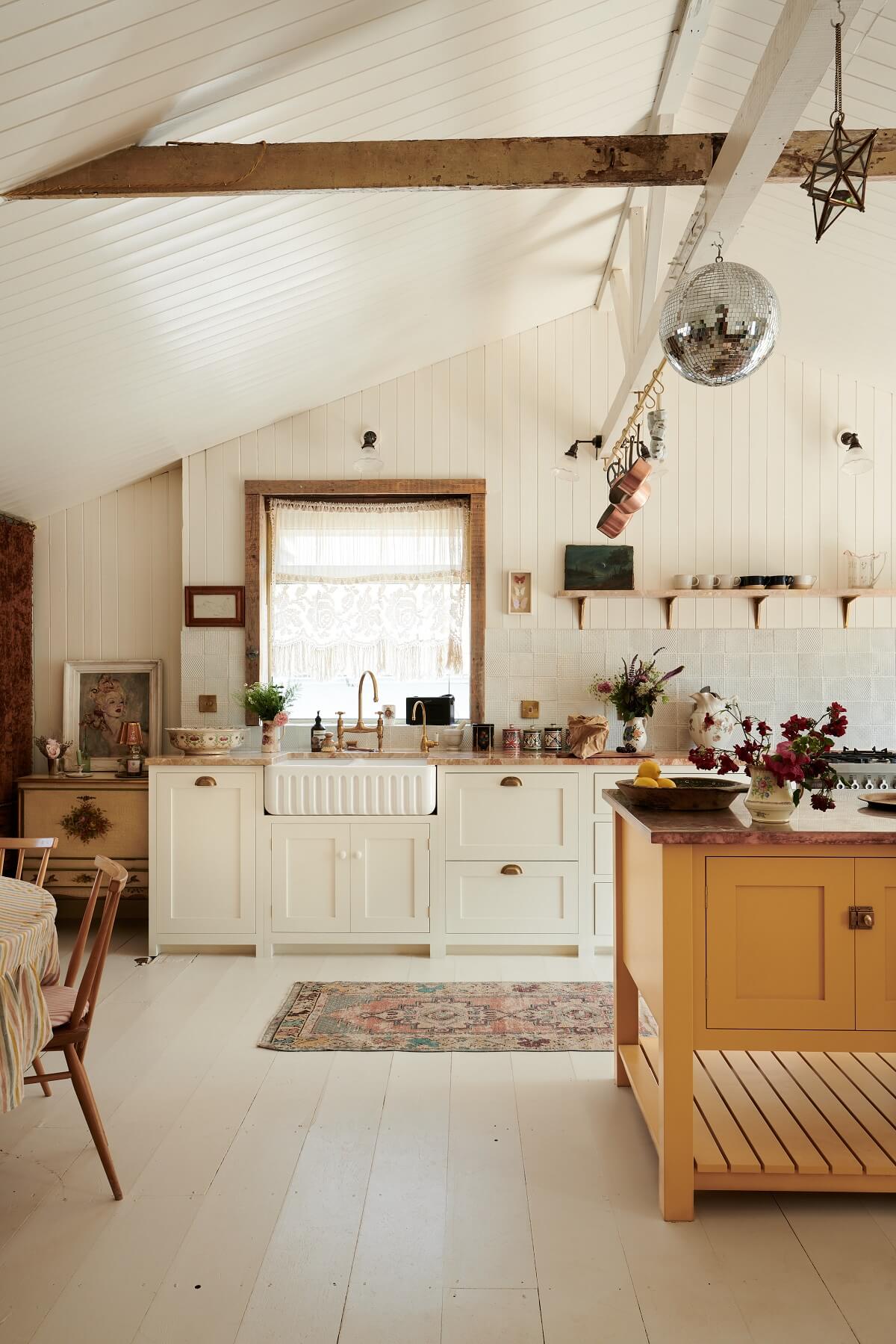 Pearl Lowe turned to British kitchen company deVOL for the new kitchen in her beach home. There are no upper cabinets in this kitchen. Instead, Pearl combined white cabinets in a Shaker style (painted in "Linen") with a yellow prep table with a copper worktop which is painted in "Scullery Yellow".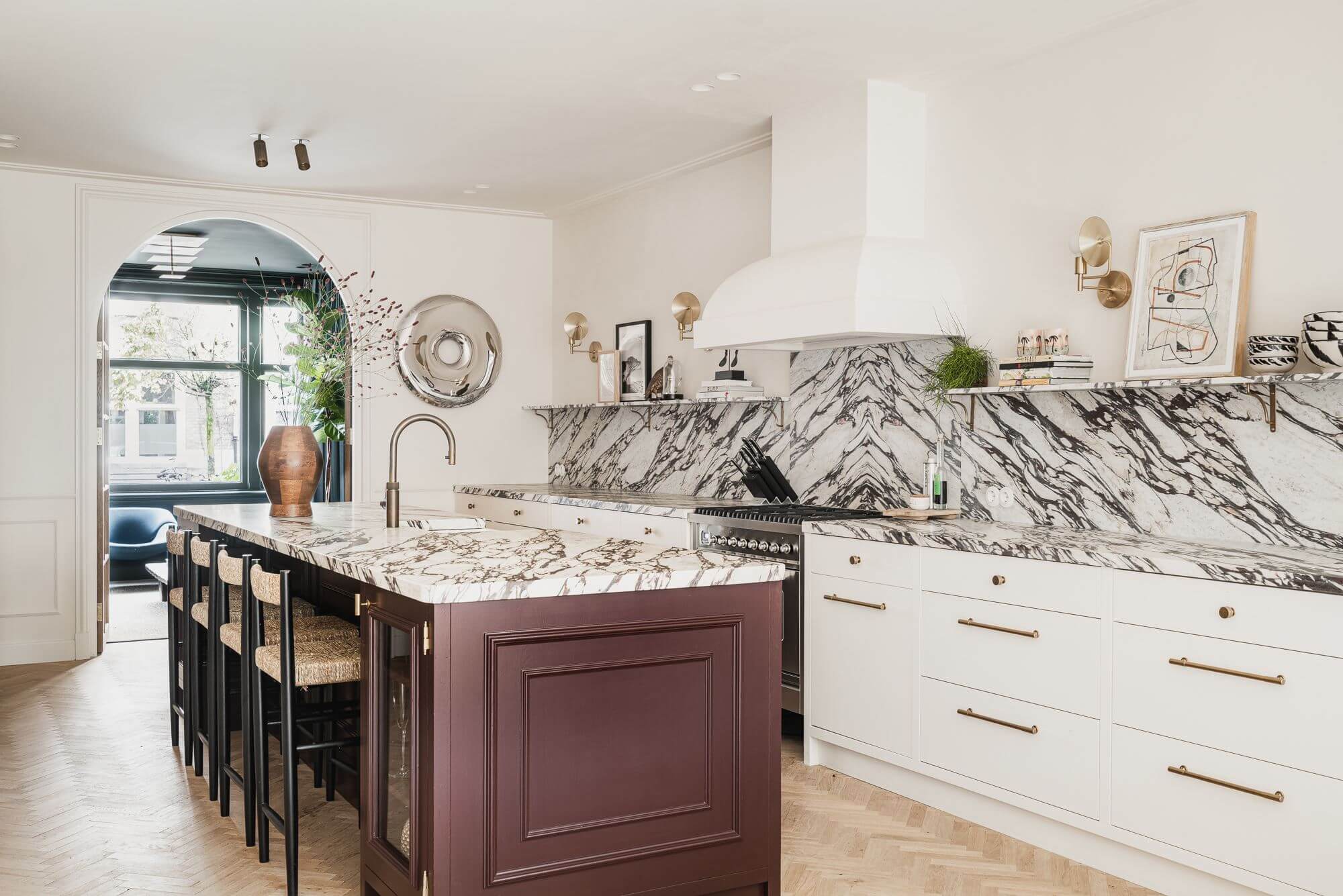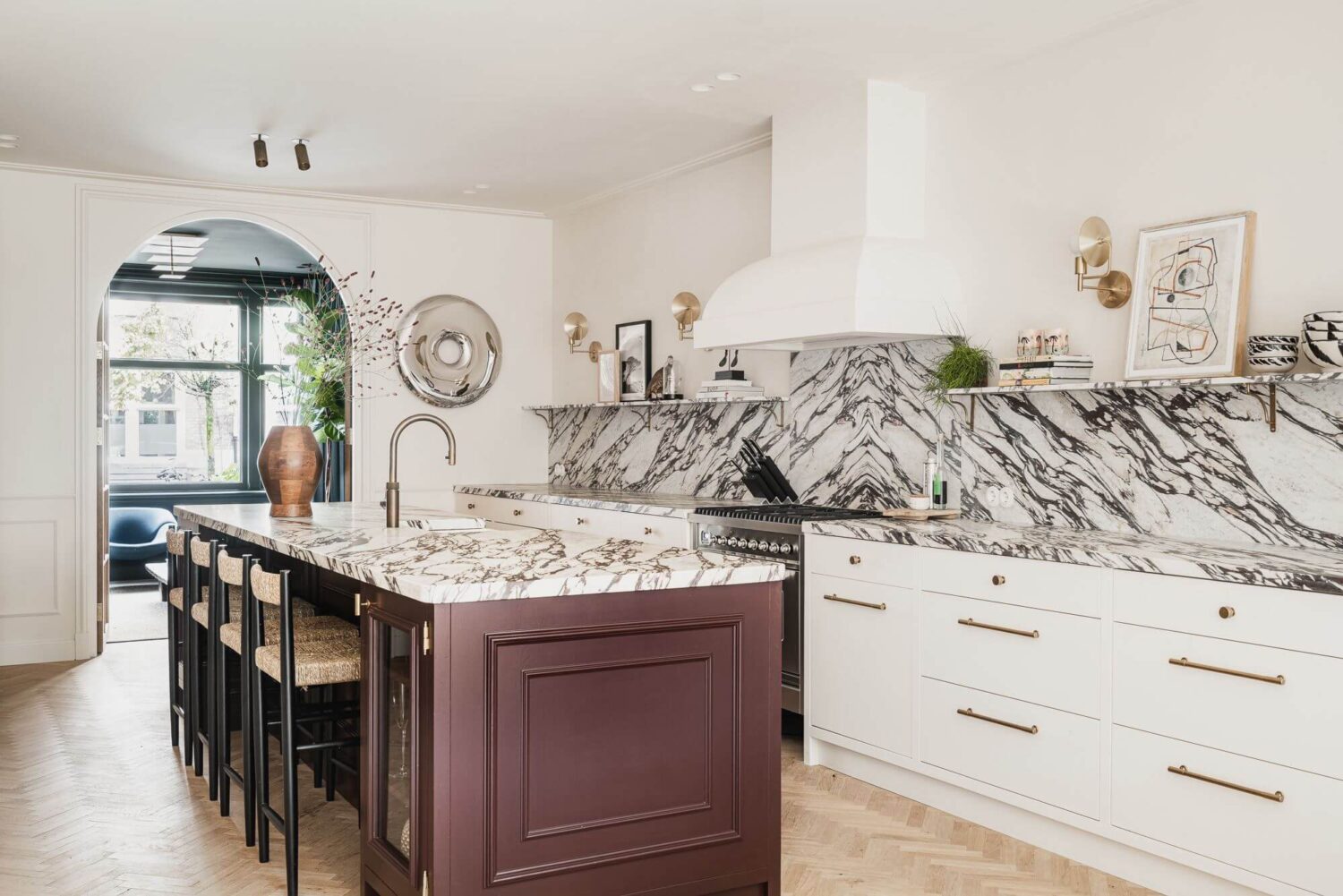 This large kitchen space in a Dutch home turned the kitchen island into the focal point of the room by painting it in a dark shade in combination with white cabinetry.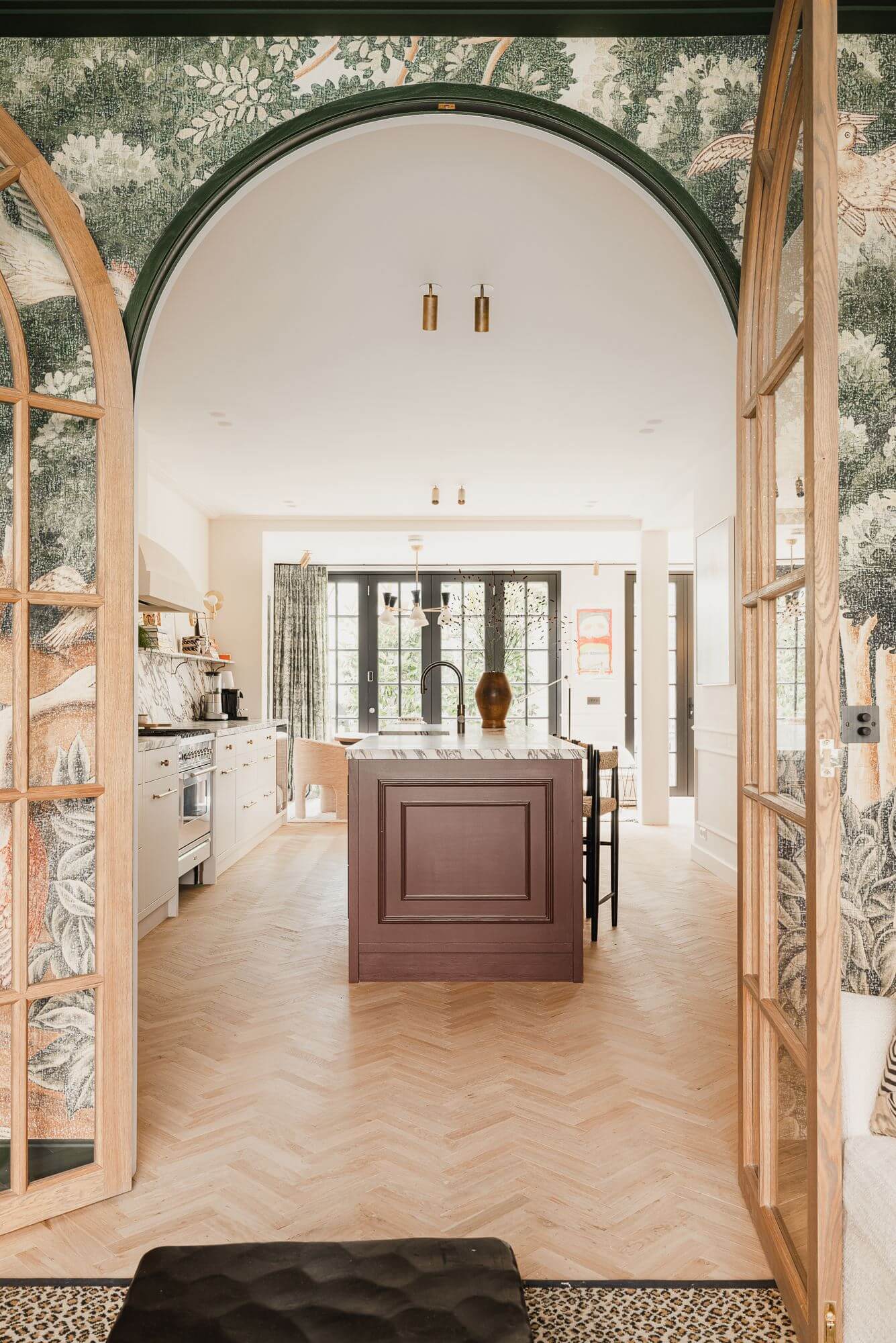 The two-tone design feature is not just added in the color choices for the cabinets, but the entire kitchen space is painted in a white and blue color scheme. Little Greene Deep Space Blue is the main color of the room, which is combined with white upper cabinets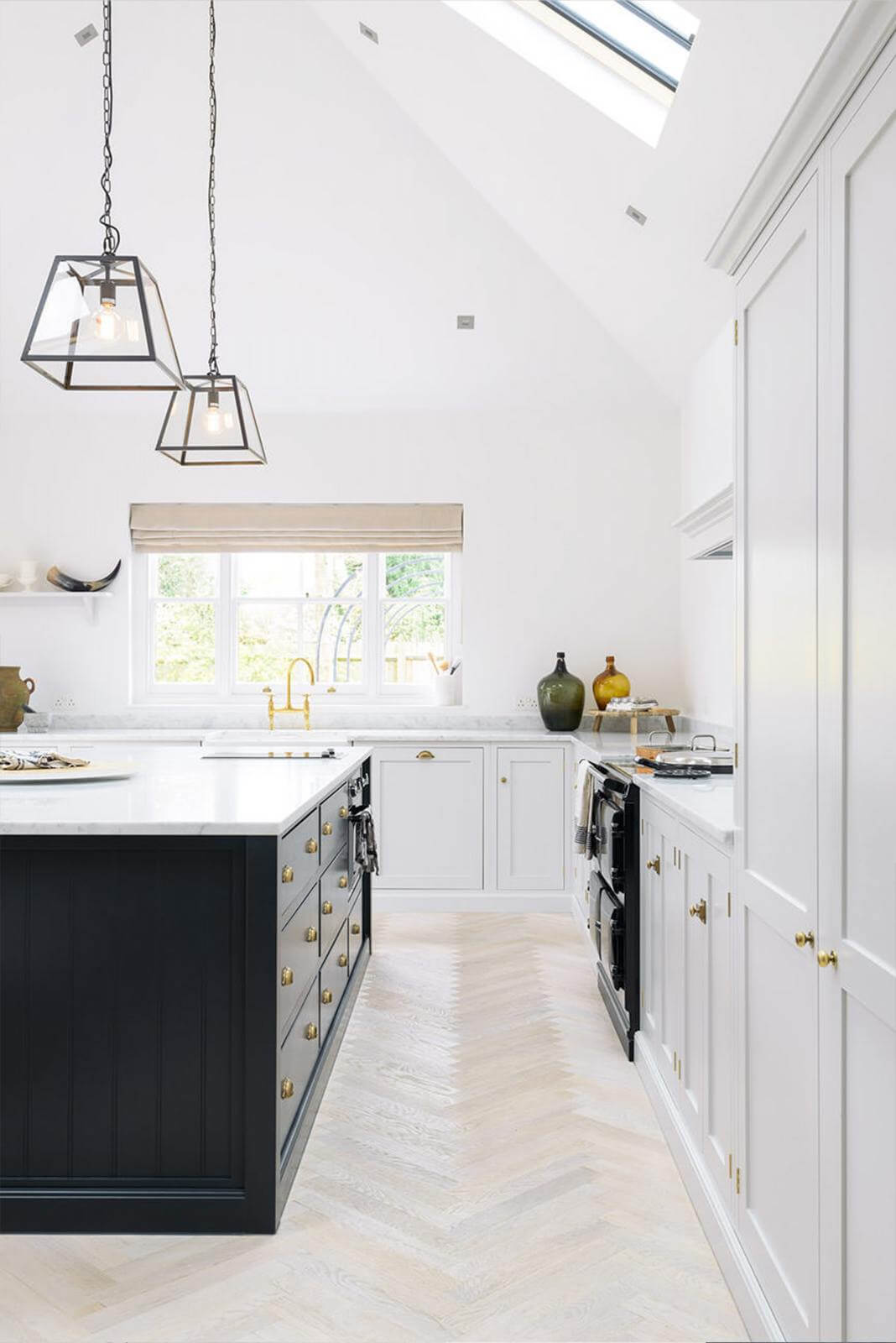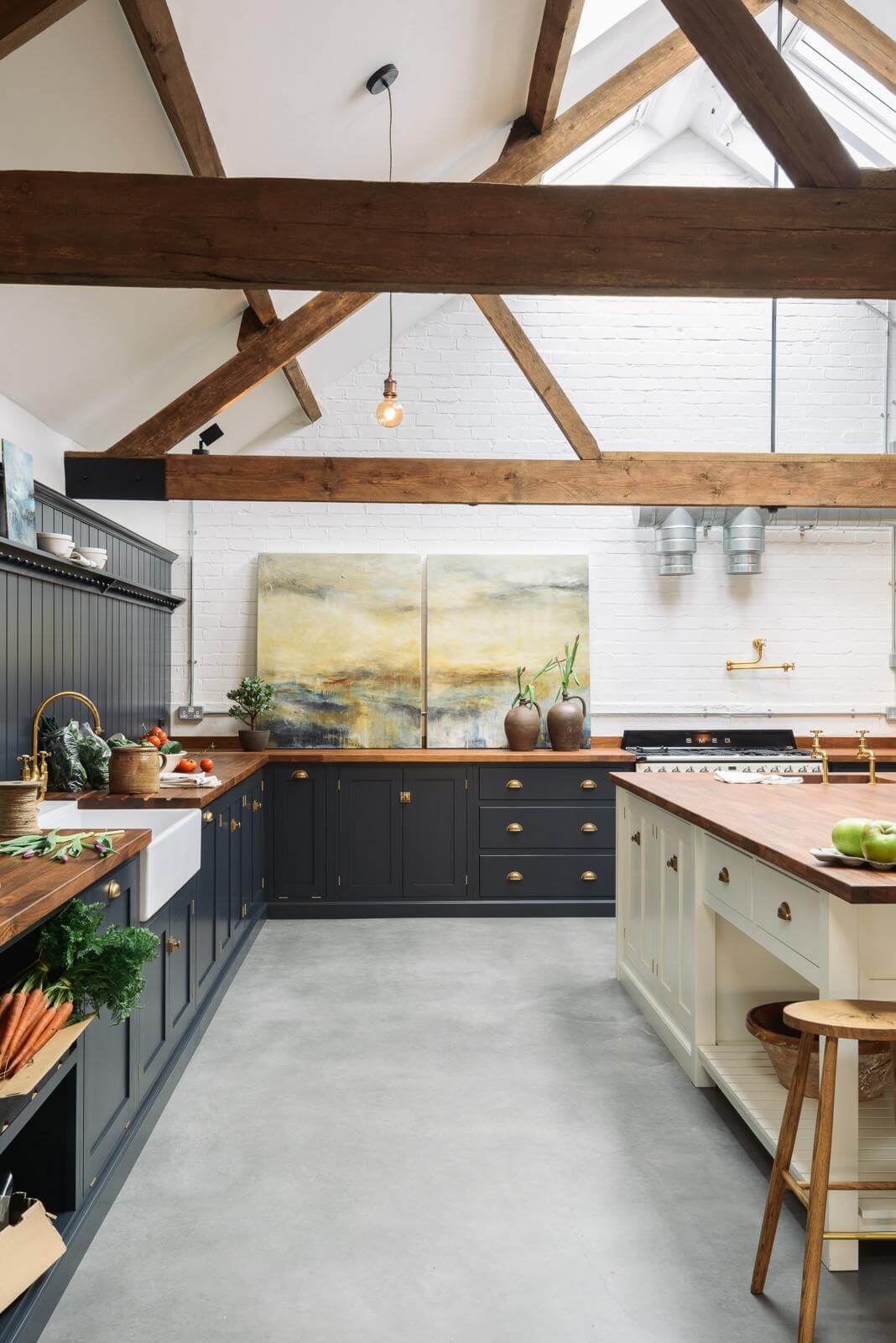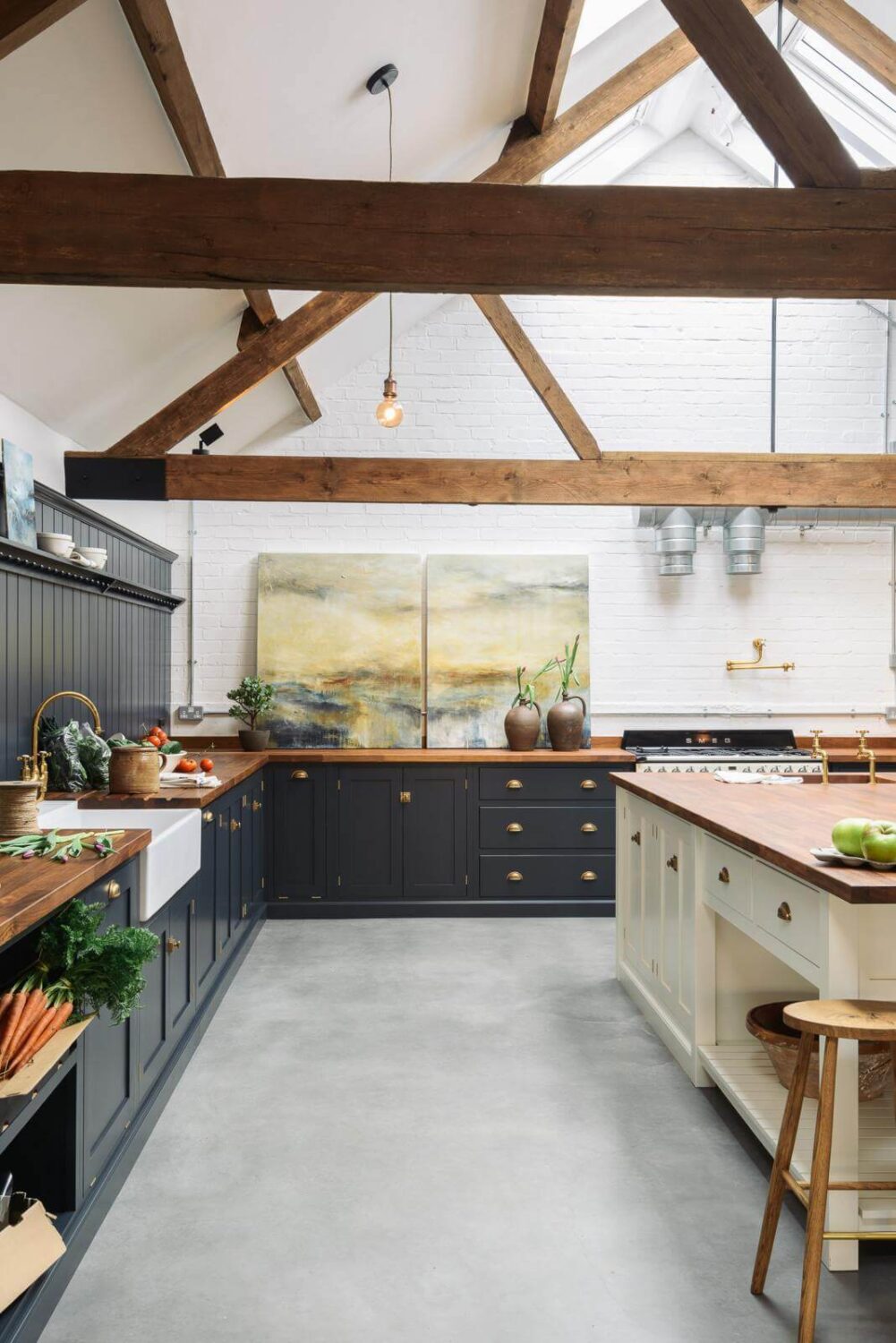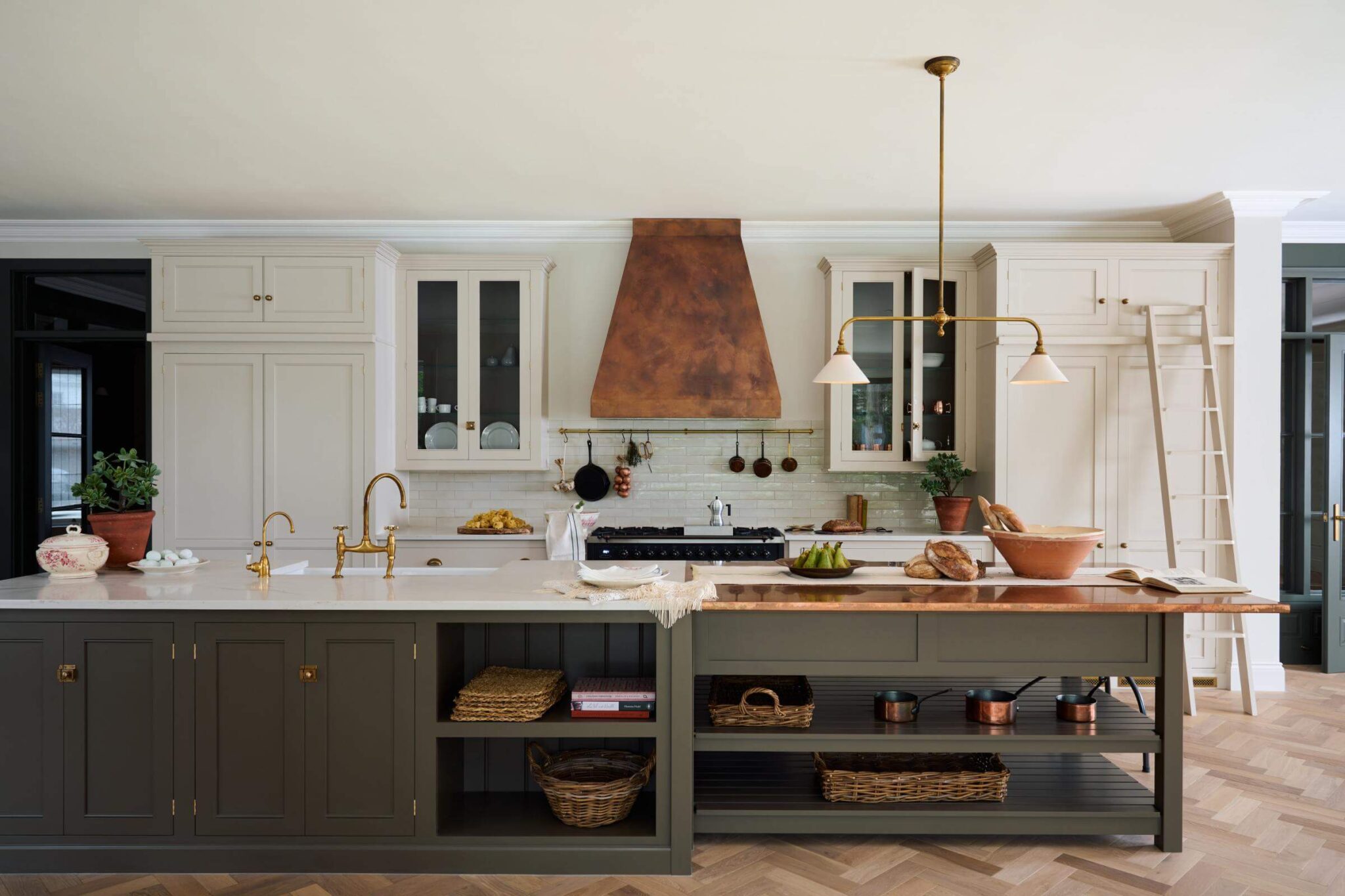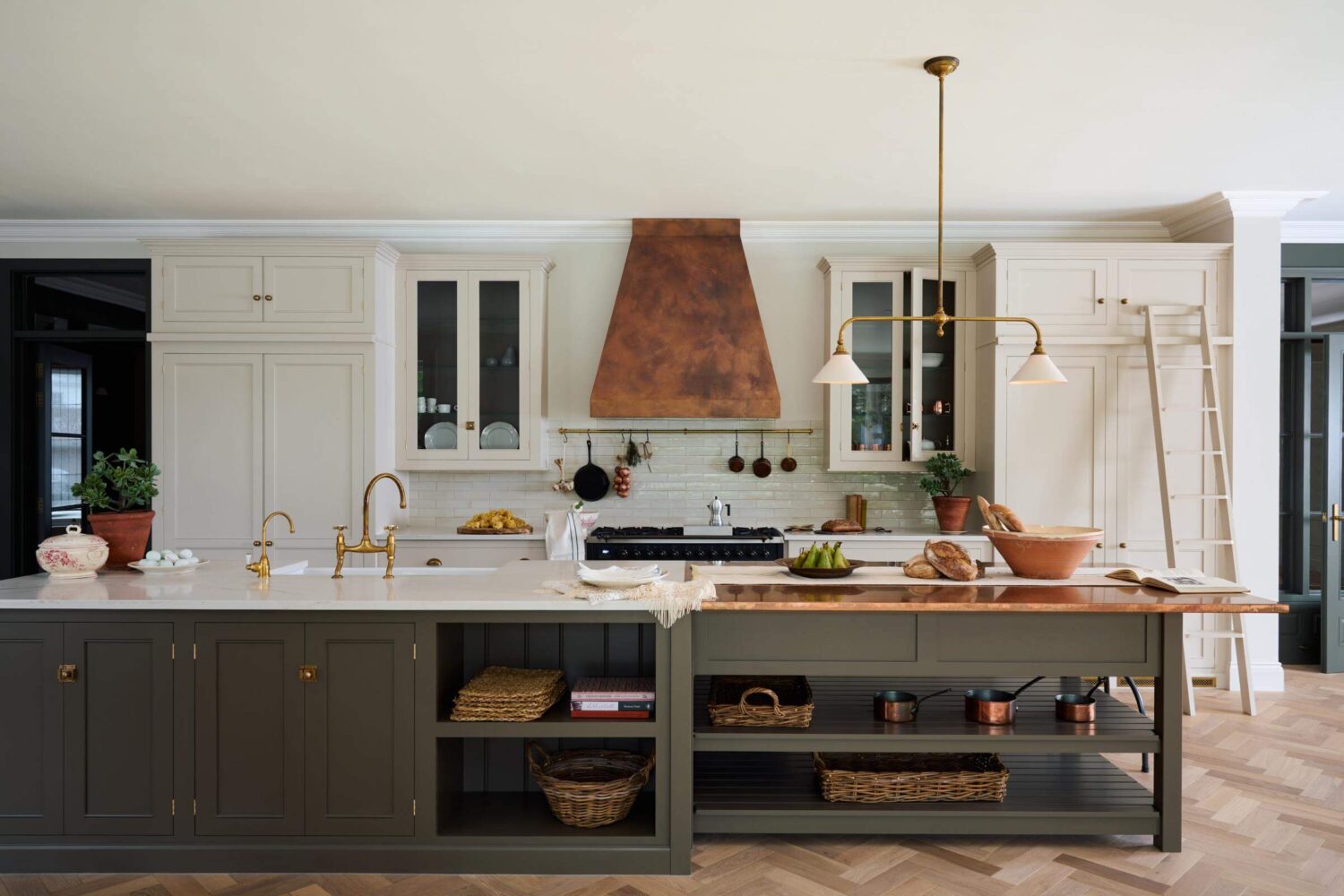 In this deVOL kitchen, they didn't just combine different cabinet colors, but they added another dimension by choosing a copper vent hood and a copper worktop on the prep table. This is in stark contrast with the white worktops on the other cabinets and makes it stand out even more.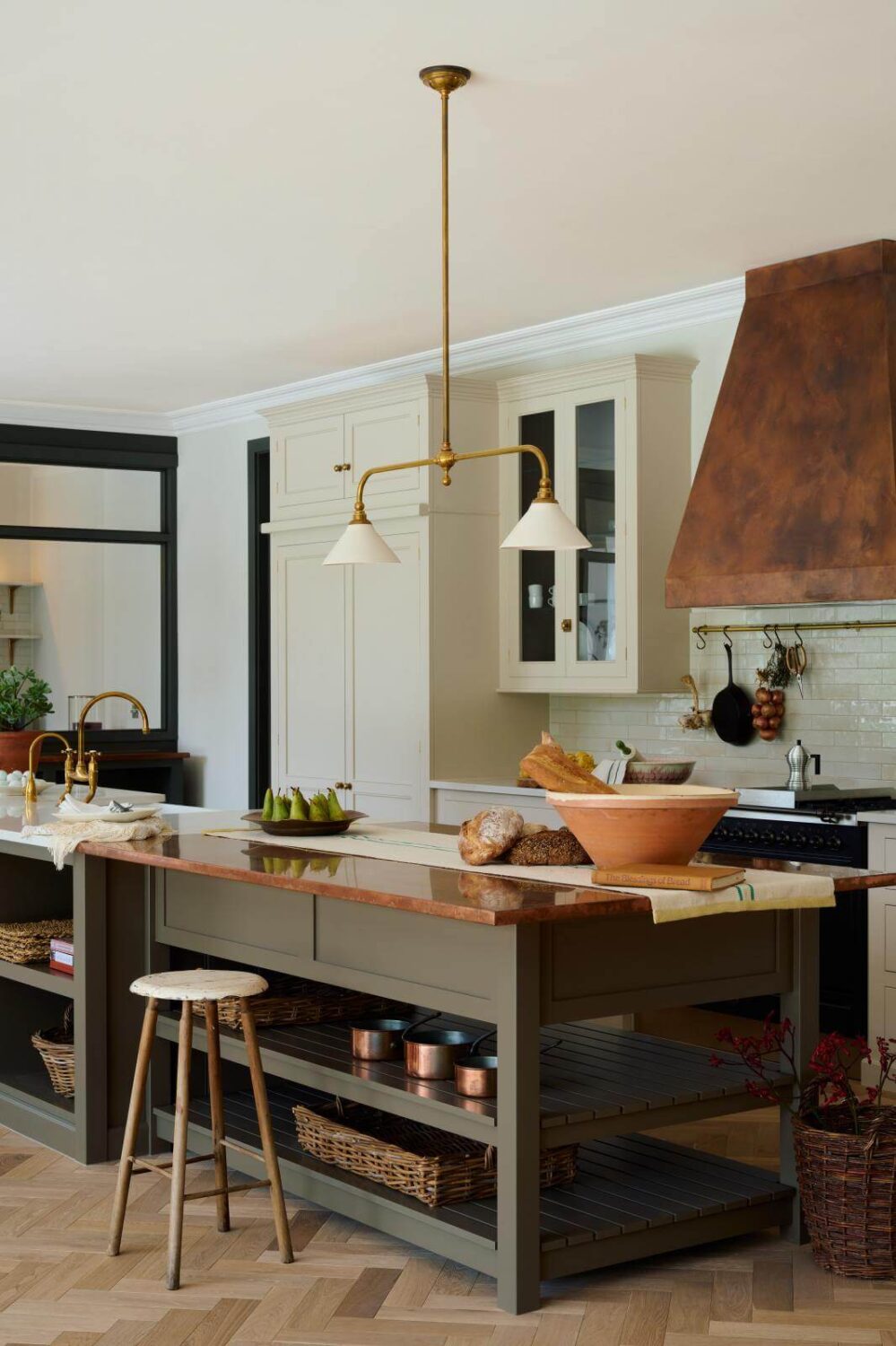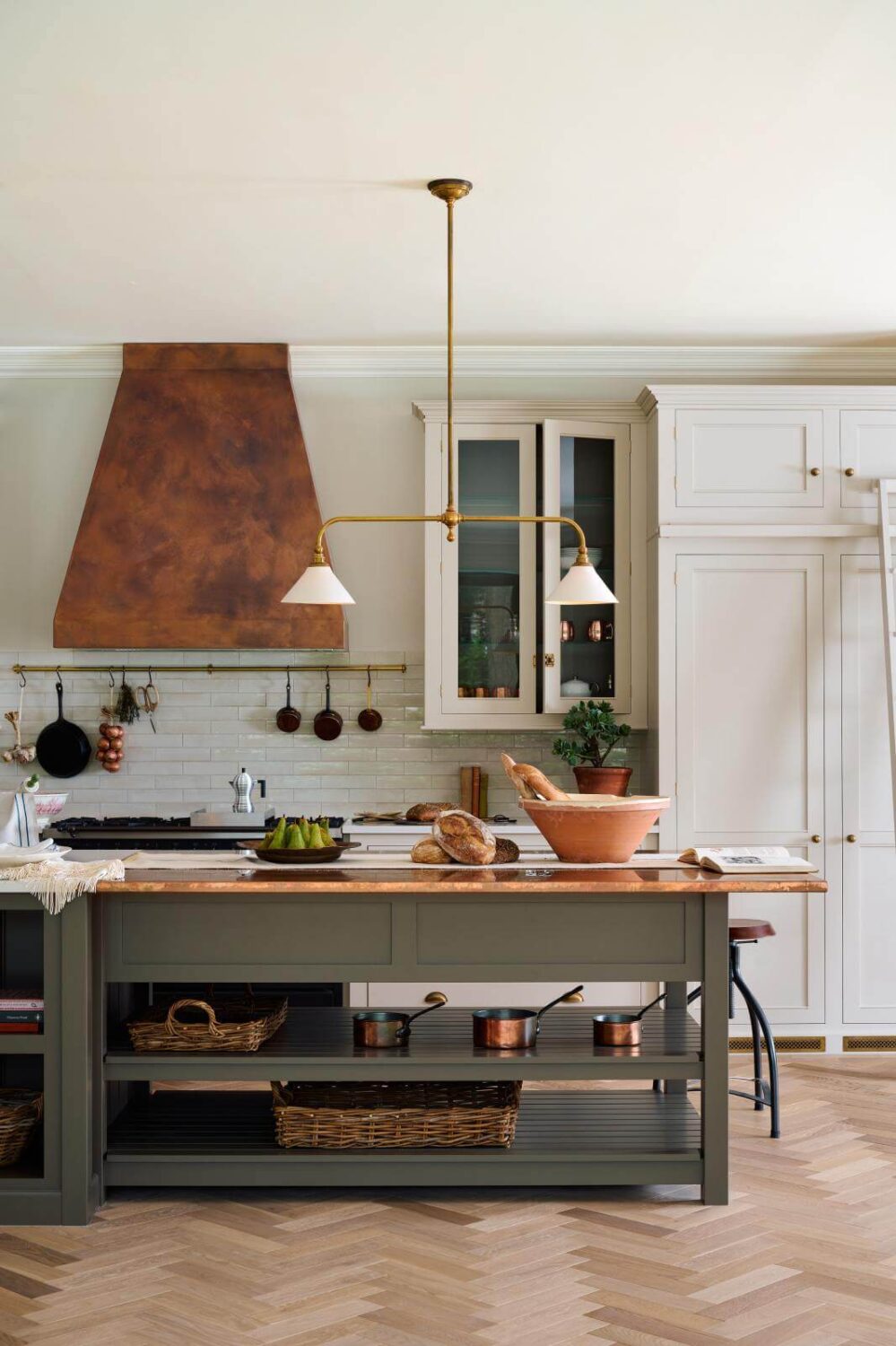 Kitchen Cabinets Painted in Two Contrasting Colors
Contrasting color combinations always work well in interior design, and this is also the case in the kitchen. Go for a light and dark color combo by using a darker shade on the lower cabinets and a lighter shade for the upper cabinets, or add vibrant contrasting colors for a bold kitchen look.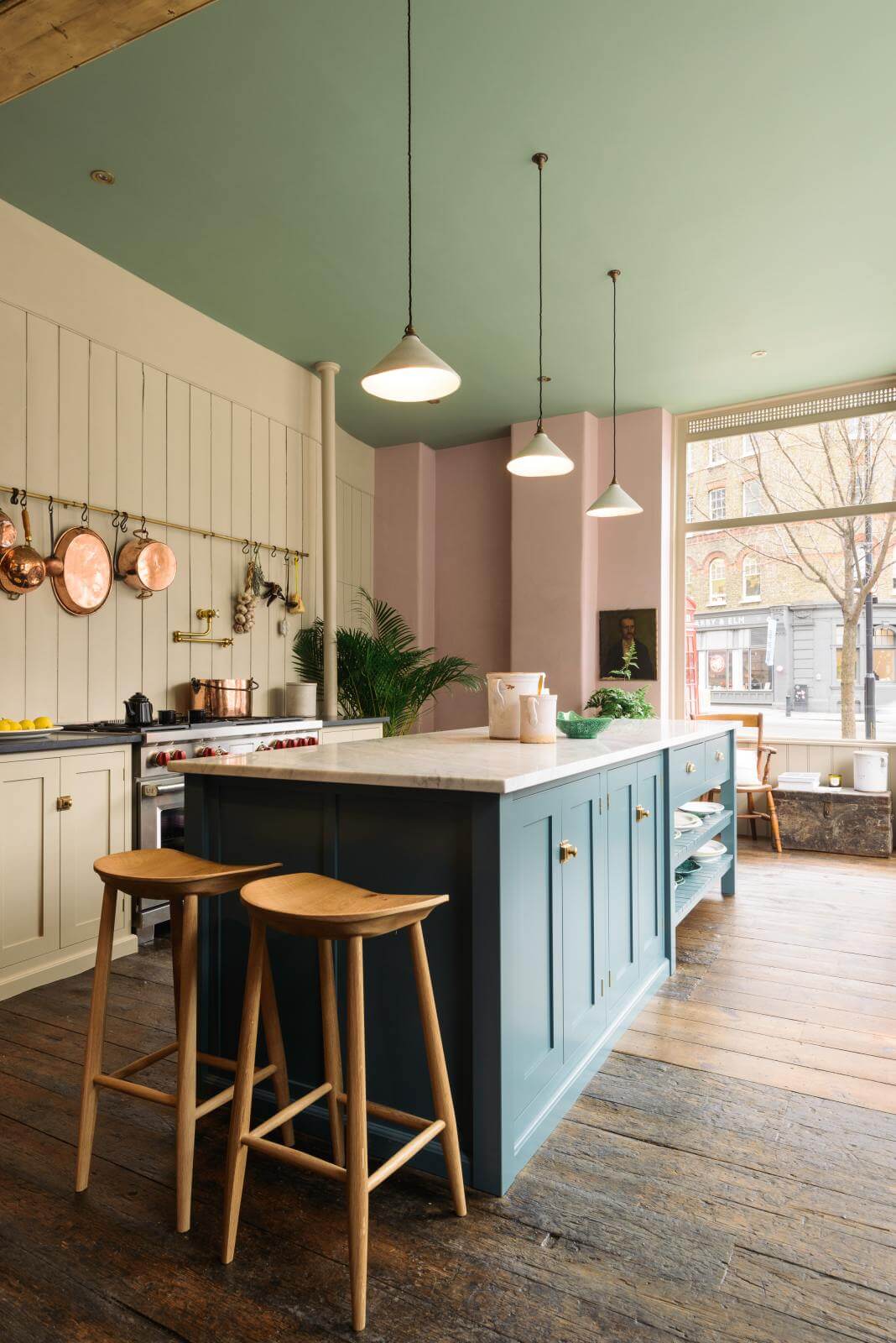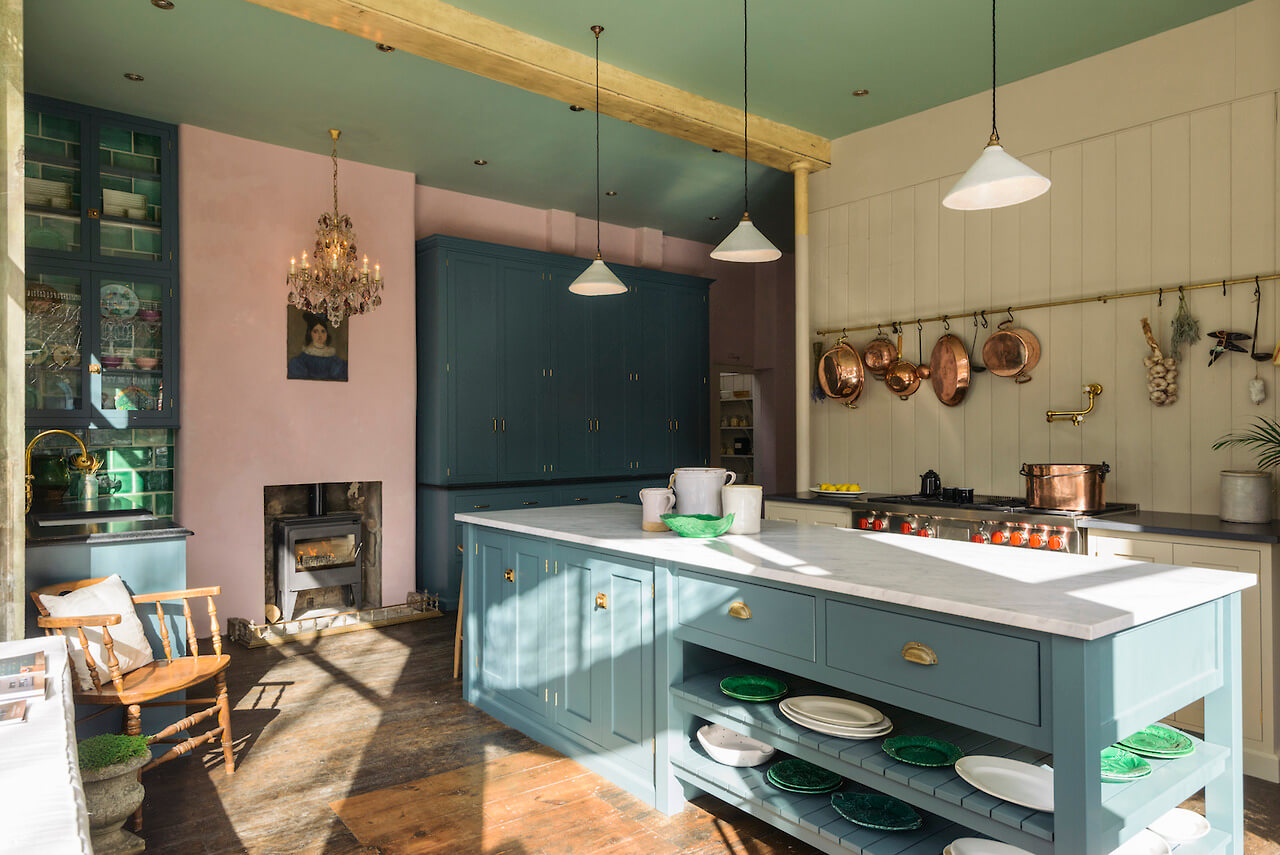 This English kitchen by deVOL not only combines colors in the cabinets but also in the tilework and wall paint. One wall features light beige cabinets, and the color is continued on the wall. The kitchen island is painted in a darker contrasting blue shade. Also, notice the combination of worktops. The darker kitchen island has a white worktop, and the beige cabinets have a black worktop.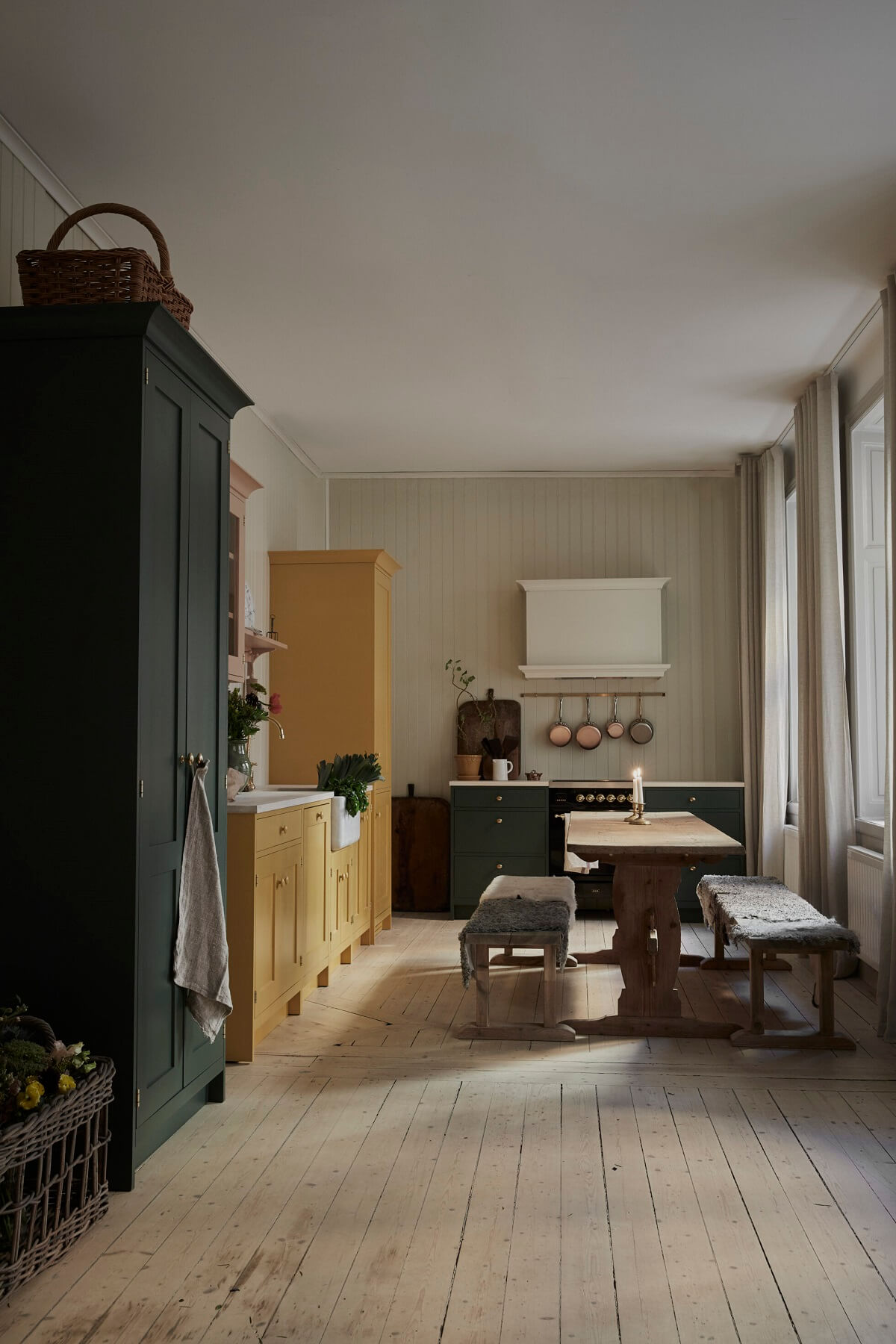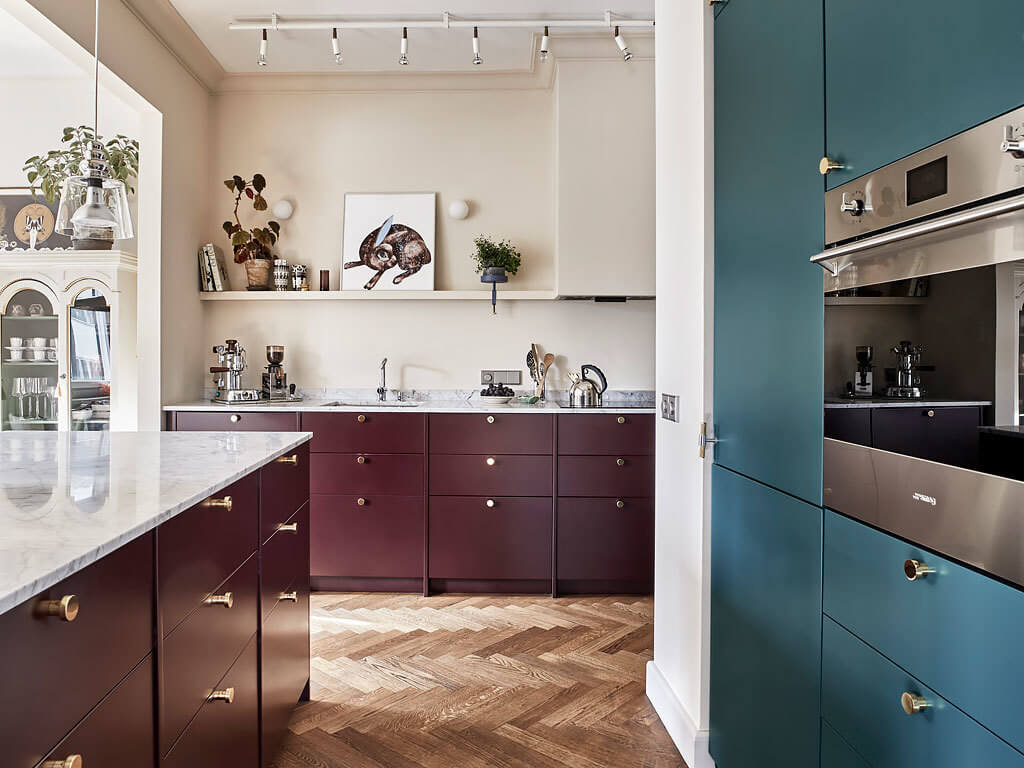 Pink and blue is a great color combination for interior design. For a richer color experience, you can choose for darker shades as you see in this kitchen.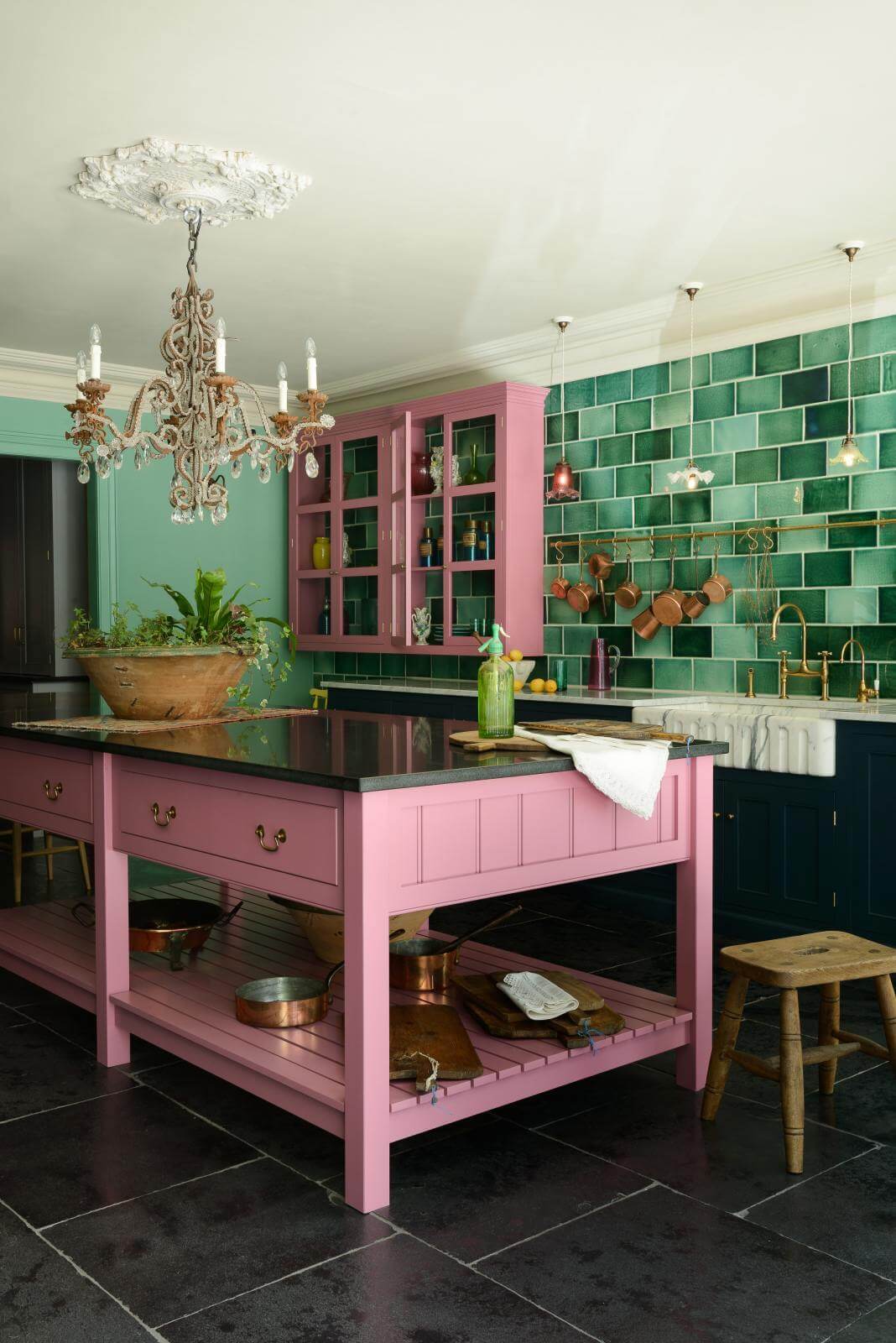 another pink and blue kitchen though here the designers from deVOL choose a navy blue color for the wall cabinets and bright pink for the island and glass upper cabinetry. If you want to add a color pop to your kitchen, this is a great example of how to do that.
The emerald green London tiles and green walls complete the colorful kitchen look. Because green and blue are natural color tones, it doesn't feel too overwhelming, and it makes the pink really pop.
This kitchen pops right through your screen. A neutral dark gray is combined with a bright yellow color. This kitchen also shows that you don't need to follow "design rules" because in this kitchen, a lighter and bright color is added to the lower cabinets, and the darker shade is used for the upper cabinets and the walls to make them blend in. These yellow cabinets really make a colorful statement.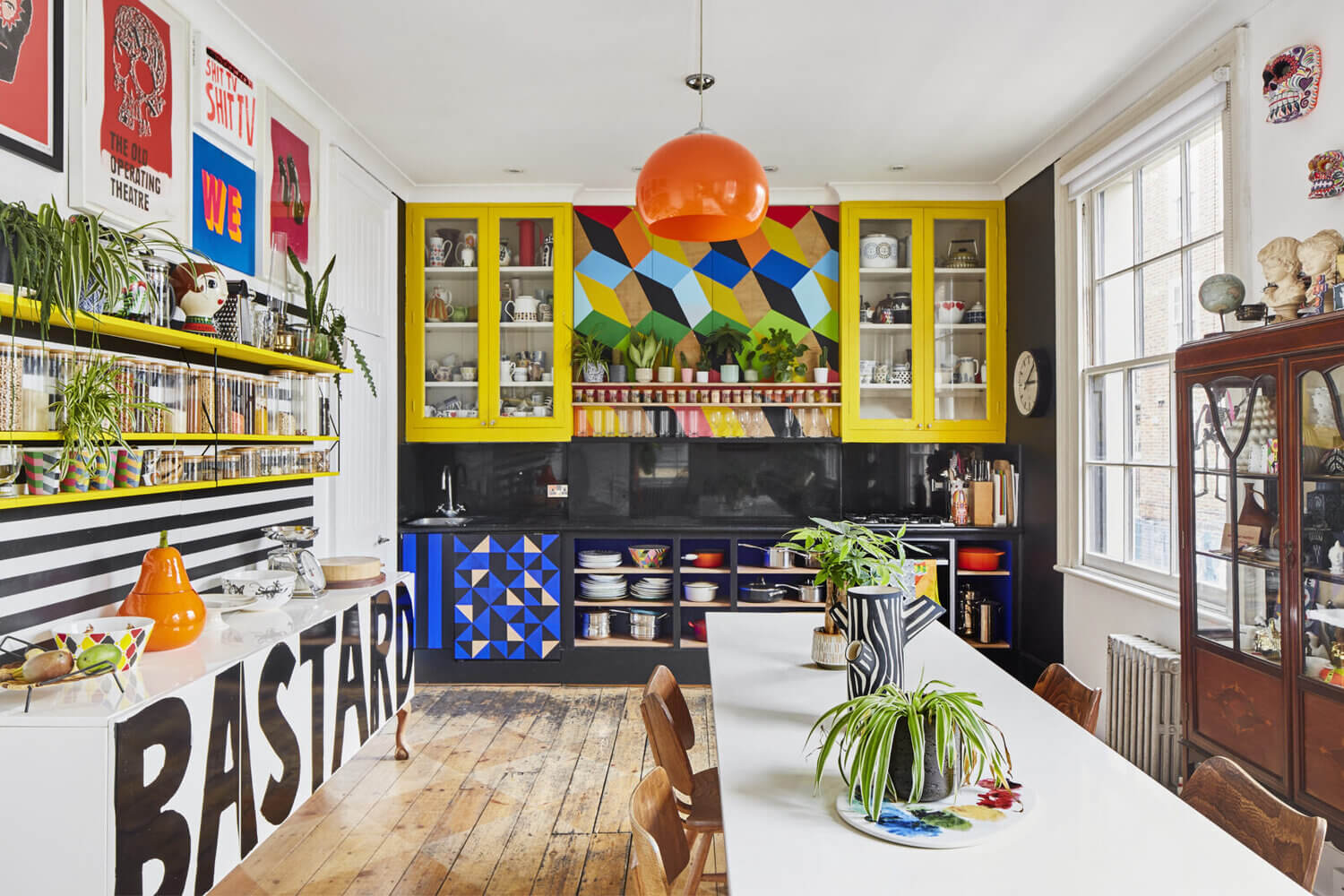 Funky and colorful, that defines the London home of artist Morag Myerscough. Vibrant color pops are added in the kitchen, and a beautiful statement wall is created behind the open shelf.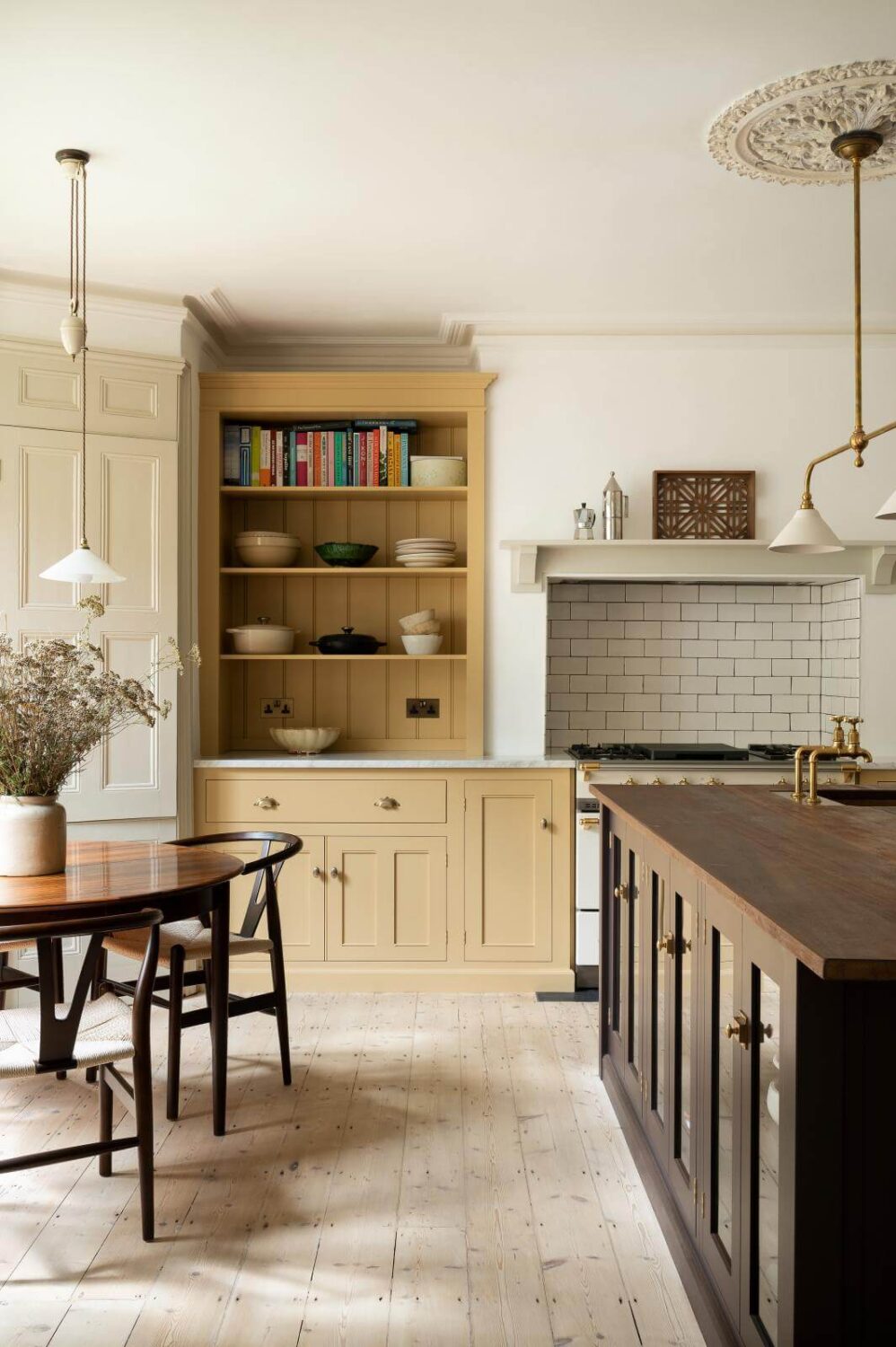 Light and dark. The butter yellow cabinets in this deVOL kitchen are combined with a glazed kitchen island that is painted in a warm purple/brown shade.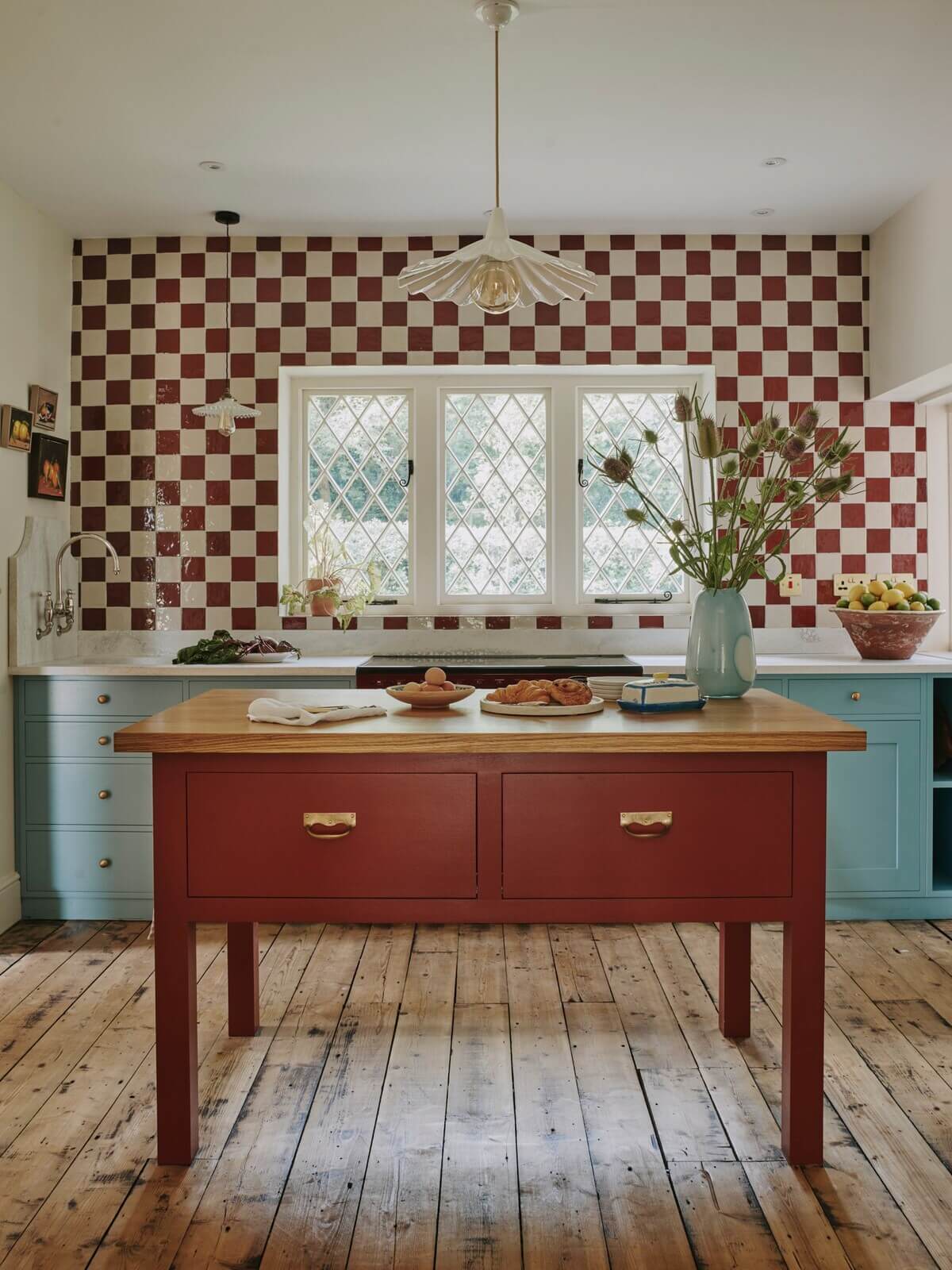 The kitchen in a cottage in the English countryside is painted in contrasting red and blue shades. The blue cabinets are painted in Farrow & Ball "Yonder," and the island is painted in Farrow & Ball "Eating Room Red". The walls are painted in "Slipper Satin" also by Farrow & Ball.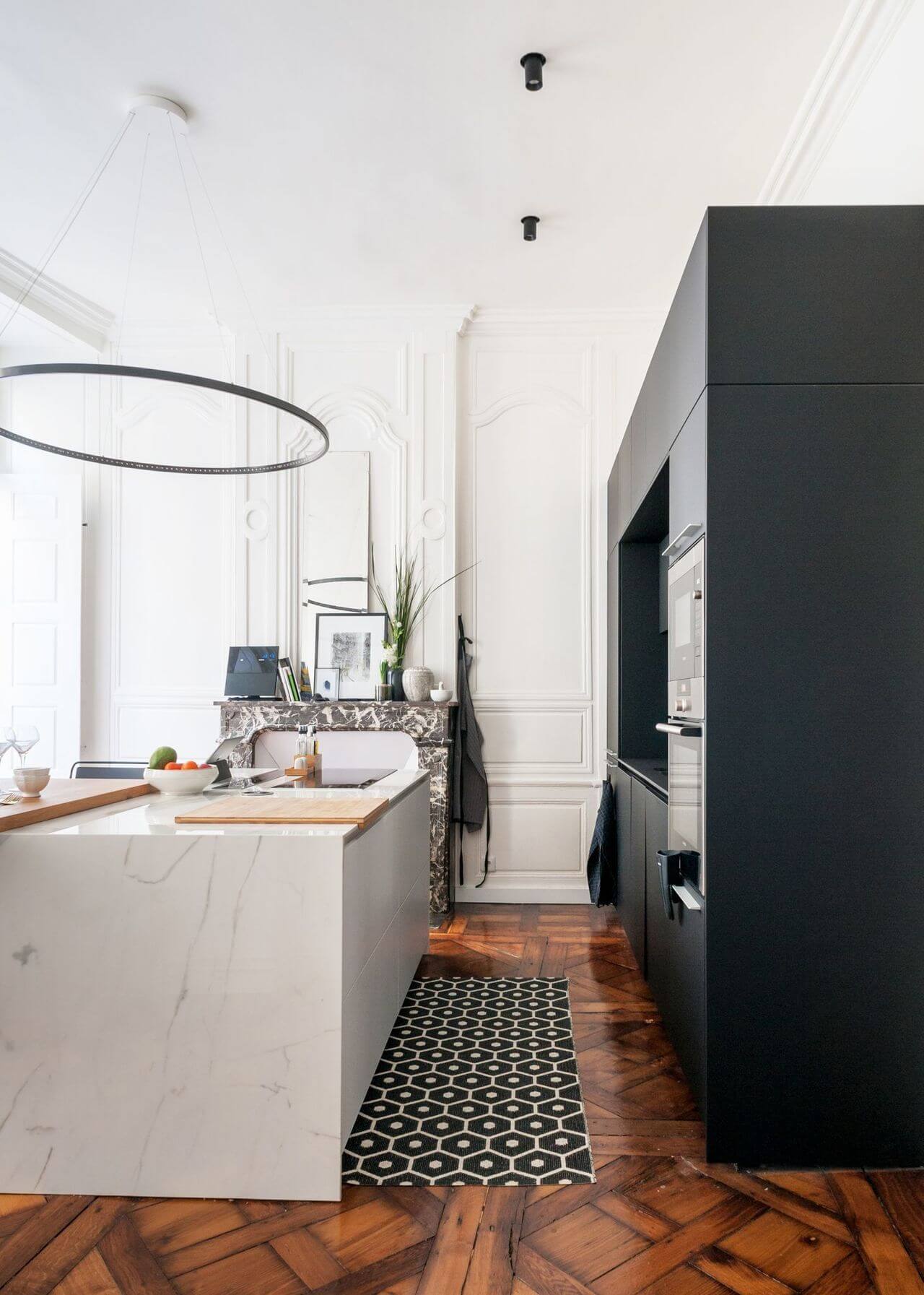 You can't go wrong with a black-and-white color scheme. On one side, floor-to-ceiling black cabinets provide plenty of storage, while the marble white kitchen island provides plenty of work surface.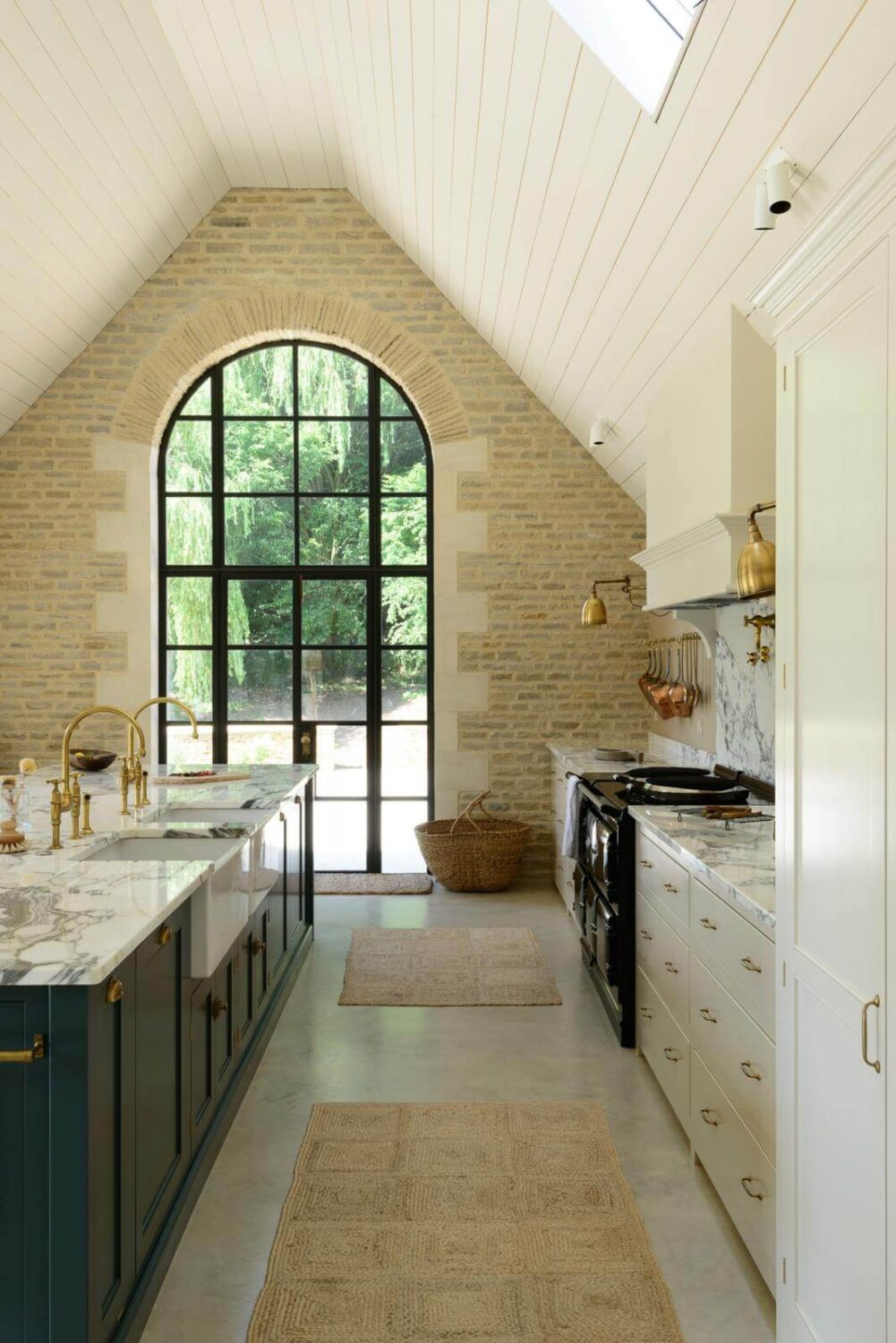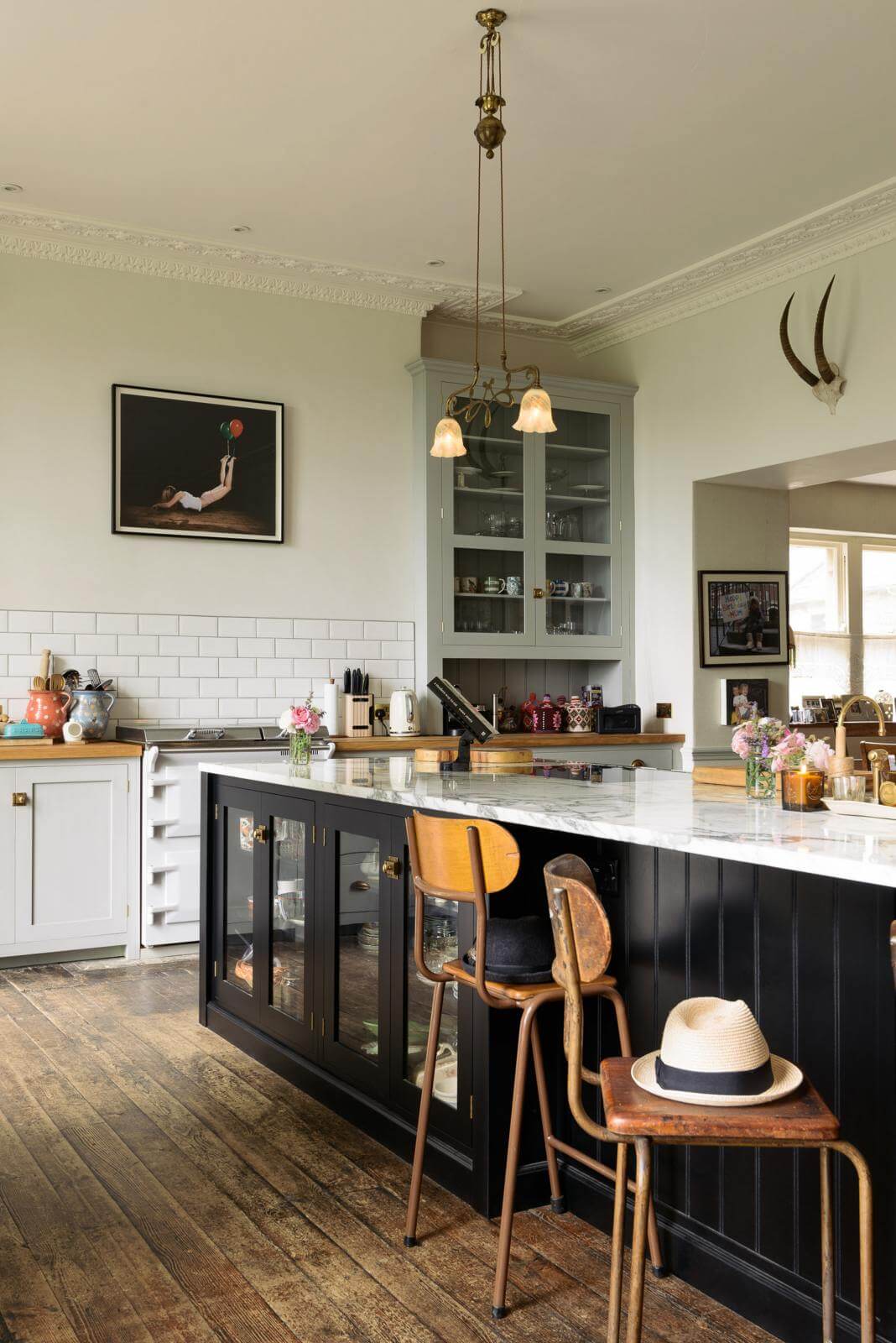 Ton Sur Ton Two-Toned Kitchen Cabinets
Ton sur ton means you use two shades from the same color family. Adding a ton sur ton color palette gives a space depth while also being calmer than when you combine two shades from different colors.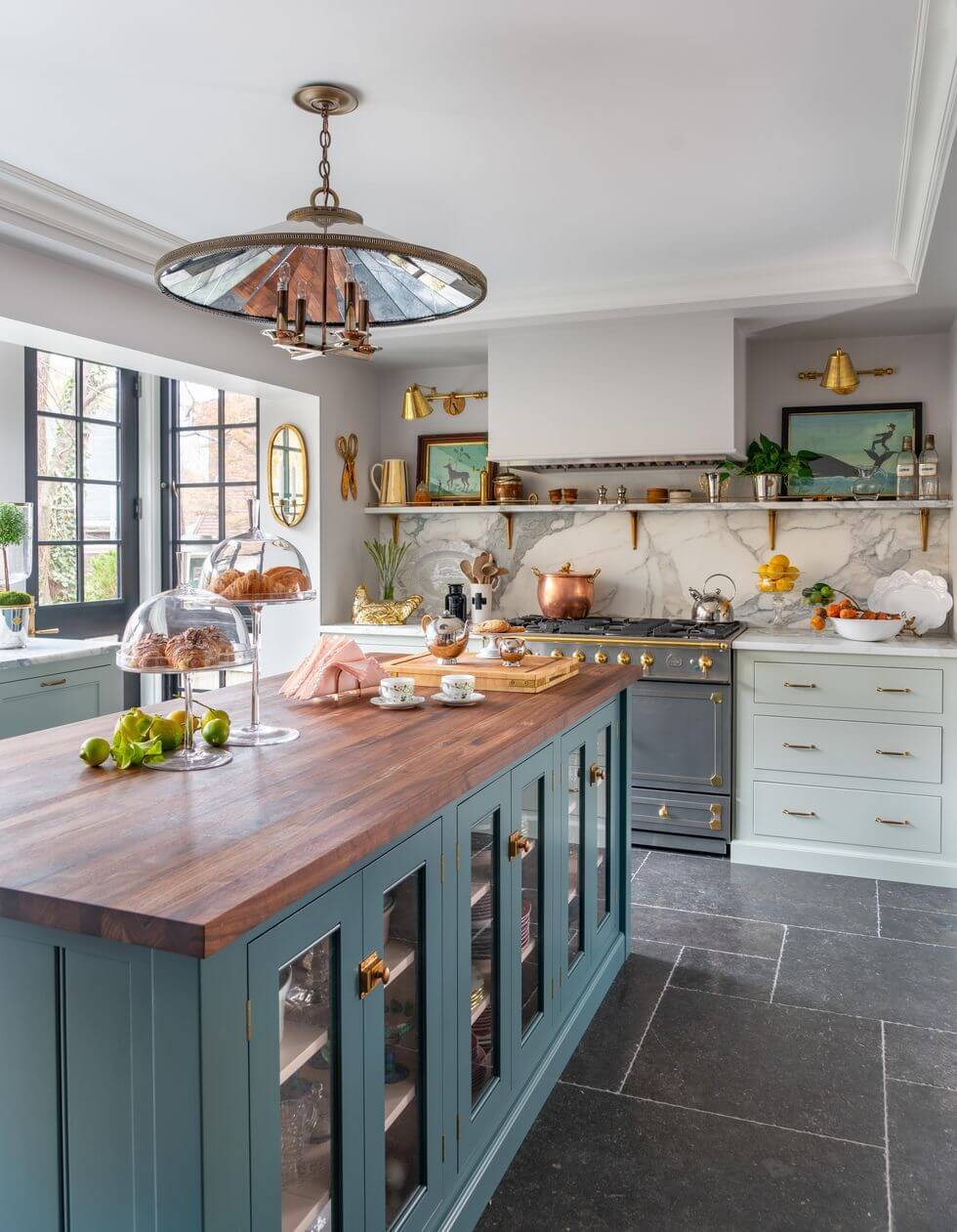 Without upper cabinets, interior designer Liz Caan created a two-toned kitchen by painting the kitchen island in a darker blue shade than the other cabinets. While the cabinet shades are from the same color family, contrast is added to the worktop materials. The island has a warm wooden top, while the other cabinets have a white worktop made of marble.
styling: Åsa Copparstad & photo: Boukari for Historiska Hem

styling: Åsa Copparstad & photo: Boukari for Historiska Hem
The small kitchen in a pink studio apartment uses two gray shades for the cabinets. The lower cabinets have been painted in a darker shade, while the upper cabinets are painted in a lighter shade. By adding a light color on the top, you create a more spacious feeling in a small space. The two-toned painting style continues on the walls that are painted in the same colors as the cupboards.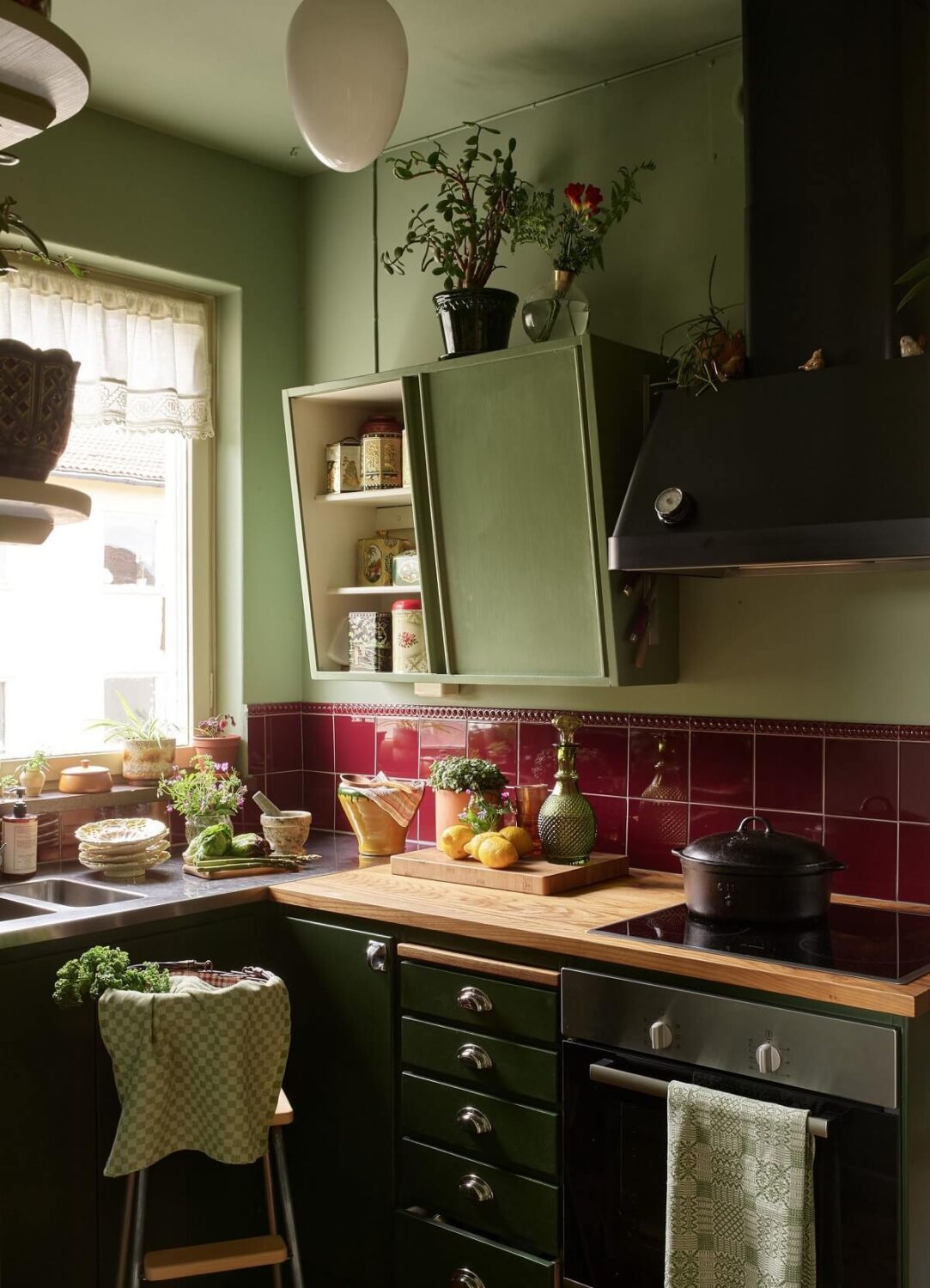 This Scandinavian midcentury kitchen has been designed in a green ton sur ton color palette. Just like the kitchen that was featured above, this small kitchen also used the design rule of adding a lighter color on the top half to create a more spacious feeling. The green walls and cabinets are combined with the Field Tile in Burgundy by Byggfabriken.
This contemporary kitchen is fully designed in a monochrome gray look, but thanks to the different materials, they have created an interesting kitchen look.
The blue cabinets of this Scandi kitchen create a natural color look to the kitchen.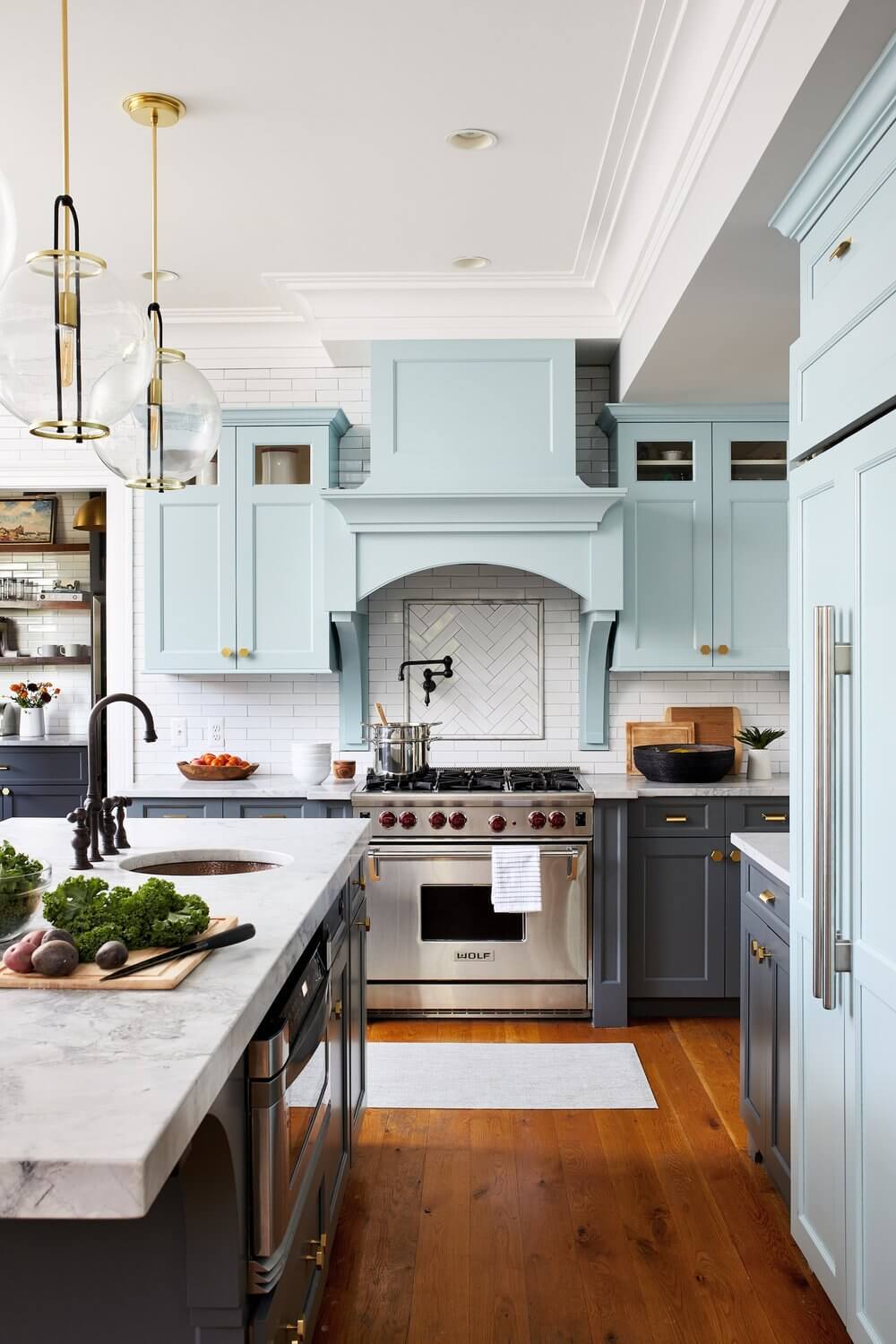 Blue is a popular choice for kitchen cabinet colors, and interior designer Zoe Feldman combined vibrant light blue cabinets with blue/gray base cabinets.
Pastel Colored Two-Tone Cabinets
Pastel colors are soft color tones that can pass for neutral colors. Combine two pastel colors for a subtle color accent in the kitchen.
A colorful Berlin apartment rocks a pastel pink kitchen. The lower pink cabinets are combined with light wooden upper cabinets and a pastel green dining table.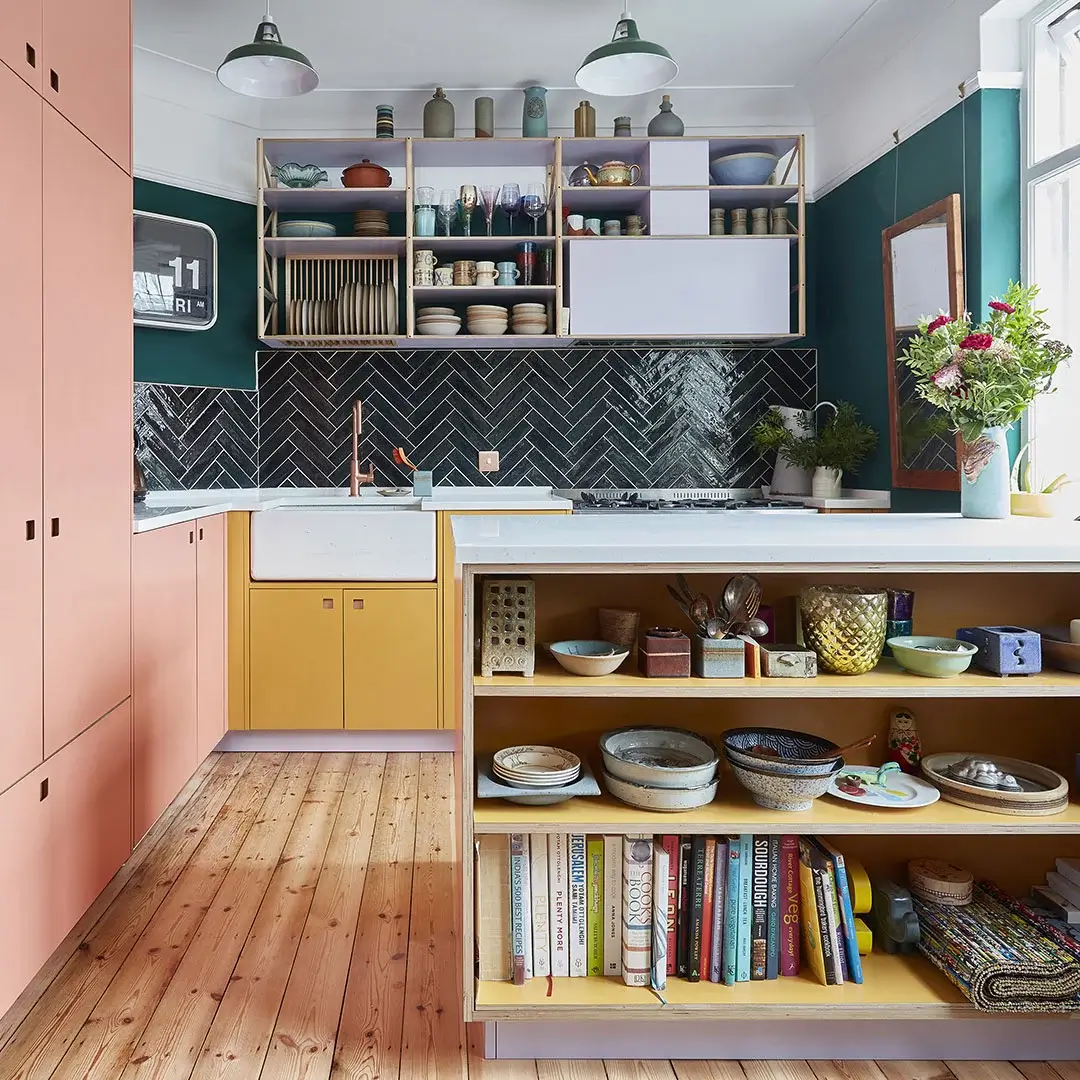 The North London home, designed by Studio Duggan, combines pastel pink lower cabinets with dark wooden upper cabinets. The ribbed glass in the upper cabinets not only hides the content of the cupboards but it also adds extra texture.
Mix and Match Colors and Materials for a Two-Tone Look
You don't have to stay with paint colors for a two-toned kitchen look, instead of combining paint colors, mix and match materials and textures for a dramatic and stylish kitchen design.
A tiny Pied-à-Terre in Paris designed by Corpus Studio combines color, texture, and materials in the small kitchen. The blue/gray base creates a calm look, but it's been made interesting with the vertical grooves in the lower cabinets, and the burnished brass captures the light and lightens up the darker corners.
The dark oak cabinets in this kitchen, designed by interior designer Alexandra Ogonowski and Nordiska Kök, are contrasted by a light marble island. A perfect blend of warm and cold materials in the kitchen.
Vibrant Colors in the Two Toned Kitchen
Be bold, be vibrant, and be stylish by adding bold colors to your kitchen design.
A small space with a big colorful impact: this small kitchen in London combines pink and green cabinets. The kitchen is designed by Naked Kitchen and has hardy quartz worksurfaces and cream-speckled terrazzo tiles as the backsplash.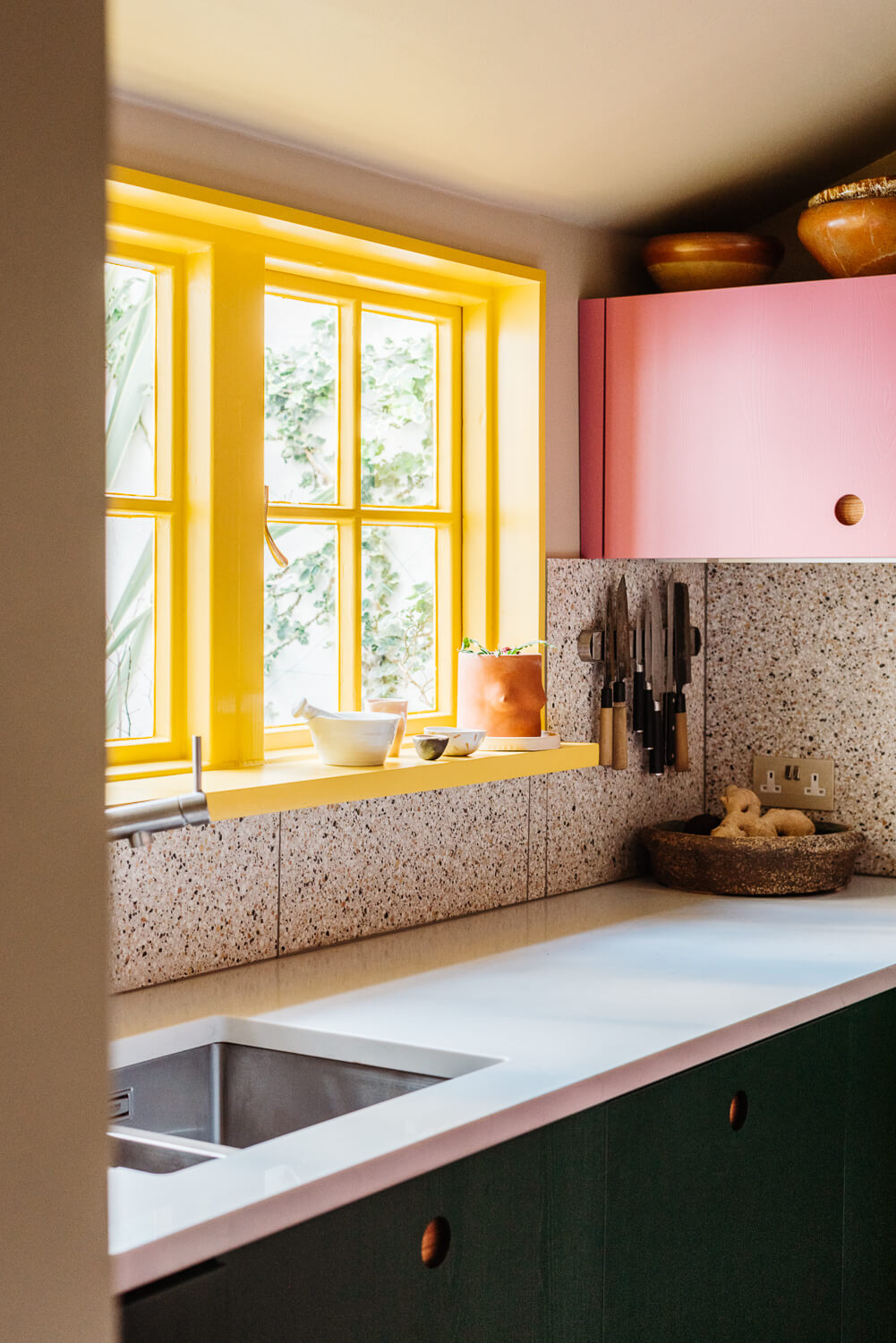 Pale green and orange, it's probably not a color combo that instantly pops up in your head when you think about your kitchen design, but this kitchen in a London warehouse apartment shows that it's a great idea.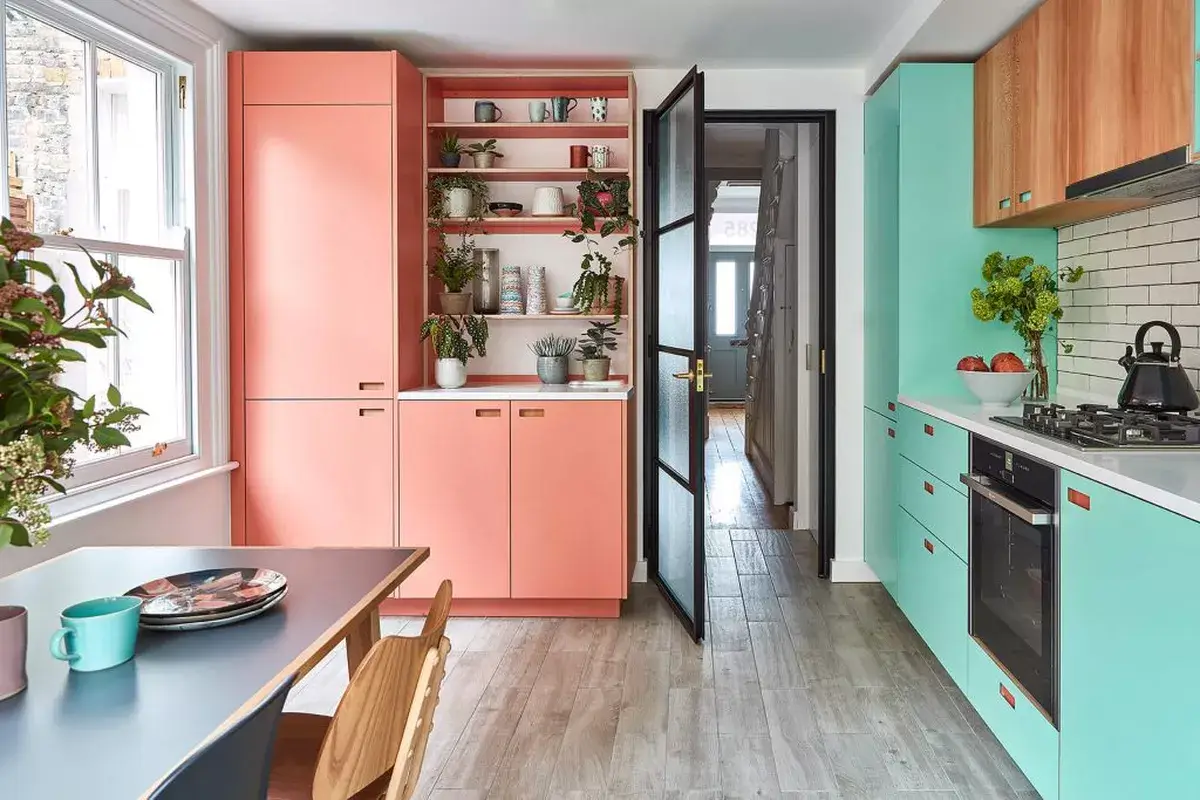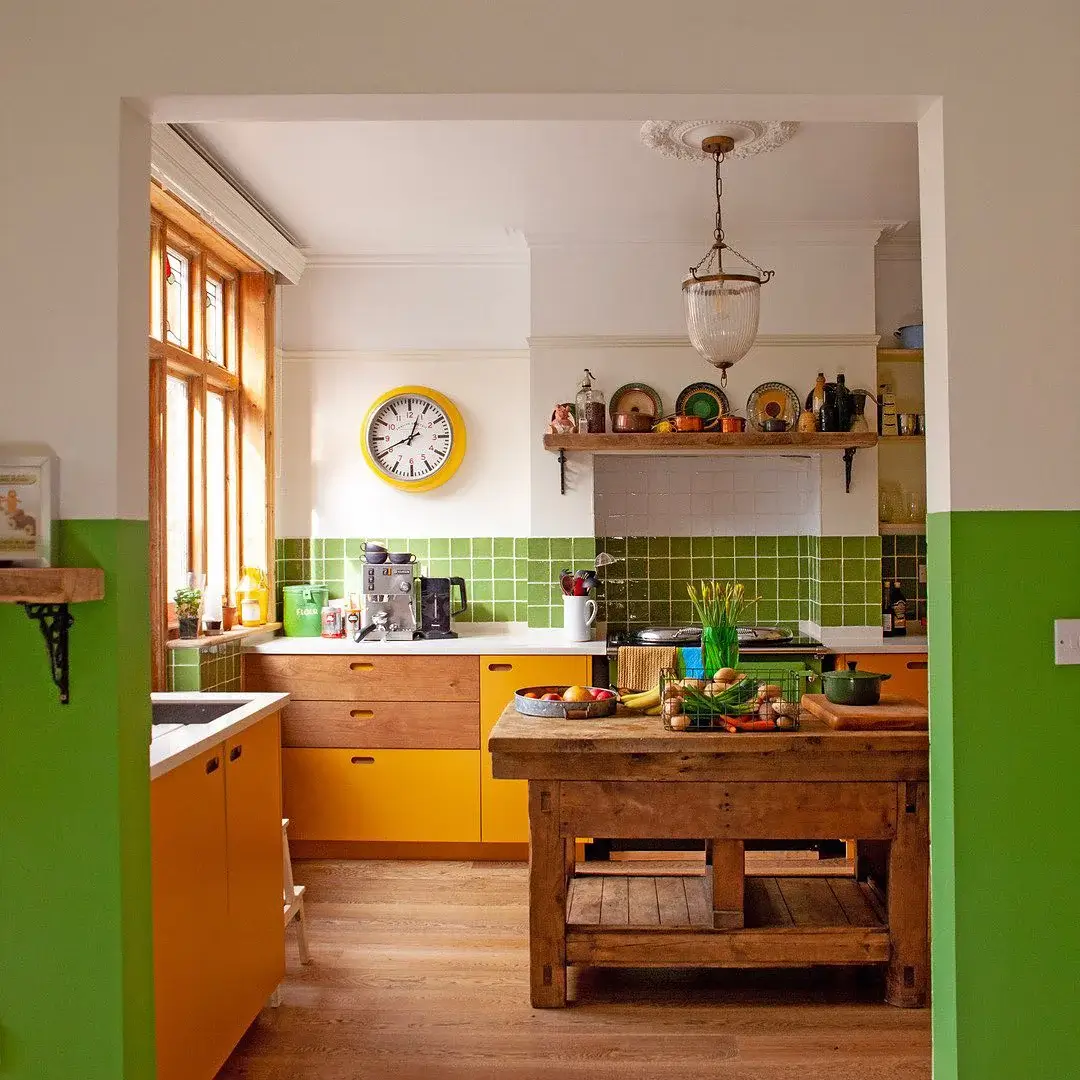 Multi Colored Kitchen Cabinets
But why use two colors when you can add more? You don't have to restrain yourself with two colors. Add more depending on your style. For example, give drawers a third color to add a nice pop of color, or give every cupboard a different shade.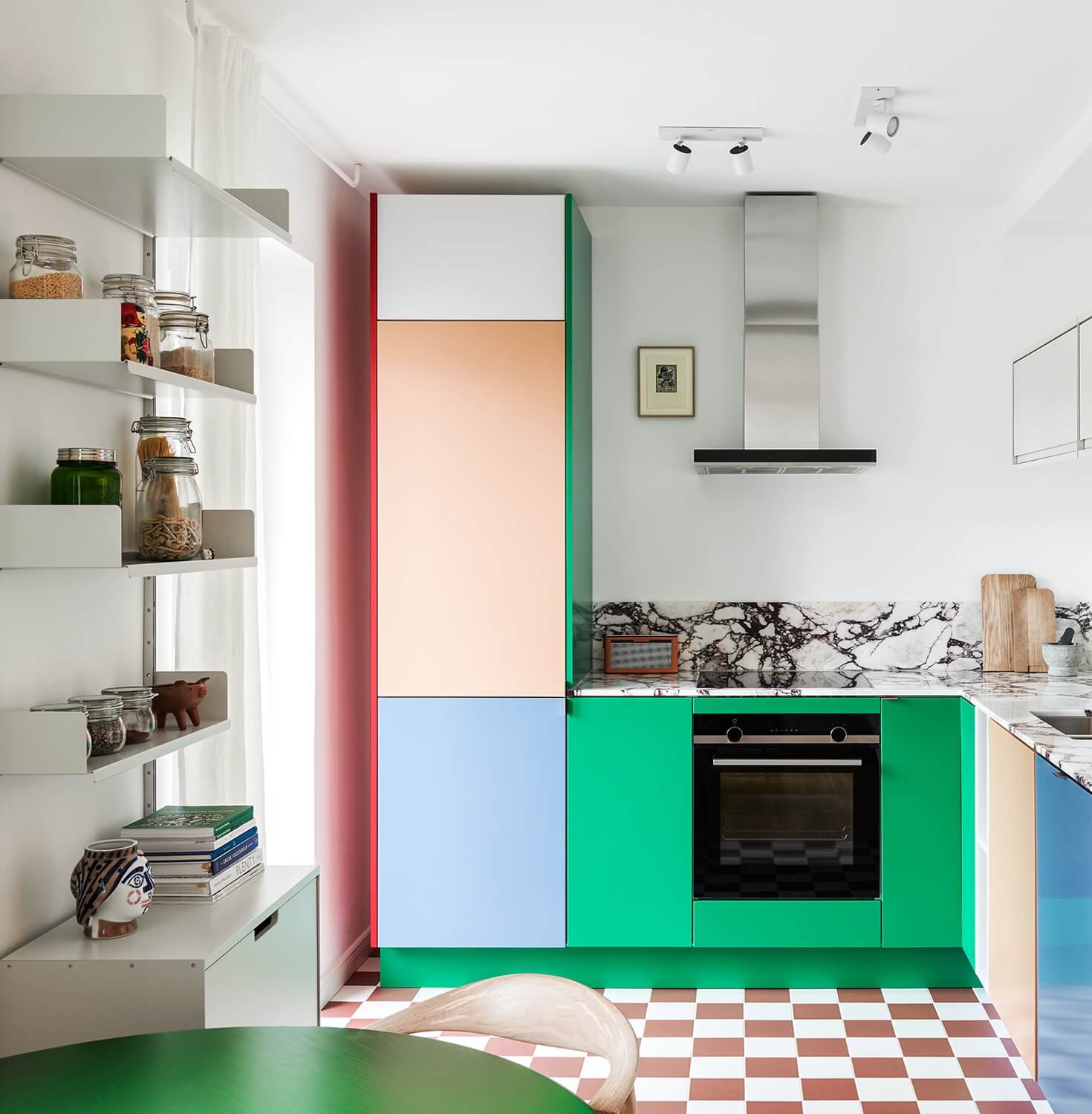 With blue, green, and peach cabinets, this kitchen is the focal point of a Berlin apartment. The colorful Reform cabinets are topped with classic marble countertops.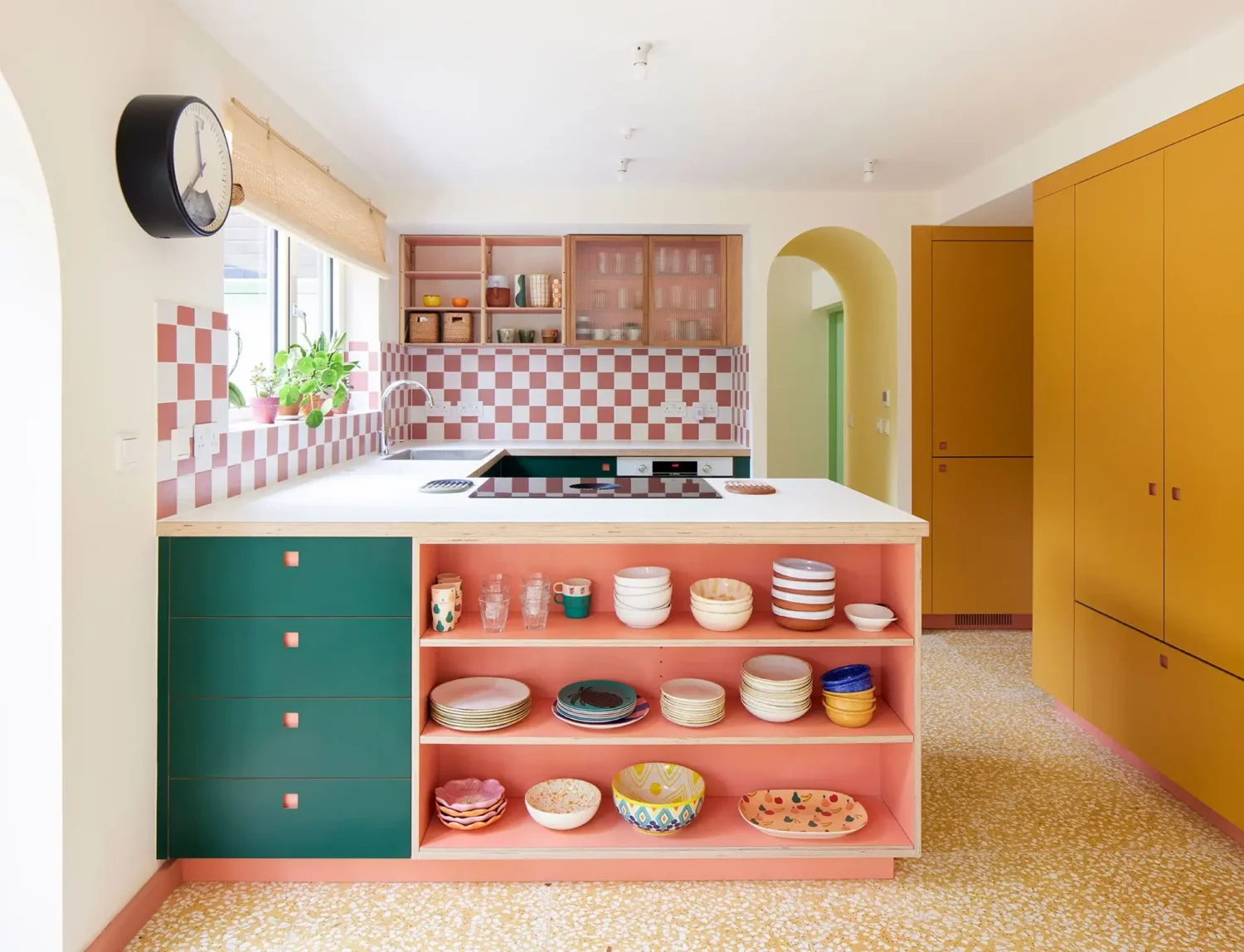 As long as you're thoughtful of the color choices that you make, you will see that it works. In this Pluck kitchen, pink, yellow, and green cabinets are combined into a cheerful kitchen. The yellow of the floor-to-ceiling cabinets also returns in the floor tiles, and the pink of the open cabinets returns in the tilework.
Two-Tone Kitchen Cabinets Ideas
These two-tone kitchen cabinet ideas will help you design your dream kitchen using different colors and materials. It's a great choice if you want your kitchen to stand out and become the focal point in your home.