New IKEA Products April 2023: A Spring Welcome
We are about to welcome the new Spring season, and what better way to start the season than with new products from IKEA? Open your windows, let in the fresh air after a long winter, and freshen up your interior with these beautiful new items.
The new IKEA products released this April fall under two key style expressions: "Soft and oh so dreamy" and "Harmonious neutrals". From versatile products you'll use daily to items that evoke a warm, sunny day, it's all about seizing the easy, breezy updates that will open your home to summer.
The new IKEA products will be available in stores and online from April.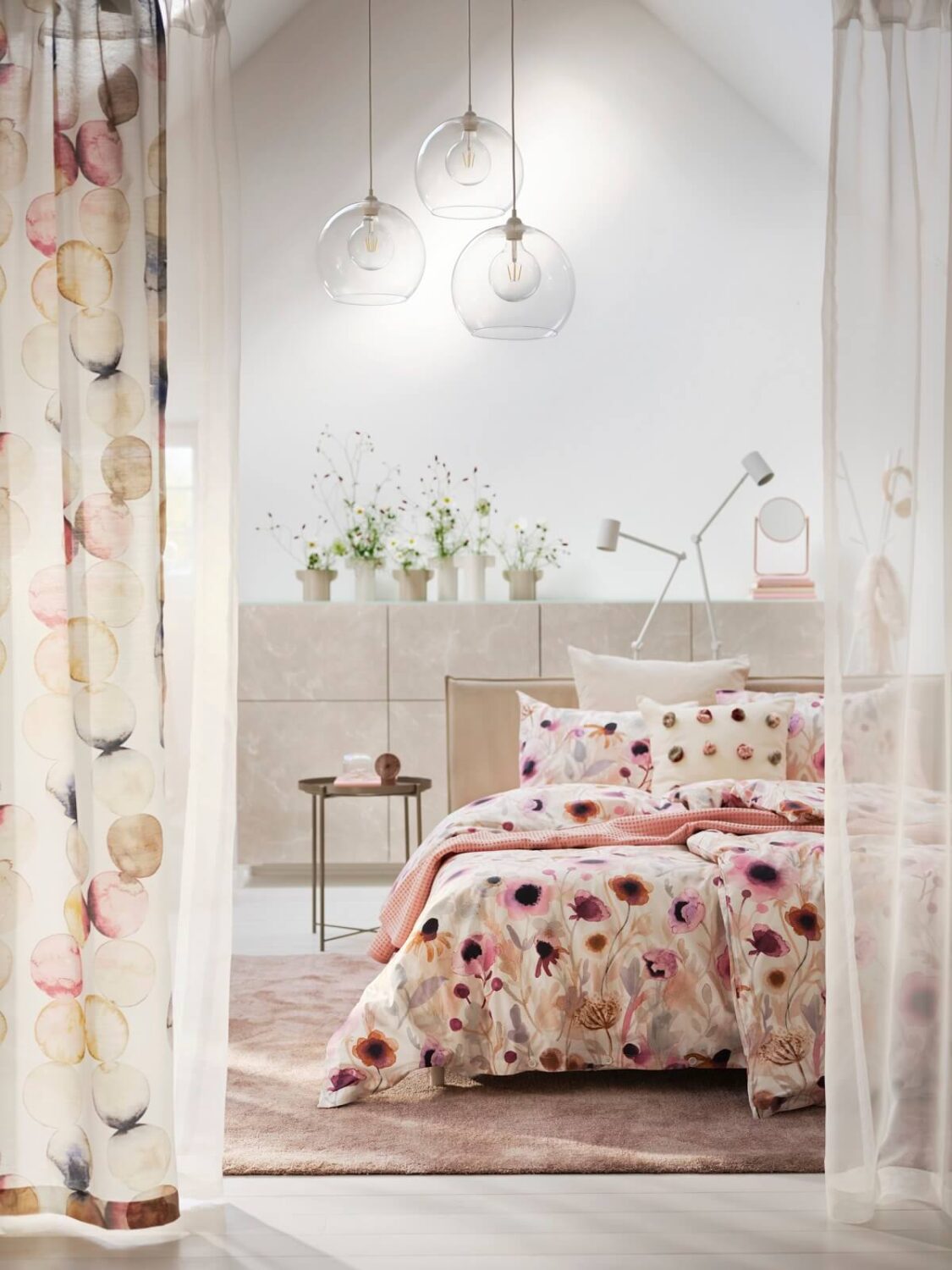 Soft and oh so Dreamy
When the buds blossom into flowers, when a single drop of paint swirls through a glass of water, creating an explosion of color – this style expression is about creating a space that's muted yet elegant, soft yet sleek.. and very dreamy.
Seize the feeling of that first, warm sunbeam on your skin. Capture the ease of a relaxed, vacation day.
From Bud to Bloom
Bring a sense of the outdoors inside your home this season with simple solutions and small improvements that have a big impact. Pieces like the FYRTIOFYRA pendant lamp and SOMMARFLOX range, adorned with watercolor florals by pattern designer Emma Prowse, turn your kitchen and dining area into a fresh and flexible space. Welcome to the new season.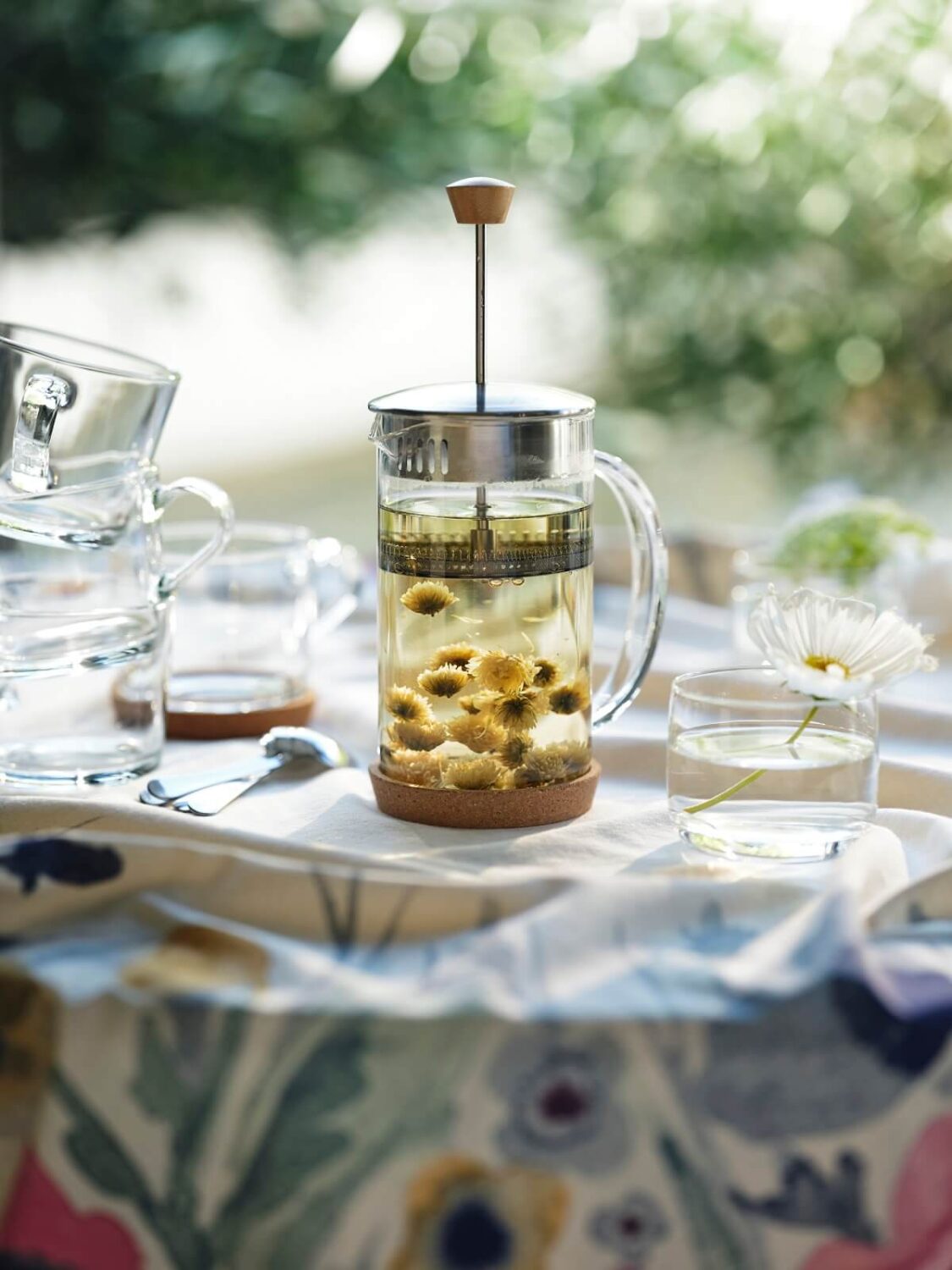 Open Your Home to Summer Florals
Start every day softly and slowly with lightweight materials and textures that instantly evoke a summer spent outdoors. Beautiful LÖNNHÖSTMAL bedlinens and SÄCKMAL curtains create a comfortable, relaxing bedroom that makes starting each day a breeze.
The PELARRÖNN set of two vases brings both uniformity and uniqueness to whatever corner you place them in – all they need is florals.
Finish with DVÄRGNARV and TÅGHAKMAL cushion covers – the latest limited-edition, handmade accessories made by Rangsutra, a woman-owned social business that creates jobs for skilled artisan women in India.
The DVÄRGNARV and TÅGHAKMAL cushion covers add personality wherever you use or display them. But they also tell a unique story of IKEA's long-term partnership with Rangstura. Since 2007, Rangstura has helped support and secure livelihoods and nurtured traditional Indian craftsmanship such as embroidery, textile, and grass weaving. IKEA joined forces with Rangstura in 2012, creating new products every year and showcasing the work of more than 1000 craftswomen in the process.
About Emma Prowse
This season's key print in this IKEA collection is made by Swedish pattern designer Emma Prowse, whose watercolors come to life on textiles and bed linens.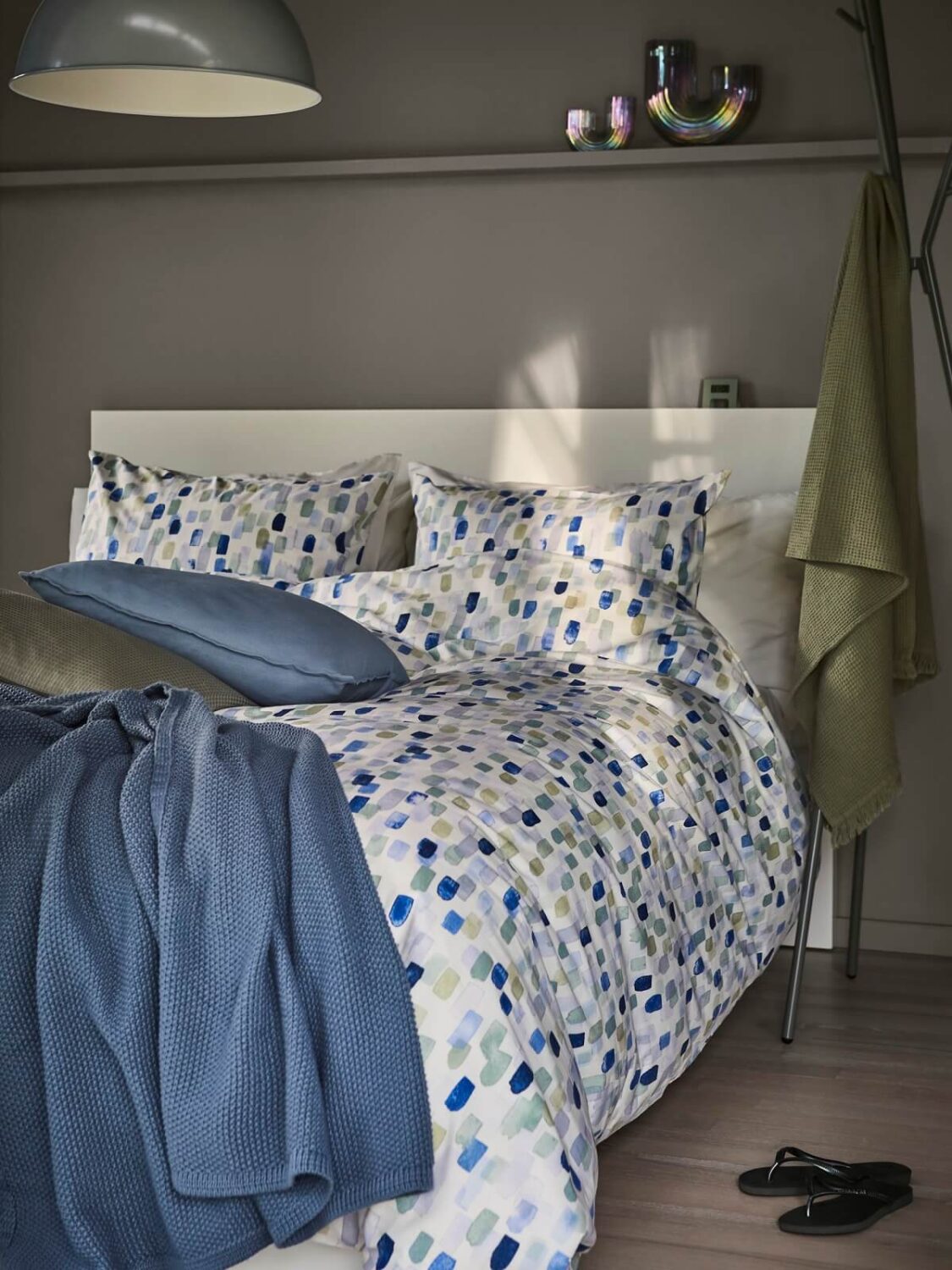 "My inspiration often comes from the things that I see every morning and evening while I walk my dog. I love interpreting the shapes and colors of plants, trees, stones, and floral patterns".
A Stone's Throw
Everyone loves the soft, cool feel of smooth pebbles in their hands – and it's a texture that works especially well in the kitchen.
The new NICKEBO kitchen range is sleek, modern, stylish, and easy to personalize too. Highlight the matte black surface with SOMMARFLOK napkins, tableware, and glassware that bring a hint of that organic, seaside feeling into your home.
The handmade shapes on this PÅLHULT hanging tapestry bring an artisanal feel to the kitchen.
Golden Hour
Dusk at the beach is all about light, color, and texture. And soft furnishings bring in that feeling of a long sunset after a warm, lazy day.
The wave-inspired print and deliciously earthy tones of the SANELA and SÄCKSPINNARE cushion covers and the tonal stripes of the ELJUSSPÅR rug evoke the rainbow of oranges, blues, and pinks of a setting sun over a sandy horizon. For many, this is truly the best time of the day.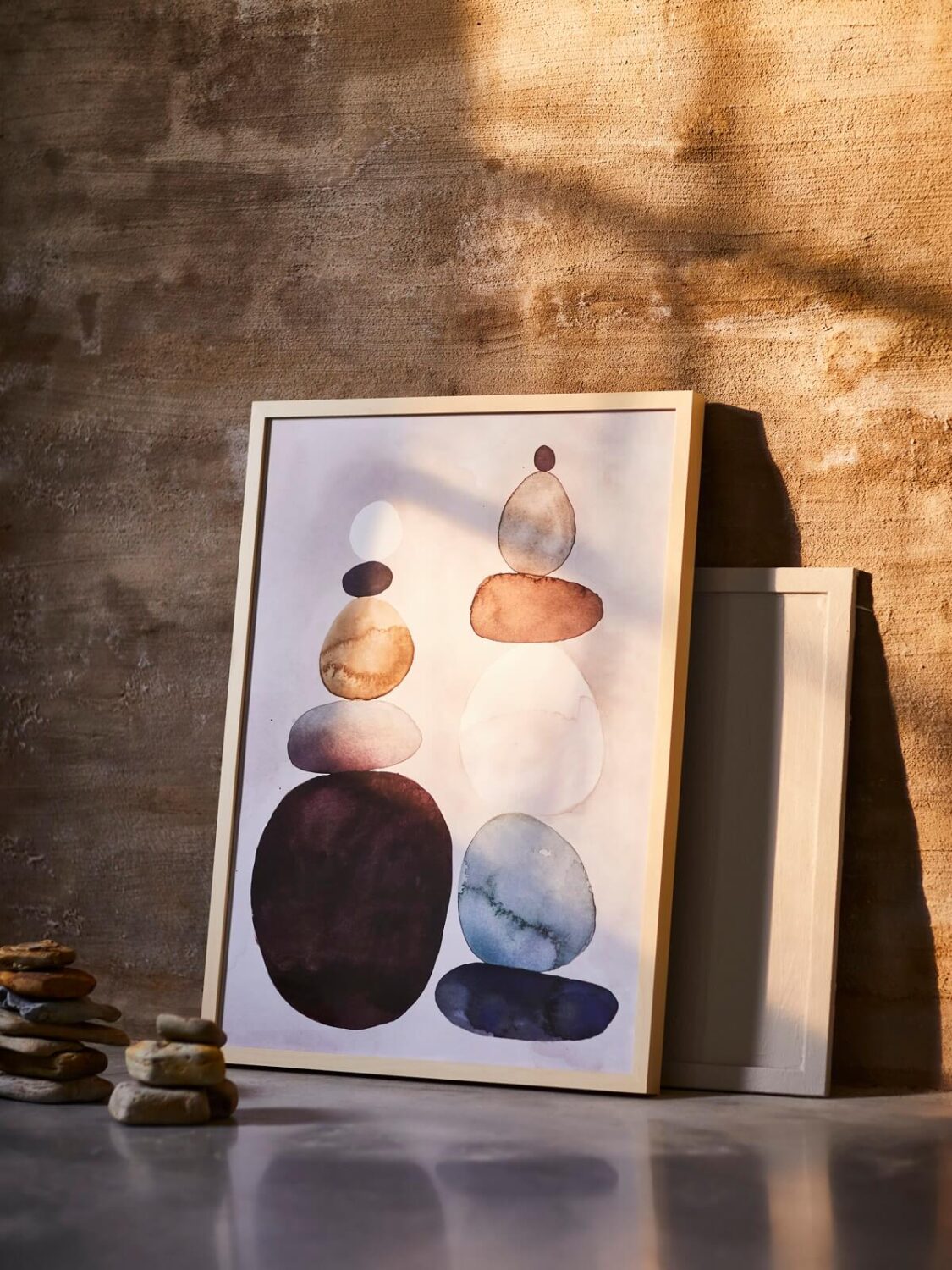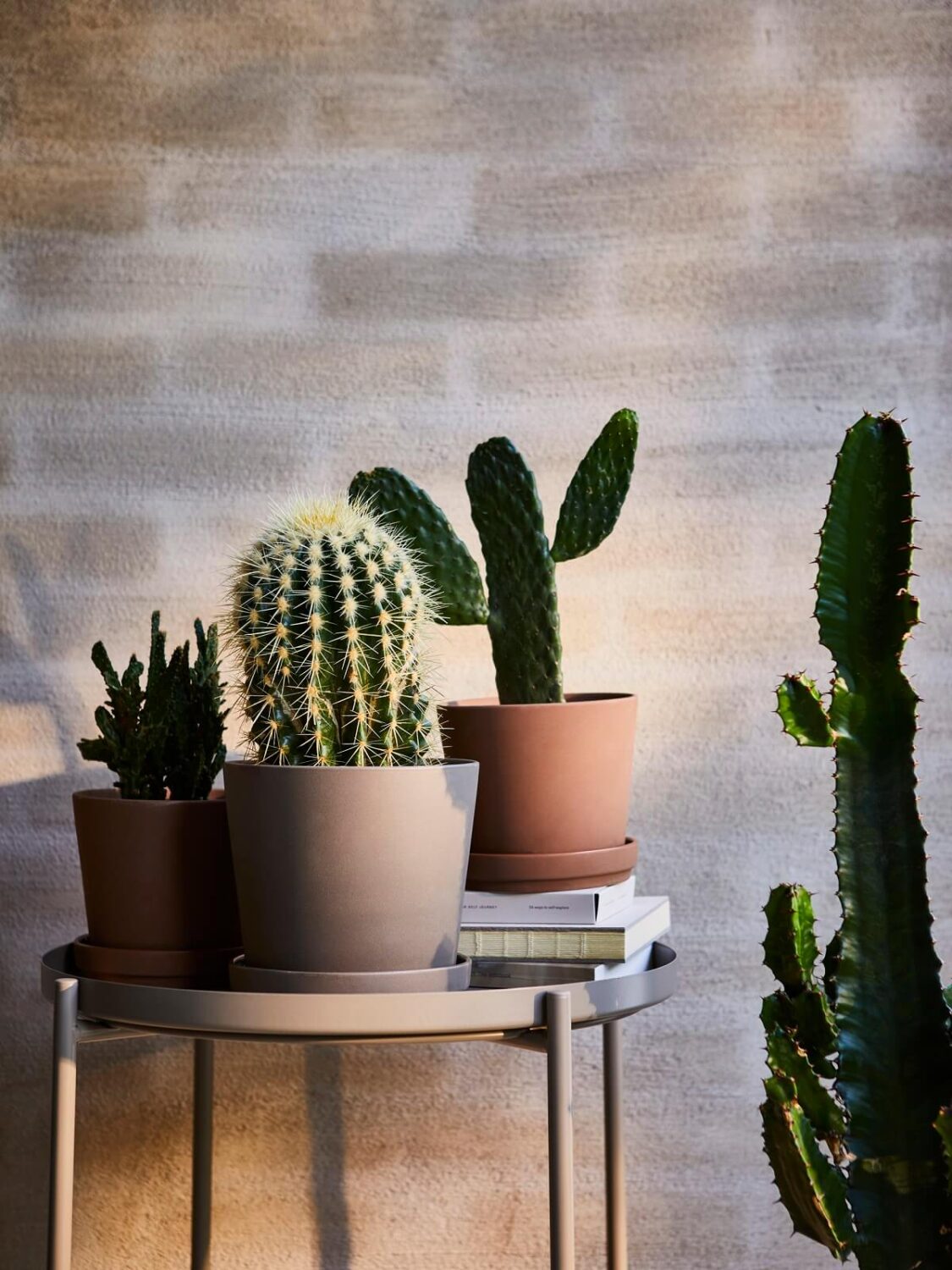 Designed by Ilse Crawford, the new stoneware KLARBÄR plant pots with saucer can be used indoors or outdoors and feature a matte finish and pigmented glaze containing chamotte for a slightly coarser, raw texture.
OLSERÖD is designed for smaller homes where you have limited space and you really need to use the furniture you have to the fullest.
The Early Bird
When the first light is just breaking, and you step outside and spot those perfect morning dewdrops.. this is all about capturing that moment. The air is fresh, and the sun hasn't yet warmed up the day. Before the rest of the world has woken up, cozy textiles like HUMLEMOTT and VINTERIBERIS, featuring a print by Emma Prowse, are there to welcome you to these crisp, early mornings.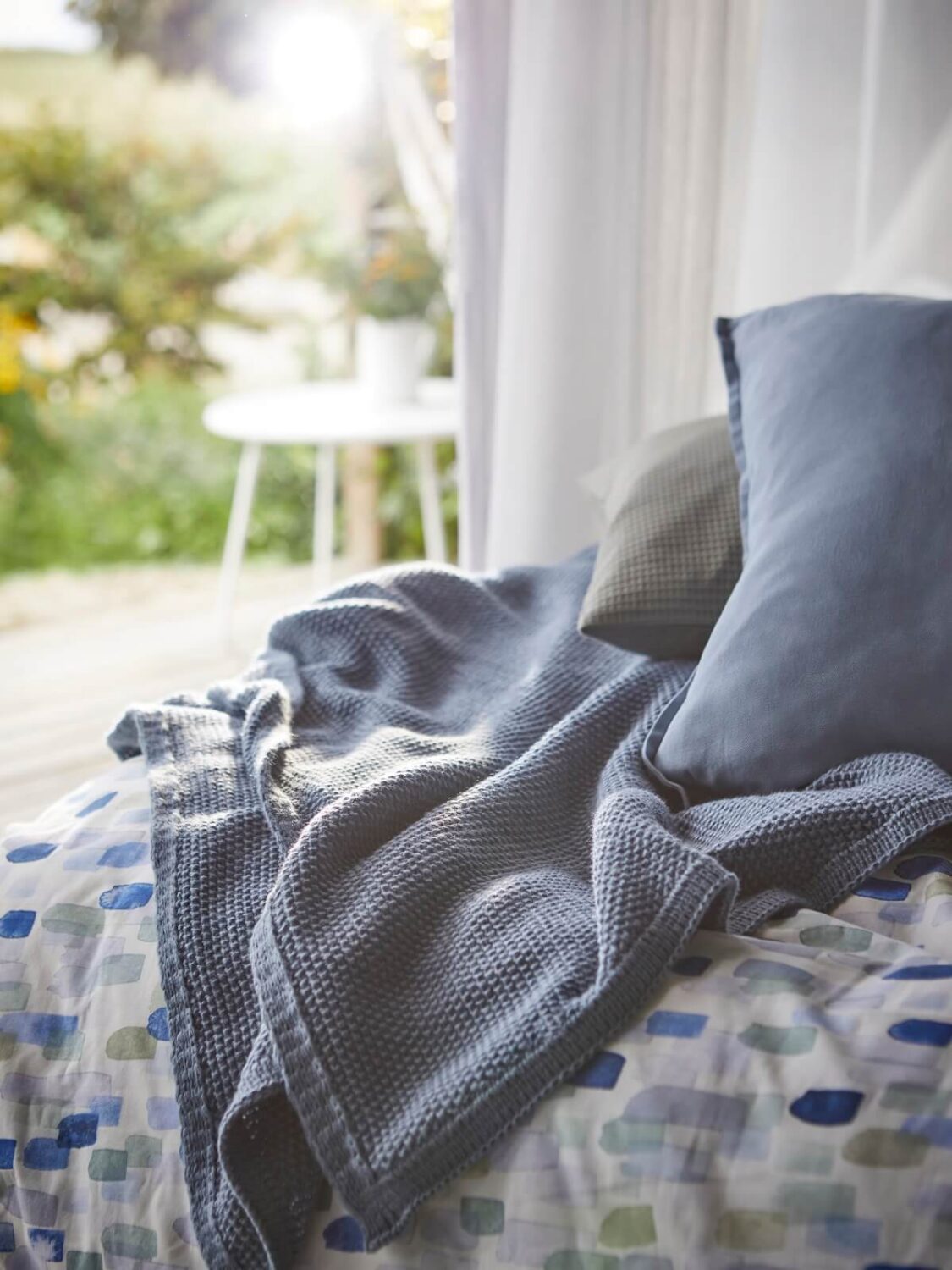 Flexible, multi-tasking pieces such as the new ÖVNING trolley are your helping hands on early mornings. Whether you use it to move, store, show off or simplify your belongings, it's all about making life easier.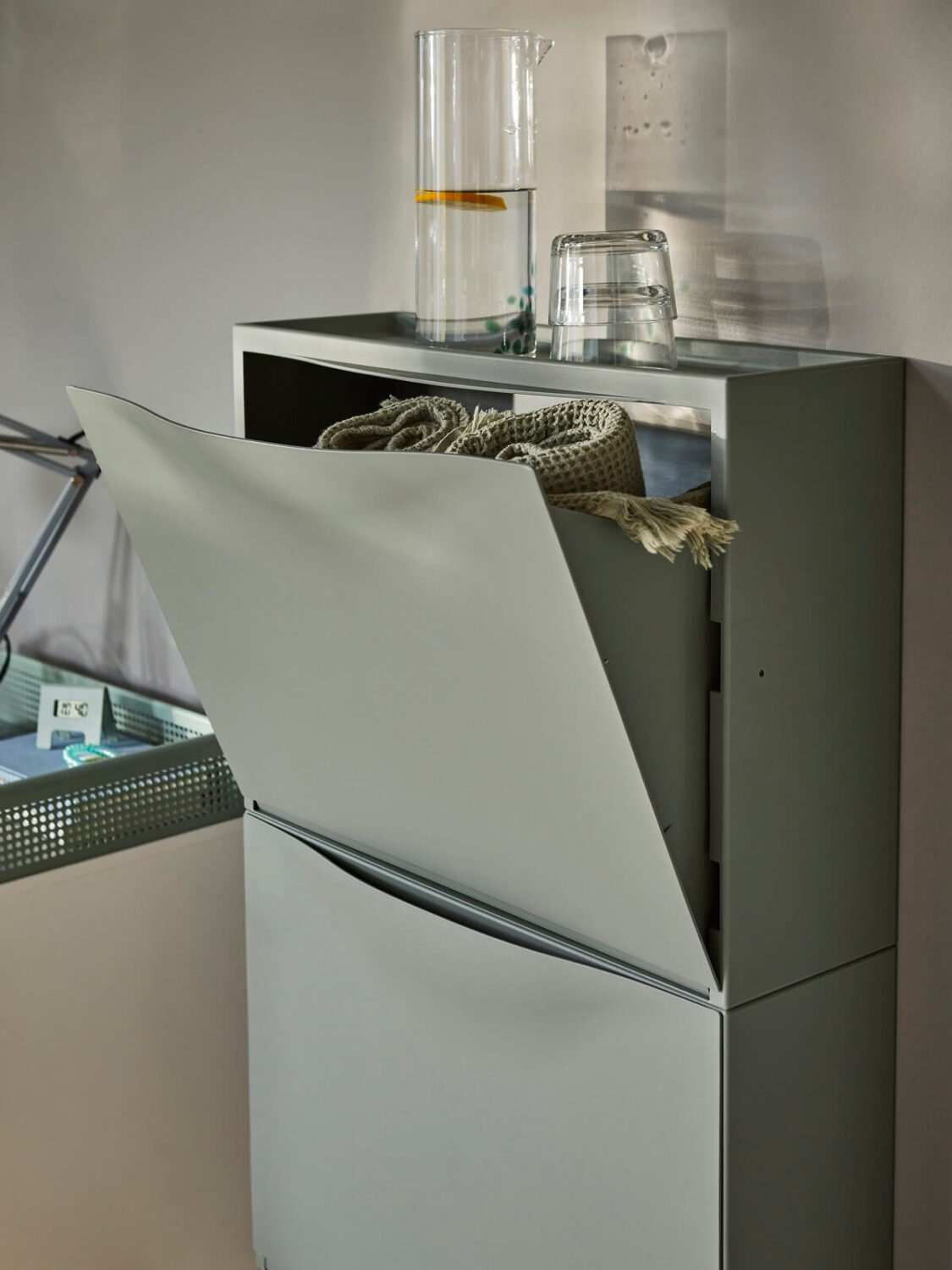 The EKRAR hat and coat stand, TRONES shoe cabinet and GREJIG shoe rack all come in a new, grey-green colour that's subdued and stylish – a simple way to bring a natural hue into your home this season.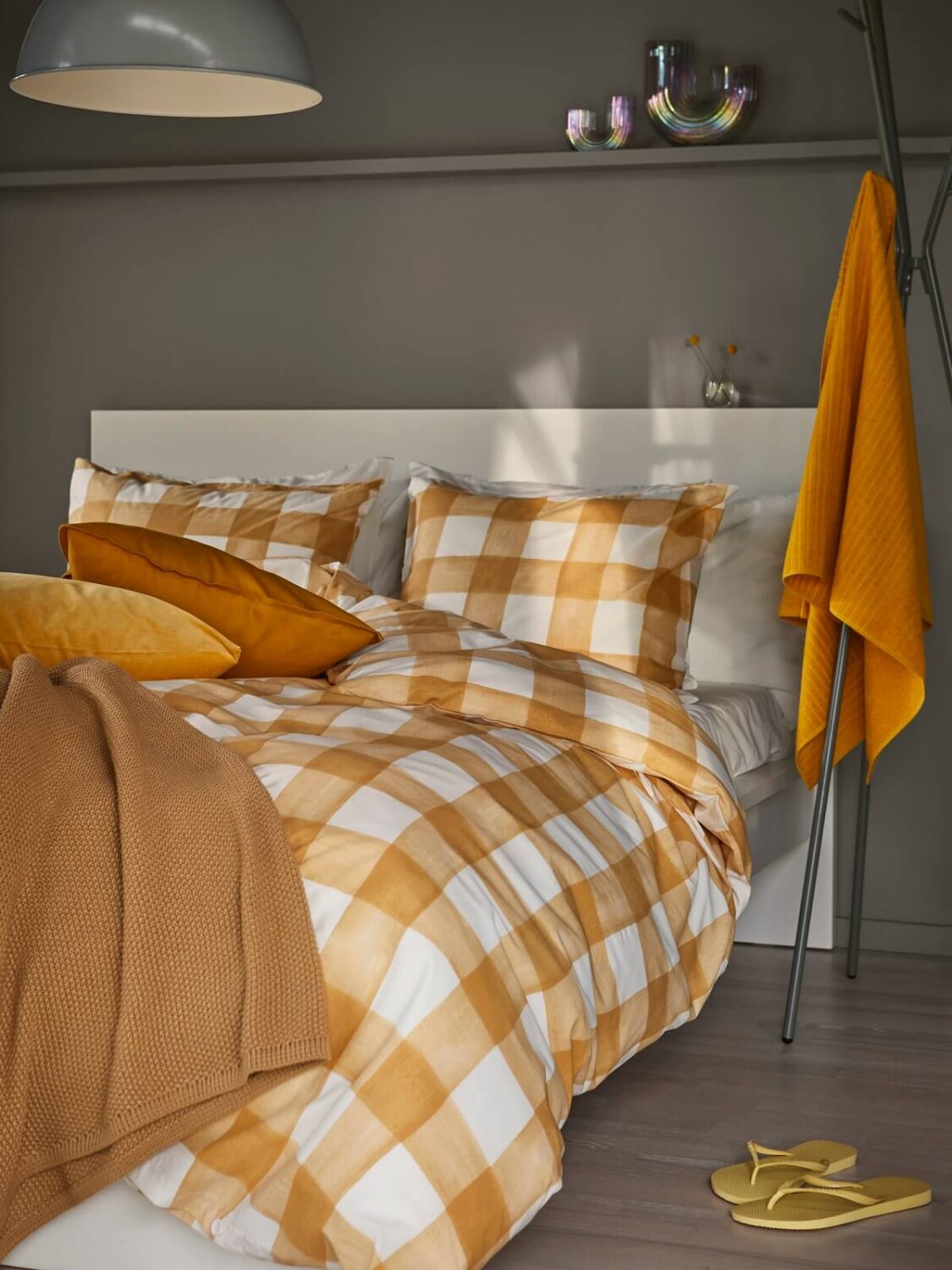 Harmonious Neutrals
There's something wholesome, nostalgic, and comforting about neutrals. Perhaps it's in their honesty – no hiding behind flashy hues of shouty graphics – but there's no denying their calming, harmonious effect.
This style expression is all about capturing this, showcasing the softness and simplicity of neutrals, highlighting the quality and beautifully crafted tactile products, and celebrating traditional elegance and sophistication.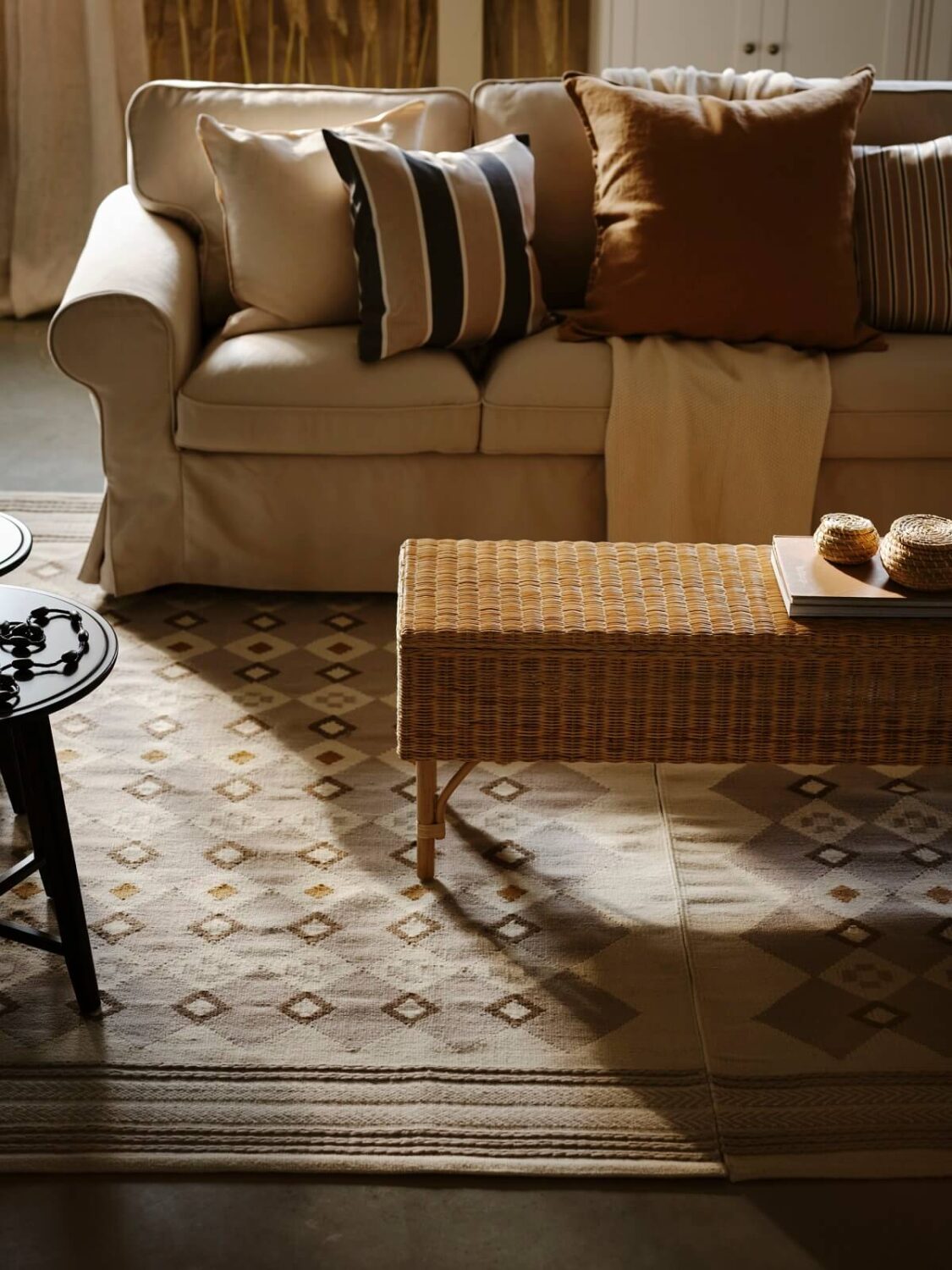 A Natural Way of Being
At the end of a long day, there's nothing better than settling in and lying back amongst natural fibers, calming colors, and handwoven textures to wash away the worries of the day.
Beige and soft cream tones are never, ever boring, especially when they're paired with materials such as raffia, jute, and cotton. From the elegant anthracite and beige stripe of the new KORALLBUSKE cushion cover to the sophisticated lines of the solid wood PERSBOL chair, neutrals are, quite simply, gorgeous.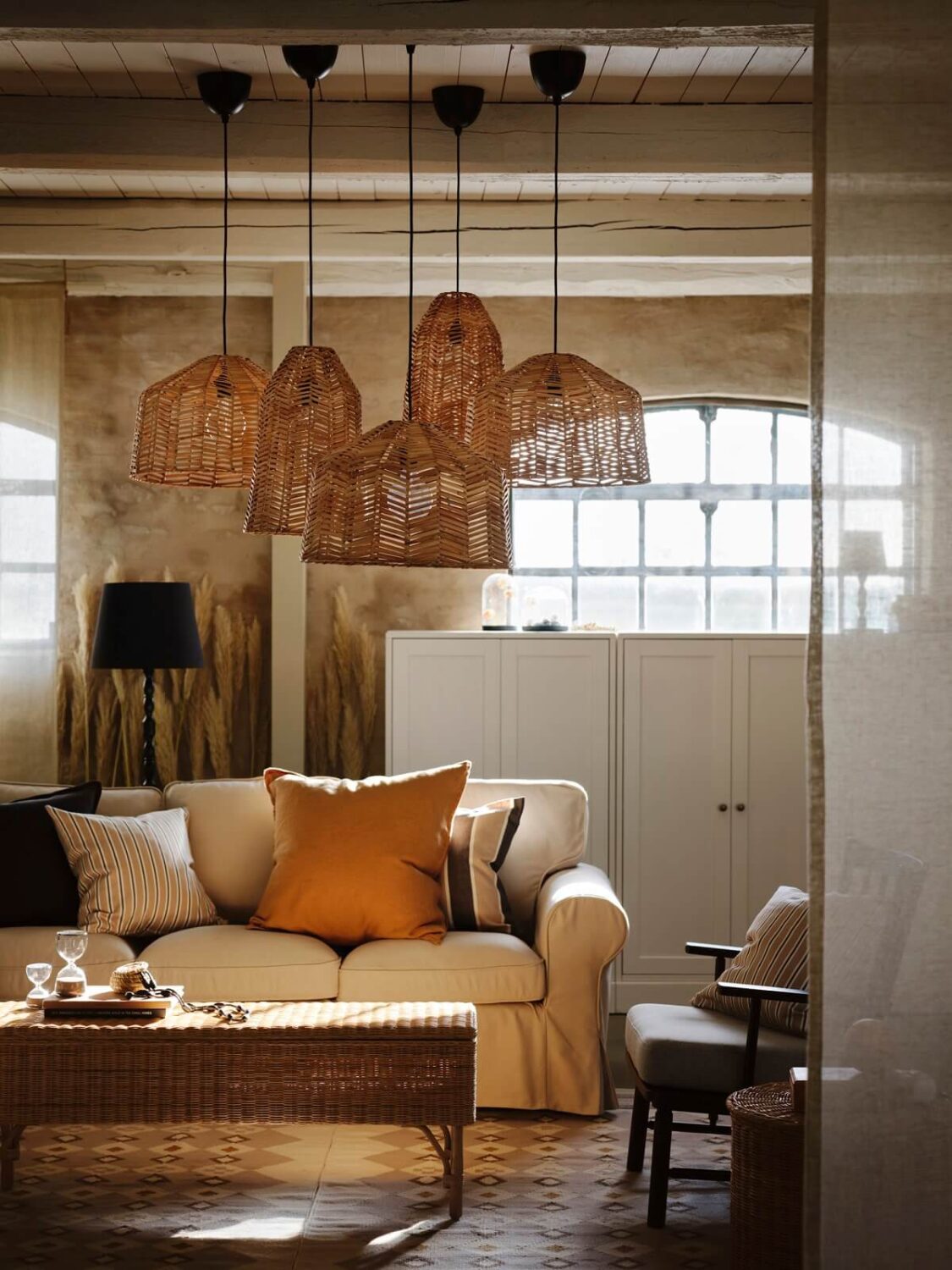 Handmade from natural fibres, KAPPELAND pendant lamps add a warm and welcoming
touch to any room.
Dress up any space with the VÄGNÄT rug, which is handwoven from dirt-resistant wool, making it suitable in either the living or the dining room. Its traditional pattern is finished with beautiful decorative borders.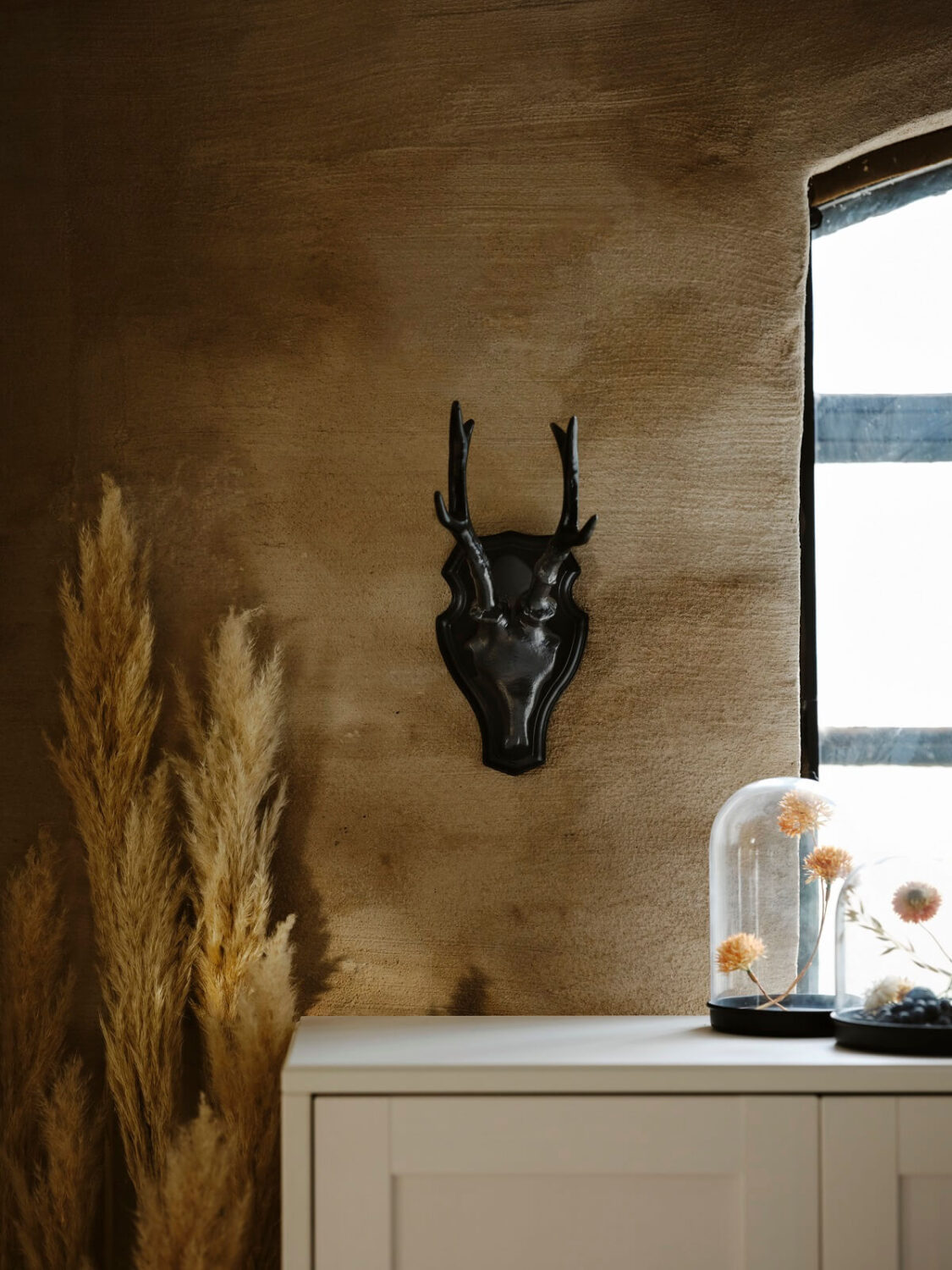 The new GÅRDSTÅNGA wall decoration is a traditional piece with a playful twist and can help elevate any room from basic to beautiful.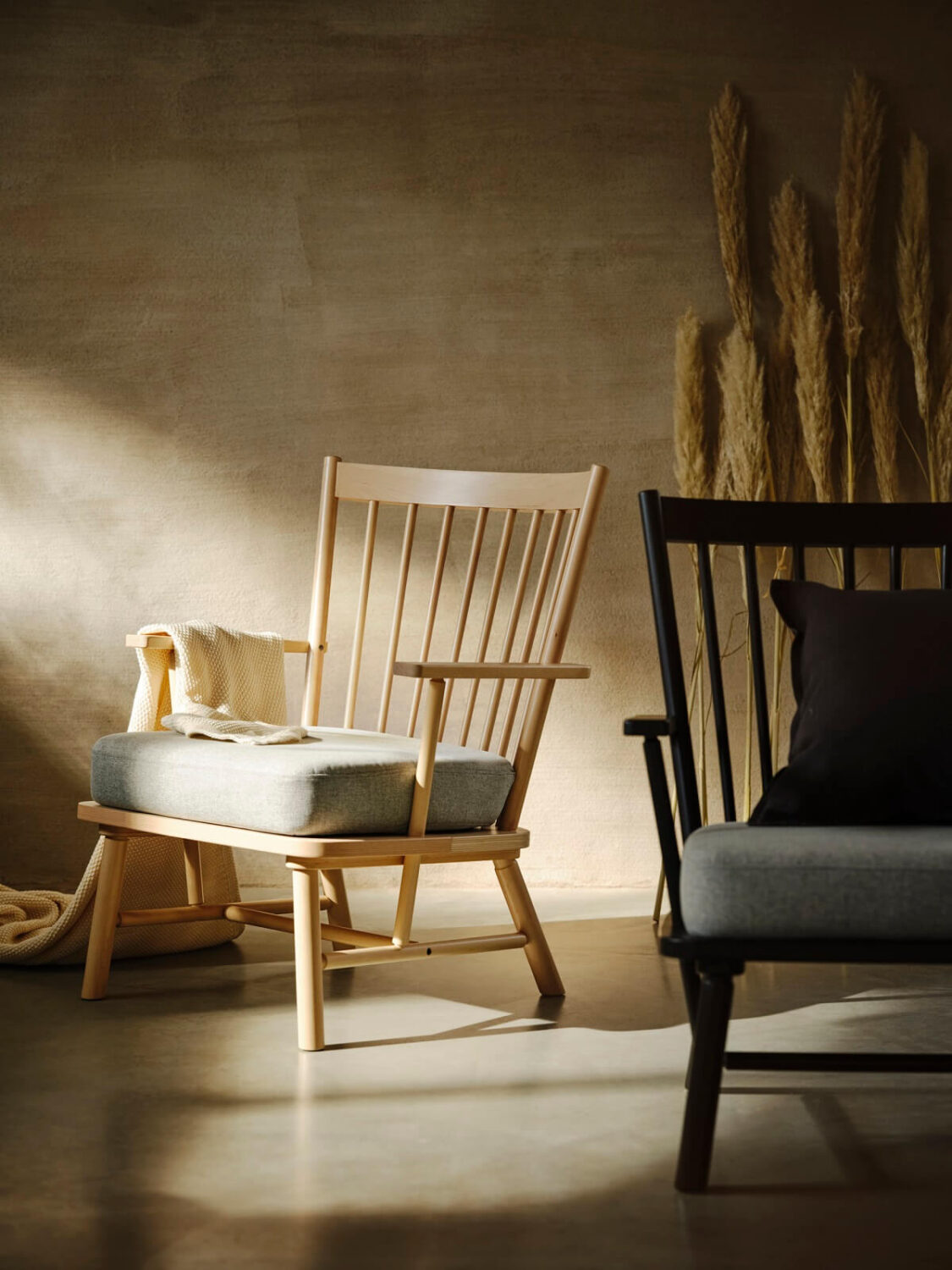 The new PERSBOL chair is the perfect place to kick back and relax. Made from solid wood, with a beautiful, traditional Scandinavian look that creates a sense of familiarity, it is a timeless piece that speaks of true craftsmanship.
Whether you're spending time with family or enjoying some me time in the afternoon sun, the PERSBOL spindle armchair will get more beautiful with time. The visible grains of the solid wood construction give it an artisanal, warm and genuine feel.
Flower O'clock
A good print or pattern deserves to be seen, and the new IDALINNEA and SVÄRDKRISSLA cushion covers, PJÄTTERYD framed artwork, and slipover for the STRANDMON wing chair and footstool showcase this season's newest florals.
The bottom line? Mix and match black and white florals for a maximalist look that's still elegant, calming, and cohesive.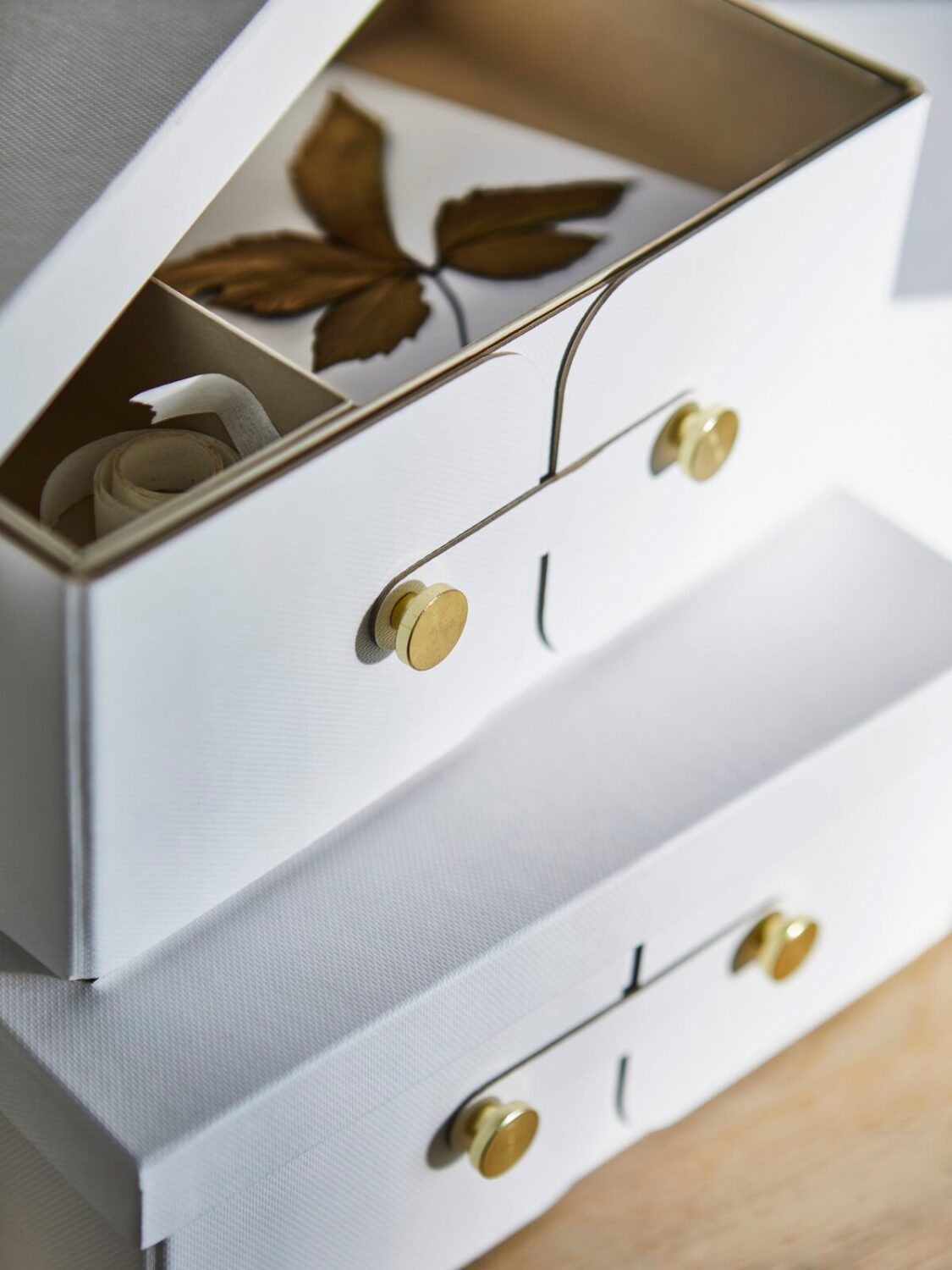 Whether you show them off or keep them hidden, the new SPINNROCK stackable boxes give you lots of options – and will keep anything and everything well organized.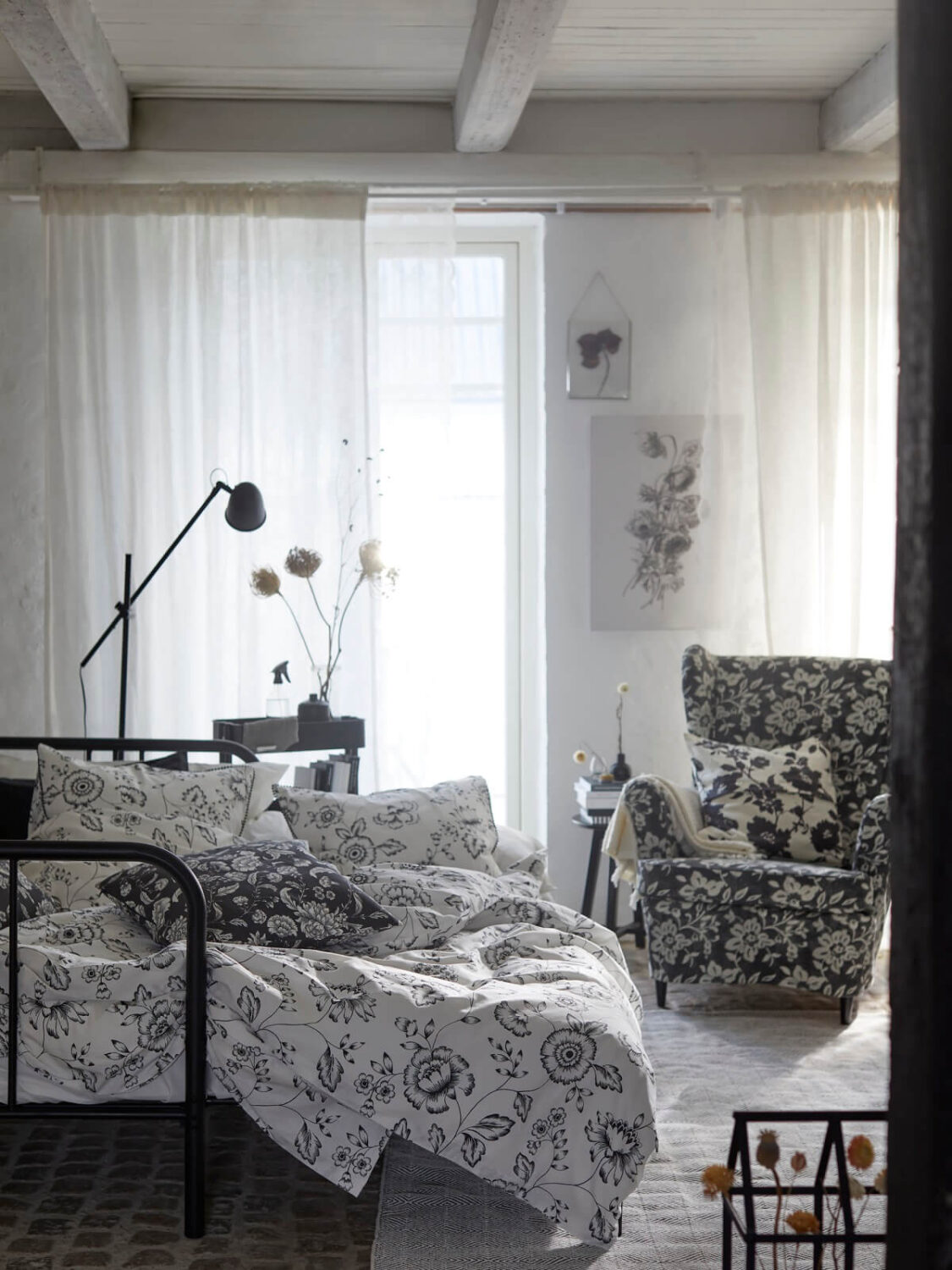 The JUNGFRUNÄVA duvet cover and pillowcase set are an elegant way to bring florals to your bedroom. Add a new slipcover for the STRANDMON wing chair and accessories featuring monochromatic florals for a complete look.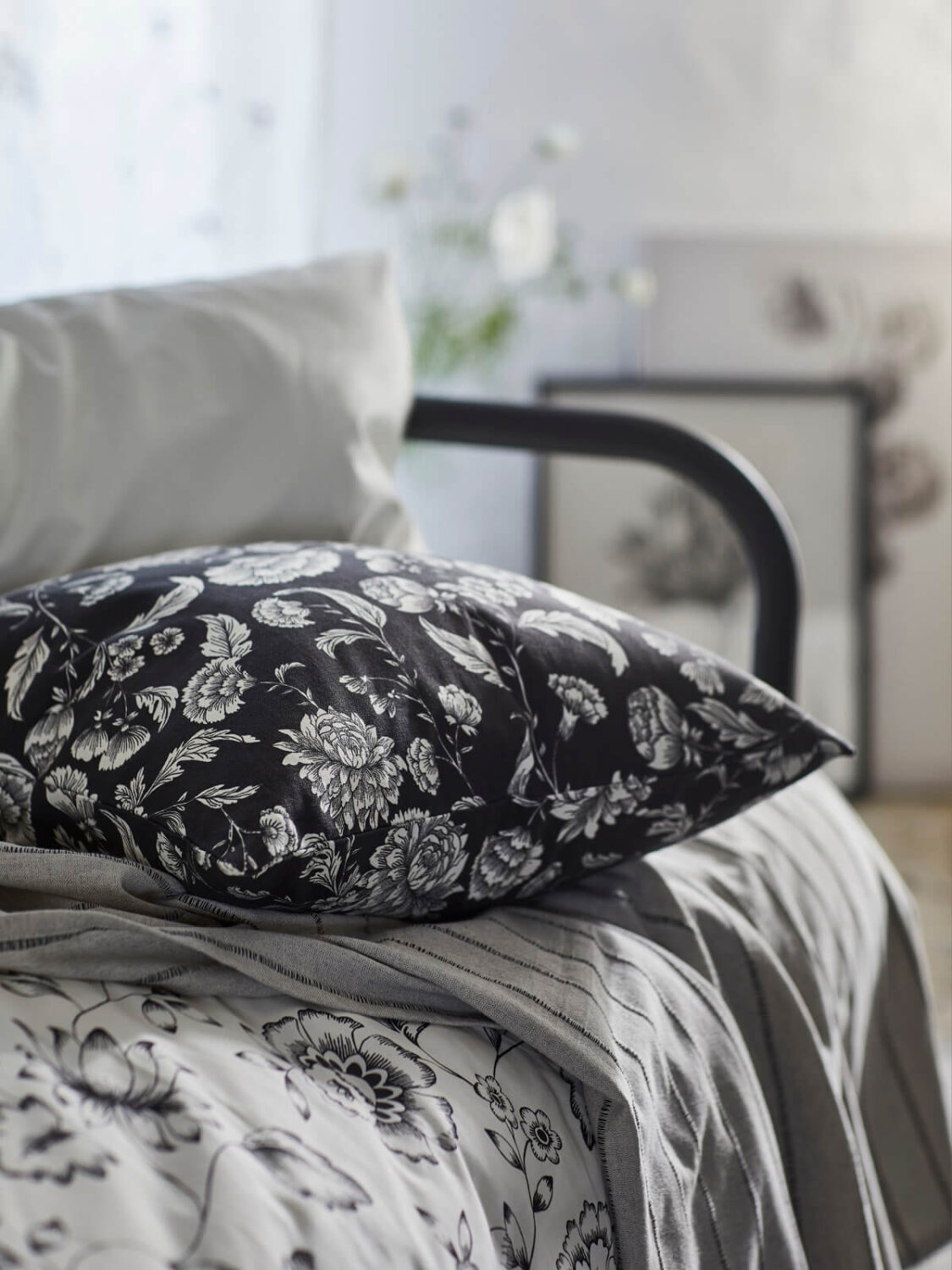 Steam Rising
Like the atmosphere after a rainshower, there's something magical about the steamy, misty effect that lingers. Droplets of water hover in the air, glistening in the light, making everything look more beautiful than ever.
Easy living is achievable with small updates and storage solutions that are as practical as there are beautiful. Think of the portable, waterproof VAPPEBY speaker, BLECKSJÖN shower hanger, and the chic, striped SVARTSTARR shower curtain.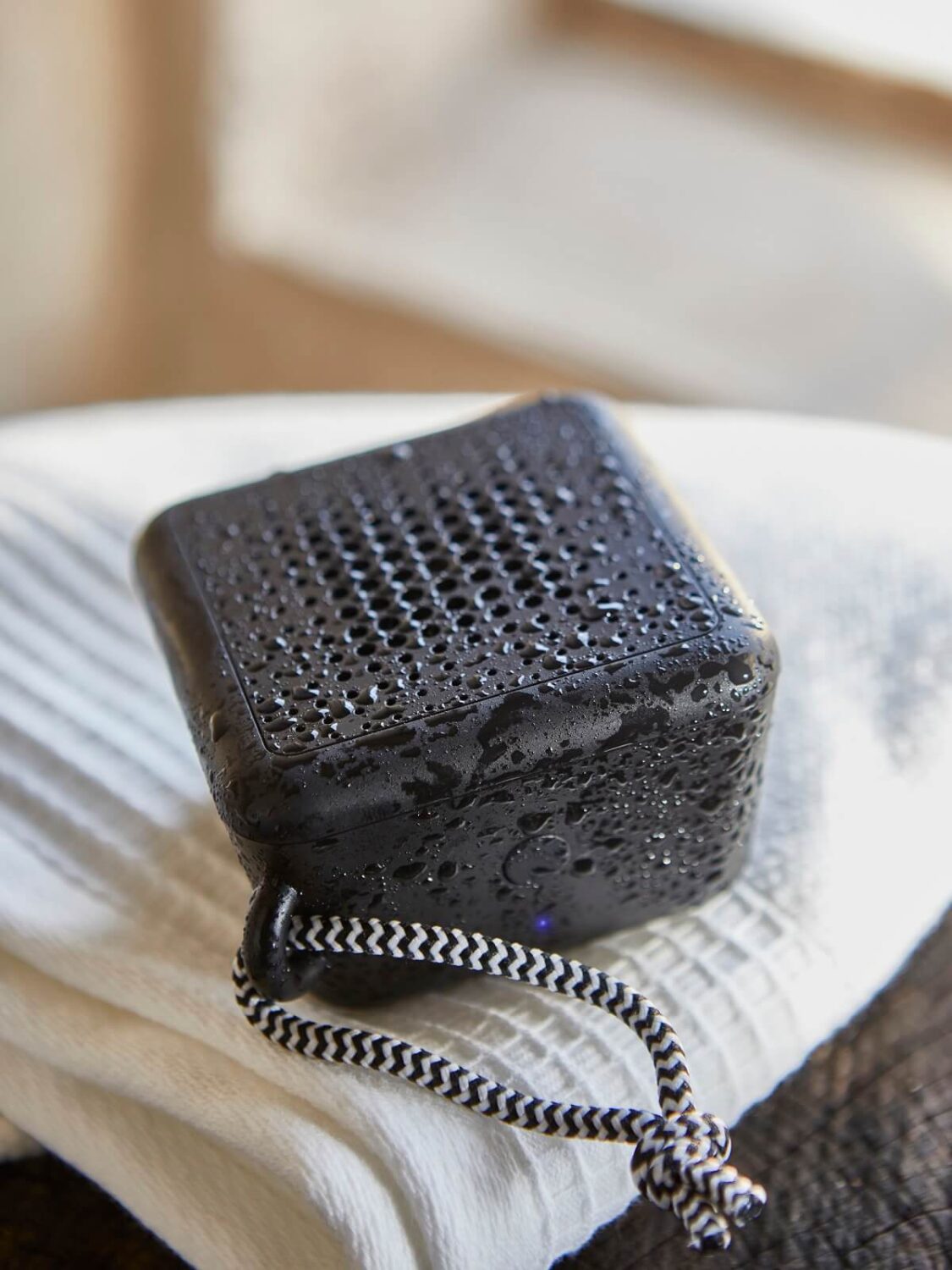 Versatile, portable, and always ready for anything: the new VAPPEBY speaker is the best friend you never knew you needed. Keep it nearby, whether you're in the shower, at the gym, by the pool, or relaxing at home.
Stay up to date with the latest IKEA collections in the IKEA Catalog and News post from The Nordroom