A Tiny Pied-à-Terre in Paris by Corpus Studio
There is nothing better than opening your email and finding a beautiful new design project in your inbox. This week, Konrad Steffensen of Corpus Studio, send me this wonderful Pied-à-Terre in Paris, and you will love it!
Architects Konrad Steffensen and Ronan Le Grand of Corpus Studio have completely remodeled this 32 square meter apartment in Paris. And it's now a stylish and functional Pied-à-Terre for their London-based client.
The existing layout of the apartment was unpractical with several tiny rooms. To make the most of the limited space, all internal walls were demolished and a new design plan was created by the architects of Corpus Studio.
All built elements are pushed to the apartment's extremities. Freeing up the living area for entertaining and avoiding corridors. The L-form layout is used in each corner: eating and lounging by the large windows, and cooking and storage on the opposite side.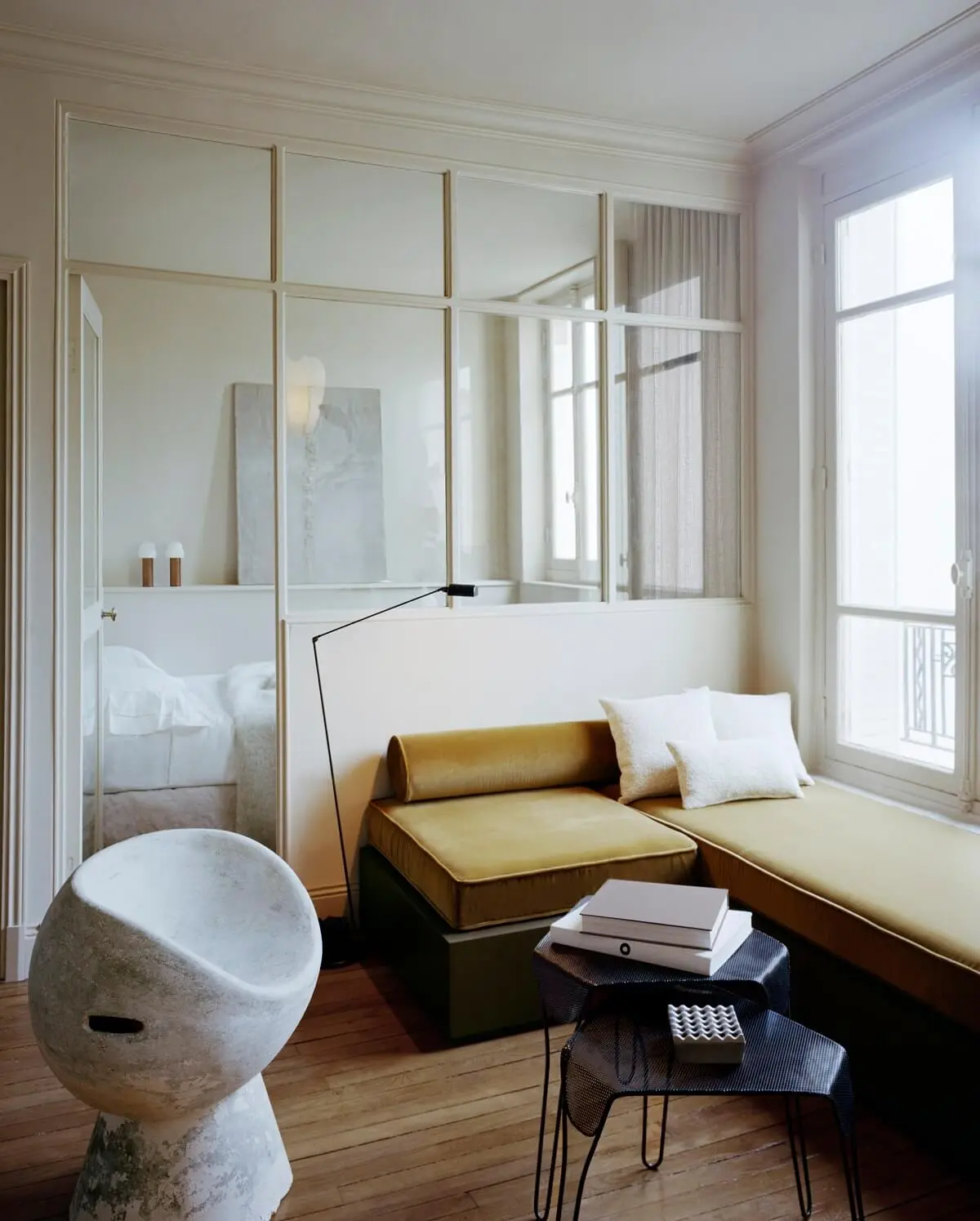 Custom made built-in velvet benches are placed under the large windows. These look out over a green square.
The Nero Marquina marble table was found at the Paris flea market. The dining chairs are Pelleossa Chairs by Francesco Faccin from Miniforms.
Burnished brass captures the light and lightens up the darker corners in the apartment.
On the back wall of the apartment they installed these custom made cupboards. The cupboards are floor-to-ceiling to make the most of the ceiling height and add plenty of storage.
These cupboards also hide technical equipments such as a washing machine, dryer and ironing board. The vertical grooves in the doors accenturate the height of the room.
Take a look at these Paris apartments:
A wood framed glass partition seperates the bedroom from the living area. The glass helps to make the spaces as bright as possible, but it also makes the tiny apartment feel more spacious.
The bedroom is more a bed niche than an actual bedroom. But it is big enough for a double bed. A ledge next to the bed creates a little extra storage space. And it's the perfect spot to place some artwork.
The interiors is a mix of vintage finds (from the Sain-Ouen flea market in Paris), design pieces from the second half of the 20th century and some contemporary items. This creates a stylish, eclectic look.
The terrazzo bathroom has 2 niches that can be used to place your soap. Shower niches are a great way to add storage in a small bathroom. For more small bathroom tips you can take a look in this blog post.
Thank you, Ronan & Konrad of Corpus Studio for sharing this project with The Nordroom. (photography by François Coquerel)
Would you like to share your project? Then you can send an email.