A Beautiful Swedish Country House with a Large Garden
Villa Björkdalen is a beautiful early 20th-century country house in Sweden with original features and a large green garden. While most houses in Sweden are red, this fairytale country house is painted in a cheerful yellow shade.
The spacious family home is bright and well looked after and features original elements like glass verandas and mouth-blown windows with sashes. The historic home shows the perfect blend of historic character and modern comforts.
The room layout is based on the classic six-part floor plan that became common in Sweden during the second half of the 19th century. The two floors feature spacious and light rooms that are perfect for a family.
Villa Björkdalen hasn't always been a family home. Since its construction, it has also been a small private school and a vicar's residence. It retains much of its original character, both interior and exterior. The windows are original and joinery such as wall panels, doors, linings, and plinths are preserved.
The kitchen has been renovated in 2022. The walls have been repainted and the kitchen was site built using reclaimed materials.
The kitchen features one of two original cast iron stoves.
The worktops and skirting are made of warm gray stone composite and the walls are covered with pearl pontoon.
The kitchen has a porcelain sink and brass fittings. From the window, you have a lovely view of the large garden.
The formal dining room is a magnificent room with a paneled ceiling in walnut wood.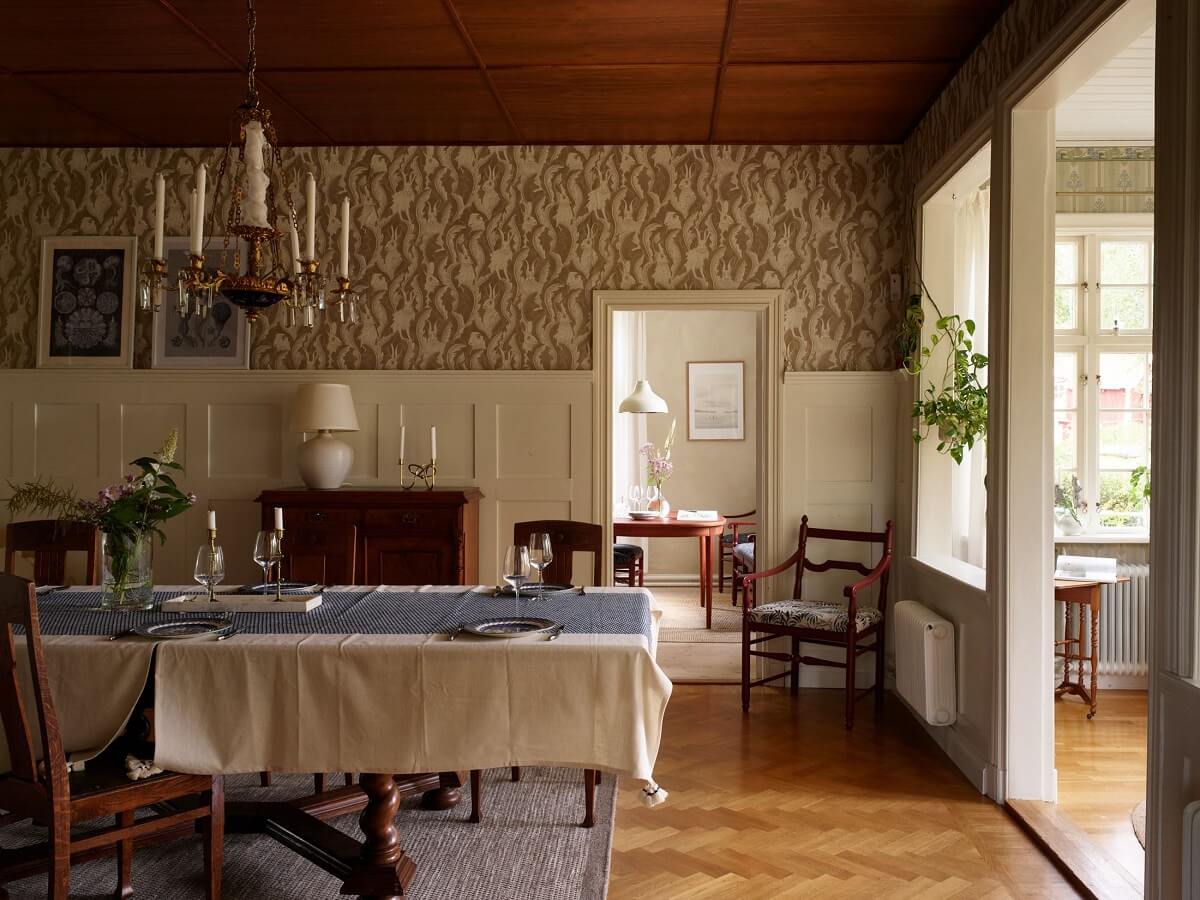 The room's walls are paneled (not original) and wallpapered with Emma von Brömssen's wallpaper Hares in hiding. 
The living room downstairs is a blue room with blue sofas and wallpaper combined with a herringbone parquet floor.
The hallway is fit for a family with a custom storage cabinet that stores all the shoes.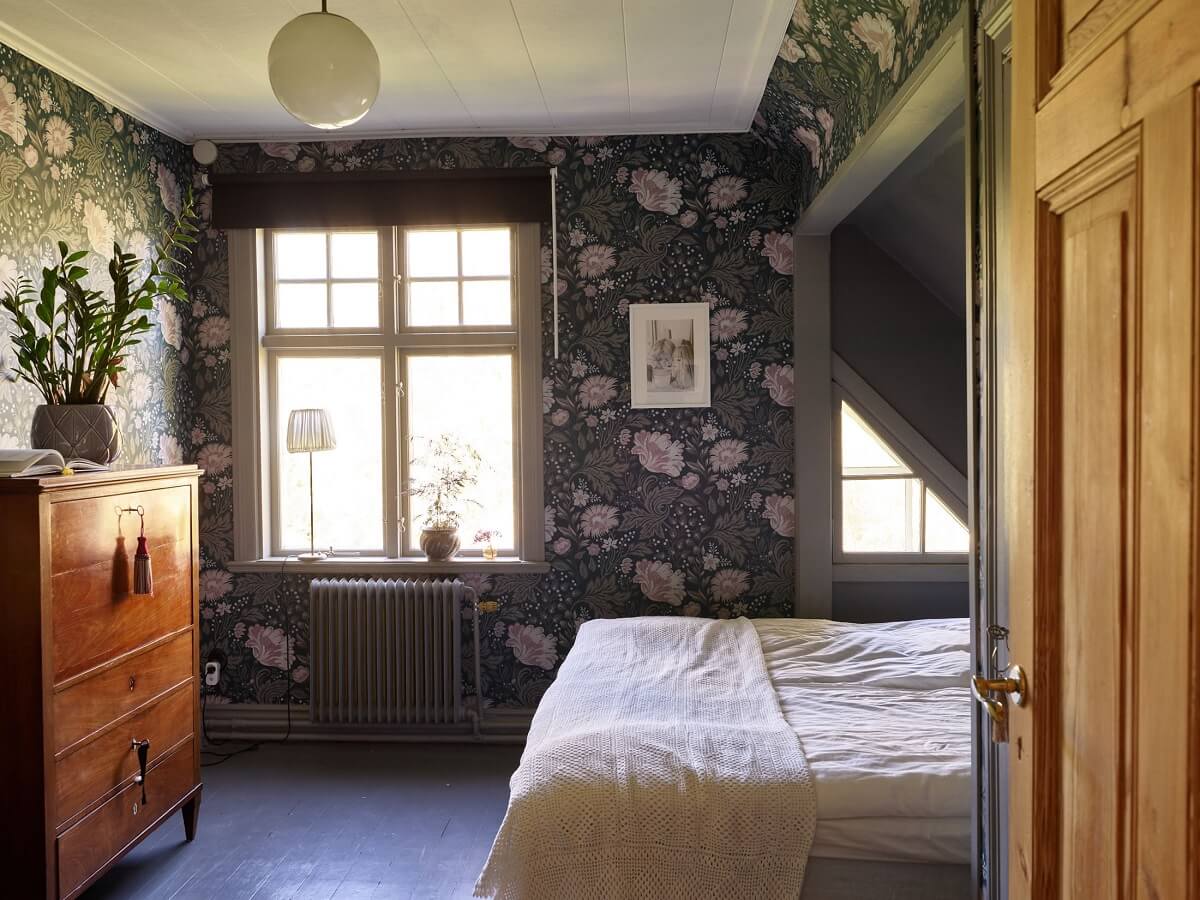 The parent's bedroom is a cozy bedroom with dark floral wallpaper (Ava Dark Blue by Sandberg Wallpaper).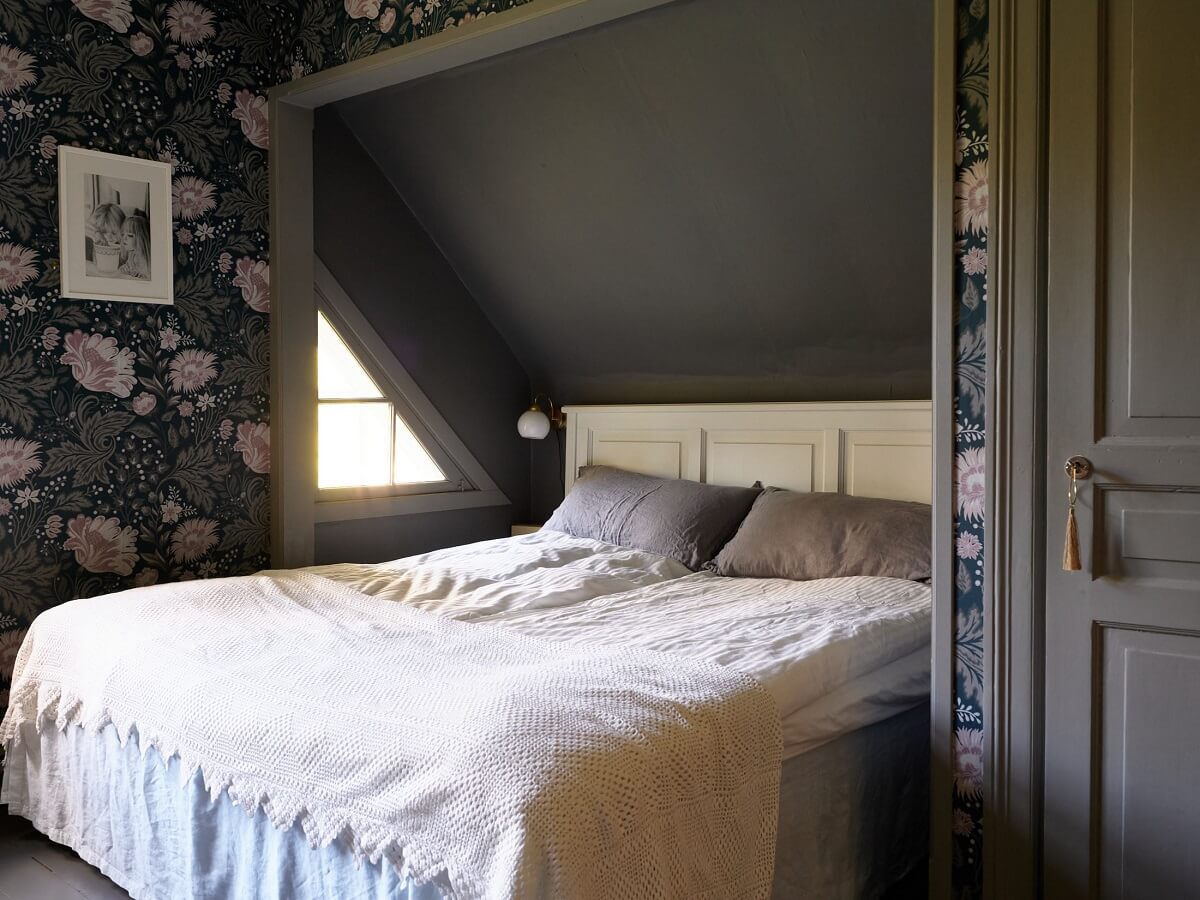 The largest bedroom is now a double kids's bedroom with Carnation Garden wallpaper from Boråstapeter.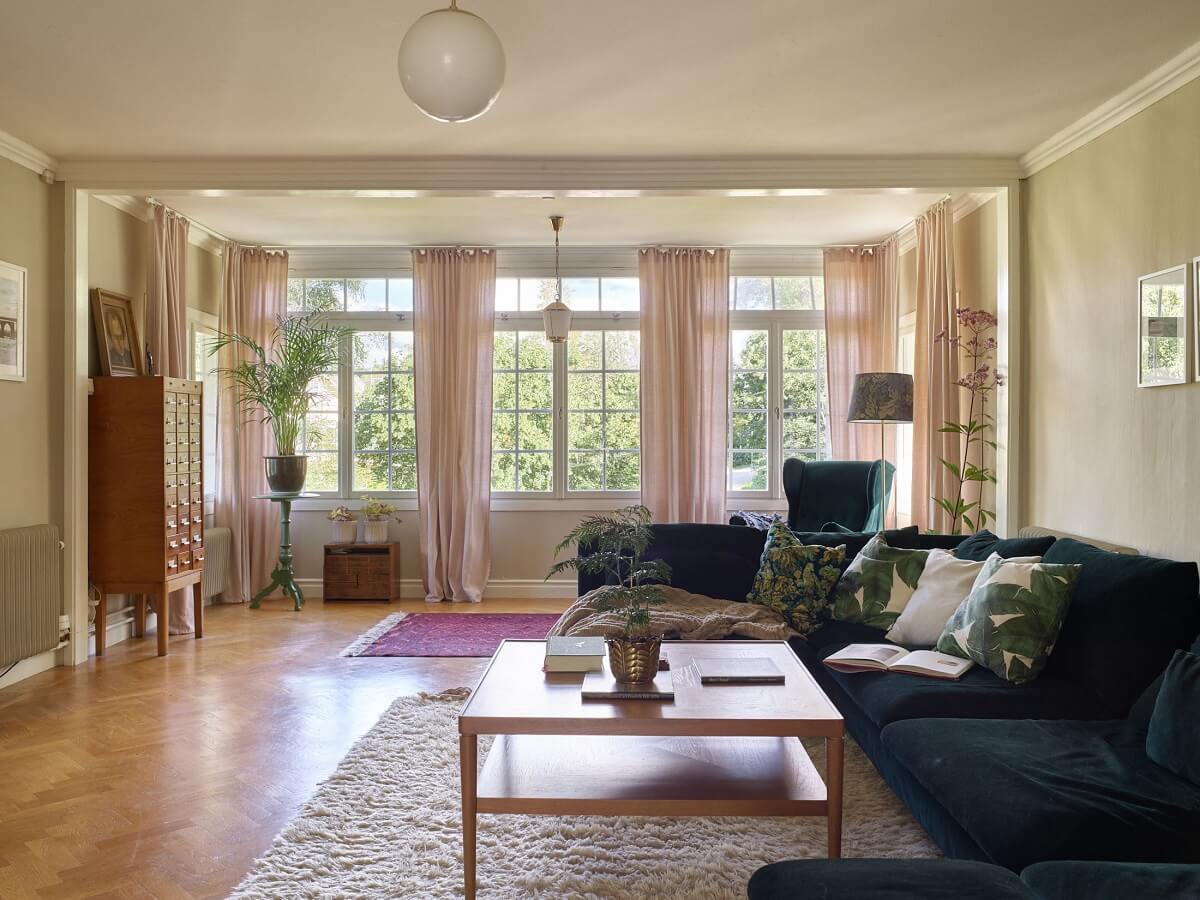 The middle part of the upper floor has a large room that is used as a living room, TV room and studio.
The bathroom is a dreamy space with light pink walls and white subway tiles. On the floor lie tiles with a wood look in a herringbone pattern that adds warmth to the space.
The bathroom has a shower with white tiles and niches that store all your shower products.
Under the slanted ceiling they created a clever spot for the washer and dryer.
Around the house is a 3471 square meter park-like, diamond-shaped and slightly hilly garden.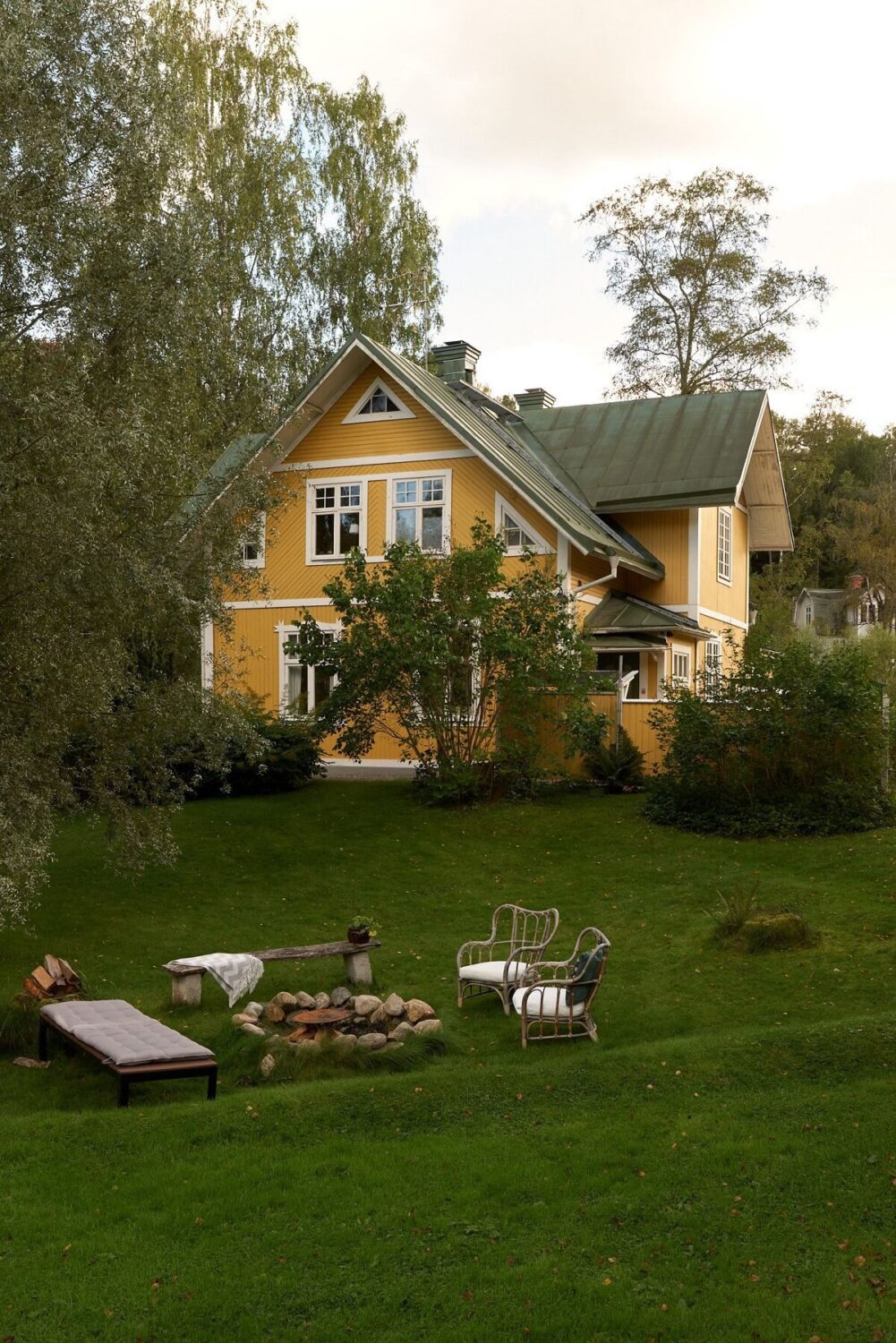 A stone-paved patio with a pergola is located next to the house and outside on the lawn there is a built-in fire pit.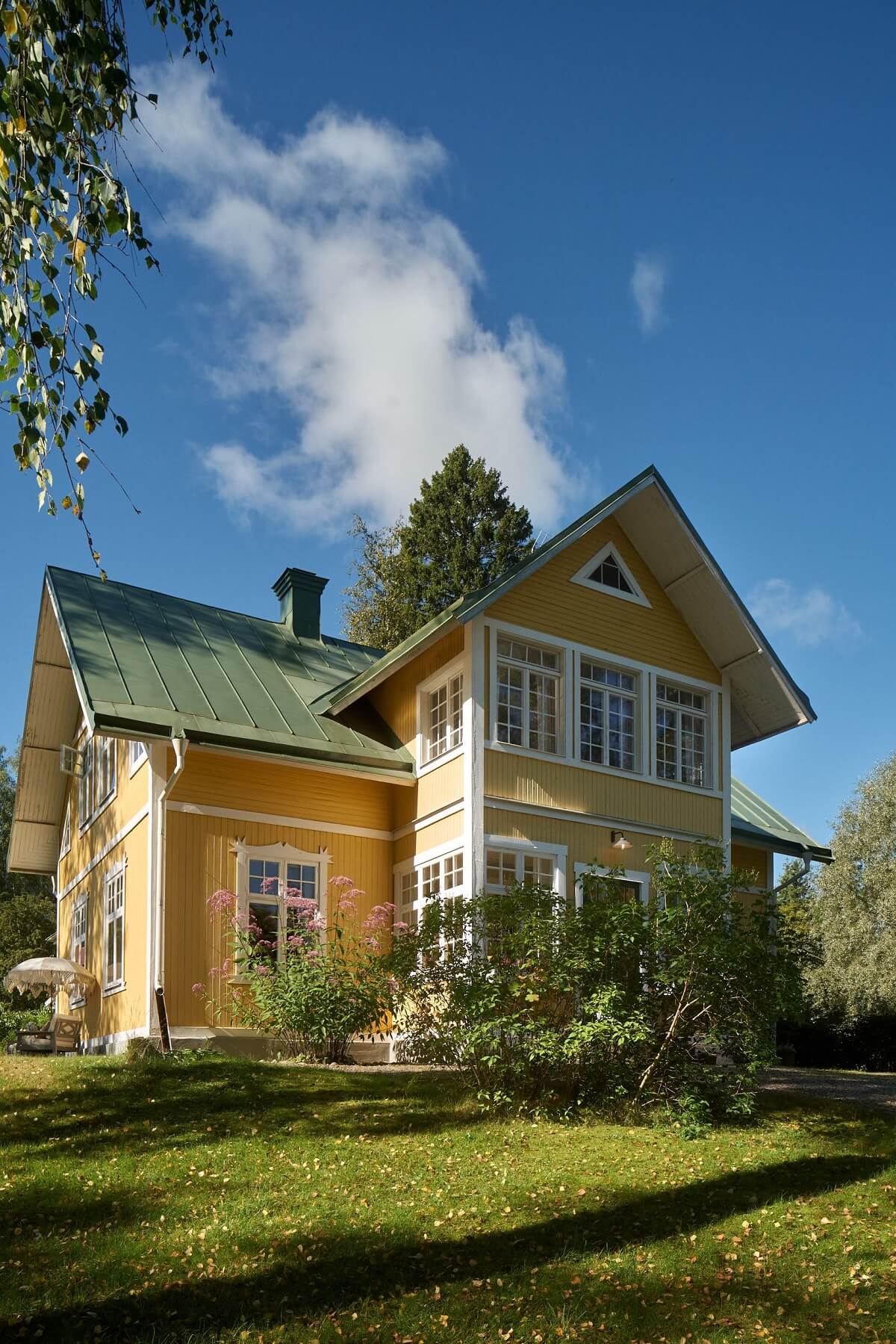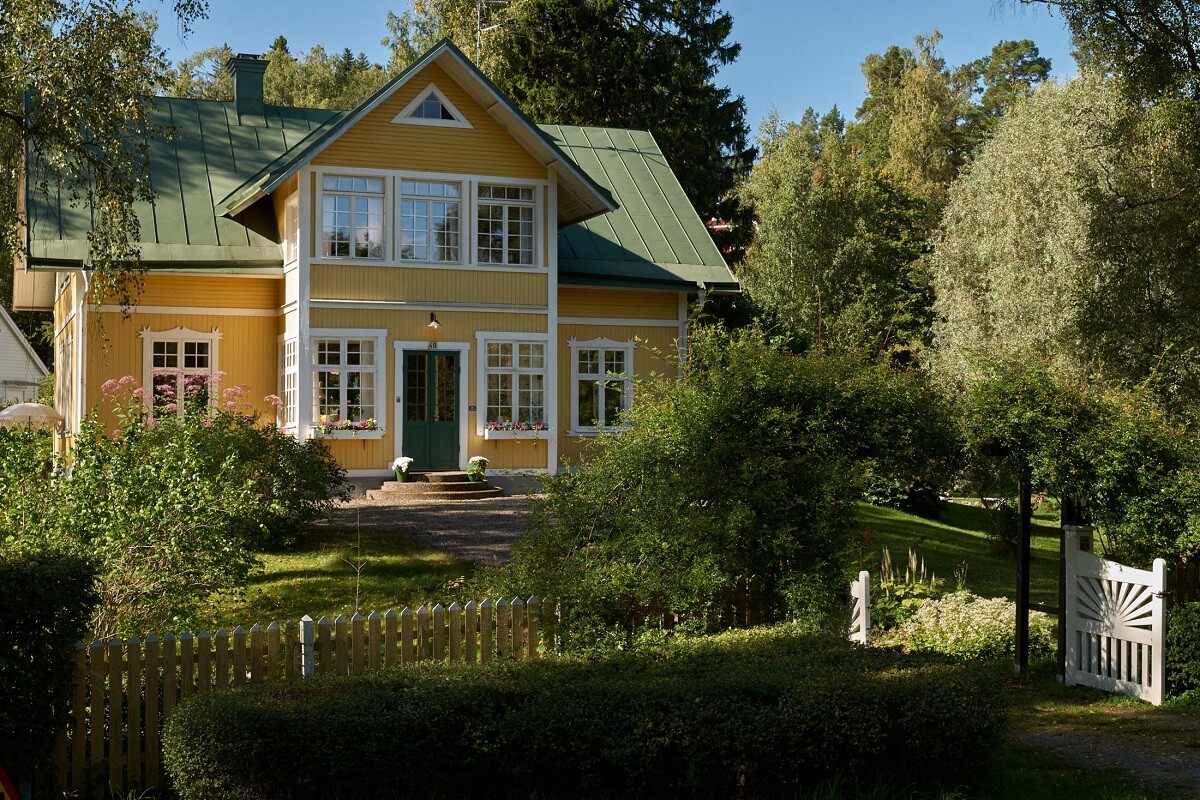 styling by Copparstad and photography by Boukari for Historiska Hem