The Cabin by The Hunter Houses
I am super excited to show you The Cabin by The Hunter Houses. The Hunter Houses was created in 2016 when Ely & Danielle, a married couple in their 30s, bought and The Greenhouse.
The house wasn't in good shape but with hard work and a lot of creativity, they turned it into a stunning home.
Fast forward to today and Ely & Danielle have remodeled three houses, that you can all rent on Airbnb. And The Cabin is their latest renovation project.
2,5 hours north of New York City you will find tiny hamlet called Maplecrest. Here stands the secluded two bedroom cabin that Ely & Danielle have carefully renovated.
The cozy and romantic cabin is a secluded haven, where you can recharge and spend quelity time with your loved ones. Let's take a look!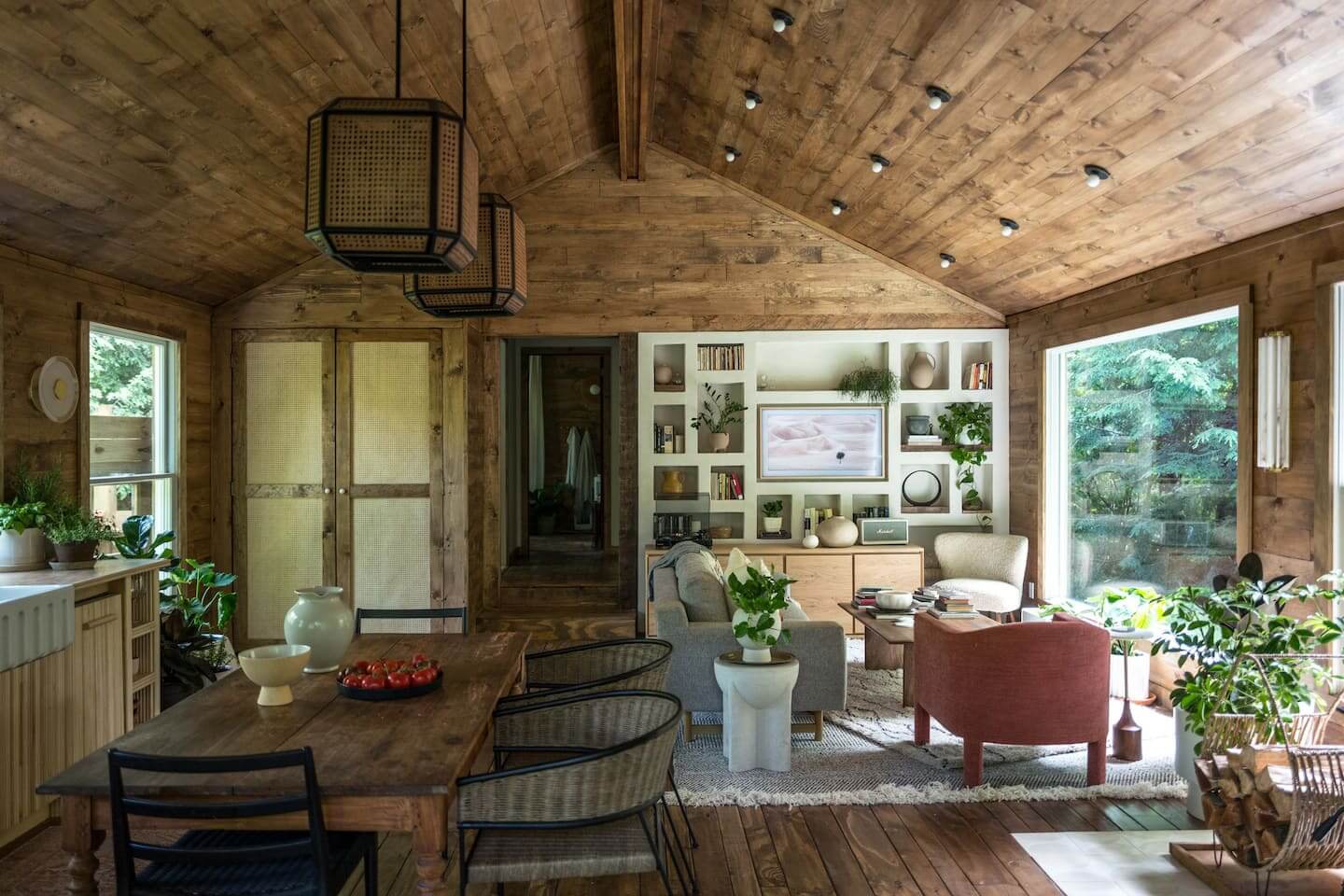 What a view! With a large window they bring the surrounding nature indoors.
The 1930s cabin has that true cabin vibe. With wooden walls and ceilings and a woodburning stove for warmth and a cozy feeling.
A wonderful unique feature wall with storage and space for the television. This way, the modern tv doesn't stand out so much in the rustic cabin.
The fully equiped kitchen is designed in a combination of open and closed cabinets. Windows above the countertop offer a great view while you're cooking.
See also: The Hunter Barnhouse: A Stylish Slow Living Airbnb Surrounded by Nature (also designed by The Hunter Houses)
I love the combination of rustic wood and wallpaper. To enhance that naturel feeling they chose green wallpaper. And with those windows it's almost as if you're waking up in a treehouse.
The second cabin bedroom also has stunning views. All linens are by Cultiver Goods.
The terrace connecting to the living space where you can enjoy the surrounding nature.
The cabin is a wonderful off the grid experience with modern amenities.
"The Cabin is set back, secluded, unbelievably cozy and wonderfully romantic. It's a place to reconnect and recharge, to listen to the river and hear the wind through the trees.
And indulge in slow lunches and long walks and truly marvel at the Catskills. There's hiking in the summer, skiing in the winter, mountain fresh air and dark, starry nights."
You can rent The Cabin by The Hunter Houses on Airbnb