A Unique Upside Down House in The Netherlands
Have you ever seen an upside-down house? In The Netherlands that built this upside-down house surrounded by nature. It's not actually one house. Instead, the building houses several apartments. And one of these apartments we can tour today.
The building is designed by architect Rein Hofstra. During the design process, he looked at old existing farmhouses and decided to design this new farmhouse upside down using strong steel and concrete construction.
As you can imagine, living in an upside-down house comes with some challenges. The walls in the apartment are slanted but not in the usual way. In this apartment, they added custom-made cabinets from reclaimed wood to make the most of the awkward space.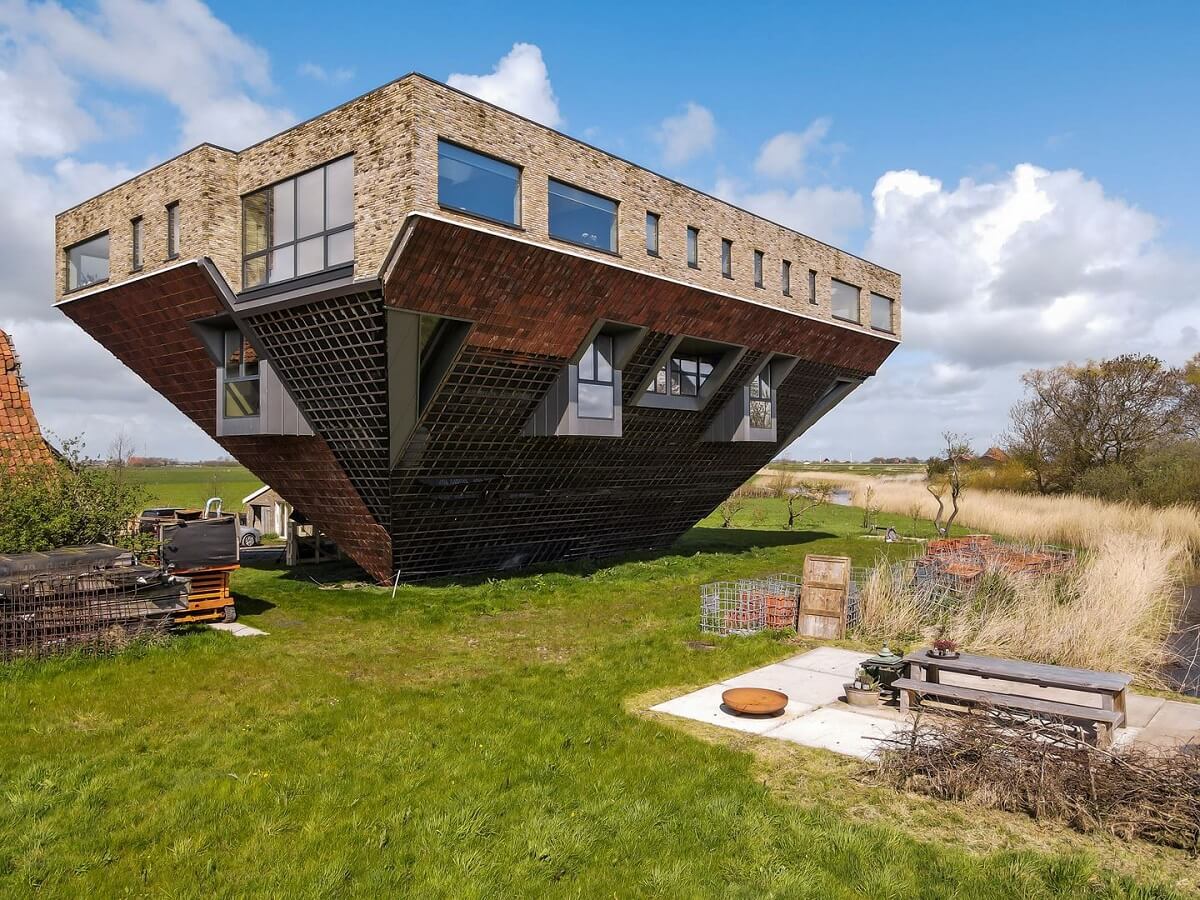 As the apartment has such awkward walls, I think it's smart that they created an open-plan layout to make it feel spacious.
The home is decorated in a mixture of styles. Modern pieces are effortlessly combined with boho elements and farmhouse-style furniture.
The living room has a custom-made cabinet in a rustic style. It hides the television and provides loads of storage, which is necessary as you can't add a normal drawer or cabinet due to the walls being slanted from the floor to the ceiling.
The entire home has a leveling floor with a concrete look. This can look cold, so the owners added large rugs in earthy tones for warmth and texture.
A seating bench is custom-built on the slanted wall to provide seating space by the round kitchen table.
The owners added a modern custom-made kitchen with white cabinets and concrete worktops. You see reclaimed or vintage pieces everywhere in the house, and the kitchen is no different.
The wall behind the sink is unique. It looks like it's made from old wooden doors, and behind the sink are beautiful handpainted floral tiles. I love the combination of rustic and vintage with the modern kitchen.
This antique bench is only one-half of the original—the other half stands in the bedroom.
Through the wooden sliding doors in the kitchen, you enter the master bedroom. The same style wardrobe is added to this room, this time painted in a muted green shade.
From the windows, you have a wonderful view of the surrounding grassland.
This unique home in The Netherlands is now for sale with Haskestaete Makelaardij