A Colorful Church Conversion in The Netherlands
In the northern part of The Netherlands stands a unique and colorful home. Actually, this house is created from two separate houses that are connected by a glass gate.
A former church building and an old skipper's house have been connected to create one big family home. The unique house was completely renovated by the current owners and turned into a fun and colorful home.
The charming house also features original elements, such as the arched wooden church door and stained glass windows. If you're looking for something unique and colorful, then take a tour of this amazing home.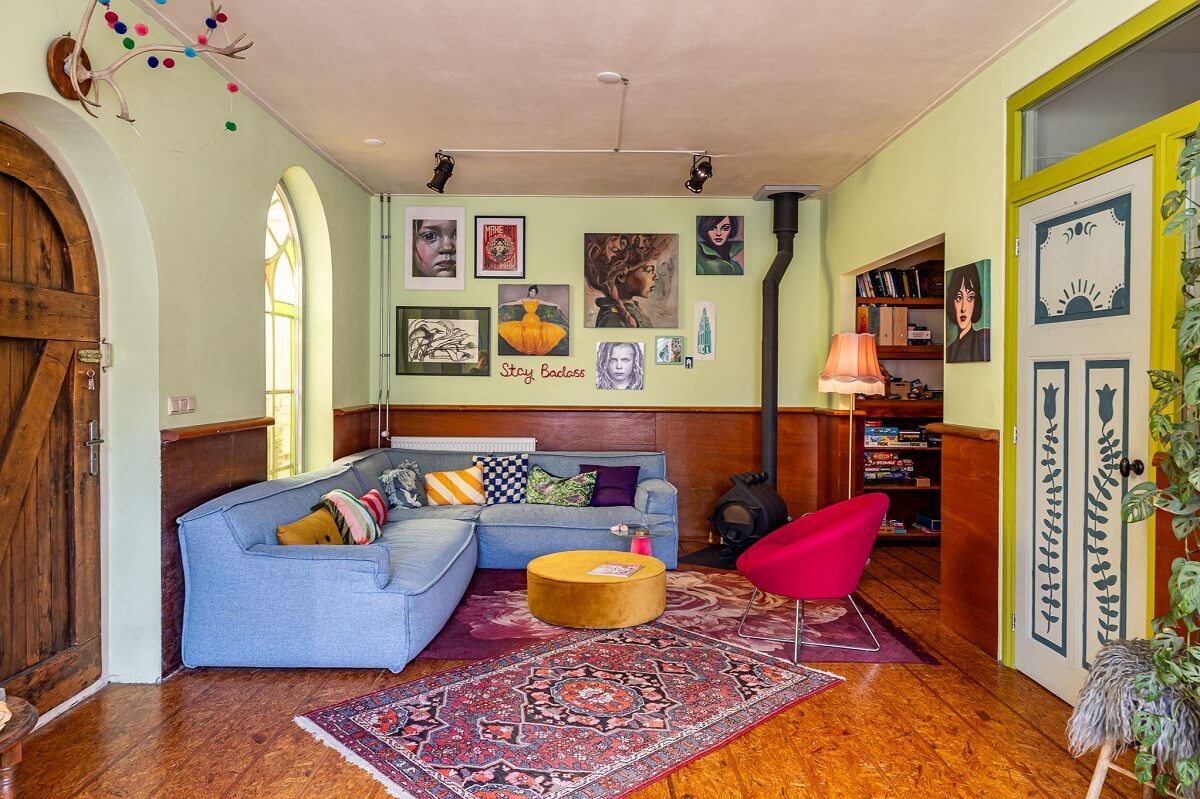 The house has two living rooms, and this one is located in the former church. You can still see the old church door and stained glass window which instantly gives the room a charming feeling.
The wooden floor and wall paneling is combined with cheerful colors in the furniture and decor which makes it look so cheerful.
The beautiful stained glass window is a nod to the history of the house.
When you go through the wooden church door you enter the glass inner space that connects the two houses.
The space between the two buildings is partly glazed but they also added an inner garden/outdoor space.
On one side they added a purple clawfoot outdoor bath.
You enter the second building in the kitchen with authentic French cabinets and a terracotta shade on the walls.
In the former skipper's house is the second living room with a dining space. The bright yellow wall adds a fun color accent to the room.
The main bathroom has pink zellige tiles and brass accents.
See also: 89 Pink Bathroom Ideas: From Hot Pink Walls to Blush Tiles
The master bedroom is located in the former church building. The attic space is turned into a grand master ensuite with a wooden floor and exposed wooden beams.
Above the bed is a small arched church window with wooden shutters.
Simple IKEA Ivar cabinets are used for storage.
This charming and unique Duch home is now for sale on Funda.