Black Accents in a Traditional Los Angeles Home
Located in the Hollywood Hills with gorgeous views of the city and the canyon stands a beautiful home that uses black as a color accent. The house was designed by Bennett Hirsch and Nicholas Sandler of SH Group, and once again, they have created a stunning home.
The traditional Los Angeles house features impeccably styled rooms that all use black as a color accent, giving them a dramatic look. The grand house features a formal entry space with hardwood floors which gives you entry to the grand living space with a veranda and a large kitchen with garden access.
The house has three grand bedrooms, also decorated in black, with each its own bathroom. The garden also houses a lovely guest house.
The chef's kitchen feels grand and spacious thanks to its vaulted ceiling and the glass doors that give access to the beautiful garden.
The kitchen has Viking appliances, a Sub-Zero refrigerator, and stainless steel countertops with marble backsplashes. 
Central in the kitchen stands a beautiful rustic wooden table surrounded by vintage industrial chairs adding a social aspect to the room.
The living room has a fireplace and original bleached knotty pine paneling.
The pine wood is combined with black accents in wall paint and furniture.
The living room boasts expansive views through French doors that open to a terrace overlooking the city. 
Next to the living lies a formal dining room with a round marble dining table and black-painted walls and ceiling. This room also has access to the garden.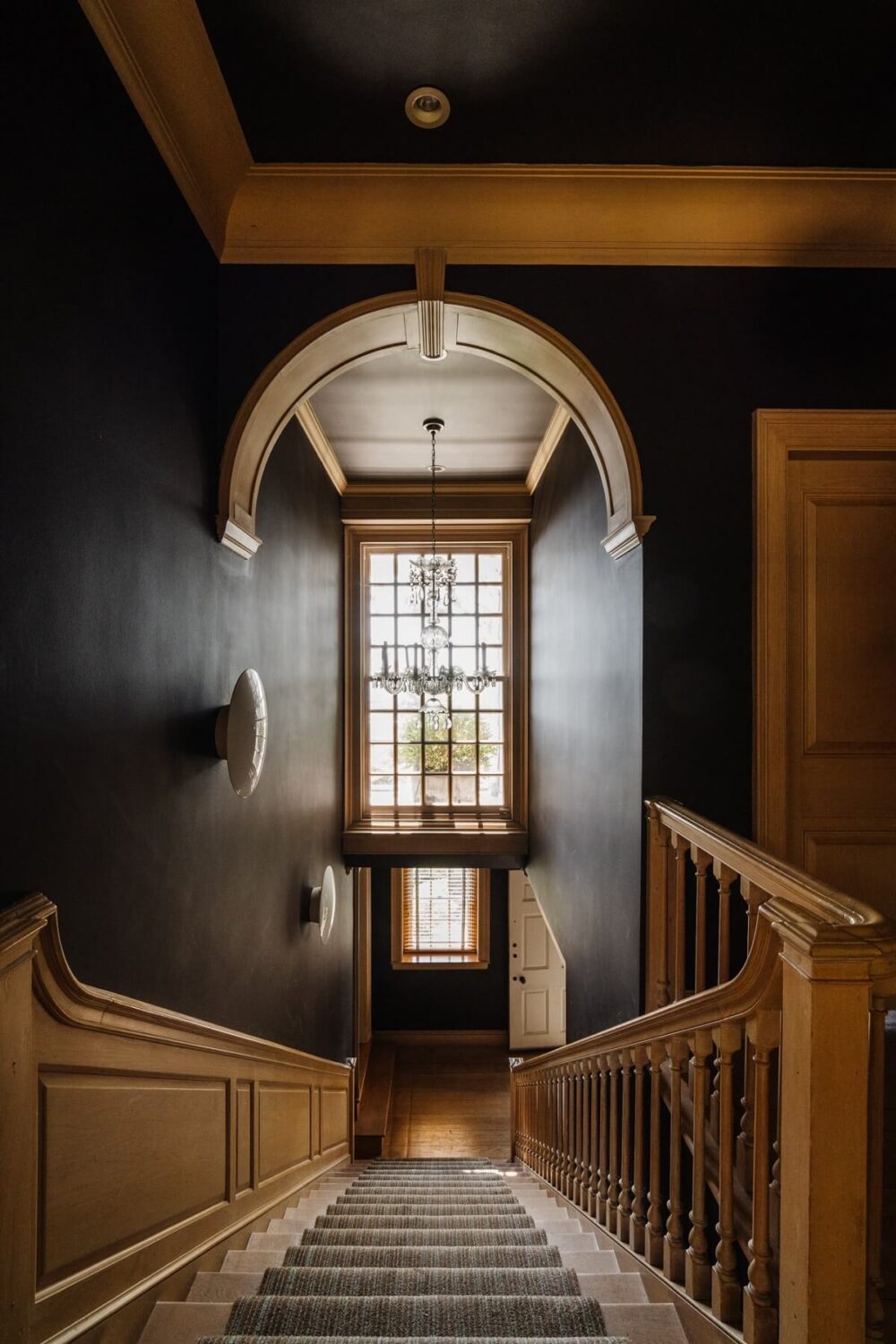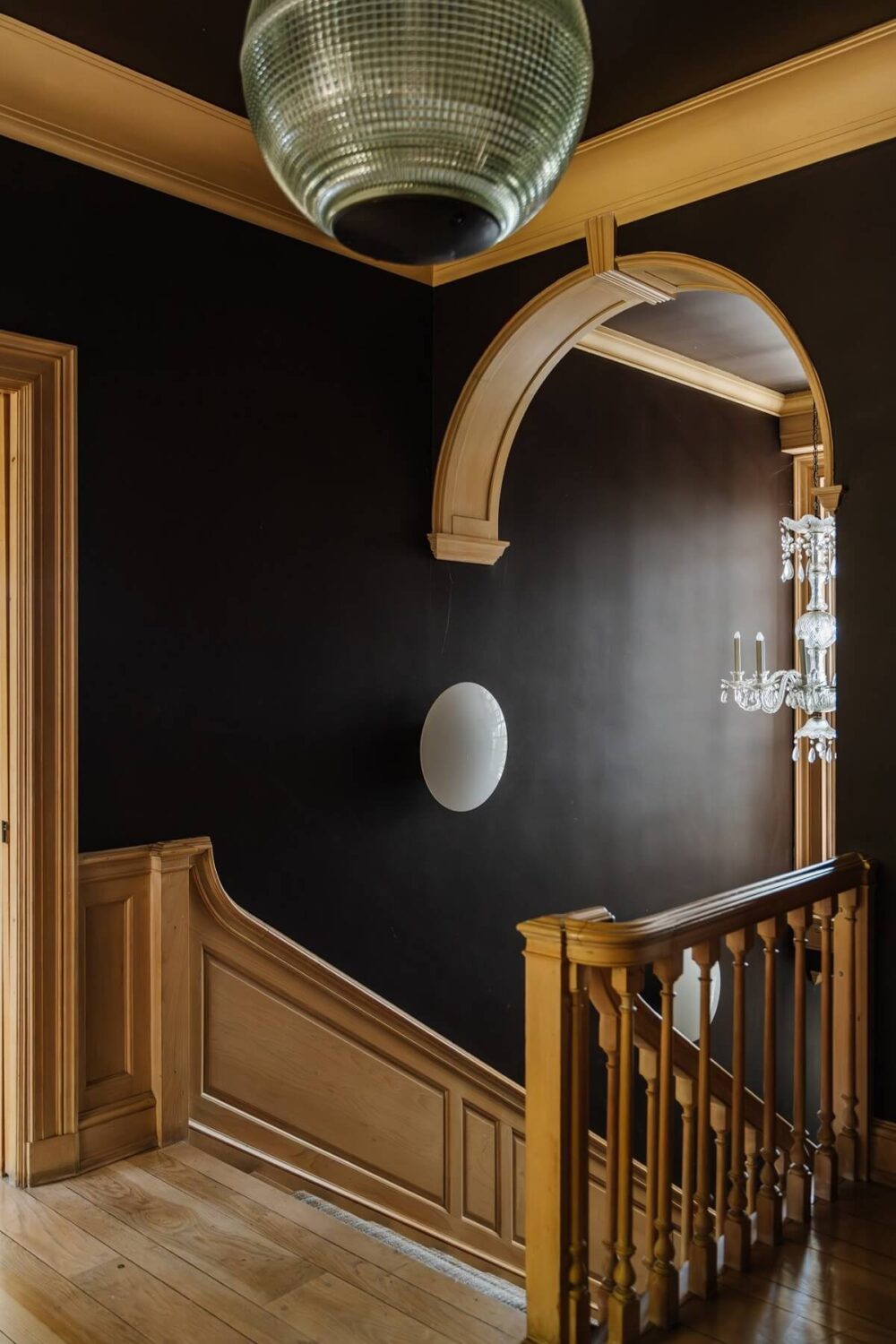 The house has three bedrooms. This bedroom features black painted walls and ceiling that is combined with pine wooden accents and a leather bedframe.
Next to the bed are built-in bookshelves, and an antique dresser is used as a nightstand.
All those books can be read on the window seat that looks over the garden.
The master bathroom is a grand affair with marble tiles, a walk-in shower, a bath, and a double sink.
The second bedroom also features built-in bookshelves. I love how cozy these bedrooms are with the pine wooden accents, books, and seating areas.
Like most rooms in this house, this bedroom also has access to the garden.
The en suite bathroom has a combined bath and shower with marble hexagon tiles.
On the first floor is another grand bedroom with a canopy bed and a large striped rug.
The garden is a wonderful private green space with a swimming pool, an outdoor dining area, and a secluded lounge space.
From the garden, you have amazing views of the canyon, downtown, and on to the water. 
Beyond the pool, a stone walkway surrounded by lush greenery leads you to the second guest house with a wood beam ceiling, fireplace, ensuite bathroom and private terrace.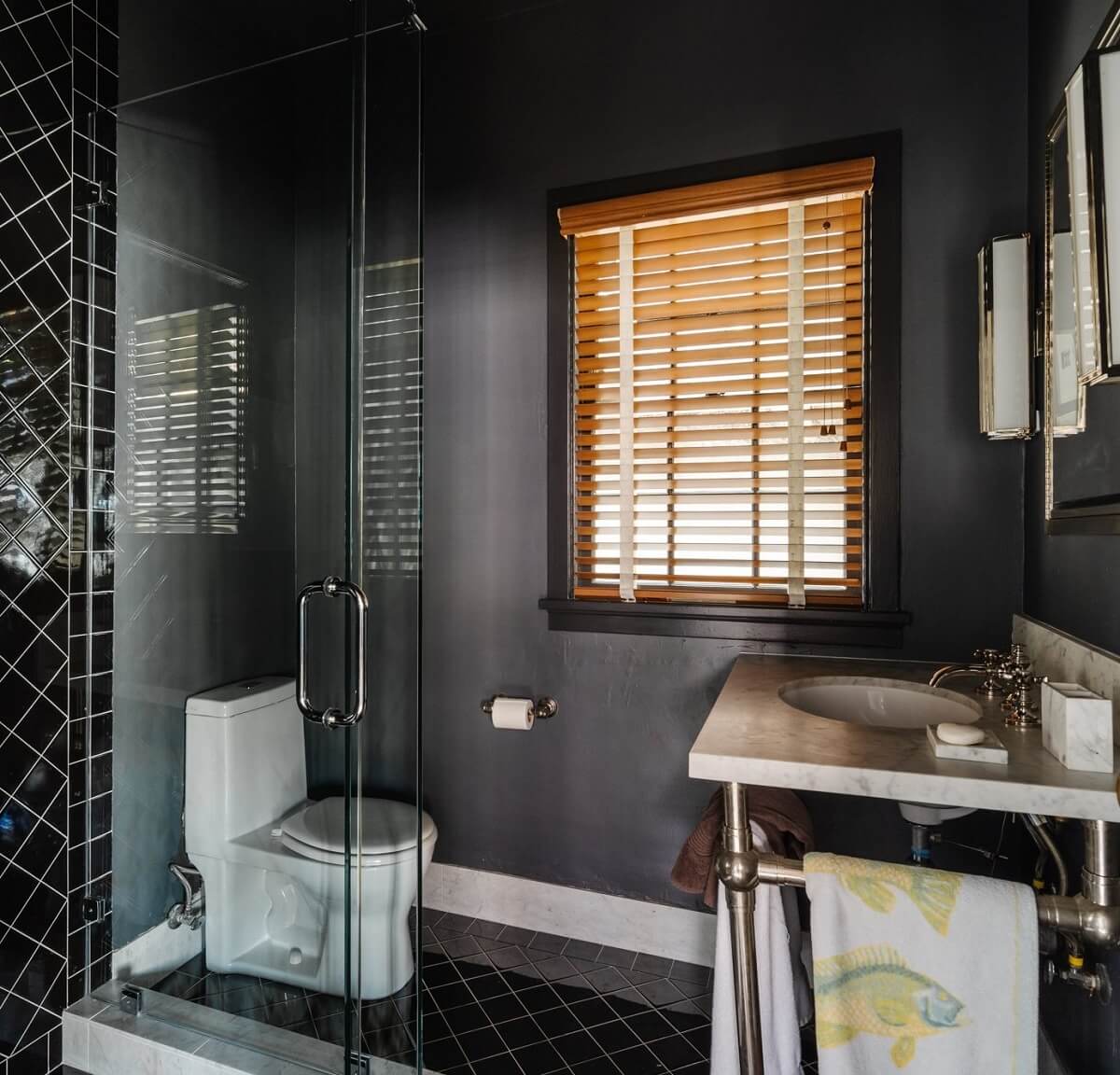 This beautiful Hollywood Hills house is available as both short and long-term rentals. The house is listed by Bennett Hirsch and Nicholas Sandler of The Agency.