A Light and Social Country Kitchen by The Myers Touch
Nestled in the heart of the English countryside, the owners of this Hampshire house wanted a warm and welcoming kitchen space using traditional cabinets and a social layout. Their main goal was to capitalize on their far-stretching garden views, which were unfortunately blocked by a wall. They enlisted the help of The Myers Touch to create a new dream kitchen.
The owners wanted a cooking space that boasted modern amenities and showed their love for traditional cabinetry. They love to entertain their friends over drinks and dinner, so they wanted a practical kitchen for the cook that is also spacious enough for their guests. As no English country kitchen is complete without an AGA, they wanted a large 1500 AGA stove at the heart of the kitchen.
Designers Keith Myers and Amanda Smith of The Myers Touch created a U-shaped kitchen that maximized the open-plan living space and neatly created cooking, entertaining, and relaxation areas.
The walls are painted in "Skimming Stone" from Farrow & Ball, while the chimney breast is painted in "Grey Oak" from Neptune.
The intuitive layout subtly guides guests towards the dining area, allowing them to enjoy the outside views while also ensuring they don't enter the cook's space. The central island in the kitchen plays a dual role. It adds to the room's social atmosphere while also creating a clear division in the room.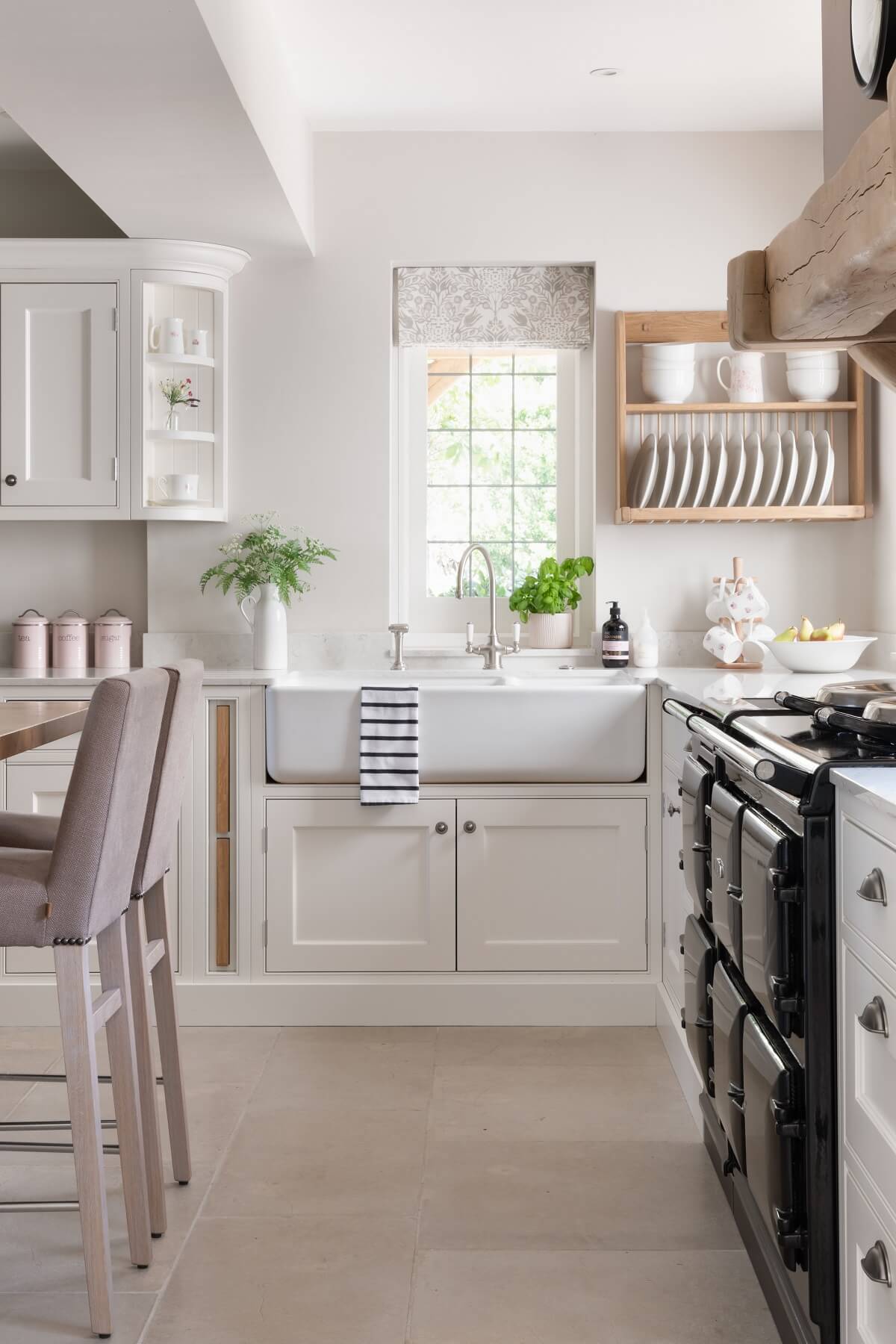 The bespoke Lincoln in-frame kitchen is painted in Dulux "Timeless." The cabinets are topped with Pearl Jasmine quartz surface worktops from Silestone, featuring an Edgworth double white butler style sink.
A floor-to-ceiling bay window was added opposite the U-shaped layout to fulfill the owners' wish to have views of the garden. This alteration flooded the kitchen with sunlight and afforded the owners breathtaking views of the lush valley beyond.
Every inch of space is used to maximize storage. Next to the sink, they added these clever cutting board storage spaces.
The Myers Touch curated a special hot drinks corner with a bespoke coffee pod storage and a stand-alone machine. A convenient Quooker boiling water tap was also installed.
The kitchen design seamlessly flows into the Utility/Boot room, where they used the same color palette and design. Dual entries make this space accessible from the kitchen. Designed with precision, it houses all the utilities one could think of, from ironing boards to dog food storage. A spacious double pantry cupboard adds to the room's utility, offering ample storage for household items.
A notable feature is the ingenious addition of a hidden pop-up TV in the peninsula. This TV is designed to rotate, catering to viewers sitting anywhere in the room.
photography by Paul Craig