A Small Studio Apartment with Gray Walls
If you've been following The Nordroom for a while, then you know I'm a big fan of studio apartments. I never wanted to live in a big house, and every time I see a well-decorated studio apartment, this feeling only grows stronger.
This Scandinavian studio apartment is located in an early 20th-century building in Gothenburg, Sweden's second city. The studio, decorated by Livindeco, has beautiful interiors in muted color tones where Nordic design is combined with antique and historic elements.
The 33-square-meter (355 sq. ft.) apartment has two rooms, a combined living room and bedroom, and a separate kitchen. Light gray walls create an instant calm look to the small home, which is combined with textiles in light colors and a muted green couch.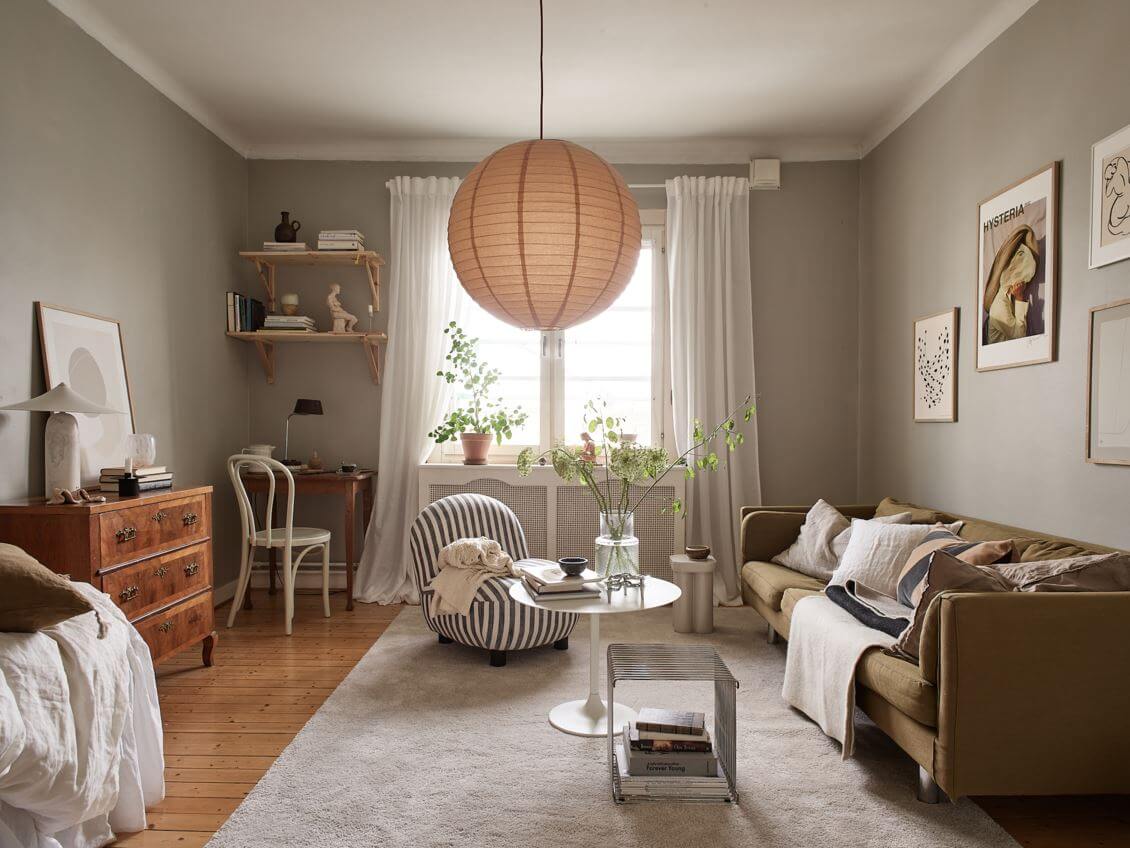 If you are going to live in a studio apartment, you have to get a bit lucky with the floorplan. This studio has two benefits; it has a separate kitchen, and the living/sleeping room is a square room of a decent size.
Sometimes, you see that studio apartments are very narrow, instantly making them feel cramped, but this is a good size that gives plenty of room for a seating area and a sleeping area.
The living area is defined by a large light gray rug. I like that they added a subtle color accent with the greenish sofa.
Opposite the seating area is space for a small desk with shelves above that create storage space.
A floor can define a room, and the owners of this studio are lucky with a beautiful wooden floor that adds warmth and character.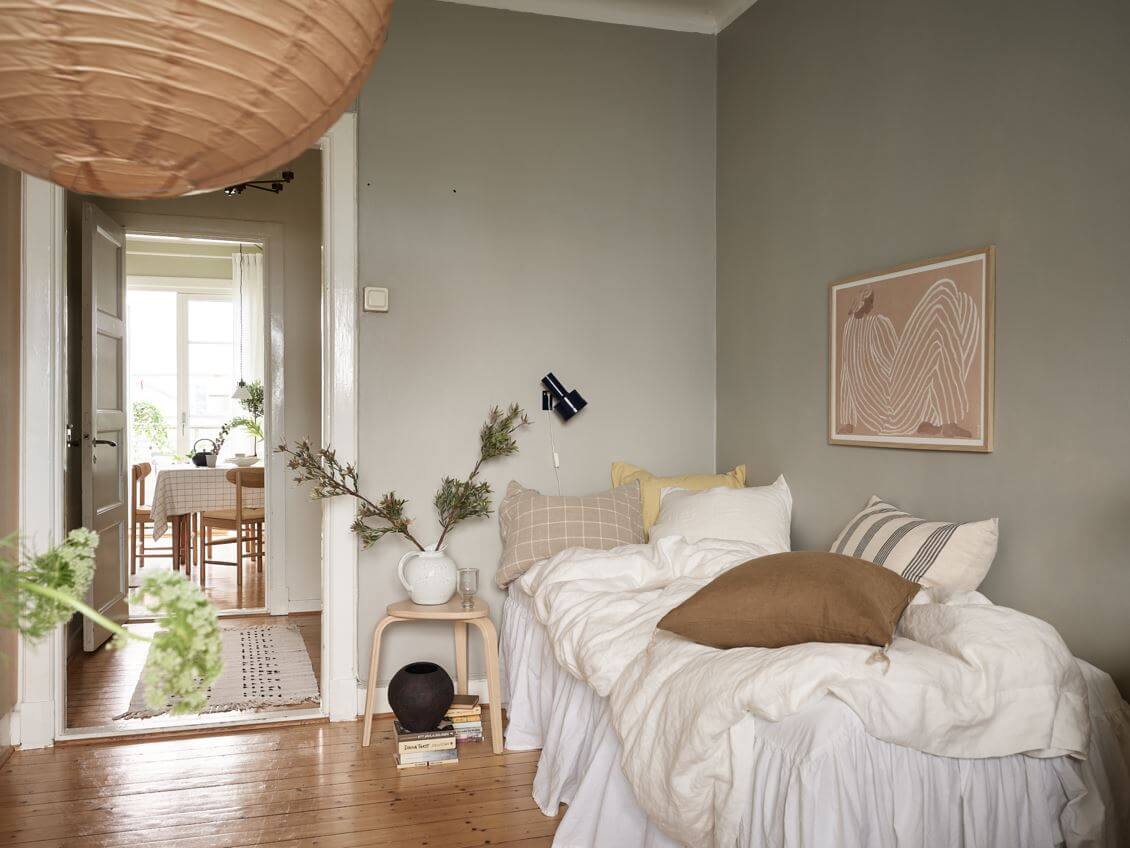 Next to the entry is the sleeping area. The owner of this home has a single bed, but you could also fit a double bed here and use a shelf or a storage headboard that can serve as a nightstand. On the other side of the doorframe are built in wardrobes.
We already saw a green color accent in the main room, and this continues in the kitchen with light green walls. Double doors let in plenty of natural light and give access to the balcony.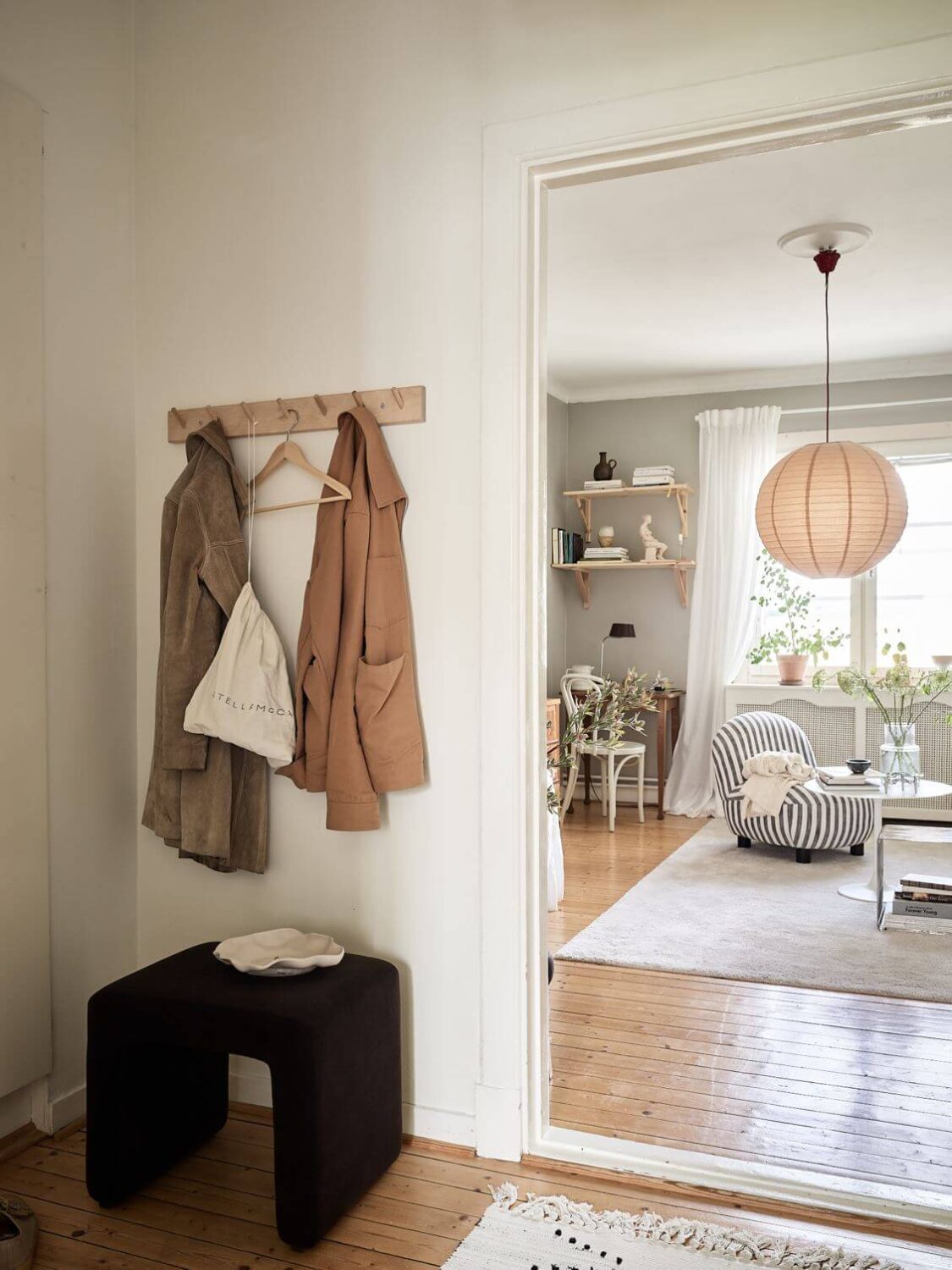 styling by Livindeco and photography by Jonas Berg for Stadshem