A Combination of Styles and Color in a London Townhouse
In London stands this four story Victorian townhouse where styles and colors have been effortlessly combined into a stunning family home.
The heart of the home is the grand open plan kitchen, dining, and sitting room. The house has been extended and now features a large skylight above the kitchen and steel framed windows in the back, overlooking the garden.
Most of the furnishing and decor is modern, but you can still see the history if the house in certain rooms. For example there are still ceiling ornaments and original fireplaces. Though most of the home feels pretty modern it's nice to see these historic touches.
A long open plan room on the ground floor houses the modern black kitchen, a small sitting room by the staircase and a dining area. Because the space is so long they added a long skylight to make sure that the space far away from the window is still flooded with natural light.
A concrete island with breakfast bar sits at the center of the room. With on one side high cabinets that house most appliances.
On the other side are only low cabinets with a shelf above where you can showcase art and glasswork.
They created a small sitting area with woodburning stove next to the dining area.
At the front of the house is the main sitting room where you can still find many original features such as the fireplace, ceiling ornaments, and bay window.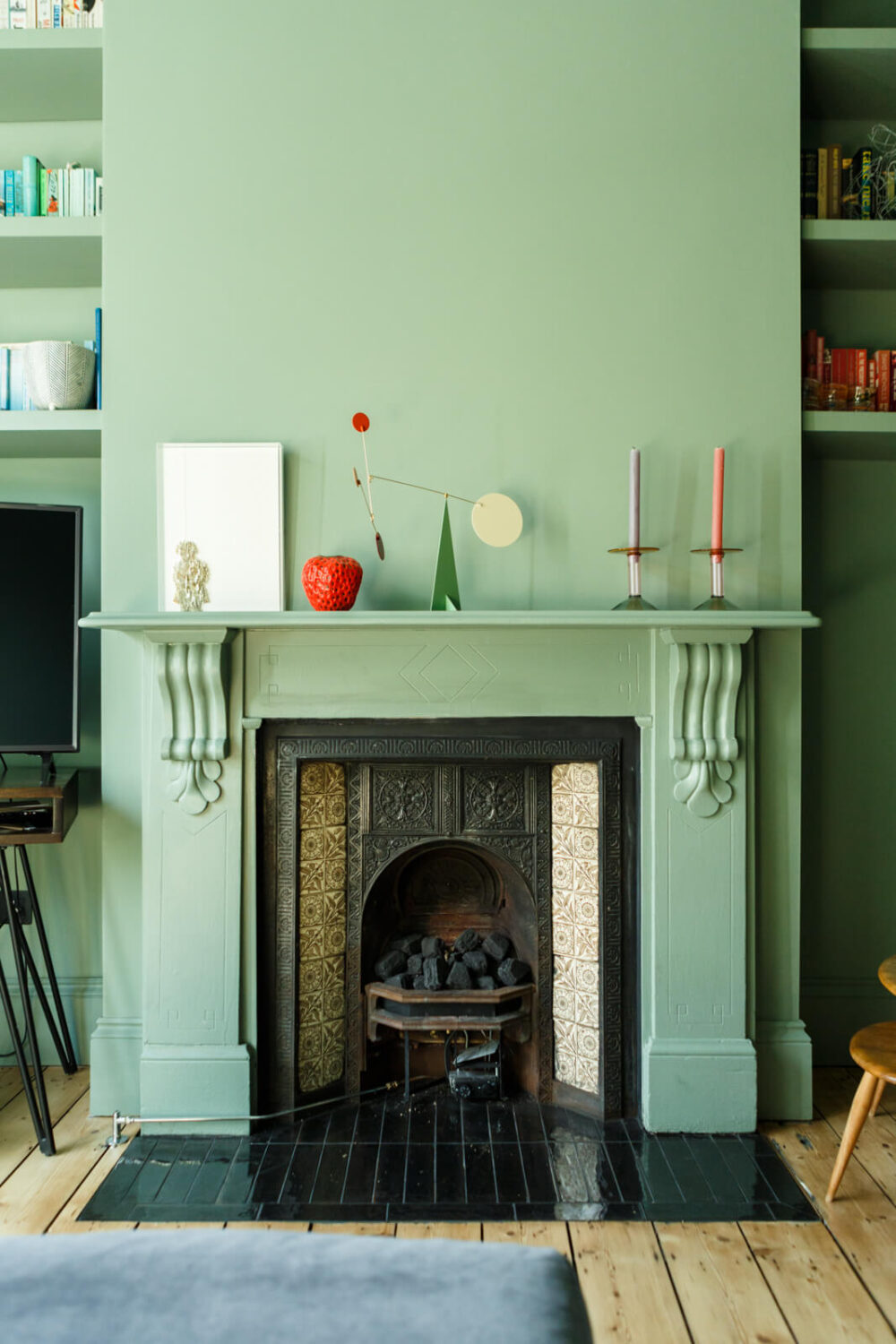 The room is painted in a daring but fresh green hue.
The house has four bedrooms. This room is painted in a lovely earthy pink shade and includes a fireplace and home office.
The master bedroom is painted in a dark blue shade that are combined with floral velvet curtains by House of Hackney and wooden floor.
The master bedroom has a beautiful fireplace and on the right are built-in wardrobes.
The built-in wardrobes wrap around the corner and can also be seen in the en suite bathroom.
The master bathroom has a freestanding bath in the center of the room. Black hexagon tiles lie on the floor and the walk-in shower has marble wall tiles.
The kids bedroom has the original wooden floor and polar bear wallpaper.
photography via Shootfactory