Beautiful Dorm Room Decorating Ideas
It's an exciting time. You have just finished high school and are now going to college. And when you go to college, you'll live in a dorm room. But how do you decorate a dorm room to make it a comfortable and stylish space?
Most of the time, you can't make many changes to the dorm you're living in. And unfortunately, these dorm spaces are not the most stylish rooms you have ever encountered. So, of course, you're looking for dorm room decorating ideas to make your home during the year a little more homely and comfortable.
In this post, you will find the best dorm room essentials and decor. With these tips and dorm room ideas, you can start planning the look of your new home. Let's start your university experience on a stylish note.
How To Separate A Shared Dorm Room
Living with another person who isn't family can be pretty tricky. And it is completely natural to crave some private time when you're in your shared dorm room. These are simple and affordable ideas to separate a dorm room for a little alone time.
Foldable Screens
A foldable screen is an easy way to separate a room. The best thing about screens is that you can unfold them to create a separate space quickly. Still, when you don't need them, you can simply fold them up and place them against the wall so it doesn't use a lot of space (after all, your room is already small, so it shouldn't be cluttered up with items you only use occasionally).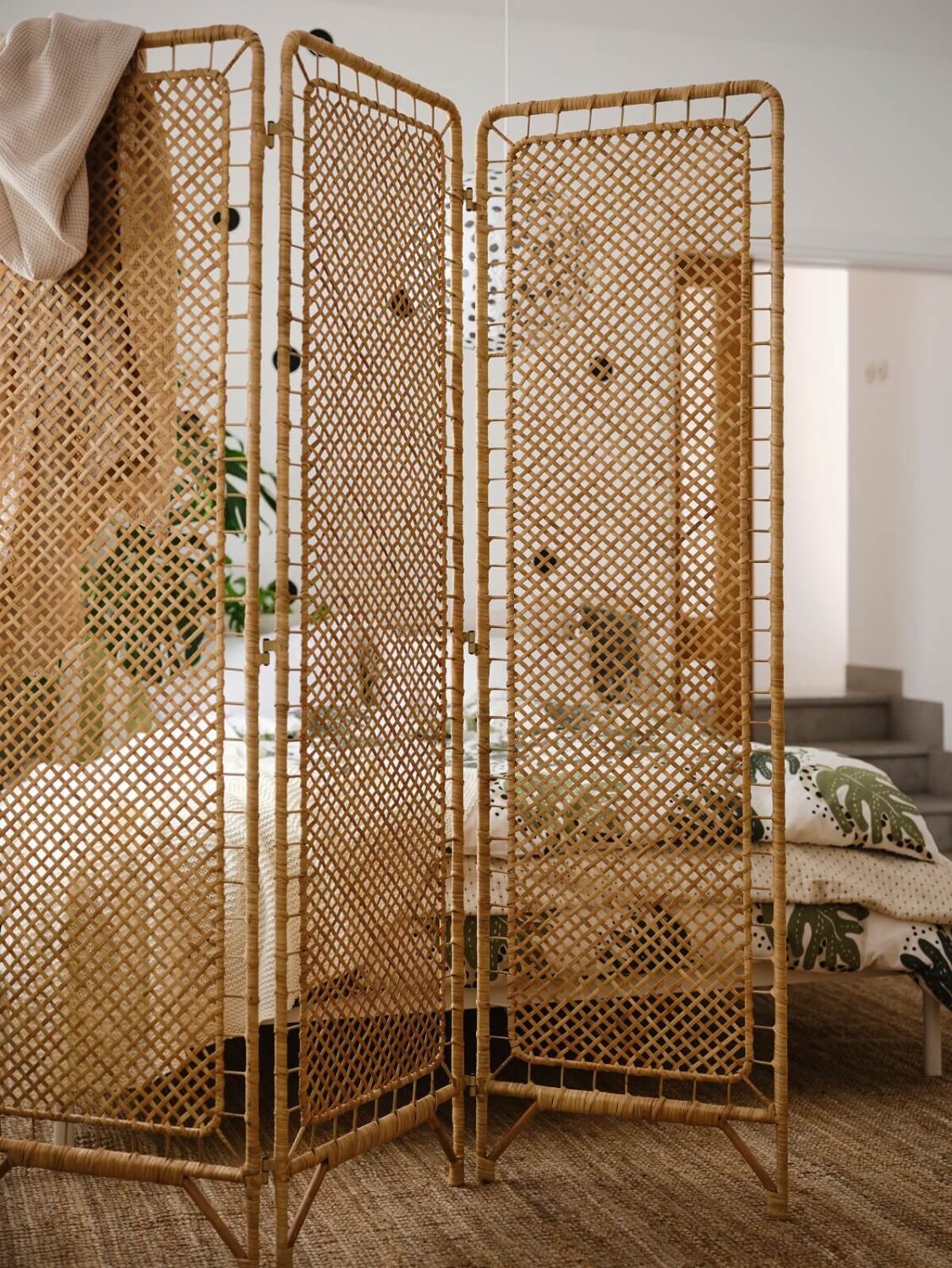 The great thing about rattan screens is that they also let through light.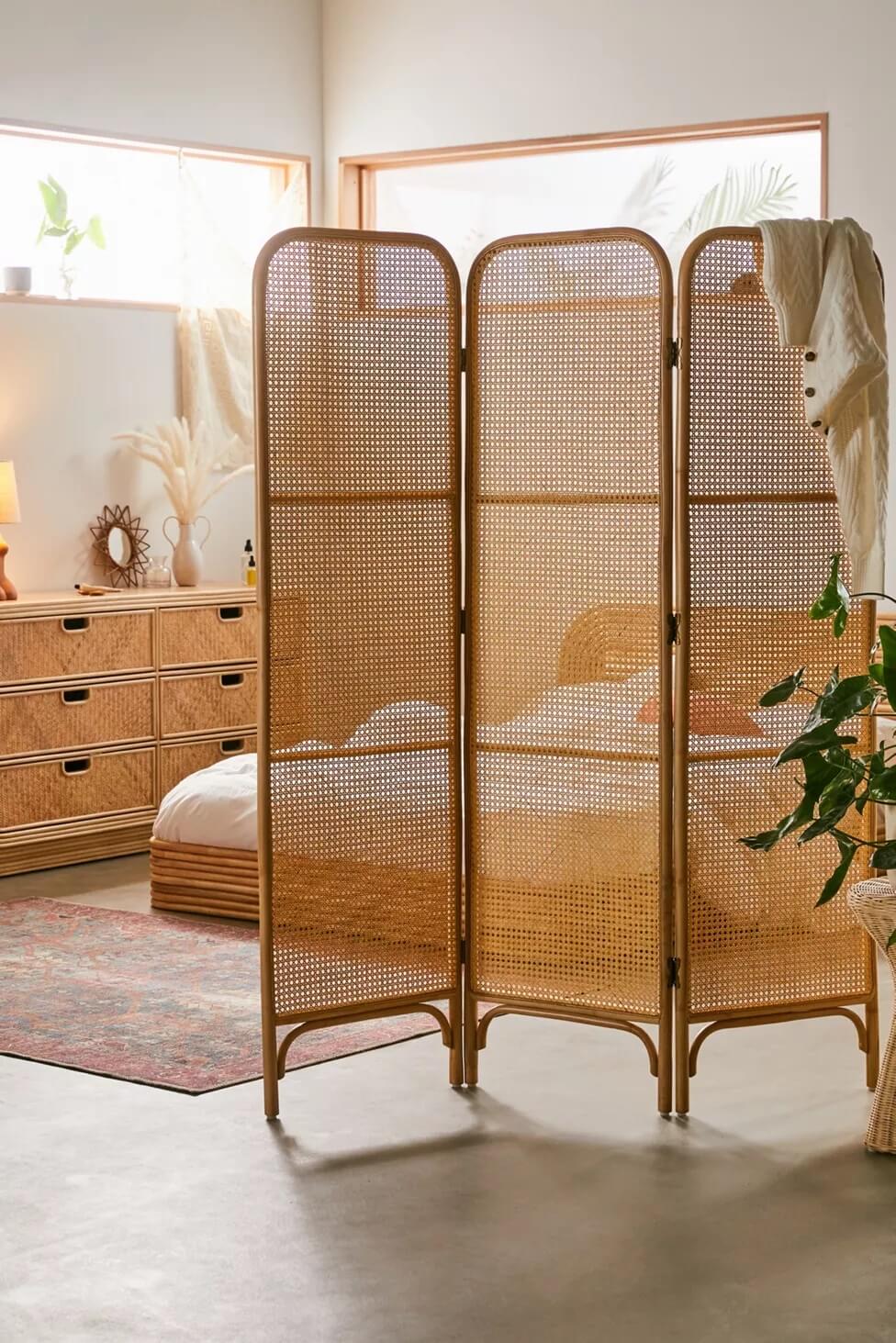 Curtains
This depends on how much you can DIY in your college dorm. But if you're allowed to screw into the wall or if there is something you can hang your curtain on, you can use a curtain to divide the room.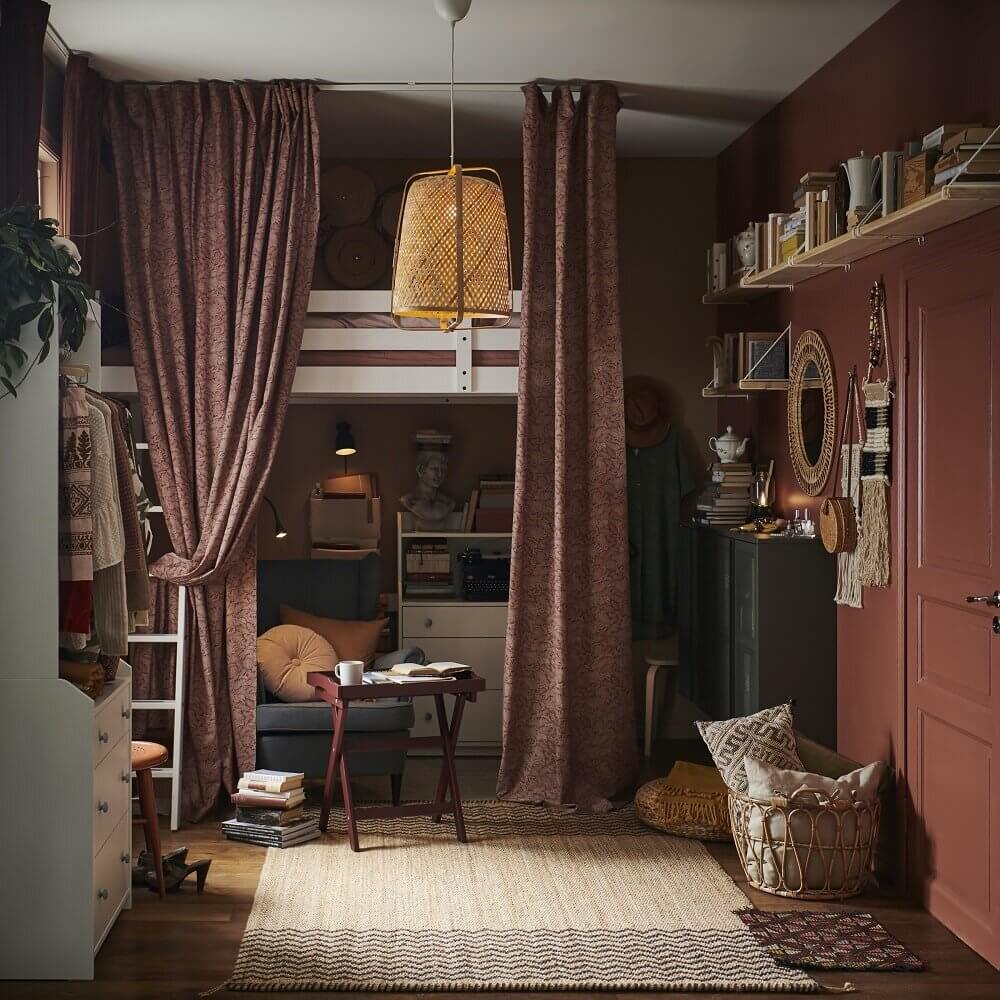 Curtains have several advantages. You can opt for a sheer curtain if you want to keep the room as light as possible. But you can also show your personal style and add color, texture, and warmth with a curtain.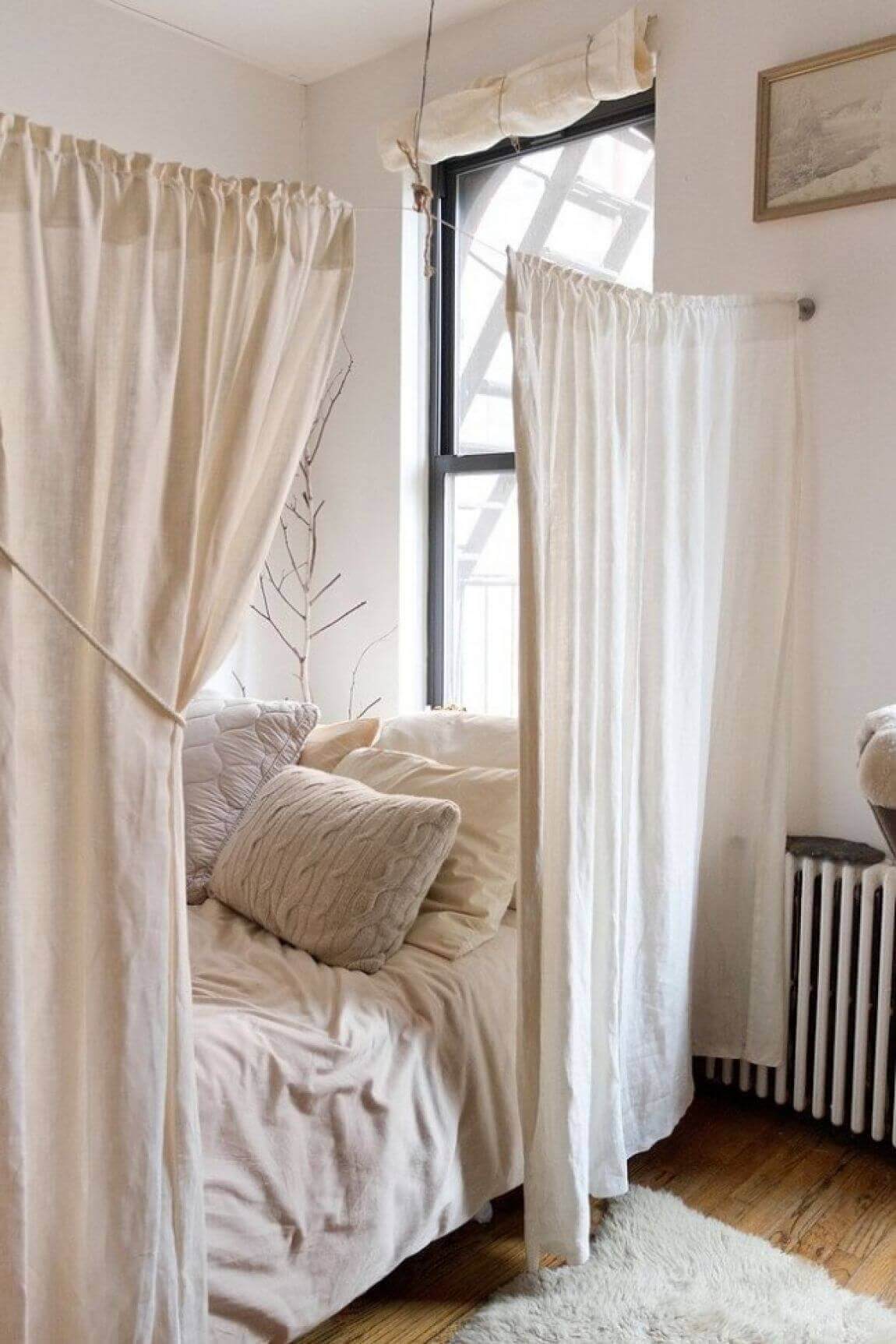 This is a simple way to add a curtain as a room divider. They didn't use a curtain rail but a simple cord that fitted against the wall. If you can't drill holes, you can choose a shower curtain rod that you can clamp between two walls or f.e. between a bookcase and a wall.
A Canopy
This is in line with the curtains to divide a space. But a canopy adds a more permanent sense of a private space.
This simple, affordable sheer bed canopy can be used however you want. The canopy is available in nine different colors and in four sizes.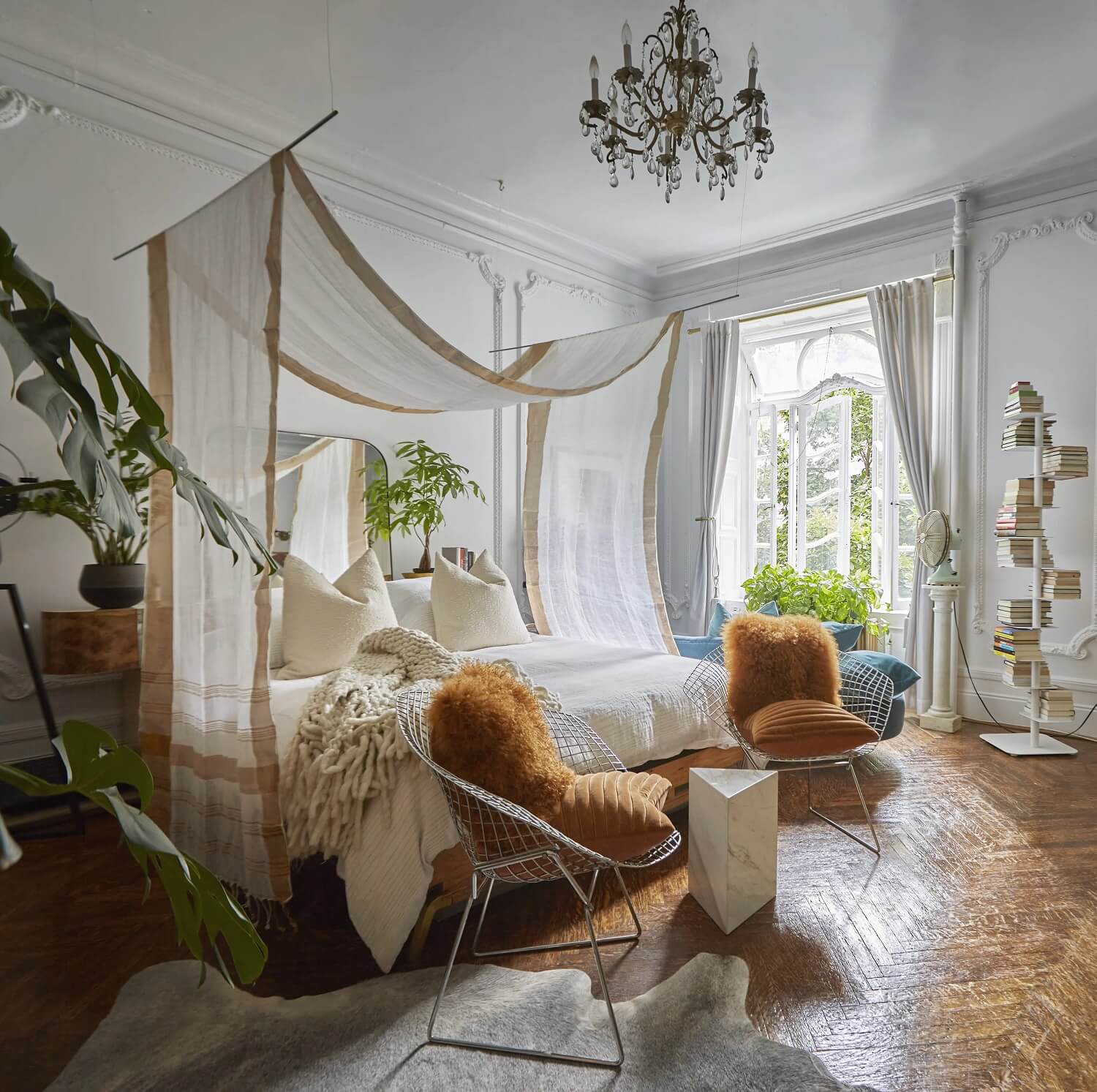 Your dorm won't be this spacious, and it will not have such amazing architectural features, but you can take inspiration from the simple canopy that is attached to the ceiling with just four hooks.
This canopy was created for a children's room but I think this colorful canopy will also look great in a dorm room. This DIY bed fort brings color, patterns, texture, and coziness to any room. On the website of Honestly WTF you can read the full tutorial for this amazing bed/sofa canopy.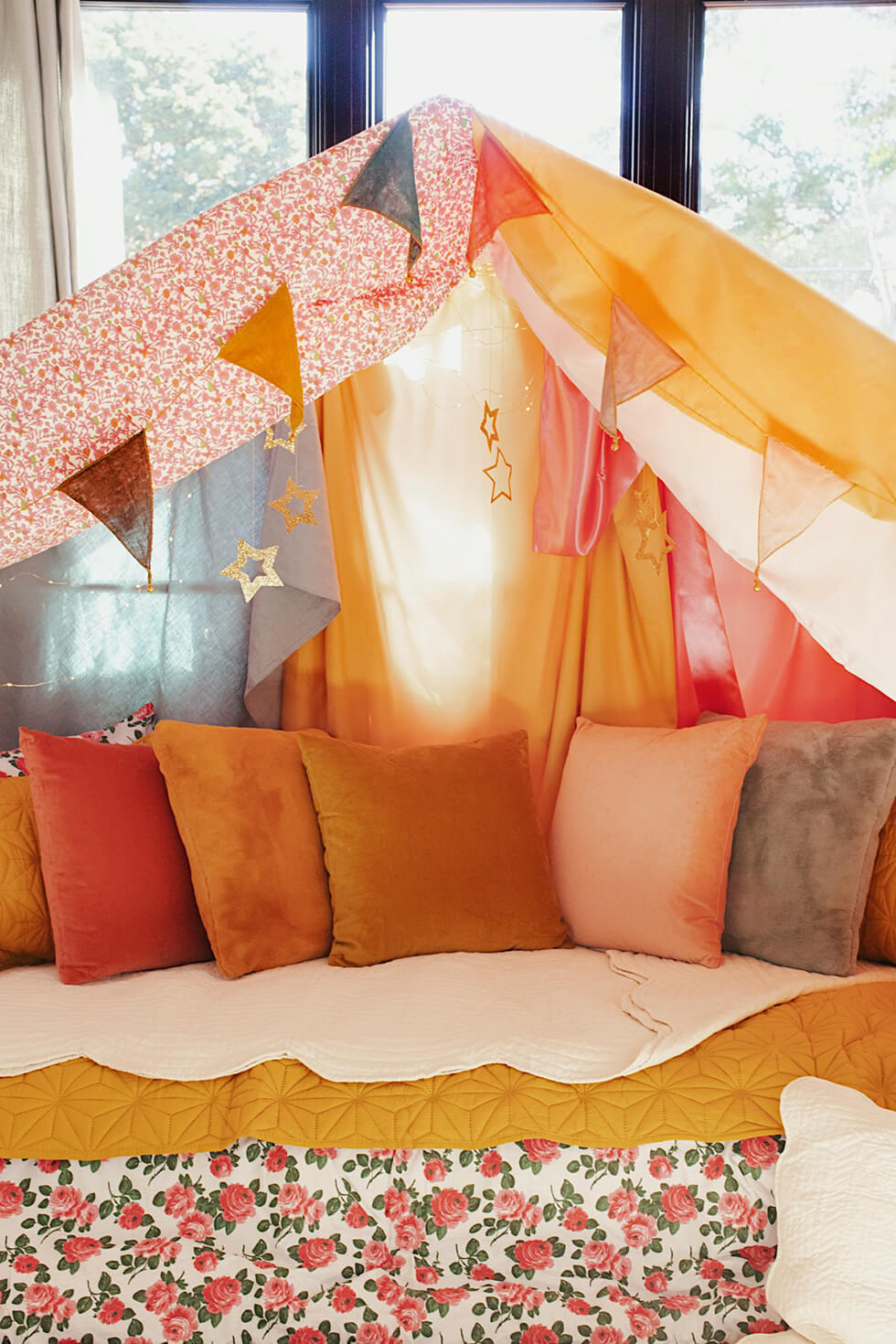 Bookcases
Dividing a room with a bookcase is great if the room is big enough. A tiny dorm room should not be cluttered with too big or bulky furniture. But if you need extra storage space ánd you want to divide your dorm room, you can choose a bookcase to do that.
But this is a more permanent design idea than curtains or a folding screen.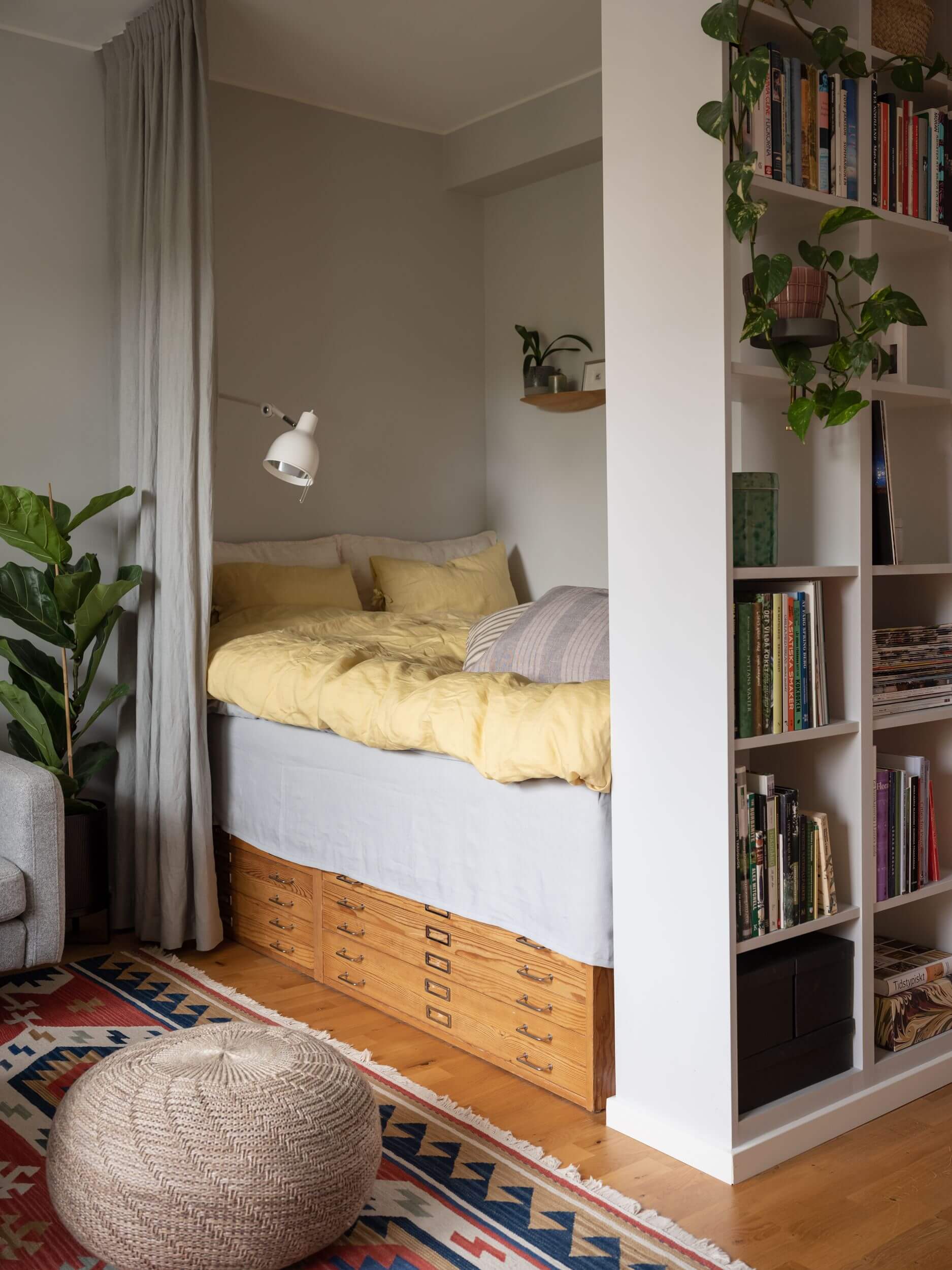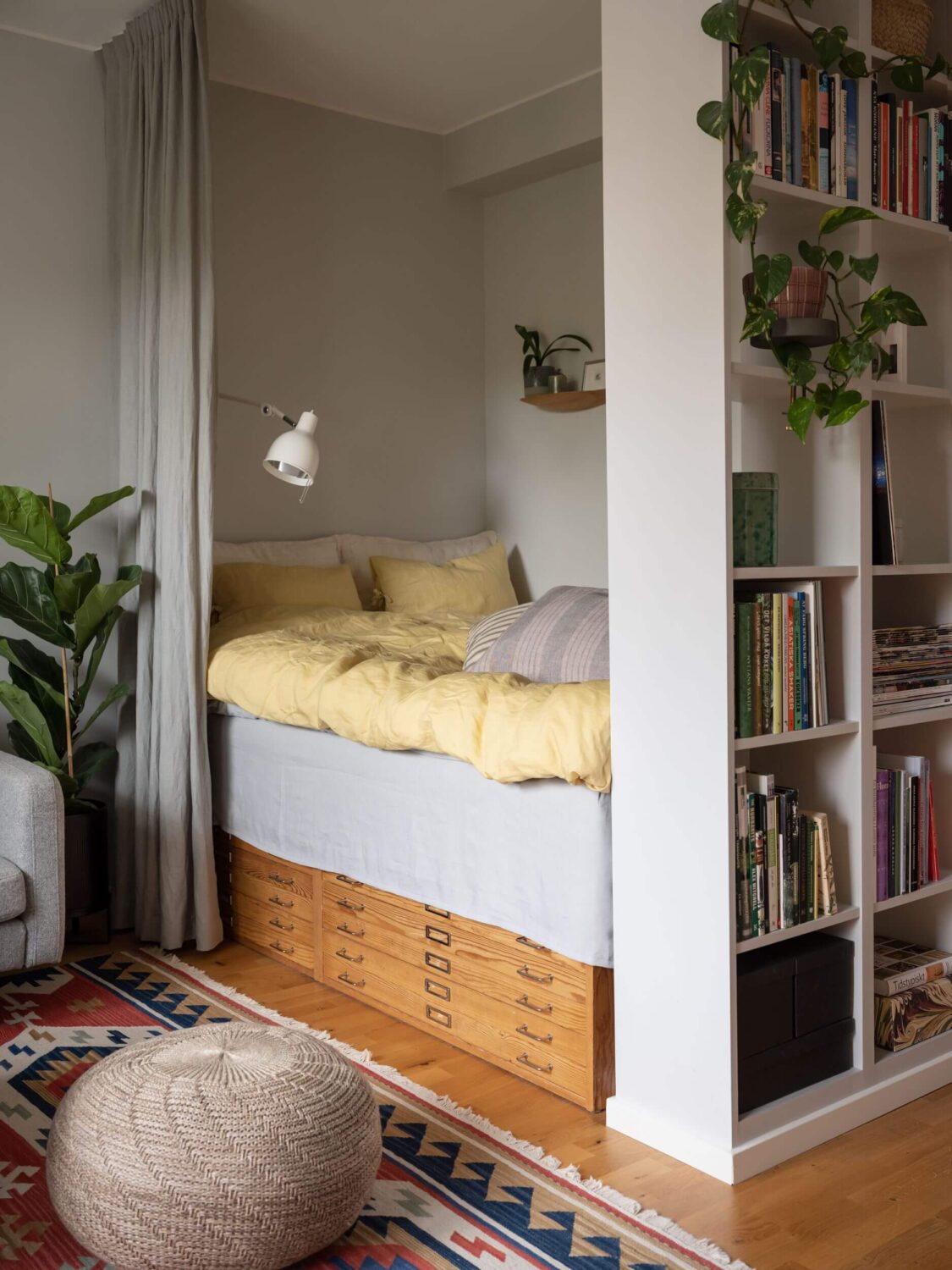 This bed area in a midcentury studio apartment showcases several small space hacks. The cabinets under the bed provide storage space. With the curtain, you can close the bed off to create more privacy, and the bookcase adds storage and separates the room.
Designer Alexandra Gater used this image as inspiration for one of her makeovers which you can see on her Youtube channel,
You can place a half-high bookcase between the two beds. Using two bookcases, you can each have an open side for storage. The bookcase can be customized with fabric to add color and texture and to hide the stored items. For a neutral look, you can leave the bookcase in its natural wood grain, or you can paint them for a color pop.
Tapestries
Tapestries are similar to curtains as they are a smart and affordable way to divide a room. Plus, you add texture, color, and personality to the dorm room.
A Clothing Rack
A clothing rack as a room divider combines storage and privacy while also maintaining a feeling of openness which you need in a small room.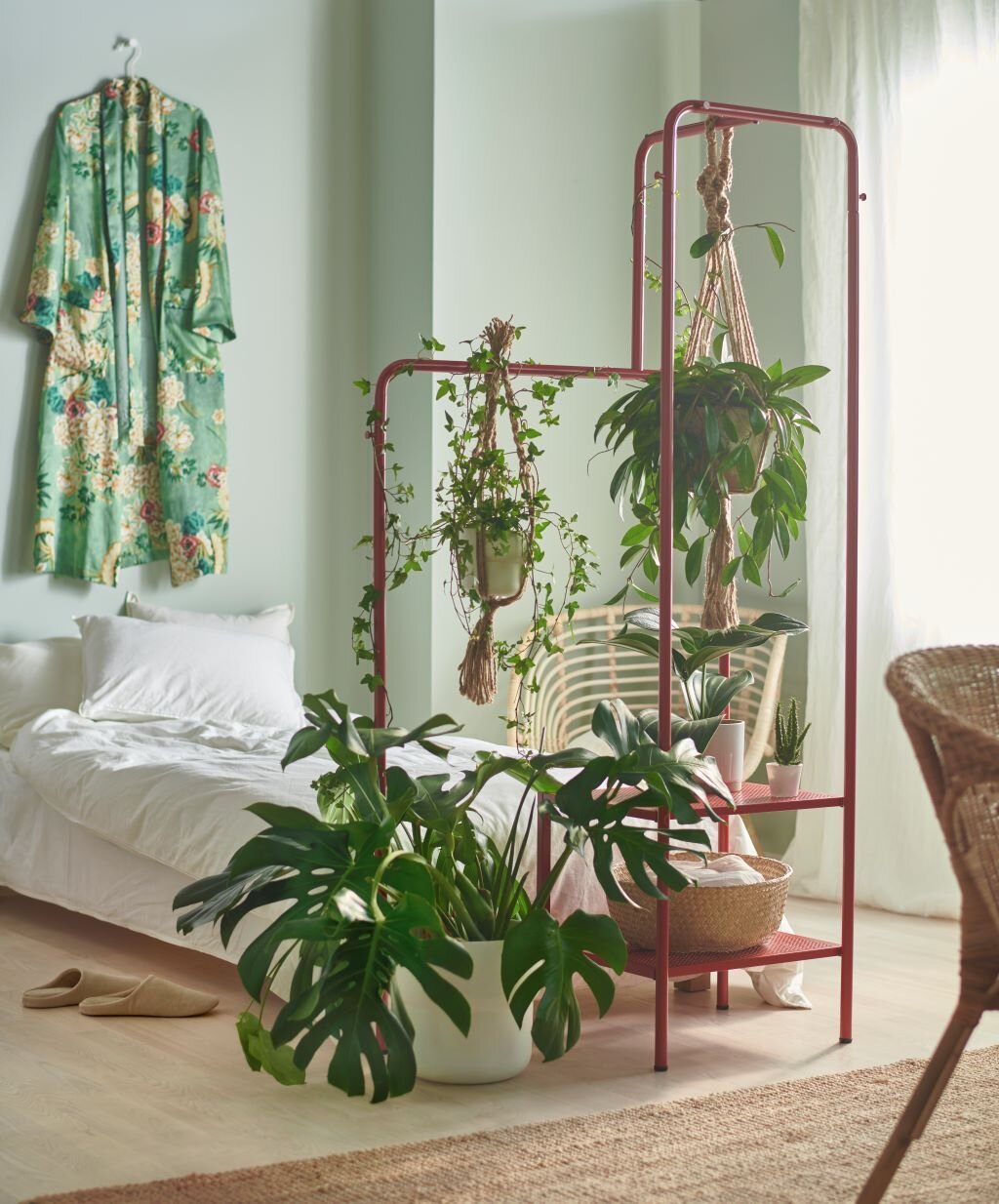 But it doesn't mean that you have to pack it with clothes. You can also use the clothing rack for decoration, such as hanging plants or adding string lighting.
How Do Students Live Around the World?
College housing differs in every country. In countries like America, students often live on a university campus in dorm rooms. Most of the time, the rooms are shared with another student, and you have to share the bathroom with other students on your floor.
In my country, The Netherlands, students live in shared housing by private landlords or social housing companies, and they live all over the city where their university is located.
In these shared housing, they often share a kitchen and a bathroom, but the residents always have their own bedrooms. However, in The Netherlands, there is a growing trend of students who want to live completely independently in a studio apartment with their own kitchen and bathroom.
In this post, you'll mainly find decorating ideas for a shared dorm room, though you will find plenty of inspiration and ideas if you live in a different kind of student housing.
Dorm Room Decorating Ideas
Your dorm is the place where you'll spend a lot of time. Here you will sleep, study, and if your roommate is nice, you'll also spend time with friends here. So obviously, you want your room to look nice and feel like home.
Most dorms aren't very pretty. You can't choose the furniture, and you can't paint the walls. But plenty of ways exist to turn that bland space into a charming, cozy little home.
Bedding
You need bedding, so you might as well make sure that it reflects your style. If you want to create a serene space, you can go for white tones but layered up with loads of pillows and throws to create a cozy spot.
But you can also add some color to contrast the beige and boring base of the dorm room.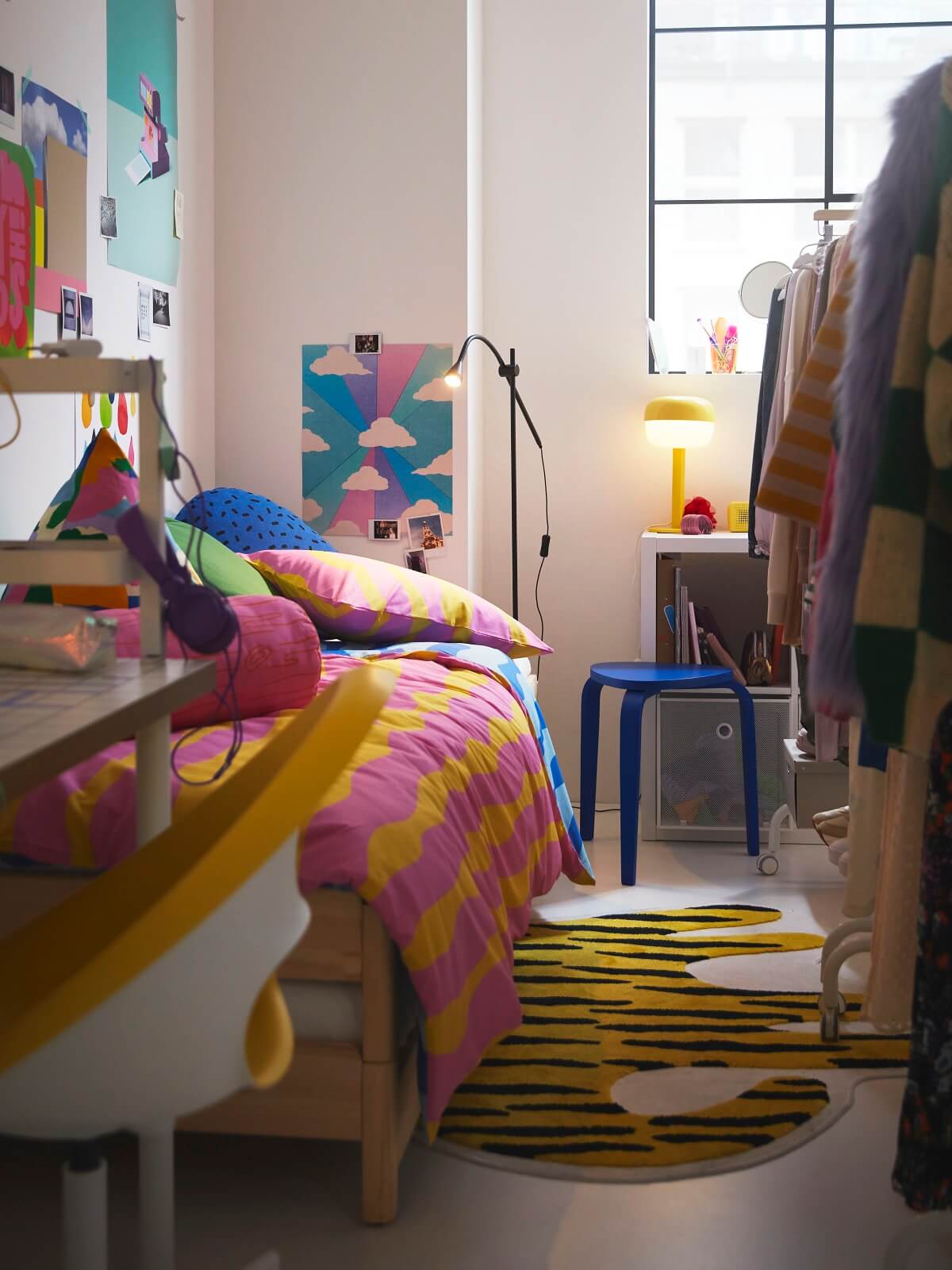 As your dorm is probably not that big, it's likely that your bed is also your seating, so make sure to buy a lot of pillows that you can place against the wall so you create a sofa.
Turn your Bed into a Sofa
with plenty of pillows and throws, you can easily turn your bed into a cozy seating area that you can use for studying, socializing, or chilling.
Plenty of pillows and a pink throw turned this simple IKEA bed into a comfortable sofa. But what's behind the sofa shows a great dorm room idea. A simple plywood board is placed behind the bed, and a rack has been screwed on the wood, which now adds storage, but it can also be used for decorating purposes.
Added bonus to this dorm decorating idea is that it's a large piece that hides the simple (or ugly) wall.
Tapestries
Tapestries are a great way to hide the ugly dorm room walls. They come in various styles and colors, so you can pick a style that suits your room.
Plants
Plants only have benefits, so it's a great way to add some plants to your dorm for a touch of nature in the room. You can add plants even if you don't have green fingers or the room gets little natural light.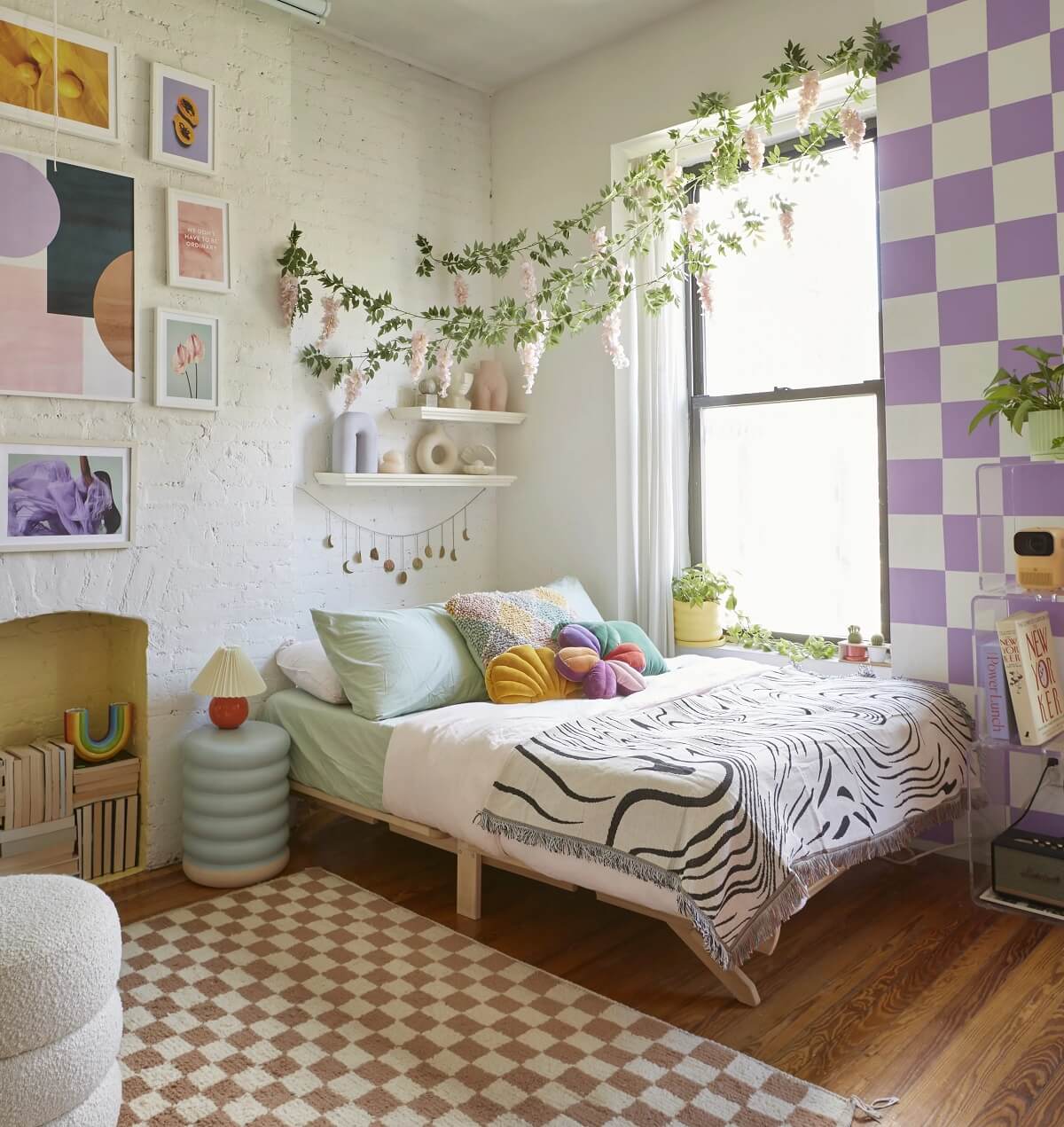 And don't forget to be creative. Why not add hanging (fake) plants?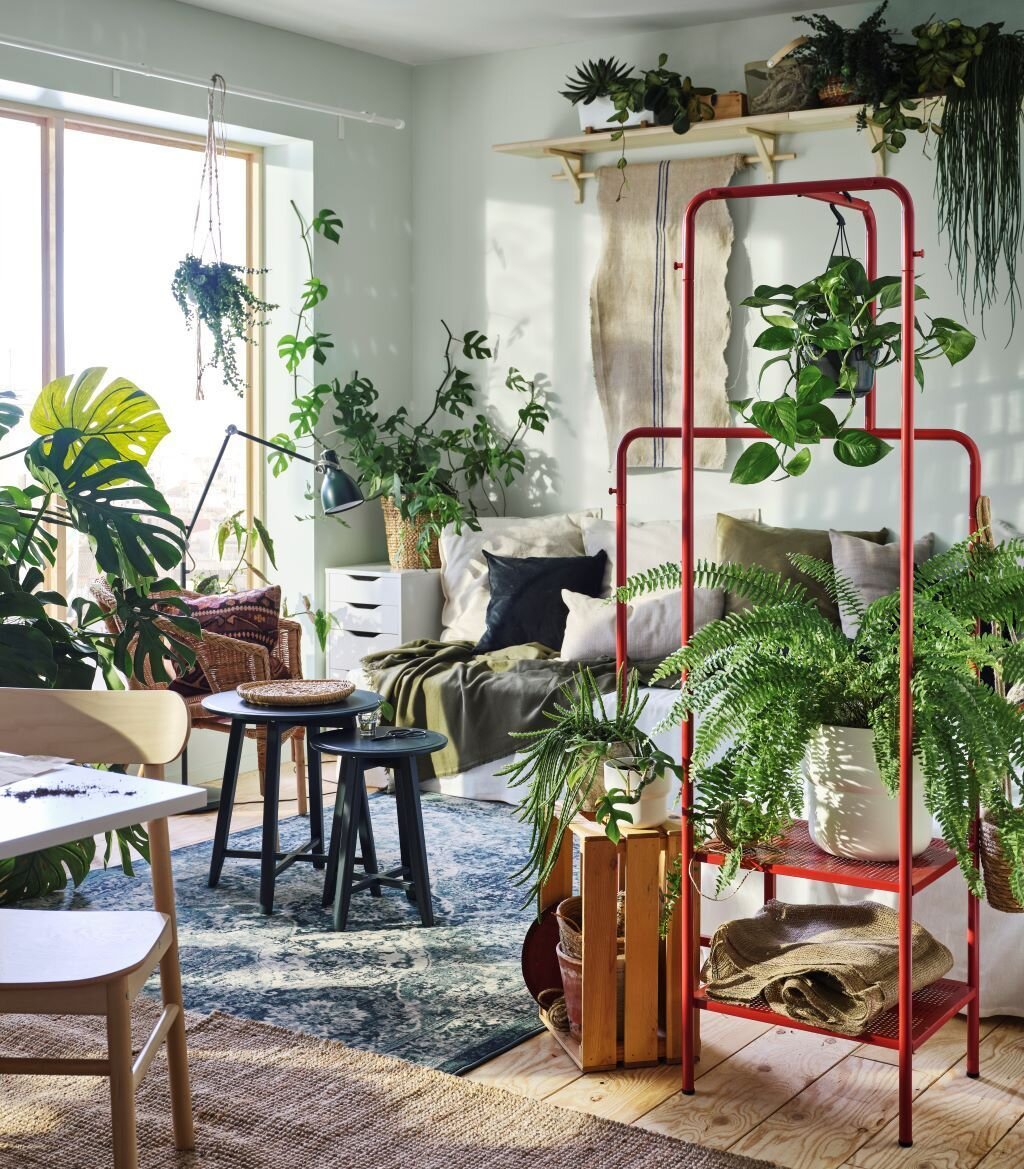 Floor Mirrors
A floor mirror is great to see if your outfit looks great, but there is another benefit to a large floor mirror. Mirrors reflect light; if your room isn't too bright, it's a great way to make it feel a little lighter.
Wall Mirrors
Just like floor mirrors, a wall mirror has the added benefit that you can reflect light. Hang them around the room to create a lovely visual effect with natural light.
Creative Wall Decor
with posters, photographs, or even flowers, you can hide the ugly dorm walls and add personality to the space.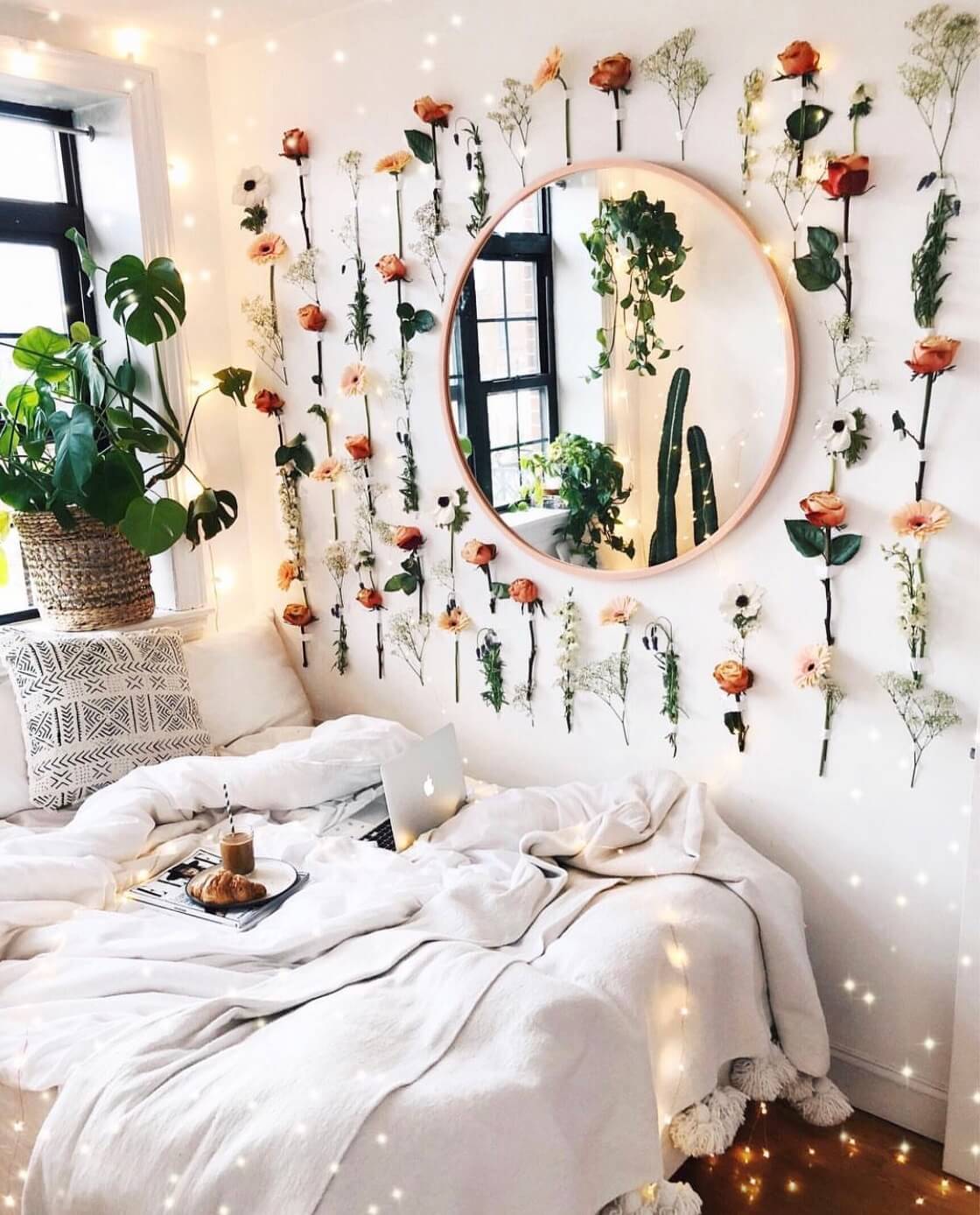 Viktoria Dahlberg was creative with flowers and stuck them against her bedroom wall. You can shop for fake flowers at almost every home store, so it's easy to recreate this floral display.
How To Hang Up Posters Without Damaging the Walls?
Most dorm rooms have the rule that you can't drill holes in the wall, but there are still ways to hang something on the wall. Most of these items are available in regular home stores and on Amazon.
Washi tape is available in a variety of colors and prints. It's very affordable, and with a unique washi tape design, you can create a fun gallery wall.
Sticky putty can be placed behind a poster or photograph to stick it against a wall.
Command strips are perfect for some heavy lifting. The large strips can hold objects up to 16 pounds.
With a simple string, you can showcase your favorite photos and prints. Or buy a string light with photo clips (like the one on the right by Mason Kreations) to combine cozy lighting with personal pictures.
Personalize Your Door
Welcome your friends, and let everyone know who lives in this door with a personalized door. Making friends may be a little easier if you give a warm welcome right from the start.
A cheerful and warm welcome thanks to this tapestry from Urban Outfitters.
Lighting
You're probably going to hate the standard lamp that's hanging in your dorm. The lighting is harsh and just too bright. Add other lighting, such as a table lamp or string lighting, to create a warmer and cozier ambiance.
Rugs
The floor will be ugly. Dozens of other students have already lived in your dorm, so it may not look to great anymore. Adding a large rug to the room is an easy way to hide the bland floor.
A white or beige rug will add a calm and serene look to your dorm, but it can quickly become dirty. So why not look at warmer, darker natural colors like brown or green?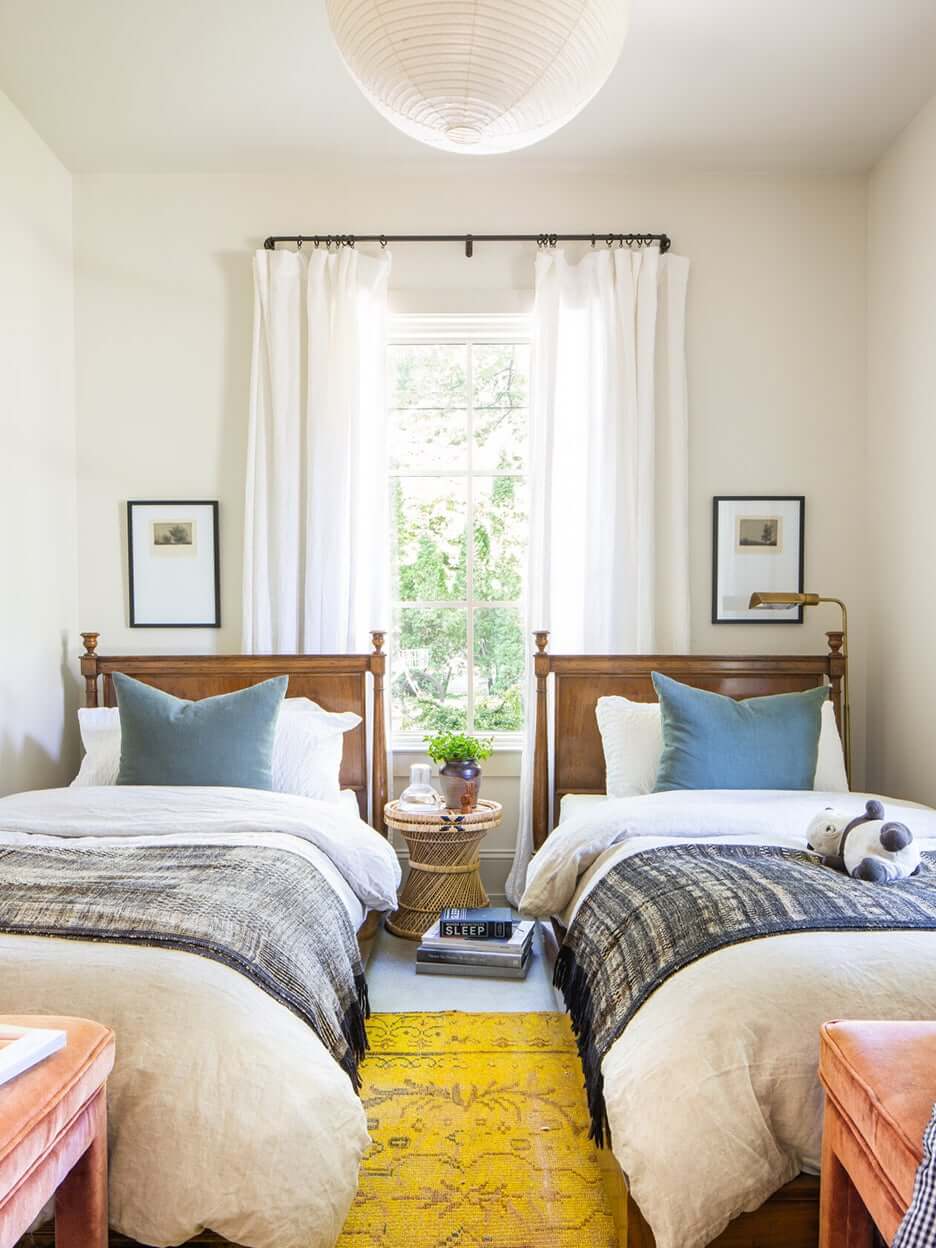 But don't be afraid to add a vibrant color touch to your small home. Bold colors look great in a small space.
Organize Your Desk
Your desk will be your main studying space, and if it's not too big, you need to make sure it's well organized. With affordable boxes, you can hide all your small studying supplies. And a whiteboard or bulletin board, you can keep track of your schedule.
Think About Storage
Your room will be small, so you need to think of creative storage solutions. Under the bed is a great spot to store items you don't need daily. You can find many smart storage boxes on Amazon or IKEA that will fit perfectly under your bed.
But there are other places or items that you can use for storage. You can buy an over-the-door hanger with all your outdoor items, such as your keys, so you won't forget them when you go out.
Or how about a storage ottoman? It's a multifunctional furniture piece, and it adds storage and seating space which you probably need. And it also adds color and texture to the room, making it cozier.
Add a Cork Board
You can buy a cork board and place it on your desk or on a dresser. Or you buy a cork roll that you can stick against the wall.
Add Different Curtains
It's likely that the curtains in your dorm are a standard size, so replacing them with something that's more to your liking won't be difficult. But make sure to store the original curtains safely, as you need to put them back when you move out.
Add a Gallery Wall
You may miss home, so be sure to put photos or images on the wall that help you settle into your new space. Use washi tape to add a little color tone which is also easily removed and doesn't damage the walls.
This gallery wall idea is very simple, but it looks so cheerful. Rachel of The Crafted Life used different types of washi tape to create this fun gallery wall.
Gallery walls come in all sizes and styles. You can also completely fill up your walls with your favorite photos or pages from magazines, self made artworks, and photographes.
Make Your Own Headboard
Not every dorm bed comes with a headboard, so you can make your own to personalize your room. It's not too hard to make a headboard. You just need some cardboard or chipboard.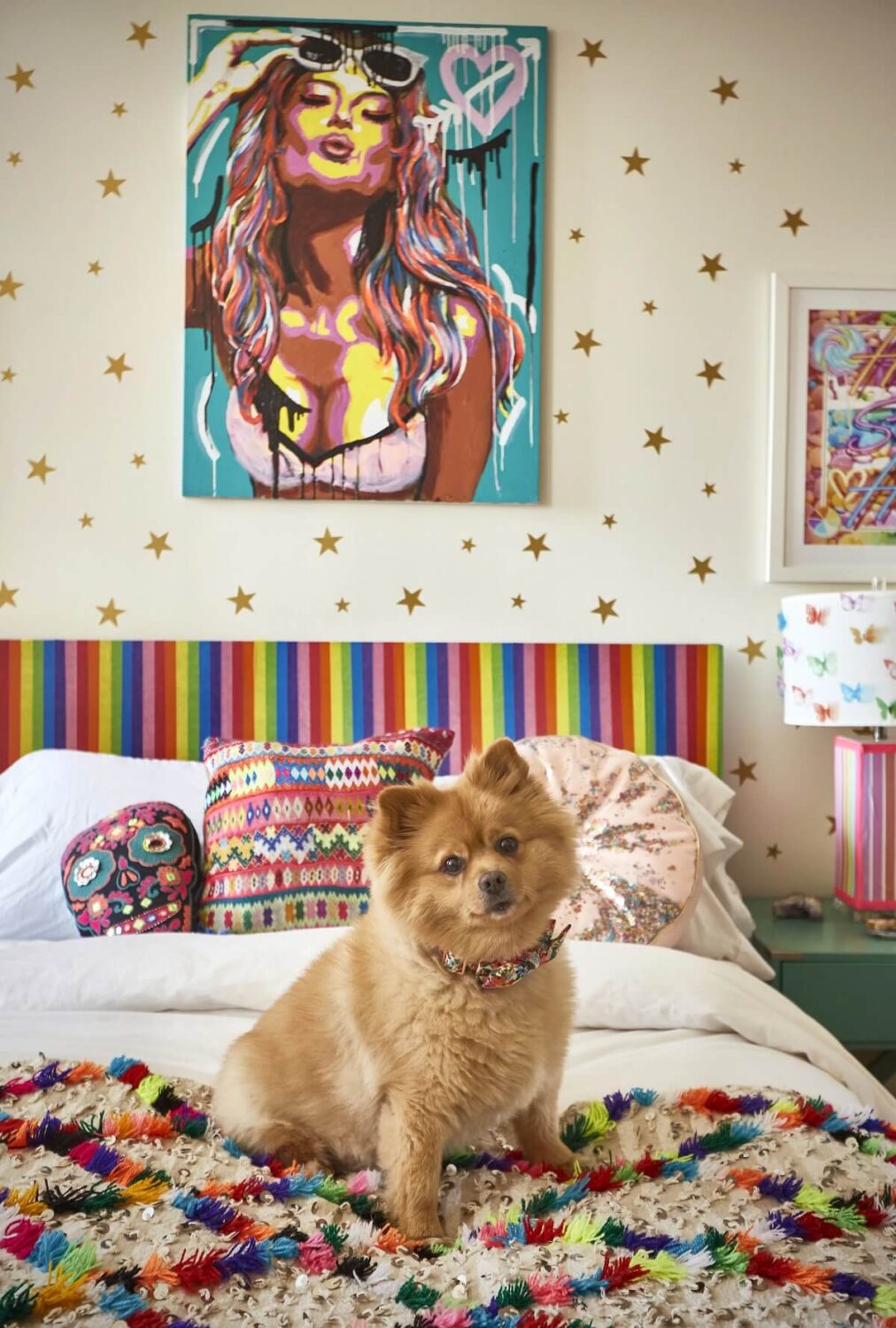 Textile designer Jessica Stempel created a fun headboard by adding rainbow tape to a wooden board.
Buy two large canvases and paint them yourself. You can then place them behind your bed for a unique headboard. This is also an affordable and personal way to add art to the room, and with a large canvas, you can hide the cement block walls.
Removable Wallpaper
Not every dorm will accept this, but there is wallpaper that can be removed and which don't damage the walls. It's a great way to add color and create a statement wall.
Floor Cushions
When you have visitors, you may need some extra seating space. Floor cushions are a great temporary seating option. You can put them away when you don't need them, and they also add texture and color to your room.
Go Thrifting
Room décor doesn't have to cost much, you can bring items from home, or you can go thrifting for unique and budget-friendly items to spruce up your dorm. It will certainly add a unique look to your down because there's not much chance that someone else will have the same items.
Go Up in Height
Maybe you're lucky, and your dorm has a loft bed or you're allowed to add a loft bed. This opens up so much space that you can use for a desk or a lounge area to hang out with friends.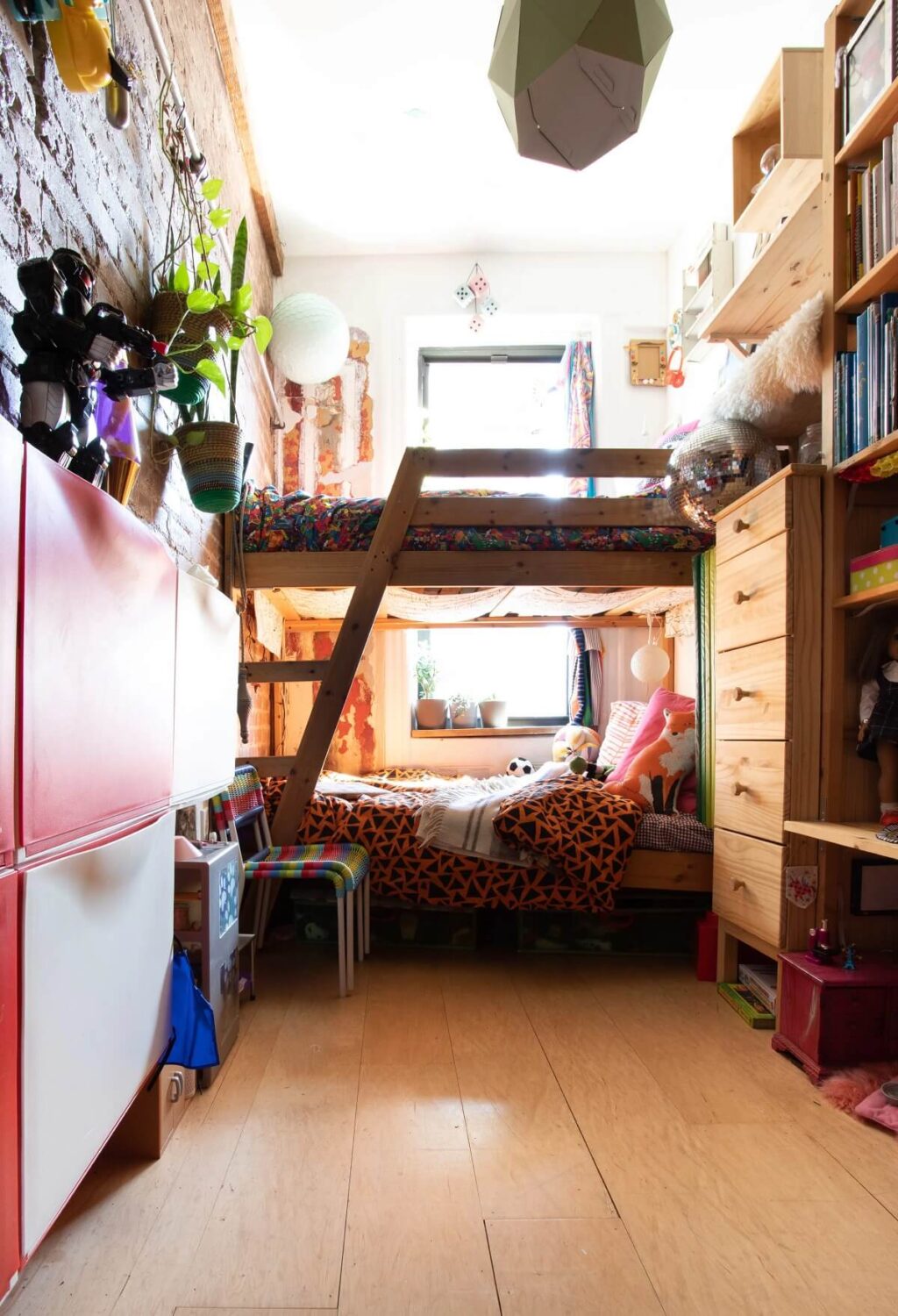 Moving the bed to the end of the room opens up a lot of moving space for a desk, seating, and storage.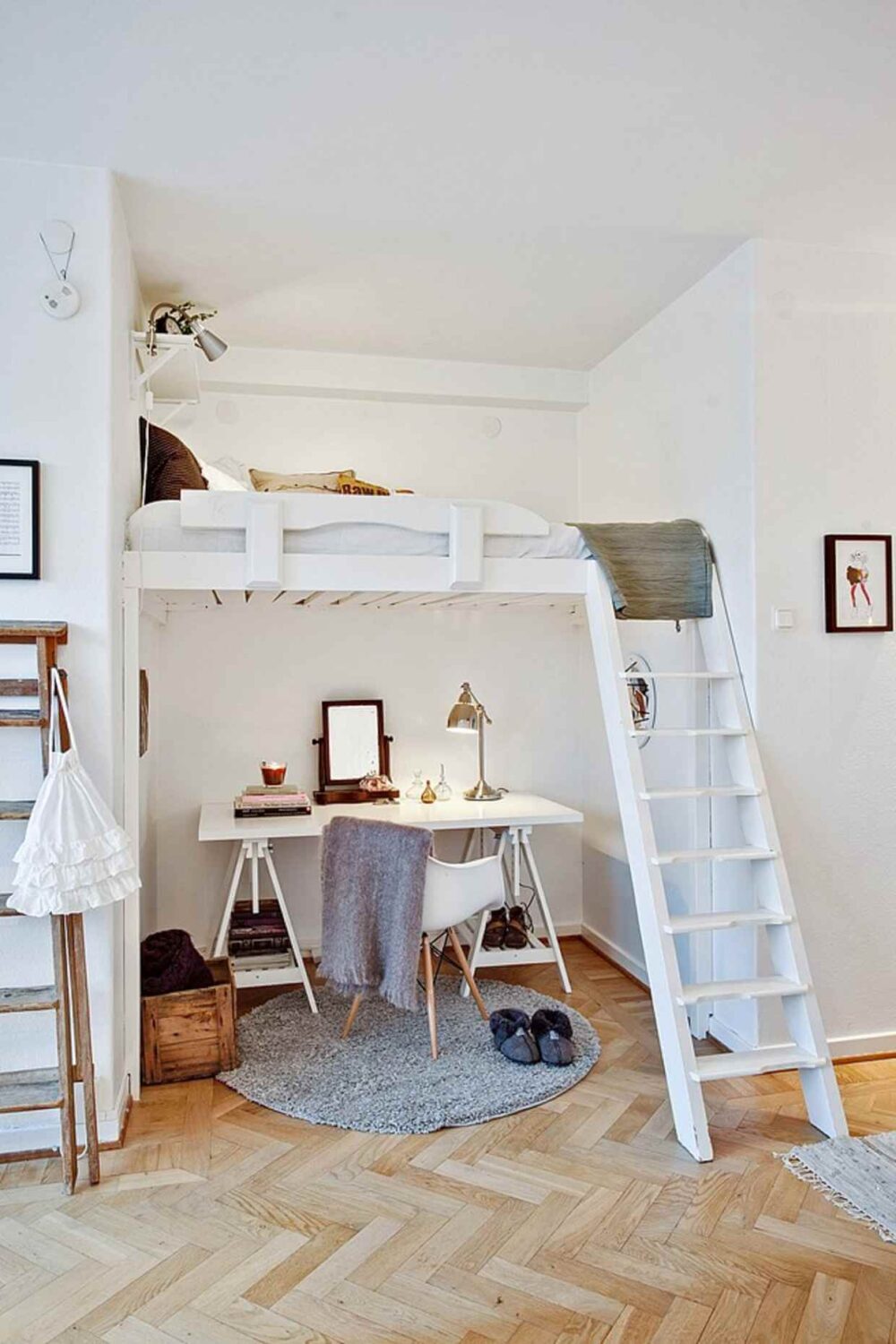 With these affordable, simple, and stylish decorating ideas for your dorm room, you will start your new life at university in style.