The House of Hackney for 1stDibs Collection
British design firm House of Hackney has reworked traditional design pieces for a new generation. In celebration of the beloved muse, Mother Nature, House of Hackney presents a special assortment of revamped vintage and antique treasures.
Exclusively sourced for 1stDibs by the visionary founders of House, Frieda Gormley and Javvy M Royle, this collection harmoniously combines the timeless allure of the past with the House of Hackney's signature accessories, all thoughtfully crafted to infuse homes with the splendor of the natural world.
Renowned as the ultimate destination for rare vintage pieces and antiques from across the globe, 1stDibs seamlessly connects discerning individuals with exceptional sellers and artisans.
The platform proudly showcases an extensive array of furniture, collectible designs, and contemporary creations by the most innovative minds of the 21st century, including illustrious names like Charles & Ray Eames, George Nakashima, Faye Toogood, and Fornasetti. Now, it proudly welcomes House of Hackney to its esteemed roster.
Every piece within this extraordinary collection holds two vital purposes: to pay homage to its original character and design and to reflect our commitment to rejuvenation and promoting traditional British craftsmanship. Collaborating closely with local craftspeople, we breathe new life into these vintage furnishings, ensuring they continue to captivate hearts for generations to come.
From striking B&B Italia pieces to the iconic 1980s Peter Bliss 'Daffodil' lamp, this collection showcases the best of vintage design with a House of Hackney twist.
This post contains affiliate links, for each purchase, we will receive a fee.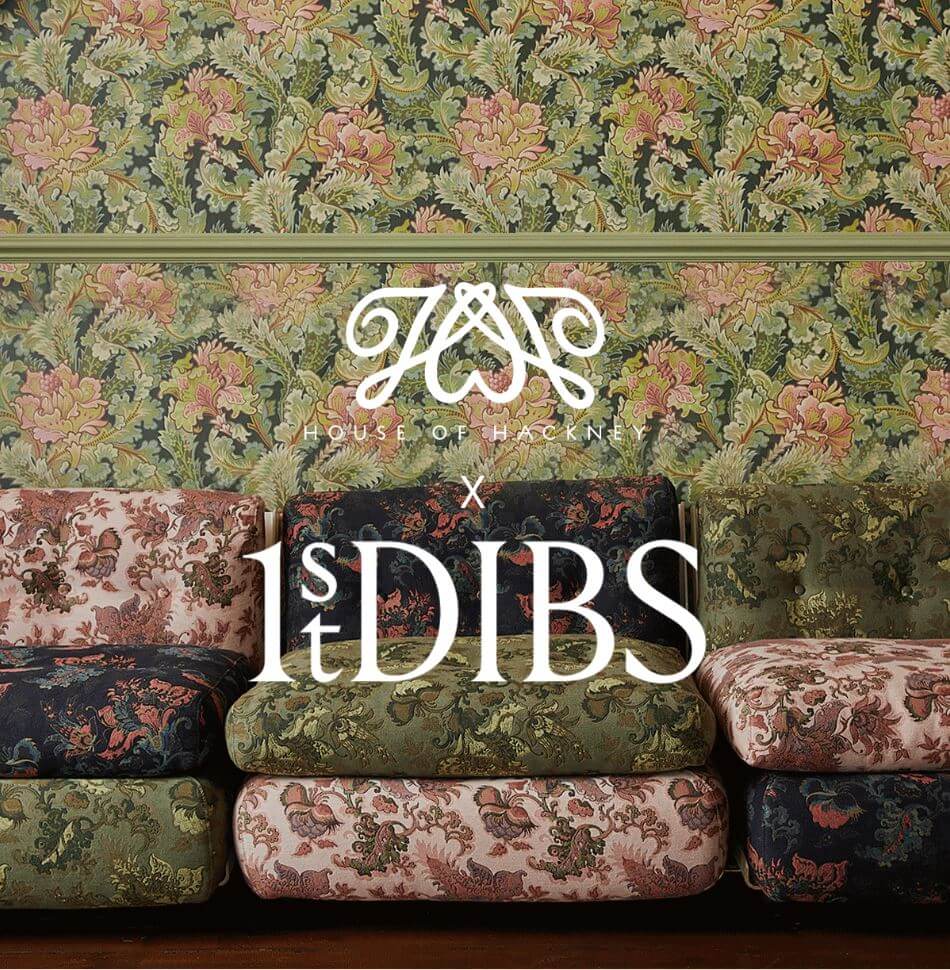 Amanta Set of 3 Armchairs by B&B/ C&B Italia, 1970s
They say 3 is the magic number, and we're inclined to agree when it comes to this set of '70s Amanta armchairs by B&B / C&B Italia. Swathed in the timeless florals of House of Hackney's PERSEPHONE print jacquard, each has its own personality, in 'Noir', 'Verdigris' and 'Tourmaline'.
With her unfurling wildflowers, PERSEPHONE – goddess of Spring and queen of the underworld – represents the duality of Nature and the cycle of life. Hope springs eternal with this enchanting print.
Pair of COMPTON Italian Armchairs, 1970s
Relax in style with this classic pair of 1970s Italian lounge chairs, expertly upholstered in House of Hackney's COMPTON jacquard fabric, a reworking of William Morris' iconic print, reimagined in bold blacks, blues, and greens.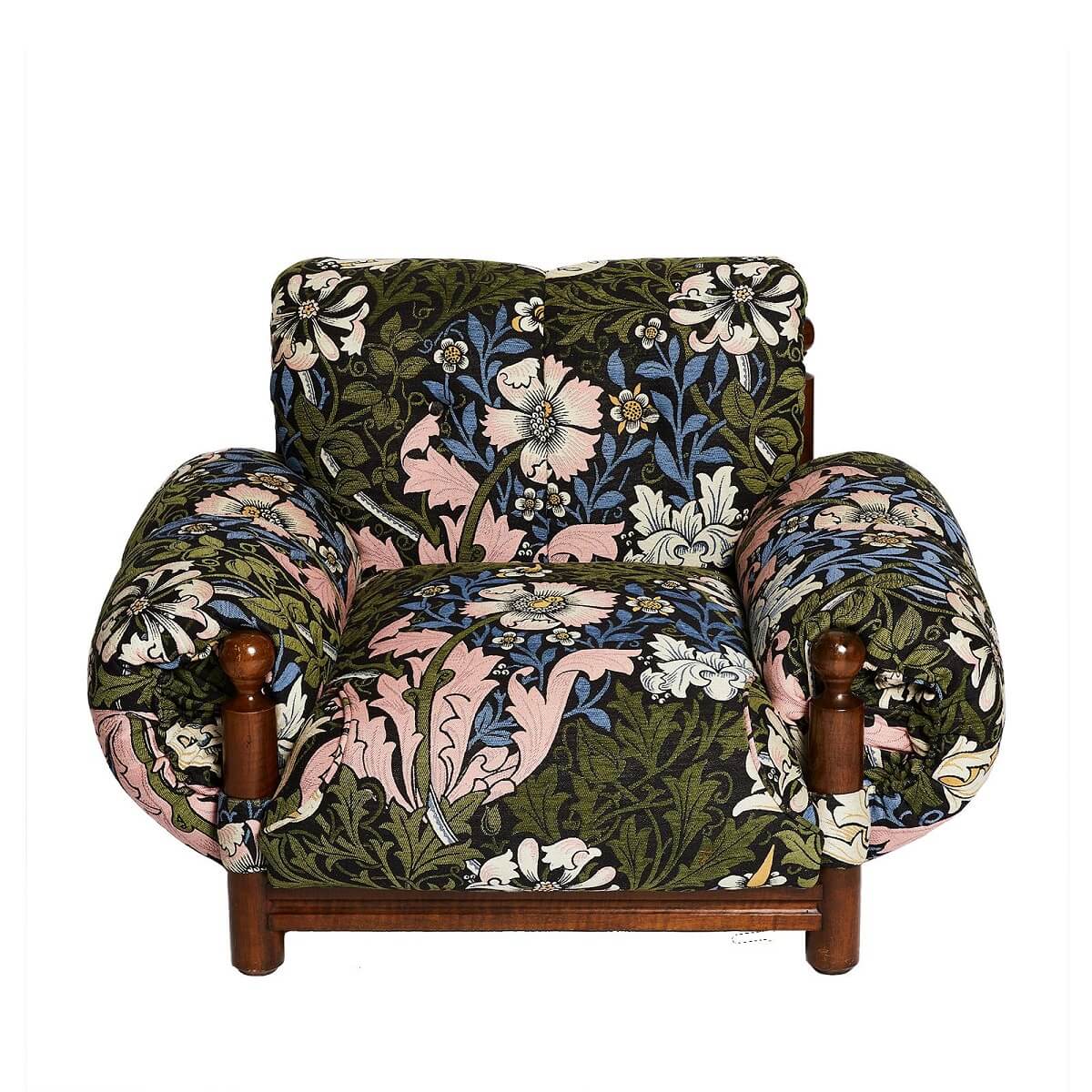 A boldly beautiful motif of flowers and foliage, COMPTON was originally created by William Morris in 1896 for the interiors of Compton Hall in Wolverhampton. It would be the very last print our design hero lent his hand to.
Grandangolo Sofa by Titiana Ammannati & Giampiero Vitelli for Rossi Di Albizzate
Rest upon a bed of wildflowers with the Grandangolo sofa. An icon of postmodern design, this 1960s modular piece by Titiana Ammannati & Giampiero Vitelli for Rossi Di Albizzate has been reupholstered in the spring florals of House of Hackney's HOLLYHOCKS.
Tabouret by Jindrich Halabala, 1950s
This 1950s tabouret stool by Jindrich Halabala has been brought into the 21st century with House of Hackney's beloved HOLLYHOCKS floral print velvet.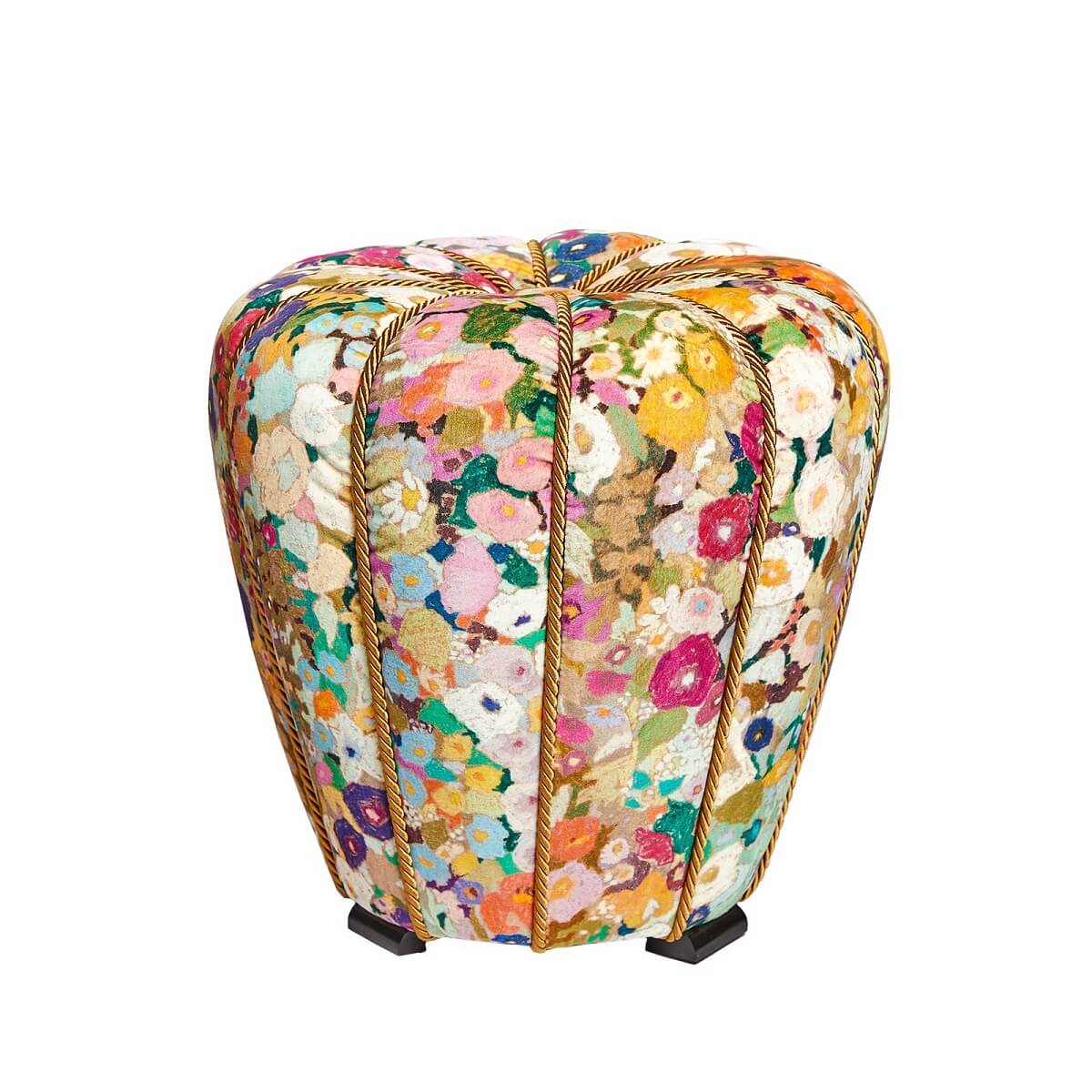 The Gustav Klimt inspired floral combines pastoral purity with House of Hackney's punk spirit; the perfect print to bring the joy and romance of Nature into your home.
'In our climate, it's so important that we look at a circular model of design. We're really passionate about making new of old and revising beautiful pieces of heirloom furniture so future generations can enjoy them and hopefully continue to pass them on. We're incredibly excited to put this collection out into the world with 1stDibs, having reimagined these iconic pieces in some of our favorite British jacquard and velvets, they will last another lifetime.' – Frieda Gormley & Javvy M Royle
C&B Italy Coronado 3 Seater Sofa by Tobia Scarpa, 1960s
A love letter to the '60s, this C&B Italy Coronado Scarpa 3 seater sofa is upholstered in House of Hackney's AMATORIA floral black velvet; postmodern design with a romantic edge.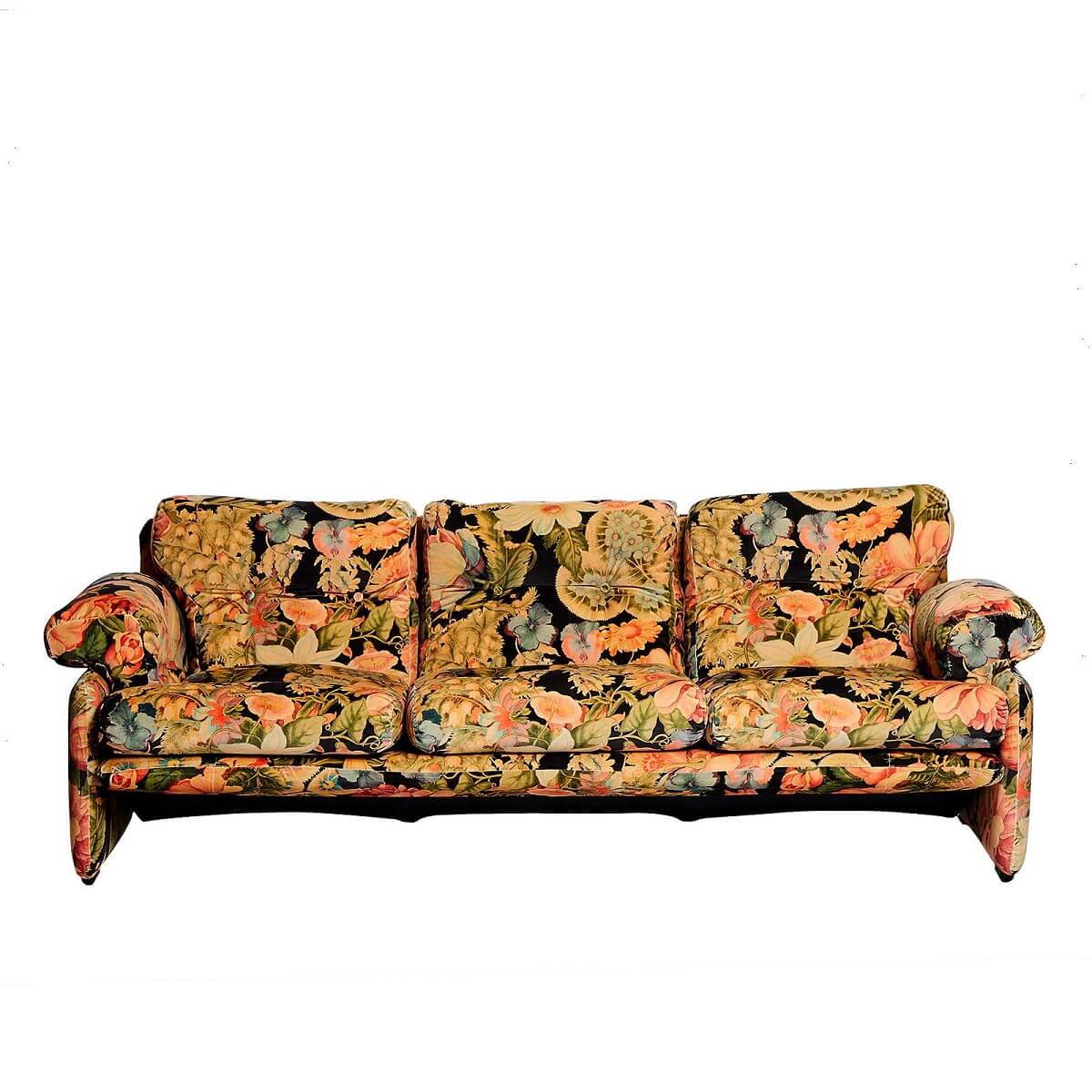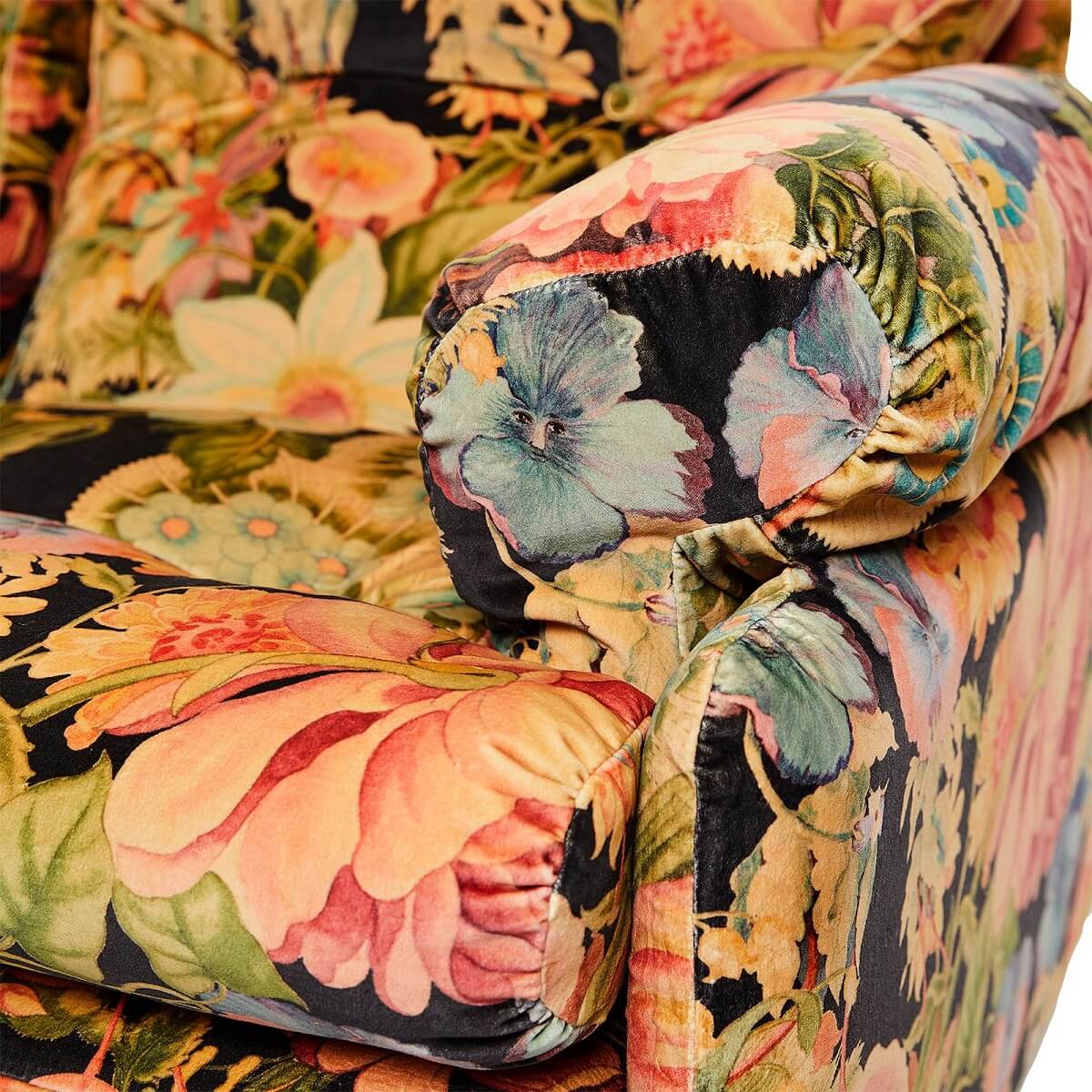 Inspired by the Latin Ars Amatoria, meaning 'the art of love', AMATORIA is House of Hackney's 1930s-inspired floral print. Hidden amongst the lilies and roses, you will find our Pansy People exchanging a note of love.
Shop the C&B Italy Coronado Sofa
B&B Italia Coronado Armchair by Tobia Scarpa, 1970s
Reupholstered in the dark florals of FLORALIA velvet, this B&B Italia armchair by Tobia Scarpa is the epitome of 1970's style, with a House of Hackney twist.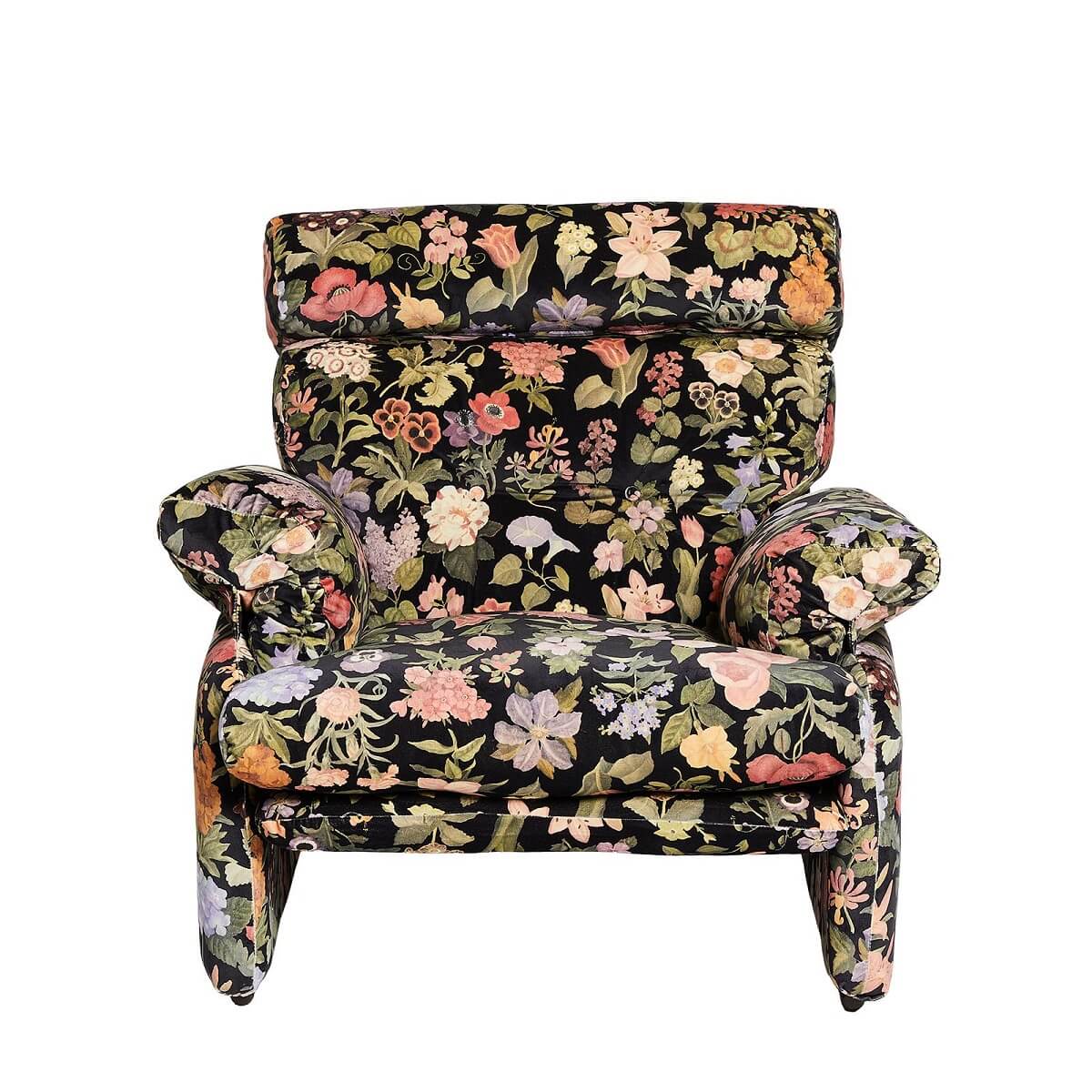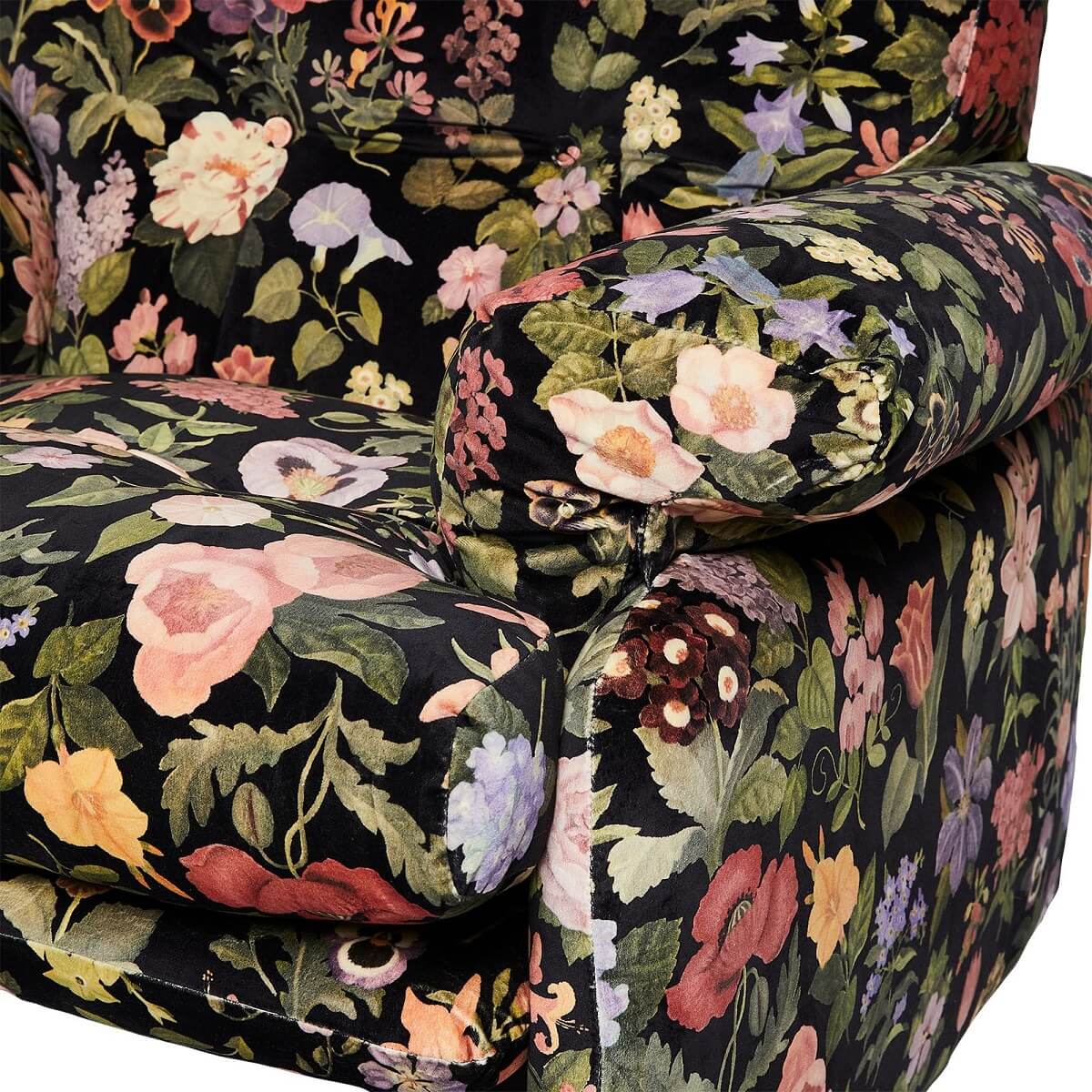 Named for the Roman goddess of flowers, FLORALIA celebrates Nature in all her floral glory with a carpet of blossoming blooms.
AURORA Floor Lamp
Pretty in pink, this vintage floor lamp features entwining stems and leaves, holding up globes, as if orbs of dew, in a delicate pastel tone.
DAFFODIL Floor Lamp by Peter Bliss, 1980s
Light up your home in the joys of spring with the iconic 1980s postmodern daffodil lamp from Peter Bliss.