An Idyllic Small Swedish House with Wooden Beams
In a charming small town in Sweden lies an equally charming small home that I want to share with you. The 35 square meter house was recently renovated and is now a lovely home in an idyllic setting.
Overlooking a river, this house s built in a typical Swedish style with a yellow-painted wooden exterior, red window frames, and a bay window with beautiful windows. A gravel path leads to the small garden; from the patio, you have a fantastic view of the river.
Despite the small size, the Swedish cottage feels pretty spacious and comfortable. The interiors are open-plan with a pitched ceiling which adds a feeling of space.
The exposed wooden beams show the history of the little home, that was built in 1875.
With windows on three sides, the living room is light and pretty spacious for such a small home.
From the living room, you see into the kitchen and you have a view of the loft area that is now used as a bedroom.
The light gray kitchen was built on site. The classic cabinets fit perfectly with a historic cottage style home.
The entire home is decorated wth the same wallpaper for a consistent look.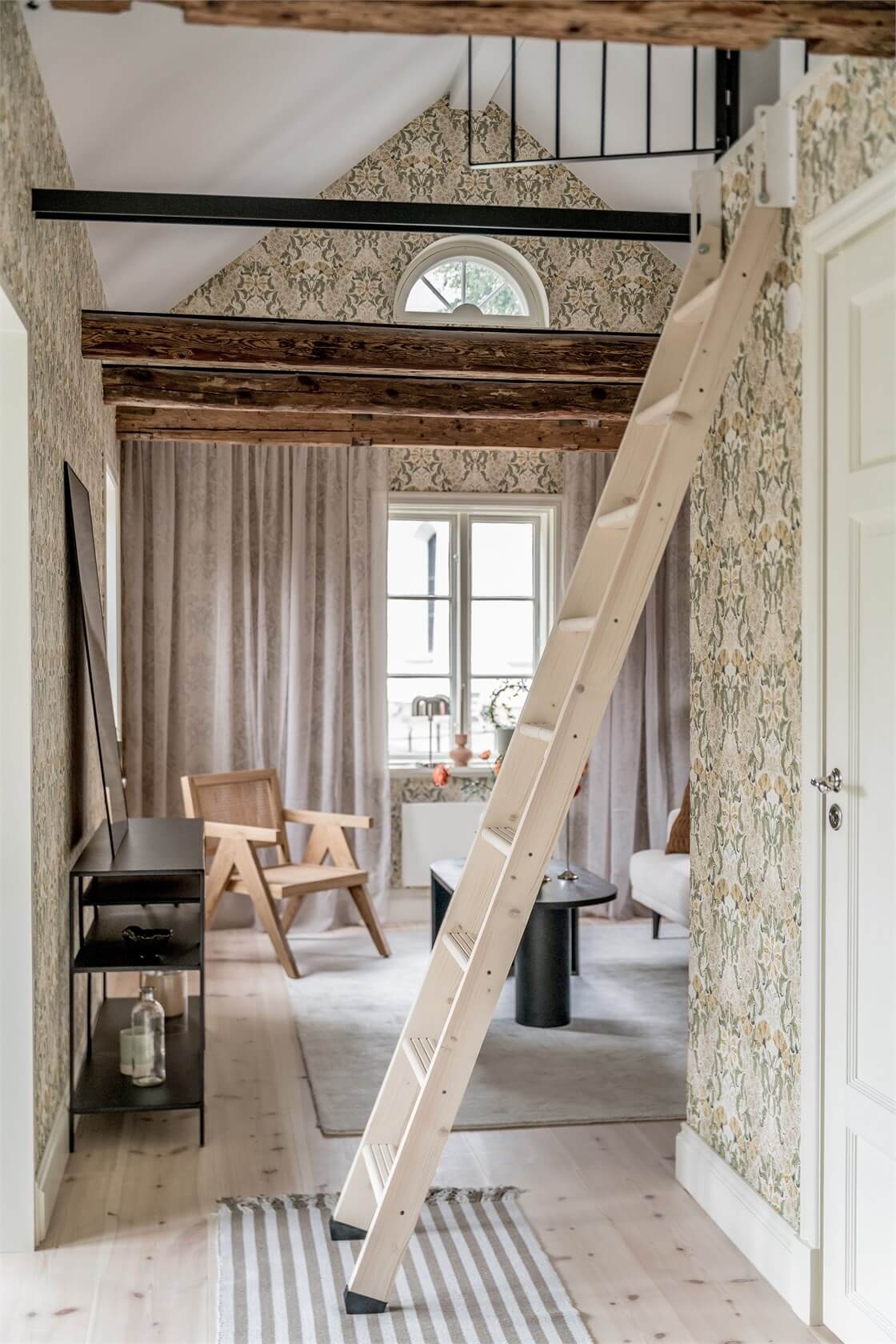 The stairs leading to the loft can also be folded in so it doesn't take up too much space.
Thanks to the high-pitched ceiling, there is plenty of space for the loft area which creates a cozy sleeping area.
The small house has a big hallway with four pitched windows overlooking the countryside. You can easily place your wardrobes here so they don't clutter up the main living spaces.
Surrounded by trees and water, this small home is located in an idyllic setting in the Swedish countryside.
The house in Söderköping is currently for sale at Fastighetsbyran