IKEA AFTONSPARV: A Space-Themed Children's Collection
IKEA launches AFTONSPARV: a new children's collection inspired by the universe and the infinite imagination of children. Like the universe, children's minds have no limits, so input from the IKEA children's panel was essential in its creation.
In line with IKEA's commitment to the environment, the materials chosen for this extraterrestrial collection also consider life on Earth. The cuddly toys, play mat, and cushions are crafted from 100% recycled polyester, promoting sustainability while fostering creativity in children's play.
Ikea's new AFTONSPARV collection brings outer space into the home space. The collection is designed to spark play and curiosity in children aged 3-7 years. It contains a host of space-themed toys, including soft-toy astronauts and aliens, a cardboard rocket play tent, a spaceship, finger puppets, space-age lamps, galaxy-inspired bed textiles, and a glow-in-the-dark curtain.
Much like space, a child's imagination has no boundaries, making it the most giant playground. So let's take a look at this new IKEA collection called AFTONSPARV.
Created Together with Children
The young panel members were asked what came to their minds about the 'universe'. Designer Marta Krupińska asked the children what outer space meant to them. They were curious to find out what they thought lived in space, what things in space looked like, and what kind of transport they imagined in space.
Through a series of workshops, they explored all these questions, collaborating with the children to bring these ideas to life. Using their imaginative responses, a captivating space-themed collection has been developed, bringing excitement to every children's room and ensuring hours of endless fun.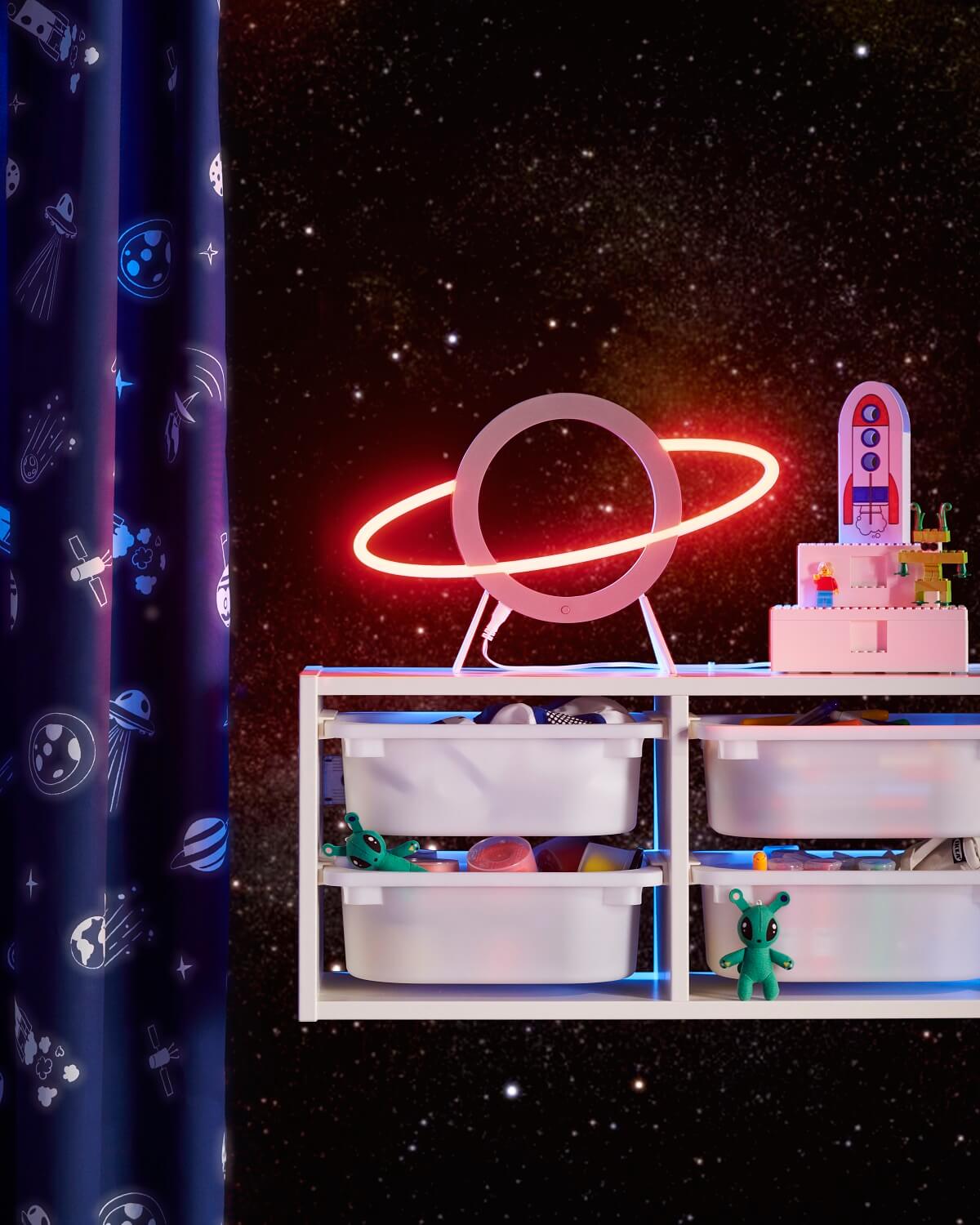 The decorative lamp in the shape of a planet can change color and fits perfectly into the space theme. The white legs and luminous ring make the planet seem to float through the room. Combine the lamp with the glow-in-the-dark curtains to really bring the space fantasy to life.
Because Play is Learning For Life
IKEA takes play very seriously. Play is essential for a better everyday life at home. Through play, adults and children learn to connect, create, recharge, escape, and explore.
For kids, play is crucial for their development and growth. It's how they learn to express themselves and discover the world.
Young voices also need and deserve to be heard. IKEA hopes that the AFTONSPARV collection empowers children to pursue their curiosity about outer space and develop their creativity as they do so.
Will it be red, blue, green, white… or another color? With seven to choose from on the AFTONSPARV LED rocket lamp, you can leave it on one color to suit the mood, or set it to switch automatically between all of them.
Creating New Space Explorers
The children contributed their ideas and input to the soft toys during the workshops. When it came to aliens, the children imagined them in all sorts of colors: yellow, pink, brown, orange, and green. For now, IKEA has gone for green.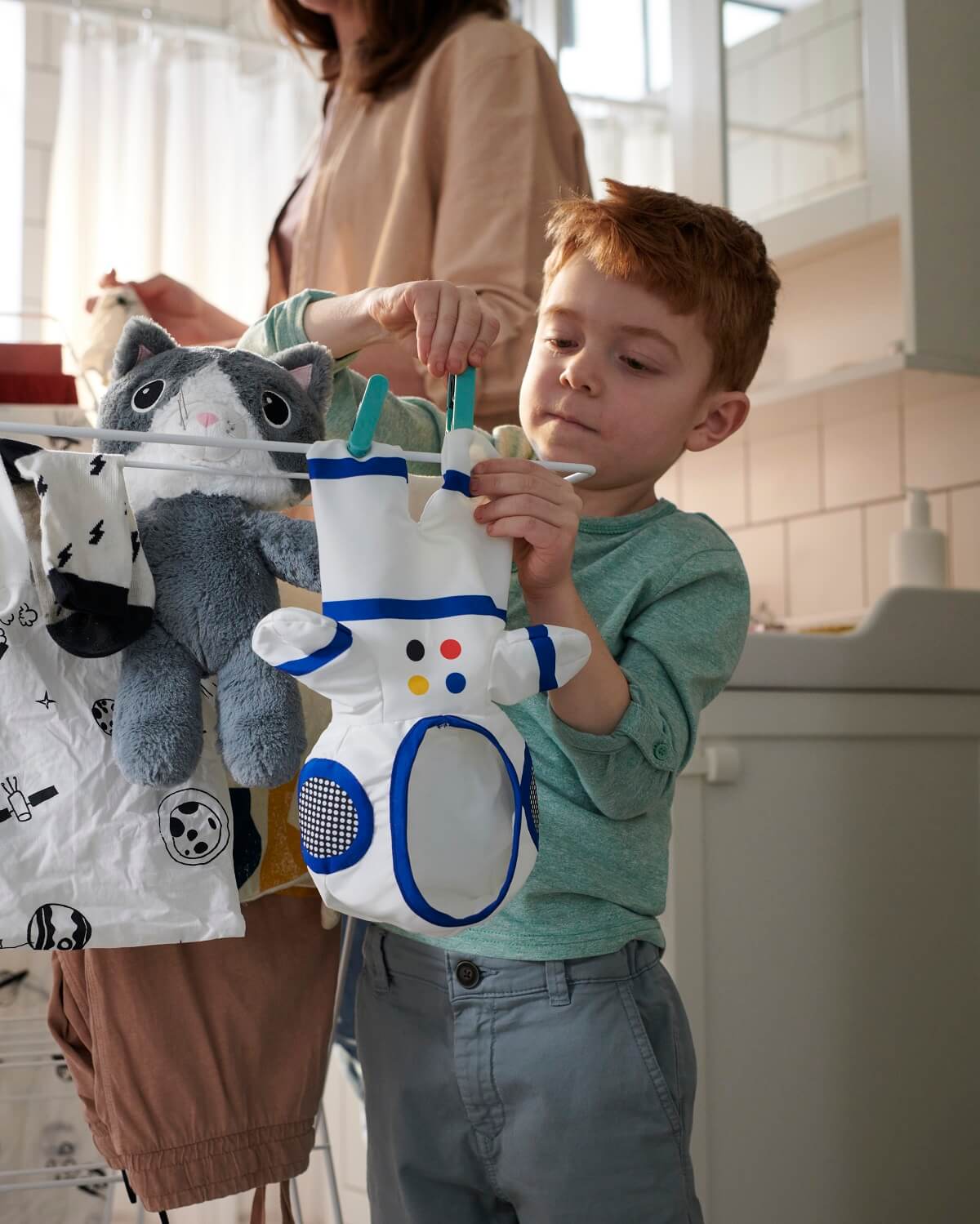 All children agreed that white was a good color for the space suit for the bear, vat, and bunny astronauts. But they were most excited by the fact that the suit could be removed and came up with many ideas for alternative outfits for the toys once they landed back on earth. And for parents, it's great that they're easily washable.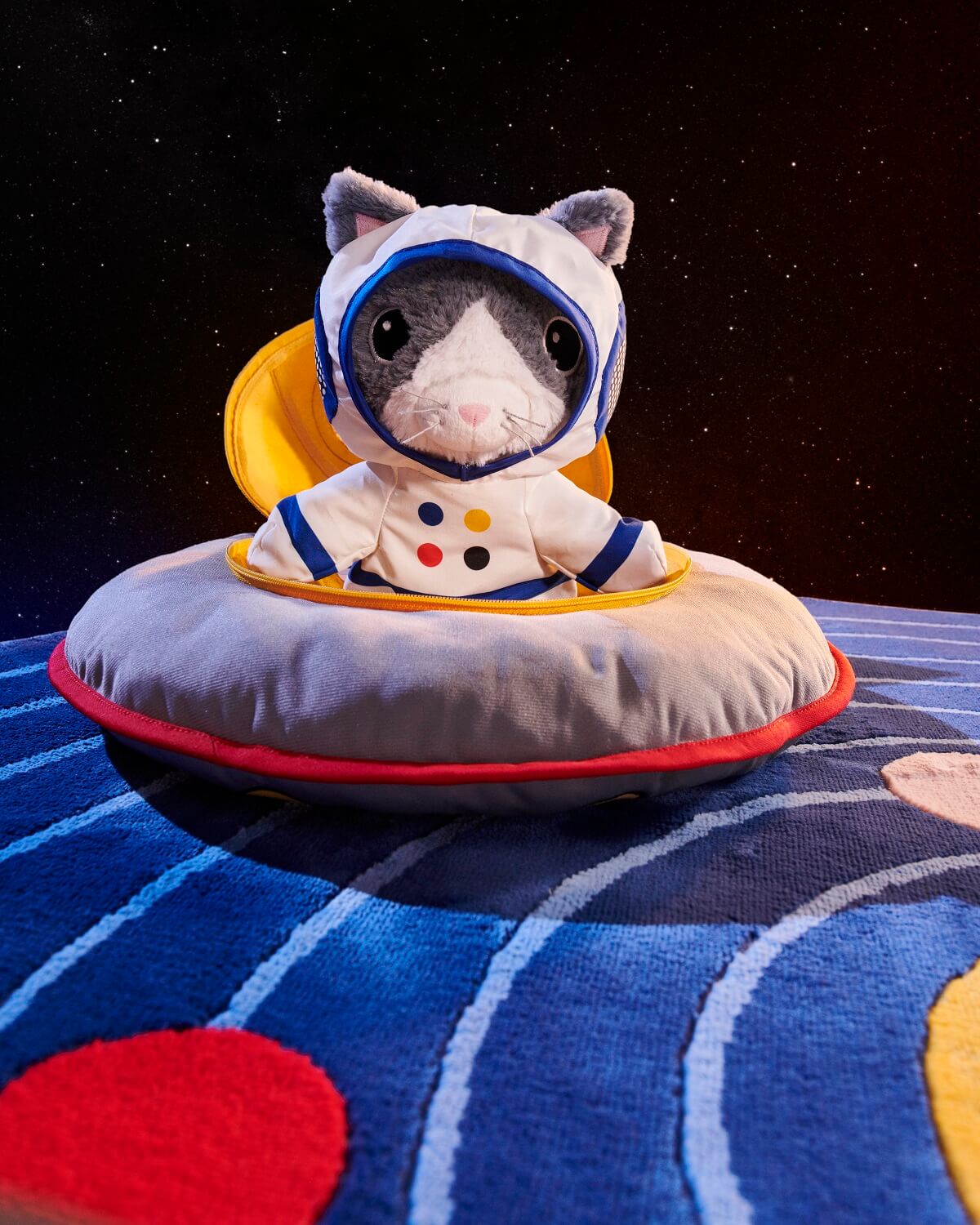 Journey To Another World
Where do the kids want to go today? Whether they're heading into space or landing back on earth, the AFTONSPARV tent rocket is ready for all kinds of space adventures – because it runs on the most sustainable fuel of all, imagination.
It's also the first play tent by IKEA, made entirely from cardboard – with an outside surface that can easily be painted – so kids can create a customized rocket that gets noticed wherever it goes.
Explore New Creative Galaxies
The AFTONSPARV collection encourages kids to be creative. Drawing, coloring, and crafting are great ways to turn space dreams and ideas into reality, so the space-themed paper coloring roll, desk pad, and 15-piece cardboard template set lets kids immerse themselves in deep space.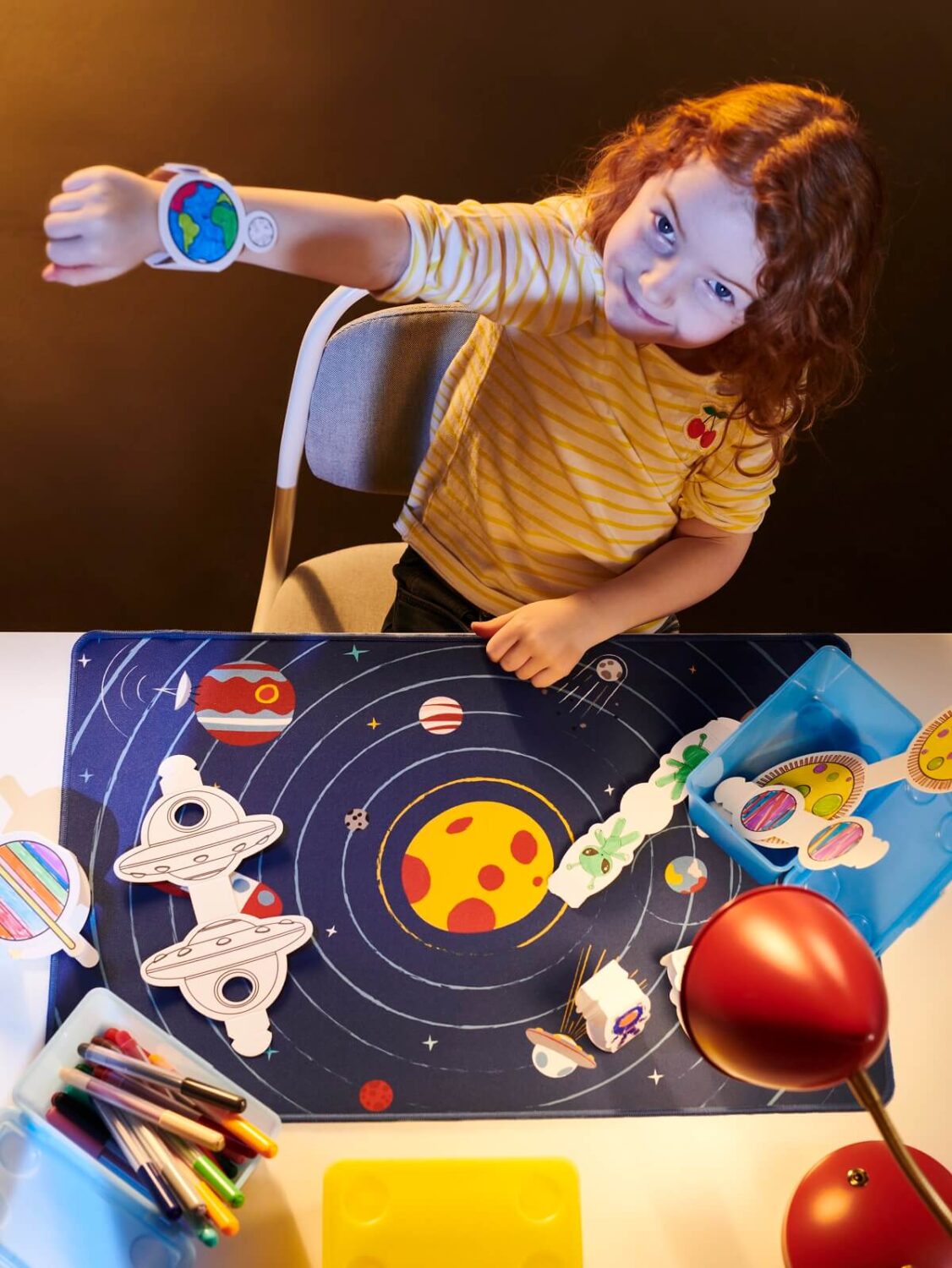 They are perfectly paired with things like pens, paints, pencils, and scissors from the MÅLA series to set the scene for intergalactic creativity.
A Universe of Characters
From finger puppets and soft toy astronauts to aliens and even a spaceship, the AFTONSPARV collection has lots of fun and cute characters for space-themed role play.
And the soft toys fit perfectly in the spaceship, so they can easily reach their destination.
Create a Space-Age Bedroom
The AFTONSPARV bedroom accessories include a blue intergalactic KURA bed tent, making it easy to bring space-themed style to any child's room.
Extra softness comes from the tufted solar-system-inspired rug – it's a perfect spot for playtime and a great backdrop for space-themed games.
Bed Textiles That Reach For the Stars
The AFTONSPARV bedroom textiles make it easy to create a space-themed snuggles at sleep time. The galaxy-inspired glow-in-the-dark curtain brings the starry night sky inside, whatever the weather.
Three duvet cover and pillowcase sets, covered with different motifs of shooting stars, planets, asteroids, and aliens, set the scene for space age drifting off and dreaming.
Small Things Can Start Big Adventures
All children have a right to play and therefore IKEA does its best to make sure their Play products are affordable for as many people as possible.
The AFTONSPARV finger puppets are small in size and price but there's no limit to the adventures they can lead to. That's the great thing about play – it has an amazing ability to travel beyond things and toys.
Join Us in a Galaxy Far Away
There are no boundaries when it comes to where play can take you. Of course, kids know this. Turning everyday activities into play in- and outside the home is second nature for them.
That's why the AFTONSPARV collection has been designed to incorporate all types of play, whether that's active, creative, or role-play, in whatever the setting – from early morning rocket launches to spaceship storytime.
The IKEA AFTONSPARV collection will be available in stores and online in October.