A Unique Historic House Near the English Coast
You can undoubtedly call this home unique with a location close to the English coast, bold color combinations, and various historical elements. The late 17th-century home is repaired, restored, and decorated with extreme care for the original features and architectural style.
The house still shows remarkable 17th and 18th-century elements that are combined with contemporary interventions by artist Pablo Bronstein, using historically appropriate materials and bold colors.
This house, like many others from its time, has a wooden frame as its oldest part. Inside, there are big wooden beams on the ceiling with carvings from the 17th century, and the smaller beams are made from timber used in old ships. The front of the house was built around 1840 and has a beautiful design with tall pillars and decorative moldings around the door.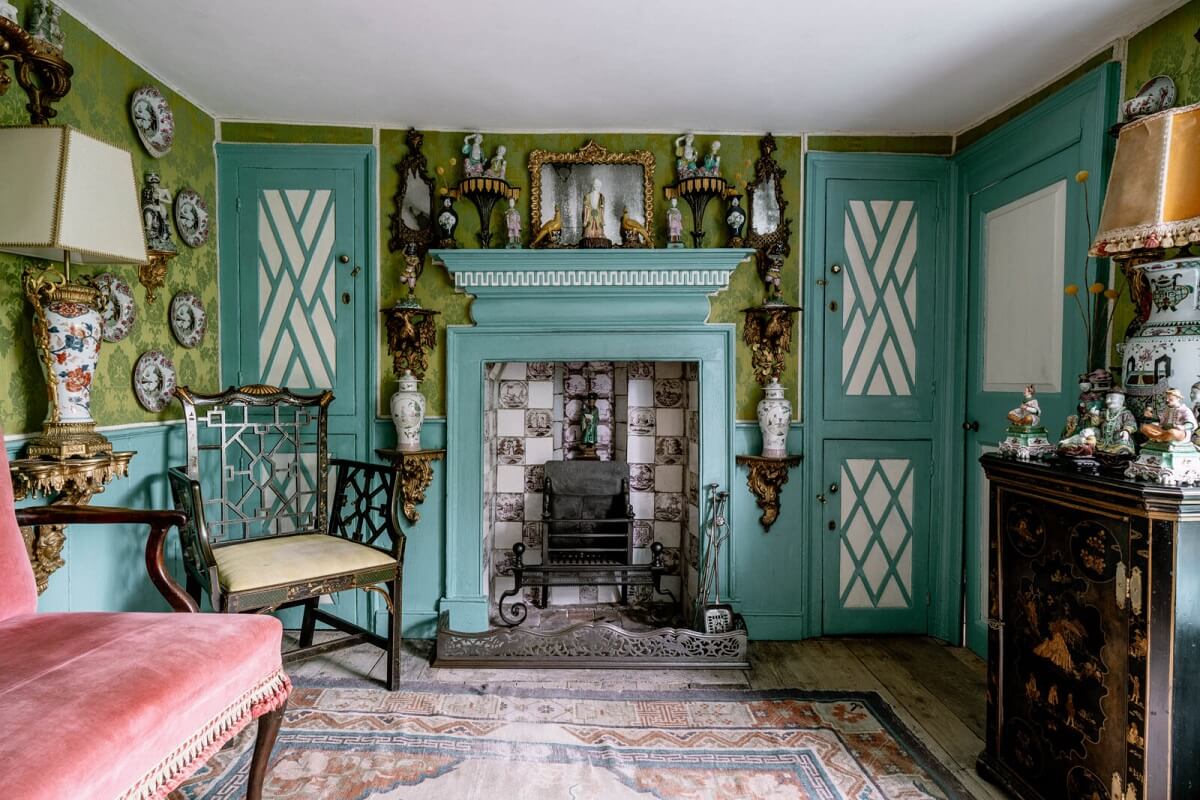 Throughout the home, deep, rich colors and bountiful textures are used. The paints are often historically appropriate distempers, limewashes, and linseed oils. Some are mixed by Bronstein and some by those such as Patrick Baty.
This house was constructed with exquisite woodwork, and much of it still remains intact. The original paneling covers entire walls and has been carefully restored by skilled local craftsmen using traditional techniques and materials.
Some of the decorative elements, like heavenly carvings from the 17th century, are original to the house, while others have been meticulously recreated by hand, including many of the moldings.
This Chinese room overlooks the garden and gives access to a cozy snug.
The snug, with a window overlooking the green garden, is now used as a cozy reading room with a custom made bench with underneath book storage.
At the front of the house is a moody dark sitting room with a velvet green sofa and plenty of artwork..
In total, the house has six working fireplaces. Niches on each side of this fireplace are now used to display gorgeous vases.
The kitchen and dining room are located on the house's basement floor.
The range and a butler sink are set alongside bespoke solid wood worktops.
The house shows glimpses of 17th and 18th-century delft tiles depicting sea monsters, putto, or landscapes.
The bedrooms on the first floor are currently used as an elegant pair of artist studies. The painter's studio has pale blue walls which reflect the light from the sea view framed by the huge sash windows.
The poet's studio is more demure, with an elegant marble chimneypiece and a separate writing nook over the garden.
One the top floor are two more bedrooms with slanted ceilings.
The garden is extremely private with many mature plants – a Camelia, yew, and holly rustle in the wind. There is a good climbing rose and a Magnolia tree that flowers vigorously.
A secret room at the end is still partly enclosed by the old wall that envelops the space.
This historic house in Deal, Kent is currently for sale at Inigo