IKEA Nytillverkad Collection: A Fresh Look for Iconic IKEA Designs
IKEA has released images of the first pieces of the Nytillverkad collection. The Nytillverkad collection, revealed at the Milan Design Week 2023, is a new collection that celebrates eighty years of iconic IKEA designs. The Nytillverkad collection features furniture, bedding, and accessories with a fresh, bold, and joyous take on classic design pieces.
In recent years, vintage furniture has become increasingly popular. People want to decorate their homes with unique, timeless pieces that add character and style to their spaces. IKEA meets this demand with the Nytillverkad collection by going back to its roots with a collection that celebrates the unique take on design as simple, functional, and playful.
The launch of these products is just the first of a series of product launches with revitalized IKEA items. The first batch of Nytillverkad products will be available in IKEA stores from July 2023.
Do you love IKEA? So do we. Take a look at the latest IKEA collections in this article.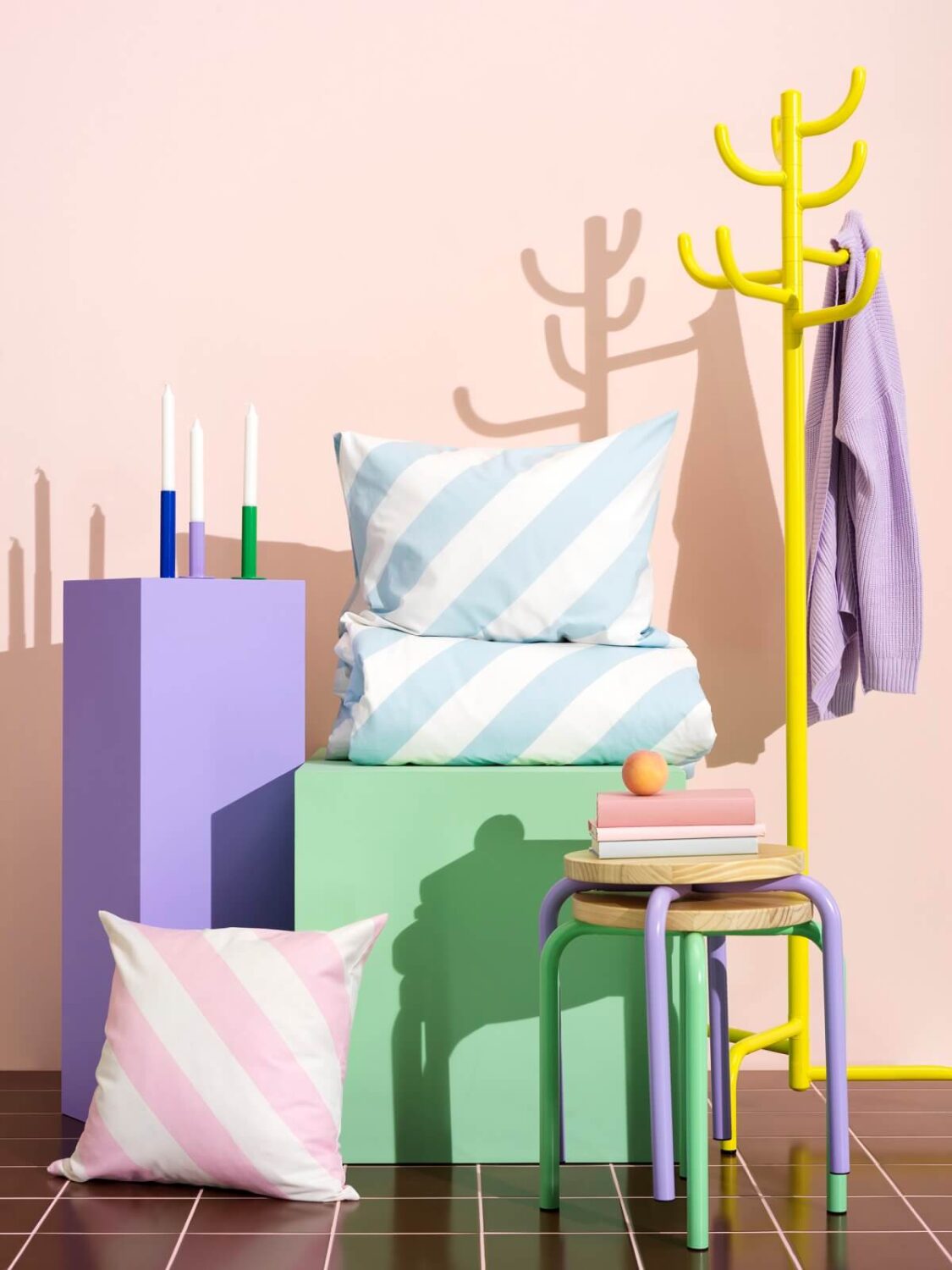 "At IKEA, the past, the present, and the future are all connected. We've designed many functional and beautiful home furnishing products during the last 80 years, and it's only natural that we get curious about our achievements in the past. With Nytillverkad, we are returning to the future again.
In multiple launches over the next few years, we will release a series of carefully selected products from our design archive, updated to match the bold outlook of the next generation. We are happy to bring back these timeless designs truly appreciated by the customers over the years," Fredrike Inger, Managing Director at IKEA of Sweden.
A Loud, Colorful, and Fun Collection
The Nytillverkad collection features a range of furniture, bedding, and accessories reimagined to be relevant to the needs of today. The collection stays true to the original designs but reinvents them in striking shades and updated materials, resulting in a range of products that dares to be truly timeless.
Domsten Stool
The Nytillverkad collection includes the DOMSTEN stool, featuring a smooth pine top and metal legs in contemporary colors. The DOMSTEN stool takes its inspiration from the JERRY stool designed by Karin Mobring.
LÖVBACKEN Side Table
"This collection is loud, colorful, and fun. All the products have a story behind them, like one of our most iconic products LÖVET, first introduced in 1956. In the Nytillverkad version, we call it LÖVBACKEN, and it comes in orange, blue, and light green with an ash veneer top, adding a bold pop of color to any room", says Karin Gustavsson, the Creative Leader of Nytillverkad collection, IKEA of Sweden.
BONDSKÄRET Coat Stand
The BONDSKÄRET coat stand is a new bold take on the SMED coat stand that was originally developed by designer Rutger Andersson.
"The simplicity in the design – how they look – and how they help you in your everyday life is what makes this collection so special", says Johan Ejdemo, Design Manager at IKEA of Sweden.
KRYPKORNELL Pattern
Another iconic design is the KRYPKORNELL pattern by Swedish textile designer Sven Fristedt which was first introduced in 1980 as the BLADHULT pattern on a cover for the KLIPPAN sofa.
The happy multicoloured print, typical for Scandinavian design, is now available on bedding, kitchen accessories, pre-cut fabric, and cushion covers, adding a sunny boost of colour and charisma wherever you choose to put it.
More Products from the Nytillverkad Collection
The Nytillverkad collection will be available from July 2023, with more launches planned over the next few years. With its bold colors, updated materials, and timeless design, the collection will add personality and character to many modern homes.