An Industrial Loft Home in Amsterdam
Behind the facade of a sturdy building in Amsterdam lies a wonderful modern loft home. The 156 square meter home is divided over three open plan floors that are beautifully connected thanks to the waterfall design.
Usually, when you think of a loft, it's one big open-plan space where you eat, sleep, and live. But a loft can also be like this: a completely open home with a split-level floor plan that creates separate rooms without losing that open feeling.
This modern loft home in Amsterdam is wonderful, with a kitchen and dining room on the ground floor, a living room with two seating areas and a bedroom on the first floor, and a third sitting area and another bedroom on the top floor.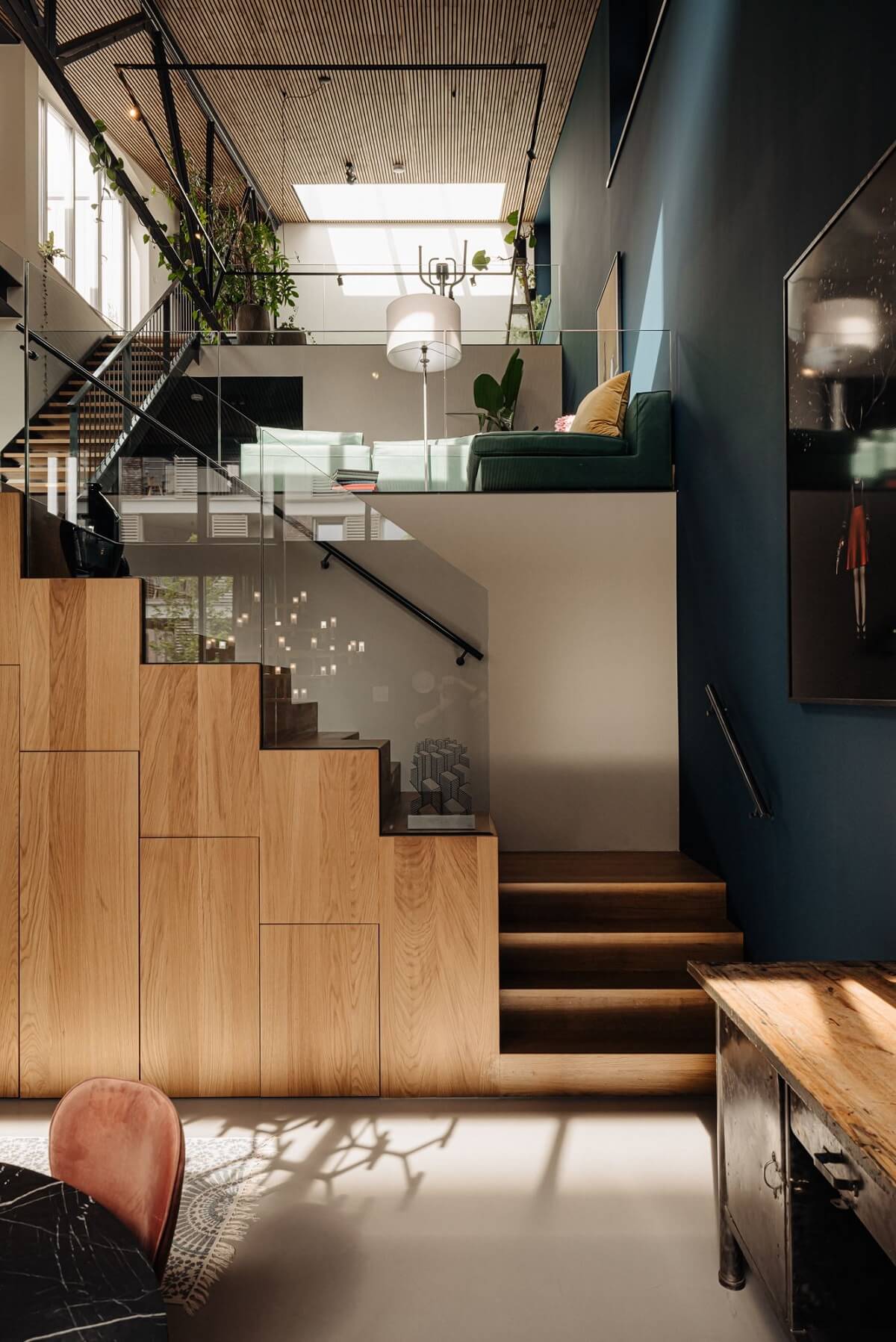 From the kitchen, you can look up and see all three floors connected with each other. Skylights let in natural light from above, and the ceiling is made of wood to add a warm touch to the industrial loft space.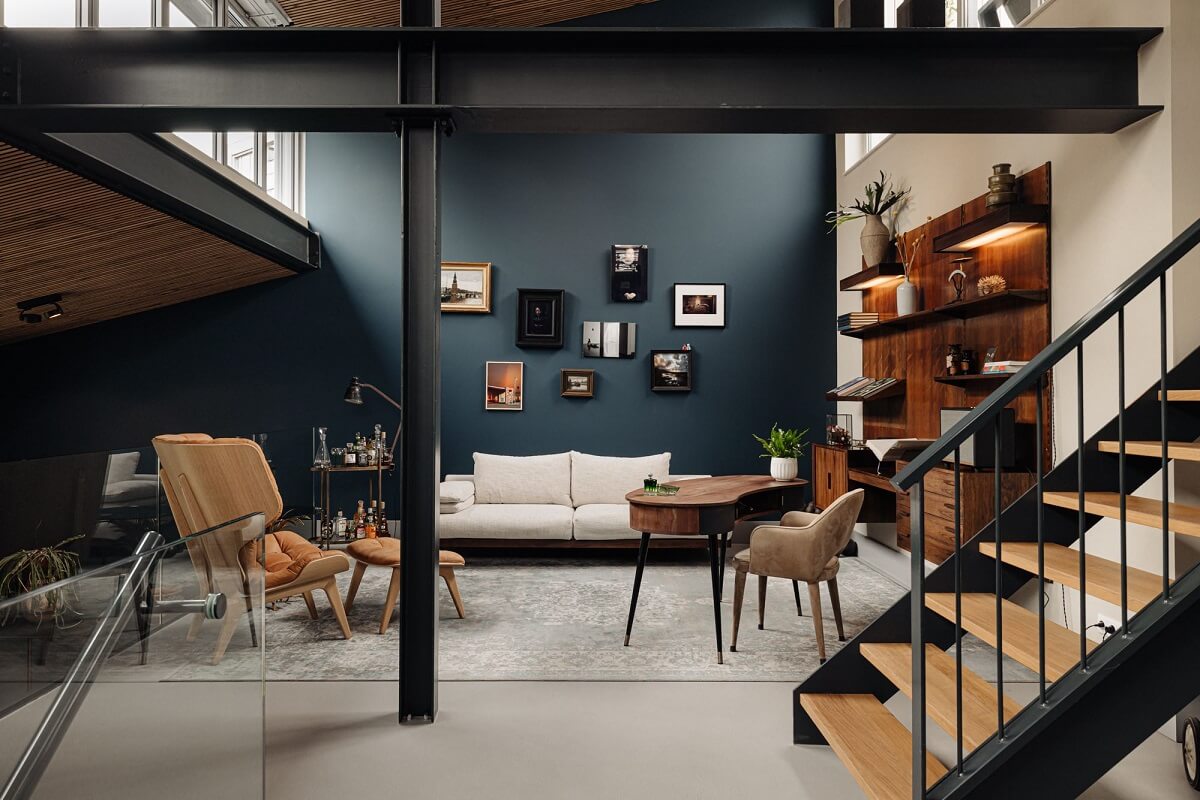 The main living area is divided into two areas. This sitting room with a navy blue wall is also a home office with beautiful wall-mounted bookshelves and a round desk.
There are windows everywhere creating light room wherever you are in the home.
From the glass balustrade, you can look down into the kitchen. The slanted ceiling draws your eye upwards toward the windows on the top floor.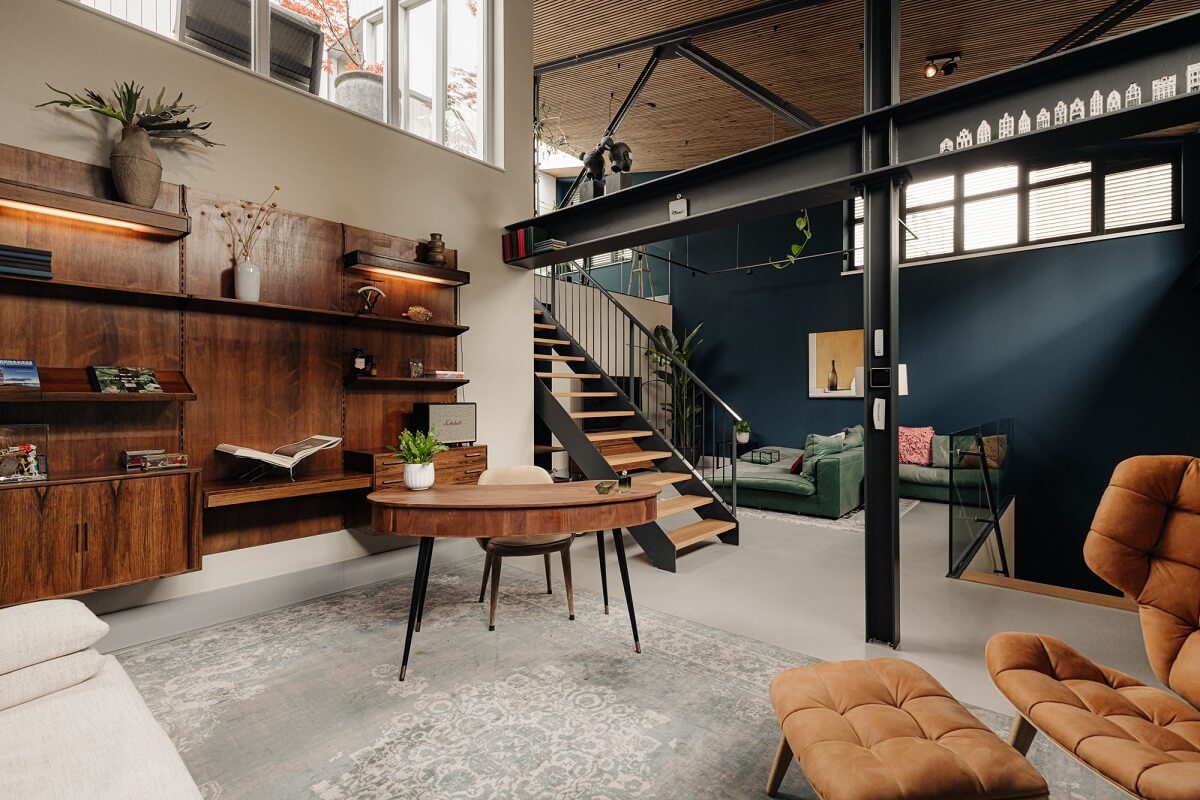 Playful, stylish, and industrial. This home is certainly unique.
The kitchen is located on the ground floor. Floor-to-ceiling industrial windows connect the kitchen with the outdoor terrace. The owners opted for a sleek modern black kitchen which fits the industrial style of the building very well. Plenty of storage is added underneath the stairs.
A little surprise under the stairs as they added a guest bed in this small space. Harry Potter would feel right at home.
The main bedroom is located on the first floor. The room has no regular windows, but the skylight floods the room with light. I also like how they played with light and dark in the two-tone wall paint with a salmon pink shade under the skylight combined with dark blue.
The bedroom has a small walk in closet made from curved wooden wardrobes.
The bathroom is very stylish with black and white marble tiles and an earthy pink color on the walls and the ceiling.
This beautiful industrial loft home in Amsterdam is now for sale at Funda.