A Tulum Airbnb in an Architectural Building
Tulum is a town on the Caribbean coastline of Mexico. It's very popular thanks to its beaches and ruins of an ancient Mayan port city.
The last couple of years there have been many building developments in Tulum. And the apartment I will show you today lies in the Fosil Tulum apartment complex.
The Nordroom mainly focusses on interior design, but the architecture of Fosil Tulum is beautiful as well. The main architectural feature of this building are arches. And these features return in the 7 unique apartments you will find in this building.
I will show you one of these apartments. The home is designed in comfortable natural materials like you often see in apartments in Tulum. The natural materials and stunning architecture create a beautiful apartment.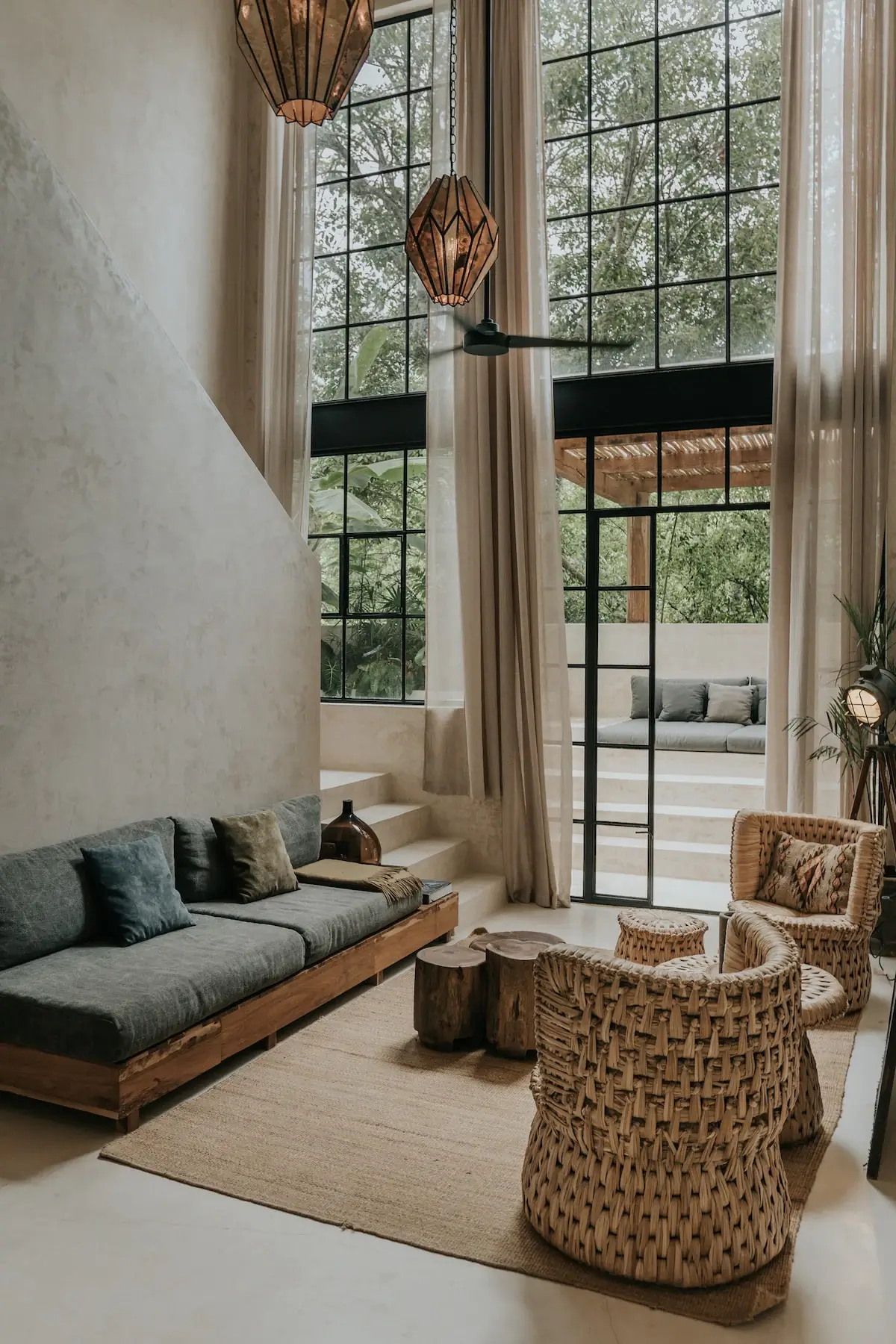 The living space has high ceilings and floor-to-ceiling steel framed windows. And with the door leading to the terrace (with small swimming pool) they have created a wonderful indoor/outdoor living space.
The home is carefully designed with many natural materials such as wood, jute, and wicker. This is complemented with natrual color tones like blue and green.
The open-plan living and kitchen isn't very big. But with such well-thought of design ánd the outdoor seating area you have plenty of room.
The large wooden kitchen table has plenty of room for entertaining or working. Don't be tempted to use small furnishings in smaller spaces. It's better to use one large furniture piece, instead of multiple smaller pieces.
The arches that this apartment complex is well-known of also feature indoors.
The apartment has two bedrooms. The master bedroom has its own (plant-filled) balcony.
The green, blue, and brown colors are a perfect fit with the natural materials of this Tulum apartment
Outdoor is a terrace with built-in seating space and a small swimming pool. Surrounding the pool is tropical vegetation.
The architecture of Fosil Tulum is simply beautiful. Especially in the evening/night when the light touches the arches.
Take a look at these Tulum apartments:
You can rent this wonderful apartment in Tulum called "Casa Amonita" on Airbnb.
photography by Conie Suarez Bravo: @coniesb @conie.weddings @spacesbyconie