An English Home Packed with History and Color
Every now and then, you come across a home that's wonderfully unique. And today I want to show you one of those homes. This early Georgian house in London was built in 1720 and has been restored by master craftsmen and builders in collaboration with a noted historic architect.
The 2,700 sq ft home is divided over four floors and features many historical elements, including original joinery and paneling, and antique furniture.
Rich colors were used in decorating this historic house in England. From a mustard yellow sitting room to a deep red snug, a blue bedroom, and a yellow bathroom. I love the use of color in combination with the historic furnishings and architectural elements. This home is cozy, unique, and very beautiful.
The present owners have embarked on significant restoration efforts, enlisting the expertise of esteemed historic buildings specialist contractors, Fullers Builders. They also collaborated with the late Patricia Brick, a renowned architect with a celebrated reputation in the field of historic architecture.
The sitting room's walls are painted in a captivating and warm, rich yellow hue. A pair of sash windows within the bay offers a picturesque view of the garden and feature rise-and-fall shutters.
The sitting room is located on the house's first floor and is adorned with a decorative molded dado rail, intricate wooden dentil, and modillion cornice. It exudes a sense of refinement.
The room's centerpiece is the exquisitely carved pine chimneypiece, showcasing a Rococo design from around 1750. Elaborate foliage consoles and scrolling foliage surround a Ho Ho bird perched on the lintel, while an ornamental overmantel frame with distinct eared and shouldered details rests above. Completing the fireplace are Carrara marble slips and beautifully illustrated glazed blue faience tiles
Through a set of mahogany wedding doors, you enter the principal front room.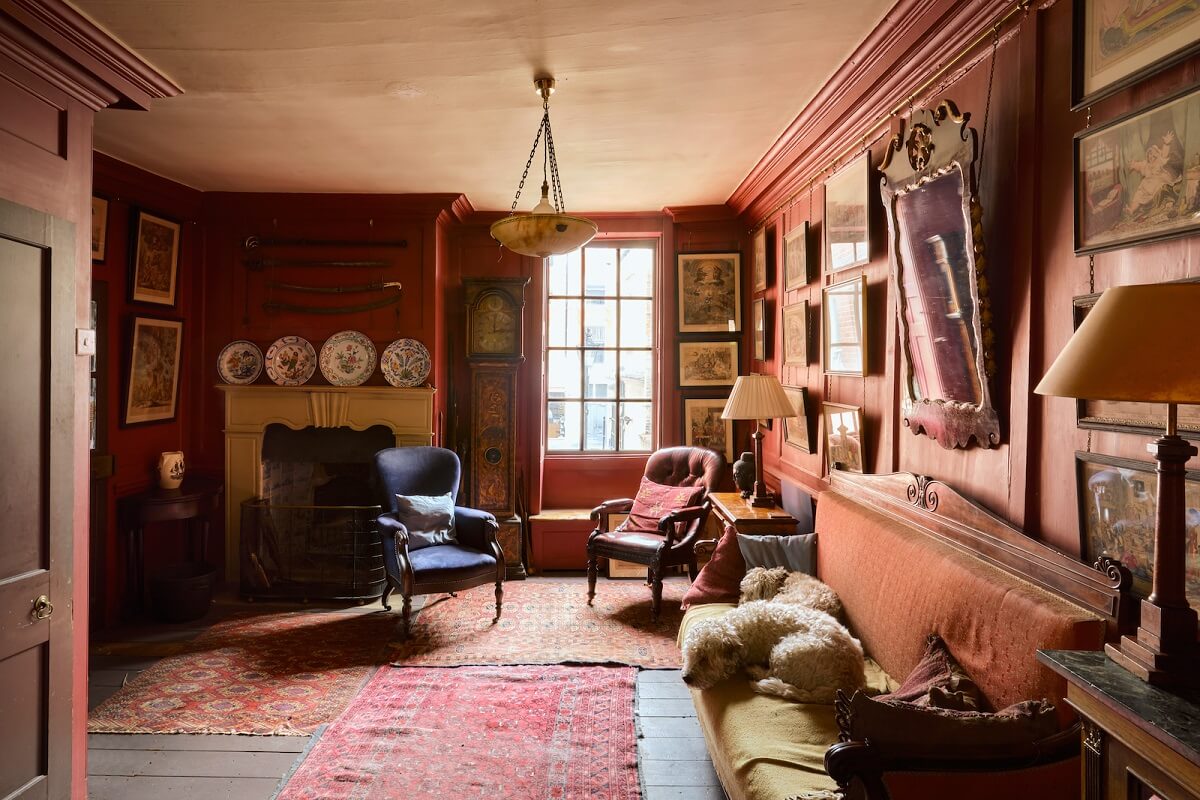 Situated at the front of the layout, this room features elegant molded paneling, a plaster cornice, and an 18th-century fireplace embellished with grooved ornamentation. The fireplace also boasts a keystone of ogee profile, adding to its distinctive character.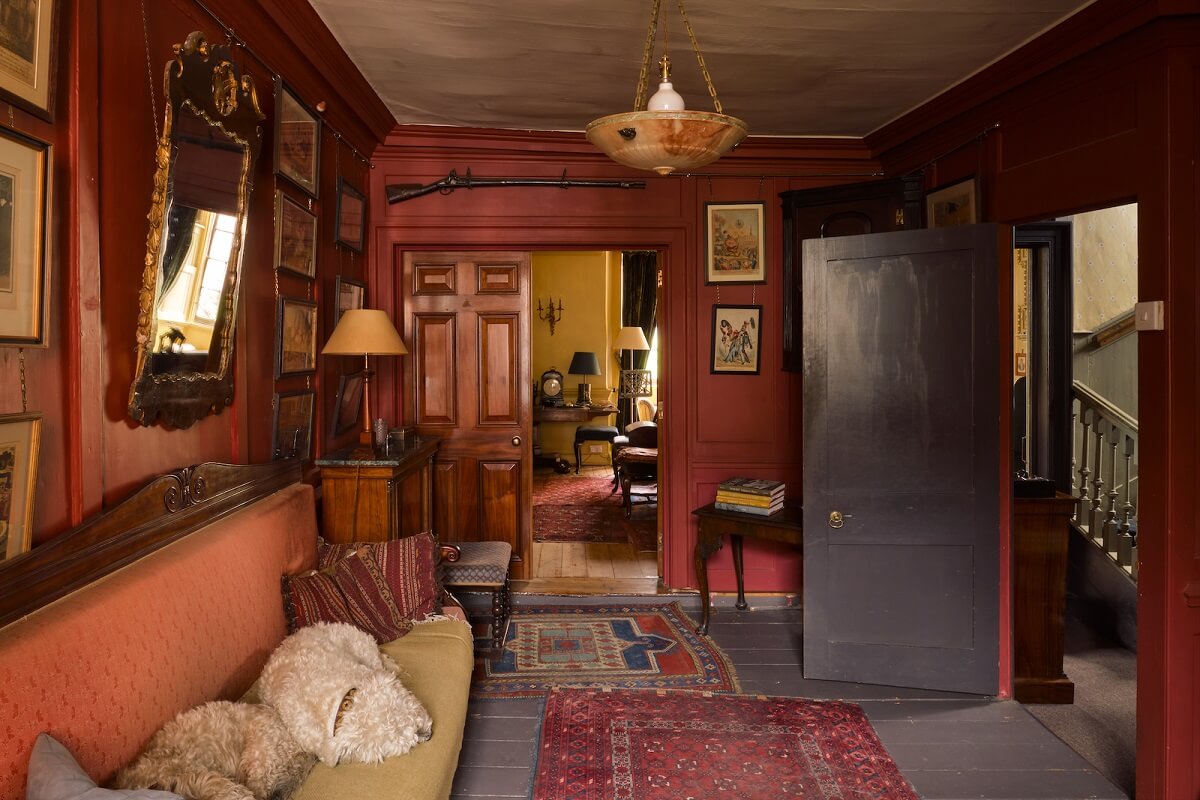 The walls in this room are painted in a rich Pompeian red which adds a dramatic touch to the space.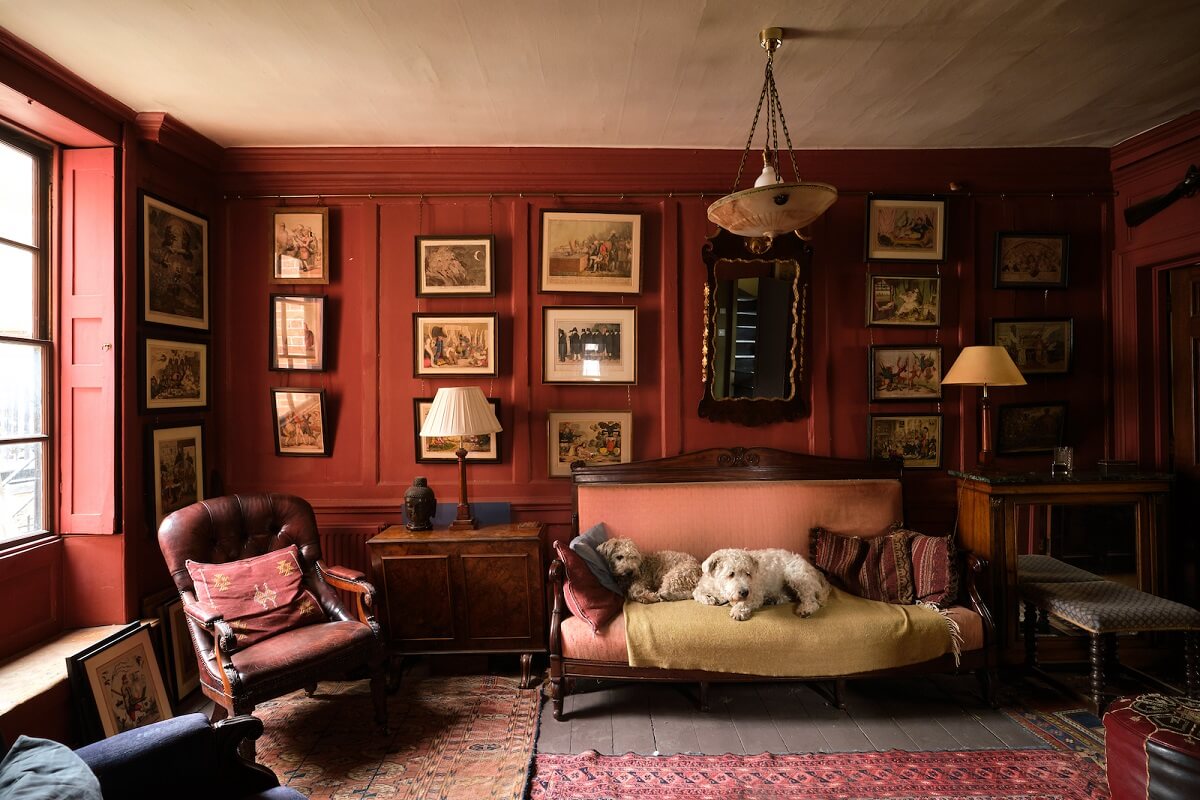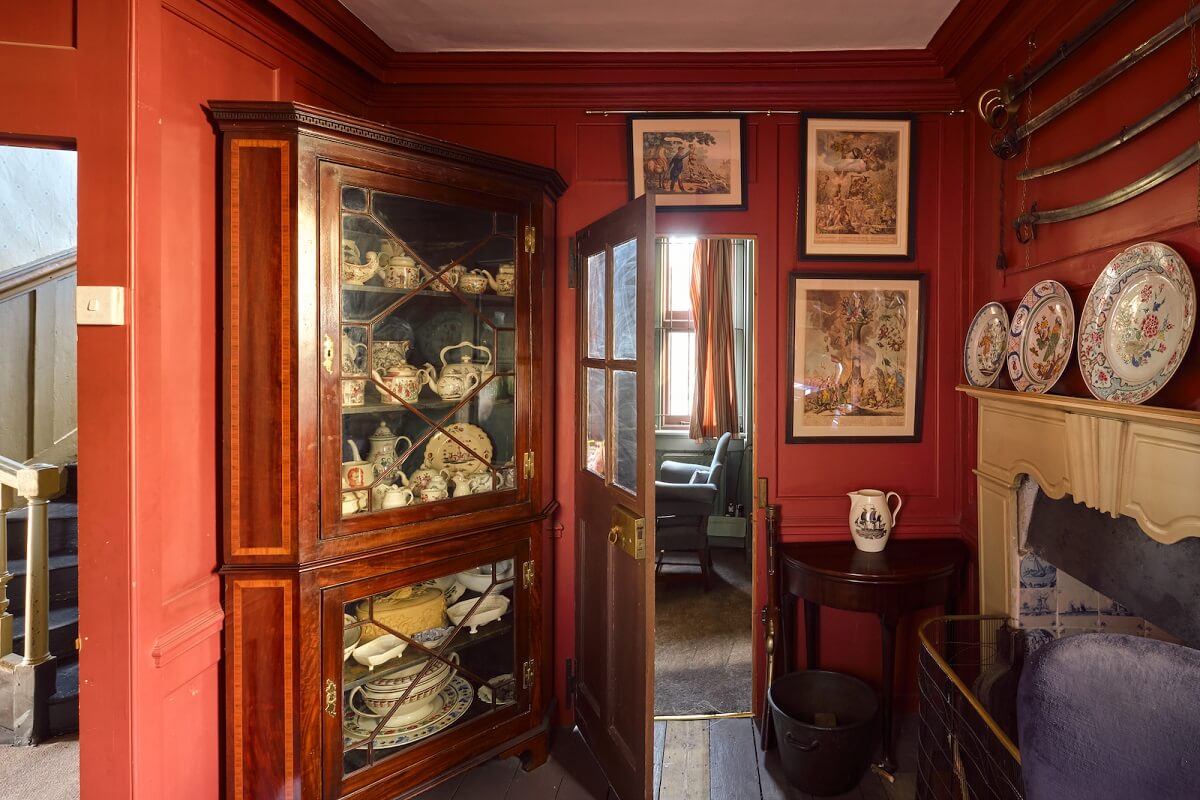 The room opens to a study through an interior door set with float glass.
The kitchen, situated at the front of the house on the ground level, showcases a simplistic architectural style that was common during that period. The space is adorned with plank and muntin panelling, painted in a warm ochre hue, and features a sturdy brick subfloor.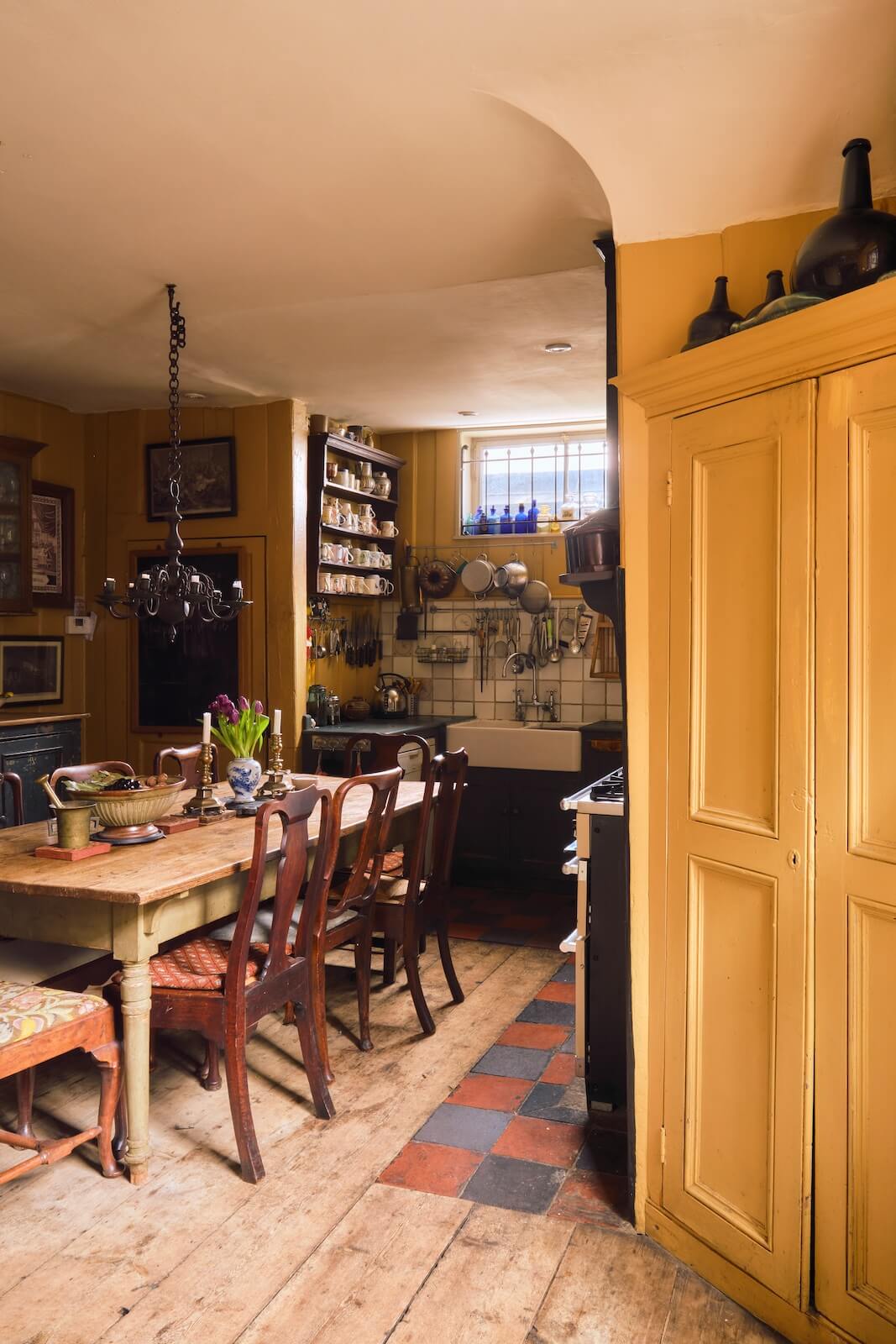 The kitchen also boasts an open hearth with an overmantel and a range cooker. Adjacent to the clerestory window, you'll find a double butler sink, accompanied by English delft tiles adorning the wall behind it.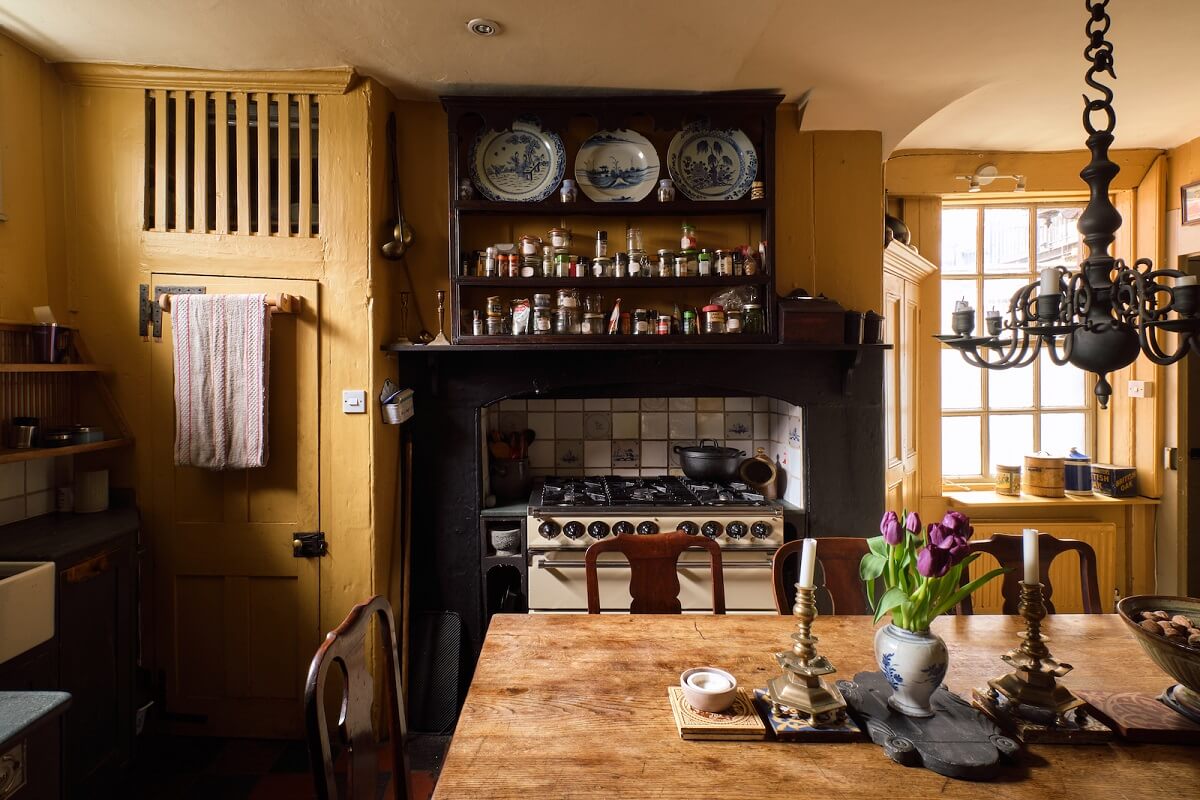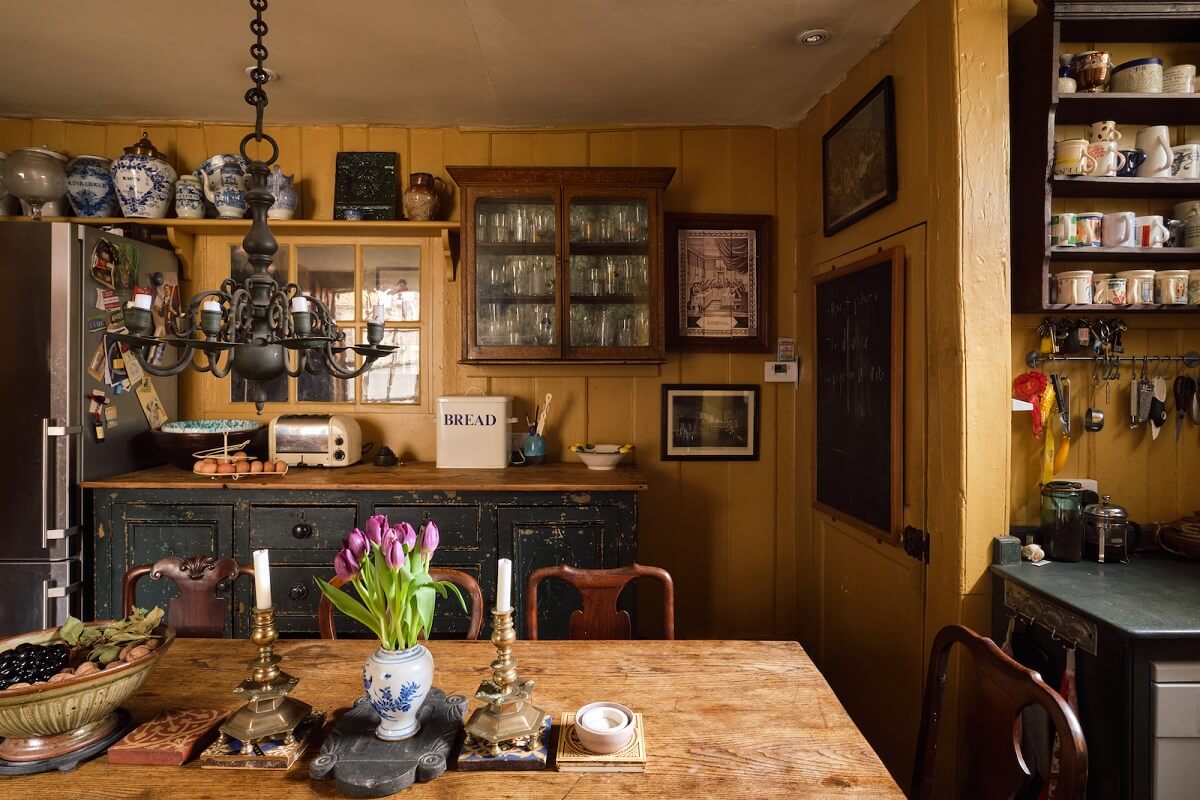 The hallway is decorated with wainscotting with a dado rail along one wall, complemented by plank and muntin paneling on the opposite side. 
Next to the kitchen is a dining room that has been painted in arsenic green. Within the room, you'll find unmoulded paneling, complemented by a beautifully crafted molded plaster cornice.
The space's focal point is the functional fireplace, featuring an ornate surround. The fireplace boasts intricately beaded ornamentation and Calacatta marble slips that add an elegant touch. Additionally, it includes a hob grate and a separate mantle shelf, completing the fireplace's stylish design.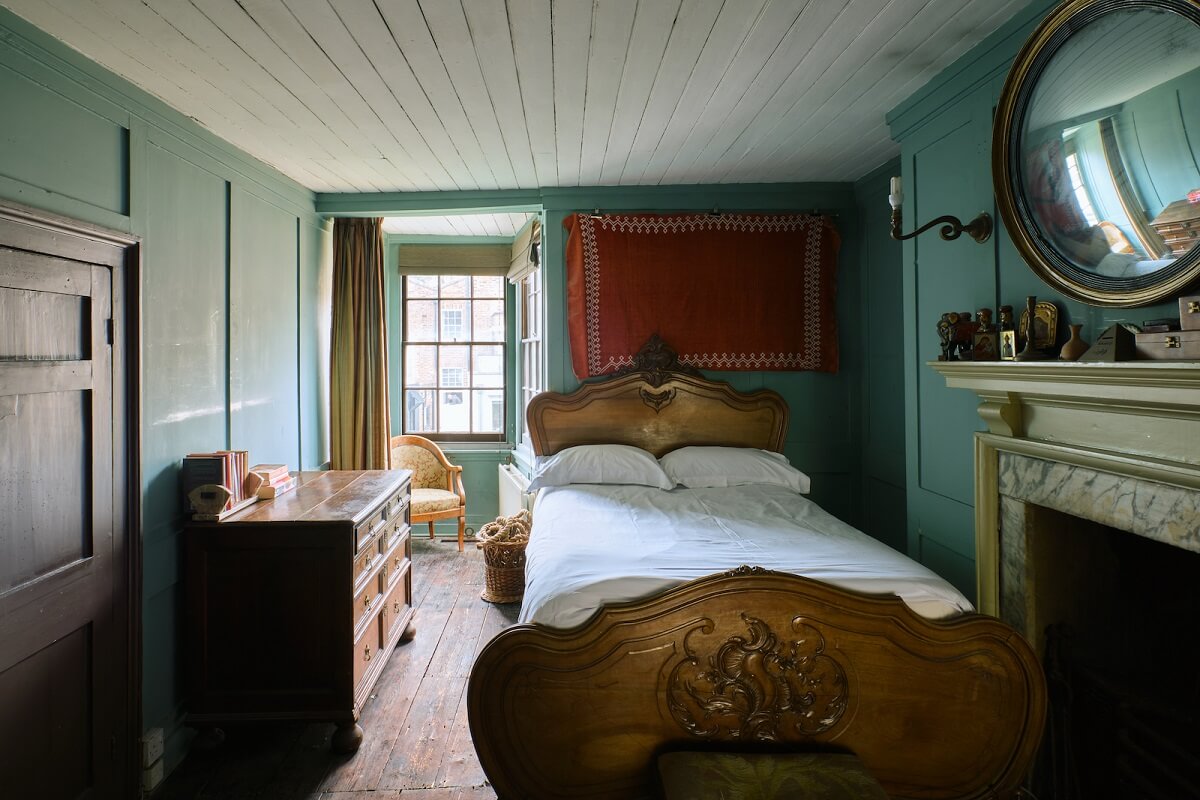 The second floor features three bedrooms and a bathroom. This blue bedroom has an original fireplace surround, mantle shelf, Carrara marble slips, and hob grate.
The top floor was added in the 1990s to create a well-lit attic story that remained faithful to the home's original design.
The attic floor is now home to the master bedroom with a dressing room and a bathroom. The fitted wardrobes have reclaimed wooden doors.
This historic house on Terretts Place in London is now for sale at Inigo.